As one of the most commonly utilized durable medical equipment, bedside commodes are often used within the home to provide a portable, free-standing toilet for people who have difficulty getting to the bathroom on their own or with enough time. Also known as portable commodes, toilet chairs, or portable toilets, bedside commodes are generally constructed with a frame, toilet seat, and removable bucket, and can have a wide variety of other beneficial design features to accommodate specific user needs.
To help you better understand how to choose a bedside commode, we put our collective medical expertise to the test and researched the best on the market. We picked out the five best from our catalog, based on the features we know and love as care-providers, plus the reviews of people just like you who have used them and loved them.
Top 5 Best Bedside Commodes & Toilet Chairs
The Top 5: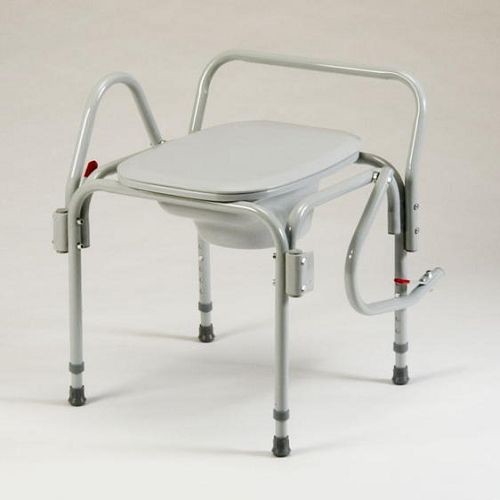 Taking the number five position on our list is the Adjustable Drop Arm Commode with Elongated Seat by TFI Healthcare. Designed to enable easy toileting wherever it's required, this commode also highlights drop-arm convenience to improve accessibility and safety for transfers to and from the commode.
The seat's height is adjustable and comes with a snap-on elongated seat, which some users prefer for its larger skin surface contact. This commode can also be used over the toilet as a toilet safety frame.
This drop-arm commode safely accommodates users weighing up to 300 pounds and is built for lasting durability and dependability with its Tuff Coat-finished 1-inch steel tubing and aircraft-quality rivets.
Features & Benefits
Arms drop out of the way to enable accessible transfers.
It can be used as an independent commode and as a toilet safety frame.
Snap-on elongated seat to match user preference.
Safely accommodates users weighing up to 300 pounds and height-adjustable.
Dependable performance with durable Tuff Coat-finished 1-inch steel tubing and aircraft-quality rivets.
Customer Feedback
Pros:
Comfortable, and great access when arms are dropped for transfers, which are easy to relock into place by the user once seated.
Very sturdy, doesn't bend when seated.
Easy to maintain and clean, and very lightweight, making it easy to move where it's needed.
Some users said this commode worked great as a shower chair, too.
Cons:
Not as affordable as other commode options (highest price point on our list).
Some users do not like the elongated seat style.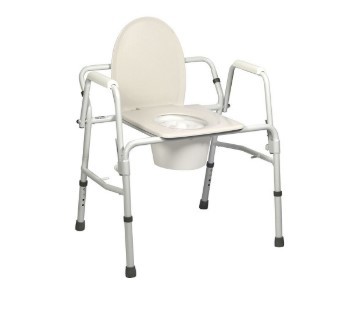 The first bedside commode in our rankings is the Drop-Arm Commode from Performance Health. This polyester-coated steel frame is strong and reliable, and is available in two models accommodating up to either 250 or 470 pounds.
Each commode includes a pail, lid, and splashguard to make using the commode easier and more hygienic. The pail can be easily removed for simple cleaning.
The plastic armrests are comfortable and supportive for the upper body, but can also be dropped down out of the way for smooth horizontal transfers onto and off of the seat.
Features & Benefits
Polyester-coated steel frame is strong and supportive.
Seat height easily adjusts to accommodate user needs.
Armrests can be easily folded down to facilitate transfers.
Plastic armrests provide comfortable and durable support.
Commodes include a pail, lid, and splash guard for convenience.
Customer Feedback
Pros:
Two models easily accommodate users weighing up to 470 pounds.
Drop-arm design makes horizontal transfers onto and off of the seat easy.
Adjustable height helps promote comfort and ease of access.
Cons:
Seat opening may be too small to accommodate the needs of some larger users.
High price point makes this commode the most expensive on our list.
The all-in-one design of the Etac Swift Bedside Commode Chair by Etac earns our number three spot with its unique and convenient versatility. Use this device as a bedside commode, over-toilet frame, shower chair, or cushioned chair. Its commode pan can be hidden away with its integrated, self-locking lid which attaches to the seat, covering the hygiene opening when it's not needed.
Its strong, corrosion-resistant construction delivers dependable durability, with sealing, anti-slip ferruled feet and textured exteriors for optimal traction. Height-adjustable legs can be changed independently to ensure the proper fit and to accommodate different heights of flooring, or to use as a shower chair, with two chair legs in the tub.
The Swift bedside commode's integrated carrying handle and light, 12-pound weight make it easy to transport to other rooms, and it can be assembled and height-adjusted without tools. It's also easy to clean and maintain.
Features & Benefits
The all-in-one design delivers the utmost in versatility and convenience.
Strong and durable construction accommodates user weights up to 286 pounds.
Legs adjust in height independently to suit uneven flooring or use as a shower chair.
Lightweight design with an integrated handle enables easy maneuvering between rooms.
Corrosion-resistant and easy to clean and maintain.
Customer Feedback
Pros:
Exceptionally sturdy and strong, very well-made product.
Remarkably comfortable, ergonomically designed.
The ability to hide the commode opening and appear as a regular chair is very appreciated by a number of users.
Multiple uses, and individually adjusting legs facilitate safer use as a shower chair.
Cons:
Arms get in the way of transfers for some users
Measure first: some users found this device too wide to fit their bathtub for use as a shower chair.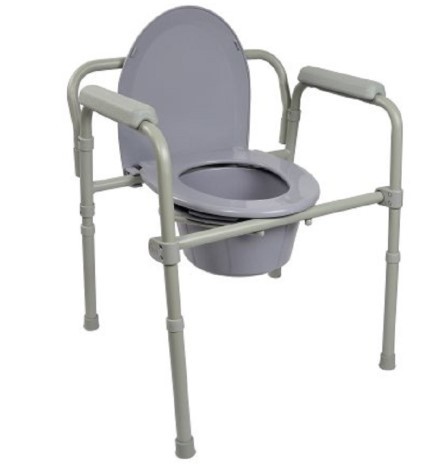 With its remarkably low price point and multiple functions, the Steel Frame Folding Commode Chair by McKesson easily grabs our number two spot. Its 3-in-1 design enables use as a bedside commode, toilet safety frame, and raised toilet seat, further saving money by eliminating the need to buy separate equipment.
The powder-coated, steel-welded construction is highly durable, yet incredibly lightweight, with the frame compactly foldable for convenient portability and storage. This bedside commode comes in several different height-adjustable size configurations, with most accommodating up to 350 pounds, and the bariatric size safely holding up to 650 pounds.
All four legs highlight non-skid tips to ensure stationary security, and the commode buckets come with carrying handles and covers to facilitate sanitary disposals for caregivers, along with a splash guard to ensure the utmost in hygienics for the user. A detachable backrest crossbar adds comfort.
Features & Benefits
3-in-1 design enables use as a bedside commode, raised toilet seat, or toilet safety frame.
Exceptionally affordable price point, especially when purchased by the case.
Durable powder-coated welded steel construction for dependable performance.
Height-adjustable, and comes in several different size ranges, with 350- and 650-pound weight capacities.
Commode bucket comes with a cover and carrying handles for sanitary disposal.
Customer Feedback
Pros:
Sturdy, strong, and reliable construction, stays in place during use.
Easy to assemble and disassemble without tools in three simple steps.
Being able to remove the backrest helped some users with transfers.
Immovable arms provide good support for some users during transfers.
Everyone loves the price, especially facilities when they purchase the case sizes.
Cons:
Arms don't drop down, which gets in the way of certain kinds of transfers, especially from a wheelchair or patient lift.
Some larger users found the chair shaky but said they should have gotten the bariatric size.
1. Padded Drop-Arm Bedside Commode
Our number one choice for the top bedside commode is the Padded Drop-Arm Commode by Medline, thanks to its sturdy design, comfortable padding, and reasonable price point.
The heavy-duty, rust-resistant frame ensures a long life, while the padded seat provides comfortable support through every use. Although it is a mid-priced option, many customers describe the bedside commode as luxurious, adding that the foam padding is very comfortable.
Although it accommodates up to 300 pounds, the Padded-Drop Arm Commode is lightweight and easy to move from the bedside to the bathroom. The seat height is adjustable from 19" to 23", and customers say that it is versatile and sturdy.
The drop-arm design of this commode makes lateral transfers safe and easy, and the arms drop down with just the touch of a button, making it effortless to ready for transfers. The clip-on seat can be removed for easy cleaning.
Features & Benefits
Weight capacity of 300 pounds
Large pail capacity of 2.5 gallons
Height easily adjusts from 19 to 23 inches
Dual drop-arm design for lateral transfers
Includes a 2.5-gallon pail with lid and splash guard
Customer Feedback
Pros:
Foam padding is more comfortable than other models
Clip-on seat can be removed for easy cleaning
Can be easily adjusted for comfort and support
Crutch tips on the legs ensure the unit will never slip or move while being used
Cons:
Maybe more functional for female users as some men have trouble with the pail's positioning
Types of Bedside Commodes
Although they're often used in the bedroom as a close-by toilet for users confined to bed, they can be used anywhere they're needed as nearby toileting support for people living with mobility challenges. Portable bedside commodes are offered in some basic style types which include padded, drop-arm, bariatric, folding, and all-in-one.
Padded Bedside Commode - Padded commodes provide optimal comfort, especially for users prone to pressure sores or skin shearing. Usually just as easy to clean as their non-padded counterparts, padded commodes generally provide a padded seat and may have a padded seat and armrests as well.
Drop-Arm Bedside Commode - Commodes with a drop-arm option are well-suited for users who are transferring to and from the commode with a lift or wheelchair. The arms of the commode drop down and out of the way for more accessible transfer, and can be put back into place for comfortable support once the user is seated.
Bariatric Bedside Commode - Specifically designed to safely and comfortably accommodate larger users, bariatric commode models highlight reinforced frames, bench-style seats, and a larger width between the arm supports, with much higher weight capacities.
Folding Bedside Commode - Folding commodes come in basic, intermediate, or deluxe styles, and conveniently collapse for simpler storage and transport.
All-in-One Bedside Commode - Also known as 3-in-1 commodes, this type of device can be used as a bedside commode, raised toilet seat, and toilet safety frame, with some models also offering the capability to be used as a shower chair. Saving the storage space, cost, and inconvenience of having to use individual products, the all-in-one commodes are a great option for seniors aging in place at home, and for those living with long-term disabilities.
Important Factors to Consider When Purchasing a Bedside Commode
There are several important factors to consider to help you determine which bedside commode is right for you or a loved one, including user mobility, weight capacity, adjustable height and width, and pricing.
User mobility - The level of immobility the user experiences will be a helpful tool in choosing the right bedside commode to meet their needs. If a user has a high degree of immobility, a caregiver will most likely have to be involved for assistance, and a bedside commode with drop-arms should be considered for transfers involving a patient lift or wheelchair. If the user has limited mobility, and only needs to use a bedside commode at night, then a folding bedside commode may be in order. An all-in-one commode is recommended for users who require toileting assistance at all times of the day and night.
Weight capacity - Most quality bedside commodes are designed to accommodate users up to 250 pounds, with other standard models offering up to 350-pound capacities. Bariatric models will safely accommodate much higher weights and should be chosen for larger users. Smaller-than-average users may require closed-front seats and shorter railings in order to keep legs properly positioned.
Adjustability - To provide safety and proper positioning and support, the bedside commode should provide some adjustability to customize its use for each unique user. Most quality commodes will adjust in height, with some offering seat width, backrest, and armrest adjustment as well. Drop-arms can be a very important feature, as they provide comfortable support while the user is seated, but drop out of the way to facilitate better access for transfers from wheelchairs, patient lifts, or other transfer devices.
Pricing - Price points vary widely with bedside commodes, but it's not hard to find a durable and dependable option that is also easy on your wallet. Another factor to consider when pricing commodes is that the all-in-one designs save money by not having to purchase three or four separate pieces of equipment.
Important Features to Consider When Purchasing a Bedside Commode
Because every user presents their own unique set of needs and specifications for a bedside commode, there are certain features to be aware of that can help fulfill those requirements, such as its weight, its capability to work in conjunction with a toilet, its stability, how it stays in place, the shape of the seat, its pail configuration, and its comfortability.
Weight - Bedside commodes designed without casters can sometimes be meant to stay in one place, and will be heavier in weight to suit this more permanent requirement. But if you intend to move your bedside commode from room to room, or want to use it as a toilet safety frame, raised toilet, or shower chair, be sure to choose a model that's lightweight enough for you or a caregiver to lift and move without risk of injury.
Toilet accessibility - All-in-one bedside commodes offer versatile use as a raised toilet or over-the-toilet safety frame. It's important to measure your toilet and the area around it to match up dimensions with bedside commodes that will fit perfectly for your space.
Durability - The best bedside commodes are usually constructed with steel, aluminum, or some kind of tough polymer plastic. Because the safety of the user is so crucial with this equipment, it's important to choose a model that has a strong and sturdy construction.
Stationary security - To keep the bedside commode in place, most designs include rubberized feet or some other type of foot design that stops the chair from moving when the user is seated, or when they're getting up or down from the commode. This is an especially crucial feature when used in slippery environments, like the bathroom.
Seat design - Available in a standard oval shape or an elongated shape, bedside commode seats can range from 16-36-inch diameters. Some users prefer the elongated shape as it keeps more of their skin in contact with the seat. Padded designs add comfort, and are especially well-suited for more sensitive users prone to pressure sores and skin shear. Open-front toilet seat designs facilitate easier access for wiping intimate areas, but may not be suitable or safe for users with limited lower limb control.
Commode Pail - Although all bedside commodes include a pail or bucket for waste collection, you may have preferences for how the pail slides out, its capacity, and if it has handles for more efficient carrying. Some commode pails will include a splash guard for more hygienic waste control, along with waste bucket liners and lids to manage odors before the waste is disposed of in a toilet.
Comfortability - Because most bedside commodes are designed with height adjustability, this feature can make users more comfortable by adjusting the chair to their height. Other models are designed to be ergonomic, specifically providing support to adjust to the user, while some models add padding to optimize comfort.
FAQ
What is a 3-in-1 bedside commode?
A 3-in-1 bedside commode functions as a toilet riser, an over-the-toilet safety frame, and as a bedside commode that can be used in any room.
Does Medicare cover bedside commodes?
Medicare Part B generally covers bedside commodes when medically necessary, as Medicare classifies commodes as Durable Medical Equipment (DME). If ordered by your doctor, Medicare Part B will generally pay 80-percent of the allowable charges for the commode chair. Your doctor must accept Medicare assignment, and the commode chair supplier must participate in the Medicare program, or Medicare will not pay anything for your bedside commode.
How do you use a bedside commode?
To use a bedside commode, the first step is to ensure the commode has been assembled correctly and is level and stable before sitting. Put some water in the commode's pail before using, as this will help with emptying and cleaning later. The commode seat should be in the down position, with the bucket firmly in place below and the lid above open.
Back up to the commode until you feel the back of your legs touching the frame, reaching back for the armrests, placing both hands firmly on them before sitting on the seat. Lower yourself slowly by bending your elbows, and if able, your knees and hips. When you're ready to stand up again, push against the armrests, slowly raising yourself from the seat of the commode, bending at the knees if you're able.
How to clean a bedside commode?
To clean a bedside commode, dispose of waste in a flushable toilet, and clean the commode bucket and frame with regular, non-abrasive cleaning products like mild soap and water, as bleach may cause cracking or discoloration of the bucket. As mentioned previously, putting some water in the bottom of the bucket before use will make emptying and cleaning easier.
Can bedside commodes be used over a toilet?
All-in-one bedside commodes can be placed and used over your existing toilet when the bucket has been removed. Also known as 3-in-1 bedside commodes, they can be employed as over-the-toilet safety frames or as toilet risers to improve toileting safety and stability.
How to keep a bedside commode from tipping?
The best way to stop a bedside commode from tipping is to ensure the user is as close to the seat as possible, with the back of their knees touching the frame, with both hands on the armrests, applying equal pressure on both sides to prevent tipping in any direction.
Can a 3-in-1 commode be used as a shower chair?
A 3-in-1 bedside commode can be used as a shower chair when it is specifically constructed for that purpose, as some designs are corrosion- and rust-resistant. However, if the bedside commode is constructed with steel, it may be susceptible to destructing corrosion when exposed to the levels of moisture generated by a shower on a repetitive basis.
Summary
Our rankings considered the cost, features, and benefits of the best-reviewed, most popular, and most highly rated commode chairs.
All five of these bedside toilet chairs are very highly recommended – but we have chosen the Guardian Padded Drop-Arm Commode by Medline as the number-one bedside toilet because of the comfortable padding, unique sturdiness, and versatility in combination with a low price point, making it an exceptional value for your money.
The Guardian Padded Commode received the highest marks for design and beauty, weight capacity, comfort, and versatility as a bedside commode, over the toilet stabilization equipment and shower chair.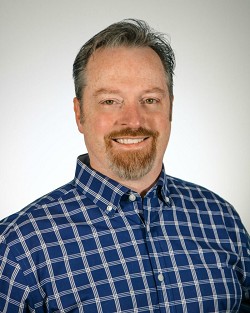 Author:
Co-Founder of Rehabmart and an Occupational Therapist since 1993. Mike has spent his professional career working in multiple areas of Occupational Therapy, including pediatrics, geriatrics, hand therapy, ergonomics and inpatient / outpatient rehabilitation. Mike enjoys writing articles that help people solve complex therapeutic problems and make better product choices.