Inclusive school settings require adaptive, specially designed furniture to provide children with an opportunity for exceptional, accessible learning.
Repeatedly confirming the multiple benefits that accessible classroom furniture has on learning, research indicates reduced fatigue, increased attention span, improved behavior, and the ability for all students to reach their highest learning potential.
This innovatively designed furniture also enhances safety for young users, in addition to facilitating longer periods of concentration, improving fine motor skill development, and promoting play and socialization skill development. Thus, enabling students with special needs to overcome barriers and feel less isolated.
No matter the accommodation requirement, choosing the right classroom desks will have a significant impact on how all students listen, concentrate, retain information, interact, and learn.
To help you decide, we've researched the best choices out there based on performance, functionality, durability, ease of use, comfort, and customer reviews from parents and educators.
The Top 5:
5. Leckey PAL Classroom Table by Leckey

Presented in several sizes, colors, and either a two or four-person configuration, this popular classroom table from Leckey provides a versatile and convenient surface to perform a wide range of activities.
Encouraging socialization, this tough and durable table can be paired with the PAL Classroom Seat for improved postural stability. Constructed with a strong and robust wooden design, this table definitely lives up to its acronym - Posture + Attention = Learning (PAL).
Often employed in inclusive classrooms for learning and schoolwork, the PAL can also be used for playtime, dining, and social interaction. It helps kids living with special needs by providing postural support and a close, firm, and flat surface to keep their needed items within reach for improved focus.
Features & Benefits
Versatile, flat surface can be used for multiple activities and purposes
Several sizes in 2 or 4 person configuration to suit many children
Exceptional support for mild to moderate postural needs
Encourages focus and concentration
Durable wood construction comes in several bright and engaging colors
Customer Feedback
Pros:
Durable construction holds up well in busy educational environments
Helps both disabled and non-disabled kids develop socialization skills
Different size choices ensure the perfect fit for each child
Cons
The table does not adjust in height
4. Convert-Able Table with Interchangeable Tops by R.E.A.L. Design
With the ability to become a desk, art easel, or sensory stim bowl, the Convert-Able Table offers a comprehensive array of usage for inclusive school settings. Its interchangeable tops are easy to snap on and off the main frame, and include a desktop, easel top, and clear acrylic sensory stim bowl.
Enabling a multitude of activities and uses, the Convert-Able Table's angle is fully adjustable in a 0-90 degree tilt, and height-adjustable from 21 inches to 37 inches, accommodating a range of different children. Durably designed with one-inch powder-coated steel to stand up to repeated, heavy usage in school settings, this innovative table additionally features rolling casters for easy portability, which also lock for secured stoppage.
Well-suited for schoolwork, artwork, and sensory activities, the Convert-Able Table adjusts easily with its push-button pneumatic assist, and is easy to clean and maintain.
Features & Benefits
Durable, one-inch thick, powder-coated steel construction for reliable performance
Interchangeable table tops include desktop, easel top, and sensory bowl top
Tops are easy to install or remove
Adjustable angle and height
Four lockable, rolling casters ensure smooth portability and secure stationary usage
Customer Feedback
Pros:
Interchangeable tops help facilitate different activities
Pneumatic assist provides adjustments that are simple to perform
Different children with various special needs are well-accommodated, great versatility for multiple users
Cons:
The interchangeable tops are not included in the price of the frame
3. KidsFit Kinesthetic Classroom Pedal Desk by KidsFit

The KidsFit Pedal Desk allows high-energy children to remain active without disrupting the rest of the class, while it also enhances their learning and retention abilities. Suitable for classrooms from kindergarten to high school, this innovative pedal desk is a wonderful solution for young users who require movement to improve concentration and learning capabilities.
Offered in several different sizes, with models that accommodate 1, 2, 5, or 6 children and teens, this robust desk is built to withstand hard and heavy repetitive usage, and provides pedaling action that is completely silent so it won't interrupt classroom activities and lesson plans. Perfect for overactive and/or nervous children, this KidsFit desk allows youngsters to pedal at their own pace, engaging the entire body. Various resistance levels in the larger sizes ensure the proper fit for more mature users who typically have more strength.
Features & Benefits
Silent pedaling won't disrupt classroom activities
Promotes learning, concentration, and retention
Ideal for children and teens who require movement in order to focus and learn
Multiple size options and choice of models that accommodate 1, 2, 5, or 6 kids
Helps youngsters work off excess or nervous energy, engages the whole body
Customer Feedback
Pros:
Highly popular with both students and teachers
Effectively enhances focus and learning, even with children who have attentional deficits
Helps relieve nervous stress, keeping kids focused on learning
Adjustable seat and desktop ensure proper, ergonomic body mechanics and posture
Cons:
Pedal base and lack of upper body support may not be accessible for some children
2. KidsFit Kinesthetic Classroom Ergo Spin Desk by KidsFit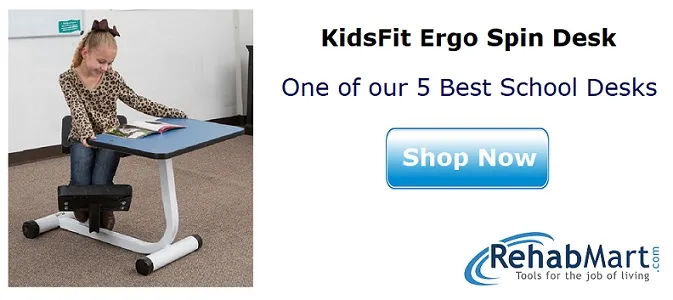 As another exciting kinesthetic learning desk from KidsFit, the Ergo Spin Desk allows fidgety children and teens to move around, enhancing concentration, learning, and retention. Suitable for just about any youngster, this desk is especially ideal for properly aligning posture, and ergonomically designed to relieve spinal pressure. Comfortable and supportive, the action-based learning Ergo is fully adjustable to facilitate a perfect fit for multiple users in a school setting.
Specifically configured to allow kids a swiveling motion, it also keeps them in a natural sitting position while it reduces over-excitement, fidgeting, and nervous energy. Built to hold up to daily, repetitive utilization in educational settings, this fun and functional spin desk helps kids learn more effectively. It's a popular addition for classrooms from 4th grade on up, and can be selected in either one or two user formations.
Features & Benefits
Enables kids to swivel and move around in their seat
Ideal for youngsters who fidget, have nervous energy, or need to move
Helps children and teens concentrate on learning, and better retain the information
Ergonomic configuration relieves spinal compression and encourages a natural sitting posture
Available in one or two-person models, accommodating users from 4th grade to adulthood
Customer Feedback
Pros:
Most sought-after desk at school, kids love it
Teachers and parents appreciate the learning progress with the use of this desk
Adjustability enables it to be used by differently sized children and teens
Cons
May not be functional for children with certain positioning needs
1. Folding Height-Adjustable Activity Table by Smirthwaite

As the most versatile desk on our list, Smirthwaite's Folding Height-Adjustable Desk will become your school's workhorse with its endless usage options. Tough and durable, this table highlights a scratch-resistant surface that's also sealed to protect against liquids and spills. Easy to clean and maintain, it can be utilized for a wide range of activities, including school work, art, and mealtimes.
Conveniently height-adjustable to accommodate various sizes of children, teens, and their wheelchairs, a simple pin adjustment raises or lowers the table height to where it's needed, providing easy adjustments for youngsters to sit or stand. Available in two different sizes, Its heavy-duty metal legs provide dependable structural stability, while the whole table folds down flat for space-saving storage and simplified portability.
Features & Benefits
Height-adjustability accommodates wide range of user heights
Quick height adjustments ensure easy changes for sitting, standing, or using wheelchairs
Versatile to use for a wide range of activities
Durable design and wipeable, scratch-resistant surface facilitates easy maintenance
Folds down flat with simplistic pin adjustment for storage and transport
Customer Feedback
Pros:
Exceptional versatility for vast usage range in educational settings
Height adjustability allows fidgety or high-energy children to stand/move around while working
Folding feature is convenient when moving the table
Accessible for children of all ability levels and special needs
Cons:
Summary
As we continue to make strides in the inclusion of all students in our classrooms, research continues to indicate the success of these environments for everyone involved.
One of the many important aspects of developing an inclusion classroom is adaptive furniture, especially school desks and tables.
We researched the best desks for any school setting, sharing their best features and why teachers, children, and teens love them. While all five of our favorites offer multiple highlights that make them ideal for different users, we found the Folding Height-Adjustable Activity Table from Smirthwaite to be the best of the best!
With its multiple height options for differently sized users, wheelchairs, and kids who love to stand and work off excess energy while they learn, combined with its easy maintenance and convenient foldability, this workhorse is our top choice for any educational environment.
To learn more about adaptive tools, school equipment, and all the best caregiving tips and tricks on the internet, check out our full selection of articles at Caregiver University.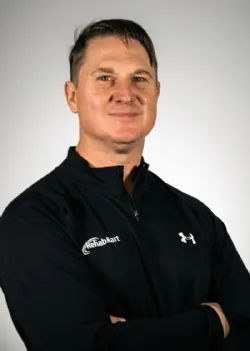 Author:
Co-founder/CEO of Rehabmart, Pediatric Occupational Therapist, husband, and father. Passionate about connecting special needs kids with superb nutrition, sensory integration, and complementary health strategies. Excited about Rehabmart's mission to become the premier online educational platform which empowers caregivers by spotlighting innovative devices and interventions to achieve optimal patient response and recovery.