Many of the best things about working from home - no commute, more flexible schedule, not much concern over what you're wearing, set up your space the way you want, minimize exposure to germs - also apply to working out at home. With an all-in-one home gym, you have all the benefits of a gym workout, but with an added layer of convenience (and fewer excuses not to exercise).
The Top 5: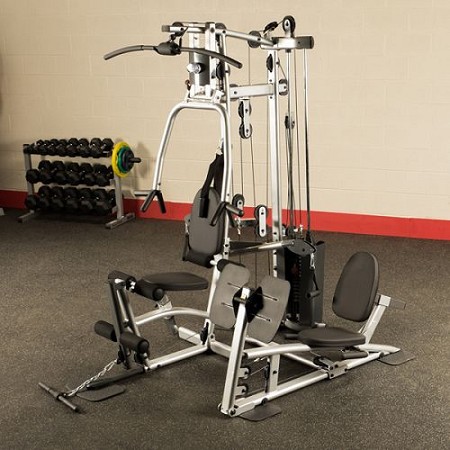 At #5 on our list, the Powerline P2X Home Gym by Body-Solid packs a big workout into a small space.
Offering a range of available exercises that target and strengthen multiple muscle groups, this complete home gym has a small 70-inch x 42-inch footprint. You can combine traditional exercises with functional training that develops core stability, balance, and movement efficiency that you use in everyday life with this home gym. Its six stations include a lat pulldown/high pulley station, ab crunch/mid pulley station, leg extension/leg curl station, seated row/low pulley station, and functional pulleys that all link back to a solid 160-pound alloy weight stack. There are 22 versatile exercises available, and an optional leg press station adds to that list.
This well-built home gym has an adjustable back and seat pad, oval tubing, and pivoting cable handles. The weight stack provides customized resistance, and each station is biomechanically engineered to ensure you are correctly positioned for safe and efficient workouts. The frame is backed by a 10-year manufacturer's warranty, with a 1-year warranty on parts.
This solid basic home gym made our list because it delivers a customizable total body workout without taking up much space in your home.
Features and Benefits
Exercises target the delts, quads, shoulders, and traps
Designed with 6 stations capable of 22 exercises for exercise versatility
Compact machine provides the benefits of gym equipment in limited spaces
Seats and stations are biomechanically engineered for optimal body positioning
All stations link back to selectorized 160-pound weight stack for customized resistance
Customer Feedback
Pros
Can get a true full body workout with multiple exercises
More affordable than a gym membership
Expandable weight stack to 210 pounds
Smooth operation
Durable even with heavy regular use
Cons
Heavy at almost 400 pounds, so it's hard to move once in position
Although not difficult, assembly is tedious and takes awhile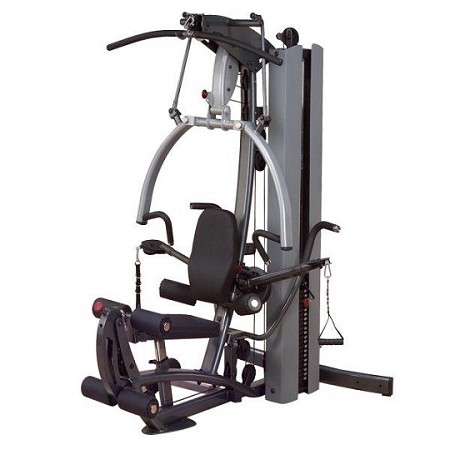 The highly customizable Fusion 600 Personal Trainer by Body-Solid can be configured to fit a wide range of workout regimens, and it made our list at #4.
By adding stations to this all-in-one home gym, you can meet the needs of just about any training regimen, and can choose a weight stack option of either 210 or 310 pounds. It has a bi-angular press arm that generates 25 percent more muscle action than other models. You can develop your left and right hamstrings at the same time while seated using the leg curl station. The adjustable seat has a telescoping feature, gas assist, and multiple-position cushion.
It features 11-gauge oval tubing, synchronized articulating training arms with a wide range, low row positions, chest supported mid-row arms, lat pull down with wide groove pulleys, pre-cabled accessory attachment points, high-density foam handle grips, and you can add attachments to both sides of this machine. This home gym also comes with a workout chart with examples of 20 exercises to get you started and help even beginners have confidence in their workouts. This equipment comes with a lifetime warranty on all parts.
This high-quality all-in-one home gym earned a spot on our list because of the wide range of exercises you can accomplish with this expandable device.
Features and Benefits
Bi-angular press arm generates 25 percent more muscle interaction
Leg curl station works both hamstrings simultaneously
Full range of motion from leg extension with pivoting rollers
Training arms range extended from upper ab to side-accessed workouts
Gas assist telescoping seat and backrest with multiple position cushion
Customer Feedback
Pros
Seat adjusts to any size user
Multiple attachment points allow for personalized configuration
Built solid with a lifetime warranty
Gym-quality workout at home
Can up the weight on the stack to over 300 pounds
Cons
Instructions would benefit from some clarity
Needed to add lubricant for some of the adjustments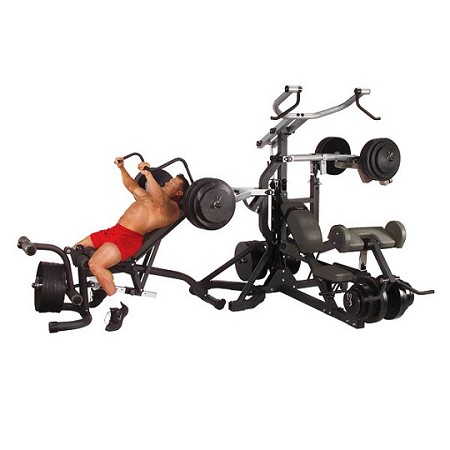 Our #3 pick, the Freeweight Leverage Gym Station by Body-Solid, accommodates more than 40 strength training exercises.
You can do bench presses, incline presses, decline presses, and shoulder presses, pec flys, lat pull-downs, seated rows, bicep curls, leg curls, leg presses, leg extensions, calf presses, calf raises, and many more exercises with this single station - and you won't need a spotter.
This versatile leverage-free weight home gym adjusts to fit your size and shape for a full range of motion with every exercise. It includes a tear- and sweat-resistant DuraFirm cushioned seat, back, and shoulder pads, plus pulleys, cable, and an extra heavy-duty 10- and 11-gauge tensile strength steel frame with optional weight plates. It's powder-coated to resist scratches and has a textured finish that is easy to clean and hides fingerprints. It is guaranteed by the manufacturer to last a lifetime, and comes with the basic leverage gym, squat attachment, bench, and Olympic style plates. Weight plates can also be purchased.
The large number of full range-of-motion exercises you can do without a spotter on this single station home gym earned it the number 3 spot on our list.
Features and Benefits
All-inclusive workout accommodating more than 40 exercises
Lifetime warranty
Don't need a spotter
Commercial grade design and construction
Adjustable to fit and maintain positioning for all body types
Customer Feedback
Pros
Lifetime warranty
Huge list of available exercises
Cushions hold up to heavy use
Bench press/shoulder press/tricep extension smartly changes into different stages with ease
Cons
Takes a long time to put together
Poor assembly directions
Able to accommodate two people working out simultaneously, the G9S Two Stack Gym by Body-Solid has landed at #2 on our list of best all-in-one home gyms.
With two 200-pound weight stacks, adjustable pec station with self-aligning pivotal handles, adjustable press station, leg extension and curl station with sealed bearing pivot point, 420-pound leg press station, calf press station with a 2:1 weight ratio, and mid, high, and low pulley stations, this home gym delivers results through its long list of available exercises.
The weight stacks can be upgraded to 260 pounds each, and the fully adjustable high-density DuraFirm back pads accommodate users of any shape and size. Its 11-gauge steel frame construction makes this a durable commercial-grade home gym that makes great use of space. You won't find a better option for chest, back, and shoulder conditioning, and the self-aligning pivotal handles on the fully adjustable pec station achieve results faster than other models.
This multi-station home gym made our list because it's commercial-style equipment that's versatile and effective and perfect for home use where multiple people will be utilizing its many features.
Features and Benefits
Accommodates multiple users simultaneously
Versatile high, mid, and low pulley stations
Allows for multiple users simultaneously
Two separate weight stacks
Leg and calf press can go up to 420 pounds
Arm Press Station provides excellent range of motion and full adjustability
Leg and Calf Press with adjustable back pad and pivoting footplate provides up to 420 lbs
Two 200lb selectorized weight stacks
Versatile high, mid, and low pulley stations
Space-efficient
Customer Feedback
Pros
Super space efficient
Pec Station with adjustable seat and overhead variable resistance cams so each arm operates independently
Excellent range of motion
Two weight stacks so multiple people can workout at the same time
Cons
Heavy at almost 1,000 pounds, so it's hard to move once assembled
Takes several hours to assemble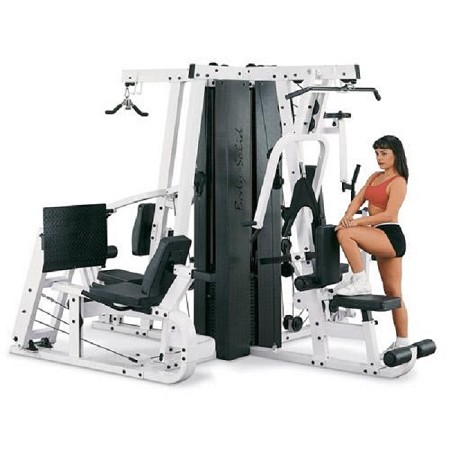 Allowing up to three people to work out at the same time, the EXM4000S Selectorized Home Gym from Body-Solid is our top pick for home gyms.
Group workouts are more enjoyable, so you are more likely to participate, when you don't have to stop and take turns. The standard version of this all-in-one home gym can accommodate three people at once. The variety of upper and lower body exercises of this home gym provides a superior comprehensive workout. Stations include multi-press chest, leg extension, chest supported row, shoulder press, leg curl, ab crunch, and pec fly. It has two high and one low pulley, lat bar, low row bar, and utility strap. If you add the optional leg and calf press station and its weight stack, up to four people can work out simultaneously.
The bench press station's kick-assist lever provides a full range of motion, and the articulating handle design mimics the feel of an actual dumbbell workout. You can achieve any conditioning or strengthening goal with this equipment. It comes standard with three 210-pound weight stacks, with another included in the optional leg and calf press station. The frames, welds, weight plates, and guide rods are covered by a lifetime manufacturer's warranty, and this home gym comes with a workout poster and accompanying instructional DVD.
Our number 1 choice among all-in-one home gyms, the EXM4000X Selectorized Home Gym delivers a whole-body workout with equipment that accommodates multiple users simultaneously. Its durability and flexibility will make it a long-term component in any fitness regimen.
Features and Benefits
Easily upgradable from level 3 to level 4
Works the whole body
Promotes strength training
Full range of motion
Feels like a dumbbell workout
Customer Feedback
Pros
Speeds up group workouts
No compromises are necessary, provides every exercise you need
Professional level workout experience
Holds up to rigorous regular workouts
Cons
Assembly instructions are difficult to read, and plan on 12 hours of assembly time
Heavy, and takes up a lot of space
Features to consider when purchasing home gym equipment
So you want to set up a home gym, but you don't know where to start or what will work best for you. Consider the following questions when shopping for an all-in-one home gym, and you'll find the best option to fit your home and your lifestyle.
Lots of options
Portable Equipment
You can use combinations of portable equipment like dumbbells, kettle balls, steps, bands, mats, ab workers, etc. If you don't have a lot of space, these items can be tucked away in a tote or closet.
Free Weight Stations
This includes adjustable benches, racks for holding barbells, dumbbells, barbells with plates. This is mostly movable equipment but the sheer weight makes it not as portable.
Multi-Gyms with Bands and Cords
Their flexing bands create the resistance that taxes your muscles.
Total Gyms
These models use an adjustable height inclined bench and sliding seat that uses your body weight to increase resistance.
Multi-Gyms with Stacked Weights
This is the most popular home gym and uses a cable and pulley system with stacked weights, with pin pegs used to select the weight.
Multi-Gyms with Free Weight Plates
Round weights are manually lifted on and off the bars.
Smith Machine Multi-Combinations
The standard Smith machine constrains the bar in one vertical plane, which is different from free weight benches and racks. Additional attachments can be added to make this more versatile.
Personal Goals
Are you just starting out? Perhaps an exercise mat and some resistance bands are a good choice for you. Are your goals general fitness, weight loss, muscle tone, flexibility? Some combination of these? Maybe a stacked weight multi-gym that will grow with you as you progress and amplify your workouts is the best option. Are you a little more serious and want to develop more muscle? Are you going to use your home gym to supplement your hard core workouts at the local body building hangout? Maybe a Smith Machine or a combination of multiple options will be the best fit.
Budget
You can spend from a few hundred to several thousand dollars in creating your home workout environment. Since exercise is about being healthy, be sure to determine how much gym you can afford to remain financially fit.
Space Requirements
Measure, measure, measure and plan, plan, plan when you're shopping for home gym equipment. Determine the exact external dimensions of the assembled gym equipment, with all possible attachments, and any extension that happens during exercise to make sure you don't bring home something you can't fit in your house.
How Many People Will Be Using It
If you live or work out alone, this isn't a consideration, but waiting in line for access to your home gym eliminates one of the main benefits of having one. You want to work out when you want to, and multi-station home gyms allow for more than one person to work out simultaneously so you don't have to wait to do an exercise.
FAQ
Are home workouts just as effective as the gym?
The most effective workouts are the ones you do. So, since home gyms are more convenient than gym memberships, it's easier to fit a workout into your schedule. If you do the same exercises at home you would do at the gym, you can expect the same results.
What are the benefits of a home gym?
No need to pack a gym bag, fight traffic, find parking, and wait for equipment once you get to the gym if you have the equipment you need at home. Save prep and travel time and make your workout routines more time-efficient.
You can fit exercise into your schedule when it works for you, not according to when a gym is open.
No "gym shaming!" You don't have to worry about a dress code or working out under the watchful and judging eyes of others.
Set up the environment the way you like it. Pick the temperature, music, and video entertainment that you like.
You can make it a family affair, without having to purchase multiple gym memberships for your partner and kids. And childcare isn't an issue.
You can enjoy pandemic-proof exercise, without exposure to COVID-19 or other contagions.
Choose your own design and configuration for your home gym to best fit your space and your exercise routines and goals.
How much home workout is enough?
The breakdown varies depending on your specific goals, but in general, four to five days a week will improve or maintain your fitness. If you are a beginner who has been leading a sedentary lifestyle, starting with two workouts a week and increasing those gradually will be effective and safe.
What do you need for a basic home gym?
If you have a home gym that has an adjustable bench, stacked metal weights, lat pulldown bars, press bars for shoulders, arms, and back, leg extension system for thigh muscles, leg curl system for the hamstrings, and seated cable rowing system for back and arms, you will cover strength and conditioning for every major muscle group.
Summary
The best workout is one you'll do. Having a home gym can make it easier and more comfortable for you to get the exercise you know you need.
The EXM4000S Selectorized Home Gym is our #1 pick of best all-in-one home gyms because it provides a full-body workout for three people at the same time. You get the benefits of working out with others without having to wait for them to finish before you can begin. It is a solidly-built piece of equipment that meets every strength and conditioning need you have.
Check out our complete catalog of Weight Resistance Training equipment, where you will find an extensive collection of products! Be sure to check out Caregiver University for more helpful articles written by our team of healthcare experts.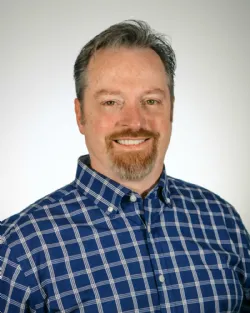 Author:
Co-Founder of Rehabmart and an Occupational Therapist since 1993. Mike has spent his professional career working in multiple areas of Occupational Therapy, including pediatrics, geriatrics, hand therapy, ergonomics and inpatient / outpatient rehabilitation. Mike enjoys writing articles that help people solve complex therapeutic problems and make better product choices.