Hospital bed mattresses, also commonly referred to as medical mattresses or therapeutic mattresses, are one of the most crucial factors when providing comfort and support to a patient recovering while in a bed.
Hospital bed mattresses are understandably a very diverse and eclectic field of medical equipment, with many designed to target the most specific of ailments.
Most hospital bed mattresses are composed of one or more of the following: foam, innerspring coils, air, or gel.
While their commonalities might be limited, these mattresses can be subcategorized into several distinct fields (some of which have been known to overlap): innerspring mattresses, foam mattresses, low air loss mattresses, alternating pressure mattresses, lateral rotation mattresses, and bariatric mattresses.
Top 5 Best Hospital Bed Mattress Summary
The Top 5: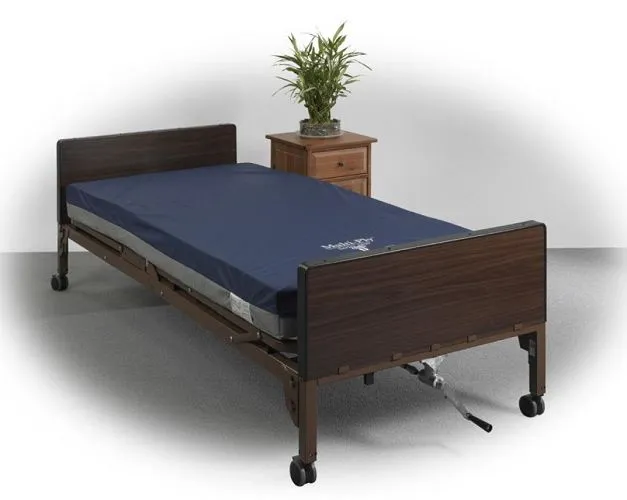 Delivering exceptional support and cooling comfort, the Drive Medical Pressure Reducing Foam Mattress Series 6500 Dynamic Elite makes our list at number five. Specially formulated with gel-infused foam, heat is channeled away from the body significantly faster than standard foam. This mattress is popular with users requiring varying levels of pressure relief to reduce the risk of decubitus ulcer formation.
Superior pressure redistribution achieved by providing more support and less cradling at higher levels of compression, distributing pressure over a much larger surface area, and eliminating static fatigue. The vulnerable heel area is protected by the patented Lura-Quilt foam and a 25-degree heel slope which redistributes pressure to the entire leg and away from the heel.
Features and Benefits
Pressure redistribution to provide more support.
Top layer aerated foam for temperature control.
Heel slope helps to reduce pressure and increase blood circulation.
Gel-infused foam channels heat away from the body to keep skin dry and cool.
Customer Feedback
Pros
Quality and durability
Price and fast shipping
Cons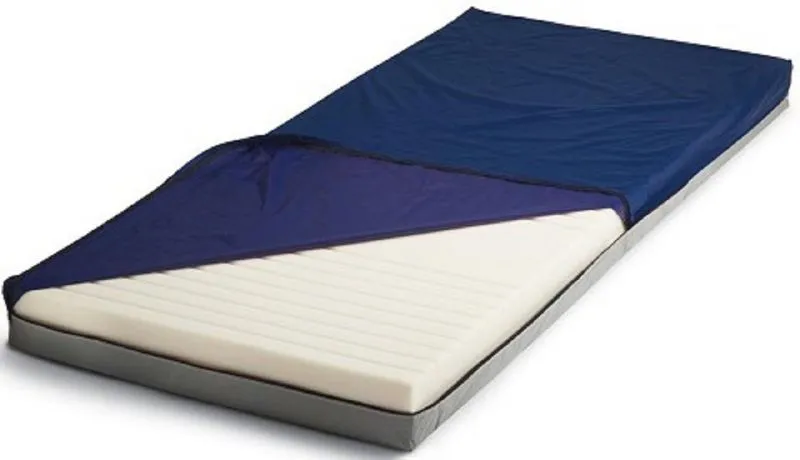 The first of two foam mattresses featured in this Top Five list, Medline's Advantage 300 Foam Mattress is to foam mattresses what the Drive Medical Innerspring Mattress is to innerspring mattresses: a no-nonsense, effective baseline that serves as a standard for comparison.
Thanks to its latex-free foam construction and triple-zoned pressure distribution, customers praise the mattresses' comfort above all else.
The Advantage 300 also makes use of a nylon-based top cover that helps make cleaning easier.
Perhaps the most consistently mentioned issue that customers faced with the 300 was its lack of sizing options. Offered in only one size—80 inches in length and 36 inches wide—this mattress will only fit with bed frames that meet these dimensions.
In addition, because of the specific layout of the foam in the mattress, it is not able to be flipped or rotated the way many innerspring mattresses are.
Features and Benefits
Exceptionally comfortable mattress
Three strategically laid out sections of foam redistribute and relieve pressure
Foam construction is exceptionally durable and lasts longer than most innerspring mattresses
Nylon-based covering helps to make cleaning a breeze
Customer Feedback
Pros:
Extremely comfortable
Outlasted most innerspring mattresses customers had previously used
Very effective at relieving pressure on areas not usually supported by other mattresses
Cons:
Only available in one size, meaning the frame must match it - most other mattresses are available in multiple sizes to avoid this problem
While the nylon covering makes cleaning easier, some of the covers on other mattresses are a bit more effective in this regard
The layout of the mattress keeps it from being able to be flipped to last longer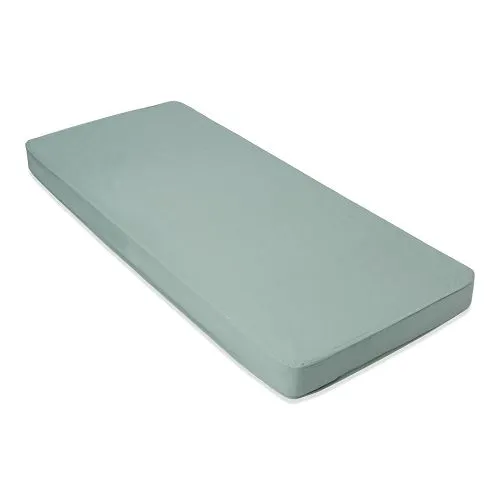 Cooling and comfortable, the Medline Vinyl Innerspring Mattress, promotes better rest with its host of innovative design attributes. It easily takes the number three position on our list with its exceptional affordability, as well.
This mattress is latex-free with foam around coiled innersprings and has inverted seams for greater comfort. It will safely support up to 250 pounds and measures 80 inches in length with a depth of 7 inches. Its included vinyl cover is anti-static, antibacterial, and waterproof to protect the mattress, conform to safety and sanitation protocols, and to reduce wear and tear.
Features and Benefits
Metal inner springs provide strong, dependable, and comfortable support
An inch of firm high-density foam on both sides enables the mattress to be used reversibly
Anti-static, water-resistant, and antibacterial vinyl cover protects the mattress
The most affordable mattress on our list
Customer Feedback
Pros:
Cooling aspect from the vents is a well-loved feature for users who tend to get too hot while sleeping
Very comfortable support, and helps to prevent pressure ulcers for some users
Reversible option extends the life of the mattress, making it an even better cost-effective choice over other mattresses
Cons
Only available in 80-inch length
Its firm comfort may not be soft enough for some users who prefer a cushier surface
Coming in at number two on our list is Invacare's Solace Prevention Therapeutic Foam Mattress. The range of features and high quality make this mattress an exceptional choice for nearly any user.
Customers praise the mattresses' quality, especially its ability to provide cushioned, comfortable support without being too firm. The mattress is also noted by customers for its ability to promote airflow, which reduces heat and moisture — thereby helping prevent pressure ulcers and bedsores.
Another area that really sets this mattress apart is the wide range of customization options that this mattress provides. It's offered in three lengths with built-in side supports on the 76" and 80" models, and the option to add a raised side rail support system on the 80" length.
Features and Benefits:
Offered in three lengths — 76", 80", and 84"
Multiple customization options, including built-in side supports and side rails
Customer Feedback
Pros:
Noted as being extremely comfortable and long-lasting
Designed to promote airflow, helping prevent bedsores and pressure ulcers
Available in three lengths, customers can choose the appropriate size for the patient
Foam construction is protective, comfortable, and provides support and relief to pressure points along the body
Cons:
Fairly expensive in comparison to other mattresses in our rankings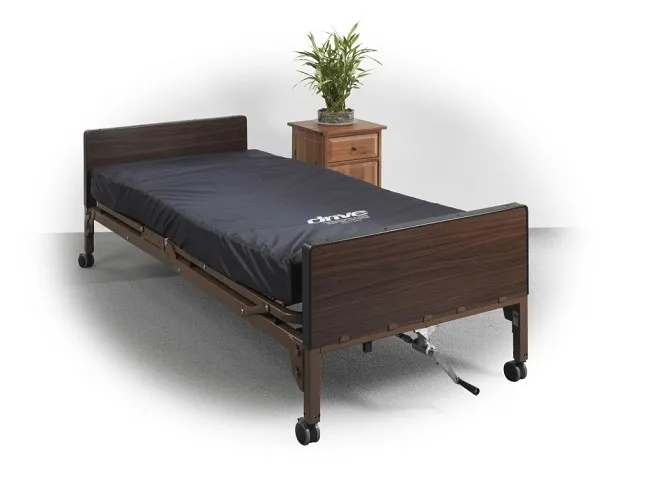 The number one mattress included in our rankings is the Therapeutic 5 Zone Support Mattress by Drive Medical. This ultra-comfortable mattress is designed with five unique therapeutic zones to ensure maximum comfort and support.
This supportive mattress features a firm foam core, providing an even base of support, while the convoluted cross-cut top surface helps to reduce pressure on bony prominences. The top surface includes five unique zones to perfectly redistribute the sleeper's weight evenly for ultimate comfort. It is also water-resistant and vapor-permeable, helping to protect the skin from damage.
The deluxe nylon cover provides a waterproof and anti-microbial surface that maintains hygiene extremely well, making it an excellent and reliable option for hospital beds both in healthcare settings and homecare settings.
Features and Benefits:
Five zones redistribute pressure for maximum comfort and relief
Water-resistant, vapor-permeable construction helps reduce skin damage
Waterproof antimicrobial mattress cover helps ensure sanitation protection
Product Dimensions: 35" W x 80" D x 5.5" H
Customer Feedback
Pros:
Convoluted top layer reduces pressure, making it more comfortable.

Waterproof and anti-microbial cover makes cleaning a breeze.

Nylon cover reduces skin shear and friction.
Cons:
Available in only one size, making it less versatile than other choices.
Conclusion
Thanks to its ultra-effective five-zone system, the Drive Medical Therapeutic Support Mattress is ranked as the number one best hospital mattress at RehabMart.
The support, price, and comfort combine to make this mattress an exceptional choice for patients with all sorts of needs.
Want to learn even more? Find dozens of videos featuring products and caregiver tips like these at Rehabmart's YouTube channel!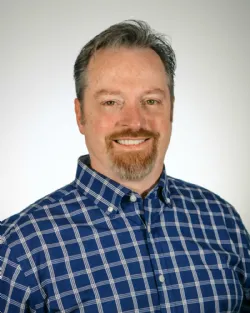 Author:
Co-Founder of Rehabmart and an Occupational Therapist since 1993. Mike has spent his professional career working in multiple areas of Occupational Therapy, including pediatrics, geriatrics, hand therapy, ergonomics and inpatient / outpatient rehabilitation. Mike enjoys writing articles that help people solve complex therapeutic problems and make better product choices.