The 5 Best Hoyer Lift Rankings
The Top 5:
What is a Hoyer Lift?
People who are living with immobility often rely on a Hoyer lift to safely transport them from one place to another with the help of their caregivers. As an assistive medical device, a Hoyer patient lift is an essential safety tool that helps transfer and carry a patient from nearly any surface, enabling them to be moved to a bed, bathtub, wheelchair, toilet, and more.
Named for its inventor, Ted Hoyer, who became a paraplegic at the age of 16, Hoyer lifts have been helping people move since being patented in 1958, and continue to advance in design to this day.
The basic Hoyer lift design includes a tall pole or mast, with a U-shaped base and a horizontal arm or bar that has hooks or a cradle or spreader bar on top. The sling, which is usually sold separately, suspends via metal clips or loops attached to the spreader bar. With the sling supporting the patient, they can then be raised, lowered, and moved from side to side with the hydraulic system and movable arm.
When should a Hoyer Lift be used?
A Hoyer lift is indicated for a patient who requires 90 to 100-percent assistance to get in and out of bed or to transfer to a wheelchair, toilet, or chair.
Where are Hoyer Lifts used?
Hoyer patient lifts are commonly used in hospitals, long-term care facilities, healthcare centers, assisted living facilities, rehab centers, and at home. The tried and true design elements of injury prevention, ergonomic consideration, and human factors all combine to enable Hoyer lifts to meet the needs of the environment, patient, and caregiver.
What are the different types of Hoyer Lifts?
There is a wide variety of Hoyer lift types, including those that can easily move from one room to another, along with designs that are bolted to the ceiling. Some Hoyer lift systems are installed throughout the home to combine these functions, enabling mobility from one room the next without having to use a wheelchair. The four main types of Hoyer lifts include manual, power, sit-to-stand, and ceiling.
Manual Hoyer Lifts
Manual Hoyer lifts utilize a hydraulic pump system, and are sometimes referred to as hydraulic patient lifts. Lifting is controlled by the caregiver with the hydraulic hand pump to ensure safe, assisted patient lifts and transfers. As the most economical option for moving dependent patients, manual Hoyer lifts don't require any power supply, making them exceptionally portable and reliable. Manual, power, and ceiling Hoyer lifts are also known as passive lifts.
Power Hoyer Lifts
Powered by AC electrical current or the use of a rechargeable battery, power Hoyer lifts utilize this alternative power source to activate the hydraulic pump, which moves the sling-bearing arm up and into the desired position. Although they tend to be the most expensive, electric or powered Hoyer lifts are considered the safest option for caregivers to prevent overexertion and strain injuries. They also provide a manual handle to operate the lift in the event of a power failure, so patients are not left stranded in the sling. Both power and manual Hoyer lifts are also known as floor lifts.
Sit-to-Stand Hoyer Lifts
Designed for patients who are able to bear some weight and pull themselves to a standing position with assistance, sit-to-stand Hoyer lifts provide support and enhance safety during these maneuvers. This type of Hoyer lift usually offers several design features to benefit the patient and make it easier to use, often enabling patients to use the device unassisted, requiring the help of a caregiver once standing. Sit-to-stand Hoyer lifts are also known as active lifts.
Ceiling Hoyer Lifts
For permanently immobile patients staying in their home, a ceiling Hoyer lift provides the best long-term solution for versatile and convenient mobility support. Utilizing flexible tracking systems, Hoyer ceiling lifts are designed to be ready and available wherever and whenever they're needed. They offer a much higher safe working load capacity to accommodate any patient, regardless of size. They're the perfect choice for users who don't want to transfer in and out of a wheelchair while at home. Hoyer ceiling lifts are also known as overhead lifts.
Who needs a Hoyer Lift?
Anyone struggling with safe and secure mobility could use a Hoyer lift, especially those who are 90-percent immobile or above. Whether it's appropriate to employ a Hoyer lift depends on several factors, with the space required to operate one being one of the most crucial to answer. Another important determination is whether the patient has caregiving assistance, as the vast majority of Hoyer lifts will require at least one caregiver to operate the device.
For patients who still retain some level of weight-bearing ability, a Hoyer lift design can act as a supportive aid to help them mobilize throughout the day. For patients who are mostly or totally immobile, a Hoyer lift is more of a mandatory mobility solution, and something they must have to survive and thrive.
Equally important for caregivers as they are for the patients, Hoyer lifts prevent lifting-related injuries for both the patient and the caregiver. They're often used for seniors aging in place at home, for people living with disabilities that affect their ambulation, and for those recovering from injury or post-surgery.
Can one person operate a Hoyer lift?
Although the medical protocols for safe Hoyer lift operation in hospitals, care facilities, and home healthcare often require the assistance of two people, once a home caregiver has been trained in its use, a Hoyer lift can also usually be safely operated by just one person at home. It's important to check the design to ensure you choose a style that can be operated by a single caregiver.
Are Hoyer Lifts safe?
As long as they are used correctly, with all safety protocols followed, Hoyer lifts are exceptionally safe patient lifting and transfer devices. Because a caregiver's responsibility when transferring or maneuvering a patient is to perform it in the safest manner possible, making the patient comfortable and keeping them from harm, using a Hoyer lift instead of manual lifting on the part of the caregiver is a much safer and secure experience for everyone involved.
How do you use a Hoyer Lift properly?
The best way to acclimate to the Hoyer lift you've selected is to practice using it with an able-bodied person who is not the patient. There are a number of operating instructions along with safety tips and precautions a caregiver will need to be aware of in order to operate a Hoyer patient lift with confidence, including:
The base should be open so the equipment stays stable during the lift, and should always be adjusted to a wide enough position to provide a complete fit with the wheelchair, toilet, or chair.
The base-widening apparatus should be easy to operate with a foot pedal or hand lever, depending on the design, and this should be inspected and tested before actual use with a patient to ensure it doesn't malfunction.
Ensure that the lift is capable of lifting the patient from the floor by testing this with an able-bodied person first.
Look for specific design features that will provide support for the caregiver, especially if the caregiver is living with various physical challenges. For example, choose hydraulic pumps that have ergonomic handles for caregivers with manual challenges, or a powered lift for caregivers with low upper body strength.
Choose the proper sling types to use that will work best for the patient and their particular requirements and preferences. Commode slings feature an opening for easier toileting, while a full-body sling can provide soothing sensory input to make some patients feel safer. U-slings are generally the best choice for bathroom transfers and wheelchair positioning.
Make sure the wheels of the lift are locked before you begin the lifting process to ensure its stability, as it needs to be secured and stationary to prevent any unnecessary injuries.
For Hoyer lifts that will be operated by a single caregiver, it's important to choose a model that offers large and easy-to-operate pressure release lowering components to assure patient safety.
Padding on the lift's metal base can be helpful to protect a patient during an accidental fall while it also prevents any scrapes, scratches or harm to the surrounding walls and furniture.
RehabMart offers helpful tutorials on how to safely use a Hoyer lift to transfer a patient from a wheelchair to a toilet, along with how to choose the best sling for specific patient needs.
What is the best Hoyer Lift?
Although there is a wide variety of Hoyer lifts on the market today, their basic design premise remains pretty similar across the board. A comfortable sling is placed underneath the patient and secured, then attached securely to an extendable arm that moves the patient where they need to be. While they move in varied ways, with some designs that rotate and others attached to a track system, all Hoyer lifts are intended to allow a patient with limited mobility to safely get around while they also spare caregivers the added strain of moving a patient manually.
We researched the top Hoyer lifts in our catalog to determine the five best choices. Factoring in performance, durability, ease of use, size, and affordability, we also collected input from the caregiver and patients using this equipment in order to select our top five Hoyer lifts. Using our comparison will help you establish the best lift for your needs. You can also find more information about how to choose the best Hoyer lift here.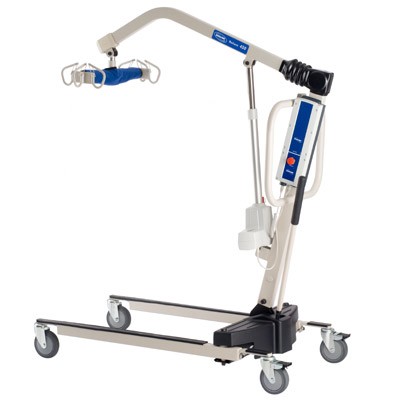 Taking the number five spot in our review is the Invacare Low Base Battery Powered Reliant 450 Patient Lift by Invacare. You can definitely rely on this heavy-duty Hoyer lift to provide safe and easy transfers that are comfortable for the patient and secure for the caregiver. Its low base allows easy access for transfers to and from beds, wheelchairs, and other furniture, while its higher lift range enables safe lifts from both the floor and higher surfaces.
Providing total pinch-point protection with covered moving parts, the Reliant 450's design is practical, sturdy, and durable, with a wide base to deliver maximum stability. Battery-operated for convenient use, this Hoyer lift includes manual lowering capabilities in case of power loss. This lift incorporates two 24-volt batteries so that one can be charging while the other is in use. An anti-entrapment safety feature is included if the boom meets resistance while lowering.
The Reliant 450 patient lift accommodates tall and bariatric users, with a weight capacity of 450 pounds.
Features & Benefits
Low 4.5-inch clearance base fits easily under beds, wheelchairs, and furniture
Higher lift height range enables lifts from the floor and high surfaces
Maximum stability, heavy-duty construction accommodates tall and bariatric users
Battery-powered, with emergency manual lowering capability
Covered moving parts ensure total pinch-point protection
Adds an anti-entrapment safety component
Hand pendant is ergonomically designed, conveniently fits on multiple points of lift
Customer Feedback
Pros
Works great for tall and/or heavier users
Easy to set up and operate
Remote can be held in one hand, while caregivers use the other to position the patient
Smooth and quiet operation, doesn't jerk the patient
Strong and stable construction is highly dependable
Long battery life
Easy and secure sling attachment
Cons
Doesn't maneuver as well on carpeted flooring
Operating instructions were hard to understand for some users
Some users felt the brake was a little hard to set and release
May not fit over larger furniture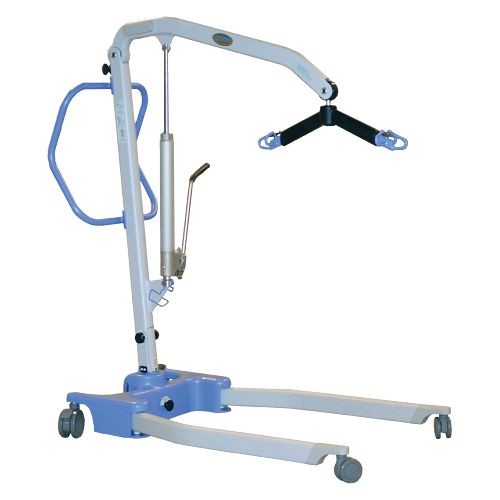 Built for easy storage and transport, the Hoyer Advance Compact Folding Mobile Patient Lift by Hoyer is designed with uniquely tapered legs that enable it to get closer to patients in wheelchairs or wider chairs. As the most affordable Hoyer lift in our review, it takes the number four spot on our list with its updated and efficient design that makes life easier for both patients and caregivers.
Delivering a viable alternative to permanently-installed Hoyer ceiling lifts, this compact and completely portable patient lift is available in either a power or manual version to better meet individual patient and caregiver requirements. Lightweight aluminum construction combined with a no-tool folding design enables simple storage and transport, yet the lift safely accommodates user weights up to 340 pounds. Innovative design features like its intuitive push pad, oversized handles, and triangular fold configuration make this lift a great choice for most patients, especially those with limited space.
Features & Benefits
Lightweight, compact, and foldable for easy storage and transport
Available in both power and manual models
Adjustable, swan neck-style legs enable the Advance to get closer to the patient
Intuitive push pad facilitates simpler movement
Oversized handles to improve caregiver control
Most affordable Hoyer lift in our review
Customer Feedback
Pros
Adjustable legs fit around wide furniture for safer transfers
Compact, easy to use and store away when not needed
Works well on all floor surfaces
Quiet and smooth operation (power model)
Great value for the price
Easy to assemble and perfect for small apartments
Cons
Heavier than expected (the hydraulic unit weighs 64 pounds and the power unit weighs 69 pounds)
Battery charge could be longer, some customers recommend getting an extra battery pack
Some users had trouble with understanding the operational directions
May not lift high enough for some users with higher bed surfaces
Power model is a better choice for caregivers with physical limitations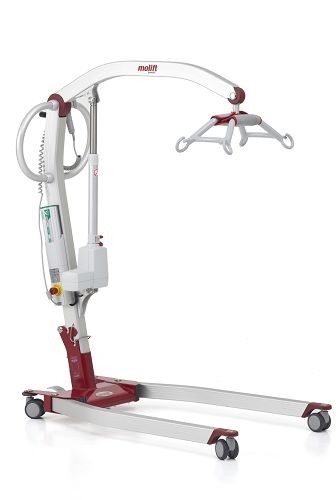 The third position in our comparison goes to the Molift Smart 150 Patient Lift by R82. Offering the lightest weight of any of the Hoyer lifts in our review, this compact patient lift never sacrifices quality for size. It can perform almost any required patient movement or transfer task, even in the tightest and most restricted spaces.
TSA approved for air travel, the Molift Smart 150 can be divided into two parts or folded for easier transport. An optional TSA-approved travel case or soft transport bag provides convenient portability for the folded lift and with or without the case or bag, the folded lift can be stored in closets or under the bed. The included rechargeable battery is also lightweight.
Delivering an exceptional maximum hoisting height and generous 330-pound weight capacity, this award-winning lift can perform transfers from the floor with ease, with legs that are manually adjustable for improved accessibility. Its 4-point sling bar facilitates comfortable transfers for the patient, with a wide variety of Molift slings that are sold separately. Integrated automatic service notifications and an electronic inbuilt lifting counter enable proper servicing and easier diagnostics for Molift's engineers to help keep it operable and performing well for many years to come.
Features & Benefits
Lightest weight of any Hoyer lift in our review
TSA-approved for air travel, optional TSA-approved carrying case available
Folds down compactly, or can be disassembled into two parts
Four-point sling bar enhances patient comfort
Delivers maximum hoisting height to perform multiple transfers, including floor transfers
Performs well in small, restricted spaces
Automated service notifications and monitoring for longer lift life
Customer Feedback
Pros
Long-lasting lifts, several customers have been using them a decade or more
Folding and disassembly capability is super convenient, especially for air and car travel
Flexible, reliable, and very easy to operate
Great versatility for small living quarters and restricted spaces
Cons
Highest purchase price in our review, but no negative reviews from customers could be found
The heavy-duty LEVANTAR Floor Patient Lift by Drive Medical secures the second position on our list with its 500-pound capacity and optimal comfort. Its sleek, contemporary design focuses on safety-minded operating technology and durable, dependable performance. Like some of the other Hoyer lifts in this comparison, it can be selected in either a power or manual model.
Its 6-point cradle delivers the utmost in comfort for the patient, virtually eliminating any squeezing or pinching from the sling. Casters lock for secure stationary positioning and the sealed, rear casters are oversized to optimize maneuverability. Its shallow height offers a greater elevation range, performing transfers from the floor and other daily transfers with ease.
Redundant controls, three audible safety indicators, visual indicators, and a safety-stop maximize safety, and the power model battery can be conveniently charged both on or off the lift. The Levantar patient lift offers a comprehensive selection of slings to suit every need and size, which are sold separately.
Features & Benefits
Heavy-duty strength and stability in a sleek and contemporary design
Exceptional height range enables floor lifts with a 500-pound weight capacity
Oversized and sealed rear casters, all casters lock for secured positioning
Redundant controls facilitate accessible operation from multiple points of the lift
Low battery, weight overload, and needed maintenance are indicated with audible alarms
Patient comfort is optimized with versatile and wide 6-point cradle
The battery is conveniently rechargeable while it is on or off the lift
Customer Feedback
Pros
Good value for the price
Very comfortable for patients with the 6-point cradle and the ability to choose the right sling
A popular choice as a regular lift to keep in the home
Ideal for patients who tend toward falls with its capability to lift heavier patients from the floor
Being able to charge the battery while it's still on the lift is a much-appreciated feature
Cons
Lift is heavy, not the best option for travel (the Levantar is one of the heaviest Hoyer lifts in our review)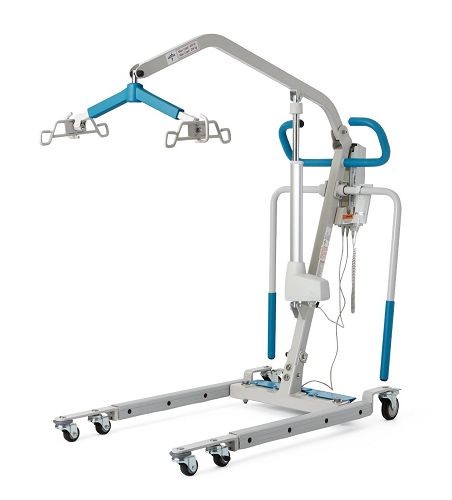 Well-deserving of the top spot in our review, the Medline Electric Patient Lift with Power-Adjustable Base by Medline offers convenient, affordable, and versatile operation in two heavy-duty models. Accommodating patient weights up to 450 and 700 pounds, these robust Hoyer lifts can safely serve a wide variety of patients. Its power-adjustable base is simple to adjust with the easy-to-use remote control, making transfers closer and more accessible over and around furniture and wheelchairs. The base is also exceptionally low-profile to slide more easily under furniture and low beds.
Patient comfort is maximized with the 6-point cradle, eliminating squeeze and pinching from the sling, providing a wider distribution of weight, and optimizing versatility. Its battery provides up to 100 lifts and can be recharged on the lift, or additional options can be purchased, such as an additional battery, charge box, or off-board charging station to ensure you always have a fully-charged battery for uninterrupted operation.
This total lift from Medline provides an ample lifting height to enable transfers from the floor as well as higher surfaces, facilitating dependable and comfortable support for any patient transfer application. Its fast actuator speeds enhance safety and efficiency, delivering a smooth and secure lift and transfer every time. The 700-pound capacity lift offers an add-on option for gait-training arms to utilize it as a gait and ambulation support device as well.
Features & Benefits
Power-adjustable base for closer accessibility and operational control
Easy-to-operate remote control with an intuitive interface
Low-profile base legs fit easily under low beds, wheelchairs, and furniture
Swift and efficient actuator enhances safety
One model accommodates 450 pounds while the other accommodates 700 pounds
The 700-pound capacity model offers the option of gait training arms
Customer Feedback
Pros
Stable, strong, and sturdy support for larger patients
Dependable operation and performance
Therapists love the gait-training capability of the 700-pound capacity model
A more affordable option, especially for heavy-duty and bariatric Hoyer lifts
Good lifting height, and performs well for lifting patients from the floor
Smooth and quiet operation
Controls are easy to use and understand
Fits well under low-clearance furniture and beds
Adjustable base legs are easy to adjust quickly with the remote control
Cons
Heavier lift weights, not recommended for travel
Summary
As one of the most commonly used patient lifts, for over 70 years, Hoyer lifts have been helping safely move and transfer patients living with mobility challenges. Always taking advantage of the latest technology and medical advancements, Hoyer lifts provide safe, comfortable support, with a bevy of varied design features to benefit both the patient and the caregiver.
Hoyer lifts are available in manual, power, sit-to-stand, and ceiling configurations, and we shared our research to help you determine the best lift to meet your needs. While every Hoyer lift that made our top five would be the best choice based on individual factors, we determined the Medline Electric Patient Lift with Power-Adjustable Base to be the best overall choice for most patients and their caregivers.
With its higher weight capacities, two different model choices, low-profile and power-adjustable base, ample lifting range, and 6-point cradle, this affordable and heavy-duty patient lift is a great solution for home use as well as hospitals, long-term care facilities, bariatric centers, and assisted living facilities.
We invite you to peruse more of our Hoyer patient lifts and slings and check out our helpful caregiving resources at Caregiver University.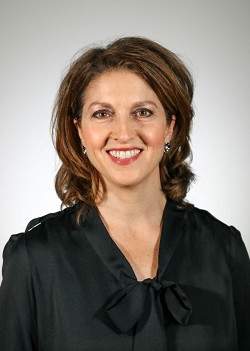 Author:
Megan has been a part of Rehabmart since its inception nearly 20 years ago. For the past several years she has been enjoying her role as HR Director while maintaining her Physical Therapy license. When she isn't working on her next in-service or working to find a new team member, she enjoys her five children, helping those who have PT type ailments, baking, practicing yoga, and working out.