For people who can't get in and out of a bed, a chair, or a wheelchair without a significant amount of assistance, a Hoyer lift can be used to safely transfer and carry the user from almost any surface. Healthcare workers experience some of the highest rates of nonfatal occupational injuries and illnesses of any industry sector, and a Hoyer lift is an assistive mobility device that reduces the strain placed on caregivers during transfers.
Since traveling improves social skills, communication skills, and self-esteem, and travel planning is part of self-management life skills that increase independence for disabled people, a movable lift can go a long way toward enhancing the daily quality of life.
A Hoyer lift includes a tall pole, a U-shaped base, a horizontal arm that holds hooks or a spreader bar to attach to the sling, along with a hydraulic system and moveable arm. Our five top choices for best Hoyer lifts all provide users and their caregivers with a comfortable and safe experience when a transfer is required.
The Top 5:
The first entry on our Top 5 list is the PL400EF Lift - Electric Foldable Portable Transportable Mobile from Bestcare. A disability doesn't mean a person shouldn't have access to essential activities like going to work, medical appointments, and visits with friends. This small but mighty electric Hoyer lift is small enough to fold up and conveniently take along in a car trunk for travel, and powerful enough to safely accommodate patients weighing up to 400 pounds.
Rollable and foldable, when not in use this Hoyer lift can be folded easily in three simple steps to be stored under a bed or in a closet. It offers a lot of flexibility because although it comes with a 2-point spreader bar, it is actually also compatible with 4- and 6-point slings. It rolls smoothly on 4-inch rear casters with brakes, and dual 3-inch front casters, using the handlebars to steer.
When folded, its dimensions are 46 inches long, 25 inches wide, and only 11 inches high. It can lift from as low as 18.3 inches, and as high as 67 inches. Its legs can open up to 37.7 inches, which allows for lifting a patient in a larger wheelchair.
It has an audible warning system, with an alarm to signal weight overload or a low battery. A manual release feature can be engaged in case of lift or battery failure. Some light assembly is required, and it comes with a 3-year limited warranty. Optional upgrades are available including a very convenient scale, an extra battery, and a charging cradle.
The small footprint and foldability of this Hoyer lift makes it one of our top choices.
Features and Benefits
2-point spreader bar also compatible with 4- and 6- point slings
Space-saving design fits in closet, under bed, or in most car trunks
Folds in 3 simple steps
Weight capacity of 400 pounds
Lifting range of 18.3 to 67 inches
Customer Feedback
Pros
Easy to set up and use
Saves significant strain caregivers during transfers
High weight limit serves almost any patient
Portability makes traveling easier
Clearly displays any alarms
Manual feature ensures safety
Cons
Doesn't come with a sling
A bit too wide for patients less than 5 feet tall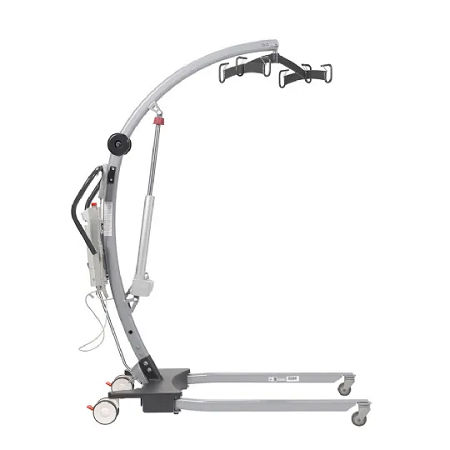 The LEVANTAR Floor Patient Lift from Drive Medical has earned the number 4 spot on our list of best Hoyer lifts. This heavy-duty lift can safely accommodate patients weighing up to 500 pounds.
Its 6-point cradle is compatible with a variety of slings, and it has a wide footprint to minimize any sling squeeze for the patient. Purchase options include a manual or battery-powered electric base. It has 3-inch front casters, and large stable 5-inch sealed locking casters in the rear.
This lift's boom arm can be lowered enough to lift a patient off the floor. Its dual LCD displays allow a caregiver to monitor the operation from multiple positions, and the visual battery indicator ensures you always know when the battery needs to be charged or replaced. In addition to the visual indicators, audio alerts can be programmed for battery, weight overload, and maintenance alerts. You can set up a lift-cycle or a time-based maintenance schedule programmed to automatically track and alert you.
Safety options include a safety stop that engages if a patient or caregiver gets in the way of the boom arm's operation. It comes with a battery and an external charging stand, although it can be charged while on or off the lift. White glove in-home assembly by a qualified technician is available.
This sleekly designed modern-looking Hoyer lift made our list because of its heavy-duty capabilities and list of convenience and safety features.
Features and Benefits
Wide 6-point cradle reduces sling squeeze
Redundant hand controls
Audible alarms for battery, weight overload, and maintenance
Can accommodate patients weighing up to 500 pounds
Oversized easy locking rear casters provide stability and easy maneuvering
Customer Feedback
Pros
Easy to use
Works for bariatric patients
Durable piece of equipment
Convenient maintenance alerts
Confident in safety features
Cons
Slow operation
Narrow trapeze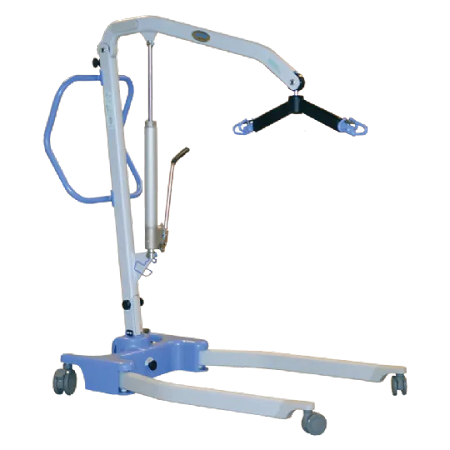 Choose your lifting style, hydraulic or battery-operated electric, with our number 3 choice, the Advance Compact Folding Mobile Patient Lift by Hoyer.
Its tapered legs allow this Hoyer lift to get closer to patients in wide wheelchairs. To make transport easier, it has push pad aids to start it in motion. Lightweight and requiring no tools to fold it, this lift has a weight capacity of 340 pounds. It is an attractive portable alternative to permanently installed lifts.
A rear pedal easily opens and closes the legs, which can even be adjusted while the lift is in use and in motion. In addition to the push footpad, it has an oversized handle to make it easy for a caregiver to maneuver from room to room. This lift's triangular folding design allows it to stand unaided when it is stored or transported.
The hydraulic version's footpad can be rotated from either side, and its progressive release valve can be opened slowly to provide caregivers with hands-free operation so they can assist patients while being lowered. The battery-operated electric version comes with a rechargeable battery along with a corded hand-held remote. Its battery can be fully charged in 4 hours.
This Hoyer lift has a lifting range of 15.4 inches to 64.6 inches in the hydraulic model, and 15.3 to 66.5 inches in the electric version. It is compatible with Hoyer grey looped swings. The options and caregiver-friendly maneuverability landed this lift on our list.
Features and Benefits
Can get close to wide chairs and wheelchairs
Made from lightweight yet strong aluminum
Easy to fold down for storage
Push pad assists to start motion
Choice of hydraulic or battery operated version
Customer Feedback
Pros
Easy to set up and fold
Can accommodate tall users, but stores in a small space
Portability allows for car travel
Very maneuverable
Cons
Takes two people to load into car
Smaller front wheels can make it difficult to move onto carpet
Coming in at number 2 on our list is the compact Molift Smart 150 Patient Lift by R82, which is TSA-approved for air travel.
Even in the tightest of spaces, this electric Hoyer lift allows for almost any movement or transfer. It can lift from the floor, with a hoisting height of 65 inches. It maneuvers into place easily to lift and move patients at home, in school, and while traveling. Able to accommodate patients weighing up to 330 pounds, it has a 4-point sling bar compatible with Molift slings that will ensure correct and comfortable patient positioning, whether starting or ending lying down or sitting.
Traveling is not a chore with this Hoyer lift. It comes with a travel case, and without tools, it can be divided into two parts or simply folded as needed. It also stores easily under the bed or in the closet. The manually adjustable legs provide easy access.
With an automatic service notification system, you never have to wonder when it needs servicing. It boasts both electric and manual lowering functions, and it also has an emergency stop for safety. It provides a gentle, smooth user experience with multiple lifting speeds to choose from. It has a rechargeable battery, and an electronic lifting counter if you want to monitor daily, weekly, monthly, or yearly lifting patterns. This information is also valuable during annual inspections by Molift engineers. An instructional DVD, power pack battery, charger, and hand control come with each lift.
The ease of use during travel is a major benefit to choosing this lift, which is why it made it on our list at number 2.
Features and Benefits
Very user friendly
Compact yet durable
Generous lifting range
Leg adjustability to fit user needs
Sling bar can be used with several Molift slings
Customer Feedback
Pros
Able to fold up and put in the back of the car for trips
Very durable and can be counted on for years
Opens up travel possibilities for car and plane trips
Makes transfers around the house quick and easy
Ability to choose lift speed guarantees a comfortable experience
Cons
Don't like having to break down into two pieces
Weighs more than 50 pounds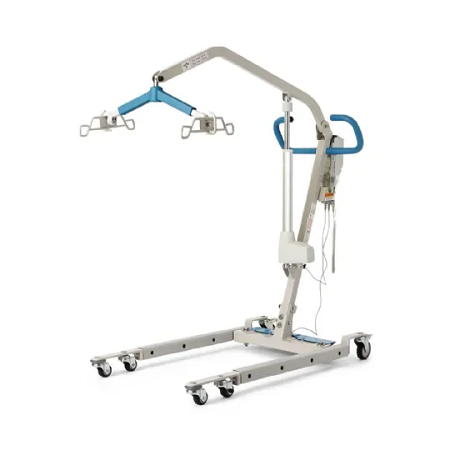 Serving bariatric patients with two models - with either a 450 or 700-pound weight capacity - the Electric Patient Lift with Power-Adjustable Base by Medline has claimed the top spot on our list.
This electric Hoyer lift requires minimal strength and effort from caregivers. Since it can lift from the floor to 66 inches for the 450-pound capacity model, and 71 inches for the model that can accommodate patients weighing up to 700 pounds, it eliminates manual lifting and potential physical strain on caregivers. Its 6-point cradle stabilizes transfers with optimal weight distribution, and also makes it compatible with a long list of slings.
Operated by a user-friendly remote control that raises and lowers the lift, this lift has legs that are width-adjustable with simple foot pedal operation to accommodate furniture and bariatric wheelchairs. It has locking casters for stability and the removable battery conveniently plugs directly into a regular outlet for charging. The battery can be charged independently, and will deliver up to 100 lifts per full charge.
An optional on-board charging station is an available option, and gain training arms are available on the 700-pound capacity model. White glove assembly in-home assembly from a qualified technician is available so you can get your lift into service without putting it together yourself.
The weight capacity available in these two models, and the design that redistributes weight for patient comfort and safety without putting a strain on caregivers landed the Medline Electric Patient Lift with Power-Adjustable Base in the top spot on our list of best Hoyer lifts.
Features and Benefits
User-friendly controls
Fast actuator speeds for efficient lifts
Slides under furniture easily with low profile base legs
6-point cradle fits a variety of slings
Power adjustable base
Customer Feedback
Pros
Easy to move, even with a heavyweight patient
Sturdiness cultivates confidence while completing transfers
Well made and easy to use
Simple controls
Accommodates bariatric furniture
Cons
Raises and lowers slowly
Would appreciate the legs opening a bit wider
FAQ
Q: What is a Hoyer lift?
A: A Hoyer lift is an assistive mobility device that allows caregivers to safely transport patients with mobility issues from place to place. Named for its inventor, Ted Hoyer, who became a paraplegic at the age of 16, Hoyer lifts have a basic design that includes a tall pole with a U-shaped base and a horizontal arm or bar that has hooks or a cradle or spreader bar on top. Attached to the hooks or bar is a sling suspended by metal clips or loops. While supported in the sling, patients can be raised, lowered, and moved with the hydraulic system and movable arm.
Q: How do I use a Hoyer lift?
A: There are a number of operating instructions along with safety tips and precautions a caregiver will need to be aware of in order to operate a Hoyer patient lift with confidence, including:
The base should be open so the equipment stays stable during the lift, and should be set wide enough to provide a complete fit with the wheelchair, toilet, or chair.
The base-widening apparatus should be easy to operate with a foot pedal or hand lever
Ensure that the lift is capable of lifting the patient from the floor by first testing this with an able-bodied person
Seek design features that will provide support for the caregiver, especially if the caregiver is living with various physical challenges.
Choose the proper sling.
Lock the lift's casters before starting the lifting process.
Choose a model that has easy-to-operate pressure release lowering components to assure patient safety, especially in a single caregiver situation.
Padding on the lift's metal base can protect a patient and prevent dings, scrapes, and scratches to walls and furniture.
Q: When should a Hoyer lift be used?
A: When a patient requires 90 to 100-percent assistance to move between bed, chair, toilet, wheelchair, etc.
Q: Can one person use a Hoyer lift?
A: In clinical settings, two caregivers are usually required. For home use, once a caregiver has been properly trained, a Hoyer lift can usually be safely operated by one person. Not all styles can be operated by a single caregiver, so it's important to determine what models require two attendants.
Q: Who needs a Hoyer lift?
A: A patient who is 90 percent or more immobile, has the space available to accommodate a lift, and the level of caregiver assistance available to the patient all determine if a Hoyer lift is an appropriate mobility tool.
If a patient has some weight-bearing ability, a Hoyer lift can be a supportive aid to help them move through the day. For mostly totally imobile users, a Hoyer lift will allow them to safely accomplish daily life activities that require them to move from place to place.
Q: How much is a Hoyer lift?
A: Basic manual Hoyer lifts can be purchased for around $450, while the most expensive electric lifts can be in the $12,000 range. The lifts featured on our list range in price from about $1300 and $4100.
Q: Can a Hoyer lift be used at home?
A: Yes! The most popular versions are the portable models, as featured in this article, which simplify moving a patient from room to room in safety and comfort.
Final Thoughts
A Hoyer lift will assist a caregiver in safely transferring someone who is mostly or completely immobile between bed, the bathroom, and a wheelchair or other furniture. Minimizing the strain on a caregiver and cradling the patient in a sling while the lift is rolled to another location makes this mobility device an important tool in creating a healthy patient environment.
Our top choice, the Electric Patient Lift with Power-Adjustable Base by Medline, has been singled out because of its heavy duty construction and minimal caregiver strength required to accommodate patients weighing up to 450 pounds to 700 pounds, depending on the model you choose. Capable of lifting off the floor, and with an impressive lifting range, both models of this lift are focused on bariatric patient safety and caregiver safety.
Rehabmart carries a complete catalog of patient lifts and accessories. If you'd like more information on how to choose the best patient lift for your situation, check out Caregiver University for articles on best practices and buyer's tips.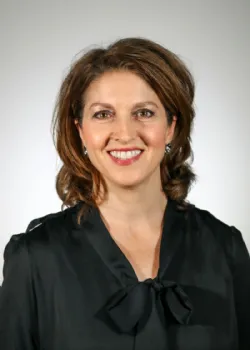 Author:
Megan has been a part of Rehabmart since its inception nearly 20 years ago. For the past several years she has been enjoying her role as HR Director while maintaining her Physical Therapy license. When she isn't working on her next in-service or working to find a new team member, she enjoys her five children, helping those who have PT type ailments, baking, practicing yoga, and working out.