To "get your feet under you" is a figure of speech referring to stabilizing your life so you can stand on your own. It's also the concept behind the low bed, which allows users to put their feet flat on the floor while sitting on the edge of the bed. If you are at risk of rolling out of bed, a low bed reduces the distance you have to fall, lowering the risk of a traumatic injury.
All low beds are designed for the safety of the user and convenience of the caregiver. The examples on our top 5 list each have benefits that will create a safer environment for anyone at risk of a bed fall.
The Top 5: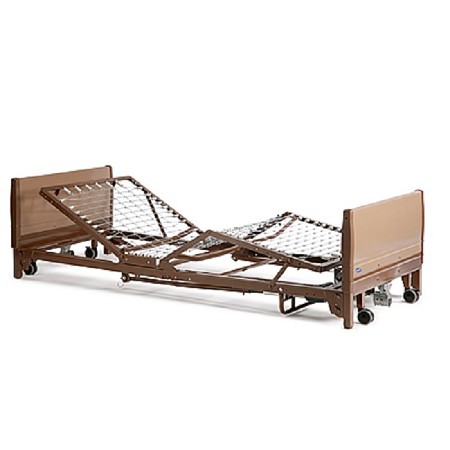 For people who don't need bed rails but are still at risk for falling out of bed, the number 5 entry on our list is the budget-friendly Full Electric Low Bed from Invacare.
Three quiet low voltage DC motors and a user-friendly hand control operate this comfortable split-spring bed. Users and caregivers can conveniently adjust the overall height, upper body section, and knee section of this low-maintenance low bed. It can safely accommodate users weighing up to 350 pounds and has a height range of 9.5 to 20 inches from the floor. Its durable panels are impact and scratch resistant, and the casters won't mark floors.
The motor system, which has waterproof enclosures for safe cleaning, cycles quickly for efficient height adjustments. This low bed also has an easy-access manual crank in case of an emergency. The uncomplicated design of this economic low bed makes it easy to operate. It comes with a limited 5-year warranty on frame welds and 2-year electrical/mechanical warranty. Shipping is free, and on-site professional assembly is available.
This low bed made our list because of its value, attractive price point, and ease of use for anyone who wants to lower the risk of falling while getting in and out of bed, or lessen the potential trauma from falling out of bed. (NOTE: This bed does not come with mattress or side rails.)
Features and Benefits
Panels are impact and scratch-resistant and easily cleaned
Non-marking rubber casters
Waterproof motor enclosures ensure safe and easy cleaning
Comfortable hand control with durable strain-relief cord
Customer Feedback
Pros
Head and footboards are much more durable that fiberboard
Controler is comfortable in arthritic hands
Easy to read hand control
Good price point
Cons
Instructions were difficult to follow
Doesn't go as low as others on the market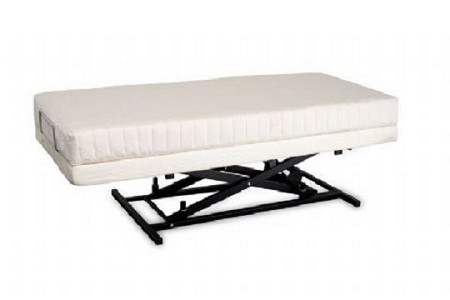 Hi-Low Bed Sets from Supernal Beds earned the number 4 spot on our list, offering five basic positions and vibrating massage to comfortably accommodate users who need a low sitting bed for easy transfers.
Controlled by a backlit easy-to-read wireless remote, this bed has five positions. It can lay flat, have a head tilt for pillow contour, raise the head and back, raise the leg and foot, and raise the head and foot with a 10-inch raised to the bed's platform. The massage feature soothes users, and this low bed has a wall-hugging design that allows easy access to personal items on a bedside table. With a weight capacity of 400 pounds, this bed can be ordered in twin, full, or queen sizes.
Two 6-inch foam mattress styles are available, the Ascent I for users who need proper weight distribution to protect skin health, and the Soft Touch, which has a cooling core that contours to accommodate body shape for comfort. Each comes with a 1-year warranty and 5-year warranty on mattress foam core parts and labor. Mattress cover options include breathable anti-bacterial natural bamboo and waterproof stretch vinyl. Optional professional in-home assembly is available.
This low bed made our list because it has the look and feel of a regular bed, is easy to make and change, and provides a customized user experience through its multiple choices for mattress style, size, and covers.
Features and Benefits
Doesn't look like an institutional hospital bed
Creates a comfortable sleeping environment at home
Simple to set up and adjust
Multiple options for mattresses and covers
Height adjustment makes it easy and safe to get in and out of bed independently
Customer Feedback
Pros
Firm mattress helps with repositioning in bed
With a bed skirt, can't tell it's not a regular bed
Multiple adjustments makes it easier on caregivers to get users into comfortable position
Can keep down swelling in legs with raised knee position
The benefits of a hospital bed with the look of a regular bed
Cons
Would appreciate a quieter motor
Doesn't go quite as low as some other models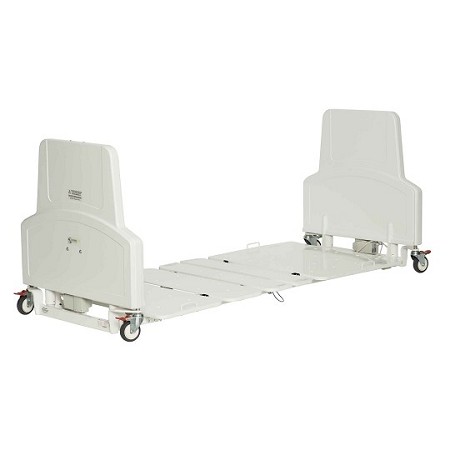 With an exceptionally low height, the FloorLine Long-Term Care Low Bed by Human Care supports comfortable long-term care while decreasing the risk of injuries for users prone to bed falls.
Lowering to just 3.7 inches, this bed's easy electric height adjustment protects users and caregivers from potential injuries from falling, reaching, and lifting. Its durable frame is easy to clean, with a welded steel chassis that can accommodate users weighing up to 330 pounds. The one-piece design makes it simple to fold for storage.
For anyone at risk of falling out of bed, the ultra-low minimum height reduces the chance of serious injury to users and decreases the strain on caregivers helping patients back into bed. The handheld control directs the smooth adjustment of height, backrest, footrest, and auto-contour functions. Optional professional on-site assembly is available.
This low bed earned the number 3 spot on our list because of the safety provided by its extremely low minimum height, along with the durable support it can be counted on to deliver for years.
Features and Benefits
Knee break and backrest provide positioning options
Low floor height minimizes injury risk from bed falls
Folds for convenient storage
Chassis is welded steel with a long service life
Customer Feedback
Pros
Gives caregivers a break when lifting a fall victim from the floor to a high bed
Lowest bed that provides a comfortable sleep surface
Lasts a long time for long-term care
Controls are easy to use
Smooth operation
Cons
Not a particularly attractive piece of furniture for home use
A bariatric option would be appreciated
From the inventors of the original Floor Bed, our number 2 choice is the FloorBed Height Adjustable Ultra Low Bed with Bariatric Option by Accora.
Lowering to a height of just 2.8 inches, this bed rises to full nursing height to create an efficient care environment, with functions including backrest elevation, foot elevation, trendelenburg, and reverse-trendelenburg . No bed goes lower to protect users at risk of falling out of bed from an injury, and it is height adjustable up to 26 inches (without the mattress). The frame is segmented and there is no need for side rails with this low bed, so entrapment is never a concern.
The list of accessories available to enhance this low bed's utility includes a detachable bed lever and mattress guides. There are no trailing wires to maneuver around or possible trip over. The manufacturer recommends using a pressure redistribution mattress, which contributes to comfort and skin health by preventing pressure sores. The Accora 400 model is made of layered foam and has a weight capacity of 350 pounds. The Accora 600 mattress is made of high-performance foam that accommodates users weighing up to 450 pounds.
The ultra-low height, multiple position functions, and bariatric options have landed this multi-feature low bed at number 2 on our list.
Features and Benefits
Lowest height from floor available
Rises to comfortable care height
Multiple positioning options
No need for side rails
List of attachments enhance this bed's utility
Customer Feedback
Pros
Saves caregiver back strain
No worry of user injury from a high bed fall
Smooth position changes
No entrapment risk
Bariatric option for higher-weight users
Cons
Would appreciate higher weight option
If mattress platform is extended, an extension infill piece is required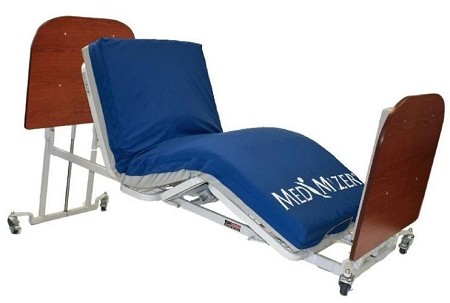 Our number 1 pick, the AllCare Floor Level Adjustable Level Bariatric Low Bed from Med-Mizer, lowers to the ground, provides various therapeutic positions, has an expandable sleep surface, and looks like a home bed.
The bed's deck sits no higher than 3.6 inches off the floor, practically eliminating falls out of the bed. The adjustable height brings the user up to a comfortable access height for caregivers. Available positioning provided by the adjustable height and partitioned bed deck includes Trendelenburg, Reverse Trendelenburg, and Cardiac Chair via the recline option. Bariatric users weighing up to 600 pounds benefit from the comfort of a sleep surface that ranges from 35 to 42 inches wide.
The cherrywood finish makes this low bed look like a piece of bedroom furniture. It can be equipped with side rails or pivot assist rails that cut down on twisting and stretching during transfers. Lowering the head and knee sections at the same speed prevents users from sliding, and the lockout function keeps sections where they should be. Mattress options include the Basic multi-layered pressure distribution mattress, the Deluxe version with the addition of a high-density foam sloped heel section, the Elite Plus memory foam mattress infused with gel for breathable comfort, and the LAL low air loss, alternating pressure mattress.
The standard features and optional upgrades, super low height, positioning options, home bed look, and high weight capacity have earned this low bed the number one spot on our list. It virtually eliminates the risk of a fall, rises to a comfortable access height for caregivers, and is a comfortable option for most users.
Features and Benefits
Bed deck is partitioned to recline
Low bed height greatly reduces risk of injury from falling out of bed
Adjustable height for Trendelenburg and Reverse Trendelenburg positions
Contour positioning cuts down on need for repositioning
Expandable to accommodate users up to 600 pounds
Customer Feedback
Pros
Caregivers have easy access when bed is raised
Doesn't look like a hospital bed
Lots of optional upgrades for customized fit
There is a mattress option to meet comfort needs and address potential skin issues
High quality and sturdy
Cons
Expanded hospital-type bed, not a regular-sized queen bed
42 inches isn't always wide enough for 600-pound bariatric patient
Features To Consider When Purchasing a Low Bed
There are several features that will help you determine what low bed is the best fit for your needs.
Height Range
Standard low beds don't typically go lower than 8 or 9 inches off the floor, ultra-low beds usually lower to 6 or 7 inches from the floor, and floor beds can go as low as 3 inches above the floor. The height of the mattress will also add to the final height - and the distance of a potential fall.
Weight Capacity
The majority of low beds are designed to safely accommodate users weighing about 400-450 pounds. Bariatric models accommodate larger users, while sleep deck adjustments can also provide more space and support for bariatric users.
Size
Most low beds come in multiple sizes, and the size of the room the bed will be in is as important as the height and weight of the bed's user when choosing the appropriate size.
Adjustability
Most, but not all, low beds have electric height adjustment. This feature is more expensive than manual adjustability, and greatly reduces the potential for caregiver injuries. Many low bed models provide positional adjustability for maximum support for bedbound users. These adjustments include elevating and reclining the head and feet sections and providing ergonomic sitting and laying positions.
Options
Optional accessories can be purchased to make a bed safer and more comfortable for users, creating an individualized user experience.
FAQ
What is the purpose of a low bed?
A low bed allows users who have difficulty getting in and out of a higher hospital bed to put their feet flat on the floor while sitting on the edge of the bed for added stabilization during transfers. For people at risk of falling out of bed, a lower bed decreases the distance between the bed and the floor, reducing the risk of serious injury.
Do low beds prevent falls?
Although a low bed can't stop a user from rolling out of bed, since the distance of a fall is reduced, so is the chance of trauma and injury.
Is falling out of bed common?
Falls out of bed are common for people with reduced mobility and strength, especially the elderly.
Summary
One way to provide a better chance of maintaining independence and remaining at home, rather than entering a care setting, is to reduce the risk of injury from a fall. Low beds allow users to touch their feet to the floor while getting in and out of bed, by decreasing the distance to the floor, which greatly reduces the chance of a traumatic injury from a fall out of bed.
The AllCare Floor Level Adjustable Bariatric Low Bed delivers multiple positioning options and a low height to prevent falls wrapped up in a non-institutional looking bed. It topped our list of best low beds for fall prevention because of its long list of standard features and optional upgrades that make it a comfortable choice for users and their caregivers.
To ensure you're getting the best bed for your situation, browse our full selection of Low Beds. For buying guides and more product information, visit Caregiver University.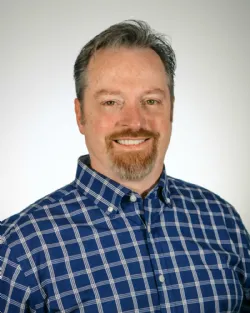 Author:
Co-Founder of Rehabmart and an Occupational Therapist since 1993. Mike has spent his professional career working in multiple areas of Occupational Therapy, including pediatrics, geriatrics, hand therapy, ergonomics and inpatient / outpatient rehabilitation. Mike enjoys writing articles that help people solve complex therapeutic problems and make better product choices.