Magnifying lamps, also known as low-vision lighted magnifiers, are specific medical devices that help people who struggle to see clearly.
Magnifying lamps combine magnification and illumination in the form of a desk, floor, or portable lamp, and can typically be clamped or affixed to a flat surface.
According to the National Eye Institute, nearly 3.5 million Americans over the age of 40 experience some level of blindness or low-vision – and they predict that number will increase to 5.5 million in the next three years. But there are things we can do to mitigate and slow the loss of our vision, like taking good care of your eyes and using equipment that helps avoid eye strain.
There are many options when it comes to illuminated magnifying lamps. Our Top 5 Review will compare and evaluate the best equipment available, so that you can make the right choice for your family.
Who Uses Magnifying Lamps?
People with low vision use magnifying lamps. Low vision can be attributed to aging, and temporary or permanent damage from an eye injury or eye disease, like macular degeneration, diabetic retinopathy, glaucoma or cataracts.
The most common use for these devices is reading. These wonderful tools allow you to continue to read, even if your vision is declining.
As we age, a certain amount of vision loss becomes inevitable. Letters become smaller and reading becomes more difficult. It is crucial that people who are beginning to experience age-related low vision issues not give up on reading. Reading informs us – but it also stimulates our brain.
Many people use magnifying lamps for crafting, sewing and to enhance activities that preserve their fine motor skills. In fact, occupational therapists often recommend beading, making jewelry and sewing for their adult patients who struggle to maintain their fine motor skills. These activities can be impossible without the aid of an illuminated magnifying lamp.
In addition to the physical benefits, these activities – reading, crafting, sewing and needlework – have immense psychological benefits. They connect us to our friends and family, and to society.
What Should I Look For in a Magnifying Lamp?
The most important factor to consider when choosing the magnifying lamp that is right for you is the way that you will use your lamp. All of the lamps in our Top 5 Review are portable. Three of the top five are desk lamps, one is a handheld lamp, and one is a floor lamp. The desk lamps are easily moved from room to room. The handheld lamp is the most portable, but the desk lamps can also travel with you.
Most physicians and therapists recommend - as a general rule – that you choose the magnifying lamp that provides magnification and illumination for the largest area that you are able to see. The higher the magnification power, the smaller the viewing area.
Our Top 5 Magnifying Lamps Review has evaluated the features and benefits, cost, functionality, and customer reviews of more than 40 excellent options to provide you with the information you need to select the best illuminated low vision lamp for your family.
The Top 5:
5. The 4 Your Eyes Only Magnifying Lamp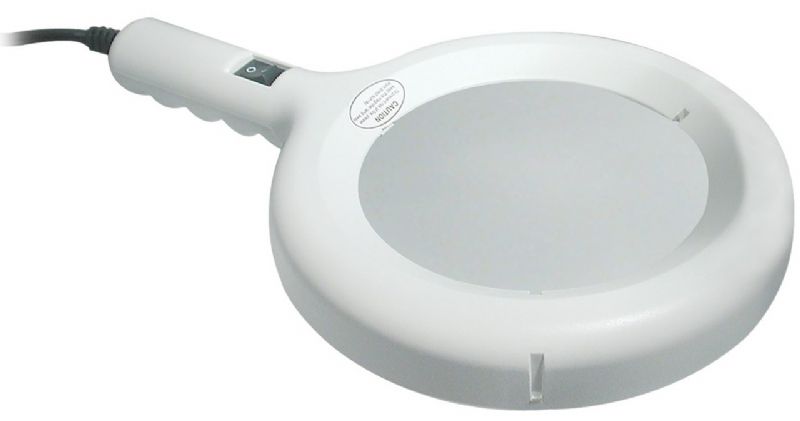 Our number five magnifying lamp is the 4 Your Eyes Only Magnifying Lamp. This is the only handheld illumination lamp in our Top 5. This powerful device offers the most portability while providing supplementary light and magnification.
Sturdy and reliable, the 4 Your Eyes Only magnifier uses an 18 watt, energy-saving circline tube for illumination. The lens is constructed with distortion-free, hardened acrylic.
It provides 1.75X magnification, making it easy to read fine print. This powerful low vision lamp is handheld, so it is perfect for hobbies like stamp collecting, mapping or coin collecting.
This device also works well for people who may need a little assistance at work, reading blueprints, maps, texts, surveys or contracts that contain miniscule print.
Many of the reviews for this magnifying lamp are from customers who do not suffer from low vision or eye disease, they simply want to be able to read small or fine print without straining their eyes. A customer reported that she keeps this magnifying lamp on her desk at work and it totally does the trick – no more squinting.
Another customer said that she and her husband keep these devices on their desks, and they both work from home. She said that they are good, quality products. The lens is not easily scratched. She said that they have fluorescent lighting and have had glare problems with other magnifying lights – but not with this one.
The 4 Your Eyes Only is rated as a solid 4.7-star device. Customers say that it is a quality product for the money and they would buy it again. They love the size and the way it fits in their hand. It is the least expensive and most economical illuminated magnifying lamp in our Top 5. This lamp may be inexpensive, but it is as powerful as many of its more expensive counterparts.
Features and Benefits
Perfect for hobbies

1.75 times magnification

Distortion-free lens
Customer Feedback
A certified user said that his father uses this device, and recently purchased one as a gift for him. He said that his vision is not what it once was, but the 4 Your Eyes Only makes it possible for him to read the smallest of print. He is an avid reader – but found that he was watching more TV lately because of the eye-strain involved in reading. Since he got his magnifying lamp, he has turned off the telly.
An older gentleman said that he loves this product, but it took some getting used to. He added that his hands sometimes shake, which makes it difficult to read. He said that he is planning to get an additional magnifying lamp. He loves the portability of the hand-held lamp, but he needs the stability of a table or standing lamp.
Pros:
One year warranty

Lens is acrylic, not glass, so it won't shatter if dropped

Ten-foot cord plugs into standard outlet
Cons:
Not suitable for crafting or sewing because it is not hands-free

Not suitable for people who have unsteady or shaky hands
4. Daylight Ultra Slim LED Magnifying Lamp with Table Clamp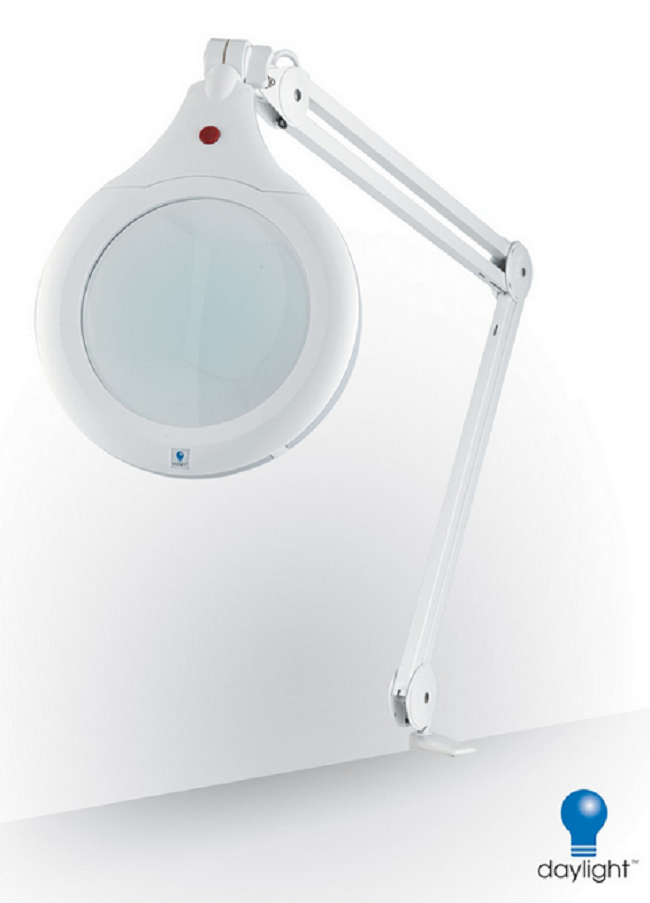 The Daylight Ultra Slim LED Magnifying Lamp with Table Clamp is probably the most technologically advanced magnifying lamp in our Top 5. This extraordinary lamp is best suited for your desk or tabletop, featuring a clamp for easy attachment to nearly any flat surface.
The unique lens on this ultra-slim lamp is fifty percent lighter than glass lamps, making it easier to move and adjust. With one hand, you can fine-tune and optimize your viewing area.
This powerful lamp features 1.75 magnification – and a seven inch, crystal clear lens. The 28W Daylight (150W tungsten bulb equivalent) LED light utilizes daylight technology, providing you with a lifetime of clear, shadow-free, glare-free viewing pleasure. This remarkable LED bulb also reduces heat and conserves energy.
Many of the customers who reviewed the Daylight UltraSlim are in service industries, like manicurists, computer repair, and podiatrists. A customer who uses this equipment in her day spa said that it is the only lamp that she uses because colors are true and accurate under the lamp.
Crafters who do fine needlework rave about the clear 'light of day' illumination that this lamp delivers. An elderly quilter said that she can see as well with this lamp as she could before her vision waned. She brings it to her church quilting sessions. She said that it is a very attractive lamp and she highly recommends it.
A customer in North Carolina said that she is a very enthusiastic cross-stitcher and often works on a project for 12 hours at the time. She can see the colors, she said, bright and clear. She added that the lighting and magnification are fantastic and this lamp has saved her eyes.
Optional accessories – like the floor stand and two sized base stands – make this exceptional lamp one of the most versatile in our review. The UltraSlim XR is considered a mid-priced magnifying lamp.
Features and Benefits
Daylight technology makes lamp lens brighter and colors more accurate

Large, seven-inch lens provides a more comfortable viewing area

Combines illumination and magnification for better visibility
Customer Reviews
Customers consistently rated this lamp 4.8 out of 5 stars. Many of the best reviews were from customers who purchased the floor stand. Some customers struggled to attach the lamp with the sturdy clamp, others found that they bumped it out of place when it was attached to their desk or table.
The clarity and seven-inch viewing area are highly praised. A customer said that she could not be happier with her UltraSlim. It is, she said, the best lamp that she could afford and works perfectly.
An esthetician said that she uses this lamp every day for client facials. She said that she has never had a problem or issue with it and it works perfectly. She loves the fact that no matter how long it is on, it does not get too hot. She has had other magnifying lamps that heated up after a few minutes. This is a very important feature to her because the lamp is close to her clients' face and if it gets hot, it would be uncomfortable for them.
Pros:
Scratch-resistant

Flexible metal arm, perfect for proper positioning

Sturdy clamp attaches to most tables and desks
Cons:
A customer who makes beaded jewelry said that she struggles to keep the lamp in the proper position. She said that every time she accidentally bumps the lamp, it swings wildly out of position

Customers say that the lamp swings too easily and that it works much better when it is on the table or floor stand, however, these accessories are optional and require an additional purchase
3. Luxo IFM Magnifying Lamp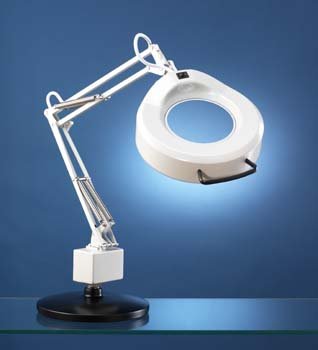 Our number three illuminated magnifying lamp is the Luxo IFM Magnifying Lamp. With 2.25 X magnification, this powerful lamp provides a tremendous level of amplification for reading and close-up work.
It is an ideal light-duty magnifier with a 22 watt circline fluorescent bulb. It has 360-degree, shadow-free illumination and a sturdy diffuser cover to protect the bulb.
The magnifying lens is designed in an 'on-center' position for superior illumination and magnification. The brilliant center lens positioning also provides a larger viewing area so fewer adjustments are needed for reading a book or magazine.
The steel lamp extension arm is sturdy. It is spring-balanced and adaptive; you can clamp it to your table and swing it into place whenever you need it.
The Luxo IFM is portable, you can take it anywhere that has a 220-volt power source. It also has a six-foot cord – most magnifying lamps have four-foot-cords. The automatic starter and rugged electromagnetic ballast guarantee perfect light, every time.
Optional accessories include a wall mount or edge clamp. This is unique to the Luxo IFM – most magnifying lamps cannot be wall mounted, like sconce lighting.
Customers rate this lamp very highly – an average of 4.8 out of 5 stars. A customer who repairs computer circuit boards purchased the Luxo IFM for work. He said that it solved all of his vision issues. His close-up vision, he said, is not what it used to be. He is able to 'get in the circuit boards,' and see all of the details of what he is working on. He highly recommends this magnifying lamp for any type of bench work.
Another customer said that she uses the lamp for magnification when she is making jewelry. Her crystal and bead work is tiny and delicate, she said. She suffers from low-vision, but with the help of the Luxo IFM, she has been able to continue to make her necklaces. She finds her work relaxing and said that once she finishes a piece, her work becomes a social outlet for her, connecting her to other people.
These stylish lamps are available in pearl white or soft gray powder-coated steel.
Features and Benefits
Center positioned magnifying lens for greater viewing area

Quality construction, durable

220 volt uses standard outlet or power source
Customer Reviews
A customer said that he works in a lab and his employer provided a Luxo IFM for him. He liked it so much, he bought one for his home. He said it has great control function.
A young lady who is in college purchased the magnifying lamp to help her study. She suffers from low-vision issues, and she said that it is a gem and very stable when properly clamped onto the table.
A customer in Virginia mounted the lamp on a table next to his recliner. He said that he has been using it for six months and he could not do without it. He said that it is sturdier than industrial lamps that he has owned, and once he anchored it in place, it became his favorite magnifying lamp.
Pros:
2.25 X magnification – very powerful lamp

Durable steel construction

Economical, inexpensive

Six-foot cord so if lamp is purchased with the base, it is very easy to move or change the position on your desk
Cons:
Some customers do not like the automatic starter function because there is a momentary delay before the light comes on

Some customers said that with repeated use, the arm no longer stays in place as well as it did when they first purchased it
2. 2-Arm Combination High Intensity Lamp 2X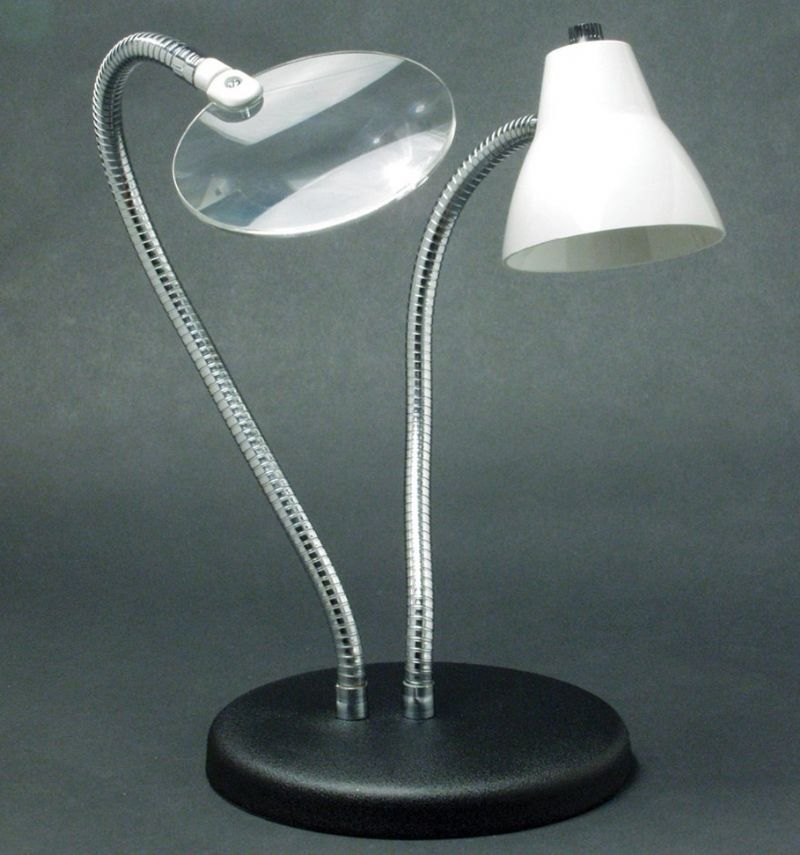 Rolling in to the number two spot, the 2-Arm Combination High Intensity Lamp 2X provides extraordinary light-duty magnification. The 2-Arm is one of two lamps in our Top 5 that have optional magnification boosters – the other lamp costs twice as much as the 2-Arm.
The lens booster increases magnification from 2X to 5X. The booster attaches to the arm, and swings away when not in use.
A customer who purchased this lamp said that the light is intensely clear and illuminates far better than any light that she has owned. She said that she uses it nearly every day and has never had a problem, it works perfectly.
The 2-Arm lamp is stylish and attractive – designed to fit in with your décor and look more like a standard lamp than a special needs device for people with low-vision.
This low-vision lamp is available as a tabletop lamp or a floor lamp. If you choose the floor lamp option, the base is manufactured using indestructible cast iron and is weighted for stability and security.
The five-inch diameter, glare resistant lens provides intense light and magnification, allowing you distortion-free vision for reading, needlepoint, beading and other detailed tasks.
The 14-inch flexible arm is goose-neck style; it conveniently swings the lamp out of the way when you are not using it.
A customer in Coney Island said that the 2-Arm Combo Magnifying Lamp is perfect for her. She is very nearsighted and said that she is grateful for this reliable light.
Another customer in New York purchased the lamp for her sister, who suffers from macular degeneration. She said that her sister did not think it would be possible to see clearly enough to paint her fingernails ever again – but with this lamp, she can. She said that they are both very happy customers.
Features and Benefits
Cast-iron steel weighted base in floor lamp model

Clear, intense light

Aesthetically pleasing design

Versatile, available as a floor lamp or table lamp
Customer Reviews
A customer who struggles with a focusing disorder cannot see in low-light. She purchased this lamp for reading and said that it is the perfect lamp for her.
This lamp consistently earns five-star ratings. Customers with severe astigmatism, nearsightedness and macular degeneration gave this device excellent reviews.
Certified users routinely praise the design, the convenience of the goose-neck arms and the powerful magnification. A woman said the lamp's design – magnification on one arm and lighting on another - is brilliant and very helpful. It allows her to adjust and move the light right or left to achieve maximum magnification and meet her focusing needs.
Pros:
One year warranty

Economical, inexpensive

Comes with 40-watt bulb, white lamp shade
Cons:
The only comment that was less than perfect about this light is that the 40-watt bulb gets very hot

We are also including this customer comment, because although it seems unlikely that it could be duplicated, it is an interesting experience: A customer accidentally left his 2-Arm Combination lamp in his car with the powerful magnifier pointed down. The sun shone directly on the magnifier for several hours and eventually burned a hole in his seat upholstery!
1. DAZOR Magnifying Lamp with Stand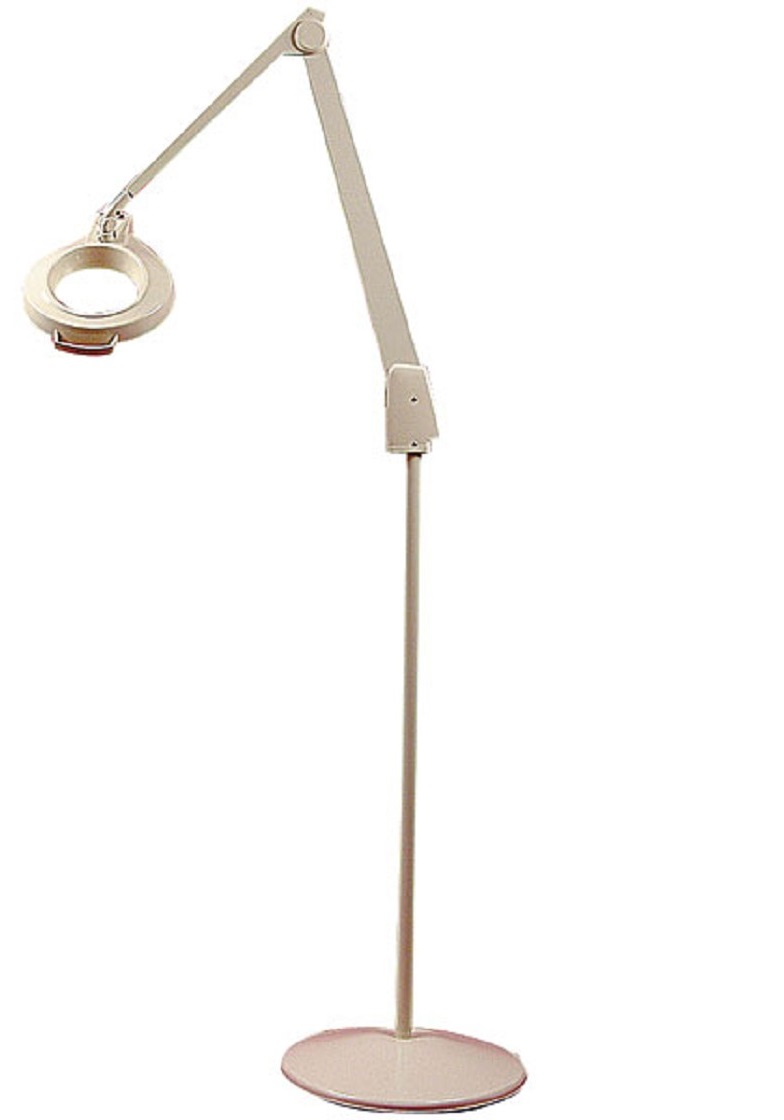 Based on the features, benefits and exceptionally stellar reviews, our number one low-vision magnifier is the Dazor Magnifying Lamp with Stand. Literally dozens of customers rate this lamp 5 out of 5 stars.
This magnification lamp has been used in light industrial firms for decades. It has proven itself to be reliable, versatile and exceptionally durable. It is the ideal all-purpose magnifying lamp for medical, dental, laboratory, factory, home and office use.
The Dazor comes standard with a five inch, three-diopter, 1.75X magnification. Optional accessories allow you to add a lens, increasing your magnification to 5X. The circline fluorescent bulb is included.
The heavy pedestal is weighted, making it nearly impossible to tip over in the course of normal use. The lamp is well-designed and attractive, with a powder-coated, glossy white finish.
An artistic customer who fiber paints uses the Dazor. She said that the swing arm allows her to position the magnifier right on top of her work. She no longer has issues with blurring patterns – or with eye strain headaches. She added that she works much faster when this lamp is positioned slightly over her shoulder.
Another customer uses his lamp to clean and repair electronics. He said that it is also the perfect tool for his long-time hobby, inspecting and analyzing old family photographs.
This extraordinary lamp has a full five-year warranty – the best warranty in our Top 5.
While most floor lamps feature 14 to 16-inch extendable arms, the Dazor has a 33-inch reach, making it possible to place the base behind your chair or sofa, out of sight. The electronic ballast and 22-watt daylight fluorescent tube provide the brightest, clearest light conceivable to achieve indoors.
A customer who manages an industrial engineering company in the northeast said that since purchasing the Dazor for his employees, the manufacturing errors have nearly ceased to exist. He attributes the error free production to the Dazor, which he said provides a shadow-free magnification.
Features and Benefits
Five-year warranty

Provides abundant, even, shadow-free lighting over broad surfaces

Patented floating, adjustable arm

Durable powder-coated finish

22-watt daylight fluorescent tube light

Polycarbonate protective bulb shield

Proven commercial applications
Customer Reviews
A customer wrote in and said that he had the perfect testimonial for this magnifying lamp. He said that his grandfather was an engineer in Texas. After his grandpa passed away, he received a box of his possessions, and it included this Dazor magnification lamp. He plugged it in and – although it was decades old, it fired right up. He said the quality of the magnification light is astonishing and if the one he inherited ever gives out, he will buy another one just like it.
A certified user who owns a service station uses the Dazor to repair small automotive electronics. He says it works perfectly.
A woman in Florida said that she has been using this low-vision lamp for years and the bulb is as bright as the day she bought it. She uses it for detailed craft work; she added that the arm is very durable and the lamp works perfectly.
Pros:
Weighted pedestal

Made in the USA

Electronic ballast for greater energy efficiency
Cons:
Most expensive magnifying lamp in our Top 5 Review – but not by much
Magnifying Lamp Buying Guide
Clear, bright, strong lighting is essential for reading, working with fine print, hobbies and simple everyday tasks. Magnifying lamps compensate for shadow-filled, dim areas for people who have low-vision issues due to aging, illness, injury and eye disease.
All of the lamps that we reviewed will flood poor viewing areas with light - homes, factories and offices – making it possible for people to manufacture widgets, design jewelry, perform surgery and paint toenails.
Our Top 5 Review featured magnifying lamps with fluorescent, halogen and LED bulbs, clamp style attachments, handheld, and floor lamps with secure pedestals. After careful consideration of the features and benefits, cost, versatility, durability and stellar reviews of dozens of low-vision lighting aids, the Dazor Magnifying Lamp with Stand is clearly the best choice for most people.
Its portable convenience makes it perfect for personal and home use. Its durability makes it perfect for commercial applications. The optional add-a-lens accessory increases the power of this lamp by five – providing the most magnification of any lamp in our Top 5 Review.
The daylight fluorescent tube bulb is astonishingly bright and long-lasting – customers report that they have owned and used this lamp daily for years - without replacing the bulb.
The Dazor is the only magnifying lamp in our Top 5 with a patented, floating adjustable arm that reaches a full 33 inches, highlights additional magnification options, and offers a five-year warranty.
People with low-vision often speak about the loss of independence and lesser quality of life that they experience when they cannot see properly. We think that the Dazor standing lamp will alleviate many of the burdens that low vision or poor eyesight creates.
Rehabmart offers a variety of innovative, superior quality low-vision magnifying lamps.
Want to learn even more? Find dozens of videos featuring products and caregiver tips like these at Rehabmart's YouTube channel!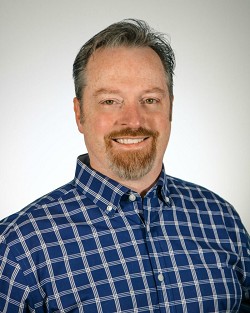 Author:
Co-Founder of Rehabmart and an Occupational Therapist since 1993. Mike has spent his professional career working in multiple areas of Occupational Therapy, including pediatrics, geriatrics, hand therapy, ergonomics and inpatient / outpatient rehabilitation. Mike enjoys writing articles that help people solve complex therapeutic problems and make better product choices.