People get bored. When we get stuck in one place, the world can feel very small, and our well-being suffers. We need to see and do and experience things to be happy and function at our best.
If walking is difficult or impossible for you, a wheelchair can be the key to expand your world. Whether you need a wheelchair short-term or on a permanent basis, choosing one that will provide you with the best fit, most mobility, and highest level of independence can have a significantly positive impact on your quality of life.
Most manual wheelchairs are lightweight and easy to fold and transport, which is what makes this type of wheelchair popular. The best choice for you depends on your physical challenges and abilities, need for support, and the way you'll use your wheelchair.
The Top 5: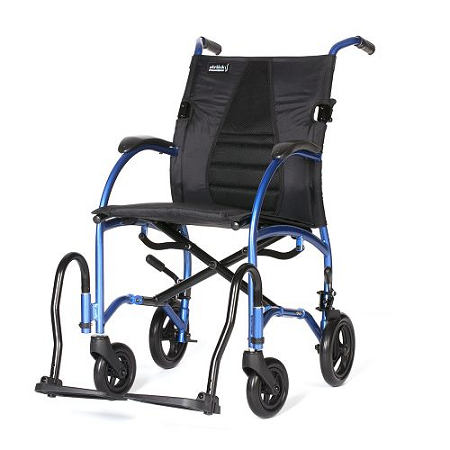 The ergonomic shape of the Excursion 8 and Excursion 12 Transport Chairs by StrongBack Mobility provides full support from the spine to the thighs and feet, and its unique design has earned it a spot on our list at #5.
The Excursion's design benefits the wheelchair occupant by providing exceptional ergonomic support. The curved backrest follows the natural lumbar curve of the spine with adjustable lumbar support, the angled seat ensures proper alignment of the pelvis, the seat cushion relieves pressure points that can cause issues from long periods spent sitting, and the seat angle improves posture and prevents slipping.
For a caregiver pushing this transport chair, it's lightweight, has padded handles for comfort, and it's easy to maneuver. In fact, the Excursion 12 (designated by its 12-inch wheels), can be used on show, grass, sand, and gravel. It is the best for all-terrain use! One model of the Excursion 12 has rear-wheel attendant handbrakes that can be used by the caregiver pushing the chair. The Excursion 8 (with 8-inch wheels) is suitable for indoor use only.
All models are easy to enter and exit, with easy-grip footrests that swing away. They all also have an impressive 300-pound weight capacity.
The frame only weighs between 19 and 26 pounds, depending on the model, and it's easy to fold for compact storage and transport.
For its attention to supporting the best possible posture and its ability to handle all kinds of outdoor surfaces, the StrongBack Excursion design is one of our favorites. If you really want to get out and enjoy the world, this compact, lightweight, and very versatile transport chair is a great choice.
Features and Benefits
Accommodates users up to 300 pounds
Ergonomic design relieves pressure points and provides postural support
Lightweight and easy to fold up for compact transport and storage
12-inch model great for all-terrain use
8-inch model great for smooth indoor use
Customer Feedback
Pros
Easy to get into and out of
Sets up out of the box in minutes
Fits easily into car trunk for transport
Highly maneuverable
Super comfortable for long periods of sitting
Cons
Footrests need to be removed in the house for obstacle clearance and space considerations
As a transport chair, it's not a self-propelled model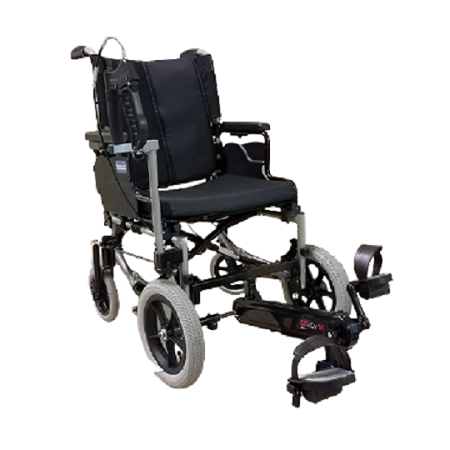 Our #4 pick, the GOxCy 30 Pedal Cycle by HealthPedal, combines the features of a power scooter, conventional wheelchair, and bicycle, to keep users safe, comfortable, and above all active.
By propelling yourself forward with the front-mounted foot pedals, you can get all the benefits of cycling while seated. You control this mobility aid's speed and direction with a rotating joystick handle with a squeeze hand brake system. This pedal cycle is suitable for use indoors or outside on any flat, dry surface, and it has a stationary mode that allows you to use it as a piece of stationary exercise equipment. If you ever need a break from all that activity, a caregiver can use the rear handles to push you, and it has passive assist steering so they can help you maneuver in tight spots like elevators.
You'll sit comfortably with padded armrests that you can move out of the way while transferring into and out of the chair plus a padded seat and backrest. The chain length and foot pedals are adjustable for a customized fit.
The pedal feature allows people in wheelchairs without sufficient upper body strength to enjoy the independence of self-propulsion, without the weight of heavy power wheelchairs and this unique feature has landed this mobility aid on our top 5 list. The opportunity for exercise to maintain or increase muscle mass, stamina, and coordination, and the manual push and steering option, makes this a strong all-around choice benefitting active users and their caregivers.
Features and Benefits
Easy to get in and out of
Lightweight and portable for easy transport
Direction and speed control at your fingertips
Unique self-propulsion design provides opportunity for independence and benefits of exercise
Also useful as stationary cycle
Customer Feedback
Pros
Fun to use
Folds up in seconds in two parts and fits in the trunk
Wheels won't go flat
Significantly adds to independence
Builds confidence during rehabilitation and recovery
Cons
Self-steering is difficult for some
Need wide paths outdoors when self-propelled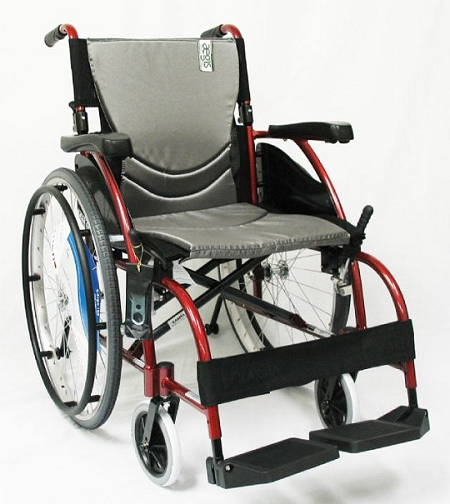 The cradling support and easy transfers provided by the Ultra Lightweight Ergonomic S-Ergo Wheelchair from Karman Healthcare have earned this manual wheelchair the #3 spot on our list.
Pressure sores can present a significant health risk if you spend a lot of time in bed or sitting in one position. They can become deep, extending into muscle and bone, and are often very slow to heal. An infection from a pressure sore can be very dangerous and cause permanent damage to cartilage, tissues, bones, and joints.
The Ultra Lightweight Ergonomic S-Ergo Wheelchair distributes the user's weight more evenly than other wheelchairs. Spreading weight out over a larger surface helps fight skin breakdown over pressure points, decreasing the risk of pressure sores.
Weighing in at just 27 pounds without riggings, this manual wheelchair is very easy to fold up for travel. It's extremely comfortable for the user, with fixed armrests that have wide concave arm pads, and thick upholstery that can be removed for washing.
Transfers are easy on caregivers and this manual wheelchair can accommodate users weighing up to 250 pounds. Frog Legs (shock absorbing caster forks) that eliminate more than 75% of all shock and allow the front casters to lift over obstacles are an available option, and the seat can be ordered 16 or 18 inches wide.
The Ultra Lightweight Ergonomic S-Ergo Wheelchair made it into our top 3 because of the way it distributes the user's weight to minimize the risk of pressure sores, which is an important consideration for anyone who spends a lot of time sitting in one position. It is comfortable and supportive, super lightweight for easy transport, and makes transfers easy. It's also uncomplicated to maintain and keep clean, with antibacterial removable and washable upholstery, which helps create a healthier environment for users and caregivers.
Features and Benefits
Fixed armrests with wide concave arm pads
Minimizes risk of pressure sores
Fixed footrests
Flat-free wheels
Made with anti-bacterial fabric
Customer Feedback
Pros
Personal storage pouch
Simple to operate and fold down for transport
Feels wider than it is
Can use fixed armrests for steadying getting into and out of it
Cons
Would like the shock absorbing casters to come standard
Would prefer black upholstery to better hide dirt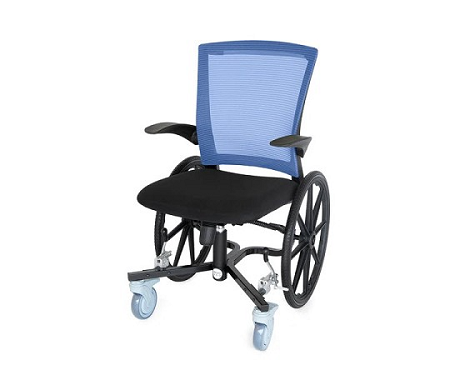 Built for convenience and comfort, the #2 entry on our list is the REVO Dart Daily Living Manual Wheelchair from Troy Technologies. Lighter than traditional wheelchairs and only 21 ¾ inches wide, it fits through narrow doorways and is easily maneuvered around corners and in tight spaces.
Perfectly suited for indoor use, it boasts an attractive contemporary style that looks more like a sleek office chair than a wheelchair. Increasing your opportunities for independent mobility, you can self-propel with your hands or your feet. It has a very stable steel base, medical-grade 5-inch front casters, and 20-inch rear wheels. The stay-dry fabric over the 3-inch thick padded seat makes this a very comfortable chair
Its waterfall-contoured shaping reduces stress on your knees while increasing circulation. The seat delivers precise lumbar support, and the contour of the seat helps distribute your weight to decrease issues with pressure sores.
This manual wheelchair's pneumatic height-adjustability will create a comfortable fit for any user. Great for the office or classroom, this self-propelled chair has flip-up armrests so you can sit comfortably at a table. If you need caregiver assistance, this chair has a push bar and lockable universal tilt-system.
The REVO Dart Daily Living Manual Wheelchair can accommodate users up to 300 pounds and it comes in your choice of blue, light green, or blue. It has a 3-year manufacturer's warranty.
This model made the list as our #2 choice because it's nimble enough to handle small spaces, stable enough to take on tight turns, and narrow enough to get through any doorway. You can set up next to any table or desk to engage with peers or colleagues, and you can get yourself there using arms or feet. You'll stay cool and dry as well as comfortable and supported, and you can be confident in this manual wheelchair's stability. This manual wheelchair will fit in well in a professional or educational setting.
Features and Benefits
Ideal for indoor use
Great for small spaces and tight corners
Flip up armrests make transfers easy
Waterfall-contoured design for comfort
Porous backrest keeps you cool and dry
Customer Feedback
Pros
Mesh back doesn't make you sweat
Lightweight and easy to self-propel
Contemporary and attractive to look at
Not big and bulky and squeaky like older traditional models
Cons
Would use it outside if it was built for outdoor use
Wish it had other color options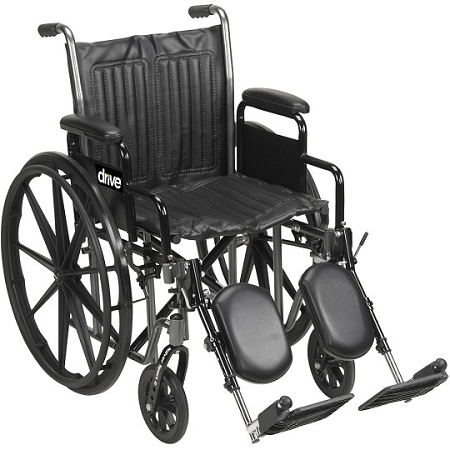 The versatile Silver Sport 2 Wheelchair by Drive Medical allows people with limited mobility to stay mobile. It is comfortable to use, easy to maintain, and it folds down for easy storage or transport.
Being highly customizable, it comes in your choice of a 16, 18, or 20-inch wide seat and can accommodate users weighing between 250 and 350 pounds. The front riggings can be adjusted without tools and can accommodate swing-away footrests or elevated leg rests. It has a long list of optional upgrades to create an individualized experience. The steel frame will hold up for years, as will the embossed vinyl seat upholstery. The composite wheels and tough tires roll smoothly and won't leave marks on the floor. The push-to-lock wheels keep it safely in place while you're getting in or out of this manual wheelchair.
It has padded armrests, a pocket for storage, easy-to-clean surfaces, and heel loops are built in to keep your feet where they need to be.
Although this general-purpose self-propelled wheelchair will be a good fit for a lot of users, it really shines when serving limited mobility and post-op patients during their rehabilitation. Helping a user get or remain as mobile as possible contributes to mental and physical wellbeing, and this all-around quality well-built manual wheelchair checks a lot of boxes fora wide range of users.
Features and Benefits
Tool-free front rigging adjustability
Vinyl upholstery lasts a long time and is easy to clean
Padded armrests for added support
Storage space for personal belongings to keep hands free for self-propulsion
Rear push handles with comfortable molded grips make pushing easier on caregivers
Customer Feedback
Pros
Transfers are safer with choice of footrest that works best for you
Folds up easily
Not complicated, easy to operate
Won't mark up floors indoors
Cons
Heavier than I would have expected when folded up to go in trunk
Basic, nothing special or attractive about the design
Features to Consider When Shopping for a Manual Wheelchair
Length of Use
Manual wheelchairs are usually best for short-term applications like rehabilitation, when you can walk but need occasional assistance, or when you know you'll have a caregiver available to push you should the need arise.
Level of Support
High back wheelchairs or wheelchairs with safety belts and headrests are helpful if you can't support your upper body or if you don't have good motor control. A lightweight ergonomic wheelchair is a great option if you're going to be using your wheelchair full-time. One of these chairs is in the middle between the high-backed ultra-supportive chairs and traditional or conventional manual wheelchairs.
Fit
If you're going to get out and enjoy life with the help of a wheelchair, it better be a comfortable and safe ride! There are wheelchairs designed for every body type from pediatric to bariatric. Seat width, seat depth, seat height, back height, armrest height, and footrest height and style all figure prominently into which wheelchair will be the best fit for you.
FAQ
What is the difference between a wheelchair and a transport wheelchair?
Both styles are wheeled mobility aids. The biggest difference is manual wheelchairs have large wheels so you can propel yourself, while transport wheelchairs have small wheels and are meant to be pushed from behind by a caregiver.
Do you need a prescription for a wheelchair?
No, you do not need a prescription to get or use a wheelchair. If you are submitting the cost of a wheelchair to your insurance company, however, a doctor will have to prescribe it as medically necessary.
Is it hard to push yourself in a wheelchair?
It takes a lot of upper body strength, coordination, and repetitive force to successfully self-propel in a manual wheelchair. That's why it's such great exercise and a good way to built and maintain muscle strength and tone.
Summary
A wheelchair can be your entry into the world, as your ticket to be more productive, experience more things, or enjoy life more. The options in today's manual wheelchair market run the gamut, with features and benefits ranging from outdoor use to being convertible to exercise equipment, to helping eliminate pressure sores.
The Sliver Sport 2 Wheelchair topped our list of 5 best manual wheelchairs because of its overall appeal and usefulness across the board. An easy-to-use, straightforward, traditionally designed wheelchair, it is comfortable, safe, easy to clean, compact, and adjustable. It doesn't require or eliminate caregivers from the mobility equation. It is especially useful and beneficial for patients who are undergoing any kind of rehabilitation to regain or maintain strength. It's a solid general-purpose choice that can be counted on for years of quality service.
Still can't decide which wheelchair is best for you? If so, visit our article How to Choose the Best Wheelchair! Additionally, you can check out Caregiver University for other informative articles.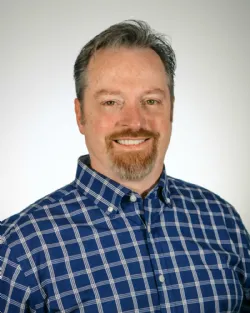 Author:
Co-Founder of Rehabmart and an Occupational Therapist since 1993. Mike has spent his professional career working in multiple areas of Occupational Therapy, including pediatrics, geriatrics, hand therapy, ergonomics and inpatient / outpatient rehabilitation. Mike enjoys writing articles that help people solve complex therapeutic problems and make better product choices.