To many people, massages often mean a day of relaxation and pampering. However, massage therapists provide treatment to improve more than just your mood. Massage therapy can improve circulation, relieve pain, and rehabilitate injuries. In order to best aid massage therapy clients, it is extremely important to have a comfortable and functional massage table to take on the go! Using our guide, find the perfect portable massage table for your practice.
The Top 5: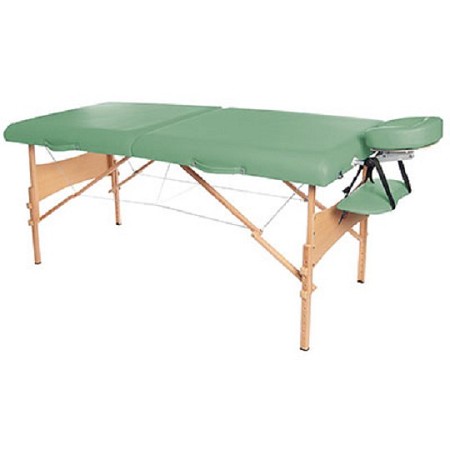 The extremely comfortable Deluxe Portable Massage Table by Fabrication Enterprises enters our list as #5 due to its portability and full-body support. Lie down and rest your head on this massage table; we have no doubt you'll love it!
The Deluxe Portable Massage Table has a 3-inch layer of high-density foam that allows you to easily sink into its cushioning and relax. It is then covered in oil-proof and water-proof vinyl to prevent any moisture absorption and keep it clean. Choose between green, burgundy, black, and blue color options to seamlessly match the comfortable massage table to your personality.
You can adjust the height between 24 inches and 34 inches tall with dual-wheel knobs so that the massage therapist can do their job comfortably. The table also boasts a high 550-pound weight capacity and width of 30 inches, enabling it to support users of all sizes. At the same time, you can easily transport this 35-pound massage table by folding it up and using the included carrying case. If you travel to your clients or need easy storage, this is an excellent massage table for you!
Features and Benefits
Three-inch, high-density foam provides maximum cushioning
Folding design allows simple transport and storage
Adjustable height between 24 and 35 inches tall
550-pound weight capacity and broad width enables use for all clients
4 different color options for personalization
Customer Feedback
Pros
Able to easily carry to and from in-home massage therapy appointments
Comes with rubber caps for the table legs to prevent sliding or tilting during use
All clients fit comfortably
Thick cushioning provides comfort even with extended use
Cons
Only neutral color offered is black, most are bright and not very soothing
Takes up a lot of space while in use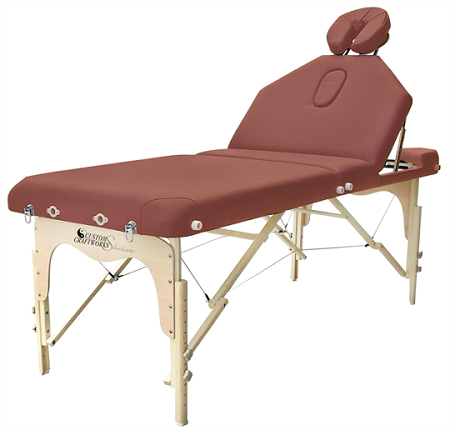 True to its name, the Destiny Lift Back Portable Massage Table by Custom Craftworks features a 10 step tilt-back mechanism allowing it to be used for wide variety of purposes. For its wide functionality, this massage table earns the #4 spot on our list.
Whether looking for a table for traditional massages, reflexology, facials, or waxing, the Destiny Lift Back Portable Massage Table can be customized to fit your needs. The face rest is attachable to either end of the table and the backrest position can be adjusted between ten different angles. Additionally, take this massage table with 2.5-inch padding on the go as it can be folded and easily carried.
The table comes in three different packages. You can purchase the portable massage table only, the massage table with the Practice Essentials Kit, or with the Business Basics Kit. All three set you up for success, but the kits come with extra accessories. With the Practice Essentials Kit, you receive a front arm sling, carrying case, round bolster, massage oil holster, massage lotion, 3-piece cotton sheet sets, 3 premium flannel face rest covers, and an under-table shelf for storage. If you purchase the Business Basics Kit, you will also receive the Melody Massage Chair and its carrying case, chair linens, and wooden folding stool. With the Destiny Lift Back Portable Massage Table, you will undoubtedly be set up for success!
Features and Benefits
Adjustable backrest positioning enables a multitude of uses
2.5-inch padding for user comfort
Easily folded to take on the go
Purchase table separately or with kits
Customer Feedback
Pros
Kits prepare you for all uses and include all necessary accessories
High weight capacity yet still portable
Fits users of almost all sizes
Cons
Less cushioned than other tables
Only available in black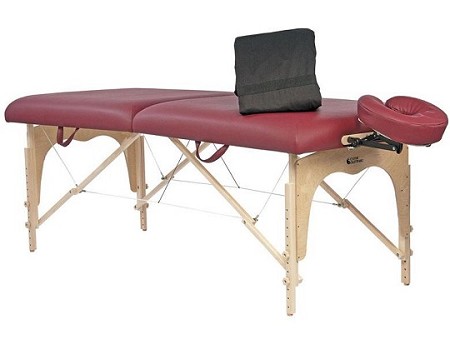 The highly customizable Athena Portable Massage Table Essential Package by Custom Frameworks allows you to purchase exactly the massage table your practice needs!
Made for traveling massage therapists, you can fold this table and take it on the go! It comes with a carrying case and dual-action face rest that allows a patient to comfortably lay on their stomach or back. The Athena Portable Massage Table is made of durable materials and is easily set up and broken down between appointments.
Customize the massage table exactly to your needs. You can choose between two adjustable height ranges, standard or extended table length, and standard or extra wide width. Get a table as large as 35 inches tall, 78 inches long, and 36 inches wide or as small as 18 inches tall, 73 inches long, and 28 inches wide. You are also able to add optional arm extensions holes, face rest upgrades, breast-scapula recesses, prenatal recesses, and rounded corners.
The table also comes in standard upholstery, natural touch upgraded upholstery, or upgraded upholstery with Touch Response Foam. The most budget-efficient, standard option comes with 3-inch foam padding and is available in ten different colors. The upgraded upholstery is extra soft and comes in ten different colors, as well. Lastly, the Touch Respond Foam provides memory foam padding that contours to each users' body shape for maximum comfort. With the Athena Portable Massage Table Essential Package, your traveling practice will have exactly what it needs.
Features and Benefits
Foldable with carrying case for easy transport
Adjustable heights and a multitude of size options are available
Optional memory foam padding offers supreme cushioning
Optional upgrades increase comfort where desired
Customer Feedback
Pros
Recesses make table comfortable for all, even during pregnancy
Very easy to take on the go
Dual-action face rest is comfortable whether on stomach or back
Extremely high weight capacity of 650 pounds
Large selection of colors
Cons
Can be difficult to fold/unfold
Occasionally squeaks during use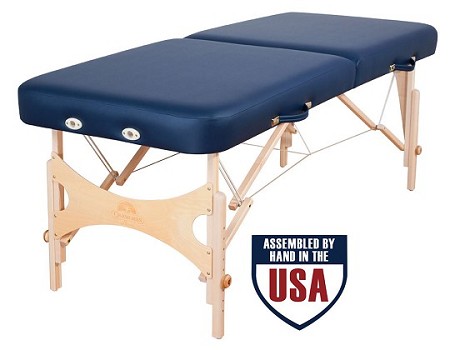 The professionally built Nova Portable Massage Table by OakWorks Medical is ranked #2 on our list. With this massage table's reliable materials and selection of customizable features, your traveling massage therapy practice will be well equipped.
It boasts adjustable height ranges, a SlideLock cabling system for greater strength, and an Ultimate Access End Panel design for greater legroom. In addition to that, you can add upgrade this table with a face rest system and wood shelf armrest if desired!
The standard model boasts all of these features plus allows you to choose padding type, upholstery color, and table height. Padding comes in 29-inch and 31-inch sizes, while also allowing you to choose semi-firm or AeroCel support. The latter provides an additional four inches of support and functions similar to memory foam. There are 21 upholstery colors available and four different table heights: 18 to 26 inches, 22 to 30 inches, 24 to 34 inches, and 26 to 36 inches. With all of these customizable selections, you will get exactly what you need! The Nova Portable Massage Table will give your traveling therapy practice professionalism, without the walls of an office.
Features and Benefits
Adjustable height, including the ability to practice shiatsu therapy from the floor due to shiatsu cables and ultimate access end panel
SideLock cabling system offers a stronger lock system than similar technology
21 colors available
4-inch padding offered for utmost comfort
Customer Feedback
Pros
AeroCel padding is extremely comfortable and contours to patient
High quality and long-lasting, still in use after 10 years
Can be finicky to fold and unfold
Comfortably holds even larger patients
Cons
Can be difficult to transport up the stairs
Heavier than many other portable options
The #1 spot on our list goes to Heritage Portable Massage Table by Custom Frameworks for its high-quality materials and optional accessory packages.
Made up of comfortable 3-inch padding and a solid beech frame, this massage table will hold users up to 450 pounds. The frame is adjustable for varying heights and the cables can be used to lay the table flat on the floor if desired. It weighs only 35 pounds yet includes rounded corners and dual knob construction for the utmost stability. There will be no awkward or uncomfortable rocking back and forth during massage therapy with this table!
The Heritage Portable Massage Table comes in 5 different colors: navy, agate blue, black, purple, and beige. You can also choose to upgrade with two different kits. The Practice Essentials Kit comes with a front arm sling, carrying case, adjustable face rest with cushion, round bolster, massage oil holster, sheets, lotion, and under-table storage shelf. It is the perfect starter kit for new massage therapy students! The Heritage Business Basic Kit also comes with a massage chair and carrying case, a wooden folding stool, and 25 disposable face rest covers, in addition to all the features of the practice essentials kit.
Features and Benefits
3-inch padding for high levels of comfort
3 different packages are available with varying features
Rounded corners for safety and comfort
Dual knob construction offers increased stability
5 color options available
Customer Feedback
Pros
Frame is highly adjustable and fits a wide variety of functions
Varying packages allows you to purchase exactly what you need
Extremely long-lasting
Cons
Can be difficult to transport despite folding feature and carrying case
Takes up a lot of space during use
Features to Consider When Purchasing a Massage Table
Size
One of the most important considerations to take into account when purchasing a portable massage table is size. Think about your patients and find a table that has both an appropriate weight capacity and width. You do not want to have to purchase additional equipment because you have a patient that cannot safely lie on your massage table. You should also take into account your own height, and find a table that will allow you to practice massage therapy in an ergonomic position. Many feature adjustable height, which is an excellent way to ensure your comfort while at work.
Padding
The first observation your patients will make during a massage therapy session is most likely the level of padding on your table. The last thing you want is for them to be uncomfortable from the very beginning. While a multitude of padding technologies are available, focusing on foam thickness is the easiest way to ensure comfort. We recommend massage tables with at least 2-3 inches of thickness. Higher-end massage tables may even feature memory foam technology!
Features and Add-Ons
Many massage tables are sold as sets, as seen in this Top 5 guide. If you are just starting out, this can be an excellent way to equip yourself with everything you need. However, if you are simply looking to replace a previously purchased table or do not yet want to invest in massage therapy accessories, an individual table is best for you.
Frequently Asked Questions
Q: How long does a portable massage table last?
A: Massage tables are meant to be used for extended time periods, but their materials and structure affect durability. The longevity of a massage table depends greatly on its foam cushioning, so when shopping, look for a table with padding that springs back to its original shape after being pressed down. It is important to take good care of your massage table, but with good care and all of the massage tables on this list should last for years.
Q: How much is a portable massage table?
A: Portable massage tables can cost anywhere from a hundred to more than a thousand dollars. This is an extremely wide range but varies based on the quality and accessories included. While it may be tempting to purchase a cheaper option, we recommend splurging for a higher-quality, long-lasting massage table in the four hundred to seven hundred dollar range. Many of the models from our list have proven to last for well over a decade, so it is worth the money! Additionally, keep in mind that the price will increase when purchasing additional features and accessories, so plan accordingly.
Q: What is the weight limit on a portable massage table?
A: Most portable massage tables safely support at least between 250 and 350 pounds. However, this varies greatly. When purchasing a portable massage table, ensure it has a high weight capacity that will safely hold all your patients. We recommend buying a portable massage table with a weight capacity of at least 400 to 450 pounds. For example, the Athena Portable Massage Table Essential Package can hold up to 650 pounds and would be an excellent choice to support patients of all sizes.
Q: How do you set up a portable massage table?
A: When traveling to a patient's house, you do not want to appear unprofessional, so you should learn how to set up your portable massage table before its first use. Each will vary slightly, but you should ensure the height is comfortable for you and it is securely locked in place. Additionally, adjust the headrest, backrest, and any inserts/recesses if applicable.
Q: What is the correct height for a portable massage table?
A: The standard height for massage tables is between 24 inches and 34 inches. This effectively serves most massage therapy patients and practitioners. However, some massage tables do offer taller or shorter heights. The correct height for a portable massage table depends on the massage therapist, so look for one that allows you to practice comfortably.
Q: What size sheets does a massage table need?
A: In order to look professional, you should purchase sheets sized specifically for massage tables. While twin sheets can hypothetically be used, it may look sloppy. Typical massage top sheets are approximately 63 inches wide and 100 inches long. Fitted sheets are 36 inches wide and 77 inches long with a 7-inch drop to allow room for cushioning. Depending on the massage table you select, typical massage table sheets may or may not fit. Keep size and add-ons such as bolsters in mind when you are purchasing sheets.
Summary
Massage therapy is an excellent treatment for body stress, pain, and anxiety. A portable massage table will allow you to effectively and comfortably treat your patients in the comfort of their own homes, while still maintaining professionalism and efficacy.
We chose the Heritage Portable Massage Table as #1 on our list due to its long-lasting, high-quality materials and optional accessories available. With the Heritage Portable Massage Table Kits, your massage therapy practice is set with supreme comfort, functionality, and portability.
View our entire catalog of Massage Tables to see even more massage tables and massage table packages. Additionally, visit Caregiver University for more Product Reviews and Buying Guides if you're looking for therapy tools, equipment, or more.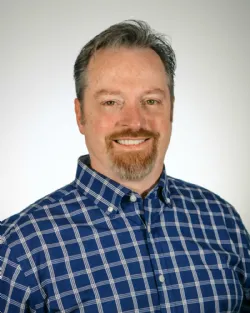 Author:
Co-Founder of Rehabmart and an Occupational Therapist since 1993. Mike has spent his professional career working in multiple areas of Occupational Therapy, including pediatrics, geriatrics, hand therapy, ergonomics and inpatient / outpatient rehabilitation. Mike enjoys writing articles that help people solve complex therapeutic problems and make better product choices.