For a person with a respiratory illness, a nebulizer is used to turn liquid medicine into a fine mist that is inhaled through a mask or mouthpiece, quickly delivering medication straight to the lungs.
These medications could be bronchodilators to open airways for easier breathing, sterile saline solution to open airways and thin mucus secretions, or antibiotics for someone with a severe infection.
A doctor will prescribe a nebulizer to treat asthma, chronic obstructive pulmonary disease, cystic fibrosis, bronchiectasis, and sometimes bronchitis or other respiratory infection.
The Top 5: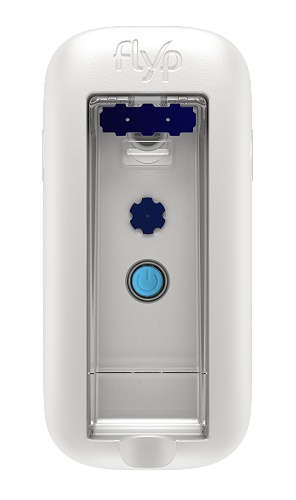 The #5 entry on our list is the lightweight Portable Handheld Nebulizer by Flyp Nebulizer. It will fit in your pocket and has no tubes, masks, or filters, delivering most treatments in about 7 minutes.
This ultrasonic portable nebulizer uses HypersoniQ technology to propel medicine from the 6 ml reservoir through holes in the vibrating disc, turning the liquid into an inhalable aerosol that is breathed in through an attachable mouthpiece. The nebulizer is smaller than a cellphone, and the "fill, click, breathe" operation makes this extremely convenient for on-the-go use.
It has a rechargeable lithium-ion battery that can go 15 treatments between charges via a USB charger. It also features a pulse cleaning mode that makes it easy to clean, especially if you have more than one kind of medicine.
If portability is a consideration, this nebulizer will allow you to inconspicuously take your treatment along with you wherever you go. It will conveniently, quietly, and quickly deliver medication without being encumbered by tubes, filters, and facemasks.
Features and Benefits
Silent ultrasonic operation
No tubes or filters needed
Small and lightweight
Battery operated with USB dual voltage wall charger
Short treatment delivery time
Customer Feedback
Pros
Great asthma machine for easy convenient treatment
Can sleep with it close by to quickly treat nighttime COPD episodes
Fits conveniently in a purse to take along anywhere
Very inconspicuous so no one has to know you have a respiratory illness
Cons
You have to exhale to the side
Very different from the old nebulizer so it took some getting used to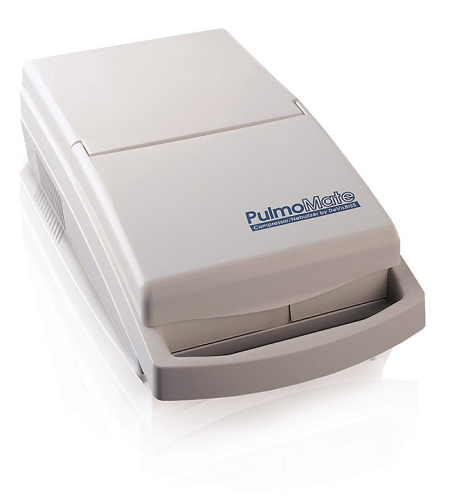 Our #4 choice for best nebulizers is the small and durable PulmoMate Compressor Nebulizer System by Drive Medical.
This nebulizer can be angled up to 45 degrees to ensure the most comfortable treatment. It's easy to take along on a trip, with a storage compartment for attachments and a sleek design to fit easily into a travel bag.
It has a high-capacity medicine bowl that can deliver almost 20 percent more medication, and it seals securely to prevent spills. It can be cleaned in the dishwasher and its universal connector fits masks of all sizes, including a pediatric pacifier mouthpiece. This system comes with 7 inches of kink-resistant tubing and includes a VixOne disposable nebulizer.
If you want a nebulizer that is convenient to take anywhere, easy to keep clean, and durable enough to count on for years to come, this system is a great choice. The manufacturer builds this nebulizer to last and backs it with a 5-year limited warranty.
Features and Benefits
Built-in storage compartment
Large capacity medication reservoir
Integrated handle for easy transport
Designed for years of service
Uses latest compressor technology
Uses latest robust quality and durability
Customer Feedback
Pros
Comes with a disposable nebulizer
One of the easiest asthma nebulizers to travel with
Connector works with pacifier attachment to treat babies
Choice of angle for most comfortable treatment
Good value for an asthma nebulizer
Cons
Being battery operated would make it even more attractive for travel
It weighs more than 5 pounds, so adds a lot of weight to a suitcase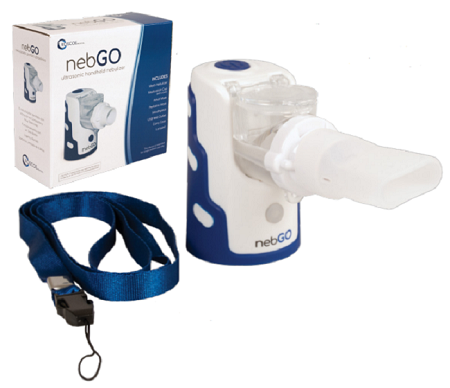 The nebGo Ultrasonic Travel Nebulizer System from Roscoe Medical is designed to meet on-the-go respiratory illness treatment needs and has earned the #3 spot on our list.
Its quiet operation and compact design means you can discreetly take your treatment wherever you need to. It comes complete with a long list of accessories, including a lanyard, medication cup, adult mask, child's mask, mouthpiece, and USB cord and power plug. It also works on battery power, requiring only two easy-to-find AA batteries.
Even with the batteries, it weighs less than 4 ounces, so it's easy to carry on the lanyard or in a pocket. It also has a hard-shell carrying case to keep it protected between treatments. It has the capacity to hold 6 ml of liquid medication, and its operating cycle is 20 minutes on and 20 minutes off. It uses vibrating mesh technology to deliver medicine whenever and wherever it's needed.
An extremely portable model that can even be worn around your neck on its lanyard for quick access, this lightweight nebulizer is user-friendly and will suit you well if you want to be able to take a treatment anywhere at any time.
Features and Benefits
Comes with adult and pediatric-sized masks
Uses ultrasonic technology to effectively deliver aerosolized medicine
Compact lightweight design makes it super portable
Delivers very precise treatment
User friendly and very easy to operate
Customer Feedback
Pros
Security when wearing it on a lanyard and knowing it's close if needed
Very easy to use
Uses common sized batteries
Great asthma machine for kids
Cons
Not the biggest medication bowl
Not a lot of leeway in treatment duration
The innovative portable PARI TREK S Compact Nebulizer Compressor Combination Pack from Independence Medical has been picked as our #2 entry. It delivers faster treatment from a small lightweight nebulizer so you can benefit from a treatment wherever you are.
With three power options of universal AC 100 to 240V, 12-volt car adapter, or battery power, you can take your treatment anywhere, including in the car. The rechargeable battery has a 50-minute charge and can be recharged within 2 hours. Weighing less than a pound, and less than 2 pounds with the battery, the compressor comes with 2 reusable nebulizers and can deliver a treatment in as few as 5 minutes.
Although designed for portability, the compressor packs a lot into its compact design. It delivers the power of a tabletop model in the design of a portable unit, bringing together the best each of these designs has to offer.
If a powerful nebulizer that can deliver treatments quickly from pretty much anywhere is what you're seeking, this combination pack will keep your treatment close at hand no matter where you are. Being able to charge it in the car makes it especially appealing if you spend a lot of time on the road. Its fast treatment time means you can address your respiratory illness efficiently no matter where you are, allowing you to quickly get back to your daily activities.
Features and Benefits
Multiple power source options
As powerful as much bigger units
Efficiently delivers on-the-go aerosol treatments
Treatment times as low as 5 minutes
Lightweight for easy transport
Customer Feedback
Pros
Size is great to take along while traveling
Big bonus to be able to charge on long car trips
Short treatment times
Just as comfortable using at home as a tabletop model
Cons
A bit louder than I expected
I have to use 2 vials at a time in my asthma machine and am afraid it will eventually overheat
Using the latest technology and claiming the top spot on our list with its smartphone app and interactive games is the Intelligent Mesh Handheld Portable Nebulizer from Briutcare.
Adults like being able to transport this cell-phone-sized nebulizer in a purse or bag in a carry case that keeps all components protected and they appreciate the quiet operation that doesn't disturb others no matter where you take your treatment. Kids like the choice of pink, gray, or green colors, and the interactive smartphone games that encourage compliance during a breathing treatment. In addition to fun games for kids, the app can adjust the nebulization rates to suit individual treatment needs.
With patented vibration mesh technology, medication reaches the lower respiratory tract, making breathing treatments shorter and more effective. The cough feeling is eliminated since the patented delivery system senses when you exhale and only delivers medicine when you inhale.
This handheld nebulizer made the top spot on our list because of its use of technology to personalize the treatment experience, and the adjustability the accompanying smartphone app provides. With benefits for kids and adults, this compact nebulizer doesn't tie you to any one place for your treatment, makes the treatment quick and efficient, and makes the whole experience more enjoyable. For a powerful yet compact interactive unit, the Intelligent Mesh Handheld Portable Nebulizer stands out, delivering you a quick and comfortable treatment anywhere.
Features and Benefits
Rechargeable battery and automatic shut off feature
Adjustable nebulization rate
Compact and lightweight with a carry case to take along anywhere
Accompanying smartphone app
Senses breathing to deliver medicine only on inhalation
Customer Feedback
Pros
Reliable even when put to heavy use
Charges quickly
Perfect size to easily carry in a purse
Best asthma machine ever used
Cons
Can't use hypertonic saline solution or other medications designed to be used with specific delivery devices
App is finicky and doesn't always connect
Things to Consider When Purchasing a Nebulizer
When choosing the right nebulizer, there are several factors to keep in mind while deciding which is the best option for your treatment needs.
Who Will Be Using It
If the nebulizer is for a child, there are pediatric models designed to fit smaller patients and be more attractive and engaging to kids through the use of colorful equipment or child-friendly themes.
Where It Will Be Used
Tabletop models are for indoor use on stable surfaces, and they often require close proximity to an electrical outlet for power. Lightweight handheld models allow for more mobility and usually have batteries so they are not tethered to an electrical outlet. Asthma patients who might need frequent treatments often benefit from smaller portable models that can be easily taken along anywhere.
Accessories and Compatibility
There are a lot of nebulizer accessories on the market, so it's important to determine if your nebulizer will be a good fit for additional parts you might need.
Storage and Cleaning
Be sure the nebulizer is easy for you to clean and reset, and that you understand how to store it correctly.
System Design
Tabletop System - For indoor use, it's placed on a sturdy surface and is suitable for children who need a stationary unit. A tabletop unit is usually less expensive than a handheld model.
Handheld System - Providing the user with more mobility, small and lightweight handheld models usually have batteries.
Method of Nebulization
Jet/Aerosol (Piston Pump Compressor)
A piston-powered compressor forces air through the liquid medication using tubing and a nebulizer cup, creating a breathable mist. They are less expensive than ultrasonic nebulizers.
Ultrasonic
An ultrasonic model uses high frequency sound vibrations to turn liquid medication into an aerosol mist with particles that are smaller and more uniform in size than piston pump models create. They are usually quieter and deliver the medicine more quickly than other models.
Vibrating Mesh
This design has a screen with laser-drilled holes. The screen is placed across the medicine reservoir, creating a cool mist to be inhaled. It is an efficient delivery system without the waste seen in atomizer models.
FAQ
Who needs a nebulizer?
Nebulizers are usually prescribed by doctors to treat asthma, chronic obstructive pulmonary disease (COPD), cystic fibrosis, bronchiectasis, and sometimes respiratory infections like bronchitis.
What does a nebulizer do for your lungs?
A nebulizer can deliver life-saving medications when it is hard to breathe in. It turns liquid medications into a breathable mist, delivering it via mouthpiece or facemask. Pediatric nebulizers are also a good choice for children who may not be able to work an inhaler.
Is a nebulizer better than an inhaler?
Not better, but definitely different. An inhaler requires you to squeeze the device and inhale deeply at the right moment, a nebulizer automatically turns your medication into an aerosol for ingestion through breathing.
How do you use a nebulizer machine?
The basic steps to set up and use a nebulizer are:
Wash your hands
Connect hose to air compressor
Fill medicine reservoir
Attach hose and mouthpiece to medicine cup
Place mouthpiece in your mouth with lips firm around it
Breathe through mouth until all the medicine is gone
Turn off machine
Wash the medical cup and mouthpiece
What medication is used in a nebulizer for asthma?
Corticosteroids are used to open constricted airways. Examples of these medicines are Albuteral, Xopenex, and Pulmicort.
Summary
No matter what features you're looking for or what kind of nebulizer will work best for you, you'll find a model on our top 5 list that will effectively deliver treatment and relief. Our #1 choice is the Intelligent Mesh Handheld Portable Nebulizer. If you haven't found what you are looking for, then we encourage you to browse our entire selection of full list of nebulizers.
Be sure to check out our free blog, Caregiver University, for more informative articles!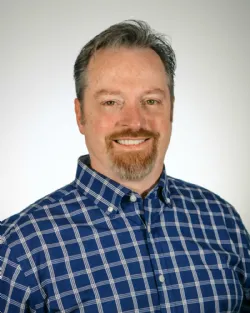 Author:
Co-Founder of Rehabmart and an Occupational Therapist since 1993. Mike has spent his professional career working in multiple areas of Occupational Therapy, including pediatrics, geriatrics, hand therapy, ergonomics and inpatient / outpatient rehabilitation. Mike enjoys writing articles that help people solve complex therapeutic problems and make better product choices.