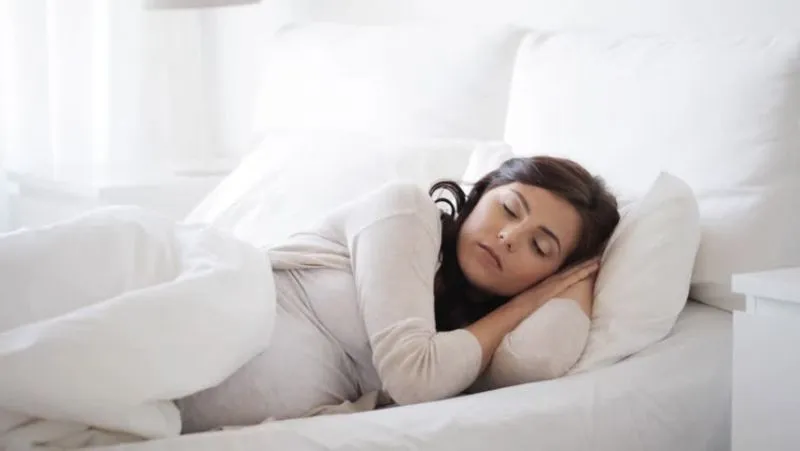 Do you use your elbow as a pillow? Or do you fold and triangulate a piece of thin foam, covered in non-breathable fabric, in the hopes of getting a restful night's sleep?
If those techniques are not working for you, it's time to check out neck support and cervical pillows. These sleeping aids are orthopedic pillows, specifically designed to facilitate correct body position and mitigate or eliminate pain in your neck and shoulders. These cushions help people who suffer from a lack of alignment in their neck, head, shoulders or spine.
Top 5 Best Neck Support Pillows
The Top 5:
What causes neck pain and insomnia?
Misalignments are often the result of injuries, but sometimes neck pain can be triggered by simple daily activities, like poor computer or laptop posture, sleeping in an awkward position, carrying heavy items or excess tension and stress.
Physical issues, like sleep apnea, acid reflux, circulatory problems, insomnia and organic whiplash can also create the need for an orthopedic pillow.
According to the American Osteopathic Association, 65% of Americans age 18 to 34 experienced chronic neck pain last year. When surveyed, 41% said that they thought it was just part of the normal aging process – but physicians and therapists insist that patients should not give up on finding relief.
There are things that you can do to mitigate neck pain; in some cases, the right pillow and sleeping position may eliminate your discomfort.
Our Top 5 Review will evaluate the features, price, functionality and customer comments for the best and most popular neck support pillows available, to help you chose the one that is right for you.
What is the difference between a support pillow and a cervical pillow?
Support pillows cradle your head and help support your neck. There are two basic types; displacement and orthopedic pillows. Displacement pillows are used immediately after an injury, until you can get to your doctor.
Orthopedic pillows are long-term sleeping aids that you use to correct spinal alignment or if the symptoms of the previous injury re-occur.
Cervical pillows may be molded or shaped to suit your specific needs. They correct your resting posture, minimize discomfort and allow your neck and spine injuries to heal.
Both cervical and support pillows help align your upper extremities and most of the time, the pillows can be used interchangeably.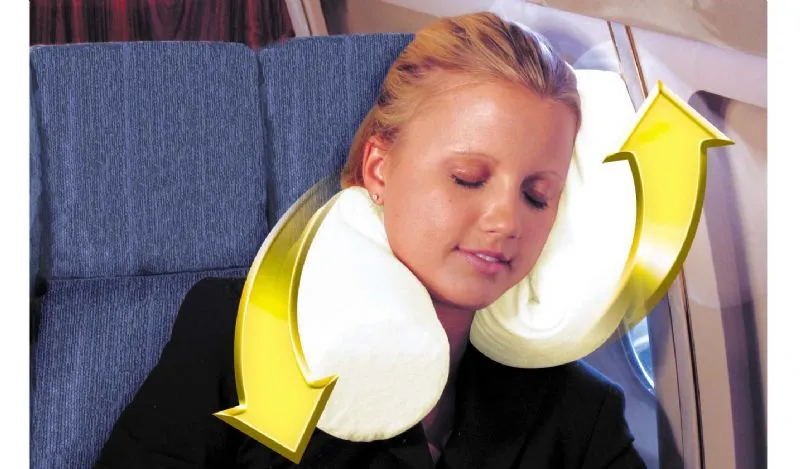 Our number five pillow is the Twist Bendable Neck Support Pillow. This unique pillow is the only one in our review that will conform to nearly any shape.
This is truly an innovative product; it features an original, patented contour design that allows you to bend and configure the 26" x 4" inch soft, poly foam into most any shape that you need. Many customers who use the Twist have sleeping disorders. They love this pillow because they say it does not interfere with their CPAP mask, yet provides excellent support for their neck.
This soft, comfortable roll-style pillow has a surprise inside; an internal linkage system. Deep within the poly foam fill, the internal linkage system - a bendable plastic spine - allows the support pillow to hold and maintain the shape that you construct.
The deluxe cover is constructed using washable velour. It is available in two stylish colors, ecru or navy blue.
The unique internal linkage system enables you to gently wrap the foam around your neck, protecting your fragile joints and ligaments. This pillow is the perfect choice for post-injury neck pain or to provide proper neck positioning while you are traveling or sitting up.
A customer in Texas travels frequently for work. She purchased her Twist Bendable 12 years ago, and is still using it. Although she often uses it at home, she said she will not travel without it. When she is on an airplane, she twists one end around her neck and one end up, up to support her head against the window.
Another customer uses her Twist when she is watching TV. She said that she has fibromyalgia and the pillow provides perfect support for her aching neck.
A certified user who has apnea customizes her Twist Bendable to support her neck and head while using her CPAP for her sleep-breathing disorder.
Features and Benefits
Soft and comfortable poly foam fill
Customize configurations for pain relief and support needs
Internal linkage system to hold any shape
Customer Feedback
Customers rate the Twist Bendable 4.7 to 5 stars. They use the Twist at home and for travel, they say that there is no better portable neck support system.
Certified users say that the size and firmness are perfect; one woman uses her Twist Bendable for physical therapy-related neck stretching exercises, and another uses it for support while she is reading.
A customer said that she has used support pillows for years, for injuries sustained in a car accident. She said that this is her favorite neck support because it is so versatile and flexible. Although she uses a different pillow to sleep at night, she said that the Twist Bendable is uniquely adaptable, and does the job of ten other pillows.
Pros:
Versatile, fits any size neck
Perfect for people who sleep on their back
Great for CPAP users
Most inexpensive support pillow in Top 5 Review
Cons:
Customers who travel with the Twist Bendable said that the security systems in airports can be activated by the internal linkage system
Not recommended for people who sleep on their stomach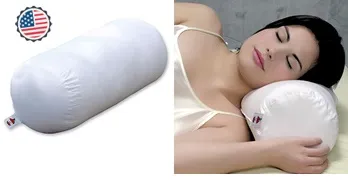 The Jackson Core Roll Support Pillow is the most compact support pillow in our Top 5 Review.
Customers primarily use this pillow for travel. The travel pillow market is flooded with small, squishy products, but none come close to the quality craftsmanship and the usefulness of this capsule shaped pillow.
The Jackson is exceptionally compact, versatile and convenient for travel; it measures 17 inches long and 7 inches round and fits most carry-on travel bags. Small but mighty, it's fiber-filling is the perfect support for your neck, behind your head – or even under your knees to relieve back pain.
A customer said that she has been using the same Jackson Core for more than a decade. She injured her neck at work and her doctor recommended the pillow. She said that both the support and the quality are outstanding and she simply cannot sleep without it. She has purchased a spare pillow for travel.
Both the pillow and the fabric cover are made in the USA. Designed for longevity, the Jackson Core Roll will provide years of comfort and support.
A certified user in Nebraska said that she purchased this pillow from her chiropractor in 2004. Her doctor recommended it after a car accident damaged three discs in her neck. She talked about the symptoms of sleep deprivation and how they crept up on her – and the joy of finally getting good rest. She said that sleeping with this pillow was the key to a great night's sleep – for the first time in months.
A customer who rated this pillow 5 stars said that it is perfect for travel. He also uses it when he naps on the couch. He said that his neck, back and shoulder pain went away after he switched to the Jackson.
Features and Benefits
Compact capsule design, 17" X 7"
Perfect for travel
Sturdy, yet soft
Great for side-sleepers
Customer Feedback
Customers routinely rate the Jackson Core Roll as a five-star support pillow. A woman said that her chiropractor recommended it for her neck strain, so she bought one. But her husband kept swiping it so she bought one for him. She gave her daughter one for Christmas, so every family member has the proper neck support. She calls her family a 'certified Jackson Roll family'.
Another customer said that the Jackson exceeded all of her expectations.
Pros:
Made in the USA
Considered to be a very reasonably priced support pillow
Support for pinched nerve in neck, aids numbness in fingers
Cons:
A customer said that the filling was not firm enough, however they still rated the Jackson 4.5 stars
Another customer said that this pillow was too long, but she rated it 4.5 stars for density and comfort
Not recommended for people who sleep on their stomach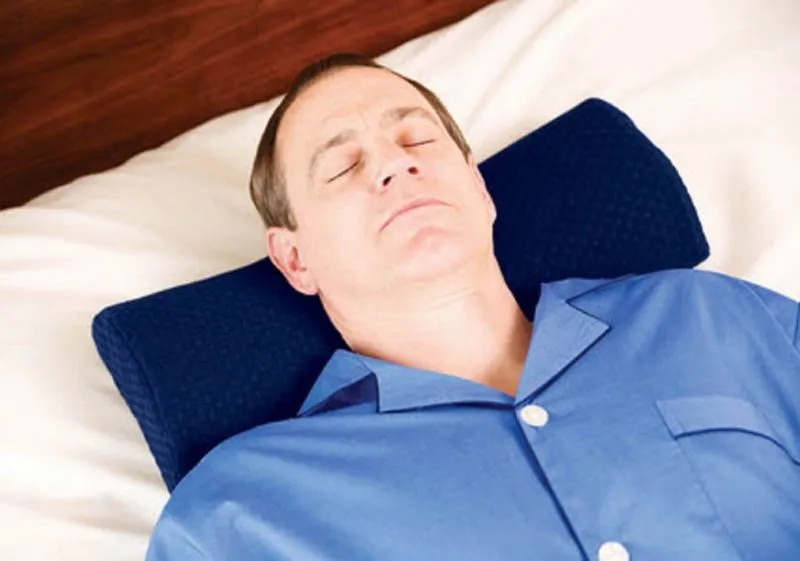 This pillow has a very enthusiastic following – customers swear by their Carex Semi Roll Neck Pillow and refuse to consider any other pillow.
A gentleman said that he has spent more than $500 over five years, on a dozen different pillows, trying to get relief from severe neck pain. He said this pillow is perfect; it holds its shape, keeps his neck elevated, does not slide around and is very low profile. He added that this is the consummate neck pillow – and although he was not paid for his review, he should have been.
The Carex Semi Roll is the only half-roll pillow in our Top 5. Ergonomically designed to provide the ideal alignment for your spine and therapeutic sleep posture, this semi-roll pillow reduces head, neck and shoulder discomfort. Aligning the vertebrae immediately below the skull mitigates your neck pain – but the Carex design also provides excellent back and knee support.
It is constructed with premium quality, self-molding memory-foam and is hypo-allergenic. The shape is an elongated half-moon, 8" x 20" x 4". The navy cloth cover is double stitched, soft polyester and rayon. It is easy to remove for laundering.
More than 150 certified Carex Semi Roll customers say that they have had this exceptional support pillow for many years and its quality is beyond reproach. It is one of the best reviewed pillows in our Top 5.
A long-time customer said that he has a herniated disc in his cervical spine and without proper neck support, it is extremely painful. The pain, he said, can take away his breath. Using the Carex Semi Roll makes a huge difference. He said it is not too soft and not too firm, and the memory foam allows it to keep its shape. He added that he purchased a second pillow to place between his knees, because he is a side sleeper.
Features and Benefits
Constructed with quality memory foam filling
Removable cover for ease of cleaning
Unique semi-roll, half-moon ergonomic design
Great for back sleepers
Customer Feedback
A customer received a complimentary Carex Semi Roll pillow on a cruise. She had used a roll-style pillow for her neck for many years, so she was familiar with the support that they provide. She said she was shocked by the difference – this pillow alleviated her neck pain, but also her lower back discomfort. She surmised that the Carex aligned her spine, which corrected the back, shoulder and neck pain. She rated the pillow 5 out of 5 stars.
Another customer refers to her pillow as 'magic.' She said that she tried many neck support pillows before finding this one and they did not work, she still had neck pain. She is a side-sleeper and the difference, she thinks, is the half-round ergonomic design. This pillow is soft and comfortable and fits her neck perfectly.
Pros:
Quality of this pillow has created an extremely loyal customer following
When placed between the knees, helps align the lower spine and alleviate back pain
Cons:
A customer said that this pillow is too long to be used for travel
Not recommended for people who sleep on their stomach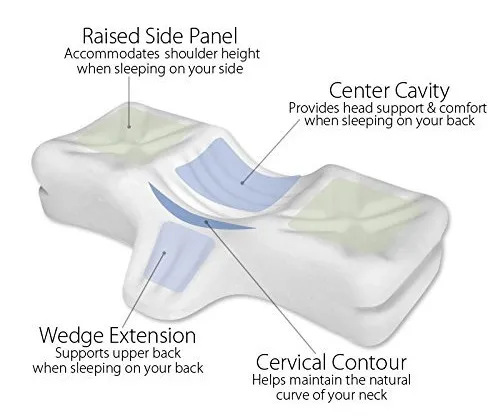 Sliding into the number two spot, the Therapeutica Sleeping Pillow is a very distinct, molded sleeping pillow, ergonomically designed to cradle your head and provide neck and upper back support. It uses a uniquely constructed thoracic wedge to support your neck, align your cervical spine and promote proper sleeping posture.
The pillow looks unlike any other; it has a hollow, or depression, for your head and is shaped somewhat like a T. It is constructed with recyclable hypoallergenic foam. The foam is firm, but not hard. Despite its unusual shape, a customer said that the Therapeutica took her neck pain away, and that is the best review that she could possibly give. Although she considers it a bit pricey, she said that it is worth every penny and she will not sleep without it.
There are very few size options in the world of mass produced orthopedic neck support – this pillow is the exception. It is available in child, petite, average, large and extra-large sizes. Therapeutica offers a custom measuring ruler that you can print to measure your shoulders and find the size that best fits your body.
A chiropractor in Washington DC said that she recommends this pillow for nearly all of her patients. She added that her father-in-law stopped snoring when he began sleeping on the Therapeutica.
Features and Benefits
Pillow is made with recyclable, non-allergenic, non-toxic foam
Unique T-shape provides a depression for head support and a wedge for neck support
Five sizes for a custom fit
Forces you to sleep on your back, the best posture for proper spine alignment
Customer Feedback
Customers rave about the custom fit of the Therapeutica. They love the firm, foam filling.
A customer said that she was doubtful when she first purchased this pillow, because it looked unlike anything she had owned. The unique, indented t-shape did not appear to be comfortable. But her doctor recommended it and she was in so much pain, she decided to try it.
She said it transformed her sleep – and her life. She said the indentation is perfectly shaped and cradles her head. The 'ramp' gently supports her neck and forces her to sleep on her back. Other pillows allow her to side-sleep, which is not good for her. She rated it 5 stars and says it is perfect.
A customer praised this pillow for eliminating her headaches and aligning her spine – however she said that she hated it for the first week because it forced her to sleep on her back. Once she got used to it, she said, it is perfect.
Another customer took a few days to get used to her pillow too. She said that she has bulging discs from an auto accident and the pain was excruciating. She tried physical therapy, acupuncture and every pillow on the market, but once she found the Therapeutica and adjusted to it, the pain has receded and her sleep is, she said, 'heavenly.'
Pros:
Professionally recommended for back sleepers
Firm cushioning, but not hard
Fits standard pillow cases
Cons:
Most expensive neck support pillow in our Top 5 Review
Some customers said the Therapeutica is 'odd looking,' however it is designed for function and ergonomic support, not style or elegance
Not recommended for side or stomach sleepers
Our number one neck support pillow was specifically designed as a physical therapy aid for people who suffer from neck pain and associated headaches. Although it is the same approximate size as most standard bed pillows, that is where the similarities end. The D-Core Cervical Pillow has a patented, ergonomic approach to restoring the natural curvature of your neck and upper spine.
It takes its name from the horizontal D in the center of the pillow. The center indentation gently supports your head while the outer lobe restores appropriate posture.
This awesome sleeping aid helps relieve tension headaches, neck spasms, arthritis and snoring.
A customer who has had four cervical spine fusion surgeries to relieve the pain in his neck said that he has had a very tough time finding the right pillow. None are comfortable and no matter how much he spent, they did not last very long. After many failed experiments and tons of research, he decided to try the D-Core. He said his expectations were very low, but he noticed improvement the very first night that he slept on this pillow. Within a week, he noticed drastic improvement – he said he would not have believed it if he had read it in a review, but this pillow really worked for him.
The D-Core is available in two sizes, standard 24" x 16" and a mid-sized 22" x 15" for smaller, petite frames. It is less expensive that many designer pillows, yet provides the therapeutic benefits of a cervical cushion.
Features and Benefits
100% pure polyester fiber filling
Outer lobe of pillow restores natural curvature of neck and spine
Versatile, helps alleviate headaches, neck, back and shoulder spasms
Patented shape
Customer Feedback
Nearly 80% of the certified users gave the D-Core Cervical pillow 5 stars. The balance of the reviews scored 4.8 and above – making this the best reviewed pillow in our Top 5 Review.
A customer in Boston is a dedicated side-sleeper. She said that she has tried 15 pillows, trying to find help for her aching neck. At first, the indentation was uncomfortable, but after a few nights, she found that it adjusted her neck into the proper position and she no longer has spasms. She said that she highly recommends this pillow for everyone – but cautions that women who are less than 5'8" tall should consider the 22" x 15" size, as the 24" x 16" might be too big. She rates this sleep aid 5 out of 5 stars.
Another customer insists that everyone should purchase this pillow. She said that you have no idea how much it will improve the quality of your life. She has tried specialty pillows that cost more than $200, yet none of the contoured neck pillows ever worked for her. She was initially horrified by the design and said it looked like it would be painful to sleep on – but after two months, the D-Core literally eliminated 95% of the pain in her neck. She has been able to stop physical therapy, pain medication and massages. She calls it her miracle and said that she will be eternally grateful for this pillow.
Pros:
Fits standard pillow case
Economical, inexpensive pillow
Highly rated for back and side sleepers
Made in the USA
Cons:
Not recommended for stomach sleepers
Although you can take it wherever you go, it is not considered to be a travel pillow
Neck Support and Cervical Pillow Buying Guide
Sleep restores us, body, mind and soul – but getting a restful night's sleep can be very difficult. Research has shown that sleep allows us to retain information and perform better on memory tasks, to rejuvenate, grow muscle, repair tissue and synthesize hormones. Restful sleep is imperative for wellbeing and very few things are more crucial for your overall good health.
Most people over the age of 18 – any many who are younger – deal with pain from neck and back injuries. These injuries, combined with our daily stresses, can make it impossible to achieve the restoration and benefits of a deep slumber.
Our Top 5 Neck Support Pillows Review will help you eliminate one distraction and finally capture the elusive rest that you need. As one customer said, you can't put a price on good, pain-free sleep – nothing will replace it, and once it's gone, it's gone.
All the support and cervical pillows in our Top 5 Review are good, versatile options for people who struggle with pain in their neck, back and shoulders – but one stands above the rest in terms of tangible benefits and verified reviews, the D-Core Cervical Pillow.
It is specifically designed to relieve neck spasms, neck and shoulder arthritis, headaches, backaches and a host of other conditions. It is exceptionally reasonably priced and versatile enough to serve the needs of nearly all users.
Customers who purchased the D-Core tried literally hundreds of other pillows – they unanimously agreed that this pillow changed their lives. Certified users call this pillow amazing, extraordinary, the jackpot, a miracle and, 'the holy grail of pillows.' They speak directly to their quality of life since purchasing this pillow – how much better life can be with a restful night's sleep.
Rehabmart offers a comprehensive variety of superior quality neck support and cervical pillows from innovative and respected manufacturers.
Want to learn even more? Find dozens of videos featuring products and caregiver tips like these at Rehabmart's YouTube channel!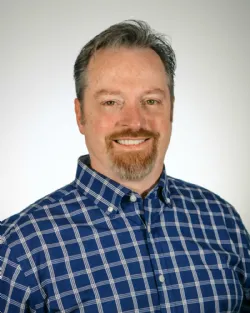 Author:
Co-Founder of Rehabmart and an Occupational Therapist since 1993. Mike has spent his professional career working in multiple areas of Occupational Therapy, including pediatrics, geriatrics, hand therapy, ergonomics and inpatient / outpatient rehabilitation. Mike enjoys writing articles that help people solve complex therapeutic problems and make better product choices.