When mobility challenges make independently moving between a chair, bed, wheelchair, or toilet difficult or even impossible to accomplish safely, a transfer aid makes going from one place to another safer and more comfortable for a patient and caregiver.
Moving a patient is a common task for a caregiver, and it's also one of the most physically demanding of duties. Nursing assistants lose work days due to musculoskeletal injuries at five times the rate of other industries. Assistive patient transport devices protect the caregiver from overexertion injuries that can arise from improper or too much heavy lifting while keeping the patient safe during transfer.
There is a wide range of choices to address the unique needs of patients, and the best option depends on level of mobility, weight bearing ability, and upper body strength. Our list highlights the top options available in patient transfer devices. No matter what type of assistance is most appropriate, patients and caregivers can count on these products to safely and comfortably move patients from one place to another.
Types of Patient Transfer Devices
The two basic kinds of patient lifts are stand up lifts and sling lifts.
A stand up lift is designed for patients who have some mobility but need assistance getting up from one seat and transferring to another seat. In order to safely utilize a stand up lift, a patient must be able to physically participate in the transfer process. First the patient needs to be able to sit forward in a chair or sit unsupported on a bed while a caregiver is positioning the sling. For the actual transfer, the patient needs to have enough upper body strength to hold onto the grip handles, and be able to bear weight while keeping both feet flat on the footplate while transferring.
Sling lifts are for patients who are disabled or weakened from illness or injury. They are especially useful in transferring heavier patients, lifting them without putting physical strain on a caregiver. Also, these portable patient lifts are easily managed by one person providing assistance, so there is no need to have two members of a care team on hand for transfers, which simplifies and lowers the cost of in-home care.
The Top 5: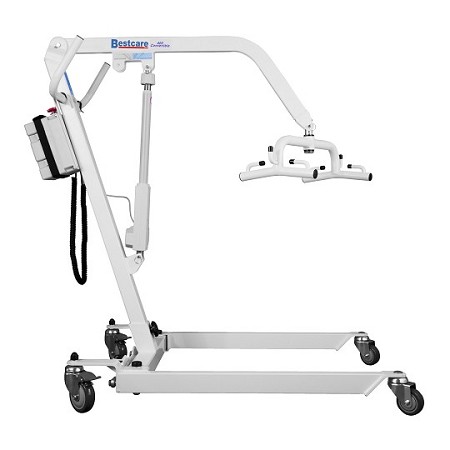 Entering our list at number 5 is the Full Body Electric Mobile Patient Lift by BestLift. The model PD400HE is an electric portable patient lift that is convenient and user friendly for caregivers. For patients weighing up to 400 pounds, this versatile sling lift protects caregivers from injury while providing a supportive transfer patient experience.
Patient lifting devices for home use should be easy to maneuver, and this is an example of a compact patient lift aid that is very easy to move but has many of the same features of the large permanently installed lifts found in care facilities.
It does not require tools for assembly, but you do have the option to order professional onsite assembly in your home by a certified insured technician. This durable patient transport device is constructed with powder coated steel tubing that stands up to years of service.
The rear casters have easy locking brakes to safely keep it in place. Its low base height and folding design make it easy to store. For small spaces, this compact lift works quite well in a home care setting, getting in and around furniture and in and out of bathrooms. The sling is attached to a 6-point spreader bar and the patient can be positioned in upright or reclined positions for transfer to a seat or bed. The base can be manually widened by opening and closing the legs so it's easy to get up close to a patient seated in a wheelchair or other wide seat. It can be ordered with an optional digital scale.
This patient transfer device is an example of a versatile sling lift that is portable, compact, maneuverable in smaller spaces, easy to store, and able to take the strain off caregivers transferring non-weight bearing patients up to 400 pounds. If you seek a patient lift aid that is simple for one caregiver to operate in a home care setting, the Full Body Electric Mobile Patient Lift is a great choice.
Features and Benefits
Can accommodate up to 400 pounds
No tools required for assembly
6-point spreader bar
Manual open and close legs on the base
Locking rear casters
Pros
Easily maneuvers around wide wheelchairs
Durable construction
Reasonable price point
User friendly for caregivers and patients
Cons
Have to buy slings separately
Legs get close to the lifting column in reclined position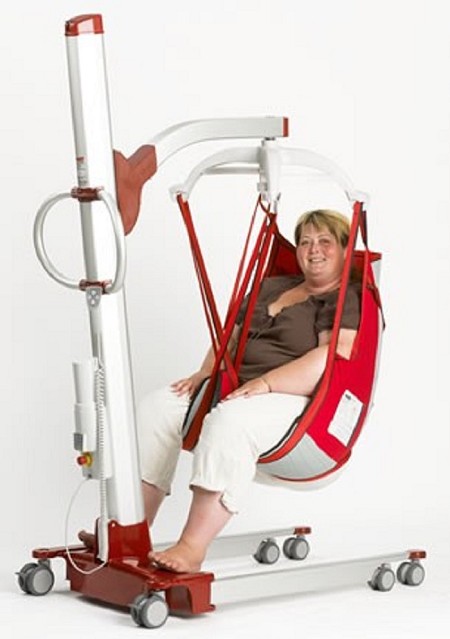 The number 4 patient transfer device on our list is the Molift Partner 255 Vertical Patient Lift by R82, and its extreme maneuverability is one of the reasons it is one of our top choices.
It is lightweight but stable, and designed to keep a set distance between the patient and the fixed suspension column during the lifting process. Its low profile chassis and the position of the electric legs make it easy to roll under most beds, wheelchairs, and other seats. With the base weighing less than 100 pounds, it is the most lightweight device in its category, but it boasts a lifting capacity of 562 pounds.
The 4-point suspension keeps the sling in a position that is comfortable and supportive for the patient. This versatile portable patient lift aid is also compatible with 8-point suspension stretchers. It puts the patient in an open position, without feeling constricted.
This portable patient lift is easy to clean and can be ordered with an optional scale. For added safety, there are manual and electric emergency lowering functions.
This patient transfer device is easy for caregivers to move, and it provides stability and comfort for users weighing up 562 pounds. The lifting pattern keeps patients from swinging too closely to the suspension column. For the lightest weight, lowest profile, and most maneuverable portable sling lift, the Molift Partner 255 Vertical Patient Lift delivers.
Features and Benefits
Easy to maneuver in small home spaces
Vertical lifting pattern and fixed suspension column prevent patient from contacting the column
Sling does not squeeze the user
Comfortable positioning provided by 4-point suspension and gliding loops
Low profile chassis and adjustable electrical legs make it easy to get close to seated patients
Pros
Good for smaller spaces
Lightweight but heavy duty
Don't feel constricted by the sling
Can easily lift patients over 500 pounds without straining caregiver
Durable, useful for years
Cons
Not as easy to move larger patients over carpet as it is over smooth flooring
Prefer 6 suspension points for positioning flexibility
The number 3 item on our is the Battery Powered Easy Sit-to-Stand Lift by Lumex. It is designed for users who are lacking lower body strength but have enough upper body strength to pull themselves up by grab bars during the lifting process.
Designed to accommodate users up to 400 pounds for transfers between the bed, chair, tub, commode, or wheelchair, this sit-to-stand lift is also useful for assisting patients with getting dressed. It has adjustable knee pads and an optional rear strap for additional support.
Made with heavy-gauge steel, the Lumex Easy Lift STS moves patients quickly and safely from a seated position to a standing position. Its ergonomic foot pedal base opening matched with its easy-grip large handles makes it easy for caregivers to maneuver. Its low base height and spread dimensions make it sturdy and ensure it fits under most beds and around most chairs. The foot platform features a quick release button. Furniture and walls are prevented from marking by a rubber base coating.
It has a quiet 24-volt DC motor that is controlled by a hand pendant and it alerts to low battery and weight capacity levels. To safely use this patient transfer device, users need to be able to support at least 60 percent of their own weight.
For a quick, smooth transition from sitting to standing to sitting somewhere else, this portable patient lift works well for patients who can support most of their own weight and have the capability to grip the handles during the lifting process.
Features and Benefits
Constructed with heavy gauge steel
Made with a heavy-gauge steel construction
Large handles make it easy to maneuver
Extremely stable
Furniture and walls protected from rub marks
Pros
Quick and smooth transition
Helpful for other activities, like getting dressed
Helps maintain upper body strength
Additional support straps available
Cons
Needs two caregivers
When strength diminishes, can't use this lift anymore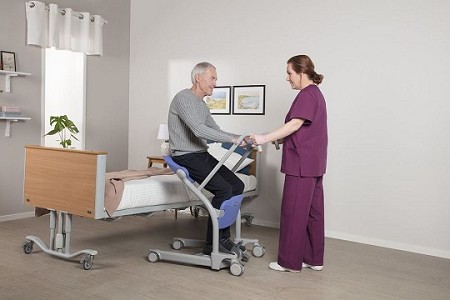 Coming in at number 2 on our list of top patient transfer devices is the Sara Stedy Patient Transfer Aid from ArjoHuntleigh. The versatility of this manual patient lift lies in its ability to serve patients with varying degrees of mobility, ability, and strength. In addition to being a patient transfer device, it can be used for therapeutic exercises.
The two twist-away ergonomically curved seat panels each swing out of the way so the patient can get on and off the standing platform. Once the patient is standing, the panels are easily grasped by the caregiver to return the seat panels to their position, which allows the patient to sit at an angle. The patient can use the convenient crossbar as a support to self-raise or lower from sitting and standing.
Its low clearance chassis with adjustable width allows the base to slide under low beds and wide furniture such as wheelchairs. The curved handles are comfortable for caregivers and the wheel locks are simple to operate.
This manual patient lift has no electrical components so it's always ready for use and can accommodate patients up to 400 pounds. As a therapy tool, it can help users develop or recover strength and coordination necessary to stand and sit without a lift. Using its knee panel and crossbar handle, patients can practice raising and lowering themselves.
This simply and intuitively designed patient transfer device made our list for several reasons. It can be operated by a single caregiver and the easy-to-use foot controls for base width adjustment and wheel locking keep the transfer process controlled and safe. With no electrical parts, there is no need for a battery or to be positioned near a power source. The added versatility as a therapy device and its ability to handle patients weighing up to 400 pounds rates this patient lift one of our top choices.
Features and Benefits
Foot operated width-adjustable chassis
Ergonomically designed knee pads and seat panels
Twist-away seat panels that adjust quickly
Low clearance chassis slides smoothly under low furniture
Can be used as a therapy device
Pros
Only requires one caregiver to operate
No electrical parts to potentially wear out
Simple foot controls
Good traction on the no-slip footplate
Cons
User has to have the strength to grasp crossbars
User has to be able to bear weight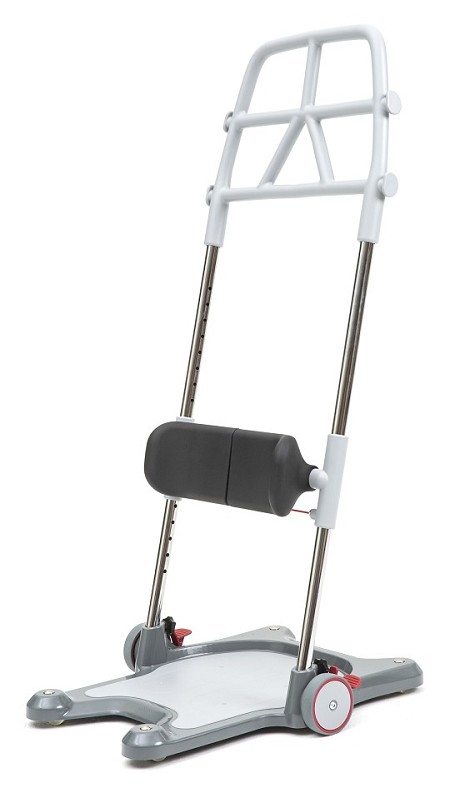 The Molift Raiser Pro Sit-to-Stand Patient Lift by R82 provides some independence and allows patients to participate in the transfer process by using their own muscles while remaining safe during transfers.
Its "stand transfer platform" sets this patient lift apart. After the patient steps onto the non-skid platform and is safely in a standing position, the caregiver rolls the platform to the next seat, whether that be a toilet, a bed, or a chair.
This sit-to-stand lift has additional support options. A pair of soft handles that attach to the handrails provide the patient with extra inches to reach independently to pull up to a standing position. Optional strap belts are great for moving patients over longer distances. The Raiser Safety Strap secures the patient around the back, hips, or upper thighs while the patient is standing. The Safety Strap with Sliding Function is placed under the patient with one side latched to the main patient lift and the other pulled by the caregiver to move the patient to a standing position. The Raiser Belt is similar but has an adjustable buckling belt for added safety. The straps come in small/medium and large/x-large sizes.
It has four small casters that lock with one-foot touch. They make it highly maneuverable in small spaces and it has a workload of 375 pounds.
This sit-to-stand lift utilizes a patient's ability, strength, and balance to participate in the transfer process. It tops our list because of its unique transfer platform and the design that makes adjusting and securing the patient so easy for the caregiver. Its size and maneuverability makes it ideal for cramped spaces, even bathrooms. The height adjustable padded leg support is controlled with one hand, and by locking one wheel with a foot brake, the mechanism secures both casters. It comes in a variety of sizes and safety strap configurations. If you want a simple-to-use sit-to-stand lift with lots of options, this quality built piece will serve you well for years to come.
Features and Benefits
Perfect for tiny spaces with four casters for maneuverability
Non slip footplace can be worn without footwear or with socks or shoes
One-hand control of the height adjustable padded leg support
Locking simple single action braking system
Optional safety straps secure and lift patients for fall prevention
Pros
Simple portable design makes it easy to take anywhere
Adjust simply with one hand or one foot
Multiple sizes and available strap configurations
Only need one caregiver to operate
Cons
Not suitable for higher weight patients
Must have some upper body strength and be able to bear weight
CONCLUSION
Patient lift aids reduce risk of injury to caregivers, require fewer caregivers on hand, and provide safe access to multiple areas of a home while protecting caregiver health. The ability to transfer at will in a manner that is safe and efficient adds to a patient's quality of life and makes the job of caregiving significantly easier.
Our list of patient lifting devices for home use support aging in place even when mobility becomes a serious issue. Caregivers can rely on this equipment to bear the weight during patient transport and the patient can safely and comfortably be moved from one place to another in their own home.
Frequently Asked Questions:
How do I Safely Move a Patient Who is Partially Immobile?
For transfers on and off a chair, bed, tub, wheelchair, or other seat, a patient lift is called for when the person to be transferred is completely immobile. A patient transfer aid is used when a person who has some weight-bearing ability.
Most transfers are going to include at least one of the following: sliding, stand-pivot, stand-step, and bent-pivot. The goal is to get the patient transferred in a manner that is safe for the patient and the caregiver. Injuries due to lack of preparation, a sudden change in the level of patient alertness, not using correct body mechanics, a patient's fear of falling, slippery floors, and even the wrong shoes for the job are not uncommon.
So choosing the proper equipment and being prepared ahead of time are the first steps to staging a safe and successful patient transfer. Having everything necessary within arm's reach and ensuring the path is clear, the way is well-lit and the floors are not slippery will go a long way toward a smooth transfer.
Demonstrating the action for the patient and giving clear and concise instructions will help the patient feel more comfortable, confident, and calm. It's a good idea to allow the patient to remain in a new position for a few seconds to facilitate blood pressure stabilization. If it's possible, patients should move toward their strongest side.
A patient transfer device like a sit-to-stand lift can move the patient from a sitting to a standing position, roll them to another seat, then safely help them lower themselves to a seated position. This is also useful in getting into and out of a car.
How do I Safely Bathe a Patient Who is Partially Immobile?
Wet floors in a small space are the cause of many preventable falls in the bathroom. For caregivers attempting to make a patient transfer in a bathroom, it can be a risky proposition for them and their patients. The patient fall risk and caregiver injury risk can be decreased significantly by following prescribed safety measures, which include using proper procedures with appropriate patient lifts.
Shower-commode chairs help people safely bathe and use the toilet, and these devices can also act as transport devices. With the help of a caregiver, some patients can directly transfer from a chair or bed to a shower-commode chair. Patients with weight-bearing ability will benefit from a sit-to-stand transfer aid to get up from a seat and down onto the shower-commode chair.
Water and corrosion resistant, these shower-commode chairs are easy to maintain and will last for years. Most of these devices are versatile and can be used as bedside commodes, shower chairs, and over-toilet assistive devices. They make personal patient care like bathing and toileting easier and safer for patients and caregivers.
How do I Transfer a Bedridden Patient?
Transfer sheets and transfer boards help caregivers safely move, reposition, and transfer immobile patients and partially immobile patients. Transfer sheets are used with the patient lying horizontally either face up or face down. Transfer boards are used with the patient in a seated position. Seat-to-seat transfers, like from a car to a wheelchair, can also be accomplished with transfer boards.
Transfer sheets
Transfer sheets make moving patients in bed easier. Sometimes they are made of slick fabric to facilitate sliding the patient up in bed.
Transfer boards
Modern transfer boards are constructed from rigid plastics that make them lightweight, flexible, strong. They are used to slide a seated patient from one location to another.
For more information about caregiving support and to learn more about helpful tools for the job of living, check out our comprehensive resource, Caregiver University.
Stuck between choosing the right transfer device? Read our article How to Choose the Best Patient Transfer Device!
Want to learn even more? Find dozens of videos featuring products and caregiver tips like these at Rehabmart's YouTube channel!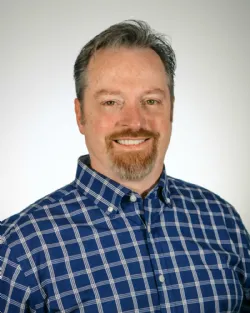 Author:
Co-Founder of Rehabmart and an Occupational Therapist since 1993. Mike has spent his professional career working in multiple areas of Occupational Therapy, including pediatrics, geriatrics, hand therapy, ergonomics and inpatient / outpatient rehabilitation. Mike enjoys writing articles that help people solve complex therapeutic problems and make better product choices.