For people suffering from pain, either chronic or short-term, transcutaneous electrical nerve stimulation (TENS) therapy can deliver relief via a low-voltage electrical current through electrodes on the skin placed near nerves where the pain is located. TENS therapy blocks or changes the user's perception of pain.
It's a non-invasive non-pharmaceutical treatment delivered by a small battery-operated unit that can be accomplished at home, and even on the go. A TENS unit can help treat pain associated with osteoarthritis, fibromyalgia, tendinitis, bursitis, low back pain, pelvic pain, diabetic neuropathy, peripheral artery disease, post-operative pain, and even labor pain.
For anyone seeking a pain-relieving alternative to invasive procedures and pain pills, a TENS unit could be a great addition to a treatment plan. The pain relief experienced by users of these devices can make a significant positive impact on quality of life.
The Top 5 Best Tens Units
The Top 5:
The number 5 entry on our list is the iReliev Pain Relief System Dual Channel TENS Massager by Excel Health, offering prescription-level pain relief without needing a prescription.
Aches and pains are a part of life, but if they get in the way of daily living activities or compromise your quality of life, they need to be addressed. Sore muscles can affect everyone from professional athletes to someone doing chores around the house. With its 25 power levels and eight pre-programmed therapy modes, this dual-channel TENS unit for home use provides the same pain relief as one your doctor might prescribe.
For convenience and portability, this four-electrode unit runs on three AAA batteries. Its carry clip holder and storage bag allow you to get your therapy on the go. It's easy to use and can be timed for sessions lasting 5 to 60 minutes.
This electrotherapy device is easy to use and comes equipped with three AAA batteries, an easy carry clip holder, lead wires, four reusable electrodes, and a storage bag to provide patients with efficient therapy on the go. The iReliev OTC TENS Pain Management System has eight preset programs that allow patients to customize their therapy treatment and target their pain.
With so many available settings, you can tailor your treatment to fit your individual needs. If you need the pain relief provided by a prescription-strength powerful TENS unit, this device delivers.
Features and Benefits
Prescription-strength relief without a prescription

Designed for lower and upper extremities

Eight programs provide customizable therapy

User friendly

High-quality electrode pads for long wear
Customer Feedback
Pros
Comes with batteries included

Like the continuous stimulation setting

Up to 60-minute session

Long enough leads to target different parts of the body in one session

Very high-intensity levels available
Cons
Can't choose different modes for each set of electrodes

Would like holder to be more secure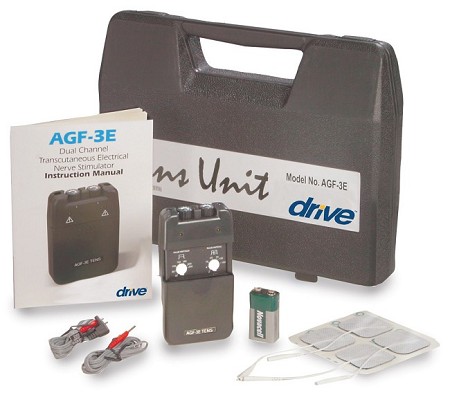 The Economy Dual Channel TENS Unit by Drive Medical made our list at number 4. This rehabilitation and physical therapy tool is highly adjustable, lightweight, and portable.
Adjusting the intensity, pulse frequency, and pulse width you can benefit from a customized and targeted treatment therapeutic experience to reduce chronic, short-term, or post-operative pain. Compact and portable, it has a carrying case and clips to your belt. It weighs less than 5 ounces and uses one 9-volt battery. This device's two isolated channels allow for two areas to be treated at once, with different intensity and pulse, maximizing treatment efficiency.
Users have commented that this TENS unit has greatly accelerated the healing process from sports injuries, and using it at home increased the rate of progress in physical therapy. Many users have said they could feel a significant difference after just one treatment.
For high-quality electrotherapy from a compact unit, this dual-channel device is your go-to choice when you're on the go.
Features and Benefits
High-quality electrotherapy for rehabilitation in a small unit

Intensity, pulse frequency, and pulse width are all adjustable

Three waveform options increase customization

Portable for treatment anywhere

Comes with pre-gelled electrodes
Customer Feedback
Pros
Very small and easy to carry along

Rapid results

Perfect for home use

3-year warranty

Uses readily available batteries
Cons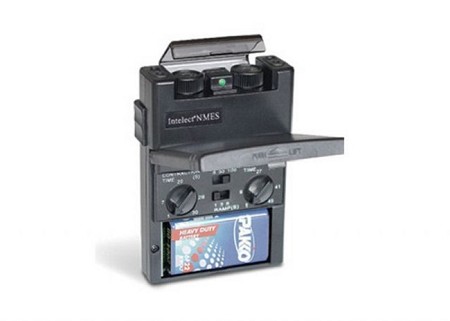 With a focus on function, our number 3 pick is the Intelect NMES Electrotherapy Unit by Chattanooga. It can be used for muscle reeducation, to minimize muscular atrophy, improve circulation, and increase range of motion.
The three stimulation modes - constant, alternate, and synchronous - each have their own adjustable parameters. This electrotherapy unit is packed with features that ensure a customized patient experience.
It's easy to operate, and its compact design makes it great for taking your therapy with you. This double channel unit is known for its durability, and it will provide pain relief and improved function for many years. Powered by a single 9-volt battery, which is included, this TENS unit also comes with lead wires, Dura-Stick electrodes, and a case.
If you are seeking to prevent muscular atrophy, improve function, and would benefit from muscle reeducation, you can rely on this unit to provide the therapy you're looking for.
Features and Benefits
Comes with Dura-Stick electrodes

Easy to transport

Stimulation keeps muscles from atrophying

Multiple adjustment parameters within the three stimulation modes

Durable with a long service life
Customer Feedback
Pros
Helps restore flexibility after an injury

Notice results right away

Stands up to heavy usage

Adjustable enough to get a customized session
Cons
Doesn't come with a timer

Instructions could be more explanatory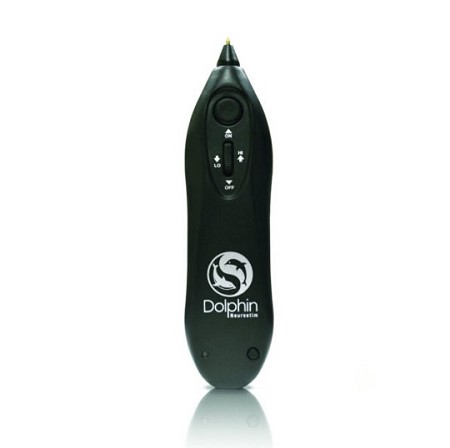 Nearing the top of our list at number 2 is the Acupuncture Simulation TENS Unit Kit OTC Version by Dolphin Neurostim. The home version of the Dolphin Neurostim, this direct-current stimulator does not require a prescription to help you manage pain.
Especially effective in addressing persistent back issues, this TENS unit brings modern technology and traditional Chinese medicine together to conquer pain and inflammation. Its special features include a polarity switch to control hot and cold sensations and a sensitivity control switch to set the intensity.
The handheld Dolphin Neurostim OTC TENS Unit detects and stimulates the body's areas of low resistance. Finding the trigger points is key to relieving pain, and the simulated acupuncture of this device addresses the root of the problem, not just the symptom. It utilizes an all-natural approach to pain relief has been tested and proven successful for more than 30 years. You can choose a single or a double kit, with or without a carrying case. It is conveniently powered by a 9-volt battery.
For at-home attention to back pain, this TENS unit delivers the traditional concepts of acupressure via modern technology. If you are suffering from mobility restrictions and pain because of back issues, this device will release the tension in those muscles. For more freedom of movement and less pain, this unit is a great choice for back pain sufferers.
Click here for a short video explaining how to use this helpful device.
Features and Benefits
Handheld and portable

Decreases pain by targeting nerve fibers

Combines traditional Chinese medicine with modern technology

Professional level therapy you can enjoy in your own home

Durable and long-lasting
Customer Feedback
Pros
Treats the root problems, not just the symptoms

Not limited to where it can be used

The relief is worth the investment in personal health and wellbeing

Works as well or better as any acupuncturist
Cons
Finding the trigger points can take a few tries

Controller not ergonomically designed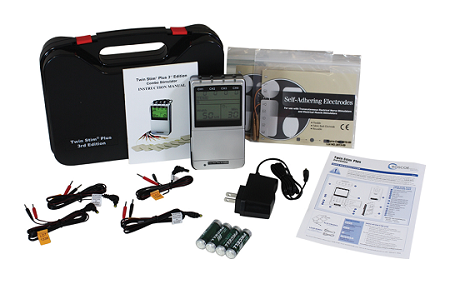 In the top spot on our list of the 5 best TENS units are the Digital EMS, TENS, IF, and Russian Combo Unit by Roscoe Medical. This impressive four-channel device combines TENS, EMS (electrical muscle stimulation), IF (interferential current), and Russian stimulation (similar to EMS but with higher frequencies) in one compact unit.
If it is ordered by a hospital or physical therapy practice, it does not need a prescription. For delivery to a home address, though, a prescription is needed for this professional level unit. It has separate intensity controls for each channel, and with fully adjustable parameters, you can easily customize your therapy. You can treat large areas - even your entire back - or multiple sites simultaneously. It has an adjustable ramp time setting, an easy-to-read display, two timers, and a meter to store the operational records of this device.
Not just for muscle pain, this unit has also been featured in the article, Stroke Recovery Rehab Equipment and Methods because it helps mitigate muscle spasticity, spasms, and post-stroke pain while facilitating normal nerve and muscle function. It reduces swelling and inflammation, and it is a perfect tool for reeducating muscles. You control the intensity with the press of a button, and it can be powered by four AA batteries or via its AC adapter.
With its multiple therapies, this combination model offers the most options for people who want to relieve pain, encourage healthy muscle growth, and minimize muscle stiffness. Its separate controls and large treatment area allow for therapy sessions that can have a significant impact on your overall health and wellbeing. If you would benefit from these multiple therapies, this combo device will cover every need you have.
Features and Benefits
Combines multiple therapies

Separate controls for each channel

Large potential treatment area, including multiple sites

Easy to read display makes adjustments simple

Professional level treatment available by prescription for home use
Customer Feedback
Pros
Helps athletes recover after workouts

Increases range of motion

AC adapter provides the option of a stronger pulse

Compact size packs a lot of features
Cons
Need a prescription to have it delivered to a home

Battery doesn't deliver as strong a pulse as with a power adapter
All of the TENS units on our list deliver pain relief without medicine, and they increase circulation and healing during treatment sessions. Whether your main concern is unit portability or the ability to treat a large area at once, one of these devices could be the difference between pain and comfort or even mobility and immobility. You can trust each of these devices to do what they do best: decrease pain and its effects while promoting healing and well-being.
Features to Consider
As noted in the buying guide, How to Choose the Best TENS and EMS Units, there are several factors to consider when choosing the TENS unit that will best fit your needs.
Current Intensity Controls
It's wise to discuss your TENS therapy with a healthcare professional to determine the ideal current to relieve your pain. Most TENS devices offer a range of intensity you should familiarize yourself with so you can pick the device that will deliver the stimulation you need.
Predefined Treatment Time
It's common for a full treatment to last for 30 minutes, and sometimes the machine will shut off after that time. Your healthcare provider can shed some light on how much time you should spend in a treatment session so you can purchase a device to accommodate that recommendation.
Connections and Channels
Typically there are two connections for electrodes extending from each lead wire, and the available outlets for the lead wires from the device are called channels. With a single channel device you use two electrodes at a time, with a dual-channel you can use two or four, and so on. For treating a wider area, more leads are better, and for treating a smaller area, fewer leads are needed for effective treatment.
Battery or Rechargeable
Battery-powered devices have no charging time and they require a less initial investment. Rechargeable devices cost more upfront, but you don't have to ever replace batteries. The choice of a battery-powered or a rechargeable TENS unit will depend on your lifestyle and how you plan to use the device.
Size
The size and weight of a TENS unit can vary greatly, depending mostly on the size of the battery. Be sure the unit you choose is one that meets your requirements for portability. Review the specs so you know how much a TENS unit weighs and how much space it takes up before you make your purchasing decision.
FAQ
How do you use a TENS unit?
Clean the skin with rubbing alcohol where you're going to put the electrodes. After it's dry, put a thin coat of gel on the bottom of each electrode (unless they come pre-gelled). Put the electrodes on your skin and use medical tape or a sticky patch to cover it. Hook the pin connectors on the end of the electrode wires to the electrodes, then plug the electrode wires into the TENS unit and turn it on.
How does a TENS unit work?
It delivers small electrical impulses through electrodes attached to your skin near a pain point. These impulses reduce the nervous system's ability to transmit pain signals to the brain through the spinal cord.
Those same electrical impulses also stimulate your body's production of endorphins, which are natural pain relievers.
How to use a TENS unit for lower back pain?
Attach the electrodes near the pain point and set the intensity at a comfortable level. Although a TENS unit won't treat the underlying causal spinal condition, it can deliver targeted on-demand relief when your back is hurting.
How long should I use a TENS unit?
It's common for people to feel relief for about four hours after a treatment, but some people experience pain relief for up to 24 hours after a session. Generally, for short-term pain, an average patient will use a TENS unit for 20 to 69 minutes up to four times a day. For people who suffer from chronic pain, 20 to 30 minutes up to five times a week is standard.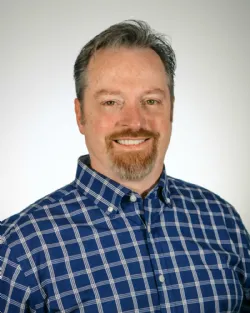 Author:
Co-Founder of Rehabmart and an Occupational Therapist since 1993. Mike has spent his professional career working in multiple areas of Occupational Therapy, including pediatrics, geriatrics, hand therapy, ergonomics and inpatient / outpatient rehabilitation. Mike enjoys writing articles that help people solve complex therapeutic problems and make better product choices.