Cervical traction is a light stretching action meant to relieve pressure on compressed vertebrae, while also maintaining the health and placement of spinal discs.
Cervical traction devices are created to mimic the kind of neck traction care you'd receive from a physical therapist. With the right application, these devices can be simple and effective tools for at-home spinal treatment.
It's important to note the following: Many cervical traction devices require a doctor's prescription to purchase for home use. It is highly recommended that customers discuss which cervical traction device best suits their needs with their doctor or chiropractor before making any purchases.
Top 5 Best Cervical Traction Devices Rankings
The Top 5:

The DDS MAX Cervical Traction Collar Neck Brace claims the #4 spot with its efficiency, mid-range price point, and most of all, the high praise of its quality in customer feedback!
The specially designed, one-size-fits-all collar neck brace is meant for use in cervical traction, particularly in relieving the neck and back pain associated with bulging or herniated discs. It includes more padding and traction support than is seen in many other cervical traction devices.
An overwhelming number of customer reviews for the DDS MAX Neck Brace specified that the device was purchased at the recommendation of a doctor or chiropractor, giving this brace a level of credibility that sets it apart from many other devices. The padded support, combined with the universal size, provides patients with a neck brace that is praised for providing consistent pain relief from a variety of neck and shoulder conditions.
Features and Benefits
A modern take on traditional over-door cervical traction treatments, the DDS MAX Neck Brace gives users the freedom to perform treatment while doing something other than staring at the back of a door!
Inflating vertically by use of a manual gauge hand pump, users are in control of the level of inflation, ensuring that neck over-stretching does not occur. By gently pushing the occipital bone up and pushing the shoulders down, users experience relief from pressure-based conditions such as bulging discs or pinched nerves in just 10 - 15 minutes.
Customer Feedback
Pros:
Cons: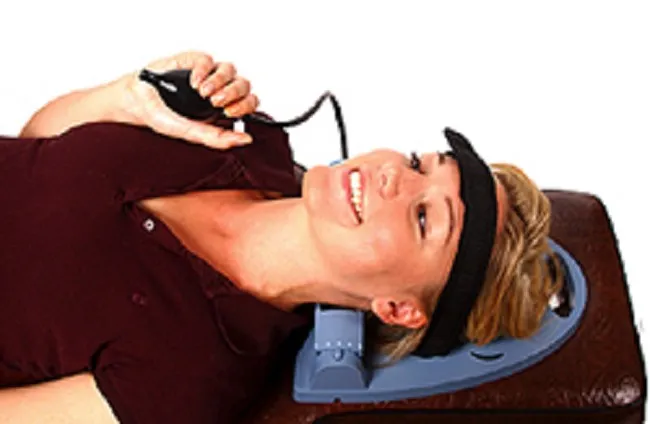 With its superior adjustability to meet a variety of cervical traction needs, the Pratos Five Position Cervical Traction Unit from Pro-Med Products makes our list at #4. Configured as a cervical posture pump, the Pratos is incredibly affordable, and a popular choice among home cervical traction users.
Lightweight, portable, and easy to use, this cervical traction unit provides five different positions along with insertable legs in order to customize its use to each user's specific traction requirements. Offering a maximum of 8 PSI, the tractive force is controlled with a combination of a Pointable Constrained Inflator and adjustable settings to the user's level of comfort, with extension, rotation, or flexion managed with the insertable legs.
The Pratos does not require a prescription, and the vast majority of user comments are positive, with ease of use being its most discussed feature. You must lie down to use it, which most customers found to be a plus, as it encourages a natural posture instead of placing the head in a forward position.
Features and Benefits
Even though it's a cervical posture pump style, which is typically the most expensive home cervical traction device format, the Pratos is actually one of the least expensive traction devices available today, and the most affordable device on our list!
It offers a range of tractive support, with five adjustable positions for varied force, along with insertable legs to provide extension, flexion, and rotation as required. The design enables users to lie in a comfortable, natural position for gentle cervical traction therapy.
Its robust design is dependably durable but super lightweight and in a low profile for easy portability and storage, too.
Customer Feedback
Pros
A great value, most cost-effective option for effective cervical traction at home
Easy to use while comfortably lying down, simple operation
Adjustable tractive force is simple to control and offers a larger range of traction options
Provides flexion, extension, and rotational positioning support
Relieves neck pain and stiffness quickly
Does not require a prescription
Cons
Might not provide strong enough traction for users requiring higher tractive force
Not recommended for users living with intellectual disabilities without supervision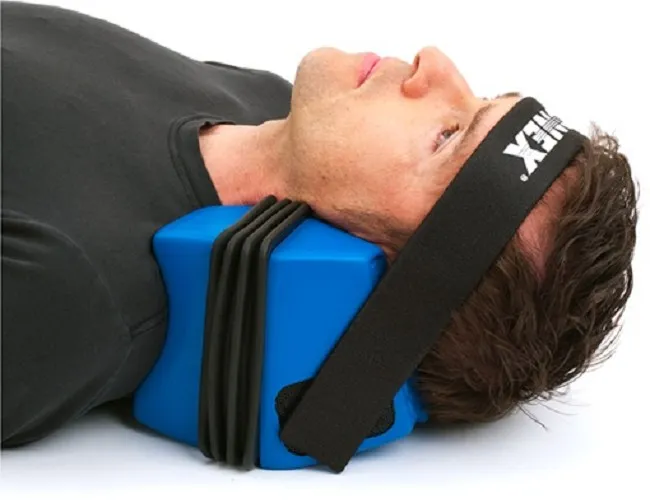 The Pronex Pneumatic Cervical Traction System earns the praise of customers and the #3 spot thanks to the unique air pressure pump managing its cervical traction and decompression!
Unlike the more commonly seen water weight bag and pulley method, the Pronex Pneumatic system provides a more precise method of traction by the pumping of air into its bellows system. By securing the head and neck of the patient, they use a small inflator bulb to pump air into the bellows of the device and provide compression relief.
The format, much to the joy of many customers in their customer feedback, requires no assembly or management of weights, cables, and pulleys. This feature is, above all others, the most highly praised among those mentioned in customer feedback.
But the air pump format is not the only advantage of the Pronex Pneumatic Cervical Traction System. Offered for three distinct neck sizes (14-16 inches, 17-18 inches, and 19-21 inches), the Pronex Pneumatic system can accommodate the specific size of a patient's neck with ease.
Joining the unique features of this product is its ability to be used on soft surfaces, such as a bed or couch.
This benefit helps to separate the Pronex system from most other pneumatic systems, which often cannot be used on soft surfaces. And while a seemingly small feature, this allows patients to perform their cervical traction from the supine position without needing to lie on a hard floor—an advantage that many customers explained they did not expect to appreciate as much as they did!
Features and Benefits
Using a pneumatic air pump to inflate the system's bellows, the Pronex system applies cervical traction without the use of a water weight bag or an over-door pulley system.
The Pronex Pneumatic system is offered in three sizes, which enables customers to choose the size that most effectively and comfortably meets their needs.
Unlike most other pneumatic cervical traction systems, the Pronex system can be used on soft surfaces, such as a couch or bed, thereby allowing patients to perform supine cervical traction on a much more comfortable surface.
Customer Feedback
Pros:
Uses a pneumatic air pump to provide traction instead of a water weight bag and pulley system
Offers a similar level of relief as a visit to the chiropractor, at a fraction of the cost
Can be used on a couch or bed, making performing supine traction much more comfortable
Extremely simple to set up and use—making it much faster than an over-door pulley system
Cons:
There is no small size for the Pronex system, as it can accommodate no smaller than a 14-inch neck circumference
The head strap of the system is typically the first to show wear and tear, though it lasts a pretty long time before doing so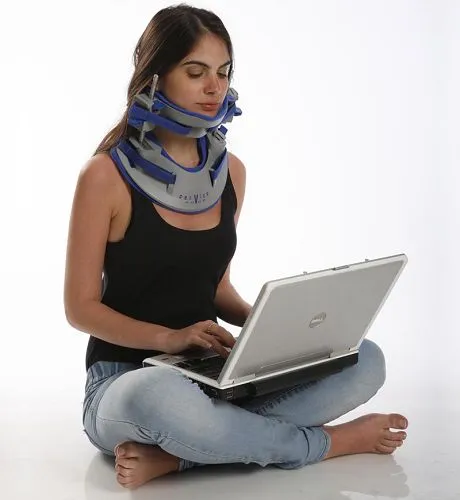 With its unique ability to function in three dimensions, the CerviCo2000 Cervical Decompression by Meditrac grabs our #2 position by enabling therapeutic traction while remaining active.
While it does require a doctor's prescription for home use and instruction for proper use tailored for each individual, this revolutionary cervical decompression device is helping users to prevent major spinal surgery and problematic pain medications. Praise from both healthcare professionals and the users themselves abounds for the CerviCo2000, and how effective it is in relieving neck pain quickly, and how well it helped to correct various cervical spine conditions.
Once the device has been properly fitted and attached, users are encouraged to move about freely, even engaging in lightweight exercise. The CerviCo2000 provides vertical, horizontal, and diagonal support, with both symmetrical and asymmetrical adjustment for unique spinal curvatures.
Customers frequently expressed how amazed they were at the effectiveness of this device, and how quickly it changed their lives around. With just one fifteen-minute session a day for a few months, they were able to relieve severe neck pain, improve range-of-motion, find better spinal alignment, and best of all, eliminate the need for surgery!
Users also discussed how comfortable it is to wear the CerviCo2000, and how nice it was to be able to move around while wearing the therapy. Healthcare professionals also reported how much quicker their patients progressed through traction therapy when they combined wearing the CerviCo2000 with light exercise and walking.
Features and Benefits
As a drug-free alternative to surgery, Meditrac's CerviCo2000 provides effective cervical traction for both professional medical and home use. Functioning in three dimensions, it offers diagonal, vertical, and horizontal support for more complete traction therapy.
Padded and comfortable to wear, users are encouraged to move around while they wear this traction device, a feature very appreciated by its users, and also by the healthcare professionals treating these people.
The CerviCo2000 provides quick and lasting results, with effective pain relief and correction of spinal conditions occurring within a few months of engaging in just one fifteen-minute session per day. Once a trained healthcare professional initiates the therapy in-office, they can then train their patients on how to safely continue the therapy at home with the device.
Customer Feedback
Pros
User can move around while wearing the device
Walking and light exercise while wearing the device increases the positive results
Helps users to avoid surgery and having to take problematic pain medications
Comfortable, with padding on all skin contact surfaces
Dual traction enables symmetrical/asymmetrical adjustment for different spinal curvatures
Three-dimensional dynamic support enhances comfort, healing, and pain relief
Cons
The price point may be too high for some users
Requires a doctor's prescription, and some training on how to use it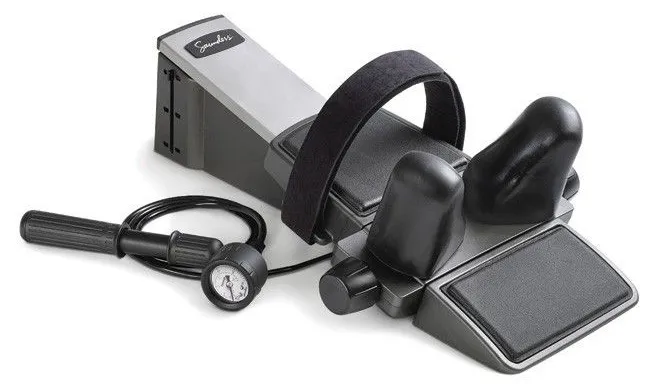 The Saunders Cervical HomeTrac Traction Device earns the #1 spot of this top five list with ease. It's the most highly recommended, positively-reviewed, and even the most generally reviewed traction device on the top five!
The Saunders HomeTrac makes use of a mechanically-operated pump on a frictionless track. Capable of applying up to 50 pounds of tractive force—over 25 pounds more than the next highest in the top five—this cervical traction device provides patients with a smooth, safe tractive treatment.
Patients use the pressure gauge to control the force of traction during treatment, offering a high degree of precision.
The high quality of care and the reliability of the Saunders HomeTrac device is, above all else, the most frequently praised feature of this product. Multiple customers explained that they were able to use the Saunders HomeTrac as a safer, less expensive alternative to undergoing spinal surgery.
Other customers explained they were able to decrease the frequency of their visits to a physician, as the Saunders HomeTrac provided a quality of care great enough to extend the time between appointments.
The high quality of care provided by the Saunders HomeTrac is accompanied by praise for its ease of use. Operating as one unit, this product requires considerably less setup than the over-door competitors. Customers also explained that the device is easy to move and store, adding yet another advantage to Saunders HomeTrac's already long list.
Features and Benefits
The Saunders HomeTrac device is the most highly-praised traction device in customer feedback by an overwhelming margin, receiving hundreds of five-star reviews for its quality and reliability!
Operating as a single unit, the Saunders HomeTrac is easier to set up than much of its competition and operates more precisely thanks to its use of a manual pressure pump and gauge.
The Saunders HomeTrac uses patented self-adjusting neck wedges that allow the device to be one-size-fits-all, removing the concern of purchasing the correct size.
This product is also praised for helping patients avoid dangerous surgeries and reduce the frequency of visits to the doctor.
Customer Feedback
Pros:
Referred to by a considerable number of customers as "the best possible option for in-home cervical traction"

Extremely reliable, as customers receive the same high-quality care regardless of if it is used every day or once a year

Operating as a single unit, the Saunders HomeTrac is significantly easier to set up and operate than over-door systems

Several customers credited the Saunders HomeTrac for having allowed them to avoid dangerous spinal surgeries and decrease the frequency of their visits to the doctor
Cons:
Features to Consider When Purchasing a Cervical Traction Device
Because the people they're intended for are diverse and vary widely in their therapy requirements, cervical neck traction devices are available in different styles in order to better fulfill these varied needs. Let's explore the three main designs and discuss how their various features can benefit different users.
Over the door cervical traction
As the most common type of traction device for home use, over the door cervical traction equipment uses counterweights to provide desired traction therapy. The user typically wears some kind of chinstrap harness that attaches to a bag filled with a specified amount of sand or water which is suspended over a door with a pulley system. This weight pulls the chin harness upward, relieving tension on the neck and spine.
Highly versatile, over-the-door cervical traction devices are generally the most affordable option, and most people find them easy to use, even though they require a more intensive set-up than other traction devices. Their parts are lightweight and portable but can be a little more extensive to pack up for travel than other types of traction devices.
The therapy can be done in a sitting position, with some over-the-door models even allowing the user to lie down. Their proper administration does require a weight measurement recommendation from a healthcare professional, and will never exceed 20 pounds of pressure.
While over-the-door cervical traction devices provide effective therapy, they usually take longer to provide these healing benefits than other traction devices, and may even need to be used several times a day. But they are a great choice for chronic cervical problems and deliver efficacious therapy for long-term results.
Pneumatic cervical traction
Utilizing air to provide the spinal stretch, pneumatic cervical traction devices are usually configured as a soft foam cushion that looks like a neck pillow, cradling the user's neck and head. A strap secures the head for stability.
The user increases the pressure of the stretch through a hand-held control, slowly deepening the tension, which pushes up on the head while pushing down on the shoulders. Pneumatic traction devices deliver up to 20 to 50 pounds of pressure, depending on the model, and are generally preferred by users requiring faster results in a shorter amount of time.
Pneumatic cervical traction devices are also easy to travel with, as they don't require assembly, and are always ready to use. They usually come in a mid-range price point between over-the-door devices and cervical posture pumps, making them a good cost-saving option for the long term. They're also quite versatile and can be used while seated or lying down, with some customers even wearing them as they walk around their home or office.
Cervical and posture pump cervical traction
Specifically designed to restore the natural C-curve of the neck along with stretching the cervical spine, cervical posture pump traction devices help users to maintain good spinal posture as well as relieving pain and compression.
Users lie on their back and place the cervical pump device under their head, fitting it to coincide with the built-in contour. A hand-held pump switch controls the amount of tension, with most cervical pumps delivering up to 50-pounds or more of tractive force.
Generally delivering stronger traction than pneumatic or over-the-door options, cervical pumps are also usually more expensive. But they produce the quickest results and most accurately simulate the positive outcomes achieved in a therapist's office. Like pneumatic traction devices, they require no assembly or set-up
Who uses cervical neck traction devices?
Most of us experience neck stiffness and pain occasionally, most often due to overuse, repetitive strain, or poor posture. Made of vertebrae extending from the upper torso to the skull, the neck/cervical spine has discs between these bones to help absorb shock. Any abnormalities, injuries, or inflammation of the bones, ligaments, and muscles in this cervical area can cause neck pain and/or stiffness.
Cervical neck traction devices treat various causes and types of neck pain, tightness, and tension by stretching the spinal vertebrae, using force or tension to slowly stretch or pull the head away from the neck. This gentle stretching action also relaxes muscles, ligaments, and tendons, and relieves pain from spasms, sprains, and joints. It's often used to treat and flatten herniated or bulging discs as well.
What are the benefits of cervical neck traction?
Proven to provide efficacious healing and relief, a meta-analysis of studies in 2017 examined the effectiveness of cervical traction devices in relieving neck pain, finding that this treatment significantly reduced neck pain both immediately following treatment and in the follow-up period. Cervical traction devices are often indicated for the following conditions:
Muscle tension and strain
Spinal subluxation/misalignment
Poor posture (also staying in one position too long, sleeping in a bad position)
Whiplash injuries
Nerve impingement
Herniated, ruptured, slipped, and bulging discs
Degenerative changes (osteoarthritis)
Compression fractures
Spinal stenosis
Radiculopathies/Compressions
Spondylolysis and Spondylolisthesis
Frequently Asked Questions
Are neck traction devices safe?
In general, neck cervical traction is considered a safe practice, but it's not suitable for everyone, nor are the results the same for everyone. The treatment should be pain-free, although there may be some adjustment side effects you should discuss with your doctor. Injuries can occur if the equipment is used incorrectly, or if the user has contraindications for traction therapy.
What is the best home cervical traction device?
The best home cervical traction devices will effectively relieve neck pain and stiffness, decompressing the spine through over-the-door traction, pneumatic traction, and cervical posture pump traction. What's best for one user is not necessarily what's best for another, so it's important to determine the intended user's specific needs and lifestyle in order to choose the best home cervical traction device for each unique user.
How do neck traction devices work?
Cervical neck traction devices work by gently stretching the vertebrae and muscles of the spine, using tension or force to pull the head away from the neck, enabling decompression and muscle relaxation.
How to use a neck traction device?
Cervical neck traction devices are used in a variety of ways, depending on the type, which includes over the door, pneumatic, or cervical posture pump. Some require sitting upright, others can be used lying down, and there are even dynamic traction devices that are intended to be worn while active.
How long to use a neck traction device?
Most cervical neck traction devices are used anywhere from 10-30 minutes for a session, and it is up to your doctor to determine how many weeks or months of traction therapy are required. That's why it's so important to keep your doctor apprised of your progress and any negative symptoms that occur.
Can traction help a pinched nerve?
Cervical traction helps pinched nerves (nerve impingement), along with treating other types of neck pain, stiffness, and tension, such as herniated or bulging spinal discs.
Is cervical traction painful?
No, cervical traction should never be painful, and if it is, or if your symptoms worsen, discontinue the use of your device and be sure to inform your doctor immediately. Cervical traction is intended to treat neck pain and tension and should provide relief.
Summary
Choosing the best home cervical traction device requires the determination of specific user needs, matching the equipment features to fulfill those unique requirements. While an over-the-door option may be the best choice for one user, the needs of another would be better fulfilled by a pneumatic or cervical posture pump traction device.
We covered the top five choices from our catalog, based on performance, ease of use, dependability, cost, and customer feedback. While all five offer a variety of benefits for their various users, the Saunders Cervical HomeTrac Traction Device claimed our #1 spot with its hundreds of highly positive, five-star reviews. Praised for its ability to help customers prevent costly, dangerous spinal surgeries, this device provides its users with an exceptionally high level of care.
Want to learn even more? Find dozens of videos featuring products and caregiver tips like these on Rehabmart's YouTube channel!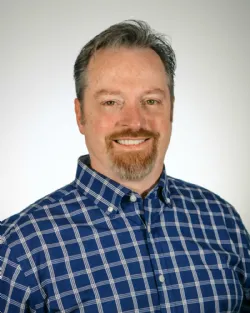 Author:
Co-Founder of Rehabmart and an Occupational Therapist since 1993. Mike has spent his professional career working in multiple areas of Occupational Therapy, including pediatrics, geriatrics, hand therapy, ergonomics and inpatient / outpatient rehabilitation. Mike enjoys writing articles that help people solve complex therapeutic problems and make better product choices.