What's the difference between a walker and a rollator? The answer may seem obvious. A rollator has wheels! In order for assistance moving forward, a rollator is pushed whereas a standard walker has a solid base that needs to be lifted as you step forward. While some basic walkers do have two front wheels, the back legs still must be lifted as you move.
A better question might be whether you would benefit more from a standard walker or a rollator. Someone who is unstable and needs the support of a strong, stationary base is best suited for a walker. The basic walkers included on this list are a few of the best options for individuals who face weakness and fatigue after surgery, shortness of breath, arthritic pain, or poor balance.
The Top 5: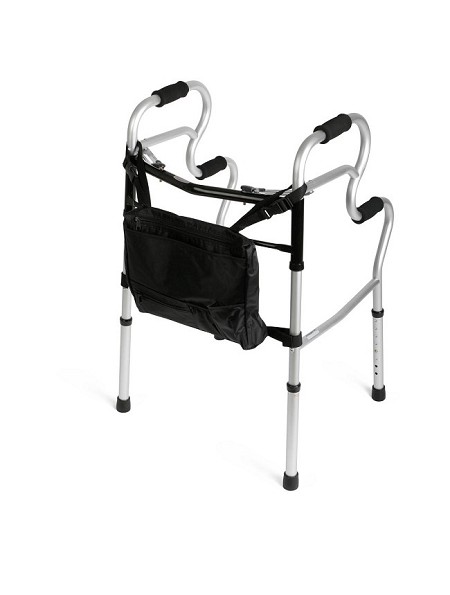 The heavy-duty Stand Assist Folding Walker by Medline places 5th on our list. Its basic, multi-use features make it an excellent candidate for most individuals requiring the use of a walker.
This standard walker performs three different functions including standing assistance, walker, and toilet safety frame. The top grips are used while you're standing up and walking while the lower grips are perfect for supporting your weight as you sit and begin to stand up. Use this walker for balance as you're standing still, walking throughout the house, and even getting on and off the toilet. Its legs have rubber tips to increase friction and it also has cross braces to increase stability. There will be no wobbling or sliding with the Stand Assist Folding Walker!
You are able to lengthen or shorten this walker so it will be a perfect fit whether you are short or tall. Furthermore, customize the color of your walker! It is available in silver and red. The silver even comes with an attachable front bag to carry any belongings you may need to take with you. Additionally, true to its name, this walker has a compact folding design for easy storage and transport. Whether you need help standing, walking, or using the bathroom, the Stand Assist Folding Walker will be an excellent companion, especially on the go!
Features and Benefits
Multi-use, includes two different levels of handgrips
High weight capacity
Cross braces eliminate wobbling
Adjustable height
Folding design makes transport simple
Customer Feedback
Pros
Feels more sturdy than other walkers
Legs are further apart so there is less wobbling
Very easy to take on the go
Helps in many different situations of daily life
Cons
Difficult to move on carpet
Folding may require serious manipulation
Bariatric patients face many challenges in the world. Unfortunately, finding a walker that will safely support their weight is often one of them. The extra-wide 6 Wheeled Bariatric Double Button Folding Walker by TFI Healthcare ranks 4th on our list of the best walkers for balance problems. The wide width and dual front wheels increase stability for users up to 650 pounds, eliminating this issue for most bariatric individuals. Additionally, if you're extra tall, you're also able to adjust the height by 1-inch increments.
While this standard walker is ideal for home use, don't be afraid to take it outside and even on bumpy surfaces! It is extremely maneuverable due to its swivel casters and auto brakes. If you also need help in the bathroom, this walker is perfect. The angled front legs allow you to remain stable while getting on and off the toilet.
The 6 Wheeled Bariatric Double Button Folding Walker can collapse for easy storage. All you have to do is push two buttons and the walker will easily fold to just 4-inches in depth. It'll easily fit in the car, under a bed, or in the closet. If you're looking for a combination between strength and easy storage, this is the basic walker for you!
Features and Benefits
Dual 5-inch front wheels and auto break on back legs increase balance
Height adjustable
Angled front legs for stability while in bathroom
Collapsable for easy storage
Customer Feedback
Pros
Extremely rigid and strong
Comes completely assembled
Works great for bariatric users
Functions well on many different surfaces
Cons
Occasionally squeaks or groans while in use
Very heavy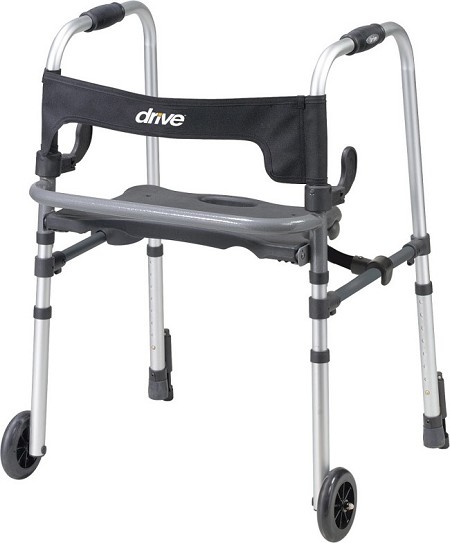 Ranking #3 on our list is the Clever-Lite LS Walker with Flip Up Seat by Drive Medical. This basic walker is ideal for individuals with limited mobility that may want to take a break while on the go. Why bother to pull up a chair when you can comfortably sit on your walker?
The seat remains upright while walking and then can be conveniently flipped down during rest. It also comes with a carry handle to make transport significantly easier and more comfortable. While sitting down, feel free to comfortably lean on the flexible sling-style backrest for additional stability.
In addition to the seat, this walker provides all the features of a traditional walker. It is height adjustable, strong enough to support a maximum weight of 400 pounds, able to fold, and has push-down brakes on the back legs to keep it still while you're not on the go. With the Clever-LIte LS Walker with Flip-Up Seat, mobility is within reach!
Features and Benefits
Seat that can be stored upright or flipped down during use
Folds and can be easily transported with carry handle on the seat
Flexible, sling-style backrest for comfort and stability
Adjustable height
Customer Feedback
Pros
Locks on the back wheels keep the walker completely immobile when necessary
Lightweight
Seat is extremely convenient
Works well inside and outside
Seat can also be used as a tray when needed
Cons
Seat occasionally falls down while walking
Release lever is prone to breaking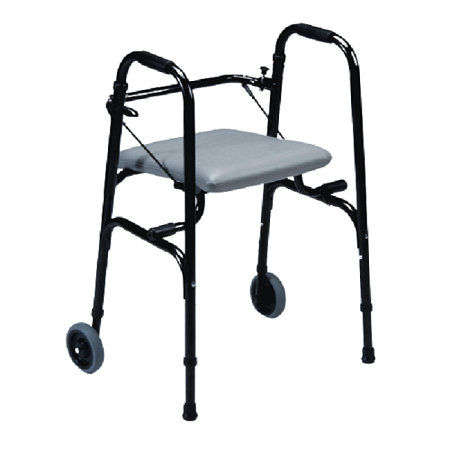 The convenient, comfortable, and easily stored Foldable Seat Walker with Auto Fold Seat byTFI Healthcare places #2 on our list.
The seat automatically pops back up to stored position when not in use which allows a greater walking area. A vinyl seat cover is included for easy cleaning. The strong, TUFF COAT 1-inch tubing is extremely durable and the seat can support up to 400 pounds while also providing cushioning so you'll stay comfortable and relaxed during your seated break.
The walker is height adjustable by one-inch increments, so there no reason to fret about it being too tall or short! The Foldable Seat Walker with Auto Fold Seat is excellent for both in and out of the home. Due to the two 5-inch front wheels, this walker still provides easy mobility over uneven surfaces. Lastly, true to its name, this walker is fully foldable. It has dual safety release pins which allow it to fold to under 7 inches and easily fit in the trunk of a car. This walker provides all the basic features, plus a padded seat at an excellent value.
Features and Benefits
Seat automatically folds when not in use
Seat has a 400-pound weight capacity and is cushioned
Height adjustable
Easily folds for storage
Customer Feedback
Pros
Seat is high, making it easier to sit and stand up
Very sturdy
Extremely easy to fold and put away
Cons
May be difficult to set-up
Cord for seat retractor occasionally comes loose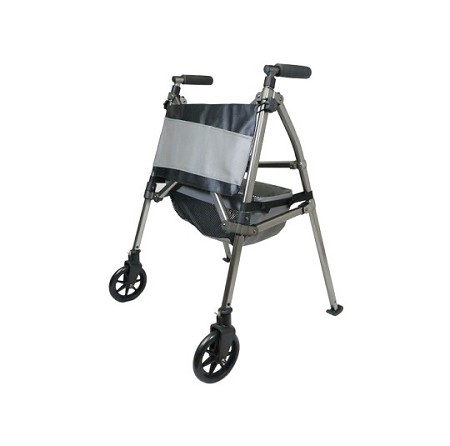 The all-terrain Signature Life Elite Travel Walker by Stander, Inc is awarded 1st on our list due to its long list of additional features and multitude of uses.
You can take this walker anywhere you go: in the grass for your granddaughter's soccer game, all throughout the house, or on a path in the park. The front wheels are 6-inches in diameter, enabling them to safely navigate bumpy and uneven surfaces. The wheels also come with a locking feature for safety during stationary activities. The walker even folds for transport, fitting easily in an overhead compartment on an airplane or in your car! There's no reason to stress about your travels with this lightweight, compact walker.
Depending on your height, you can adjust the handles of the walker, so it's safe and comfortable for you. The Signature Life Elite Travel Walker also includes a storage basket and organizer pouch, for a wallet, snacks, and anything else you might need on the go! This premium walker is an excellent choice to increase mobility and battle imbalance. If you are hesitant to purchase a walker, look no further. The Signature Life Elite Travel Walker is a fantastic choice.
Features and Benefits
Folds extremely compactly
Basket and organizer pouch for storage
All-terrain wheels
Wheels have a locking feature for stationary activities
Customer Feedback
Pros
Aesthetically pleasing when compared to other walkers
Basket and pouch are extremely useful and spacious
Feels very lightweight
Easy to maneuver around house and over uneven surfaces
Cons
Over time it may become difficult to open and close
Does not include seat
Features to Consider When Purchasing a Handicap Friendly Swing Seat
Transport and Storage
Are you going to be using your walker out or about, or stay inside? Wheel size and folding ability become extremely important depending on where you decide to take it. Outdoors, it is imperative to have all-terrain wheels that can handle bumpy and softer terrain. If you need to transport the walker, the ability to fold and a lightweight frame will be important. How else will you get to the park if it can't fit in your car?
Weight Capacity and Height Adjustment
Some walkers are more fitting for larger, bariatric individuals than others. It is important to ensure that the walker will support your weight. You will not want to risk falling should you need to stabilize yourself with the walker. If you're tall, the adjustable height is also an important feature. If your standard walker is too small for you, it can cause not only further balance issues, but back pain and arm straining as well.
Wheels
As previously stated, standard walkers will have either 2-wheels on the front legs or none at all. The best option for you depends on the level of stability you need. With more significant balance problems, you will want to avoid any wheels. Even though walkers with wheels involve less effort to move forward, they are significantly less stable.
Frequently Asked Questions
Q: What types of walkers are there?
A: There are two different types of walkers available: standard and 2-wheel. A standard walker is the most basic type of walker and are essentially metal frames that the user must pick up and put down as they step. A 2-wheel walker has wheels on the front legs that make them easier to use. Instead of picking up the entire frame, you can push and lift.
Q: What's the difference between basic walkers and rolling walkers?
A: Basic walkers do not have wheels, while rolling walkers have two wheels. You must fully lift a standard walker with each step you take for the utmost stability. While rolling walkers provide less support, they also require less effort to use as you exert less energy overall pushing and lifting only the back legs.
Q: What is the proper way to walk with a walker?
A: In order to most effectively utilize a walker, you should firmly grip both sides with your hands, move the walker a very short distance in front of you, and then step forward with your injured or weaker side first, if applicable. Your feet should always stay within the walker as you slowly move the walker, step with one foot, step with the other, and so on. As you turn, you should use the same process and slowly angle in a circle.
Q: How should a walker fit?
A: For both your safety and comfort, it is extremely important for your walker to fit accurately. As you stand inside your walker and hold onto the handgrips, your elbows should be at approximately fifteen degrees. Additionally, if you rest your arms at your sides, the top of the walker grip should line up with your wrists. It may be difficult to find a walker that is exactly your measurements, so look for one with an adjustable frame.
Q: Who needs to use a walker?
A: There are a multitude of reasons why someone should use a walker. While they're often needed with normal aging, this is not always the case. Young people may have symptoms indicating a need for walkers too! To begin, walkers should be utilized by those with decreased weight bearing, fatigue, and poor balance. Just as there are many symptoms requiring the use of a walker, there are many things that cause these symptoms. For instance, respiratory conditions and healing from surgery cause fatigue, arthritis, and slow-healing foot wounds lead to decreased ability to put weight on your lower extremities, and low blood pressure and neurological conditions such as a stroke affect balance.
Summary
While similar to rollators, walkers offer a solid base with increased stability. Wheels may be convenient but they are certainly not as reliable. The strong, stationary frame of a walker will keep you safe as you navigate through life.
The Signature Life Elite Travel Walker by Stander, Incranked #1 on our list due to its all-terrain wheels, folding and transport capabilities, and storage options. Go anywhere and everywhere with this walker whether utilizing the device or traveling with it in tow. It's hard to beat a basic walker that not only allows you to get from one place to another safely and conveniently, but a walker allows you to do so fashionably!
View our entire catalog of Walkers, Medical Walkers, Folding Walkers, Walkers with Seats, and Knee Walkers to see even more options and visit Caregiver University for more Product Reviews and Buying Guides! If you're interested in further advice on purchasing a walker, check out How to Choose the Best Walker!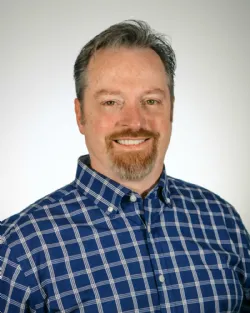 Author:
Co-Founder of Rehabmart and an Occupational Therapist since 1993. Mike has spent his professional career working in multiple areas of Occupational Therapy, including pediatrics, geriatrics, hand therapy, ergonomics and inpatient / outpatient rehabilitation. Mike enjoys writing articles that help people solve complex therapeutic problems and make better product choices.