Wheelchairs allow users to have an enhanced quality of life and promote mobility. Being affected by mobility restricted disease or trauma does not mean that one cannot enjoy life or perform outdoor activities. Wheelchairs open up opportunities for users to gain independence, participate in social activities, recreation, sports, and much more. With different types of wheels and features, outdoor wheelchairs allow you to travel over various terrains with enhanced stability.
The standard indoor wheelchair has limitations if used outdoors, as you can only use it on the sidewalks or paved grounds. If you want to explore the outdoors fully without any restrictions, you should consider buying an outdoor wheelchair. Outdoor wheelchairs are created to face all different types of terrain and allow the user to enjoy all different types of activities. They can tackle uneven curbstones, muddy grounds, sand, snow, and more. You might be surprised at the places you can go with outdoor wheelchairs you thought will never be accessible with a wheelchair.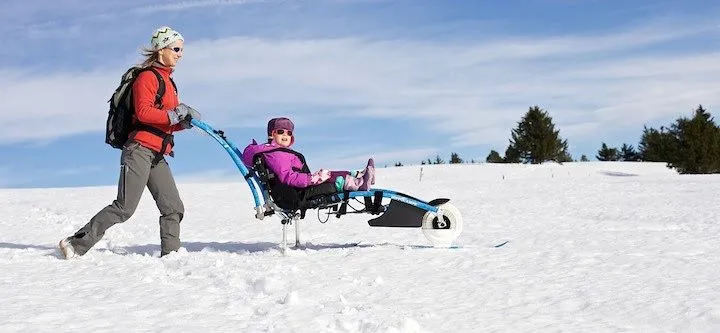 We are going to choose the best wheelchair for each category of outdoor wheelchairs: all-terrain wheelchairs, beach wheelchairs, pool wheelchairs, sport wheelchairs, and adaptive skiing wheelchairs. All our top picks are reviewed best by taking into account customer satisfaction, the pros and cons, and the best features of each of our top picks. If you are looking to buy an outdoor wheelchair, this article will guide you through everything you need to know and will help you decide the best wheelchair for your lifestyle.
All-Terrain Wheelchairs
These outdoor wheelchairs have the ability to go through a variety of surfaces, including water, sand, ice, or uneven terrains. The variation with other outdoor wheelchairs is its wheels, which are extra wide to increase stability. All-terrain wheelchairs are available in manual and electrically powered versions. We recommend an all-terrain manual wheelchair because:
Manual wheelchairs are often compactable and sleeker, so they can be easily transported and navigate to tighter places.
Manual ones have fewer parts, therefore, needing fewer maintenance costs and care.
You are free from charging batteries or worrying about the battery while going on a long outdoor adventure.
Manual wheelchairs offer physical exercise as it needs strength to propel.
The top pick among all-terrain wheelchairs is Extreme Motus Emma X3. It is the ultimate all-terrain and off-road wheelchair that can tackle a variety of terrains. Extreme Motus is a company destined to make wheelchairs that allow disabled persons to enjoy the greatest outdoors. The manufacturer accepted the challenge to develop a chair for taking the paralyzed girl named Emma to the top of Timpanogos Mountain. Accepting this challenge, they come up with an all-terrain outdoor manual wheelchair Emma X3. Taking into account the easiness and comfort, the wheelchair is light and compact with the ability to glide over various surfaces including rocks, mud, sand, grass, snow, gravel, and even floats in water. What else a disabled person or their caretakers need when Emma X3 is offering to enjoy so many outdoors.
Features and Benefits:
Made of aluminum, making it lightweight and sturdy to withstand environmental harshness.
Aluminum seat keeps the chair lightweight, weighing only 49 pounds, and is available in three sizes (small, medium, and large) differing in width.
Tires of Emma X3 are big and have low pressure (4ppi) that act as a suspension, making it buoyant and able to pass over the grass, rocks, snow, and gravel with ease.
The collapsible design can be easily folded and the wheels can be removed for easy storage and transport
Customer Feedback
Pros:
A solid lightweight frame is durable and can survive in any environment.
Emma X3 has standard storage options with a large bag on back, small on handlebars, and two water bottles
Independent rear disk brakes offer great stopping power when hiking up the hill
It can be folded and easily stored or transported
Cons:
Needs someone to push or propel the wheelchair; cannot be self-propelled
The front wheel is fixed, so it needs to be lifted for turns.
Beach Wheelchairs
Who doesn't love to go to beaches, especially in summers, to have fun? Standard wheelchairs are not well suited for the beaches as they are not designed to move over the sand, and the wheels might get stuck. Beach wheelchairs have wider wheels that move on the sand easier and also allows the user to float in the water. Most people consider renting out a beach wheelchair if they are not going to the beaches often. Some places in the US offer wheelchair rental for beaches on reservations, but they are limited. Some hotels also offer beach wheelchairs, but it is mostly on a first-come, first-serve basis. If you have to go outside the US or are a frequent beach visitor, you should invest in a beach wheelchair. It will be a good idea to have your wheelchair with the ease of use and also because of sanitation concerns.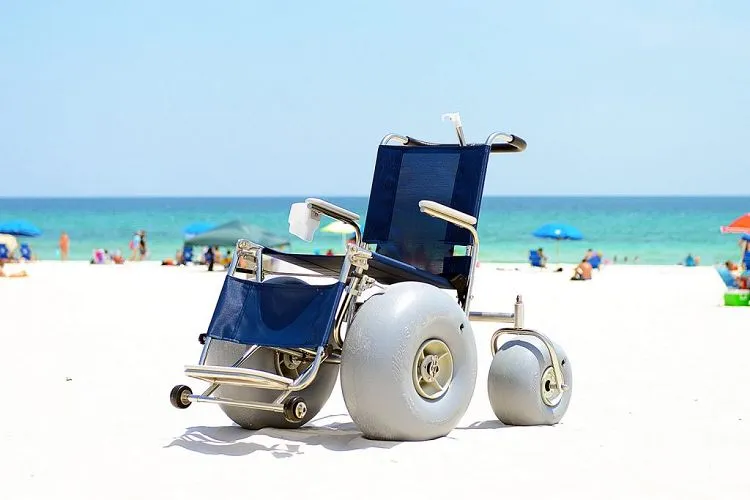 Our best pick for a beach wheelchair is the DeBug Outdoor Wheelchair. The wheelchair is all-terrain and can perform well on snow, gravel, and mud with specific emphasis on sand.
There is a story behind the making of DeBug beach wheelchair. The DeBug outdoor wheelchair prototype was completed in 1994 by Mike when his wife got paralyzed in an accident just after 8 months of marriage in 1900. She loves beaches, and keeping this in view, Mike tried to design a chair that doesn't restrict her from enjoying outdoor activities at the beach. Since 1994 the DeBug has been making outdoor beach wheelchairs to let disabled people enjoy their outdoor time without any difficulty.
Features and Benefits:
Made to survive the beach water environment with 316L stainless steel, which is more durable and tougher than standard 304 marine grade stainless steel
Features low-pressure WheelEEZE larger tires on the front and two rear castering wheels.
Articulating suspension system keeps all four tires in contact with the ground and allows smooth gliding over sand and other uneven terrains with optimum stability and comfort.
The unique design for a comfortable ride and features swing-away armrests for easy transport in and out of the chair
Sturdy and can support up to 350 pounds
Rear wheels are capable of rotating 360 degrees for easy turns
Can upgrade to reclining, tilting in space, and is available for ordering with quick release pins for quick and easier disassembly
ADA compliant and made in the USA
2 years warranty on tires and seating and 10 years warranty on frame
Customer Feedback
Pros:
Rust-resistant aluminum frame is durable and survives well in beach environments
Offers customizable, upgrading options like an umbrella with holder, headrests, fishing pole holder, cup holder, seat cushions, and chest straps
Rear suspension enhances stability and allows gliding over various terrains smoothly
Cons:
Some users found it difficult to transport because of the design.
The steel frame is heavy, making it require more effort to propel.
Pool Wheelchairs
A pool wheelchair is also known as an aquatic wheelchair designed for disabled individuals to be used in or around water. These provide safe access to pool sites, showers, and spas for all individuals irrespective of their disability. The difference between pool wheelchairs and other outdoor wheelchairs is that it is made up of corrosion-resistant material because they are constantly subjected to humidity, sunlight, and water. Most pool wheelchairs are designed with PVC piping and are made to withstand repeated use in public places. The material used is capable of easily drying, and designs feature easy to transport and movement on slippery and wet surfaces. The other feature that makes it preferable to use at pool sides is that it doesn't leave black marks of tires on the floor like the regular wheelchair. Pool wheelchairs are ideal for persons wanting to enjoy at the poolside, beaches, spas, showers, aquatic therapy, and water exercise.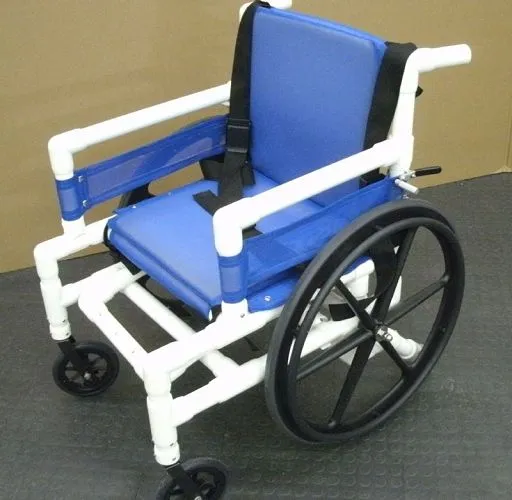 AquaTrek is our best pick in pool wheelchairs that is one of the top-selling pool wheelchairs manufactured by Aquatrek 2. The wheelchair has many features that make it preferable over other available pool chairs in the market. AquaTrek is highly stable, durable, and comfortable, and a model of a pool wheelchair can hold a person with a maximum weight limit of 450 lbs. It is uniquely designed for use in aquatic environments.
Features and Benefits:
Totally submersible, lightweight, corrosion-resistant, and highly durable
Designed with high-quality furniture-grade PVC, stainless steel fasteners, and covered with waterproof Phifertex fabric making it to last 10+ years
The arms swing out and footrest is retractable allowing easy transfer
Front wheels have a diameter of 7 inches, and rear wheels have a diameter of 24 inches with graphite hand rims for easy maneuverability
The chair has the capacity to hold individuals of up to 350 lbs
Additional customization options, including reclining high back, seat belt, Anti-Tip wheels, and shoulder harness.
The wheelchair can also be used with any of the available AquaTrek 2 ramps
Customer Feedback
Pros:
It is lightweight, durable, and long-lasting (10+ years).
It comes with customization options to provide more comfort for the users.
Hand rims on rear wheels offer easy maneuverability.
The cushioned seat is easy to clean.
Cons:
This chair can be a bit expensive
Lightweight Sports Wheelchair
Disable persons can also enjoy a variety of sports by using a sports wheelchair. It is like a regular self-propelled wheelchair but with some features that make it able to allow the user to participate in sports efficiently. For example, it is built to be tough, strong, non-folding but with lightweight metals to facilitate speed and maneuverability. The wheels of sports wheelchairs are also different, rear wheels are angled outwards, and the front wheels are smaller, and castor like to facilitate additional agility. There are different sports wheelchairs available, mostly differing in certain features for specific types of sport. Like for basketball, a wheelchair has a front bumper, anti-tip wheels, and options to alter the center of gravity for providing protection from collisions and allowing them to lean backward for power shots. And for tennis, the wheelchair is designed to offer enhanced agility by placing a front castor and wider frame to support forward and lateral leaning. So choosing a sports wheelchair is dependent on the type of sports one wants to play.
We have picked Zephyr Sports Fully Customizable Wheelchair as the best sports wheelchair by colors. The company is determined to make wheelchairs for a lifestyle and not just for life by offering various customizations respective to an individual's needs and preferences. The company aims to make products that empower disabled persons to stay strong and at their best. Zephyr is the first sports wheelchair that has a ¾ inches completely welded frame. Zephyr sports is a perfect sports wheelchair offering to play multiple sports with enhanced stability and mobility. It is well suited for active persons, whether they want to play sports, practice, or just want to have a versatile athletic activity. It can be used for playing wheelchair tennis, basketball, or lacrosse.
Features and Benefits:
Made to withstand the demands of regular sports with options to fully customize it according to the user's needs
The frame (3/4th inches) is made up of 7000 aluminum series, making it one of the lightest and sturdy sports wheelchairs available
A unique heat treatment technique makes it stronger
It can hold individuals up to 250 lbs.
There are limitless seating options and frame configurations to support every player's styles
Customer Feedback
Pros:
It is strong and ultralightweight, offering easier transport and mobility.
It offers the best performance in court.
Limitless customization options.
It is a lightweight outdoor wheelchair, so it can be used as an everyday wheelchair as well as in sports.
Cons:
It might be complicated for a newbie to choose from various customization options.
Wheelchairs for Adaptive Skiing
Winters can be difficult for disabled persons as they think they have to stay inside and cannot enjoy their adventures as they can in summers. But thanks to the adaptive equipment that makes the life of disabled persons amazing and active. Snow and ice can make the mobility of wheelchair users restricted, but with snow and ice, one can enjoy adaptive skiing. Adaptive skiing is a popular winter sport for persons with disabilities and has been around since the 1940s. It can be done with other disabled athletes, friends, and family because using wheelchairs for adaptive skiing makes users do the ski in a traditional way. It is a great way of having fun, and physical activity in winter and disabled persons must think about doing it as it has many positive effects on their health too. For adaptive skiing, there are two options for wheelchairs. One is to get an All-terrain wheelchair that can be converted for skiing, and the other is to get a specific adaptive ski wheelchair. The best is getting an All-terrain wheelchair that can also be used for skiing by attaching ski sets. In this way, one wheelchair can be used for multiple purposes.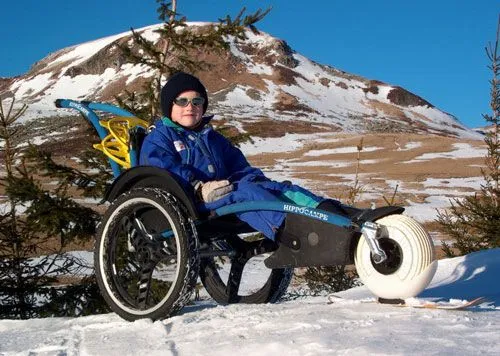 In skiing, our pick for the best wheelchair is an All-terrain and Ski Wheelchair by Vipamat that can be used for skiing by buying ski attachments. The benefit is that users can use this active wheelchair in summers and winters. It can be self-propelled, pushed, or towed and can glide over rough, uneven terrains, grass, mud, snow, and rocks. This all-terrain wheelchair is also loved by the ski lovers as they can enjoy adaptive skiing with the same wheelchair, which they use for their outdoor adventures in summers.
Features and Benefits:
Available in a variety of sizes including, small, medium, large, and extra-large depending on whether it is for children or adults.
Modern design is attractive and looks youthful
Comes with various upgrades and accessories to meet the needs of individuals such as adjustable optional armrests, multi-position headrest, waist belts, parking brakes, and much more.
Can be used on uneven terrain, beaches, or snow
For beaches, there is an option to change the wheels with balloon wheels suitable for moving on sand
For snow and skiing, ski sets are available to buy and attach for the ultimate adventure on snow with front or rear ski sets that can be bought separately
The seat cushion is made up of water-resistant material that is capable of drying quickly
The frame is made up of aluminum that is lightweight and corrosion-resistant
Customer Feedback
Pros:
Being an All-terrain wheelchair, it serves multiple purposes.
Lightweight and easily collapsible.
Various customization options.
Cons:
Self-propelling can be a con if going in a muddy or sandy area.
Brakes are like parking brakes, lock the wheelchair into place, and aren't meant to control the chair.
Frequently Asked Questions
What is Adaptive Skiing?
Adaptive skiing is a sport for disabled people in which they can use specially made equipment to enjoy ski events in the same way as normal people do traditional skiing. The types of the ski, in which disabled persons can participate, include Super G, Slalom, Downhill skiing, and Giant Slalom. It started in Europe in the era of World War II in the 1940s and was accepted in 1992 as a Paralympic sport. Adaptive skiing is a great outdoor sport for physical activity and also has benefits of enhancing balance and coordination.
Why do wheelchairs have slanted wheels?
Slanted wheels are also known as camber. Camber is the measurement of the wheel angle in relation to the ground surface. Negative camber or the slanted wheels enhances the stability and maneuverability. It also provides easy movement around the corners, around furniture, and gives easy access to objects while protecting the user's hands from hitting walls or doors. Slanted wheels also give a wider base that increases stability (lateral).
Are beach wheelchairs hard to push?
The wheels of the beach chair are specifically designed to glide smoothly over the beach sand. So, the beach wheelchairs having balloon tires or fate tires are not at all hard to push. They are easy to traverse over the sand without sinking in.
What sports can you play with a wheelchair?
Wheelchair provides limitless options when it comes to playing sports. You can play various sports that you think cannot be played in a wheelchair. Some of the commonly played sports with a wheelchair include basketball, football, baseball, hockey, tennis, rugby, racing, soccer, table tennis, bowling, archery, fencing, and skiing.
What is an active wheelchair?
An active wheelchair as the word "active" indicates it is made for disabled people who want to stay active. This wheelchair can be maneuvered easily as needed and is lightweight to offer easy transport and carrying. Not one active wheelchair is suitable for every user, so there are many different types of active wheelchairs available differing in features. You have to pick the one best suited for your needs.
Summary
For a disabled person, an outdoor wheelchair is worth buying because indoor wheelchairs do not perform well outside. With an outdoor wheelchair, users can enjoy the adventures they want and can also participate in adaptive sports. These wheelchairs are designed to withstand the harsh outdoor environments and to traverse any type of surface. The wheels are designed to glide smoothly on rough terrains, snow, mud, sand, and water. Self-propelled outdoor wheelchairs give freedom to the user to go out and around by themselves. The use is not limited to outdoors only; some wheelchairs can also be used indoors with easy maneuverability and control. Above all, outdoor wheelchairs come with extreme comfort for the user and offer a smooth ride on bumpy terrains. Thanks to the suspension system included in outdoor wheelchairs that works much like the car's shock absorbers. It will absorb impacts from uneven or rough terrains while maintaining stability.
Moreover, getting an all-terrain wheelchair will offer you to use it for multiple outdoor activities and in any weather conditions. The ability to customize or upgrade it to suit the user's needs and requirements will be worth investing money on. We have reviewed the top outdoor wheelchairs hoping that the guide will help you buy the best one according to your preferences.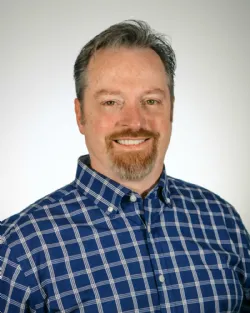 Author:
Co-Founder of Rehabmart and an Occupational Therapist since 1993. Mike has spent his professional career working in multiple areas of Occupational Therapy, including pediatrics, geriatrics, hand therapy, ergonomics and inpatient / outpatient rehabilitation. Mike enjoys writing articles that help people solve complex therapeutic problems and make better product choices.