Pressure wounds can range in severity from inconvenient to life-threatening. Decreasing the pressure on an area of skin is a standard prevention and treatment method, and a ROHO cushion redistributes the force against the skin. A ROHO cushion increases and decreases the air in its cells, matching the user's body contours, expanding the contact surface area, and spreading out the pressure that's put on the skin from sitting. This provides protection for people living with or healing from skin pressure sores.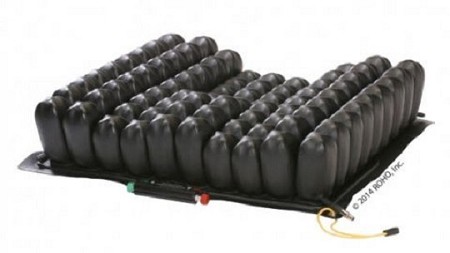 ROHO Group has designed our #4 entry, the Contour Select Wheelchair Cushion, for posture and positioning to keep you centered while you are sitting upright.
With four quadrants of adjustable inflatable air cells, this ROHO seat cushion provides customized immersion and advanced positional support contoured to the user's shape, weight, and position. The Isoflow Memory Control feature allows the four quadrants to communicate and ensure distribution of the air where it's needed. The process starts with overinflating the cushion with the included hand pump, the user sitting on the cushion, and air being let out to adjust the contour of the cushion.
Designed for positioning and posture, this cushion is ideal for users who have lost muscle mass or are a risk of muscle atrophy, who are underweight or with less padding around bony areas, are overweight and have difficulty shifting positions, have decreased blood circulation, and increased swelling, are aging with thinner skin, have scar tissue, have spasticity that can cause skin rubbing, or don't have good balance while seated. It helps keep the user-centered and in an upright pelvic posture, providing leg alignment and pelvic stabilization.
This ROHO cushion is easy to clean and maintain, and it's repairable if the patchable black neoprene support pad is ever punctured. It has a two-way stretch cover and comes with a manual inflation pump. For anyone seeking postural stability and control, this model at number 4 on our list will address skin pressure issues while keeping the user-centered in the middle of the cushion.
Features and Benefits
Centers user in the middle of the cushion
Minimizes front to back and sideways motion
Delivers postural control
ISOFLO Memory Control independently inflates each of the four quadrants
Adjustable while user is seated on the cushion
Customer Feedback
Pros
Take pressure off sacrum for all-day wheelchair users
Extra elevation and adjustability provides customized positioning
Great for positioning, comfort, and support
Controls heat
Helps fight chronic pressure sores
Cons
Does not provide a firm platform for transfers
Takes a lot of force to inflate with hand pump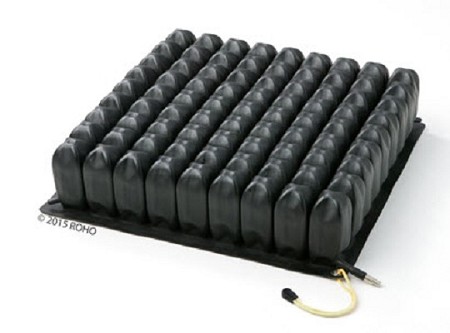 The inventive High Profile Single Compartment Cushion by ROHO Group has 30 size options and incorporates self-ventilating air pods that adjust with your body as you move throughout the day, increasing blood flow and combating pressure sores.
This high-profile ROHO seat cushion has tall interconnected air cells and is made of soft pliable materials that provide maximum immersion to decrease friction and skin shear. A simple adjustment in inflation and this cushion conforms to your exact shape to maximize blood flow and minimize tissue stress and damage. This cushion will remain firm and comfortable, and won't lose its shape over time.
An inflation pump allows for user-controlled air pressure to ensure optimal comfort and support and maintain the best environment to combat skin and soft tissue integrity problems. This adjustability makes this cushion adaptable to your shape, weight, and changes in position over time. As weight is redistributed over a larger surface contact area to fight pressure wounds, the ventilated separated air cells provide a cooling environment to keep you comfortable and your skin as healthy as possible.
The cover is machine washable, and the cushion itself can be cleaned with soap and water. If the black neoprene of this latex-free cushion is ever damaged, it can be patched to extend its service life. The ventilation provided by our #3 pick of best ROHO seat cushions creates a comfortable and healthy environment for fragile skin that is susceptible to pressure ulcers.
Features and Benefits
Lightweight and easy to transport
Easy to keep clean
Pump is included for personalized inflation control
Cellular air bubbles reduce pressure wounds and increase ventilation
Included inflation pump lets the user control their pressure preference
Customer Feedback
Pros
Provides instant relief and is worth the investment
Aids in faster healing of pressure sores
Tall profile facilitates better posture
An upgrade from other foam models
Cons
Not covered by insurance for early-stage pressure sores
It is possible to puncture this
In the #2 spot on our list is the ROHO Group'sAirLITE Wheelchair Cushion with Air Bladder, a contoured foam wheelchair cushion with an air bladder, deep leg troughs, and an ischial well for lower extremity positional support
This maintenance-free ROHO wheelchair cushion has a soft foam base and a built-in non-adjustable air insert that prevents you from bottoming out in your wheelchair and conforms to your body's shape. The leg troughs boast a gentle contour that helps you maintain proper posture. It's ideal for anyone at risk of pressure sores who has normal sensation, needs extra lower extremity support, requires increased postural stability, seeks a lightweight solution, and wants stability during transfers.
The pre-set sealed air flotation component redistributes the user's weight to prevent pressure sores, and adds to the comfort of users who sit for extended periods. It is maintenance-free and requires no adjustment. The lowered front and middle makes transfers into and out of a wheelchair easier, and the low profile keeps the user secure while seated. Its air flotation insert helps it maintain its shape, while the soft foam layer comfortably conforms to the user's shape.
Our #2 choice is built to last and can be counted on for many years of heavy use. It comes with a 2-year warranty and a fluid-proof cushion around the soft inner foam.
Features and Benefits
Air flotation insert prevents bottoming out
Made of soft yet supportive comfortable foam
Lowered front height makes transfers easier
Deep leg troughs provide positional support to lower extremities
Fluid resistant zippered cover
Customer Feedback
Pros
Makes sitting for long periods so much more comfortable
Repels liquids and is easy to keep clean
Not too high
Can start using immediately without any inflation or adjustments needed
Cons
Doesn't work well on leather car seats
Not enough padding for a person who spends all day every day in a wheelchair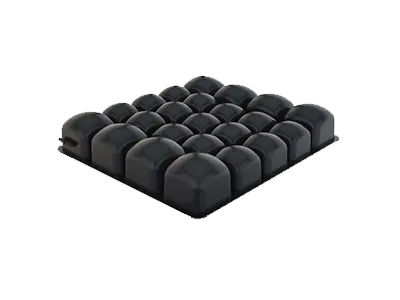 Weighing less than 1 pound, the Mosaic Wheelchair Cushion by ROHO Group is an affordable wheelchair cushion that won't bottom out while it evenly distributes pressure.
This ROHO seat cushion has a mild contour and effective controlled airflow, making long periods of sitting safer and more comfortable. You can sink into it and enjoy how it conforms to your body's contours, and its expanded range of sizes ensures it will be a great fit for your wheelchair. This single-cell ROHO cushion has interconnected air chambers and it comes with an air pump that inserts into the nozzle on the front of the cushion to fill to the desired level of pressure. It's easy to adjust while it's in the cover, which comes in your choice of standard or heavy-duty.
This ROHO wheelchair cushion has a weight capacity of 315 pounds and delivers basic preventive protection for skin and soft tissue. It doesn't add noticeable weight to a wheelchair and won't contribute to user fatigue like heavier seat cushions sometimes do. It is popular in professional care settings, serving a wide range of users who seek a cost-effective, lightweight solution to support and maintain skin health.
Our #1 pick on our list of Top 5 ROHO Seat Cushions is an affordable, solid choice for anyone seeking a basic level of protection that is easy to transport and simple to maintain.
Features and Benefits
Basic support,, comfort, and protection for skin and soft tissue
Lightweight and easy to transport
Distributes weight evenly
Adjusts to position, shape, and weight of user
Mild contour and effective airflow
Customer Feedback
Pros
Doesn't bottom out
Super easy to clean
Adjustable air level takes the pressure off the sitting bones
Can use in recliner and wheelchair to make either more comfortable
Alleviates back pain
Cons
Would appreciate higher weight limit
Remember to put the valve pointing forward or can't adjust without getting out of chair
Features to Consider When Purchasing a Roho Seat Cushion
ROHO seat cushions are available in a range of shapes, sizes, and formats. Rehabmart offers a wide selection with multiple options to ensure you find the right cushion for you.
Cushion Size
By measuring the dimensions of the wheelchair seat first, and noting whether the cushion has a weight limit, you can determine what size cushion is appropriate.
Cover
Most ROHO cushions have at least two options for covers. Choices include waterproof, water-resistant, anti-shear, or a combination. Standard covers provide a simple barrier of protection, while water-resistant or waterproof covers address moisture and incontinence. Anti-shear covers are best for users who are at a higher risk of skin issues because of the amount of time they spend in their wheelchairs. Anti-shear covers prevent the skin from sticking to the cover.
Contour
The majority of ROHO cushions are formatted with different contours in graduated height options, with the contours designed to provide protection to areas of skin that are at a higher risk of pressure sores. Cushion contours also help keep the user security seated. Anti-thrust contouring helps prevent falls with an elevated front design to keep users sitting back in their wheelchairs. Zero elevation or cushions without added height are either level or have a minor amount of contouring.
FAQ
What does Dry Flotation Technology mean?
Each ROHO cushion is made of several independently moving individual cells that can twist, turn, bend, and adapt and conform to your body's shape.
You can sink into your cushion without putting pressure on the tissue, which reduces the change of skin breakdown.
There is a greater contact area for dispersion of pressure, minimizing the pressure on any single area, since the forces and pressures pushing back remain equal at all points.
The cells have a slick surface which, when combined with the cells' independent movement, reduces friction and skin shear.
How does a Roho cushion work?
A ROHO seat cushion increases the contact area over the user's skin upon immersing (sinking) into the cushion. This redistributes the force so there aren't peak pressure points that can cause pressure sores.
How long does a Roho cushion last?
3 to 5 years on average.
Why are Roho cushions better?
They are proven to reduce the development and promote the healing of pressure sores, with options designed to serve users at every risk level.
How much air do you put in a Roho cushion?
The optimal setting is to have a half-inch to an inch of air between the lowest bony prominence and the seat surface.
How is a Roho cushion inflated?
The cushion is placed in a chair with the air cells facing up and the non-skid surface facing down. The rubber nozzle of the hand pump goes over the inflation valve then is pinched and turned to open the inflation valve and inflate the air cells. When the cells are overinflated and the cushion arches slightly, the rubber nozzle is pinched and turned to close the inflation valve, then the hand pump is removed.
If I have pressure ulcers, can I sit on my ROHO dry flotation cushion?
Yes. If you have a stage 1, 2, or 3 pressure ulcer, you can sit directly on your ROHO cushion as long as the wound is monitored frequently. Due to the cushion's ability to redistribute pressure, enhance blood flow, and decrease edema, it can facilitate healing. A stage 4 ulcer usually requires surgery to improve and/or heal.
Summary
ROHO seat cushions are pressure relief cushions made of soft, flexible interconnected air cells that allow air to flow from one cell to another to provide even support. These seat cushions deliver unrivaled skin protection, with adaptive features not found in other designs. Our number one choice is a contoured foam wheelchair cushion with an air bladder plus deep leg troughs and an ischial well for lower extremity positional support.
While all the ROHO cushions on this list are great, we think the ROHO Mosaic Air Wheelchair Cushion is the best all around.
To see more ROHO seat cushions, view our ROHO Cushions for Wheelchairs department. Visit Caregiver University for more helpful articles!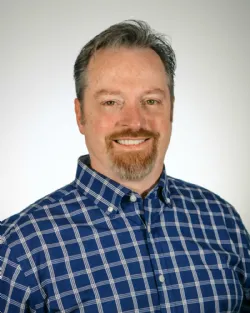 Author:
Co-Founder of Rehabmart and an Occupational Therapist since 1993. Mike has spent his professional career working in multiple areas of Occupational Therapy, including pediatrics, geriatrics, hand therapy, ergonomics and inpatient / outpatient rehabilitation. Mike enjoys writing articles that help people solve complex therapeutic problems and make better product choices.