Mobility issues do more than keep kids with special needs from getting out into the world. Limited mobility can also limit physical, cognitive and sensory development. Enhancing a child's mobility enhances overall health, wellbeing, and quality of life.
Because wheelchairs are designed to get from one place to another over smooth surfaces, they limit the experience of the user. Special needs strollers are specifically designed to be portable, durable, and extremely maneuverable, so kids who can't walk can still enjoy experiences off the paved path.
For caregivers, special needs strollers provide more freedom to get around in more places. These helpful devices look like regular strollers, but they can safely hold children who are past the age and weight accommodated by standard strollers. They can also accommodate technology like portable oxygen, ventilators, pulse oximeters, and other medical equipment.
The Top 5:
Entering our list at number 5 is the Axiom Mobility Push Chair by Performance Health. Depending on the model, this special needs stroller supports riders between 100 and 200 pounds. It's packed with popular features and provides the comfort a rider appreciates and the safety a caregiver appreciates.
It looks great, with 16-inch quick-release mag wheels that deliver a smooth ride inside or outdoors over grass, sand, or uneven ground. Optional swivel wheels in front add to its maneuverability. The braking system includes a hand brake and individual rear wheel brakes. It has a height-adjustable handle and a safety wrist strap for caregiver control. The seat reclines up to 30 degrees and the adjustable 5-point harness keeps the user safely in place with proper spinal alignment. The rotating sun canopy provides shade and a viewport window.
The recessed footrest has sideboards and foot straps. It's constructed with 1000 Denier Phthalate-free polyester with reflective trim. The seat is removable and machine washable, and the seating area is lined with breathable wicking fabric. The seat back and bottom, which are both removable, provide firm support for the rider. It has a removable and machine washable basket under the seat, pockets inside the seat, and another storage pocket with a zipper closure and key clip behind the seat.
This adaptive stroller comes with a 5-year frame warranty and a 1-year soft goods warranty and easily folds with a single action. A comfortable and user-friendly mobility device, this stroller opens up a whole new world of opportunity for riders up to 200 pounds in a special needs stroller designed to benefit users and caregivers.
Features and Benefits
Seat reclines up to 30 degrees

5-point harness ensures proper spine alignment

Maneuverable outside over grassy, sandy, or uneven surfaces

Swivel kit available for front wheels for more maneuverability

Caregiver can adjust height handle for most comfortable position
Customer Feedback
Pros
Quick-release rear wheels

Adjustable seat back tilt

Collapsible frame

Adjustable harness for custom fit

Rear brakes bring to instant full stop
Cons
Wish front wheel came standard with swivel

Have to squeeze hand brake hard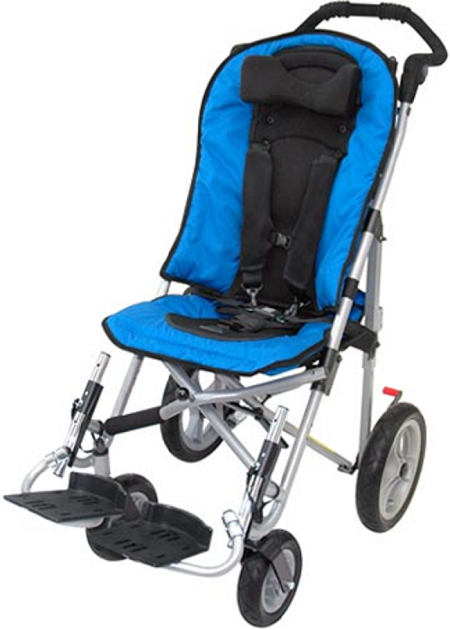 The EZ Rider Standard Wheelchair by Convaid made our list at number 4. This product was featured in the article 5 Experts Weigh in on How to Choose the Best Special Needs Stroller because of its multiple features and positioning options.
Lightweight and maneuverable, the range of support options offered by this special needs stroller maintains optimal posture and delivers maximum comfort for the user. Designed for active kids and teenagers, the EZ Rider has a lightweight foldable silver powder-coated frame that makes it easy to maneuver and easy to transport and store. Its 10-degree fixed tilt is augmented by a built-in tensioning system that increases sitting tolerance for children with limited upper body control, ensuring proper alignment and accompanying comfort.
Its standard features include a 2-point positioning belt, closure bar, and seat depth growth of 5 inches to accommodate approximately 5 years of growth. It comes in seat depths of 12, 14, 16, and 18 inches and can accommodate users up to 250-lbs. One of the most attractive things about this adaptive stroller is its versatility, as the multiple points of adjustment meet a wide range of needs and add to the user's comfort. The durable upholstery is easy to remove for machine washing, and children appreciate the bright color choices. The handle is height adjustable and it has toggle wheel locks. The swing-away footplates are adjustable and removable.
For users up to 250 pounds who want a fun feel and benefit from the support of a tilted seat for upright positioning, and for caregivers who want a lightweight mobility device that's portable and easy to maneuver, the EZ Rider will be a great fit for years to come.
Features and Benefits
Comfortable support

Lightweight foldable frame makes it portable and easy to maneuver

10-degree fixed tilt for upright posture

Self-tensioning seating increases sitting tolerance

Seat accommodates five years of growth
Customer Feedback
Pros
Well made

Makes vacations and excursions possible

Lots of available options like a canopy

Long service life with durability and expandability

Caregiver can be confident rider will remain properly positioned
Cons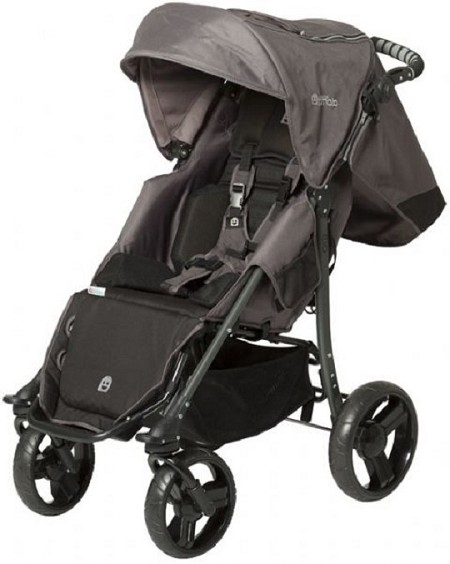 At number 3 on our list of best special needs strollers is the EIO Push Chair Stroller by Special Tomato. With its soft head, back, and hip cushions, this adaptive stroller supports the rider in reclined comfort. Its portable design and lightweight aluminum frame make it easy for caregivers to fold up and transport.
Able to accommodate users up to 90 pounds, this special needs stroller is created to serve infants up to elementary-aged children. There is a long list of ways to accessorize this device, so it can be personalized to meet your child's needs. The comfortable cushions are moisture resistant, and this stroller can recline between 25 and 75 degrees for added customization and comfort. For additional support, it's compatible with Special Tomato's Soft Touch Liners that help it grow with your child.
Its recline feature is one of the elements that earned it a place on our list, and it's also been featured in the article 5 Experts Weigh in on How to Choose the Best Special Needs Stroller. It has an adjustable footrest and leg rest for having legs out straight or in a standard seated position. European styling makes it look as good as it performs.
It has a 5-point harness, a height-adjustable handle, a one-touch rear brake for caregiver convenience, and comes with a shopping basket. Highly maneuverable, its rear wheels can be removed for flatter surface area to fit this special needs stroller into smaller spaces. The front wheels swivel and have a lock-out feature for uneven terrain. It comes with a sun canopy that can be folded up or down to be out of the way when not in use. An optional rain canopy makes outings enjoyable even in inclement weather.
This stroller made our list because it can grow with your child while providing comfortable cushioned support with its 25 to 75-degree recline. It is extremely versatile with the possible wheel combinations, and its maneuverability and portability make it easy for caregivers to get it where it needs to be.
Features and Benefits
Soft cushions conform to the user's body shape

Foldable lightweight aluminum frame

Recline range of 25 to 75 degrees

Included accessories include shopping basket, bottle pocket, and removable sun canopy

Can accommodate users up to 90 pounds

Suitable for infants to pre-adolescents
Customer Feedback
Pros
Caregivers and riders can be confident in its stability

Multiple point harness keeps user securely and safely positioned

The accommodation for a child's growth means it will be useful for years

So many more features than a standard stroller
Cons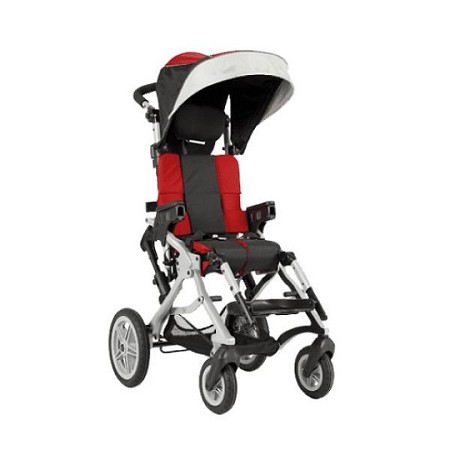 You'll feel free to explore with the Reach Lightweight Folding Transit Stroller by Leggero, which secured the number 2 spot on our list because its customization options can provide a perfect fit for your child.
Addressing a wide range of impairments and disabilities, the Reach Lightweight Folding Transit Stroller opens up the world for users. The aluminum frame is strong but not heavy or cumbersome. It is compatible with most transportation systems, providing another option for transport. This adaptive stroller is very compact when it's folded down, making it easy to take anywhere in a trunk or backseat.
This stroller supports any positioning needs with fixed tilt positions at 10, 20, and 30 degrees, and an adjustable hip angle. The adjustable seat width, seat depth, back height, and footplate add to the user's comfort. There are three sizing options and four color choices to this highly adjustable special needs stroller. It has extra storage under the seat and it comes with a sunshade. The long list of available accessories including transit attachments, headrests, arm and leg positioning straps and supports, lumbar and ergonomic supports, anti-tips, and rain covers allow you to create a customized experience perfectly tailored to your child's needs. For caregivers, it has an adjustable push handle and a foot-activated hub lock to keep you in control at all times.
Featured in the article 25 Tools Every Occupational Therapist Needs, the Reach Lightweight Folding Transit Stroller is a popular choice for professionals as well as family members who care for special needs children and value a customizable, durable, and extremely portable adaptive stroller.
Features and Benefits
Multiple sizes and color choices

Stable and lightweight frame

Folds down for portability

Fixed tilt positions and hip angle

Many standard adjustable components and options for additional customization
Pros
Very lightweight

Easy to store and easy to get in and out of trunk

Locking wheels instill confidence

Several adjustable fixed components

Very comfortable for the user
Cons
More of the optional add-ons would be great as standard equipment

Underseat storage bag isn't that easy to access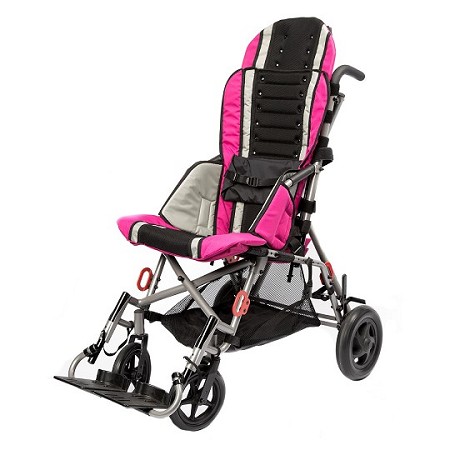 The comprehensive list of features, durability, and cost-effectiveness put the Trotter Pediatric Mobility Chair by Drive Medical at the top of our list. This adaptive stroller has been put through rigorous testing to ensure it provides the safest ride possible for your child.
The combination of portability and rider support makes travel easier and more convenient with this special needs stroller. The seat and back angle are adjustable, so a custom comfortable fit can be created. It also has a positioning belt that works in tandem with a 5-point "H" style safety harness that keeps the rider's position secure. The harness straps have reversible padded covers for extra comfort and security. When it's time to transfer in or out of the stroller, the swing-away footrest helps make the transition easier.
It comes in 12-, 14-, 16-, or 18-inch models with weight capacities ranging from 75 to 250 pounds. There are multiple color options, so you can choose one that makes your child happiest. This special needs stroller folds up and down easily and is lightweight and easy to take along anywhere. The 8-inch front casters and large rear wheels with toggle locks provide a smooth and safe ride. The special curb assist lever is especially helpful over rough terrain, uneven ground, or for getting up on curbs and sidewalks.
This highly maneuverable adaptive mobility device makes a caregiver's job much easier while providing a comfortable and engaging experience for the user. It's upholstered in especially plush machine washable fabric, which is lightweight enough to help riders stay cool.
The Trotter Pediatric Mobility Chair earned the top spot on our list for its list of features, stringent testing, and overall value. If you're looking for a stroller that offers multiple sizing options, can accommodate a wide weight range, is highly durable and maneuverable, keeps the user in a comfortable and safe position, and helps you transfer your child confidently and safely over uneven terrain, this stroller will not let you down.
Features and Benefits
Adjustable seat and backrest for support and comfort

Significant safety testing

Easy cleanup with machine-washable fabric

Cozy velour and imitation lamb's wool don't irritate skin

Durable with wheels that don't require smooth terrain
Customer Feedback
Pros
Lightweight fabric is much appreciated in hotter months

Can easily get into and maneuver in so many places

Looks great

Provides a safe space for kids with sensory issues

Rolls up nicely next to a restaurant wheelchair
Cons
A little bulkier than anticipated when folded

Folding mechanism is a bit stiff at first
When you need an adaptive, lightweight, and portable mobility device that addresses your child's need for positioning support, a special needs stroller will meet that need. Being easy to load and unload from a car, and being more agile in smaller spaces, the adaptive strollers on our list will all provide a safe and comfortable experience for riders and caregivers.
Our number 1 choice made the top of the list because of its overall list of standard features, its cost-effectiveness, and its durability. Combined with the safety standards this special needs stroller has met, the size options, and how easy it is to take care of, the Trotter Pediatric Mobility Chair has landed well-deserved recognition as the top choice.
Things to Consider
Although there are many common design elements shared by all special needs strollers, several factors should be considered when choosing which model is most appropriate for your situation.
Child's Height and Weight
Since adaptive strollers come in several sizes and configurations, it is possible to find one that is the perfect fit for your child. The more custom the fit, the safer and more comfortable your child will be.
Child's Level of Mobility
Some children can sit up on their own and have no posture or positioning issues. Others have complex positioning needs that require a stroller with a lot of specialized support.
Tilt/Recline Functions
Accommodating support and positioning needs, the degree of tilt provides upper body support and pressure relief, while the degree of recline opens the angle of the seat which impacts breathing and digestion.
Stroller's Size and Weight
Just as not all children are created the same, not all caregivers are created the same. Before you buy an adaptive stroller, make sure it's of a size and weight you can easily manage folding, unfolding, and lifting.
Expandability
If your child is still growing, you'll want a stroller that will grow with your child, making it a long-term investment into your child's quality of life.
FAQ
Who uses a special needs stroller?
Special needs strollers are ideal for limited mobility users who want and need to get out in the world and into places and over terrain that wheelchairs can't always navigate safely. Their tilt and recline features help address skin pressure issues, respiration, digestion, posture, and comfort to deliver a healthy and enjoyable user experience for people with low or no upper body strength.
Does medicaid reimburse for special needs strollers?
If your doctor can help you prove your special needs stroller is in the same category of Durable Medical Equipment as wheelchairs. If your adaptive stroller meets the requirements for Durable Medical Equipment, chances are good it will be covered.
Can I use a special needs stroller instead of a wheelchair?
A stroller is often the preferred alternative to a wheelchair, especially for smaller children. If a child cannot self-propel in a wheelchair and will always need to be pushed, no matter what age, a special needs stroller can often exceed the experience a wheelchair can provide.
Why are special needs strollers more expensive than regular strollers?
The options necessary to meet the special physical needs of the user, including posture support and the ability to bear the weight of a grown adult while being lightweight and portable, add to the price of an adaptive stroller. The cost is further impacted by the customizable options a special needs stroller has to be able to accommodate and the additional safety and comfort issues an adaptive stroller addresses through design and engineering.
CONCLUSION
The five special needs strollers on our list offer a variety of features designed to benefit the child and the caregiver. They are all manufactured to high-quality standards by leaders in the industry. When it's time to get out into the world, get your child into one of these adaptive strollers for a safe and comfortable mobility experience.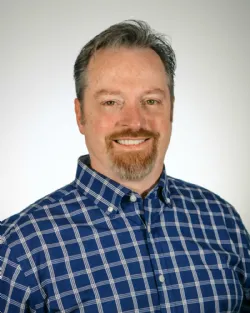 Author:
Co-Founder of Rehabmart and an Occupational Therapist since 1993. Mike has spent his professional career working in multiple areas of Occupational Therapy, including pediatrics, geriatrics, hand therapy, ergonomics and inpatient / outpatient rehabilitation. Mike enjoys writing articles that help people solve complex therapeutic problems and make better product choices.