What is an Overbed Table Used for?
An overbed table is used to provide a solid surface over a bed or chair to enable activities like meals, reading, computer time, etc. While they're often used in hospitals, long-term care facilities, and assisted living communities, they're also helpful and quite affordable for home use. They're able to slide right over the bed, making them preferable, safer, and much more accessible than simple side tables or TV trays. These helpful support surfaces can be used with regular beds, low beds, and hospital beds, with some designs that are more specific to use with a chair, wheelchair, or lift chair.
The Top 5: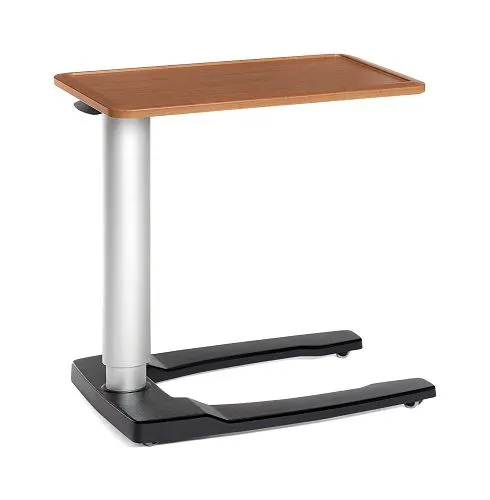 Making our list at number five with its unique and easy-to-operate gas cylinder column and innovative laminate construction, the Transcend Overbed Table (Compare to Stryker Tru-Fit Overbed Table) made by Stance Healthcare offers heavy-duty support you can depend on. Supporting a large weight limit to serve larger, heavier users and a wide range of activities, its U-base platform is cleverly crafted to support the entire tabletop while it can also slide under the lowest of beds.
Adjustable in height from 30 to 45 inches, its 32-inch long and 18-inch wide top conveniently provides plenty of space, and highlights an elevated lip around the entire edge to prevent spills. Available in multiple color options, its beautiful wood-grain laminate surface is formulated of thermofoil on top of medium-density fiberboard, creating a seamless top that effectively prevents fluids, bacteria, and cracks from penetrating its surface. Its 360-degree rotational casters enable smooth movement in tight spaces, making this a good choice for smaller bedrooms.
Features & Benefits
Large weight limit supported by heavy-duty gas cylinder column
The thin base platform fits under most beds
Rotational casters enable 360-degree movement in small spaces
Attractive thermofoil-fiberboard wood laminate top is wholly sealed and impermeable to moisture
Lipped edges to prevent spills and stop items from falling
Customer Feedback
Pros
Sturdy and stable and accommodates high weight limit
Casters make tight turns simple, easy to maneuver
Fit well under low beds and lower contemporary beds
Many users like the add-on vanity tray with mirror, using it as a drawer for other items as well
Cons
Some users may need assistance in order to adjust the height
Much higher in price than most other overbed tables
Priced less than $125, the Tilt Top H-Base Overbed Tables made by Medline offer great performance and value at an incredibly low price point. Taking the fourth spot in our review, these overbed tables are height-adjustable from 28 to 45 inches and conveniently tilt in three positions to facilitate a wide range of applications. Easy to adjust both in height and tilt angle, these two functions have separate handles to ensure safe, independent operation. Accommodating a 50-pound weight capacity, this table is also easy to mobilize with its threaded twin-wheel casters.
Measuring 30 inches long by 15 inches wide, the melamine laminate top comes in an attractive walnut finish that resists permeation, with a T-molded edge that's seamless to resist heavy wear and tear, along with helping to prevent catching on skin or clothing. Perfect for art projects, reading, and writing, this overbed table can also be used to prop up a computer, tablet, or smartphone for comfortable accessibility from the bed.
Features & Benefits
Tabletop tilts in three different angles to accommodate a variety of applications
Adjustable height from 28 to 45 inches to suit various bed heights
Walnut-finished melamine laminate is impenetrable and resists wear
Separate handles for height adjustment and tilt adjustment to ensure safety
Threaded twin-wheel casters ensure smooth and easy portability
Customer Feedback
Pros
Works exactly as described, very pleased with the performance
Easy to adjust the height and tilt functions
Good size and accommodates multiple needs
Perfect for use at home
Cons
One user said the table's edges catch and gather debris
H-base format may not work well with some larger wheelchairs and specialty chairs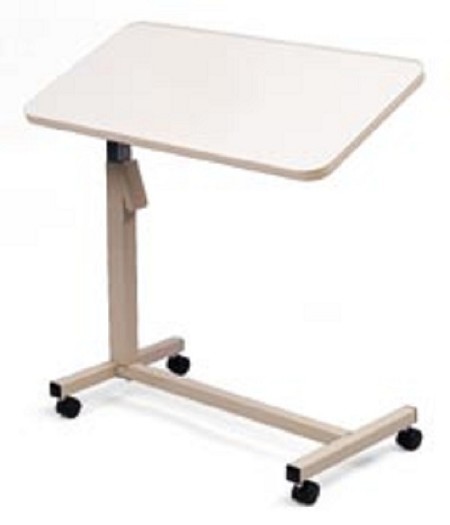 Coming in at number three in our ranking with its helpful tilting capabilities and smooth-rolling casters, the Mobile Hospital Bed Table made by North Coast adjusts in height from 25.75 to 39 inches to fit with a wide selection of bed types. Offering three different tilt positions, the same lever is used to adjust both height and tilt angle for simple operation. Most often used with beds, this hospital bed table can also be used with some chair styles and smaller wheelchairs.
Measuring 30 inches long and 15 inches wide, the impenetrable melamine laminate tabletop resists damage for longer-lasting wear and highlights a raised, molded plastic edge to stop items from sliding off. This rounded edge also prevents catching on skin or clothing for safer use. The smooth-rolling casters on this bed table facilitate easy mobility, making it simple to position exactly where you need it.
Features & Benefits
Adjusts into three different tilt positions to serve multiple needs
Easy to position and mobilize with its smooth-rolling casters
Sealed melamine laminate top prevents permeation and is easy to clean
Rounded, raised molded edges to keep items from falling and ensure safe use
The same lever is used to make quick and easy adjustments in height and tilt
Customer Feedback
Pros
Super easy to move and position into place
Very sturdy, stable table, tilt angles stay in place until you squeeze the lever
Laminate tabletop resists wear and tear, always looks brand-new
Some users were able to use this table with their wheelchair
Cons
The base was not low enough for some users with very low beds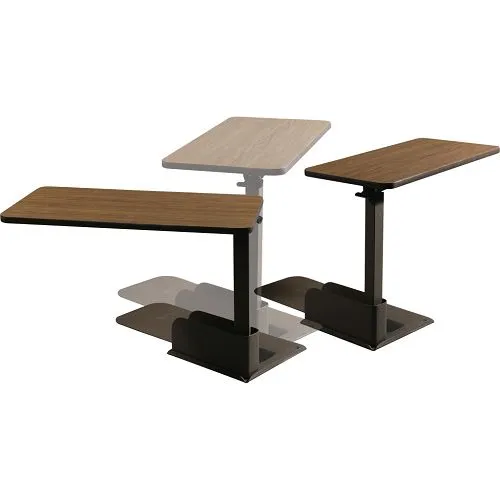 Grabbing the second position on our list as specific support for lift chairs, the innovative Medical Swivel Lift Chair Table Top made by Drive Medical is chock full of benefits at a value-based price. Compatible for use with lift chairs, regular recliners, heavier chairs, and sofas, this table highlights a uniquely designed base that is specially configured to provide close and accessible tabletop support. Pivoting 360 degrees at its base, this swivel table is easy to move to the side when the user is getting into or out of the chair. It adjusts in height from 23.5 to 33 inches to accommodate a wide array of different chair types and requires heavy chairs and sofas to work safely. It does not work with beds.
Its aesthetically-pleasing teak wood grain laminate-finished top resists damage and permeation, with safe, smooth edges that won't catch skin or clothing. The convenient built-in magazine rack can hold all your favorite books, newspapers, and magazines, or for other personal item storage that have close by and accessible. This helpful over-chair tabletop can be ordered in a left or right side designation to suit user needs.
Features & Benefits
Provides a convenient, up-close, and over-the-chair tabletop for various activities
Base pivots 360 degrees to enable access wherever you need it
Appealing teak wood grain laminate finish resists damage for long-lasting wear
Available in either a left or right side configuration to meet user requirements
Safe, reliable support with heavy lift chairs, recliners, and sofas
Customer Feedback
Pros
Solves a lot of problems related to eating, pivots perfectly into place for easy support
Provides sturdy support, reliable and solid
The compact base doesn't take up any floor space like regular tables
Multiple users commented that they don't know how they functioned without this table, and how much it has helped them
Cons
Difficult for some users to assemble
Might not work well with overstuffed chair arms
A couple of users reported that the tabletop was wobbly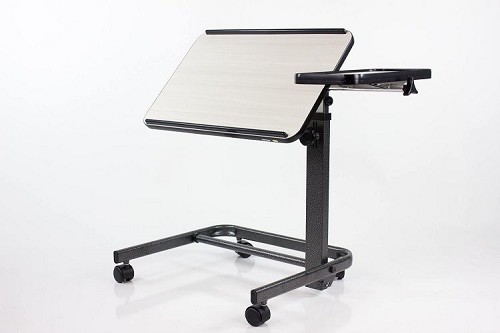 With its two separate tabletops that enable versatile configurations to satisfy an array of user needs, the Acrobat Overbed Table or Laptop Table made by Platinum Health easily wins the number one spot in our review. The larger table can be tilted in numerous angles, including toward the user to accommodate various activities, while the smaller table stays flat or can be removed. This amazing design is loaded with helpful features, yet it's one of the least expensive in our best of ranking!
Its U-shaped base enables it to be advantageously used with most chairs and wheelchairs, along with most bed styles, giving the user plenty of foot room. Transforming an overbed table into a streamlined workstation, this is the ideal choice for those working from home, whether they're confined to a bed or not. The larger table is lipped on the bottom and top to help prevent spillage and items sliding off, while the smaller table is lipped around the entire edge. This design enables placing food or a beverage on the smaller table as you use the larger one for computer work, arts, crafts, reading, and other activities.
Available in an attractive white birch or brown maple laminate top, this unique double-overbed table adjusts in height from 23.5 inches to 38 inches, with the larger tiltable table measuring 23.5 inches long by 15.5 inches wide, and the smaller table measuring 15.5 inches long by 7.75 inches wide. Its smooth-rolling casters enable simple positioning and are lockable for stationary security. One of the best features of the Acrobat is its foldability, folding down flat for simple storage under a sofa or bed, or for stowing away in a closet when it's not needed. Being able to fold also makes this table easy to take along in a car for use away from home.
Features & Benefits
Two-table design in a compact format enables a wide variety of usage
Larger table tilts in multiple angles to accommodate different user needs
The smaller table stays flat for dependable, level support, and is detachable
Foldable for convenient, compact storage and transport
Compatible with most bed styles, chairs, wheelchairs, and sofas
Customer Feedback
Pros
Consistent 4.5 to 5 out of 5-star reviews from all users
Best on the market, absolutely amazing value for the price point
Sturdy, solid, dependable, works as advertised
The only overbed table that tilts toward the user in bed
Foldability is awesome, collapsing to a very thin profile that's easy to stow away, as this table is relatively lightweight at just 22 pounds
Recommended by an occupational therapist as the best overbed table at this price point
Cons
Some users did not like the casters and replaced them
Several users commented they would prefer the height adjustment be changed to button and hole rather than its knob tightening type (but several others said they prefer the knob)
Overbed features to consider
Although overbed tables are available in a comprehensive selection of formats to fit many different bed styles and sizes, they all tend to share a couple of common design features, such as a four-wheeled base and an adjustable-height tabletop. A number of other important, varied features will need to be reviewed to ensure you make the best choice to fit your needs.
What kind of base and casters do you need on your overbed table?

The base on overbed tables is typically constructed as an H-shape, U-shape, or C-shape. While all shapes can generally fit under most beds, the C- or U-shaped bases are usually more suitable for use with lift chairs, wheelchairs, and other specialty chairs. Be sure to check the clearance before purchasing to ensure the base style will fit under your bed or chair. Some base formats are adjustable for use on either the left or right side of the bed.
Most overbed tables provide portability with caster wheels, with swiveling styles being the most maneuverable for smaller spaces. Lockable casters ensure secure, stationary use that won't roll out and away from their bed placement.
Why is the construction and finish of an overbed table important?

Specially formulated for sturdiness and durability, overbed tables are usually constructed with steel for the base and frame, with most models using wooden or plastic laminates for the tabletop. Laminates provide a tough, impermeable surface that's easy to clean and disinfect, resulting in simpler maintenance for long-lasting performance. Laminated table tops are more aesthetically attractive and often come in several different grain options to match existing decor.
What should your overbed tabletop size be?
Most of the tabletops on overbed tables will measure at least 30 inches in length. Always check the dimensions of the overbed tables you're interested in, as you want to make sure you have enough space for your intended use of the table. Be sure to consider the width of the bed it will be used with, as that can affect how far the tabletop extends.
Do you need raised edges on your overbed table?
Protective lips or raised edges around the perimeter of the tabletop can help prevent items from sliding or rolling off, along with stopping spills from spreading. These edges are typically rounded to prevent snags with skin or clothing.
Do you need to adjust the overbed table up and down in height?
Most overbed hospital tables will provide some kind of height adjustability to ensure varying levels of height to meet multiple purposes. The design mechanism for adjustment can vary from spring-loaded mechanisms to twist knobs, with a vastly different height range for each type of overbed model. It's important to determine what your height range needs will be in order to choose the best selection to meet your needs.
Does a tilt and pivot feature matter for your overbed tabletop?
Although all overbed tables provide a flat tabletop surface, tilt top overbed tables also enable an angled surface to make reading more comfortable. Also utilized for art and writing, several tilt top configurations include a pivoting capability, facilitating closer, more ergonomic positioning to the user. Some tilt tabletops will only move up and down, while others may swivel all the way around, enabling you to find exactly the right format to fit your requirements.
How much weight do you need your overbed table to hold?
Most standard overbed tables used at home typically offer a weight capacity range between 25 to 50 pounds, referring to how much the items placed on the table weigh. Its working weight capacity refers to the weight of the items along with the amount of pressure-weight from the user's arms and hands, with most overbed tables offering a 200-pound working weight capacity.
What are some additional features to look for in an overbed table?
There are plenty of overbed table models that provide those welcome extras, the accessories that add to the overall positive experience of this specialized support. Cup holders, mirrored vanity trays, drawers and racks for storage, dual surface trays, and foldability are just a few of the added design options to choose from to customize the table's use to meet your needs.
Summary
Our review of the top 5 overbed tables examined the design features of each of these tables, basing our picks on ease of use, durability and stability, beneficial features, performance and functionality, and how the table users themselves rated them.
We found Stance Healthcare's Transcend Overbed Table (Compare to Stryker Tru-Fit Overbed Table) to be one of the most heavy-duty tables out there, with unique hydraulics and a generous weight capacity. The value-rich Tilt Top H-base Overbed Tables by Medline are the most affordable overbed tables to make our review, providing advantageous tilting angles to accommodate various user needs.
As another exceptional tilting overbed table, the Mobile Hospital Bed Table by North Coast earns a place in our ranking with its smooth-rolling casters and easy-to-adjust format, while the unique Drive Medical Swivel Lift Chair Tabletop was included as a specialized option for lift chairs, recliners, and sofas.
Although these are all great choices and offer a bevy of different design components that are beneficial for various users, we chose the Acrobat Overbed Table or Laptop Table by Platinum Health as the best of the best! Its phenomenal dual-table design provides the only overbed table on the market that tilts toward the user, making it perfect for laptop computer use. Folding compactly flat for simple storage and transport, and durably designed for sturdy, dependable support, this feature-rich table is also one of the most affordable in our review!
Learn more about overbed tables and other home healthcare equipment and support at Caregiver University, and find the quality durable medical equipment you need at Rehabmart.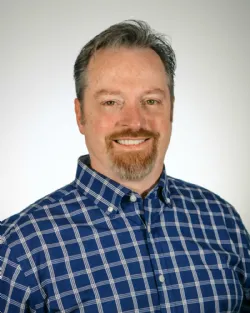 Author:
Co-Founder of Rehabmart and an Occupational Therapist since 1993. Mike has spent his professional career working in multiple areas of Occupational Therapy, including pediatrics, geriatrics, hand therapy, ergonomics and inpatient / outpatient rehabilitation. Mike enjoys writing articles that help people solve complex therapeutic problems and make better product choices.