There are lots of places that are not built to accommodate bariatric patients. Airplanes. Baseball stadiums. Restaurant booths. When a hospital bed is called for, bariatric patients' particular needs should be accommodated, so they can receive the best care and achieve the best possible outcomes. A specially-designed bariatric hospital bed delivers comfort, safety, and dignity for the patient.
The Top 5: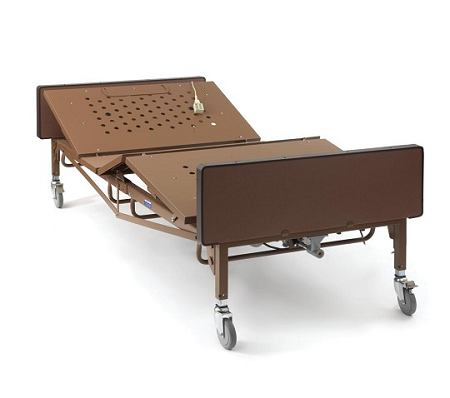 Our top 5 list of bariatric hospital beds opens with one of our most popular items, the Full Electric Bariatric Bed by Medline.
This fully electric heavy-duty bariatric hospital bed offers a wide range of positioning options, and a simple hand control will help you find the ones that are most comfortable for you. Its steel frame and heavy pan deck give this bed a stronger bedding surface that prevents mattress sagging and makes it dependably stable. Three powerful AC motors raise head section, foot section, and overall bed height. The height range is 18 to 26 ½ inches for maximum safety during transfers while providing a comfortable working height for caregivers.
With two locking and two non-locking casters, this bariatric hospital bed is maneuverable for transport and will remain stationary once in place. It is 42 inches wide and 80 inches long, with a weight capacity of 600 pounds. The split-spring design makes setup simple, with few tools needed. It comes with a 2-year warranty on electrical components and a lifetime warranty on the bed frame and welds.
The many features of this bed understandably make it very popular. It is maneuverable, safe, comfortable, and easy to set up, and promises an extremely long service life.
Features and Benefits
Heavy-duty all-steel frame
Heavy-duty pan deck for durability
Locking and non-locking casters for safe transport
Numerous positions to choose from
Weight capacity of up to 600 pounds
Customer Feedback
Pros
Hand control is easy to use
Caregiver friendly with smooth rolling casters for easy transport
Easy to assemble, even for a novice
Durability makes it a good investment
Cons
The supplied mattress flattened out before long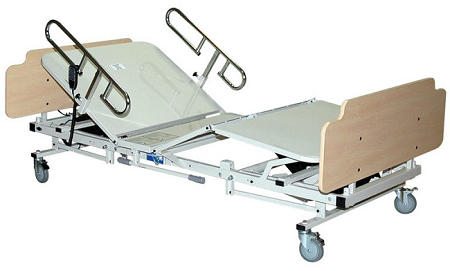 The fully electric Bariatric Home Care Hospital Bed by Graham Field provides superior patient comfort at home or in a professional care environment, and has made our list at #4.
With its oak-finished laminate head and footboards, this bariatric hospital bed feels less institutional than other models and more like a piece of bedroom furniture. This laminate is scratch- and ding-resistant and is easy to keep clean. The user-friendly handheld pendant controls the adjustable fowler backrest, leg lift, and deck height, which has a range from 15.75 inches to 32.5 inches. Its Linak actuators smoothly position the bed and won't cause unsafe reactions with oxygen tanks.
It is 48 inches wide and 84 inches long, and can accommodate patients weighing up to 650 pounds. Its split-frame construction plus its quick-connect cables allow for easy assembly, and the frame connector pins stay tethered to the frame so they won't get lost. The bed comes standard with a set of head-end half rails, and the mattress is sold separately.
For a homey look and feel with the functionality of a hospital bed, this user-friendly bed cradles users with convenience as well as comfort.
Features and Benefits
Side rails help patient to balance and reposition
Looks good in a bedroom
Electric operation makes repositioning easy
Extra wide with high weight capacity
Hi-Lo adjustable for safe transfers
Customer Feedback
Pros
Adjustable backrest and leg lift for maximum comfort
Pendant controller is easy to use for any age
Rails decrease fall risk
Can pick your favorite mattress
Assembly is not difficult
Cons
Mattress does not come standard
Only comes in one width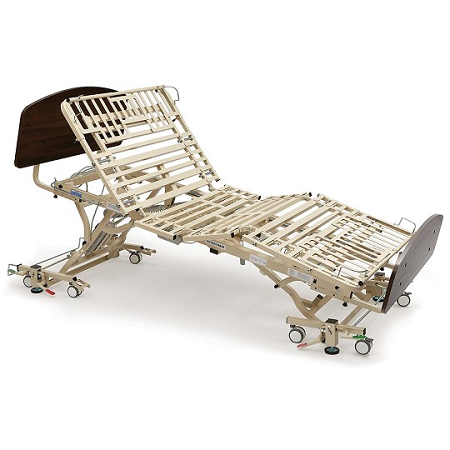 One of the most versatile and functional hospital beds you can get, the Alterra Maxx Electric Extendable Bed by Medline is our #3 pick.
This bed has everything you could need and even more of what you want. Its frame is expandable and the height and width are adjustable without tools. Its five-function handheld controller can be set for the Trendelenburg position, reverse Trendelenburg, and upright seated chair position. Two LED lights under the bed make nighttime transfers easier and safer, and it has four brake locks at the head and foot sections that are easy to engage and ensure bed stability. It also has mattress retaining attachments to the mattress stays put.
This bed can comfortably and safely accommodate patients who weigh up to 600 pounds. It is expandable from 36 to 42 inches wide and from 80 to 88 inches long. This fully electric bed has an impressive height range of 7.25 inches to 30.25 inches, making it one of the lowest-reaching bariatric beds available. The manufacturer backs it with a lifetime warranty on the frame welds, and a 15-year warranty on the frame.
The long list of operational features and thoughtful touches make this bed one of the most versatile and functional on the market. The expandability ensures a good fit for the patient, the available positions add to patient comfort, and the height adjustability range takes the strain off caregivers.
Features and Benefits
Kick stand under head section allows for easy access to control box
Under bed lights make transitions in the dark safer
Mattress retainers secure the mattress to the frame
Locks on casters are easy to set
Pros
Preset buttons on controller find perfect position
Mattress stays put
Comes fully assembled
Can reposition patient at night without turning lights on
Cons
Mattress is sold separately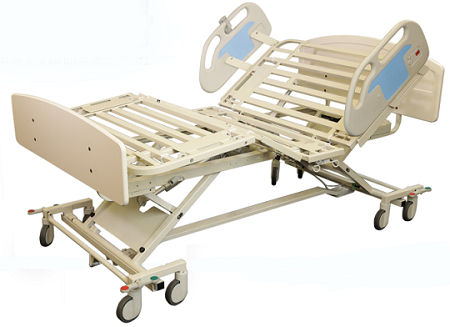 Nearing the top of our list at #2 is the 1000-pound weight capacity NOAH Hospital Bariatric Bed from NOA Medical.
Expandable to widths of 42, 45, or 48 inches and lengths of 80 to 84 inches, this heavy-duty bariatric hospital bed has a long list of standard features. It comes with a digital attendant panel, underbed light, high-impact side rails, multiple positioning motors, central and directional locking casters, and an out-of-bed alarm that ties into the attendant call system. It can also be purchased with an onboard scale to make weighing bariatric patients simpler and a transport trolley system.
The deck height range of this bariatric hospital bed is 11.5 to 31.75 inches, and it comes with a 10-button backlit handset controller. The multiple positions available with this bed are beneficial in relieving muscle cramping and discomfort, increasing blood circulation, and reducing the development of pressure sores. The manufacturer stands by this quality-built bed with a four-year warranty on the electronics, and a lifetime warranty on the frame and deck.
The customization available with this bed via its multiple points of adjustment and its extensive list of attractive features make it a versatile option for creating a healthy, comfortable, and dignified user experience for the heaviest of patients.
Features and Benefits
Can be positioned to increase circulation to reduce edema
Super heavy duty to comfortably accommodate patients up to 1000 pounds
Supportive positioning minimizes soreness and stiffness
Sitting position can help alleviate heartburn and reflux
Encourages more restful and rejuvenating sleep
Customer Feedback
Pros
Confident in its ability to stand up to heavy use with heavy patients
Scale gets vital information without having to move patients
Height range is low enough to make transfers in and out of bed easier
Adjustable width to fit any patient
Cons
Not one of the least expensive models on the market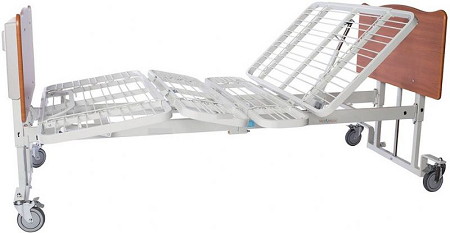 Patient comfort is assured with the array of positions provided by our top choice, the Comfort Wide EX8000 Power Adjustable Bariatric Bed by Med-Mizer.
Patients appreciate the positioning options for comfort, while caregivers appreciate how easy this bed is to work with. It is width-adjustable from 35 to 39, 42, and 48 inches with no tools necessary. Its transfer-friendly height range is 9 to 25 inches. Available positions using the five-function handset include Trendelenburg, Reverse Trendelenburg, and Cardiac Chair. With an 800-pound weight capacity, this bed has a lightweight tubular steel frame for strength and has a maximum back angle of 55 degrees and a knee angle of 15 degrees.
You can choose the dual-layered bariatric non-powered mattress with a top layer of high-density foam for comfort and a bottom layer of ultra-dense foam for resilient support and stability, or the bariatric Power Plus inflatable mattress with 10 air cells and low air-loss design to regulate heat and moisture levels to reduce skin issues. You can also choose the finish for the head and footboard, and this heavy-duty bariatric hospital bed has pivoting steel joints for long-term durability plus non-marking wall bumpers.
Scoring highly in every area, this Comfort Wide EX800 Power Adjustable Bariatric Bed has a significant width and height adjustability range, an 800-pound weight capacity, and includes a mattress specifically designed to address skin health and overall comfort for people who spend much of their time in bed.
Features and Benefits
Full clearance underneath for lifts or other devices
Adjustable width to accommodate larger users
Easy set up
Adjustable height for transfer safety and less caregiver strain
Variety of beneficial positions
Customer Feedback
Pros
Includes mattress
Easy to assemble and disassemble
Handset is user friendly and quickly cycles through preset positions
Skin issues are addressed with mattress options
Cons
Weights 225 pounds and is a heavy piece of equipment
Features to Consider when Purchasing a Bariatric Hospital Bed
Weight Capacity
Although all bariatric hospital beds can accommodate patients who weigh more than the capacity of a standard hospital bed, not every bariatric bed can fit every bariatric patient. Be sure to check the bed's specifications to ensure it will be a safe fit.
Height and Adjustability
A fully height-adjustable bed will enable safer transfers for patients and for caregivers. A bed should get low enough for a patient to safely get on or off the bed, and raise high enough so caregivers can work without bending or back strain. A handheld remote control is a convenient method of smoothly adjusting a bed's height. Other adjustments should include a tilt-recline function and lower leg raising.
Maneuverability
If you want to be able to position the bed exactly where you want it, robust casters will be needed to provide the necessary maneuverability. The casters should have locking mechanisms that are simple to operate so the bed stays put once the locks are engaged.
Safety Features
In addition to locking wheels for stability, bariatric hospital beds could also come with side rails, either standard or as additional purchase options. These rails come in different heights and could be "split" so the backrest side rails are independent from the rails on the main portion of the bed. If a bed has an auto-contour feature, a patient can be repositioned without a caregiver's assistance. This adds to patient comfort, prevents a patient from sliding down the bed, and decreases the risk of injury to a patient and caregiver.
FAQ
Q: What is the difference between a regular hospital bed and a bariatric hospital bed?
A: Standard hospital beds have a weight capacity of between 350 and 450 pounds, depending on the model. Bariatric hospital beds can accommodate patients weighing up to 1,000 pounds.
Q: Who needs a bariatric hospital bed?
A: Larger sized patients who need the functions of a hospital bed, like hi-low positioning or safety rails, and the additional sturdiness of heavy-duty construction and extra width found in a bariatric hospital bed.
Q: What size is a bariatric hospital bed?
A: Bariatric beds come in widths of 36, 42, 48, 54 or 60 inches wide, and are between 80 and 88 inches long, Some models with adjustable widths are called "convertible" bariatric beds.
By comparison, standard hospital beds are usually between 37 and 39 inches wide and 80 inches long.
Summary
The comfort and benefits of a hospital bed are delivered when the bed is a good fit. Bariatric patients need special equipment if they are to be comfortably accommodated and treated, and a bariatric hospital bed is included in that list of special equipment.
The Comfort Wide EX800 Power Adjustable Bariatric Bed was chosen as our #1 choice as the best bariatric hospital bed because of its overall approach to patient and caregiver needs. Its width is adjustable to ensure a good fit, it can accommodate patients up to 800 pounds, it smoothly positions the patient for support and comfort while in bed and during transitions, and it comes with either a foam or air mattress designed to address potential skin problems from pressure issues.
Visit Caregiver University for more helpful articles written by healthcare experts!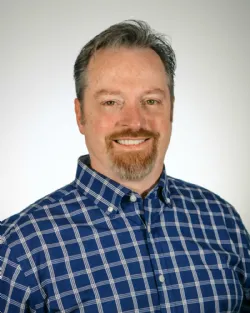 Author:
Co-Founder of Rehabmart and an Occupational Therapist since 1993. Mike has spent his professional career working in multiple areas of Occupational Therapy, including pediatrics, geriatrics, hand therapy, ergonomics and inpatient / outpatient rehabilitation. Mike enjoys writing articles that help people solve complex therapeutic problems and make better product choices.