If you want to enjoy an active lifestyle, what would you rather have? A bulky wheelchair that's hard to lift, or a super lightweight manual wheelchair that is easy to fold, easy to lift, easy to stow, and looks and feels great for the user? Lightweight wheelchairs are designed for maximum mobility, and this list highlights the best options on the market.
The Top 5: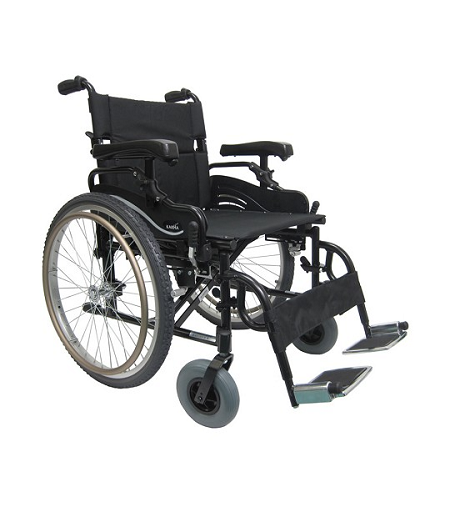 Weighing only 35 pounds, the Lightweight Bariatric Folding Wheelchair by Karman Healthcare is the lightest bariatric wheelchair you can buy, and it has made our list at #5.
Its high-strength frame is made of black powder-coated T-6 aircraft-grade aluminum with double cross braces. It comes in seat widths of 20 or 22 inches, and it has a weight capacity of 350 pounds. Rolling smoothly on wide rear wheels and front casters with adjustable toggle locks, this highly maneuverable manual wheelchair comes standard with padded height-adjustable armrests that flip back and footrests that can swing away or be removed for convenient transfers.
This wheelchair has special side panels that keep clothing from sliding down and getting entangled with the tires. It also has a pocket behind the seat for hands-free transport of personal items. Its legrests have a hook-and-loop leg strap, and elevating legrests are an optional upgrade. Its nylon flame-retardant upholstery is breathable for added comfort. Easy to fold and lift, this wheelchair is easy to transport.
For larger framed patients, there is not a more durable, heavy-duty option among lightweight manual wheelchairs than this model.
Features and Benefits
Foldable, lightweight, and portable
Heavy-duty rear wheels and casters
Breatheable fabric
Flip-back armrests are padded and height-adjustable
Footrests are swing-away and removable
Side panels ensure clothing does not slide down and get tangled in the tires
Adjustable toggle wheel locks
Back pocket on the back of the seat for storage
Customer Feedback
Pros
No static on your fingers when pushing yourself because of the anodized aluminum handrim
It's truly heavy-duty, and instill confidence in the user
Comfortable
Easy to get into car trunk to stow for transport
Cons
Bariatric models usually accommodate higher weight capacities
Not a lot of customization options available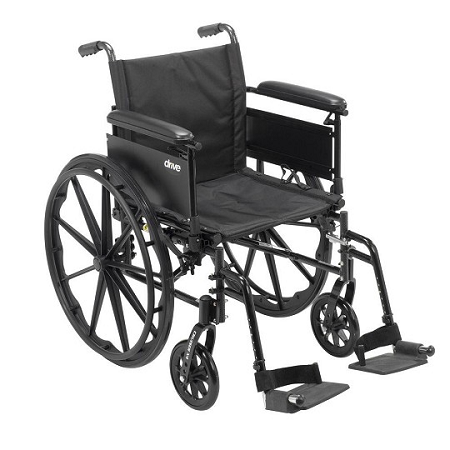 #4 on our list is the Cruiser X4 Lightweight Manual Wheelchair by Drive Medical, which has three rear axle positions to easily transition it from a standard to hemi-height.
Lightweight and affordable, the Cruiser X4 is made with an aluminum and carbon steel frame and comes in multiple sizes with many optional upgrades. It can accommodate users up to 300 pounds, with available seat widths of 16, 18, and 20 inches. It has padded height-adjustable armrests, swing away foot rests or elevating leg rests. It can be adjusted without any tools needed.
Its wheel lock system has an extendable handle that is easy to use even if you don't have a lot of hand strength. Moving the rear wheels between the three axles allows for the adjustment of seat height and seat back angle. The armrest height and height and angle of the front caters are also adjustable for user comfort. Its flame retardant nylon upholstery is mildew resistant and deters the growth of bacteria.
This versatile lightweight manual wheelchair weighs between 32 and 36 pounds, depending on which size you choose, and it's backed with a limited lifetime warranty.
Features and Benefits
Hemi level option allows user to self-propel with feet
Precision sealed wheel bearings for long service life
Durable chip resistant aluminum and carbon steel frame
Multiple options for adjustability to create a custom fit
Customer Feedback
Pros
Easy to maneuver
Great price point
Being able to self-propel with feet adds options for more freedom and independence
Collapses easily
Can handle going over outdoor terrain
Cons
Assembly instructions were a bit unclear in places
Not a lot of seat padding if you're going on long excursions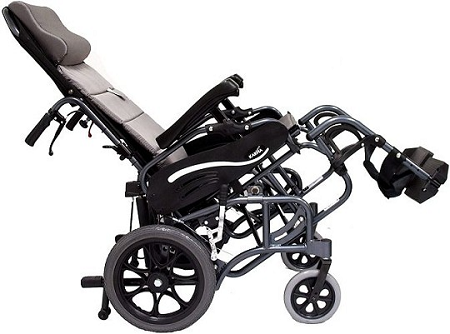 The Tilt In Space Lightweight Wheelchair by Karman Healthcare made our list at #3 because it lives up to its name as the lightest tilt-in-space wheelchair available, and it's the only one that folds.
Sitting places the majority of your body weight on your rear, your lower back, and the back of your thighs. If you can't sit comfortably for long, this lightweight wheelchair provides 0-35 degree center-of-gravity weight shifting to relieve pressure, improve comfort, increase circulation, and help prevent pressure sores. This model is ideal for someone with muscle deterioration, cerebral palsy, or a spinal cord injury and can contribute to managing scoliosis, kyphosis, edema, dizziness from orthostatic hypotension, and more. You can get elevating leg rests or standard footrests.
This lightweight wheelchair's frame is constructed of durable lightweight T-6 aluminum, with gas cylinders powering the tilt mechanism. It comes with a seat belt and has a height-adjustable ergonomic head pillow and height-adjustable and removable flip-back armrests. It is available in 16 or 18 inch seat widths and it can accommodate users up to 250 pounds.
As the only foldable version of a tilt-in-space lightweight wheelchair, at 33 pounds our #3 choice serves users who need the option of repositioning and who want the opportunity to be as mobile as possible.
Features and Benefits
Transport and self-propelled styles are available
0-35 degree center-of-gravity weight shifting
Only foldable lightweight tilt-in-space wheelchair available
Anti-bacterial upholstery is easy to keep clean
Multiple seat widths available for a good fit
Customer Feedback
Pros
Most portable option on the market
Highly customizable
Comfortable ride
Allows for longer outings
Cons
Only tilts 35 degrees
Harder to push when tilted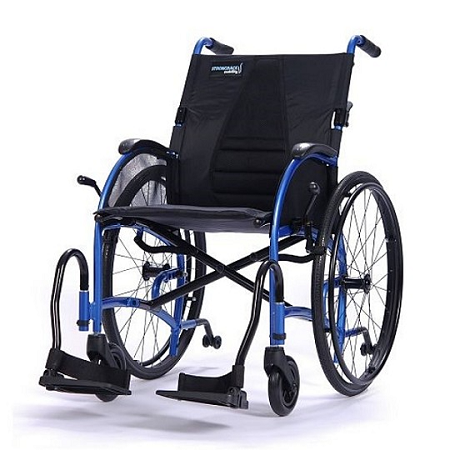 Landing at #2 is the supportive, ergonomic, and comfortable StrongBack24 Ultra Lightweight Portable Wheelchair from StrongBack Mobility, which is a great choice for users with active lifestyles.
The uniquely curved backrest supports the shape of your spine, which provides additional support, improves posture, and decreases pressure while the angled seat aligns the pelvis and prevents slipping and poor posture. The cushioned seat reduces pressure on the rear, spine, and coccyx for more comfort. It also has lumbar support that is adjustable by height and level of firmness.
This lightweight wheelchair's 24-inch rear wheels have tread similar to a mountain bike, so you can truly enjoy the outdoors. This highly portable ultralightweight wheelchair folds easily for transport, and with the removal of the quick-release wheels and footrests, it weighs less than 14 pounds. Available in 16, 18, or 20-inch seat widths, it has a weight capacity of 300 pounds. The footrests, which are easily rotated or removed, have heel guards to ensure your feet don't slip and bump the ground. This wheelchair is available in a few models, which some include an attendant brake or flip-back armrest.
For an active lifestyle, this highly portable, durable, indoor/outdoor lightweight wheelchair will be a great fit.
Features and Benefits
Footrests swing away or can be removed
Relieves pressure points
Supports the spine and holds boy in place
Adjustable lumbar support
300-pound weight capacity
Customer Feedback
Pros
So lightweight that most people can lift it once it's folded
Security net prevents arms, clothes, toys, etc. from getting lodged in the wheels
Can be self-propelled or pushed by a caregiver
Relieves pressure on the spine, coccyx, and bottom
Contemporary look
Cons
Handbrake can be stiff, especially at first
Wheels need to be facing forward of the front axle to stop comfortably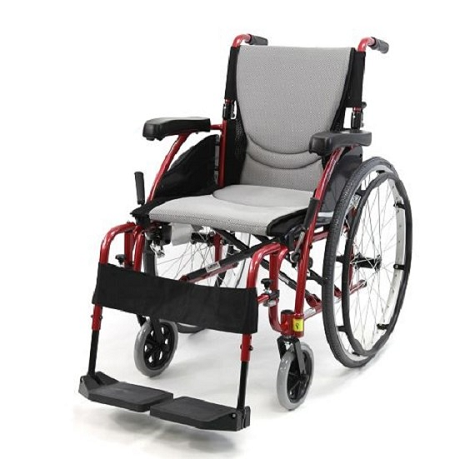 Consistently rated as a top lightweight wheelchair, the Ultra Lightweight Wheelchair S-Ergo 115 by Karman Healthcare has claimed the #1 spot on our list.
Its s-shaped seat cradles your rear and legs, improving stability so you don't slip out of the chair, and distributing your weight to relieve pressure and reduce the risk of pressure sores. It comes in seat widths of 16, 18, and 20 inches and its base weight is 25 pounds. It can accommodate users weighing up to 250 pounds.
This stylish wheelchair comes in silver or red, with a limited edition white frame available too. The comfortable seat's anti-microbial upholstery protects against fungus, bacteria, and odor. Optional wheel choices include quick-release wheels or mag wheels. The quick-release wheel's axles allow for quick and easy tire removal which makes it easy to transport or store this manual wheelchair in a small space. It comes with a limited lifetime warranty on the durable frame, and a long list of accessories like cup holders, pouches, and cushions can be ordered.
This lightweight chair is made of T-6 aircraft grade aluminum and will be a great mobility device for anyone with an active lifestyle.
Features and Benefits
Weighs only 25 pounds
Anti-microbial upholstery
Fixed armrests with concave arm pads
Can be used for self-propulsion or as a transport chair
Choice of two colors and three sizes
Customer Feedback
Pros
Easy to fold, transport, and store
Contoured hand grips inside wheels make self-propulsion easier
Backrest pouch for storage
Ergonomic seat is more comfortable than other models
Love how the back folds down
Cons
Front wheels don't always handle bumps or holes well
Challenging for caregivers to push heavier users
Features to Consider When Purchasing a Lightweight Wheelchair
Warranty
If the manufacturer is willing to back your lightweight wheelchair with a good warranty, you can assume it's of good quality, and if there are any issues, you can count on them to be addressed.
Use
Where you'll be spending most of your time while using the manual wheelchair can impact what your best choice will be. Determining whether the wheelchair is going to be used primarily indoors, outside over varied terrain, occasionally, or for regular use will help you choose the model that will best fit your lifestyle.
Fit
Since lightweight wheelchairs come in different sizes, measure carefully to ensure you get the all-important fit correct for the best user experience possible.
Comfort
The height of the backrest, level of padding in the cushioned areas, sweat-resistant seat material, and movable armrests and footplates all determine how adaptable the chair is for your comfort.
Weight
A lighter chair is easier to push, easier to self-propel, and much easier to fold up and carry in the car.
For more buying tips, check out "How to Choose the Best Wheelchair."
FAQ
Q: What is the benefit of a lightweight wheelchair?
A: They are made with lighter materials, making them easier to fold and transport, some even fitting into smaller vehicles. They can be highly customized to add to the user's convenience, comfort, and safety. A lightweight manual wheelchair is not as tiring as a heavier model is for a user who wants to fully enjoy the freedom and independence of self-propulsion. A lightweight manual wheelchair also improves fitness, and is more affordable than an electric power wheelchair. If it is going to be used temporarily because during rehabilitation, it can aid your recovery by making it convenient to continue with your daily life activities around your injury.
Q: Are lightweight wheelchairs good for traveling?
A: Yes! Lightweight wheelchairs fold up for convenience, provide the proper support for user comfort, and have multiple safety features which makes them great for planes, trains, and automobiles!
Q: How heavy is a lightweight wheelchair?
A: Most lightweight wheelchairs weigh between 29 and 35 pounds.
Summary
Lightweight wheelchairs open up the world for users. A foldable lightweight design makes a manual wheelchair easy to transport and easy to self-propel or push.
The all-around portability, flexibility, and comfort of the S-Ergo 115 is the #1 choice on our list of best lightweight wheelchairs. It is one of the lightest and most comfortable manual wheelchairs you can find, and it is packed with useful features. Plus, it's customizable with several options to make sure it's a great fit for your active lifestyle. It's backed by a solid warranty so you know you can count on it for years of durable service.
For buying tips, you can check out "How to Choose the Best Wheelchair," and if you'd like more information on lightweight wheelchairs or product comparisons, please visit Caregiver University. Also, feel free to browse our entire collection of Lightweight Wheelchairs.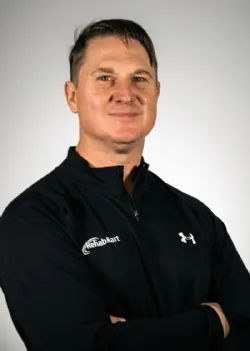 Author:
Co-founder/CEO of Rehabmart, Pediatric Occupational Therapist, husband, and father. Passionate about connecting special needs kids with superb nutrition, sensory integration, and complementary health strategies. Excited about Rehabmart's mission to become the premier online educational platform which empowers caregivers by spotlighting innovative devices and interventions to achieve optimal patient response and recovery.