Perhaps the most widely recognized piece of medical equipment in the entire world is the wheelchair!
Safe, effective, and universally trusted, the wheelchair is a cornerstone tool in rehabilitative and long-term patient care. Lightweight wheelchairs are designed to combine the tried-and-true mobility of a manual wheelchair with the portability necessary for travel and easy storage.
Top 5 Best Lightweight Wheelchairs Summary
The Top 5:
Ranked by Rehabmart, chosen by you
This article will highlight and rank the top five lightweight, ergonomic wheelchairs available from Rehabmart. These reliable chairs are produced by trusted medical equipment manufacturers, such as Karman Healthcare, Drive Medical, and Keen Healthcare among several others.
Each of the lightweight wheelchairs featured on this top five was assessed through their reliability, safety, comfort, cost-effectiveness, additional features and considerations, and consumer feedback.
All of these factors were analyzed, with particular consideration being placed on direct customer feedback and experiences with each wheelchair. With these parameters for assessment, the following lightweight wheelchairs were ranked among the top five!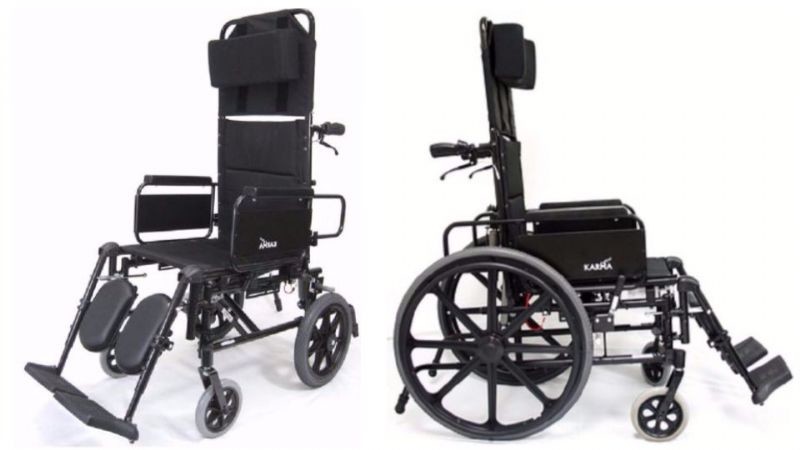 Starting off our top five list in the number five position is the Ultra Lightweight Transporting Recliner Wheelchair by Karman Healthcare. This wheelchair provides customers with a rare and invaluable feature: full recline into a lying position!
This feature, which is not often found in wheelchairs, provides patients with a significant increase in comfort. This change in weight distribution helps prevent sores from forming when a patient sits in the same position for extended periods of time. The Karman's reclining feature reaches from a 90 degree position all the way back to a 160 degree position.
In terms of its formatting, this wheelchair makes use of aircraft-grade aluminum, which keeps its weight at a portable 33 pounds. It also bears a specialized, compact folding design that allows it to be stored easily. It was noted to be especially useful for saving space in nursing units and hospitals.
The Karman's sizing options earn it a great deal of praise from customers, too! The chair is available in widths of 16, 18, 20, and 22 inches. These sizes bear weight capacities of 250 pound for the 16 and 18 inch seats, 300 pounds for the 20 inch seat, and 350 pounds for the 22 inch seat.
The size selection and reclining ability aren't this wheelchair's only features, however. It also includes a height adjustable head pillow, adjustable toggle wheel locks, and flame-retardant nylon upholstery, among many other benefits.
Features and Benefits
Capable of reclining between 90 and 160 degrees
Offered in four different seat sizes
Adjustable height head pillow
Customer Feedback
Pros:
This lightweight wheelchair's greatest point of praise is its ability to recline. Almost every customer pointed out how this ability drastically increased user comfort and lowered the risk of skin breakdown!
Several customers also noted the four size options of this wheelchair are helpful, as it allows it to be used by patients of all sizes.
Cons:
Partly due to it's wonderful reclining ability, this chair comes in at the highest price of the products in this Top Five list.
A few customers reported the detachable arm and leg rests can be difficult to remove and reattach.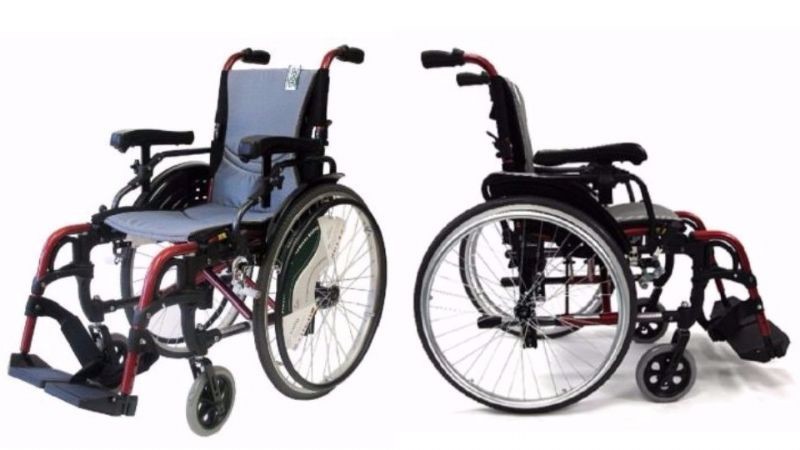 Rolling into the number four position is the Top End Lightweight Ergonomic Manual Wheelchair from Karman Healthcare. Bearing a standard wheelchair format (as opposed to a reclining format, seen above), this chair received a lot of praise from customers thanks to its multiple ergonomic considerations.
This wheelchair features ergonomic, adjustable features in almost every area. The armrests can be adjusted in height and are capable of being flipped back, the leg rests are available in formats that swing-away or elevate, and the frame is ergonomically fashioned to prevent sores from forming in high-pressure areas after extended periods of sit time.
The Karman's wheelchair fabric is antibacterial and breathable, designed to promote airflow and reduce sweat. The variety of thoughtful features included with this lightweight wheelchair make it one of the most ergonomically-designed chairs in the top five.
Customers who reviewed this wheelchair considered it to be one of the best options available for patients who will spend extended periods of time in the wheelchair itself, thanks to its intentional and supportive design.
The Top End Lightweight Wheelchair is available in two size options: 16 inch width and 18 inch width. Additionally, the wheelchair offers customers the optional features of a seat belt and memory foam seat/back cushions for increased comfort and patient safety.
Finally, the chair lets customers choose between a red or silver frame, giving patients a chance to add a touch of personality to their chair!
Features and Benefits
Features more ergonomic options than most wheelchairs
Multiple optional features for added comfort and safety
Anti-bacterial upholstery prevents infection
Customer Feedback
Pros:
The multiple ergonomic features are widely noted by customers to be this wheelchair's greatest advantage, helping to maximize comfort for patients who will spend extended periods of time sitting in the chair.
The optional features of this wheelchair allow patients to design the product to fit their exact needs and personality.
Cons:
This lightweight wheelchair is among the most expensive in the top five, and some customers suggested that other products in the Top Five offer more competitive quality at a lower price.
Some customers noted that the limited size options of this wheelchair make it suitable for a more limited selection of patients than other products.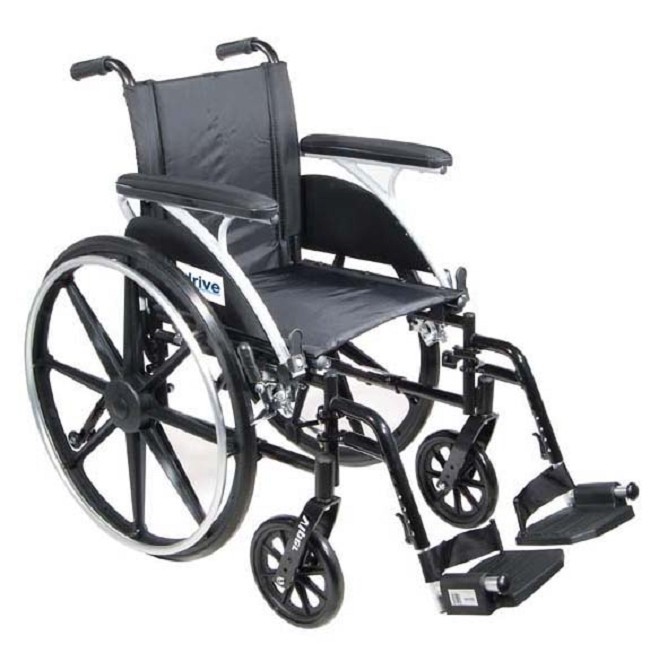 It's worth mentioning the next three lightweight wheelchairs are very closely related. And in many categories, the difference between wheelchairs ultimately came down to the customer feedback provided on the products! Keeping this in mind, the Viper Deluxe Lightweight Dual Axle Wheelchair by Drive Medical slides into the number three spot.
The Viper Deluxe stands out from the competition by providing high-quality features in areas not always the first areas that customers look when purchasing a wheelchair. For example: the wheel bearings of this chair are precisely sealed, promoting a long-lasting and extremely durable design.
The chair's casters and wheels are capable of rolling on almost any surface, and is one of customer's favourite features; many reviewers said the chair is better equipped for patients who often find themselves traveling outdoors in their wheelchair.
Another area where the Viper Deluxe quietly excels above much of its competition is its dual axle format. This design allows patients to easily transfer the seat to hemi-level, which assists in the efficient and comfortable movement of the chair. Additionally, the chair's frame design offers the patient the ability to apply custom backs and accessories to the wheelchair.
A more obvious advantage of the Viper Deluxe is its variety of seat sizes, allowing it to accommodate patients of any shape and size. The wheelchair is available with seat widths of 12 inches, 14 inches, 16 inches, 18 inches, and 20 inches.
This is the largest selection of sizes provided by any wheelchair in the top five, and naturally this is one of the most praised features of the wheelchair amongst customer reviews!
Features and Benefits
More size options than any other wheelchair in the top five
Capable of functioning smoothly on most surfaces, indoor and out
Dual axle format allows for efficient movement
Customer Feedback
Pros:
The most frequently praised feature of the Viper Deluxe is its selection of sizes. Several customers noted this as a huge benefit for hospitals and clinics which treat a variety of patients of all shapes and sizes.
Capable of functioning on almost any surface, many reviewers suggested this as one of the most effective wheelchairs for using while outdoors.
Cons:
Weighing around 32 pounds (depending on the specific size), the Viper Deluxe is one of the heavier lightweight wheelchairs listed here.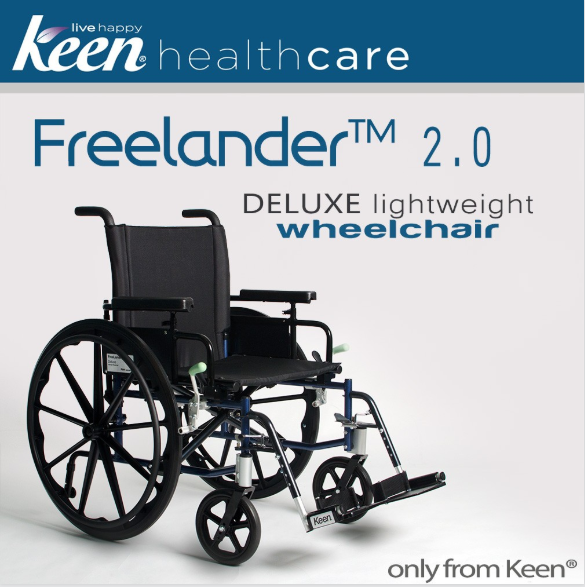 The number two ranked runner up is the Keen Freelander 2.0 Deluxe Lightweight Wheelchair by Keen Healthcare. This wheelchair manages to provide a competitive and superior array of features while also being one of the least expensive wheelchairs we ranked.
As is almost always the case, the most cost-effective products typically find their way near the top of lists due to the overwhelming amount of positive feedback regarding their prices. Such is the case for the Deluxe Freelander 2.0, as it offers patients a comfortable and safe product at a significantly smaller cost than the majority of its competitors! In fact, one of the most common statements from customers is that this product is surprisingly high-quality for a low price.
The Deluxe Freelander 2.0 incorporates a five-position adjustable height back for improved comfort and greater positional versatility. Updated wheelchair locks help to extend the life of the chair while also promoting better support and stability. A range of flexible options and features ensure a correct fit for comfortable, effortless mobility.
Detachable swing-away standard or elevated footrests support the lower body while still facilitating easy transfers. Additionally, the Freelander incorporates anti-tippers and a gentle half-inch seat tilt to maintain proper spinal posture and alignment as well as to help prevent falls for improved safety.
Features and Benefits
Lightweight, high-strength frame ensures longevity and reliable support.
Improved wheelchair locks and anti-tippers improve overall safety and stability.
Five height positions accommodate taller users and a range of positioning needs.
Detachable swing-away standard or elevated footrests promote comfortable support.
Range of flexible options and features ensure a correct fit and effortless mobility.
Customer Feedback
Pros:
Customers overwhelmingly applauded the Deluxe Freelander 2.0's cost-effective nature, are were surprised that the wheelchair was so inexpensive despite its high-quality features and construction.
A similarly large number of customers pointed to the large selection of adjustable components and optional features as the wheelchair's greatest advantage. One customer explained the ability to select the specific optional features needed made it easier to customize the wheelchair to patient needs.
Cons:
One of the only negative comments regarding the Deluxe Freelander 2.0 points out the 30lb product weight without front rigging, which is somewhat high in comparison to the other chairs ranked here.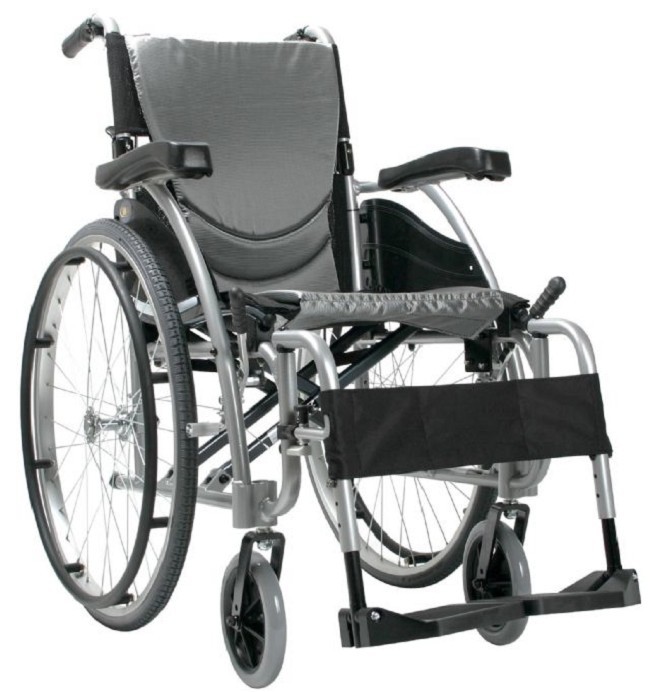 The prestigious title of number one lightweight wheelchair available from Rehabmart belongs to the S-Ergo 115 Ultra Lightweight Ergonomic Wheelchair by none other than Karman Healthcare!
This might not come as a surprise to anyone who's read our article, Top 5 Manual Wheelchairs, as this same product claimed the number one spot in that Top 5 list, as well!
The reason for this wheelchair being named the number one wheelchair on two separate wheelchair categories is for its unrivaled high quality in almost every area of assessment. Let us examine how it excels far over its competition.
This wheelchair offers customers three size options for its ergonomically-designed seats: 16 inches, 17 inches, and 18 inches. It is worth noting, however, that the seat's 17 inch length is one inch longer than the 16 inch length commonly used in other products. The seat itself is designed to provide comfort and protection from seat sores.
The ergonomic design of the wheelchair extends to several other items on the wheelchair. The armrests are designed in a concave formation to provide a broader area on which the patient may rest their arms. The armrests are also covered in breathable, antibacterial upholstery, designed for easy cleaning.
The S-Ergo 115 can also come equipped with "Frog Leg" caster forks. These forks are shock-absorbent, capable of reducing the shock on the wheelchair by 76%, compared to standard caster forks! Another boon of the casters is their ability to lift the leg rests up and over obstacles during movement. This provides a smoother, safer ride, particularly when moving across uneven ground.
The leg rests of this wheelchair offer the unique ability to not only swing away, but also swing in. This makes the wheelchair easier to store and transport—much to the appreciation of customers!
The most noticeable category in which the S-Ergo 115 pulls ahead of the competition is in the additional features category, including: a folding backrest and seat to allow for easy storage; multiple coloring options to let patients customize the wheelchair to their tastes; quick-release axles for easier movement and control of the wheelchair; and specialized ergonomic features in the seat, armrests, and leg rests to offer the patient as much comfort as possible!
As you'd expect, the S-Ergo 115 boasts overwhelmingly high reviews from customers. In fact, it is the only wheelchair in the top five to bear a perfect score from customers!
Given the massive number of advantages it offers, it is difficult to find one item that can be considered the most praised. This is because each of the aforementioned features and abilities is mentioned regularly in different customer reviews. Given the overwhelmingly positive reviews, the S-Ergo 115 wins the number one position in a landslide victory!
Features and Benefits
Ergonomically-designed seat, armrests, and leg rests
Frog Leg caster forks offer shock-absorption and easier movement
Multiple coloring options to choose from
Quick-release axles offer smooth transitions in movement
Customer Feedback
Pros:
While customers provided high praise for myriad features of the S-Ergo, the large selection of additional features garners the lion's share of the positive feedback. Multiple customers remarked that the S-Ergo 115 provides customers the ability to hand tailor the product to their precise specifications.
Despite the price of the S-Ergo115 not being as low as that of the Breezy EC 3000, many customers attest that the former is just as cost-effective as the latter because its extremely high quality is accompanied by a relatively low price.
As was the case in other ergonomically-designed wheelchairs, this product received a considerable amount of praise for its special design, which prevents seat sores and discomfort in patients.
Cons:
Summary
The S-Ergo 115 Ultra Lightweight Ergonomic Wheelchair by Karman Healthcare easily claims the title of top lightweight wheelchair available from Rehabmart!
This wheelchair either championed or was in close competition in almost every area of assessment: it offers a significantly larger selection of additional features and customization options than its competitors, and is one of the most cost-effective options available today.
Most importantly was user feedback: according to the feedback of customers, the quality of the wheelchair is "second to none". This is a testament to both its reliability and its durability!
The feedback of customers - which was wholly positive - truly won it the number one position. Customers praised each and every feature of the product in considerable numbers. With the highest praise of any wheelchair in the top five, the S-Ergo is the top lightweight wheelchair available from Rehabmart.
For a step-by-step guide to choosing the best wheelchair for you or your loved one's needs, check out our article How to Choose the Best Wheelchair.
To look through our top manual wheelchairs in general, visit our article The 5 Best Manual Wheelchairs!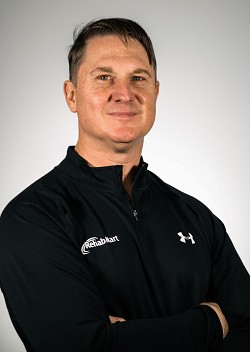 Author:
Co-founder/CEO of Rehabmart, Pediatric Occupational Therapist, husband, and father. Passionate about connecting special needs kids with superb nutrition, sensory integration, and complementary health strategies. Excited about Rehabmart's mission to become the premier online educational platform which empowers caregivers by spotlighting innovative devices and interventions to achieve optimal patient response and recovery.