Today's modern wheelchairs for children and teens are lighter, faster, and easier to use than ever before, in styles, colors, and designs that are more appealing to kids.
Utilized for both short term and long term mobility impairments, pediatric wheelchairs are a great way to help young people with injuries or disabilities easily move from place to place.
Manual wheelchairs are a great option for kids able to do some self-propelling, while they also allow caregivers and parents to push the wheelchair from behind when needed.
Most parents choose to have at least one manual wheelchair for their child to utilize because of their simplicity combined with multiple positioning options, which make them a versatile option for both indoor and outdoor use.
How do I choose the best wheelchair for my child?
Determining the best wheelchair for your child may seem quite complicated, as there are so many choices, each with an extensive range of standard and optional features. But by asking and answering some simple questions, you will be able to narrow those choices to the perfect selection.
First off, it's always a good idea to consult with your child's medical or therapy team to get a better idea of what features to look out for in a wheelchair. Often these professionals will already be able to give you a good starting point in terms of sizes, features, and points of adjustment to consider.
Consider how a child's life is different than an adult's. When determining the best manual wheelchair for your child, you'll want to select a design that will support them in the activities they carry out every day.
The best pediatric manual wheelchair:
fits the child well, allowing them to comfortably reach the push-rims (hand-rims) of the wheels
is lightweight enough for the child to control, especially on inclines
rides smoothly over rough terrains, such as gravel, grass, sand, and snow, enabling kids to interact and play with peers outside
has extended push handles for family, parents, friends, and caregivers to more easily control the chair without incurring injury
is attractive and engaging for children so they want to ride it, but in designs that allow the child to be more visible than the wheelchair itself
Choosing a child's wheelchair can be more challenging than choosing one for an adult, as children are still growing, and they have seating requirements that don't apply to adults. The best wheelchairs for kids will be those that offer adjustability for growth, with height, length, and width adjustment ranges.
That's why when we set out to look for the best pediatric wheelchairs, those are the features that we made sure to select for. In addition, we also considered cost and customer feedback in order to create a final list of the five best pediatric wheelchairs.
The Top 5:
5. Little Dipper Fully Customizable Wheelchair by Colours
One of the most customizable pediatric wheelchairs we found on the market today, the Little Dipper Fully Customizable Pediatric Wheelchair by Colours takes the number five spot on our list.
Delivering exceptional support and maneuverability, this wheelchair provides reliable mobility support for a wide range of young riders.
Constructed to be lightweight yet durable, the Little Dipper is built with strong aluminum components to provide dependable performance for children and teens weighing up to 250 pounds.
Available in 29 different color patterns, we're not kidding when we say this chair is fully customizable!
Order your Little Dipper to your child's exact size specifications, including the type of seat, the seat depth, width, angle, and both the front and back seat's height, the type of backrest and its dimensions, and the center of gravity.
Other customizable selections include footplate style, forks style, caster type, tire type, wheel type, wheel lock type, back option, frame angle, camber angle, tab length, inside wheel clearance, and handrim type. Optional features abound for this wheelchair, including other armrest and push-handle choices, side guards, seat cushions, and trays.
Features & Benefits
Exceptional customization options to fit each child perfectly
Lightweight aluminum construction is tough and durable
29 different color and pattern options to suit personal taste
Smooth maneuverability for both indoor and outdoor usage
Customer Feedback
Pros
Parents love being able to build the chair to their unique child's needs
Kids love the color combos and the ability to design the chairs to their taste
Good turning radius makes this chair easy to maneuver even indoors
Cons
Rigid format is harder to transport in smaller vehicles
Children may grow out of its use too quickly, not as adjustable in height and width as some other pediatric wheelchairs
Wide range of customization options can be overwhelming for some customers to navigate
4. Medline Kidz Pediatric Wheelchair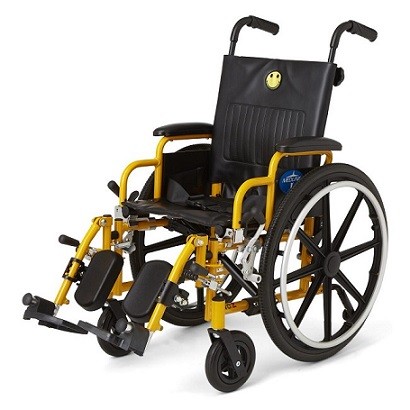 Designed with the special needs child in mind, the Medline Kidz Pediatric Wheelchair takes the number four spot on our list due to its exceptional comfort and customization.
Perfect for long-term sitting, this wheelchair features a range of adjustable components and a contoured seat with vinyl upholstery and a dual-axle to support a weight limit of up to 250 pounds.
Telescopic handlebars make it easier for caregivers or loved ones to easily control and support the child in the chair. Flat-free treaded tires promote smooth, easy mobility over a range of terrains.
The seat is thickly padded to help prevent pressure ulcers and promote comfort, and the dual-axle design allows the seat to be adjusted down to hemi-level. This makes it possible for the child to maneuver the chair with their feet if they want or need to.
Both armrests flip backward to make transfers easier for children, allowing them to smoothly slide into and out of the seat. In addition to dynamic armrests, the leg rests with calf pads are fully detachable and adjustable for comfortable support and a customizable fit.
The tires are treaded and flat-free to make travel easy over a range of terrains. For additional security, anti-tippers are included to make sure that the chair remains safely upright at all times.
Features & Benefits
Dual-axle design offers added support for up to 250 pounds
Treaded flat-free tires make mobility easy over a range of terrains
Dynamic arm and leg rests provide comfortable personal adjustments
Padded arm and calf rests ensure comfort for hours of continued seating
Contoured vinyl seat promotes comfortable support while being easy to clean
Telescopic handlebars make it easy for caregivers and loved ones to push the chair
Customer Feedback
Pros
Seat height can adjust to hemi-level allowing the user to propel the chair with their feet if need be.
Both armrests flip backward to make transfers smooth and easy.
Durable vinyl upholstery is comfortable and easy to wipe clean for maintenance.
Leg rests with calf pads are fully detachable and adjustable for a custom fit.
Cons
One size option available
Very few options for customization
3. Invacare 9000 Jymni Pediatric Wheelchair by Invacare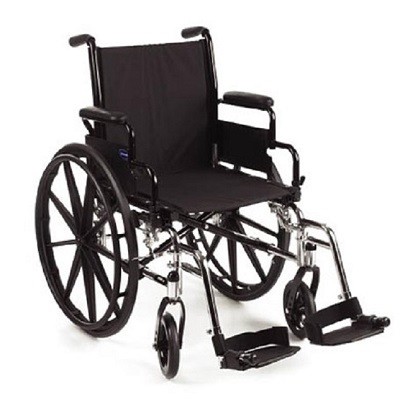 The easy-to-adjust Invacare 9000 Jymni Pediatric Wheelchair comes in at number three on our list.
Convenient versatility is the name of the game with this customizable wheelchair, with adjustable front riggings to provide a multitude of positioning options for kids weighing up to 125 pounds.
Solidly built from carbon steel and dual-sealed precision bearings, the Jymni withstands rough and tough daily wear for long-lasting durability.
Specifically designed for younger, smaller children, this wheelchair does offer adjustability to grow with your child, making it a great choice to support your child for many years of their childhood.
Its dual-axle design enables quick and easy seat-to-floor height changes, while it also offers an adjustable-angle seat back that can be changed from -5 to 20 degrees in 5-degree increments.
With its lightweight construction and foldable design, the Jymni is simple to transport in a vehicle, and its urethane rear tires are mounted on 'no-flex' wheels to deliver exceptional performance.
Features & Benefits
Dual-axle enables multiple positions for easy seat-to-floor height adjustments
Lightweight, and folds down for compact transport and storage
Carbon steel frame and dual-sealed precision bearings for utmost durability
Rear urethane tires are mounted on 'no-flex' wheels for dependable functionality
Multiple color, size, and positioning options for customizable fit
Customer Feedback
Pros
Strong and durable construction provided parents with peace-of-mind, virtually maintenance-free
The wide array of size choices help create the perfect chair for each user and their individual needs
Easy to fold down and place in the trunk of the car
Cons
Foot and leg rests are not adjustable in length
2. Ziggo Lightweight Pediatric Wheelchair by Circle Specialty Incorporated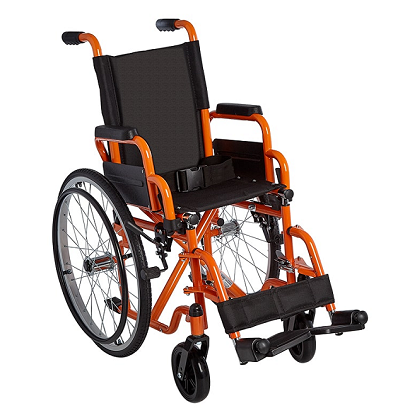 Distinctively designed for kids and teens, the popular Ziggo Lightweight Pediatric Wheelchair by Circle Specialty earns the number one spot on our list with its wealth of design benefits and attributes.
Loved by medical professionals and therapists because it so efficiently meets the wide and varied requirements of special needs children, the Ziggo offers a comprehensive array of positioning options and safety features.
Available in vibrant red, orange, or blue colors, the nylon upholstery is easy to maintain, and very comfortable for its riders. Although its stainless steel frame is highly durable, it's also exceptionally lightweight and will fold down for easy transport and compact storage.
The Ziggo includes multiple positional supports, including padded, flip-away desk length arms, a pelvic belt, calf straps, height-adjustable footrests with plastic footplates, and a fold-down backrest. For further customization, optional add-ons include seat cushions, a trunk harness, anti-tippers, elevating legrests, and a headrest.
Push-to-lock brakes ensure stationary security exactly when it's needed, and the Ziggo's quick-release rear wheels and solid PVC front wheels tackle both indoor and outdoor terrains with ease.
Choose from three different seat sizes for a perfect fit. This wheelchair performs well on most outdoor terrains and indoor flooring/carpeting, with a great turning radius for smaller, enclosed spaces.
Features & Benefits
Strong, but lightweight stainless steel frame for reliable performance and easy use by kids
Foldable for simple storage and compact transport in vehicles
Solid PVC front wheels and quick-release rear wheels enhance maneuverability on any terrain or flooring
Positioning supports like calf straps, pelvic belt, and height-adjustable footrests customize the wheelchair's use to each child
Generous weight capacity (150 lbs for ZG1200 and ZG1400, 250 lbs for ZG1600)
Brightly colored nylon upholstery is comfortable and withstands repetitive usage
Padded desk-length arms add comfort, and can be flipped out of the way for accessibility
Meets the stability and functional standards of medical professionals and therapists
Customer Feedback
Pros
The pop-off ability of the tires, and the chair's foldability are popular benefits with parents transporting the chair
Kids love the maneuverability and smooth ride for both indoor and outdoor use
Easy to maintain and highly durable, even under rough and tough daily usage
Cons
A few parents felt that some of the optional add-on devices should come standard with the Ziggo
1. Wallaby Pediatric Folding Transit Wheelchair by Inspired By Drive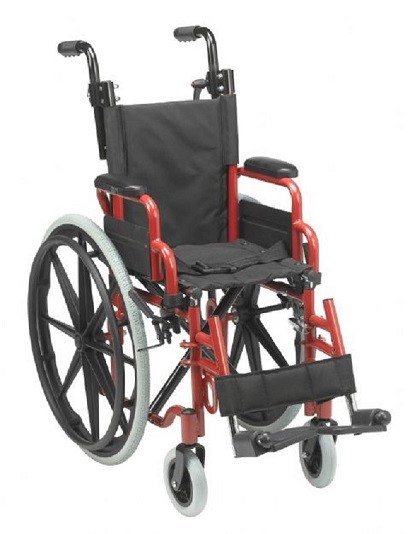 Grabbing the number two position on our list, the Wallaby Pediatric Folding Transit Wheelchair by Drive Medical provides transit compliance along with its many other benefits.
Conforming to WC19 standards for wheelchairs used as seats in motor vehicles, the Wallaby provides official compliance for young users weighing 50 to 80 pounds when the optional headrest extension is employed. It also accommodates up to 150 pounds when used as a standard wheelchair.
Specifically structured for small users, this wheelchair is available in two different seat sizes, and it can fold down into a more compact size for easy transport and storage. Its other standard features include swing-away, height-adjustable footrests and padded flip-up desk style arms to enable easy access for activities and transfers. A calf strap helps to keep legs in place, while the pelvic belt facilitates optimal pelvic positioning and posture.
Height-adjustable push handles provide ergonomic and comfortable pushing for the parent or caregiver, and push-to-lock wheels offer secure, stationary stoppage when needed. Easy-to-clean upholstery comes in Jet Blue or Firetruck Red to appeal to both children and their parents.
Additional options include the headrest extension which is a must during transit use, anti-tippers to prevent tipping accidents, and elevating leg rests for added comfort.
Features & Benefits
WC19-compliant during transit for users weighing between 50-80 pounds, using the headrest extension
Simple and tool-free adjustability
Flip-away and height-adjustable footrests
Flip-up padded armrests
Calf strap and pelvic strap to keep legs in place, and pelvis properly aligned
Foldable for easy storage and transport in vehicles
Adjustable height and ergonomic push handles for parents/caregivers
Customer Feedback
Pros
Perfect choice for small, young children using transit systems on a regular basis
Kids love the easy maneuverability
Simple to transport in cars because of its foldability
Adjustments are super easy, and its simple to maintain the chair
Cons
Not as many positioning/posture support options as other wheelchairs
Summary
Pediatric wheelchairs aren't just child-sized versions of adult wheelchairs; they actually provide a range of options specifically designed for kids and teens and their unique needs.
Whether your child needs a wheelchair temporarily for injury recovery or for full-time, long-term support, manual pediatric wheelchairs provide helpful positioning and postural control as they encourage independence and freedom.
As we researched the best manual wheelchairs for kids available on the market today, we found five to stand above and beyond the rest, with the Wallaby Lightweight Pediatric Wheelchair from Circle Specialty at the top.
Like other wheelchairs on our list, the Wallaby offers customizable options for positioning, posture, and comfort, while it also folds down for easy transport and storage. What really set this wheelchair above the others is its endorsements from the professional medical and therapy communities.
Delivering an array of adjustment features combined with its dependable stability and durability, the Wallaby is our number one choice for the best pediatric wheelchair.
We invite you to check out our complete pediatric wheelchair catalog at RehabMart, and to learn more about how durable medical equipment and daily living aids can help you and your loved ones at Caregiver University.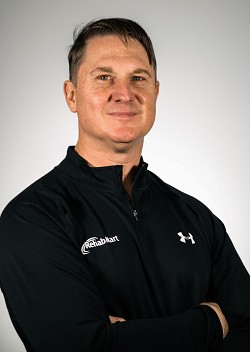 Author:
Co-founder/CEO of Rehabmart, Pediatric Occupational Therapist, husband, and father. Passionate about connecting special needs kids with superb nutrition, sensory integration, and complementary health strategies. Excited about Rehabmart's mission to become the premier online educational platform which empowers caregivers by spotlighting innovative devices and interventions to achieve optimal patient response and recovery.