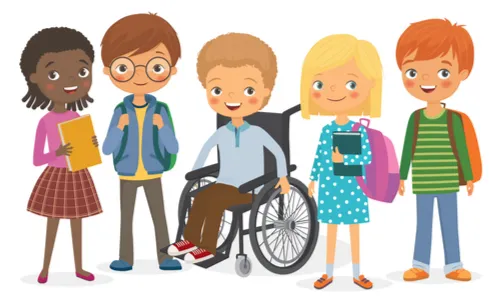 Childhood is a time of exploration. For kids who rely on wheelchairs for mobility, the ability to explore and enjoy all the world has to offer can be hampered. Today's modern lightweight manual wheelchairs can be customized to meet each child's needs, opening up the world for kids who need mobility assistance.
The Top 5:
With its practical design and eye-catching colors, the Ziggo Lightweight Pediatric Wheelchair from Circle Speciality, Inc. enters our list at #5.
Durable and cost-effective, this manual wheelchair provides safe and comfortable mobility inside or outdoors. The padded armrests are desk-length so a user can sit close to a desk or table. It maneuvers well in tight spaces and folds up to transport or compactly store. This pediatric wheelchair's quick-release rear wheels are made of Precision Urethane, while the front wheels are made of solid PVC. Quick-release wheels enable this wheelchair to swiftly be taken apart, which allows it to easily fit in the back of your car's trunk. The lightweight stainless steel frame is covered by nylon upholstery.
Storage is provided by a lack pocket on the chair, and the arms flip up to facilitate easier transfers. This wheelchair comes standard with calf straps, pelvic belt, height adjustable footrests, plastic footplates, and push-to-lock brakes. It comes in four sizes, and the 16-inch and 18-inch models have a folding backrest. The weight capacities range from 150 to 250 pounds. Additional optional upgrades include anti-tippers, elevating leg rests, trunk harness, headrest, and seat cushions. This manual pediatric wheelchair comes with a 3-year limited warranty.
The long list of standard features, attractive price, and maneuverability make this wheelchair popular with parents and caregivers, while the good looks and color options are appreciated by the users.
Features and Benefits
Lightweight stainless steel frame is easy to self-propel or push
Modern practical design
Durable, with 3-year warranty
Nylon upholstery is comfortable and stands up to long term use
Lots of standard add-ons
Practical design with eye-catching colors
Built to last and includes a 3-year limited warranty
Designed for every-day-use, featuring a pelvic belt, flip-back arms, and swing-away footrests
Stainless steel frame is very lightweight and easy to move with less effort
The wheelchair's bright frame makes your child highly visible
Nylon upholstery is very comfortable and durable for long-term use
There is a pocket on the back of the seat for storage
Customer Feedback
Pros
Easy tp set up and get underway quickly
Eye catching colors make your child highly visible
Fits through narrow interior doorways
Light for transport but very sturdy
Cons
Difficult to get foot platform to sit correctly
Had initial problem with brakes on one side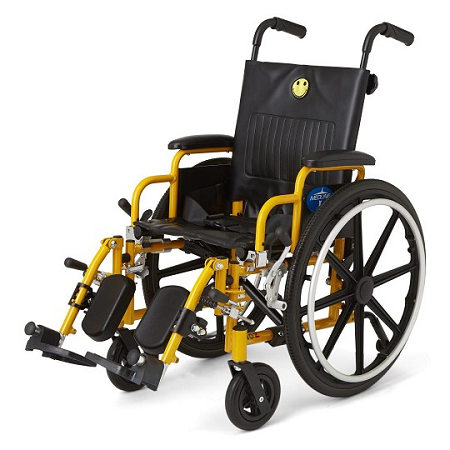 Boasting a modern design combining safety, accessibility, comfort, and style, our #4 pick is the Kidz Pediatric Wheelchair by Medline
This pediatric wheelchair has a 14-inch wide contoured seat supported by a dual axle and provides a supportive ride for hours at a time. The dual-axle design makes it easy to adjust the seat to hemi-height, which gives the user the option to self-propel the wheelchair with their feet. It also makes it easier to get in and out of for shorter users.
The seat is made of easy-care water-repellent vinyl upholstery and it can support a user weighing up to 250 pounds. This highly adjustable mobility aid has telescopic handlebars for a caregiver. The seat height can be adjusted to hemi-height for foot propulsion, and the armrests and leg supports are movable. Anti-tippers on the flat-free tires come as standard equipment. The armrests and calf supports feature thick padding to help prevent pressure sores, and both arms flip back to ease transfers. The leg rests are adjustable and fully detachable. The durable frame comes with a lifetime warranty.
The flexibility and adjustability of this pediatric manual wheelchair makes this a top pick, and with anti-tippers coming standard when they are usually optional add-ons, this wheelchair demonstrates its commitment to user safety.
Features and Benefits
Upholstery is comfortable and easy to keep clean
Padding makes it comfortable for long periods of sitting
Arm and leg rests are adjustable
Flat-free tires provide security on rough or slick terrain
Weight capacity of 250 pounds
Customer Feedback
Pros
Dual axle design makes it easy to switch to hemi height
Lots of standard equipment that is optional with other models
Lifetime warranty on the frame
Smiley face on the upholstery
Kids like the styling
Cons
At 38 pounds, not one of the lightest models
Only comes in one size so it doesn't grow with your child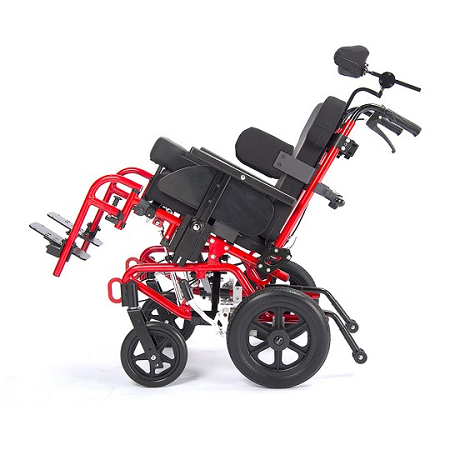 Build your own wheelchair with our #3 choice, the Kanga Pediatric Tilt in Space Wheelchair from Inspired by Drive.
This tilt-in-space manual wheelchair allows for expansion of the frame over time to keep up with the growth of your child. The tilt-in-space feature is especially beneficial for kids with spinal cord injury, cerebral palsy, muscle diseases, head injuries, or those who can't easily reposition themselves to shift pressure from one point to another or redistribute weight.
The many seating and positioning cushions available provide the opportunity to build your own wheelchair ranging in widths of 10, 12, and 14 inches. The armrests on this manual wheelchair are depth-adjustable, height-adjustable, and they can be removed. The back canes are angle and height adjustable, and you can choose to only recline the backrest. Lightweight and foldable for compact transport, this pediatric wheelchair provides minimal to moderate support, depending on the cushions added.
It made our list at #3 because of its weight redistribution properties to fend off pressure sores and its expandable frame that provides a long service life, even while your child is still growing.
Features and Benefits
Tilt-in-Space up to 45 degrees
Helps maintain proper posture with minimal to moderate support
Easy to fold, transport, and store
Bright frame color makes your child highly visible
Provides a comfortable seat for kids who spend a majority of their time in a wheelchair
Customer Feedback
Pros
Tilt-in-Space feature activated with one hand
Comes with transit tie downs
Crash tested to ensure highest level of safety
Recline feature
Cons
Need an allen wrench to loosen and adjust the backrest to recline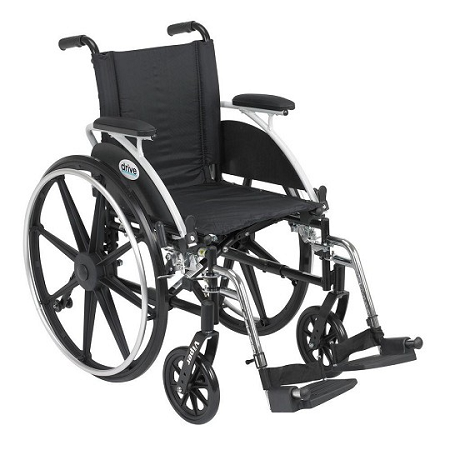 Our #2 pick, the Viper Pediatric Wheelchair with hemi-height by Drive Medical, is great for kids who want to propel with their feet.
Ideal for users less than 5 feet tall, this manual wheelchair is a great choice for kids who prefer to use their feet or a combination of their hands and feet to self-propel in a wheelchair. Its dual-axle capabilities allow for lowering the seat from standard height to hemi-height, which is especially beneficial for users with weakness in the upper body or injuries to the arm or hand. The lightweight carbon steel frame is black powder-coated and strong enough to accommodate users weighing up to 250 pounds. The 12-inch model weighs 30 pounds, and the 14-inch model weighs 31 pounds.
The desk-length arms work well at a school desk or table, and they flip back to make transfers easier. This lightweight wheelchair has mag-style long-lasting, flat-free rear tires that require little to no maintenance. There is an aluminum landrim on each tire, and wheel locks add to this wheelchair's stability. You can choose from swing-away footrests or elevating leg rests, both of which can be adjusted or removed.
Features and Benefits
Hemi-height allows for foot self-propulsion
Desk length arms allow for sitting at a table or desk
Flat-free tires
Transfers made easier by flip back armrests
Durable carbon steel frame
Customer Feedback
Pros
Easy to load into the trunk
Can pull up to tables for eating or working
Lightweight and durable with frame paint that doesn't chip
Choice of two seat widths
Cons
Would prefer instruction booklet with pictures for front rigging assembly
Wish it came in more seat widths to choose from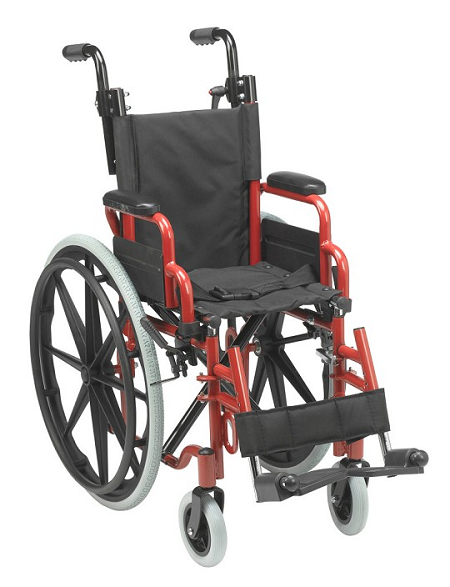 An economical chair that safely provides freedom of mobility, our #1 choice for best pediatric manual wheelchair is the Wallaby Pediatric Folding Transit Wheelchair from Drive Medical.
This manual wheelchair weighs just 33 pounds and the durable frame of this highly maneuverable mobility aid comes in bright red or blue. It easily folds down and fits into a passenger seat or standard trunk so you can take your child exploring. It has transit tie-down brackets for use on public transportation too. This wheelchair can be adjusted to accommodate activities including changing clothes, eating, and studying.


This pediatric wheelchair has thickly padded armrests for a comfortable place to lean on during transfers, and if getting them out of the way would be more beneficial, they can fold away during transitions. Both height-adjustable footrests swing out of the way to eliminate obstructions while getting into and out of the chair. A pelvic belt keeps the user safe and secure and encourages good posture while the chair is moving, and the calf strap provides leg support. The push handles are height adjustable for caregiver comfort and provide control over direction and speed.
Available in seat widths of 12 or 14 inches, this sturdy manual wheelchair has a weight capacity of 150 pounds. An economical option, this pediatric wheelchair is highly compact, very adjustable, and full of safety features.
Features and Benefits
Standard transit tie downs accommodate travel via public transportation
Pelvic belt and calf straps support proper posture
Height-adjustable handlebars for comfortable caregiver pushing
Swing-away arm and foot rests for smooth transfers
Compact folding frame stores and transports easily
Customer Feedback
Pros
Perfect sizing for younger kids
Easy and smooth self-pushing
Fits into trunk or into the backseat
Keeps users in place for safety and comfort
Cons
Doesn't handle every bump in the path well
A little heavy for little arms to self-push over long periods
Features to consider when purchasing a pediatric manual wheelchair
Wheelchair Size, Dimensions, and Growth Adaptability
The width and height of a manual wheelchair and its ability to expand to accommodate your child's growth should all be considered. Remember to check the maximum user weight limit.
Arm Rests and Foot Rests
In addition to providing supportive comfort, arm and footrests can help a user transition in and out of the chair by providing something stable to lean on. It's also useful if they can swing out of the way so transfers are unobstructed if necessary.
Portability
A lightweight, compact, foldable model will be easiest to transport in a car and store in a small space.
Wheels
For a lot of outdoor use, more durable tires designed to handle multiple surfaces are the best choice. Low maintenance foam-filled or rubber flat-free tires are also desirable so you never have to worry about a flat tire. Tread and grip are also something to consider for a lot of outdoor use, especially if you are outside in the winter or when the ground is slippery.
Tilt and Back Support
Pediatric manual wheelchairs offer different levels of back and head support. If you need a lot of support, a tilt-in-space design will provide the most positioning options.
FAQ
Q: Should I get a manual or electric wheelchair for my child?
A: Manual wheelchairs are safer, and today's models are lightweight, come in different colors and are easy for kids and their caregivers to use. They are less expensive than electric models, fold up easily for transport, and grow as your child grows.
Q: What size is a pediatric wheelchair?
A: Seat widths for pediatric wheelchairs range from about 10 inches to about 16 inches depending on the model. Seat depths for heavy duty wheelchairs range from about 8 inches to about 16 inches. Back heights range between 8 inches and 20 inches.
Q: What size wheelchair do I need?
A: The measurements that determine the correct size for a wheelchair include overall dimensions of rheight, width, and depth, width between the arms, folded width, seat dimensions, seat-to-floor height, seat-to-arm height, and back dimensions.
Q: Do you need a prescription for a wheelchair?
A: You do not need a prescription unless you plan to submit an insurance claim to have the cost covered.
Summary
Since a pediatric manual wheelchair can be a significant tool in expanding a child's world and enhancing development and life satisfaction, it's important to find the model that will provide the most opportunities for freedom of exploration.
The Wallaby Folding Pediatric Wheelchair is our top pick because it is a cost-effective feature-packed mobility device that provides a high level of flexibility and adjustability. It fits in the seat or trunk of most vehicles and compactly folds up easily for transport or storage. Its two seat widths provide growth adaptability so you can count on this durable chair serving your child for a long time.
If you still haven't found what you're looking for, view our entire selection of Pediatric Wheelchairs. You can also read about products for special needs children and adults, and you can stop by Caregiver University to research additional reviews and buying guides.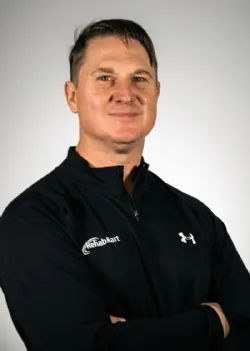 Author:
Co-founder/CEO of Rehabmart, Pediatric Occupational Therapist, husband, and father. Passionate about connecting special needs kids with superb nutrition, sensory integration, and complementary health strategies. Excited about Rehabmart's mission to become the premier online educational platform which empowers caregivers by spotlighting innovative devices and interventions to achieve optimal patient response and recovery.