If you have a power wheelchair for daily use, even with its many advantages, it can be cumbersome to use while traveling. Still, mobility challenges don't have to be mobility barriers. When you want the function of your daily use wheelchair and the convenience of a portable electric wheelchair while you're out exploring the world, a power wheelchair for travel and outdoor use can meet your needs.
The Top 5: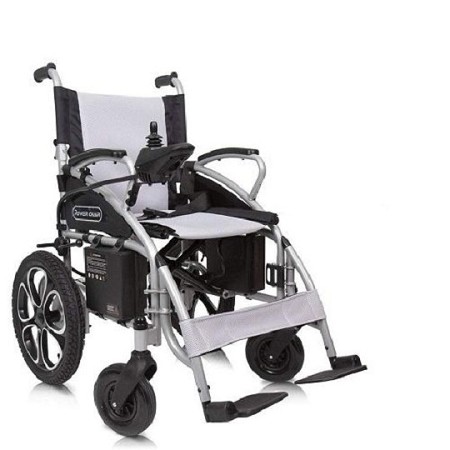 The compact all-terrain Compact Folding Power Wheelchair by Vive Health at number 5 on our list is super comfortable and highly maneuverable.
This portable electric wheelchair is perfect for outdoor use, deftly navigating over grass, gravel, and pavement in addition to carpet and hard surfaces. It is outfitted with a 360-degree joystick style controller, safety horn, USB charging port, and speed controls. Its lightweight steel frame folds up in seconds for quick storage and convenient transport.
With a weight capacity of 220 pounds, this wheelchair's dual motors are powered by a rechargeable battery. It has a top speed of 4 miles per hour and a range of 12 miles per charge. The wide foam seat is plushly padded and has soft breathable material. It has 7.5-inch front tires, 15.7-inch rear tires, and a turning radius of 47 inches. The motors and controller each have a 1-year warranty.
This portable power wheelchair made our list because of its ability to navigate any terrain, eliminating barriers for its users. It is lightweight, easy to fold up, and user-friendly.
Features and Benefits
Frame is easy to fold up to transport or store when not in use
Steel construction is sturdy, stable, and durable
Maneuvers across any surface
Controls are simple and intuitive
Wide padded seat is comfortable and supportive
Customer Feedback
Pros
Easy to fold up
Really does handle any terrain
Dual motor is reliable
Fits into a car trunk
Plug it in to charge when it arrives, then enjoy the independence it provides
Cons
At 95 pounds, it's not light when lifting it into a trunk
Seat could be a tight fit for people with wider hips
The highly adjustable Travel-Ease Portable Folding Power Wheelchair by Merits provides a comfortable and customized user experience, and has earned the number 4 spot on our list.
Its 12.5-inch drive wheels and 4.8-inch ground clearance of this portable electric wheelchair enable it to maneuver safely over uneven terrain including grass and gravel. You can choose from a programmable controller with a wide range of selections, or keep it uncomplicated with the non-programmable controller. The adjustable armrests can be flipped up and away for easy transfers, as do its Swingaway footrests.
This mobility aid is a great wheelchair for travel. The chair and its battery tray fold for portability and convenient storage. It has an intelligent, regenerative electromagnetic brake system. Available options include auxiliary brakes, extra cushions, oxygen tank holder, and elevating legrests. With a top speed of 4 miles per hour, it can comfortably and safely accommodate users weighing up to 300 pounds, with a range of up to 18 miles on a charge.
This durable portable electric wheelchair made our list because of its durability, adjustability, and ability to safely transport users over uneven terrain. It comes with a lifetime frame warranty.
Features and Benefits
Folds for easy transport or storage
Adjustable armrests flip up and out of the way to facilitate transfers
Swingaway footrests offer simpler chair entry/exit
Programmable or non-programmable controller to suit your needs
Large travel range provides an accommodating user experience
Customer Feedback
Pros
Like a combo jungle gym and a tank
Great for off-path exploring
Removable arms make getting in and out of it so easy
Opens up the world for people who depend on wheelchairs
Cons
It's heavy
Would appreciate a bariatric version for larger users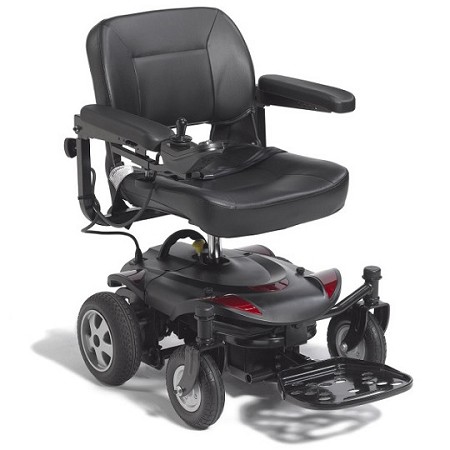 Named the number 3 choice on our list, the Titan LTE Portable Power Wheelchair by Drive Medical has a unique frame that is quickly disassembled.
This innovative powerchair has an attractive, contemporary design that's packed with convenient user-friendly features. The break-apart frame makes it easy to prepare this mobility device for assembly, disassembly, storage, and transport. The programmable Bluetooth joystick controller makes operating this portable electric wheelchair a breeze. It has a weight capacity of 300 pounds and has a maximum speed of 4.2 miles per hour and a range of 8 hours per charge.
Available adjustments include an adjustable-length controller mount, the height, width, and angle of the padded and contoured armrests, and the height, depth, and angle of the flip-up footplates. You can choose from interchangeable color panels to create your preferred look. It has an ergonomic seat, which swivels in 45-degree increments to facilitate transfers, and has a positioning belt for safety. The non-marking tires won't go flat and can easily traverse indoor and outdoor spaces.
The ease of disassembling this portable power wheelchair makes it our number 3 pick, and it comes with a limited lifetime warranty on its uniquely designed break-apart frame.
Features and Benefits
Unique frame allows for convenient disassembly
Highly adjustable
Padded, contoured seat and armrests
Non-marking, no-flat tires keep it rolling over uneven terrain
Programmable Bluetooth controller
Customer Feedback
Pros
Turns on a dime
Lightweight, easy to take apart for transportation
Quiet, and the brakes don't thunk loudly like other chairs
Large caster wheels
Sturdy
Cons
Takes time to get used to the sensitive joystick
Charging port is in an awkward place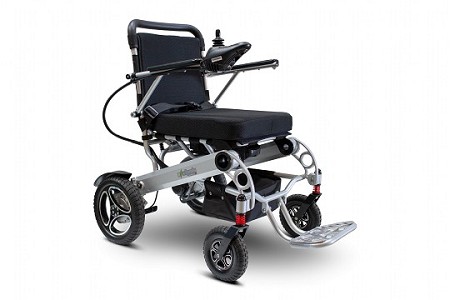 Landing at number 2, with a range of 9.7 miles, is the EW-M43 Power Wheel Chair by EWheels.
One of the lightest weight portable electric wheelchairs on the market, this model folds away quickly for easy transport. You can travel almost 10 miles between battery charges in this comfortable power chair with a top speed of 3.7 miles per hour. Its aluminum frame can accommodate users weighing up to 300 pounds.
The armrests fold down and the swing-away joystick controller can be mounted on the left or right armrest. The front-end suspension and 12-inch wheels make it possible to navigate all but the most rigorous terrain, so you can enjoy plenty of outdoor adventures. The seat has removable storage for personal items and the anti-flat, anti-tip wheels contribute to the durability and long service life of this quality-built mobility aid.
It's lightweight frame, ease-of-use, and range of almost 10 miles have made this power portable power wheelchair one of our top choices for the best power chairs for outdoor use.
Features and Benefits
Long range between battery charges
Portable lightweight design allows for easy storage and transport
Top speed of almost 4 miles per hour
Directed by responsive left or right mounted joy stick
Ample storage
Customer Feedback
Pros
Very comfortable
Fits easily into the car trunk
Lots of features
Good price point
Cons
Instructions were not easy to follow
Only comes in one color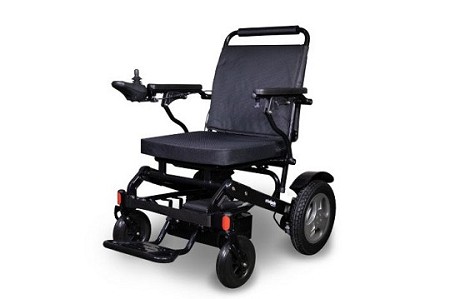 The extra-long range of 15.5 miles between charges allows users of the EW-MRT Power Wheelchair by EWheels to enjoy more freedom and independence.
With a weight capacity of 400 pounds, this chair can serve a wide range of users who seek to overcome limits and be as mobile as they possibly can. The aluminum frame folds in half, which makes it simple to transport without having to take it apart. One of the lightest portable power wheelchairs, it weighs just 59 pounds and can be brought along for airplane travel.
Users ride in comfort with a padded backrest, 18-inch wide padded sling seat, and rear-wheel shock absorbers. It comes in black, silver, or orange so you can express yourself while you're out enjoying yourself. And if you're staying indoors, the chair's width and turning radius make it easy to maneuver around the house, including through standard doorways.
Features and Benefits
Foldability of the chair allows you to take it with you on flights
Can be driven around on most terrains.
Joystick control allows for maneuverability in tight spaces
Suspension provides ample shock absorption for a smooth ride
Washable seat cushions provide comfortable support and are easily cleaned
Customer Feedback
Pros
Wheels can handle uneven surfaces, even mud
Comfortable for a plus-size person
Battery life is great
Easy to charge batteries
Cons
Doesn't lock in the folded position
Better performer outdoors than indoors
Features to Consider When Purchasing a Power Wheelchair for Outdoor Use
Portable electric wheelchairs provide users with a convenient option for maintaining their independence while out adventuring. Aside from being lighter than daily use models, these wheelchairs offer different features you can choose from to ensure you find the one that will provide you with the best user experience.
Comparison to Daily Use Chair
Assess which features in your daily use power wheelchair that are the most helpful to you. Think about the attributes of your regular wheelchair that will be most valuable to you while you are venturing out, and search for a chair that offers those benefits.
Weight
All power wheelchairs for travel and outdoor use are lighter than their daily use counterparts, but keep in mind how you'll be transporting your portable chair, and who will be doing the lifting. Your ideal chair is one that can be moved easily from a car, bus, or baggage claim at an airport.
Sturdiness
Even though it's not built for all-day-every-day use, a portable power wheelchair still needs to be sturdy enough for you to know you can confidently rely on it for safe mobility while you're traveling.
User Friendliness
Any portable wheelchair for travel or outdoor use should be easy to set up, fold down, and use. You and anyone who will be with you to assist should practice with the wheelchair before traveling with it.
Ease of Transport
A collapsible design that is easy to operate with a smaller profile that allows for convenient storage, carrying, and transporting will make your travels more enjoyable.
FAQ
What is a travel wheelchair?
A travel wheelchair is lighter and collapses more compactly than a daily use wheelchair. For transport and storage, when a travel wheelchair is folded down, it's more like a piece of luggage than a mobility device.
SUMMARY
Using a wheelchair doesn't have to prevent you from getting outside, even off established paths! There are plenty of options available designed to open up the world for people who use power wheelchairs.
Our number 1 pick earned the top spot because of its long range between charges, big wheels that provide a smooth ride, and its lightweight foldable design.
Click here to view Rehabmart's full line of power wheelchairs and accessories for outdoor use. Visit Caregiver University for more information on how to choose the best electric wheelchair through our product reviews and buying guides.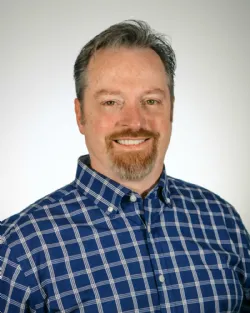 Author:
Co-Founder of Rehabmart and an Occupational Therapist since 1993. Mike has spent his professional career working in multiple areas of Occupational Therapy, including pediatrics, geriatrics, hand therapy, ergonomics and inpatient / outpatient rehabilitation. Mike enjoys writing articles that help people solve complex therapeutic problems and make better product choices.