Maybe it's a stabbing pain in the middle of the night or that prickling, tingling, burning sensation that bothers you during the day. Perhaps it comes and goes, or perhaps never goes away. Nerve pain can be a heavy burden, diminishing your quality of life. Infrared rays, which are long enough to reach deeply into your body's tissues, heal and even regenerate damaged nerves. An infrared heating pad is one of the best ways to relax tight muscles, relieve sore joints, and calm nerve pain.
The Top 5: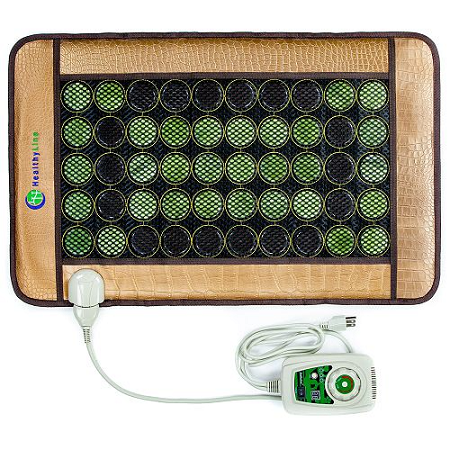 Perfect to treat hips, legs, and back, the JT Mesh Pad with Jade from HealthyLine relaxes your muscles for soothing relief and landed at #5 on our list of best infrared heating pads for nerve pain.
You can choose from a medium-size heating pad or a full-size mat with this progressive system, which brings together the benefits of hot stone therapy, far infrared therapy, and negative ion therapy to refresh and revitalize the user. The hot stones increase the effectiveness of the infrared light therapy while impacting pressure points to further relieve muscle tension. The embedded semi-precious tourmaline and jade stones represent the chakras and promote mind and body rejuvenation. It's like getting a spa experience in the comfort and privacy of your own home.
The pad and the mat are both lightweight and flexible, and they can be rolled up for storage and transport. They each come with a carrying case, making either one easy to travel with and use even when you're away from home. With far-infrared levels of at least 5-14 um and up to 21 functional layers, this high-quality non-toxic therapy system comes with a 1-year full warranty. The pad features 55 gemstones, is 32 inches long, and weighs 8 pounds; while the full-length mat has 154 gemstone pieces, is 72 inches long, and weighs 14 pounds.
For effective pain management, this easy-to-transport jade and tourmaline therapy system delivers infrared heat through your choice of sizes for a soothing smaller targeted or full-body treatment.
Features and Benefits
Comes in your choice of two sizes
Lightweight and flexible to roll up for storage and transport
Three integrated therapies
Made with genuine gemstones
Helps manage pain, stiffness, and inflammation
Customer Feedback
Pros
Expedites recovery from surgery or injury
Improved sleep in a short amount of time
Relaxing and helpful with anxiety and stress
Takes away achiness in cold weather
Better quality than other cheaper models
Cons
Not an inexpensive price point
Love the mat but it was too big and heavy for an overnight bag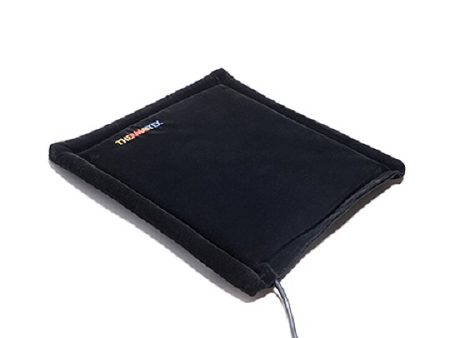 Our #4 pick, the Gold Infrared Heating Pad by Thermotex, can be used at home, the office, or even in the car.
Designed for use on the heavily muscled areas of the upper and lower back - you know, the ones that get so tight and sore - this pad can be used while you're sitting or lying down. Popular in clinical settings for patient use in the waiting area before treatment, this infrared heating pad provides relief from tendonitis, sprains, strains, arthritis, fibromyalgia, carpal tunnel, digestive problems, hemorrhoids, hip pain, whiplash, sciatica, TMJ, varicose veins, and plenty of other painful conditions.
It is 15 inches by 16 inches, with an infrared insert that is 11.5 inches by 13. 5 inches. It runs on 120 V electric power, and a power inverter that can plug into your car's lighter is also available if you want to use it while driving or riding. This infrared heating pad is a registered medical device with the US FDA. It does not heat higher than 113 degrees so it will not burn or dehydrate your skin like standard heating pads can.
With no side effects, this infrared heating pad will calm nerve pain through effective, non-invasive, non-addictive deep treatment.
Features and Benefits
Can use while sitting or lying down
Can plug into car's lighter and be used while driving
Versatile, effective deep heat therapy
Perfect for heavily muscled areas of the upper and lower back
Single element is easy to use and comfortable against the skin
Customer Feedback
Pros
Helps rest herniated discs
Reaches deeply into the back to treat vertebrae and disc issues
Holds up to heavy daily use for years
Helps fatigued muscles feel better
Encourages good posture
Cons
Soft side doesn't heat up, only the hard side
Takes several minutes to warm up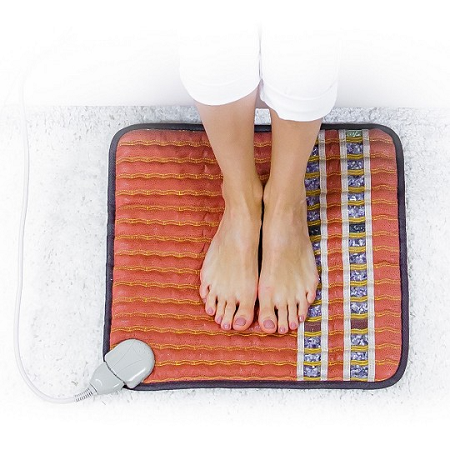 #3 on our list, the Small TAO Mat with Jade and Gemstones by HealthyLine, allows you to provide targeted relief to your feet or lower back with soothing holistic therapy.
Completely embedded with genuine tourmaline, amethyst, jade, and obsidian gemstones, this mat integrates three therapy styles to provide a deeply healing localized therapy experience. The soft surface makes it ultra comfortable, and it's flexible and foldable for transport in its convenient carrying case. This mat's functions are controlled with a user-friendly handheld controller and it's easy to take along for pinpoint specific treatment while you're traveling. It's popular with doctors, chiropractors, and massage therapists as a holistic therapy solution.
The hot stone therapy reduces muscle and joint pain and inflammation, and pressure points are impacted by the embedded gemstones that reduce soreness. Far infrared rays and negative ions that cleanse the immediate environment of hazardous agents are conducive to improved mental and physical well-being. This mat's infrared rays penetrate 4 to 6 inches into your body's tissues, decreasing pain, inflammation, stiffness, and soreness. It will also increase circulation at the point of contact.
This mat boasts ¼ pound of tourmaline, ¼ pound of obsidian, and a generous 2 pounds of amethyst and comes with a 1-year warranty. It is ready to deliver targeted relief to whatever area needs it the most.
Features and Benefits
Direct infrared therapy for specific areas
Reduces stiffness, soreness, and inflammation
Utilizes three complementary therapy styles
Lightweight, foldable, portable
Great for feet and lower back relief
Customer Feedback
Pros
Releases tight muscles
Incredibly relaxing
Surprising degree of pain relief
Improves quality of life by markedly reducing chronic pain
Cons
20 min to warm up
Strong plastic smell
The soft hypoallergenic fleece lining of theAt-Home Deluxe Infrared Heat Therapy Pad by Venture Heat Therapy makes our #2 choice one of the most comfortable far infrared heating pads you can find.
This FDA-approved device provides deep heat penetration without bulky coils or hot spots. The long-lasting relief it delivers comes from improved blood flow and oxygenation, which helps relax aching and overworked muscles. This reoxygenation in the body's tissues helps stimulate the natural healing process. Recommended by physical therapists, the light waves between the visible and microwave spectrum of this heating pad go as deeply as 3 inches into your muscles and bones, efficiently using less overall heat.
It has a built-in low voltage plug that works with any standard outlet, so you can take this infrared heat therapy pad to the office to help you throughout your day spent in an office chair. It has one extra-large flex panel heating element and three heat settings of 88, 97, and 110 degrees. It has an auto timer that shuts off after no longer than 60 minutes.
This comfy cozy infrared heating pad is soothing to cuddle up with, allowing you to enjoy the muscle relaxing and deep tissue healing properties of our number 2 choice among top infrared heating pads for nerve pain.
Features and Benefits
Plugs into any standard electrical outlet
Soft fleece lining is hypoallergenic and super comfortable
Soothing and effective infrared heat therapy
Versatile design makes it easy to use at the office
Far Infrared Radiation requires no coils or hot spots
Customer Feedback
Pros
So comfortable and soft against the skin
8-hour continuous cycle
Provides quick muscle relaxation
Great after chiropractor or massage appointment
Big enough to apply over full arm or leg
Cons
The cord seems thin
Wish it was bigger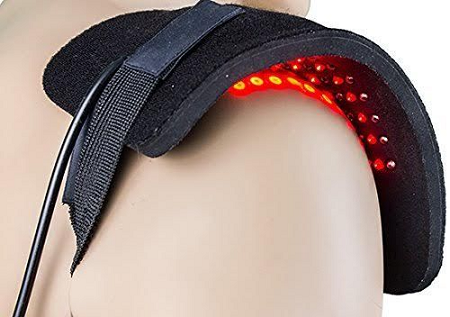 Our #1 choice, the DPL Deep Penetrating Infrared Flex Pad Light Therapy System by LED Technologies, fits the contours of treatment areas on your body to deliver comfortable treatment to very specific areas.
Cleared by the FDA, this infrared flex pad is lightweight and great for anyone who has body and aches and pains from inflammation. Treating one 8-inch by 5-inch area at a time, with 20-minute treatments several times a day, you can get all-over relief. The LEDs are mounted on a flexible circuit board that is inserted into a neoprene pad then worn comfortably wrapped around the affected area.
Sixty medical-grade infrared lights activate high levels of natural healing by increasing circulation and oxygen while removing toxins. Arthritis, inflammation, muscle spasms, nerve injuries, neuropathy, strains, sprains, tight muscles, and joint pain can all be relieved with the use of this therapy system. It aids in injury recovery and daily chronic pain management. It has a USB port for power, so it can be used with a wall outlet or car lighter. It's built to last and comes with a 1-year warranty.
Our #1 choice provides the convenience of being able to plug it in anywhere and take it along for travel, the customized therapy experience from a wrap that fits the contours of your body, and makes a difference in as few as 20 minutes a day.
Features and Benefits
Accelerates healing, relieves pain, and improves circulation in as few as 20 minutes a day
FDA approved
USB power makes it easy to travel with
Customized contoured fit
Deep heat penetrates several inches into the body's tissues
Customer Feedback
Pros
Provides relief to a large area of pain
Lightweight, semi-portable
660nm and 880nm of light
Both infrared and LED lights are used
Cons
Must always be plugged into some outlet to be used
High price point
Features to consider when purchasing an infrared heating pad for nerve pain
There are so many options to choose from when shopping for an infrared mat or heating pad. It can be overwhelming, especially if it's your first time buying one and you're not sure how to find the right heating pad to relieve your nerve pain. Comparing some standard features will allow you to make an informed purchasing decision.
Certifications
Since not every infrared heating pad available has passed U.S. government safety standards, look for the information referring to FDA registration to ensure it meets adequate safety standards.
Fill Material
Some infrared heating pads are filled with amethyst, jade, or tourmaline, with each of these gemstones providing unique healing benefits. Other infrared heating pads don't have gemstones, relying only on an infrared heating function.
Area of Use
Infrared heating pads and mats come in a wide range of sizes so you can treat every part of your body. Larger mats that cover an entire mattress are great for people who need full-body treatment. Smaller versions can target specific smaller areas of the body, while there are also pads designed specifically for a certain body part like legs, arms, or stomach.
Time to Heat
There are models that heat up in seconds, and others take up to 20 minutes. Another timing issue is how long an infrared heating pad or mat will stay heated.
EMF Radiation
These heating pads and mats can expose users to unnatural electromagnetic radiation, which can impact their sleep, cognitive functioning, and general health and wellbeing. Models that provide EMF protection will neutralize this threat.
Price
There is a vast difference in pricing, based on size and features. Heating pads with natural stones will cost more than one without them, and larger mats will usually cost more than infrared heating pads that cover smaller areas.
FAQ
Q: Are infrared heating pads better than regular heating pads?
A: If you are looking for healing that comes from deeply penetrating heat, infrared heat can go deeper into your body than heat from a regular heating pad, and your body retains infrared heat longer.
Q: Do infrared heating pads really work?
A: Many studies have been conducted, including a double-blind study that showed infrared heating pads reduced chronic back pain by 50 percent over a six-week period. Infrared heating pad therapy has been registered by the FDA as safe and effective for many medical conditions.
Q: Who should not use an infrared heating pad?
A: If you are insensitive to heat and can't feel hot or cold sensations, or if you are not able to remove the heating pad from your body, you should not use one..
Q: Does infrared heat help inflammation?
A: Yes. Inflammation occurs when there is a lack of oxygen to an injured area. As infrared light from an infrared heating pad seeps beyond the skin to deeply penetrate the body's soft tissues, cell mitochondria produce Adenosine Tri-Phosphate, which releases nitric acid and oxygenates blood. This improves circulation throughout the body and reduces inflammation.
Q: What are the benefits of an infrared heating pad?
A: Pain relief, detoxification through perspiration, stimulation of endorphins, increased metabolism, improved blood flow, quicker recovery after exercise, deep penetration of heat, boosted immune system, decreased muscle tension, reduced joint pain, relief from swelling and inflammation, induction of relaxation leading to deep sleep, skin rejuvenation, and feelings of wholeness, health, and wellness often follow treatment sessions.
Q: Are infrared heating pads bad for you?
A: Depending on the infrared light wavelength, thermal or heat injuries can happen. Also, infrared heating pads should be used in conjunction with, and in not in place of, prescribed medications and recommended therapies. Pregnant women, people with heart diseases, and those who are sick should not use a heating pad.
Q: Are infrared heating pads good for nerve pain?
A: When the protective layer around the nerves dies from being without adequate blood supply, it causes neuropathy. Because it increases blood flow, infrared light therapy can provide temporary relief and reduce pain by delivering oxygen and nutrients to the nerve.
Conclusion
Nerve pain can wreak havoc on your everyday life, ranging from intermittent prickly feelings to constant debilitating pain. The deep penetrating heat from infrared therapy can help nerves get the nourishment they need to heal themselves.
In addition to delivering effective infrared light therapy, our number 1 choice is super convenient, fits your shape to get the most direct treatment possible, and in just 20 minutes a day can make a difference in your quality of life.
If you still haven't found what you are looking for, check out Rehabmart's 5 Best Infrared Light Therapy Devices. Rehabmart has many Infrared Heating Pads, Far Infrared Heating Pads, and Heating Pads For The Back from manufacturers dedicated to delivering the highest quality infrared therapy!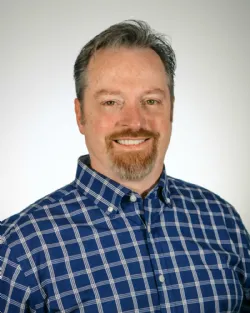 Author:
Co-Founder of Rehabmart and an Occupational Therapist since 1993. Mike has spent his professional career working in multiple areas of Occupational Therapy, including pediatrics, geriatrics, hand therapy, ergonomics and inpatient / outpatient rehabilitation. Mike enjoys writing articles that help people solve complex therapeutic problems and make better product choices.