Do you have chronic pain? You're not alone in your fight against this frustrating condition.
According to the Centers for Disease Control and Prevention, as many as 50 million Americans experience chronic pain on a daily basis.
For you and others like you, your pain management goals are likely not just about alleviating symptoms.
It's undoubtedly as important that you regain an active lifestyle, restore your physical function, maximize your independence, and improve your physical and mental health.
Unfortunately, the conventional medical approaches to pain relief, namely surgery and medications, often fail to help people achieve these goals. These interventions, while necessary in certain instances, can impose several problems:
They don't always address the underlying cause of your pain and instead only mask your discomfort. At worst, they can actually increase your pain. One example of this is a growing phenomenon known as failed back surgery syndrome. More recently called post-surgical spine syndrome, this occurs when people who undergo spinal surgery for chronic back pain end up feeling no better if not worse than they did pre-operatively. It's believed to affect as many as 40% of back surgery patients.
They can be incredibly expensive. Plus, prolonged downtime and recovery periods following surgery may keep you off your feet and out of work, leading to lost wages and other types of financial strain.
They can come with unpleasant side effects that make it even harder for you to get active—even though we know exercise may help reduce pain severity and improve function and quality of life. In some cases, the side effects of surgery or medications can even put your health at risk. For example, narcotics and other types of pain-relieving drugs are considered a significant risk factor for falls among the elderly.
Certain medications can be addictive—we only need to look to the current opioid epidemic in the United States for a sobering reminder of how dangerous opioids can be. According to recent statistics from the National Institute on Drug Abuse, nearly 30% of people prescribed opioids for chronic pain end up misusing these drugs. As many as 12% will develop an opioid use disorder. Incredibly, we lose 130 American lives every day to opioid overdoses—that's more than the number of deaths caused by firearms and car crashes.
Clearly, surgery, medications, and other types of conventional pain management techniques are not a panacea for the widespread chronic pain problem.
Fortunately, consumers have many other options for non-invasive and drug-free solutions that may provide much-needed relief, even in the comfort of their own homes.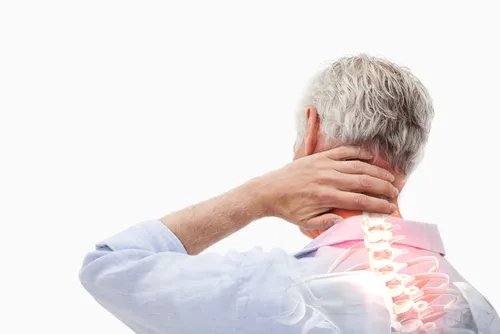 The Best New Products for Non-Invasive Pain Treatment - Without Drugs or Surgery
The following products are among the most innovative pain relief tools available on the 2019 market. They can provide relief when surgery, drugs, and other conventional medicine techniques just aren't doing enough for you or your loved one.
Importantly, regular and individualized use of these pain-relieving tools can help you reduce your reliance on prescription or over-the-counter drugs.
They can also help you heal faster following surgery, if invasive procedures are indeed a necessary component of your pain management plan.
None of these products require prescriptions, incisions, or medications. Discover how they can help you start feeling better in as little as one use.
Portable Shockwave Therapy Device for Musculoskeletal Pain Relief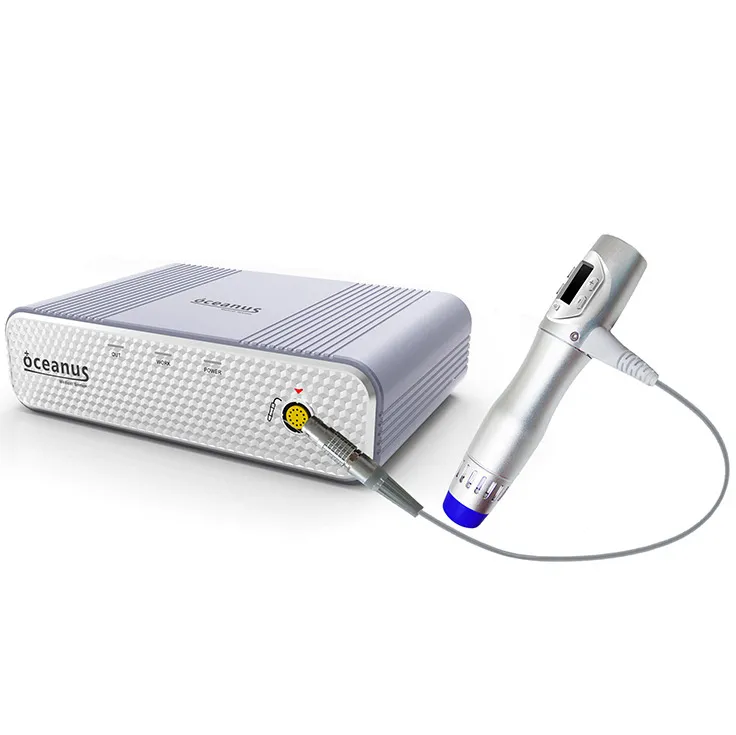 The Portable Shockwave Therapy Device is an innovative device designed that provides an effective, non-invasive solution to musculoskeletal pain relief. It works by stimulating your body's natural healing process to send fresh blood to the injured tissue.
This device is perfect for physiotherapy, rehabilitation, orthopedics, sports medicine, aesthetic medicine, and urological pain therapy. It can be used in-home, hospitals, clinics, and other medical settings.
This device is small, lightweight, and portable to enable easy pain relief and treatment of injuries wherever you go. The Portable Shockwave Therapy Device is user-friendly and has iOS and Android compatible apps. The control settings are located on the handle, making it simple to adjust. This device is also available in a full-sized model.
Users love the BioWaveGO because it's:
Portable
Stimulates your body's natural healing process
iOS and Andriod compatible
Light Therapy Panel for Red Light & Near Infrared Light Therapy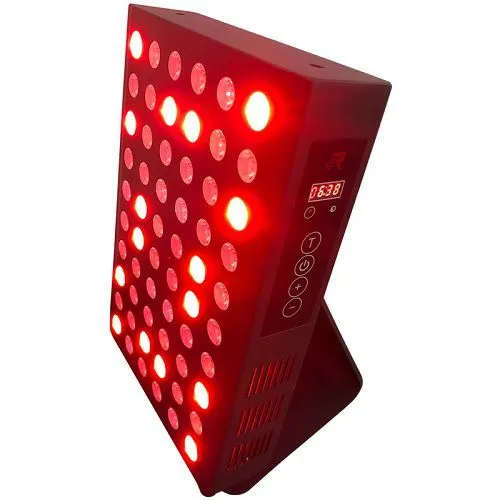 This Light Therapy Panel is designed for red light and near-infrared light therapy treatment. It can be used in professional and home settings, and be used by grandparents, athletes, and everyone in between.
What sets this device apart from other light therapy panels is its two patented technologies that offer literally hundreds of different treatment configurations. In contrast, other light therapy panels typically offer two treatment configurations: either a red light or infrared light. This ground-breaking technology, called QuadraFlux, allows this light therapy panel to powerfully emit 4 different wavelengths from red light to near-infrared light therapy. This maximizes the effectiveness of your treatment because the light can penetrate shallow and deep tissue. The second patented technology is called Smart Hz. Smart Hz allows you to adjust the wavelength, from continuous waves (CW) to pulsing, to anywhere in between.
This light therapy panel provides positive effects on a wide variety of conditions such as: arthritis, nerve pain, nerve regeneration, tendinopathies, soft tissue healing, musculoskeletal pain, sleep disturbances, anxiety, depression, and improves muscle performance and recovery.
Users love it because it's:
Helps tissue that is sick, degenerating, or injured
Designed for athletes, grandparents, and everyone in between
Backed by scientific studies, and a 2-year manufacturer's warranty
2 patented technologies that sets this device apart from other light therapy devices
Heatlux Pro II FDA Approved Pain Relief Device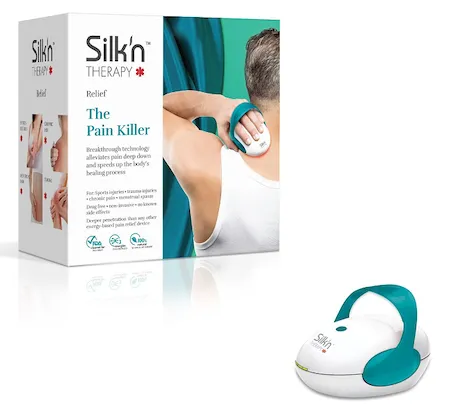 The Heatlux Pro II delivers FDA-approved pain-relieving energy sources into superficial and deep tissue layers for comprehensive relief.
Bipolar Radiofrequency (RF) Energy targets joints and muscles and can increase circulation; Low Light Laser Therapy alleviates stubborn muscle spasms; and Infrared and Red Spectrum Heat Energy corrects pain and stiffness.
This handheld device is ergonomic and portable, making it a great addition to your suitcase, gym bag, backpack, or purse.
Users love it because it's:
Versatile enough for many types of pain, including chronic pain, sports injury, and even menstrual cramps
Supports the body's natural self-healing capabilities
Comfortable and easy to operate
G-Force Compression Cryotherapy Back Brace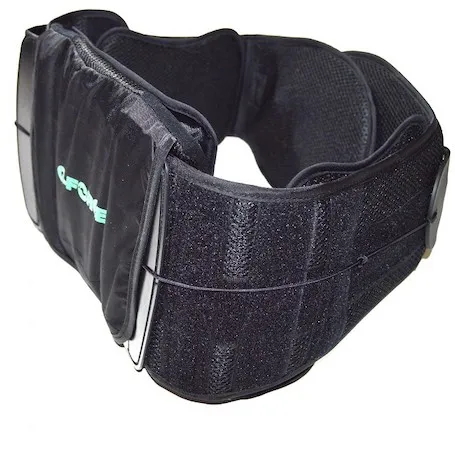 The G-Force Braces allow users to alleviate pain and inflammation both at rest and on the go, through workouts and daily life by integrating cold and compression in one convenient wireless device.
Cold and compression are both well-known for helping with natural pain relief and tissue healing (the famous injury management acronym "RICE" includes both ice and compression its recommendations).
This creative and durable back brace combines the best of both worlds by allowing the wearer to enjoy customizable therapeutic compression with the added benefits of cryotherapy.
Users love it because it's:
Adjustable to fit waist sizes from 24 to 70 inches
Speeds healing, reduces swelling, and alleviates pain
Offers customizable spinal support for improved back safety
Designed with removable gel packs for optional soothing cold therapy
Simple to put on and off thanks to sturdy Velcro and easy-to-use ergonomic pull tabs
Saunders Cervical HomeTrac Traction Device
At just 10 pounds in weight and with no assembly required, Saunders Cervical HomeTrac is easy for anyone to set up but can still provide up to 50 pounds of decompression.
Traction has a long history of use in physical therapy, chiropractic care, and other rehabilitation medicine fields.
How it works: a gentle traction force decompresses the spine, realigns vertebral joints, and creates a negative-pressure environment within the spinal discs to accelerate oxygen and fluids and help injured tissues heal.
The result: soothing relief of pain and tension and improved spinal health.
This at-home cervical traction device is ideal for alleviating pain from whiplash, tech neck, and related neck strain conditions.
Comes complete with a simple carrying case for on-the-go pain relief anywhere life takes you.
Users love it because it's:
Cost-effective
Easy to set-up and use anywhere within your own home for consistent daily use
Safe, comfortable, and easy to control with a hand-held pressure gauge monitor
Designed to direct traction toward the occiput (back of the head), thereby reducing the risk of TMJ compression
Conclusion
Surgery and analgesic medications—including over-the-counter and prescription drugs—can be beneficial for some people dealing with chronic pain.
However, these options can present very real issues—including side effects, high cost, and ineffectiveness—that consumers should be made aware of by their medical team.
Keep in mind that you should never stop taking any medications without consulting with your physician.
That said, you should feel free to explore adjunct pain relief solutions such as the ones listed in this article as a way to decrease your reliance on drugs, avoid surgery, or even improve your wellbeing long-term!
To learn more about our innovative pain relief solutions and discover other ways to optimize your health, visit Caregiver University for all the best caregiving tips and tricks!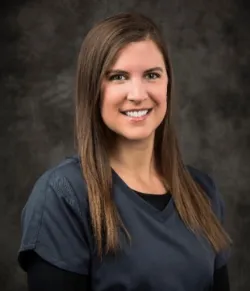 Author:
Sara McEvoy, PT, DPT, is a licensed and board-certified Doctor of Physical Therapy. She has direct clinical experience within the long-term acute care and skilled nursing settings, and has a special interest in geriatrics and neurological rehab. She is also a freelance writer who creates content almost exclusively within the health and wellness fields.