For children and teens who need help walking, walkers designed especially for the needs and bodies of younger users are a powerful boon.
Often called gait trainers, pediatric walkers frequently offer a range of features above and beyond the walkers provided for adults, so that they can provide better support for kids moving through their unique lives.
Whether a child needs short-term support after an injury or illness or due to a long-term disability or medical condition, walkers both anterior and posterior are a great solution for safe and comfortable mobility.
Posterior vs Anterior Walkers
Posterior walkers, also known as reverse walkers, are actually more similar in configuration to gait trainers than they are to anterior walkers.
While anterior walkers require users to place the walker in front of them to ambulate, posterior walkers are designed to provide support in the back of the user.
Current research has demonstrated that the majority of young walker users prefer the posterior walker design, along with their parents, caregivers, and therapists.
While forward-facing anterior walkers can often cause users to slouch and take shorter steps, the switch to a posterior format has been shown to improve hip extension and overall posture, resulting in a longer, more natural and stable gait pattern.
Posterior walkers and gait trainers also tend to promote improved balance, as the user's center of mass is placed safely within the base of the device's support.
Top 5 Best Pediatric Posterior Walkers
The Top 5:
With the wide variety of innovative posterior walkers and gait trainers for children and teens available in today's market, it can be overwhelming for parents and caregivers to choose the best design for their child.
That's why we've done the hard work for you. We took our 30 years of medical knowledge plus our familiarity with our product catalog and used them to lay out the five best pediatric posterior walkers on the market.
Based on performance, functionality, ease-of-use, durability, and adjustability, along with the actual customer feedback of using this equipment in real, daily life, these are our top five pediatric walkers of 2019.
5. Snug Seat Crocodile Gait Trainer Walker by R82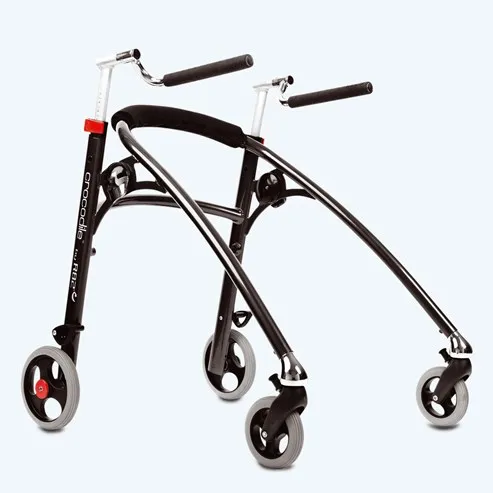 As a distinct customer favorite for many years, the Crocodile Gait Trainer Walker provides versatile use for a wide range of special needs, and simply must be included on any best posterior walker/gait trainer list.
Aiming for harmony, balance, and rhythm, this posterior walking aid is lightweight and easy to use, providing full mobility and freedom for its young users.
In its most basic model, the Crocodile offers lockable wheels, anti-rollback and tension adjustment on the rear wheels, width and height adjustability, and changeable handles.
Multiple assistive options are available to further customize its use to suit every child's unique positioning and stabilization needs, including a seat, frame options, trunk positioning, and pelvic positioning.
Available in three different sizes to fit very small toddlers to adult-sized teens, these sizes will accommodate changes in your child's growth with the adjustable height and handles, enabling its use for several years before needing the next size up.
Additionally, the Crocodile folds down for easy, compact storage and portability, making it easy to toss in the back of a family vehicle or bus for outings.
Features & Benefits
Accommodates your child's growth with width and height adjustability
Tension is adjustable on wheels, and the anti-rollback wheel lock prevents accidental movement
Durable and strong for dependable daily usage, but lightweight is easy for children to maneuver
Multiple assistive positioning and stability supports for perfect customization
Can be utilized for gait training, or as walking support
Customer Feedback
Pros:
The 360-degree swiveling front wheels enable greater freedom and maneuverability
Traverses all kinds of terrain, flooring, and carpeting with ease
Exceptionally stable and sturdy, especially for such a lightweight design
The flip-up seat is helpful for users who tire, and will not impede movement
Easy to fold and lock wheels in place, so it can be stored/stood vertically without popping open
Cons:
Width may be too wide for some doorways
The arms of the gait trainer may need to be removed for easier folding
Heavy-duty design can be difficult to safely maneuver through a home without damage
4. Pediatric Kaye Posture Control Walker by Kaye Products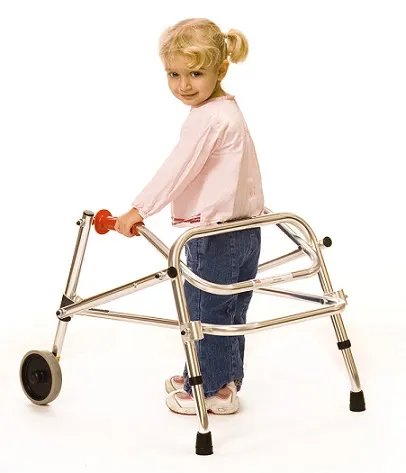 As one of the most affordable posterior walkers on our list, the Pediatric Kaye Posture Control Walkers are a popular choice with both parents and therapists alike.
Available in both two and four-wheeled configurations and five different sizes, these posterior walkers will accommodate toddlers to shorter adults with durable performance.
Another name for posterior walkers, the posture walkers from Kaye Products help improve gait characteristics and posture, advancing stride and step length, along with better cadence and spinal alignment.
Kids expend less energy, and walking is more comfortable, enabling them to ambulate longer distances.
The "R" walkers from Kaye include four wheels, and are designed to move forward with each step. Their ratcheted rear wheels prevent the walker from rolling backward and help encourage a stance-swing ambulation pattern with normal reciprocal rhythm.
The "S" walkers from Kaye feature swiveling front wheels to provide greater ease with turning and maneuverability. Lockable for straight-ahead tracking and safer forward motion, the swivel wheels can be unlocked for simpler usability in homes or classrooms.
These "B" framed posture walkers will easily accommodate add-on accessories, like a suspension kit, seat, pelvic stabilizers, soft sling support, and more, making customization for suiting special needs a simpler process.
Features & Benefits
Available in 5 different sizes to fit small toddlers to shorter adults
Foldable for convenient portability and storage
Choose from various wheel configurations, including two or four wheels, and swiveling
Improves postural alignment while ambulating
Supports stability, balance, and components of gait
Multiple add-on supports to customize use for children with a variety of special needs
Customer Feedback
Pros:
The ratcheted rear wheel design disabling the device from rolling or moving backward is a very appreciated safety feature
Improved posture over using an anterior walker, and more control
Provides a great support for simple standing, along with the walking assistance
Cons:
Not colored, or as aesthetically pleasing and engaging as some other pediatric walkers
While they offer some height adjustability, they are not as accommodating for your child's growth as some other models
3. Pluto Reverse Child Walker & Gait Trainer by Rebotec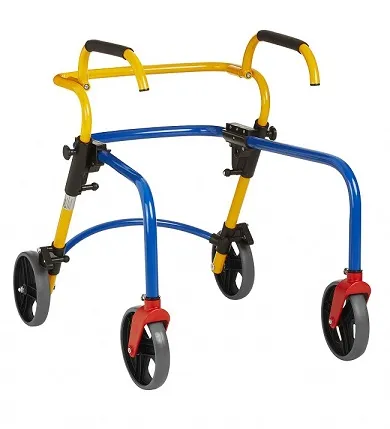 Easily securing the number three position on our list, the four-wheeled Pluto Posterior Walker from Rebotec is a brightly colored posterior walker-gait trainer that kids and teens love to use.
It includes a rear-braking system to prevent unintentional roll-back, and puncture-proof tires to further enhance safety.
Constructed with lightweight and durable aluminum, the Pluto comes in two different sizes and is height and width adjustable to accommodate your child's growth for several years.
Its German engineering ensures reliable daily performance to assist children with ambulation, and to rehabilitate movement and improve muscle development.
Easy for youngsters to control with its steerable front swiveling casters and fixed rear casters, the Pluto also offers an option of a comfortable and height-adjustable saddle seat for kids to use when they get fatigued.
Features & Benefits
Vivid colors encourage use by children and teens
Rear-braking system prevents accidental roll-back
Lightweight aluminum frame is easy for kids to handle, but extremely durable
Puncture-proof tires ensure safer utilization
Swiveling front casters and fixed back casters provide users more control
Two sizes, and height and width adjustable to accommodate your child's growth
Customer Feedback
Pros:
Kids of all ages love the brightly colored design
Swiveling front wheels allow for better maneuverability by younger, smaller users
Exceptionally durable, and easy to maintain for years of dependable use
Cons:
Does not have many supportive add-ons for children with higher physical involvement
Only designed for indoor use; cannot be used on rougher terrains
2. Nimbo Pediatric Posterior Walker & Gait Trainer by Drive Medical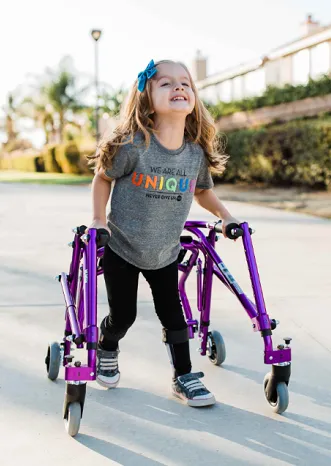 Easily one of the most popular pediatric posterior walkers on the market today, the Nimbo Posterior Walker by Drive takes the number two spot on our list.
Specifically designed to provide children a rehabilitative experience that is both safe and comfortable, this innovative device can be employed as a postural walker or as a gait trainer, providing a solution for multiple usage within one single unit.
Available in four sizes, the Nimbo offers some height adjustability to grow along with your child, and can accommodate youngsters up to 190 pounds in weight.
Its durable but lightweight aluminum frame ensures years of dependable performance, and helps children to increase stride length and velocity, while it additionally provides support to help them stand upright.
Three bright and engaging color choices encourage use by youngsters, and the Nimbo collapses with ease for simple transport and storage.
The smooth textured handgrip makes handing with small hands a breeze, while the front wheels can be locked or unlocked dependent upon specific user requirements and therapy goals.
Customize the Nimbo to your child's exact specifications with add-on supports such as a seat, forearm platforms, seat harnesses, and a pelvic stabilizer.
Features & Benefits
Height adjustability to accommodate your child's growth, available in four sizes
Aluminum frame is strong, durable, and easy for children to control
Non-slip rubber wheels, and front wheels are lockable
Selection of add-on supports to further customize use for specific special needs
Can be used as a posterior walker or gait trainer, encourages upright posture
Enable both forward and reverse mobility with the override bracket
Customer Feedback
Pros:
Works well on hills, uneven ground, and inclines, won't roll back with the locked wheels
Very well made, easy to open and then collapse back down again
The simplistic design is easy for young children to operate
Especially great fit for kids, with room to grow
Cons:
Be sure the Nimbo is assembled correctly; one user reported a tipping accident because someone had not assembled it the right way
1. Klip Pediatric Posterior Walker by Circle Specialty
The Klip Gait Trainer Pediatric Walker, takes the number one spot in our Top 5 Pediatric Walkers review due to its stability, versatility, and affordability.
The 360-degree swiveling front casters allow for easy-rolling maneuverability and can be accompanied by either back casters or rubber stoppers, depending on the user's needs for support in walking. This walker can also come with outdoor front casters allowing the child more options for community mobility.
The rubber tires of the casters are specifically designed to optimize traction for both indoor and outdoor surfaces and terrains, and adhere to the ground when in a fixed-direction mode, preventing backward sliding.
A foot-operated caster locking mechanism enables quick and easy stationary stoppage without having to bend down.
It can also be converted to an anterior walker by switching the front and rear legs, as children become more proficient with their posture while walking.
Features & Benefits
3 different, colorful height-adjustable frame sizes to accommodate your child's growth
Front dual swivel casters enable easy rolling maneuverability
Secure, stationary use and traction is enabled with the anti-slip tips on the back legs
Provides optimal traction on both indoor and outdoor surfaces along with exceptional adhesion to prevent sliding backward when in the fixed-direction mode
Casters are easy to lock with foot-operated latch, eliminates the need to bend over
Customer Feedback
Pros:
Each size has height adjustability, enabling it to grow along with your child
Helps to improve posture and spinal alignment while walking
Unparalleled traction with the ground compared to other walkers
Won't slide backward or move unintentionally, very safe for younger children
Cons:
Streamlined design limits the number of customization options available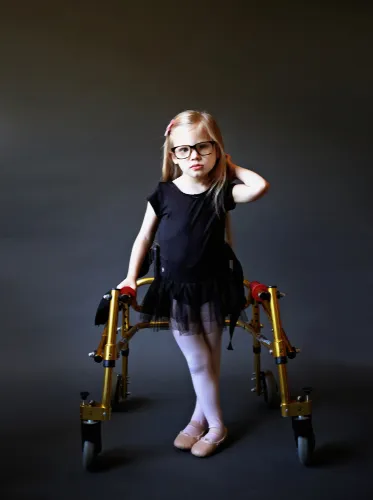 Conclusion
Designed for youngsters with either temporary or permanent walking impairments due to injury or disability, these "reverse" walkers generally encourage improved posture, speed, and other gait components, and won't exhaust the users like anterior walkers often do.
In our research for the best pediatric posterior walkers currently available, we found five that exceeded expectations, with the Klip from Circle Specialty as our top choice.
While all five offer a range of features that benefit specific users, the Klip is also the most affordable, and will additionally adapt to your child's growth, allowing each size to be used for several years.
The Klip pediatric posterior walker enhances the child's safety with its proprietary traction wheels, fixed-direction mode, lockable casters, and dual swivel rolling action combined with anti-slip tips on the back legs.
Learn more about the Klip and our other superior quality pediatric walkers and gait trainers at RehabMart, and find all the educational caregiving and special needs parenting support you require at Caregiver University.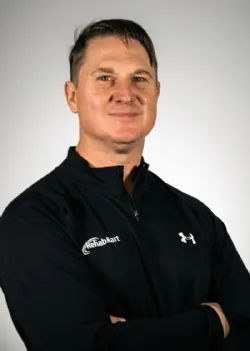 Author:
Co-founder/CEO of Rehabmart, Pediatric Occupational Therapist, husband, and father. Passionate about connecting special needs kids with superb nutrition, sensory integration, and complementary health strategies. Excited about Rehabmart's mission to become the premier online educational platform which empowers caregivers by spotlighting innovative devices and interventions to achieve optimal patient response and recovery.