Speaking. Thinking. Reasoning. Feeling. Learning. Our brains are responsible for all of these functions. Our brains are what make us who we are. Why then, should we not do everything in our power to protect them?
Some individuals with special needs are at great risk for a head injury. Whether you or someone you love is recovering from surgery, healing from a traumatic brain injury, or demonstrating headbanging behavior, special needs helmets can greatly lower the risk for head injuries and protect the part of us that makes us who we are.
The Top 5: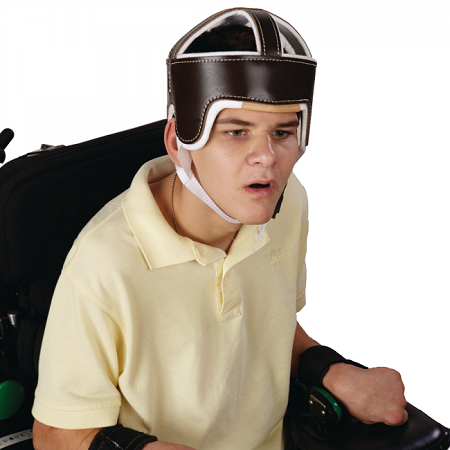 The soft yet durable Sammons Preston Protective Special Needs Helmet by Performance Health earns the 5th spot on our list due to its excellent balance between protection and comfort.
The outside of the helmet is a high-quality, brown leather which gives the helmet its strength. The sturdy, pliable material easily forms to you or your loved one's head and offers protection without sacrificing comfort. Furthermore, the interior felt lining is extremely soft, enabling comfort for use while out and about during the day and while sleeping at night. Fall asleep without the anxieties and stress of head injury with this autism helmet.
The Sammons Preston Protective Special Needs Helmet protects the front, top, and back of the head while simultaneously offering unobstructed vision due to its open-face design. You will have no issues seeing while wearing this protective helmet. Additionally, keep the helmet firmly strapped on using the adjustable chin strap. By offering 22-inch, 23-inch, and 24-inch models, Performance Health ensures a snug and secure fit. If you're at risk for head injuries and falling, you face enough stress. Let Performance Health remove some of your concerns with their protective and comfortable special needs helmet.
Features and Benefits
Outer leather material provides sturdiness and strength
Felt lining enables comfort during extended periods of use
Available in 22-inch, 23-inch, and 24-inch sizes
Adjustable chin strap for a perfect, stable fit
Does not obstruct user's vision
Customer Feedback
Pros
Comfortable and easy to sleep in if necessary
Opening on top allows breathability
Provides room for hair
Quick-connect harness makes chin-strap easy to buckle and adjust
Cons
White felt interior quickly became noticeably dirty
Chinstrap may irritate neck due to coarseness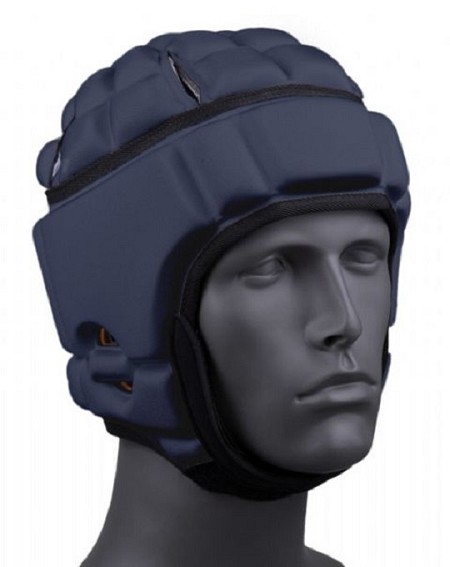 The Pro Soft Shell Sports Helmet with D30 Maximum Impact Protection by GameBreaker places 4th on our list due to its advanced full-impact absorption technology.
With the use of D30 technology and an innovative, foam shell, the material in this helmet stiffens upon contact to disperse and neutralize an impact force, then returns to its original soft and flexible state. During normal use, the helmet is very soft and comfortable yet provides the necessary, strong resistance required to keep you safe when an accident occurs. Don't worry about it falling off, either! The Pro Soft Shell Sports Helmet is available in six different sizes and has an adjustable hook and loop chin strip to perfectly fit your head size!
The last thing you want is for your helmet to start to smell. Luckily, this special needs helmet is washable and the breathable Lycra fabric even allows airflow throughout the helmet to prevent any stench from occurring. Allow the Pro Soft Sports Helmet to cool you down and eliminate sweat in the first place! Choose between seven color options and stay safe, stylish, and cool with the Pro Soft Shell Sports Helmet.
Features and Benefits
Available in six different sizes and seven different color options
Adjustable hook and loop chin strap creates a snug fit for all users
Shock absorption technology protects you against falls and other impact forces
Lycra fabric allows breathability
Customer Feedback
Pros
Soft and durable
Extremely easy to wash
With multiple size options and an adjustable chin strap, this helmet fits all
Great for everyday and sports use
Cons
Sometimes difficult to hear during use
Does not protect well again sharp objects (meant for blunt force)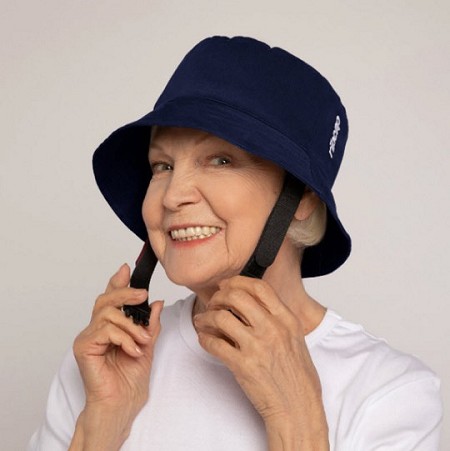 Protect your head in style with Ribcap's fashionable Bump Cap Billie Medical Grade Protective Helmet. Ranking #3 on our list, this special needs helmet keeps you safe without sacrificing comfort or good looks.
The Billie hat is perfect for anyone facing an increased risk of falling or exhibiting headbanging behavior. It stands up to repetitive impact with 360-degree protection and a "liquid foam" material that molds to your unique head shape. This autism helmet also boasts detachable chin straps and an easy-to-use, side-squeeze buckle clasp. Wear it however feels most comfortable and safe to you!
Not only does the liquid foam material create an individualized fit, but it allows breathability. Say goodbye to head sweat with the breeze created through the Billie hat's ventilation. It is also moisture-wicking to keep you cool and water repellent for in and outdoor use. Don't be afraid to adventure outdoors in the safety of this special needs hat! Not only will you impress your neighbors, but keep your head safe and out of harm's way.
Features and Benefits
360-degree cushioning provides protection for all of head
"Liquid foam" technology fits the helmet to each user's head shape
Easy-to-use, detachable straps for personalized wear
Water-resistant for outdoor use
Stylish bucket hat design perfect for men, women, and kids
Customer Feedback
Pros
Keeps head cool during use
Feels light and comfortable
Long-lasting
Aesthetically pleasing, perfect for all casual occasions!
Cons
Not machine-washable
Hat may come off during a fall if straps are removed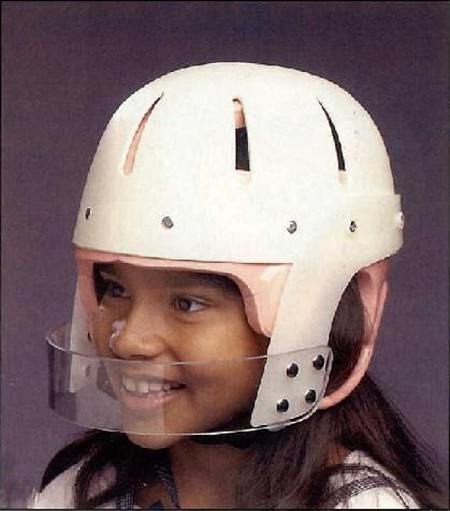 The Hard Shell Helmet with Face Bar by Danmar offers maximum protection for individuals looking for rear, side, and facial coverage, earning the #2 spot on our list.
This Hardshell helmet is made of shock-absorbent foam and is coated with vinyl, making it lightweight, strong, and even easy to clean. Facial protection is provided by a clear, strong bar which covers the mouth and decreases the risk of injury due to frontal impact. This feature makes it perfect for individuals demonstrating headbanging behavior, as well as balance issues. It also features an adjustable chin strap so you can easily snap the helmet in place.
Wearers are offered three free standard color options and custom liner colors at an additional cost. In order for proper fit, choose between seven different sizes and consider adding free Cush-In-Pads if in between sizes. Lastly, feel free to add an eyeglass relief area, a foam visor, ear coverings, rear hard shell extension, reinforced liner or seams, quick release chin strap buckle, or a custom strapping system for increased and customized protection. Get exactly the protection you need with the Hard Shell Helmet with Face Bar by Danmar!
Features and Benefits
Face bar provides frontal coverage
Wide variety of additional safety features available
Hardshell protects against all impact
Chinstrap keeps helmet still and in place
Vinyl material is easily cleaned
Customer Feedback
Pros
Protects all parts of the head
Sturdy yet lightweight
Face bar does not impact vision
Cons
Chinstrap is fragile and breaks easily
Slightly bigger than anticipated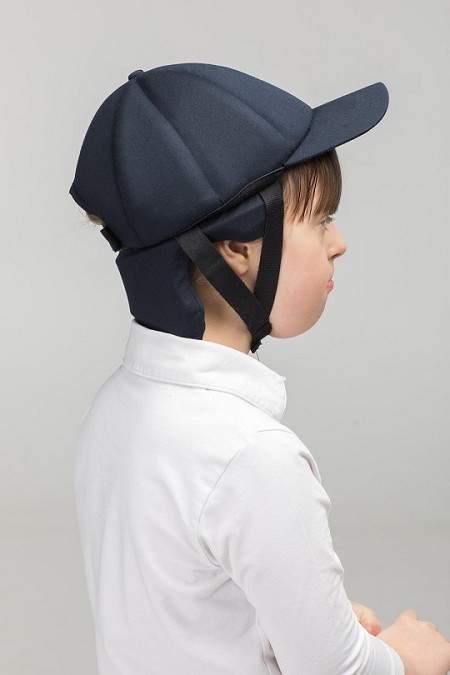 The gold medal goes to the Extra Protective Soft Helmet for Kids by Ribcap due to its high level of protection, stylish baseball hat design, and comfortable padding. With this autism helmet, you get it all!
The Extra Protective Soft Helmet is perfect for universal use. It features 360-degree foam protection against high-impact forces, so every part of your head it protected. It also has extra removable padding that supports the back of the wearer's head and added cushioning in the temporal region. If you're looking for maximum support, this autism helmet by Ripcap is perfect for you!
You can stylishly wear this in and out of the house as it's modeled after a baseball cap and will protect you in any environment. Don't fear, this special needs helmet is lightweight and breathable, so it will still be comfortable to wear in the heat of the summer. In addition, the Y straps avoid irritating the ears and are adjustable, ensuring comfortable all-day use and a perfect fit. Avoid any negative stigma of special needs helmets while still receiving utmost support with Ripcap's Extra Protective Soft Helmet for Kids.
Features and Benefits
Stylish baseball hat design
Entire-head protection against high impact forces
Removable back of head padding for varying levels of protection
Lightweight and breathable material
Y straps hold the helmet on the head while avoiding irritating ears
Customer Feedback
Pros
Extremely long-lasting without breakdowns or tears
Comfortable and children enjoy wearing it
Fully protects head during falls due to 360-degree padding
Cons
Only available in one size and color
Closing system can be difficult to fasten
Features to Consider When Purchasing a Special Needs Helmet
Coverage
Every helmet offers slightly different amounts and types of protection. For instance, some boast 360-degree support for the front, back, and sides of the head, while others are lightweight and focus on a greater balance between cushioning and comfort. Furthermore, look for autism helmets with extra add-ons if you want even more support such as the Extra Protective Soft Helmet for Kids. A full-coverage helmet is best for individuals prone to unpredictable, thrashing movements such as headbanging behavior and seizures. Partial coverage, on the other hand, should be worn by people with less aggressive and less sudden balance conditions.
Material
Just as special needs helmets differ in coverage, there is a wide variety of materials available as well. Most notably, some helmets are hard shells while others are soft shells. Find a material that is comfortable for you or your loved one because the best helmets can be worn for extended periods of time. For instance, the Sammons Preston Protective Special Needs Helmet has a very popular felt interior that is soft on the skin and prevents any irritating rubbing.
Style
What first comes to mind when you think of a helmet? Most likely, you imagine the bulky design of a bicycle helmet. With our special needs helmets, however, there's no reason to sacrifice style for safety. Whether you prefer bucket hats, baseball caps, or are looking for a more traditional helmet shape, RehabMart has an excellent option for you.
Frequently Asked Questions
Q: What are special needs helmets for?
A: Special needs helmets are safety devices meant to protect and support the head and brain of individuals with medical conditions that put them at a greater-than-average risk of injury. These helmets are different from a typical bicycle, baseball, or football helmet you might typically imagine. Special needs helmets protect individuals facing extraordinary circumstances in their life and are typically meant for longer use than a ride around the neighborhood or game in the park.
Q: Who wears a special needs helmet?
A: Special needs helmets are effective for many different situations and medical conditions. They are available for any age: newborns to teenagers to adults. Whether a child has a seizure disorder, traumatic brain injury, or is demonstrating headbanging behavior, a special needs helmet can protect them. In fact, a special needs helmet is ideal for any person at risk of serious, injurious falls.
Q: Can adults wear protective helmets?
A: Yes, special needs helmets can be advantageous for adults as well as kids. Adults with epilepsy or balance issues are just as at risk for falling as children with the same conditions, so protective headgear can be useful to prevent cranial injury for adults as well. Special needs helmets typically come in multiple sizes and are measured by head circumference. You can easily measure your own head and look for a fitting option online.
Q: What is an autism helmet?
A: Autism helmets are meant to absorb the impact of dangerous activities individuals with autism often partake in. For example, children with autism often use repetitive headbanging to express pain, confusion, and overwhelming emotions. This self-destructive behavior gives them a sense of control and often calms them, but can be extremely unsafe. These helmets prevent cranial injury by padding their head and minimizing impact. Autism helmets are often generalized and can also typically be used as and referred to as universal special needs helmets.
Q: Can you get an injury wearing a helmet?
A: While helmets do greatly reduce the risk of injury, they unfortunately do not make you invincible. It is still possible to experience injuries like a concussion, brain bleed, or fracture while wearing a helmet, so it is still important to take all safety precautions and attentively supervise anyone at risk of injury.
Q: What is a soft shell helmet?
A: A soft shell helmet is typically made from shock absorbent, foam material. It is meant to lower the force of impact and decrease the risk of concussion. Soft shell helmets are meant more for lesser force impacts (such as headbanging). A hard shell helmet, the antithesis, offers greater protection from penetration injuries but both types are excellent options to protect you or the heads of your loved ones.
Summary
Special needs helmets are excellent ways to safeguard someone recovering from surgery, with headbanging tendencies, or at a high risk of falling. With a strong yet comfortable helmet, protect the very part of you that makes you, you.
We awarded the Extra Protective Soft Helmet for Kids 1st place on our list because it offers maximum protection and also features a stylish, baseball cap design. Most notably, in terms of safety, we believe this special needs helmet's 360-degree padding and extra back of head padding set it apart. Baseball caps are extremely popular, so you or your loved ones have no reason not to be safe and show off!
View our entire catalog of Protective Helmets to see even more protective headgear options and check out Caregiver University for more Product Reviews and Buying Guides!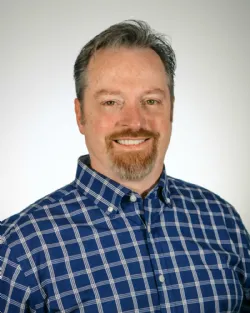 Author:
Co-Founder of Rehabmart and an Occupational Therapist since 1993. Mike has spent his professional career working in multiple areas of Occupational Therapy, including pediatrics, geriatrics, hand therapy, ergonomics and inpatient / outpatient rehabilitation. Mike enjoys writing articles that help people solve complex therapeutic problems and make better product choices.