This Geri Chair Buying Guide offers valuable insight into the buying process, answers frequently asked questions, and recommends our best geri chairs.
What is a Geri Chair?
A geri chair combines the best features of a comfy recliner and a transport wheelchair. Geri chairs provide comfortable support for all of your daily activities, including meals, watching TV, reading, computer time, and sleep. They also optimize health with their upgraded support, relieving pressure to prevent pressure sores, and multiple positions to optimize body functionality. These chairs are designed for optimal comfort, to be sat in for hours at a time, and to be easily moved from room to room. Geri chairs are a favorite seating solution in homes, assisted living communities, VA hospitals, senior community centers, physical rehab facilities, and even at schools.
Geri chairs are often called many names, such as geriatric chairs, geri recliners, positional care recliners, jerry chairs, convalescent recliners, and medical recliners.
Although they're named for and often utilized by geriatric adults, geri chairs are also widely used by people of any age who may be struggling with mobility challenges.
What Styles of Geri Chairs are there?
While most geri chairs are cushioned, wheeled, and reclinable, they do vary widely in design, size, and what kinds of benefits they offer. Understanding what each type of geri chair is used for can help you determine the best style to fit your needs. Below, we have listed the styles of geri chairs, along with our top-recommended products.
Standard Geri Chair
A standard geri chair is generally more basic in design and doesn't include a lot of extra features. Most standard geri chairs do not offer much ability to recline but do often come with footrests that can be raised to lift the user's feet. Almost always wheeled to enable portability, standard geri chairs also include some padding, making them a better, more comfortable choice for extended sitting than a transport wheelchair.
Pros
Extendable footrest to upraise feet
Usually the most economical choice
Basic padding for comfort
Wheeled base or casters enable transport
Usually more lightweight than heavily featured styles
Cons
Typically not reclinable
Might not provide enough support for users with more physical involvement
Lower weight capacity
3-Position Geri Chair
Facilitating three positions that include upright sitting, sitting with legs elevated, or full recline, 3-position geri chairs are usually a great choice for users with mild to moderate mobility impairment. They provide padded comfort that patients can spend all day in, with wheeled bases that allow transport. They're a great, all-around choice for users with temporary mobility issues who are recovering from surgery, an injury, or illness.
Pros
Three positioning options upgrade comfort over standard geri chairs
Cushioning, full recline, and elevated leg rest provide sleep support
Wheeled base or casters promote easy transport
Perfect support for temporary immobility
Cons
Patients with more severe mobility disabilities may require more positioning support
It may not offer enough comfort for people using a geri chair every day on a permanent basis
4-Position/Trendelenburg Geri Chair
Providing beneficial above-the-heart feet elevation, 4-position geri chairs are often used following surgery as they promote better circulation to enhance recovery. Also known as Trendelenburg or Zero Gravity geri chairs because they also allow above-the-head elevation of the feet, this kind of geri chair is often indicated for vein conditions, swelling/edema, pregnancy, lymphedema, and cellulitis. Its other two positions include upright sitting and TV recline.
Pros
Four positions for more complete therapeutic benefits
Ideal above-the-head/heart support to enhance circulation and reduce swelling
Frequently indicated for a variety of medical conditions and post-surgical concerns
More positioning options for customizable comfort
Cons
Can be heavier and bulkier than standard and 3-position geri chairs
Users with intellectual impairments may need help with positioning and getting the chair back to the upright position
Infinite Position Geri Chair
Unlike three or four-position styles where the footrest rises along with the reclining backrest, infinite position geri chairs enable independent recline from the footrest. This results in 'infinite' positioning options for the user to choose from in order to optimize their individual comfort. These geri chairs may also be powered or use hydraulics to ensure easier operation to change positioning.
Pros
The footrest and backrest operate independently of each other for infinite positioning options
May use power or hydraulics to enable easier positional adjustments
A great choice for long-term use for people living with more permanent mobility impairment
Separate articulation of different chair sections, such as the headrest
Cons
Higher price point
The powered operation can be adversely affected by power outages
Larger and heavier than standard or 3-Position styles, might not go through doorways
Tilt in Space Geri Chair
Often preferred for their effective pressure relief, tilt-in-space geri chairs are well suited for people prone to pressure injuries like decubitus ulcers. Instead of separate articulation of the footrest, seat, and backrest, the entire frame of the chair tilts back, resulting in very little movement required on the part of the user to change position. Perfect for immobile patients and those who experience significant pain with any motion, tilt-in-space functionality allows users to reap the benefits of different positions without having to make these movements themselves. This format is also frequently used by people who tend to lean forward when they sit, as just a slight tilt can keep them safely positioned and supported, preventing falls from the chair.
Pros
Minimizes any movement needed on the part of the user
Tilts into different positions as an entire unit
Minimizes pressure to mitigate the risk of pressure injuries
Comfortable support for patients living with chronic pain
Cons
Might not recline/tilt back as fully as other geri chairs
A caregiver will usually have to adjust the tilt
Geri Chairs Designed for Specific Medical Conditions
Aside from how many positions they offer, geri chairs also come in several different formats that make them better suited for specific situations. Here are some geri chairs that are great for specific medical conditions.
Chemotherapy
Because cancer treatments like chemotherapy infusions are demanding enough on a patient, it's important to ensure that they're kept as comfortable as possible during the process. An upscale geri chair that's both aesthetically pleasing and comfortable will help patients feel more at ease. Some geri chairs even come with optional heat upgrades - a much-needed medical benefit for patients receiving certain kinds of chemotherapy drugs that can cause extreme sensitivity to coldness.
Heavy-Duty Bariatric
Most geri chairs have a weight capacity that ranges from 200 to 350 pounds. Bariatric geri chairs have a weight capacity that ranges from 400 to 700 pounds to safely accommodate larger, heavier users. Bariatric designs also highlight wider seats to provide plenty of roomy comfort.
Alzheimer's and Dementia
Gliding geri chairs are frequently used for patients with Alzheimer's disease and dementia to help reduce agitation and wandering behaviors. Gliding chairs provide a gentle rocking motion that calms and relaxes people with these conditions, providing them with a repetitive activity to engage in, which helps stop them from wandering. This rocking motion has been proven to improve psychological and emotional well-being in most nursing home participants in a study conducted by the New York State Department of Health.
Wheelchair Transfers
Geri chairs with swing-away armrests are benefical for wheelchair transfers, or for patients with limited mobility. This kind of design enables easier transfers, as it allows for closer access to and from the chair.
Bed Transfers
If the patient is extremely immobilized, consider a geri chair that allows for supine (laying down position) transfers. Purchasing a geri chair with this feature can be highly beneficial for institutional use, as it will be used for a variety of patients with different needs.
Residential Finish
While a 'residential finish' isn't a medical condition, providing maximum comfort is the premise of a geri chair. Some users might be bothered by a clinical-looking chair and prefer a chair that resembles their favorite recliner. Many contemporary geri chair designs can blend beautifully with your home's decor, making them a great choice for aging in place. They're also often used in nursing homes and other care facilities that are designed with more of an at-home appeal.
Overnight Visitors
Some geri chairs aren't designed for patients - they are designed for their guests! Popular for use in hospitals and long-term care facilities, these geri chairs can convert from an upright position, to a reclined position, to a completely flat position. They provide convenient, comfortable support for sitting, relaxing, and sleeping. They might have some other features, but they don't necessarily require options like Trendelenburg or accessories like IV pole holders as they're not used for immobile patients.
Features to Consider Before Purchasing
There are a number of different geri chair features that are important to know about before you can make the best purchasing decision to meet your specific needs.
Residential or Clinical
The geri chair that works best for an individual user at home might not be the best choice for a healthcare facility using it for different patients. For residential users, it's important to determine whether you need this support long-term or short-term. If you are recovering from a temporary illness or injury, a standard or 3-position geri chair might be all you need. If you are living with a long-term, permanent disability or you're experiencing impairments to your mobility as you age into senior years, then a 4-position, infinite position, or tilt-in-space option may be your better option. For clinical use with multiple patients, be sure to choose a design that's versatile and adjustable to meet diverse needs.
Power vs Manual vs Gas Assist
Geri chairs that offer more than one position can come in manual, hydraulic (gas assist), or powered designs to change that positioning. Although manual and hydraulic systems tend to offer a lower price point, they may be more difficult for patients or their caregivers to operate, especially for people who have upper body strength weakness. Powered designs may plug directly into the wall or use rechargeable batteries, with users utilizing a remote to power themselves into the desired position. While they're often the easiest to use, they may not work during a power outage, so it's important to choose a powered model that has built-in fail-safes for continued operation in case this happens.
Heat and Massage Options
Several of the more upscale, clinical, and feature-rich geri chairs will include an option for heat and massage. Enhancing circulation and encouraging lymphatic flow, these therapies can also reduce the aches and pains that seniors and people living with chronic mobility disabilities often experience. They're frequently employed in healthcare settings to optimize patient comfort, keeping them warm during procedures and treatments that can cause coldness, such as chemotherapy. The massage function also helps to relax patients before and after medical procedures like dental work.
Assembly/Installation
Some geri chairs come fully assembled and ready to go, while others will require partial or full assembly upon arrival. If you're unsure about assembly and if you'll be able to manage it, Rehabmart does offer a professional on-site assembly service for many of the geri chairs we sell. This is a convenient option for anyone who is not confident about assembling a geri chair on their own, covering every aspect from bringing the chair to the room of your choice and the disposal of the packaging debris.
Patient Support
Although the majority of geri chairs come with footrests, armrests, and some level of head support, there are other supports that can be used to optimize patient comfort and positioning. Supports for the torso help to prevent tilting, leaning, and forward sliding, while lateral supports help to correct or prevent slouching or lateral (side-to-side) leaning. For patients who have a higher level of physical impairment, it's best to choose a geri chair specially designed with multiple options for support and positioning to achieve maximum user comfort, health, and safety.
Easy to Clean
The best, high-quality geri chairs are often constructed with ultra-durable, hospital-grade materials that are specially designed for strength, but that is also easy to clean and disinfect. Powder-coated steel, PVC, and high-strength, anodized aluminum are the most common materials used for the frame, while non-permeable vinyl or another easy-to-clean, protective fabric are often used for the upholstery. In order to maintain hygiene and stop the spread of infection, it's important for everyone to choose a geri chair that's easy to wipe clean, but especially so for healthcare facilities where the chair will be used by multiple patients. Some manufacturers add an antibacterial finish to the upholstery to provide another layer of protection against cross-contamination. For example, geri chairs made by Optima include Silvertex-infused vinyl, which is an advanced silver ion technology that helps inhibit harmful microorganisms while it also guards against odors and stains.
Chair Width
Because geri chairs are generally wider in size than wheelchairs, you'll need to ensure that the chair you select will be able to fit through the doorways of the space where you intend to use it. Always measure the inside part of doorways and any other smaller, narrow areas where the chair will be used before you purchase. As a point of reference, doorways that comply with ADA standards provide 32 inches of clear width when they are fully open.
Accessories
A wide variety of accessories are available for some geri chairs, enabling complete customization to meet the unique needs of every user. You can often upgrade or replace headrests, footrests, and armrests with more specialized designs to optimize comfort and access, while other accessories like lateral supports can help with positioning. Some geri chairs come with attachments for IV poles, oxygen tanks, and other medical equipment that users need close-by, or will offer them as an add-on option. The most commonly used geri chair accessory is a tray that can be used for meals, work, crafts, and more, which can also be removed or folded down and away when it's not in use.
Frequently Asked Questions
Q: Can you sleep in a geri chair?
A: Depending on their design format, a geri chair can provide significantly more comfort and support for sleeping than a regular bed. Tilt-in-space and 4-position geri chairs are generally best for sleeping, as are designs that completely fold out into a flat sleeping surface. These kinds of geri chair recliners can help to provide pain relief for the neck and lower back, along with delivering a host of other health benefits.
Q: How much does a geri chair weigh?
A: Most geri chairs weigh between 100 to 200 pounds. There are some as light as 60 pounds, while bariatric and more involved positioning geri chairs can weigh upward of 350 pounds.
Q: What is the difference between a geri chair and positional care recliner?
A: Although the two terms are often used interchangeably to mean the same thing, geri chairs are usually utilized more for convalescence and recovery, while positional care recliners are more frequently used for a variety of medical procedures. Both styles are similar in design, providing a wheeled, reclining seating solution for people with mobility impairment.
Q: What does infinite position mean in a recliner?
A: An infinite position recliner (or infinite position geri chair) allows separate articulation of the back from the footrest. This design facilitates infinite position possibilities, allowing users to recline in various angles with or without the footrest up. For powered geri chairs and recliners that offer infinite positioning, these styles generally use two motors, instead of one like standard or the 3-position geri chairs use.
Q: What does tilt in space mean?
A: Geri chairs designed with tilt-in-space do not have separately articulating backrests, but instead, tilt and recline as a single unit. This helps to relieve pressure, making this style a good choice for users prone to pressure injuries. It also minimizes any movement required on the part of the user, making it ideal for people living with chronic pain that's associated with motion. Tilt-in-space geri chairs deliver the benefits of changing positions for people unable to make these changes themselves.
Q: What is a geriatric recliner?
A: A geriatric recliner is another word for a geri chair. Although they're named for older adults, geriatric recliners are also often used by people of any age looking for a more comfortable alternative to regular recliners.
Q: What is a Broda chair?
A: Broda is a brand that offers highly customizable chairs of all kinds. They typically include tilt-in-space, multiple positioning options, and other special adaptations, along with their proprietary Comfort Tension Seating system that reduces heat and moisture to prevent skin breakdown. Often preferred by healthcare professionals for their clients who require a higher level of support and positioning, Broda chairs are often used in long-term care and skilled nursing facilities as well as for home care.
Q: Are Geri Chairs Covered by Medicare?
A: Whether geri chairs are covered or not by Medicare is dependent on several factors. Certain medical conditions qualify, such as neuromuscular disease or severe arthritis, but a geri chair device must be prescribed by a doctor who has determined you need a geri chair in lieu of a wheelchair or other assistive mobility equipment. Medicare coverage may be limited to geri chairs that have casters that are at least 5 inches in diameter, or those with powered lift mechanisms that are specifically designed to meet the needs of injured, ill, or otherwise impaired people.
Rehabmart does not accept insurance, nor can we guarantee that your insurance will cover a geri chair. What Rehabmart CAN do is provide you with an itemized receipt of your purchase, upon your request. From there, you can independently submit a claim for reimbursement to your insurance provider.
Q: What is a geri chair used for?
A: Geri chairs are ideal for anyone experiencing either (short-term or long-term) mobility issues caused by illness, injury, post-surgical recovery, or a medical condition. Geri chairs provide a more substantial and comfortable option than a conventional wheelchair, with the convenience of wheeled mobility that most recliners don't have.
Final Thoughts
Geri chairs are often a lifesaver for the people who use them. They deliver more comfort and positioning support for people of all ages living with temporary or permanent mobility impairments, while they're also conveniently wheeled for easy transport.
Available in a wide range of styles with a diverse assortment of benefits, geri chairs offer multiple positioning options for sitting, lying, and relaxing. Geri chairs are similar in appearance to recliners, but they have wheeled bases to enable transport. Geri chairs provide reclinable, cushioned comfort for seniors and anyone else living with either permanent or temporary mobility impairments. These chairs are often utilized for extensive sitting or sleeping.
Because they can be used as a chair or a bed, people often use geri chairs instead of wheelchairs when they're at home or staying in a healthcare facility. Geri chairs are much more comfortable than most wheelchairs, with more padding, support, and other design elements that make them preferable for long-term sitting or sleeping. Their wheeled portability also reduces transfer needs throughout the day as users can remain in the geri chair instead of transferring to and from a wheelchair.
Learn more about tools for the job of living along with helpful caregiver tips at our Caregiver University resource, where we help both professional and family caregivers make better decisions for the people in their care.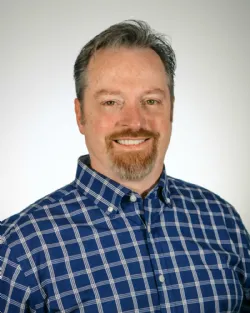 Author:
Co-Founder of Rehabmart and an Occupational Therapist since 1993. Mike has spent his professional career working in multiple areas of Occupational Therapy, including pediatrics, geriatrics, hand therapy, ergonomics and inpatient / outpatient rehabilitation. Mike enjoys writing articles that help people solve complex therapeutic problems and make better product choices.