What is a Geri Chair?
A geri chair, also known as a geriatric chair, chair for the elderly, positional care recliner, or clinical recliner, is a chair that is specifically designed to provide users who have limited mobility with a safe and effective upright positioning solution. This allows them to have an alternative to a hospital or home care bed, while still keeping them fully supported.
Geri chairs get their name from their ability to provide comfortable, adjustable support and positioning for people as they age. The versatile design is perfect for elderly people who find themselves with less ability to move around as freely as they used to, and are now at risk of injury or worsening conditions from improper posture or from confinement to a bed. However, they're also a great solution for anyone with limited mobility or who are weakened as they recover from an illness or injury.
Geri chairs provide a variety of positioning solutions, helping to promote independence, recovery, and healing while still providing safe support and comfort for the patient. The use of a geri chair can majorly improve a patient's quality of life as well as their feeling of independence and wellbeing, which can often be a huge step in the healing process.
These chairs are ideal for use in any environment where recovery or patients with limited mobility can be found, including assisted living facilities, residential homes, dialysis and oncology centers, rehab clinics, and hospitals. Recovering from an injury or illness, or being treated with modalities like dialysis and chemotherapy require a patient to be as comfortable and relaxed as possible, as well as being optimally positioned with proper posture and support. Geri chairs are the perfect way to accomplish this with a range of models to accommodate any patient.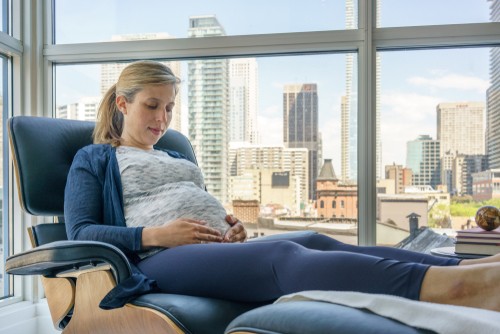 How is a Geri Chair different from a basic recliner?
A geri chair has been designed specifically with clinical care in mind, providing more support and a wider range of positioning options. The versatile design often includes measures to help prevent pressure sores or ulcers, and to maintain proper blood flow and posture to facilitate good health.
Additionally, geri chairs also come equipped with a safety belt, tray, side rails, and a variety of other tools that are designed specifically for safety in users who have weakness or limited mobility due to a medical condition. The chairs also feature casters so it can easily be transported between areas, and patients can be easily moved and adjusted for improved safety and comfort. These chairs are also complete with fully padded seats, backrest, footrests, and armrests for better support.
Geri chairs are also often constructed with ultra-durable hospital-grade materials that are designed to be both strong and easy to clean and sanitize thoroughly in order to maintain hygiene and reduce cross-contamination between patients.

What are the types of Geri Chairs?
Geri chairs are typically categorized as three-position, four-position, or infinite position recliners, divided based on the amount of adjustability they can offer to the patient.
3-position chairs offer an upright position, an upright position with legs elevated, and a reclined position with legs elevated.
4-position chairs provide an upright position, and upright position with legs elevated, a casual recline with legs elevated, and a deep recline with legs elevated.
Infinite position chairs are multifunctional, and offer total freedom of positioning, allowing the chair to lay totally horizontal, or even be placed in a Trendelenburg position.
Features to Consider
Geri chairs, designed to offer support and comfort for a range of patient needs, are available with an equally wide variety of features. These features each offer added positional support or accommodation for patients with a particular need or condition, so it's important to consider the available options when trying to select the right option for your patient or loved one.
Manual or Power
Geri chairs and positional recliners are typically available with either manual adjustment or electrically-powered motors. Manually adjustable recliners are typically more economical, however, they often require more effort to adjust, and patients may have difficulty changing position independently. Electrical adjustment, on the other hand, is more convenient but also more expensive, and also requires that the chair be plugged into a power source.
Tilt-in-Space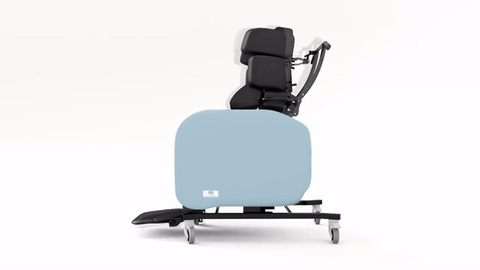 Tilt-in-space capability allows a patient to be comfortably shifted to relieve pressure on certain parts of the body throughout the day. This is a necessity for patients who have or are at risk of developing pressure sores, but can also be a good option for patients who have difficulty shifting their own weight in order to prevent them from becoming at risk for pressure sores.
Size & Weight Capacity
In order to provide the best possible patient accommodation, it's important to make sure that the chair you choose supports the height, weight, and girth of the patient who will be using it. For users who are smaller or larger than what might be considered an 'average' patient, whether that be because of height or weight, this is especially important. For larger or heavier users, bariatric geri chairs are available to provide better support and comfort, while smaller users may prefer more lightweight chairs, or may require additional padding or supports to ensure stability.
Drop or Swing-Away Arms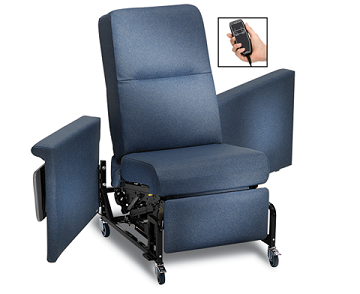 Drop-arms or swing-away sides make transfers easy and also allow more direct access to the patient. This allows patients to easily slide across the seat, uninterrupted, making getting in and out these chairs even easier. Drop-arms move armrests out of the way but allowing them to simply drop down out of the way, while swing-away arms allow the entire side of the chair to open like a door, allowing the patient to move in or out of the seat.
Pressure Relief
For patients who have or might be at risk of developing pressure sores, a chair with pressure-relieving cushions and design features are of the utmost importance in order to ensure their health and comfort, while still allowing them to remain in an upright position. Many geri chairs include specialized cushions, seat designs, and more to help improve circulation and promote proper pressure distribution.
Easy Clean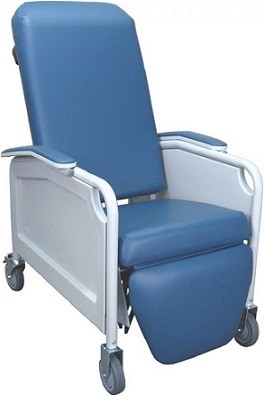 The material a chair is made of is important for maintaining hygiene and cleanliness. If incontinence, open wounds, or a compromised immune system are a problem, then cleaning is even more important. The chair you choose should have no areas that dirt or debris can become trapped, and it should be easy to wipe clean and sanitize for infection control and hygiene.
Compatibility with a Lift
If the geri chair you're choosing will be used by a patient who requires a lift for transfer, it's important to ensure that the chair you're choosing is compatible with the style of lift that you typically use. For floor lifts, it's important to make sure that the dimensions allow the lift to get close enough to the chair for safe transfer, while users of ceiling lifts should ensure that the chair is at a height that can be accessed by the lift to set the patient safely down without dropping them.
Support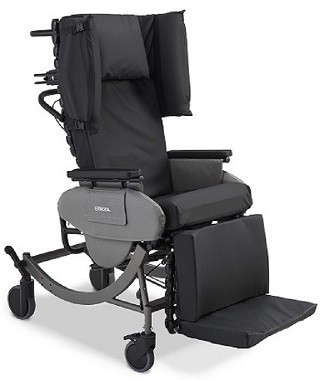 Another feature it's important to consider is whether the user will be adequately supported by the chair you ultimately choose. If the patient requires a large amount of head or trunk support, you should choose a chair that either includes that support already or is compatible with supplementary supports that can be added in those areas.
Wheels & Casters
One of the key features of a geri chair is the inclusion of wheels or casters, allowing the chair and the patient to be easily transferred around a home or facility. In order to maintain safety and ease of use, consider the flooring you'll be moving over and the types of casters that are included on the chairs you're comparing. Choosing locking wheels or casters help ensure stability while patients are getting in and out, while if the chair will be moving over carpet, it's important to make sure the wheels will be able to traverse that type of material.
IV Attachment
If you're choosing a geri chair for use in drug administration or for a patient who typically utilizes some type of IV medication, an IV attachment for your geri chair can be a great boon to keep treatment close at hand and eliminate tangles that may occur when trying to use an IV stand in addition to your chair.
Tray
If you plan to use your geri chair for patients who may be sitting in it for long periods and/or using it as a dining surface or place to read or perform hobbies, then trays and similar accessories might be a great addition. This provides your patients with a solid surface to perform activities, while also providing greater support for the upper body.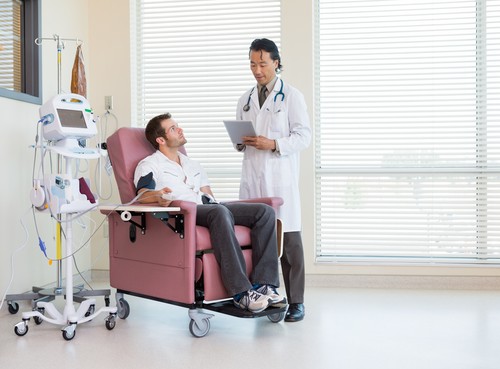 Recommendations
Summary
A geri chair is a necessity in the lives of those who suffer from limited mobility and painful joints, ligaments, and muscles. When it comes to elderly citizens, good posture is more important than ever, and quality seating plays a major role in that. Bad posture can have extremely negative impacts on a body, and can lead to the development of issues such as recurring chest infections, lung infections, and urinary tract infections, as well as breathing problems and loss of appetite. However, when geri chairs are used, sitting upright and having good posture is a task that can be completed with ease, and can lead to overall positive wellbeing and health.
Rehabmart offers a wide range of geri chairs and positional care recliners from many different trusted medical manufacturers like Broda, Seating Matters, Champion Manufacturing, Winco, Invacare, and more! For more information about geri chairs and positional recliners check out our other articles on Caregiver University, or to compare models to help you choose the right one for your needs, come visit us at Rehabmart.com.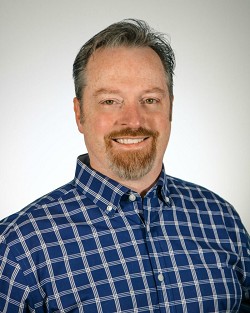 Author:
Co-Founder of Rehabmart and an Occupational Therapist since 1993. Mike has spent his professional career working in multiple areas of Occupational Therapy, including pediatrics, geriatrics, hand therapy, ergonomics and inpatient / outpatient rehabilitation. Mike enjoys writing articles that help people solve complex therapeutic problems and make better product choices.