Anyone sleeping or spending a significant amount of time in a hospital bed is spending a lot of time in contact with their bed sheets. The right sheets can contribute to healthy skin and a comfortable environment, while providing a more pleasant and restful user experience. Not only do they need to be comfortable, they need to promote cleanliness.
Since hospital beds do not conform to common mattress size specifications, specially sized hospital linens are necessary to fit the unique dimensions of a hospital bed.
There are many available bedding options, and this guide explores the different kinds of hospital sheets and bedding, along with our top recommended products, so you can choose which will work best for you.
What size are hospital bed sheets?
Standard-sized hospital bed sheets are generally 80 inches long and 36 inches wide, fitting standard mattresses that are usually between 6 and 7 inches deep. Regular twin and twin XL sheets will not fit a hospital bed mattress.
What are the types of hospital bed sheets?
Generally, the three basic types of sheets for hospital beds are draw sheets, fitted sheets, and flat sheets. Ideally, you will have one of each of these sheet types.
Drawsheet
Since people who spend a majority of time in bed are at risk of developing pressure sores, caregivers are often relied on to assist with repositioning. This necessary task, however, can put a significant physical strain on the caregiver. Using a drawsheet, which is a small sheet placed across the middle of the bottom sheet on a mattress, a caregiver can gently and safely turn a patient with less effort. About half the size of a regular sheet, a drawsheet covers the area between the patient's upper back and thighs and can be made of cotton, plastic, or rubber.
Fitted Sheet
For the comfort of the patient, a properly sized fitted sheet is essential, and it has to be able to accommodate an adjustable hospital bed. You can't stretch a fitted sheet if it's too short, and it's difficult to keep a fitted sheet that is too long tucked under the mattress, so getting the correct measurement is important. In addition to mattress length, the depth of the mattress - and whether or not it has a cover or topper that adds height - also must be considered when choosing a fitted sheet.
Flat Sheet
Correctly sized sheets aren't just about comfort. They can impact safety as well. Undersized sheets can come loose and get bunched up under a patient, causing friction and risking a skin wound. Oversized sheets can fall to the floor, creating a tripping hazard, and they can also gather under the patient causing discomfort. A standard top sheet for hospital beds is 66 inches x 104 inches.
Other Types of Hospital Bedding
Besides the basics, here is a list of other types of linens for hospital beds.
Sheet Set
For convenience, you can purchase matching sheet sets specifically sized to accommodate adjustable hospital beds. In addition to the flat and fitted sheets, these coordinated sets also include pillow cases and often blankets.
Bariatric Sheets
Bariatric sized hospital beds are standard hospital bed lengths of 80 or sometimes 84 inches, but they are 42 to 48 inches wide. Significantly wider than standard hospital beds, they require specially sized bariatric sheets to provide a comfortable and restful environment for the patient.
Blanket
The best hospital bed blankets are soft, cozy, and hold up well in the laundry. They are lightweight but insulating to provide warmth without being cumbersome for patients or caregivers.
Disposable Linen
Disposable linens are designed to prevent cross-contamination. Since they are discarded after use, the exposure of other people to contaminants on the sheets is decreased. The single-use construction means no laundering and no patient-to-patient contamination. Caregivers can minimize contact with anything on the sheets by not having to launder them.
Waterproof Mattress Cover
Waterproof mattress covers - usually made of vinyl/PVC, PEVA/EVA, or Polyurethane - are impermeable barriers that keep mattresses protected from spills and body fluids. This keeps contaminants from seeping into the mattress, maintaining a healthier sleep environment and ensuring the mattress will last longer
Pillow Protector
Pillow protectors promote a healthy sleeping environment by keeping allergens, mold, mildew, bed bugs, and dust mites from getting into pillows. They can be washable or disposable to maintain a hygienic sleep space.
Factors to Consider Before Purchasing
Before you purchase sheets for your hospital bed, there are important factors you must consider. Here is a list of the most important factors we found!
Mattress Depth
Hospital bed mattresses are at least 6 inches deep and can be 9 inches deep. Pressure relief mattresses are deeper. If you're adding a mattress cover or topper, the additional height will have to be accounted for so you can purchase appropriately sized sheets.
XL Beds
Standard beds are 80 inches long, but bariatric beds or extra large beds can be 84 inches long. It's important to know the size of your mattress before purchasing hospital bed sheets.
Material
Hospital sheets are either woven, which means they are constructed by weaving the yarn in and out in opposite directions, or knit, which means they are constructed from a single strand of yarn (thread) that is knitted into rows of loops. Muslin sheets are common in institutional settings. They are woven, at the lower end of the thread-count scale, and are the least expensive. Percale sheets typically have a 180-thread count and are made with 100 percent cotton or a cotton/polyester blend. They are softer and last longer than muslin sheets. Knit hospital sheets will stretch and are thicker, softer, more breathable, and warmer than woven sheets. Jersey knit is the most common knit for hospital bed sheets, followed by Interlock knit. Knit sheets are softer, thicker, and much warmer than woven sheets, but they are more susceptible to small holes and snags. Knit sheets are also preferred if skin shear is an issue. More exotic fabrics like bamboo can be used in home hospital bed sheets. They are more expensive but are breathable, comfortable, and durable.
Thread Count
Thread count refers to the number of threads woven into one square inch. The higher the thread count, the higher the quality - and comfort - of the sheet. Standard thread count for a hospital bed sheet in a clinical setting is 130 (T-130), which is at the low end and helps institutions control costs. Higher quality hospital bed sheets range up to T-180. These higher thread-count sheets are softer and more durable than those at the lower end.
Mattress Topper
Hospital bed mattresses aren't the most comfortable, so toppers or overlays are often added to create a softer and more restful sleep environment. Mattress overlays can also aid in pressure distribution to protect the skin from pressure ulcers.
Allergy Relief
Dust mites like to make themselves at home in sheets and pillowcases. For people with dust mite allergies, hypoallergenic sheets made of organic cotton, wool, or microfiber keep dust mites away and create a healthier and more restful sleep space.
Buying in Bulk
Whether in an assisted living situation or caring for someone at home, if you are changing a lot of bedding, buying hospital bed sheets in bulk is more convenient and economical than buying sheets one at a time. Many of our hospital bed sheets can be purchased in bulk.
Bed Bugs
Bed bug mattress covers are different from regular mattress protectors. They encase the mattress in an impermeable barrier. This prevents any existing bed bugs from escaping or multiplying, while keeping new ones from getting into the mattress. made of tough cotton or something similar, and have sturdy seals.
We offer a bed bug mattress protector.
Sheets That Prevent Bed Sores
Skin shearing happens when vulnerable skin is exposed to repeated friction, and it can cause bedsores. Treating bedsores includes using a pressure relief mattress and breathable sheets made from percale or bamboo that are sized to fit the deeper style of mattress. Some specialty hospital bed sheets have anti-friction panels to facilitate repositioning patients without skin shear. Ensuring sheets fit properly and don't get piled up under the patient when the bed is adjusted also helps keep the patient properly positioned and less susceptible to bedsores.
Frequently Asked Questions
Q: What are the best hospital bed sheets?
A: The most durable and comfortable hospital bed sheets are made of cotton or a cotton/polyester blend. These breathable sheets help patients stay cool and are durable enough to be washed and dried multiple times, while still remaining soft and comfortable.
Q: Can I put a bed skirt on a hospital bed?
A: Although bed skirts are available for hospital beds, they aren't recommended since they can get caught in the bed while it's being adjusted or add to the risk of a fall if a patient gets tangled up with a bed skirt.
Q: What kind of sheets fit a hospital bed?
A: It's easier to make the bed, and create a comfortable and restful environment, with properly fitted sheets. For that reason, sheets that are specially sized for hospital beds are the best option, rather than trying to make standard sheets work on a non-standard mattress.
Q: Where can I buy hospital bed sheets?
A: Check out the quality hospital bedding at Rehabmart.com to shop for hospital bed sheets and accessories. Discover the features, pros, and cons of each hospital bed sheet to make an informed purchasing decision.
Q: Will twin sheets fit a hospital bed?
A: Twin sheets made for a standard bed will not fit a hospital bed correctly. Using sheets that are too small will keep the bed from being made properly, with fitted sheets not staying wrapped around the mattress and potentially getting entangled with the patient. When people get tangled in their, they are at a higher risk of falling when they get out of bed. Sheets that are too large won't stay tucked in and patients can get entangled with them or trip over sheets that hang too far off the bed.
Q: What are hospital blankets called?
A: Hospitals generally use thermal blankets, because they are lightweight and trap heat, preventing body temperature drops without using bulky linens. An added benefit to thermal blankets is that they are easy to clean.
Q: What size sheets go on a bariatric hospital bed?
A: The sheet length ranges from 80 to 84 inches, while the width of bariatric size hospital bed sheets can range from 42 to 48 inches wide.
Q: How do you keep sheets on a hospital bed?
A: Sheet straps help keep bedding in place on a hospital bed. For fitted sheets, the straps clip on the sheet corners under the mattress to give the elastic of the fitted sheet extra stability. For non-fitted sheets, there are straps to clip on each side of the sheet under the mattress or that attach to the corners diagonally.
Final Thoughts
Quality sleep is an important component to optimal health, so creating the best sleep environment possible contributes significantly to overall wellbeing. People who spend a lot of time in hospital beds also need to be comfortable when they're not sleeping. The temperature, amount of skin friction, and level of surface softness affect a patient's skin health and comfort.
Choosing the correct Hospital Bed Linens can have a noticeable impact on the comfort level and potential skin issues that come from spending a significant amount of time in bed. Sheets that are appropriately sized and have a higher thread count will stay put and not create any skin or trip hazards while keeping the patient warm and cozy in breathable comfort.
Time spent in bed is not time wasted. Resting and sleeping in comfort are both important to good health. Choose the hospital bed for home care and hospital bed sheets that will deliver the most comfort and create the most restful environment for you.
See our Ultimate Guide to Hospital Beds & Mattresses for Home Care for everything you need to know about choosing the best hospital bed, mattress, and other accessories! Similarly, Caregiver University is packed full of resourceful articles that we dearly hope you find helpful.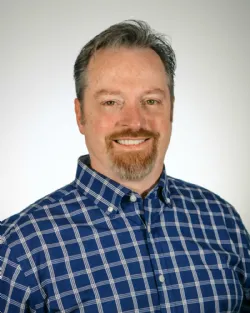 Author:
Co-Founder of Rehabmart and an Occupational Therapist since 1993. Mike has spent his professional career working in multiple areas of Occupational Therapy, including pediatrics, geriatrics, hand therapy, ergonomics and inpatient / outpatient rehabilitation. Mike enjoys writing articles that help people solve complex therapeutic problems and make better product choices.