A hospital bed is designed to provide a stable, safe, and comfortable environment for a person to rest, heal, recover, and receive care at home. Different from the traditional beds found in most homes, a hospital bed offers greater security and positional versatility, allowing the head and foot sections to be raised or lowered and the height of the bed to be adjusted.
Hospital beds are available in so many different styles, sizes, designs, and from so many different manufacturers that it can be overwhelming trying to choose the right one for you or your loved one. Because of this, we've gathered together all the information you need to know in one place, helping you to make your decision with confidence.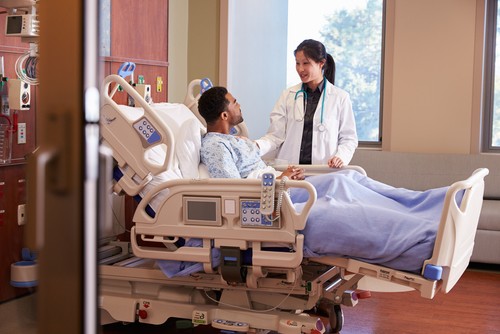 Types of Hospital Beds
Basically, hospital beds can be broken down into three options to choose from: a manual bed, a semi-electric bed, and a full electric bed.
These beds are characterized by their lack of electric adjustment capabilities. Manual hospital beds allow users to adjust the positions of the head and/or foot sections by using a hand crank located at the foot or head of the bed.
Pros:
These beds are often lower-priced than their electric counterparts.
They provide a great solution for patients who do not need too much positioning adjustment.
Cons:
Manual beds offer less adjustment than electric beds and often only offer either head or foot adjustment and no bed height adjustment.
If the user does not have the arm strength or mobility to operate the crank independently, a caregiver might be needed for assistance.
These beds feature both manual and electric adjustment, usually the head/foot sections of the bed can be adjusted electrically, while the bed height is manually adjusted with a crank. The semi-electric hospital bed is the best of both worlds between the manual and the electric bed.
Pros:
Electric head/foot adjustment offers easier repositioning
Great solution for people who need more adjustment, but don't want the cost of a full electric bed
Head/foot adjustment can be easily operated by the patient without help
Cons:
Manual height adjustment can be difficult to operate if you need it.
Often more expensive than fully manual beds
Full electrical adjustment of both the bed sections and the height makes life easier for both patients and caregivers alike, which is why the full-electric hospital bed is the type of bed typically used in medical facilities.
Pros:
Patients can easily make bed adjustments independently with the touch of a button
Ideal for use in almost any care environment for any patient's needs
Great solution for patients who need frequent adjustment or older caregivers with less physical strength
Cons:
This type of hospital bed is usually the most expensive
In addition to these three categories, there are also several specialty bed designs available to better meet unique requirements.
Bariatric hospital beds are designed to be wider and stronger than a standard hospital bed, offering better accommodation for larger or heavier users. This typically includes a larger sleeping surface and a mattress specifically designed for bariatric patients. These durable, heavy-duty beds can can measure up to 54-inches wide and 88-inches long, and can accommodate a user weighing up to 1200 pounds.
Low hospital beds are similar to standard hospital beds, the only difference being that their height range is wider, allowing the bed to lower almost to floor height. These beds are specifically designed to offer fall prevention, and help those who may have difficulty getting up into bed or getting out of a bed.
Hospital cribs and safety beds provide safety and security for children who need medical care. They feature high sides or railings on all sides to help keep children who at risk of falling out of bed or who may be at risk of elopement safely inside the bed's surface during their recovery time.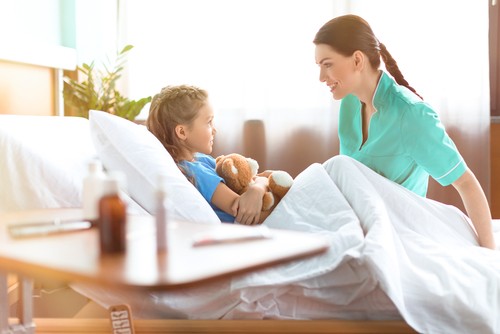 How to Choose
When you're thinking of purchasing a hospital bed for a loved one to use in their own home, it is best to first assess the needs of the user in order to make sure they will be safe and comfortable.
How mobile is the user?
When choosing a hospital bed, it's important to consider the user's mobility. Will they able to get in and out of the bed by themselves? How secure are they on their feet? How well they are able to maneuver both within the bed and outside of the bed will help inform the level of support you require in a bed. For instance, if the user is unable to adjust themselves easily within the bed, then they may require the additional adjustability of either semi-electric or full-electric beds.
How long will the bed be needed?
If the user will be cared for in bed for a long period of time, and/or remain in bed for more than 15 hours a day, then a full-electric bed might be the best choice for their long-term comfort. On the other hand, manual or semi-electric beds are both designed for more of a short-term use, and may be a better option for more short-term solutions.
What is the size of the user?
Shorter or taller patients might require either extended or shortened bed surfaces. If the user is a larger or heavier person, then a more sturdy bariatric bed might be a good choice to accommodate both their size and weight. While pediatric patients require smaller beds specifically sized for them in order to keep children safe and comfortable.
How strong or mobile is the primary caregiver?
For patients being cared for primarily by a friend or family member, the strength of the caregiver is also important to consider. If the caregiver is unable to operate a manual crank for adjustment, then an electric bed provides better safety for all parties involved.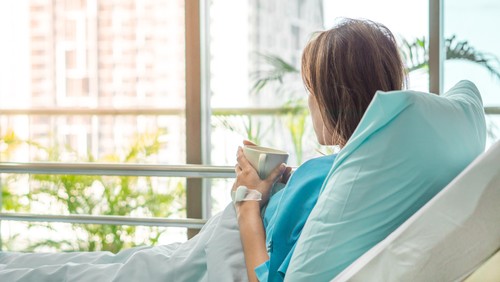 Features to Consider
When deciding on the best type of hospital bed for home care use, it is also important to think about the various features that can best assist the intended user. Each patient is unique, and therefore requires special attention to ensure that their bed accommodates their individual needs. A range of added features and hospital bed accessories are available to maximize customizability.
Positioning Options
While your standard hospital bed offers basic positioning options such as the ability to raise or lower the back or feet, some beds offer a wider range of adjustment options that might be beneficial for more specific needs.
Trendelenburg - This position allows the bed to be tilted so that the patient is lying with their feet raised above their head. Most commonly used in surgery, this position can also be beneficial to people who have certain heart conditions.
Reverse Trendelenburg - This position is the opposite of the standard Trendelenburg, bringing the user's head upward with the feet and legs sloping down. This position is used to help increase respiratory function in overweight and obese patients by relieving pressure to the head
Fowler's position - This position places users in a semi-upright posture (45-60 degrees) with the legs either straight or bent, and is used as an intervention during respiratory distress.
Side Rails
Bed rails are a great solution both to help prevent users from falling out of bed, and also helping provide support as they move in and out of the bed. Additionally, they offer patients and caregivers a good source of stability as they move through transfers on and off the bed's surface. They can extend down the full length of the bed, or are available in half-length for less coverage.
Bed Scales
Many hospital beds come with or have the option to add a built-in bed scale that allows the patient within to be weighed without having to transfer them. This can be very helpful, especially if the user needs to be weighed on a regular basis for medical reasons.
Storage
While the traditional hospital bed is comprised of only a metal frame and any electrical components needed, some newer designs are coming out with models that offer added storage space. This can help both the patient and the caregiver to easily access frequently-used supplies like remotes, books, bed pans, incontinence supplies, gloves, etc.
Bed Trapeze
For patients who need added support transferring in and out of the bed, a hospital bed trapeze can be a great solution. These devices can either be attached to the bed frame or mounted on its own base for strength and versatility. Typically, bed trapezes hang over the head section of the bed, dangling a handle that users can grab to offer stability when repositioning themselves or when transferring out of or into the bed.
Gap Protection
For users who are prone to seizures or nocturnal movements, gap protection is an important safety concern. Many hospital beds with railings or sides are specifically designed with gap protection, but if you're adding rails or your bed is not designed with gap protection, then adding it helps to eliminate the risk of the user getting stuck between the bed and the sides.
Installation Service
Some beds are sophisticated or feature complex parts systems, and it might have to be professionally installed, or may just simply be too difficult for you to install them on your own. In these cases, it may be important to ask and see if your bed retailer offers installation service.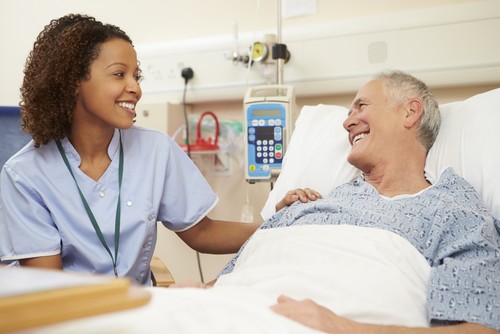 Summary
Purchasing a hospital bed for home care use is a big step for both the user and the caregiver. Since the user will be spending a large amount of their time in the bed, it is important to provide the best possible comfort and support. Each person has their own individual needs, and their bed should offer maximum accommodation for those needs.
Determinations include the type of bed frame, whether it's manual or electric, specific features or accessories to assist with unique requirements, the length of time the user will need to be in the bed, and affordability. Regardless of your final choice, the most important factor is how pleased you are with the final purchase.
For more information on hospital beds, help with how to choose the best hospital bed mattress, and more, come check out our full catalog of articles on Caregiver University. And, once you start comparing specific models and moving towards making your final purchase, visit Rehabmart.com for all the best products at the best prices.
***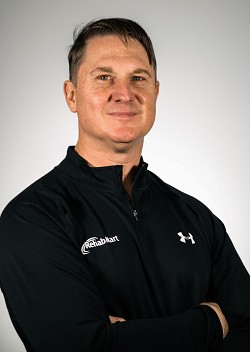 Author:
Co-founder/CEO of Rehabmart, Pediatric Occupational Therapist, husband, and father. Passionate about connecting special needs kids with superb nutrition, sensory integration, and complementary health strategies. Excited about Rehabmart's mission to become the premier online educational platform which empowers caregivers by spotlighting innovative devices and interventions to achieve optimal patient response and recovery.