Sleep, or the lack of it, impacts the brain and body on a molecular level. It impacts energy balance, intellectual function, alertness, and mood. Sound sleep is a necessity in order to function at your best and most healthy.
People who use a hospital bed at home often deal with medications, illness, and pain - all of which can get in the way of quality sleep. Choosing the right bed can facilitate restorative sleep that contributes to your overall good health.
This guide contrasts the differences between hospital beds and gives you honest feedback from customers. It also uncovers frequently asked questions, cautions you on important features you must consider before purchasing, and recommends the best products.
What is a hospital bed for home?
A hospital bed for home care has features that cater to the needs of people who are recovering from an injury or who have to spend a lot of time in bed. Their adjustability makes them more appropriate than a standard bed for providing comfortable support and enabling caregivers to deliver quality care.
What Are The Different Types of Hospital Beds?
There are 3 types of hospital beds: manual, semi-electric, and full-electric. Below, we give you a breakdown of each bed and our top-recommended product.
Manual Hospital Beds
Manual hospital beds are the least expensive models, with fewer features than semi-electric or full-electric options. A manual hospital bed requires a caregiver to make adjustments via a hand crank, making this type of bed most appropriate in situations where it won't be necessary to make frequent adjustments.
Pros
Least expensive type
Good choice if frequent adjustments aren't necessary
Cons
Potential caregiver strain from making manual adjustments
Not as many position choices as electric beds
Semi-Electric Hospital Beds
A semi-electric hospital bed is a good choice for someone who has good enough balance that it is not necessary to adjust the height of the bed to transfer on and off. This style of bed uses electric and manual adjustments, with the head and foot sections usually adjusted electrically while the height is adjusted with a manual crank.
Pros
Easy to make heat and foot positioning adjustments
Lower cost for the feature of head and foot adjustability than a full-electric home hospital bed
User confidence and independence is supported with user-adjusatility
Cons
Must rely on a caregiver to make height adjustments
Using a hand crank puts a strain on caregivers
Full Electric Hospital Beds
The height, head, and feet adjustments are made with the push of a button on a full-electric hospital bed. If a patient is able to control the bed positioning, it decreases reliance on caregiver assistance and increases independence and confidence. If a caregiver isn't close by, most full-electric beds have a feature that locks the bed in position so a patient can't accidentally move it into a position that could be dangerous.
Pros
No strain on caregivers to adjust the bed
When allowed, user can adjust the bed without assistance
Addresses multiple conditions and positioning needs (sleep, circulation, skin issues, aches and pains)
Cons:
What Are Specialty Beds?
Specialty hospital beds are specialized beds that are designed to meet very specific patient needs. Some specialty beds address fall risks, bariatric patient weight, and non-clinical designs.
Sleep to Stand Bed
Although not hospital beds, sleep-to-stand beds have some of the same positioning options as hospital beds. Sometimes, they are referred to as sit to stand beds or adjustable beds. They provide comfortable support for a lot of the things a person would use a home hospital bed for, like sleeping, reading, watching tv, or just relaxing. They look more like standard beds and can be ordered in larger sizes to accommodate two sleepers. The less-institutional feel is attractive for many users. There are a few basic models with manually adjustable frames, but they are not used in caregiving settings. By far, most adjustable beds are fully electric and some can take users from lying down to standing up for easy transfers. They are a good choice for people who seek some of the features of a hospital bed but want the look and feel and sizing options of a traditional bed.
Pros
Adjustability can prevent falls during transfers
Comfortable and supportive, with positioning customized for the user
Choice of sizes
Cons
Need to buy special mattress
More expensive than a traditional bed without all the features of a hospital bed
Low Bed
Low beds are ideal for people who have a higher risk of falling, because they reduce the distance between the bed and floor, decreasing the risk of injury from a fall. These beds make it easier for users to get in and out of bed, which helps minimize the strain on a caregiver during transfers. Usually the height is adjusted electrically, and positioning adjustability includes elevating and reclining the head and feet sections, and allowing for ergonomic lying down and sitting.
Pros
Reduces caregiver strain
Minimizes the risk of an injury from a fall
Electric height adjustability
Positions can be adjusted in several models
Cons
Most low beds have an institutional look and feel
Bariatric Hospital Bed
The weight capacity of standard hospital beds is between 350 and 450 pounds. Bariatric hospital beds, which are also called heavy-duty beds, can be found able to accommodate users weighing up to 1,000 pounds. Along with heavy-duty construction and larger sizes, with widths ranging as wide as 54 inches, bariatric hospital beds feature height adjustability and can be ordered with safety rails. A bariatric bed, especially for someone who can't independently reposition in a smaller bed, will support a larger patient in comfort and dignity.
Pros
Electric adjustability allows patient to reposition independently without putting a strain on a caregiver
Created specifically for patients who would not be safe or comfortable in a standard sized bed
Durable, heavy-duty construction
Cons
Beds don't always come with a mattress, so a special bariatric mattress will have to be ordered
Bariatric beds are cumbersome to move
Deluxe Hospital Bed
Deluxe hospital beds are built for long-term, heavy-duty use, meeting the needs of acute-care patients and caregivers. Side rails, mitigated entrapment risk, and exit alarms focus on patient safety. User-friendly controls include a nurse panel, and patients can adjust the bed position without assistance. Benefits of a deluxe bed include ease treatment delivery provided by the maneuverability, electric height adjustability, and the list of accessories that are available with this type of bed.
Pros
User-friendly patient controls
Safety features reduce risk of unsafe exit and patient entrapment
Constructed for heavy duty long-term use
Highly adjustable to facilitate care and treatment
Cons
High price point
Look and feel of clinical medical equipment
Residential Design Bed
Although not technically hospital beds, residential design beds have hospital bed functionality in a bed you'd find at home. The ability to adjust this bed's height and the option to install side rails make it easier for users to get out of bed than with a standard bed. The electric adjustability helps relieve pressure points and combat the development of bed sores, while the ergonomic positioning provides support and comfort. They can be ordered with waterproof mattress covers that contribute to a clinically sanitized environment at home. SonderCare is a great brand of residential-looking beds that's worth checking out!
Pros
Styled like furniture rather than medical equipment
Functionality of a hospital bed
Decreases fall risk, allows for more user independence
Adjustable for individualized comfort
Cons
Heavier than a regular bed
Does not accommodate standard mattress
Fully-Enclosed Safety Bed
Safety beds, although not hospital beds, do offer features that address special needs and medical conditions and support sleep in a secure space. Enclosed by walls, fabric, or rails, in sizes appropriate for children and adults. Safety beds protect from falls, prevent unassisted exits, provide easy caregiver access, and protect from entrapment or entanglement. They have features like padding to protect users who have seizures, access ports for medical equipment, and support for those with sensory processing disorders who benefit from a completely enclosed space. They come in fixed heights or with manual or powered height adjustability, and mattresses ranging from air to gel to articulating. There are portable models that are easy to take along while traveling.
Pros
Provide caregiver peace of mind by preventing wandering and bed falls
Access for supportive medical equipment
Many models to choose from to fit individual needs
Users with sensory processing disorders appreciate the calming enclosed space
Cons
Can take up a lot of room, so measuring the available room space is important
Not all models are conducive to smooth wheelchair transfers
Features to Consider Before Purchasing
Temporary vs Permanent
If a user is going to be cared for in bed for an extended amount of time, or who spends more than 15 hours a day in bed, a full-electric home hospital bed will provide long-term comfort and durability while minimizing physical strain in caregivers. They are also the most expensive models. Manual and semi-electric beds require more caregiver effort and don't provide as much independence for patients, but they cost less and can be more appropriate for short-term use.
Mobility of Patient
Patient mobility has a significant impact on the kind of home hospital bed should be chosen. A highly adjustable bed, either electric or semi-electric, is best for users who are unsteady on their feet and are at risk of falling while transferring in and out of bed, who can't reposition themselves without assistance, and can't get in and out of bed safely without the height being adjusted. If a patient can get in and out of bed without assistance and is steady while standing, a highly adjustable bed might not be needed. A more economical choice would be a manually adjusted bed.
Strength of Caregiver
Caregiver needs should be considered, ensuring the proper level of care can be provided. For a patient who requires a lot of position changes, a manual bed wouldn't be the best choice. An electric bed will take the most strain off a caregiver. A caregiver's strength and stamina should be taken into consideration when deciding which home hospital bed is the best choice.
Size of the Patient
A specifically designed bariatric bed, which is wider than a standard bed, is more comfortable for heavier users. A pediatric patient will be more safe and comfortable in a child-sized bed. Beds can also be ordered to accommodate especially tall patients. Whatever the best bed size is for the patient, it can be found.
Positioning
For patients who spend the majority of their time in bed, especially if mobility challenges prevent them from regularly self-repositioning, a hospital bed's positioning features can greatly impact comfort and quality of sleep. The number of sections, position options, and height adjustability all contribute to the user experience. Here are the most popular positioning options:
Assembly Service
Optional assembly services take the guesswork and effort out of setting up a hospital bed at home. It is probably already a stressful time of change when bringing a hospital bed into the house, and knowing the bed has been assembled correctly by professional installers can alleviate some of that stress and contribute to a calmer and more comfortable environment.
Rehabmart has a large selection of hospital beds and other products that offer assembly services.
Frequently Asked Questions
Q: Why do I need a hospital bed at home?
A: A hospital bed at home can be a valuable tool to promote rest and healing. Whether recovering from an injury or in-patient stay, or adjusting to mobility limitations, you can enjoy improved health, increased independence, and a positive impact on quality of life with the addition of a hospital bed at home. The knee and head adjustability offer improved incontinence support, easy sanitization helps create a healthy environment, and repositioning options decrease the risk of pressure ulcers and provide comfortable postural support. Safety features like side rails or mattresses with bolsters can also minimize the risk of falling out of bed, as does height adjustability.
Q: What is the most comfortable hospital bed?
A: This answer is different for everyone, but there are options to fit any needs. Beds that have multiple positions to correctly and comfortably support the body along with mattresses that range in firmness and available therapeutic features all impact the comfort of the user.
Q: What Is A Full-Electric Hospital Bed?
A: A full-electric hospital bed electrically adjusts the height, head, and feet positions with the press of a button. Benefits include fostering patient independence and safety features to ensure maximum user comfort and safety while minimizing the physical strain on a caregiver.
Q: Can I get a hospital bed for home use?
A: Yes. Rehabmart has a wide selection of hospital and home care beds.
Q: What is a semi-electric hospital bed?
A: A semi-electric bed uses a combination of manual and electric adjustments. The head and foot sections are usually electrically adjustable, while a hand crank is used to manually adjust the height of the bed. For users who benefit from the ability to adjust the head and foot sections for positioning comfort but don't need the height adjusted every time they get in and out of bed, this style is a great choice.
Q: What is a bariatric hospital bed?
A: A bariatric hospital bed meets the size and support requirements of larger-framed users who weigh more than what standard hospital beds can accommodate. Some models are able to accommodate patients weighing up to 1,000 pounds. Although not all bariatric beds can accommodate that weight, they pick up where standard beds that serve patients weighing between 350-450 pounds leave off. Their heavy duty construction makes them durable, while their height adjustability, safety rails, and extra width serve the specific needs of bariatric patients.
Q: Does Medicare cover hospital beds?
A: Medicare will cover home hospital beds if they are prescribed by a doctor as a medically necessary piece of durable medical equipment.
Q: How much does a fully electric hospital bed cost?
A: A fully electric home hospital bed can range from $500 to $6000, and the mattress isn't always included, so consumers need to make sure they are also getting all the appropriate accessories when purchasing a bed.
Q: What's the difference between an electric hospital bed and an adjustable bed?
A: A main focus of a hospital bed is to deliver care and treatment effectively while maintaining patient safety and comfort. Adjustable beds are designed with an emphasis on maximum user comfort and support for sleeping, reading, eating, watching tv, or relaxing in bed. Adjustable beds are more like standard beds, while home hospital beds are treatment-focused and can have a more institutional design and feel.
Final Thoughts
With sleep being an essential function, your sleep space should cater to what will help you achieve the greatest amount of rest. Your sleeping brain recovers from the stresses of the day. Performance and decision-making are definitely impacted by quality and quantity of sleep. Proper sleep contributes to feeling more alert and positive, and helps ward off disease and combat medical challenges. After a good night's sleep, you perform better and are better at making decisions. Sleep can help you feel more alert, optimistic, and get along with people better. Sleep also helps your body ward off disease.
Choose the options in a home hospital bed that best meets your needs for comfort and care, to ensure the best possible, and most healing and restorative sleep you can get. We've gone over the types of hospital beds, and since not all beds come with their own dedicated mattresses, it's important to consider what you need in a mattress for your hospital bed as well. Our selection of the 5 Best Hospital Bed Mattresses will help you make an informed decision when it's time to set up a hospital bed at home.
For more information on how to choose the best home hospital bed for your needs, visit our extensive library at Caregiver University.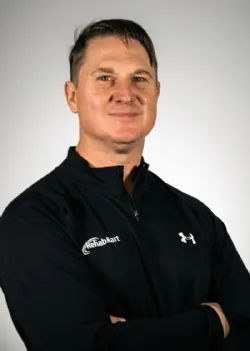 Author:
Co-founder/CEO of Rehabmart, Pediatric Occupational Therapist, husband, and father. Passionate about connecting special needs kids with superb nutrition, sensory integration, and complementary health strategies. Excited about Rehabmart's mission to become the premier online educational platform which empowers caregivers by spotlighting innovative devices and interventions to achieve optimal patient response and recovery.