Wheelchair cushions are supplemental seating tools widely used by individuals who consider wheelchairs their primary mode of mobility. Available in a variety of durable materials and creative designs, wheelchair cushions provide a comfortable place of rest while helping to prevent sitting-induced complications such as ulcers, pressure sores, and skin breakdown.
With gel wheelchair cushions, the user's skin protection is given the highest priority, and many Caregivers and patients alike consider gel to be the best way to prevent as well as heal delicate, damaged skin.
Gel naturally absorbs shock and vibration, and acts as a sort of buffer between the individual in the wheelchair and the uneven terrain upon which they may be navigating. These adaptive cushions provide a deeply cushioned feeling for long-time sitters, and are particularly wonderful for any person who has lost a substantial amount of either muscle mass or body fat and therefore has less natural padding to protect vulnerable sit bones.
Gel cushions typically have a cover made of stretch fabric that is soft and flexible enough to prevent skin shearing and breakdown. Often, cushion covers are waterproof, and may also have a vapor-permeable layer or other way to prevent heat buildup and sweating.
Features to consider when choosing a gel wheelchair cushion
Wheelchair seat width: average, bariatric, or pediatric?
First thing's first: it's important to match the gel cushion's dimensions snugly to those of the wheelchair seat. A cushion that's too small won't provide proper support to the user, whereas some cushion models aren't available in pediatric sizes and wouldn't fit into a smaller seat.
Something to bear in mind is that a thicker, multi-layered gel cushion likely means the cushion will be taller, adding additional height to the wheelchair seat. If the user's wheelchair seat is already higher than average, this could pose something of a challenge when seated at tables or desks.
A general expectation for the height of gel wheelchair cushions is between two to three inches. However, there is potential for variation, depending on which features the cushion comes designed with and what the user's positioning needs are.
So long as both the user's age, lifestyle, and wheelchair makeup are considered when choosing their ideal wheelchair cushion, you'll be able to select a cushion that won't pose a problem!
Level of skin damage: low, moderate, or high?
Skin protection is one area where the design of gel cushions truly shines. Used for both prevention and recovery, gel cushions are often the first choice for individuals who have preexisting skin damage brought on from improper seated posture, loss of body fat, or vulnerable sit bones exposed to long hours of sitting in the same position.
Conversely, if you or a loved one are looking to minimize the risk of skin damage, a gel cushion acts as a terrific defense against ulcers and sores.
Some gel cushions are designed with severe issues of skin deterioration, shearing, and pressure ulcers in mind, while others are more suited for low-risk users. This is also true of gel pad covers! A doctor can best help you determine which level of skin protection is appropriate for your needs, and write you a prescription for a gel cushion that Medicare will help to cover.
Once you know the level of skin breakdown risk involved for you or a loved one (based on the present skin condition, number of hours using a wheelchair each day, and other factors), you can more easily choose the cushion that will provide the best protection.
Hybrid cushions: would a hybrid gel/foam cushion be a good choice for me?
Gel-foam cushions combine the weight distribution of gel with the additional support and softness of foam. This combination of materials is wonderfully supportive, and is uniquely designed for users with moderate to high risk of skin breakdown and pressure ulcers. A great example of this type of cushion is the Saddle by Comfort Company.
Generally speaking, the more gel that is built into the cushion, the more protection it offers. Some cushions even include optional gel inserts, in addition to the gel within the cushion. This is optimal when you want the maximum possible comfort, or need support in specific places.
Cushion covers: waterproof, water resistant, anti-shear, or a combination?
All wheelchair cushions come with covers, and many are made from waterproof or water-resistant fabrics. This is great news for any individual who deals with incontinence, as these covers will prevent moisture from seeping into the soft cushion and keep the cushion free from stains! Most covers are also machine washable, and/or easy to clean by hand with simple soap and water.
One other factor to consider is whether the cover is designed to be anti-shear. Most covers are, but it's worth ensuring prior to purchase - this extra measure prevents skin from sticking to the surface of the cover, an inconvenience that could quickly lead to skin tearing and breakdown.
What else should I consider when selecting a gel wheelchair cushion?
It's true that gel cushions provide superior comfort; however, they are noticeably heavier than either foam or air cushions, and someone with greatly limited upper body strength may find them more difficult to lift or maneuver.
Who would benefit from using a gel wheelchair cushion?
Persons who have pressure sores or are at risk of developing them would benefit from implementing a gel cushion into their wheelchair usage. The deep comfort and padding these cushions provide will minimize risk of skin shearing and relieve pressure on the bony prominences which wear on skin.
Further, anyone looking to relieve pressure on the base of the spine should consider a gel cushion, rather than a more rigid cushion.
Finally, those who perspire easily will appreciate the way gel cushions regulate body temperature. The gel substance used in the cushion's interior has a low level of heat conductivity, which reduces the rapid rise of skin temperature. This regulation prevents sweating, which also contributes to pressure sores!
Will Medicare cover the cost of gel wheelchair cushions?
Yes - in large part! Medicare Part B will pay for 80% of the cost of a wheelchair cushion, and users are required to cover the other 20%
That said, Medicare does have some very specific requirements for coverage, so pay close attention to what falls under their coverage umbrella.
First, patients must have a doctor's order from a physician who has been approved by Medicare. The order must specify which type of cushion you require (gel, foam, air, etc.), and document that you meet the criteria required for that specific type of cushion.
Gel cushions are considered necessary for skin protection, and because of this, Medicare will only cover the cost of a gel cushion if the user either has a pressure ulcer or has had one in the past, and in an area where the body comes in contact with the wheelchair seat.
Medicare will also cover the cost if the user has impaired/no sensation in the part of the body that comes in contact with the seat.
Lack of sensation must be due to one of the following conditions:
Spinal cord injury or disease
Quadriplegia or paraplegia
ALS (Lou Gehrig's disease)
If the cushion is prescribed for positioning needs, the user must have significant asymmetry of posture caused by one of the following conditions:
Hemiplegia (paralysis of one half of the body)
Torsion dystonia (painful muscle contractions)
Coverage may be given for a cushion that addresses both skin protection and positioning, if requirements for both are met.
Will private insurance cover the cost of a gel wheelchair cushion?
Coverage for wheelchair cushions will vary, depending on the insurance company - so be sure to check with your insurance provider to see what options are available to you! If covered, most insurance companies will replace your wheelchair cushion every three years.
Products worth mentioning
Super-Soft Econo Gel Cushion by Skil Care
The Econo Gel Cushion is a great budget-friendly option that combines high-density foam with a gel compartment to protect bony prominences!
This cushion is particularly good at protecting against pressure ulcers, and also offers relief for people who suffer with hip bursitis.
Our team of testers rated this cushion as offering the best overall value in a wheelchair cushion!
Saddle Wheelchair Cushion by Comfort Company
The Saddle cushion is notable for its range of unique, built-in positioning features, including:
A coccyx cut-out to relieve pressure on the tailbone
Deep lateral and medial contours prevent the pelvis from rotating and help align the spine, promoting upright posture.
A waterfall front, which takes pressure off the legs
This cushion comes in three models: zero elevation (which does not add height), wedge (which prevents forward leaning), and anti-thrust, which offers pelvic support for stable sitting.
Our testers rated The Comfort Company's Saddle Wheelchair Cushions as the most advanced in the gel cushion category!
There is no one right cushion for everyone, but everyone deserves the right cushion for their needs!
To find your ideal fit, take a look at Rehabmart's extensive collection of wheelchair cushions, or watch our YouTube product reviews to find the cushion that's perfect for you!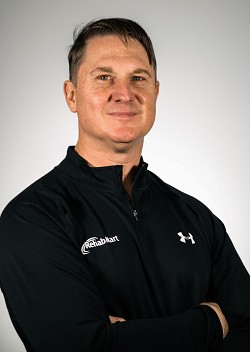 Author:
Co-founder/CEO of Rehabmart, Pediatric Occupational Therapist, husband, and father. Passionate about connecting special needs kids with superb nutrition, sensory integration, and complementary health strategies. Excited about Rehabmart's mission to become the premier online educational platform which empowers caregivers by spotlighting innovative devices and interventions to achieve optimal patient response and recovery.