Pediatric standers, or standing frames, are assistive devices for children with limited mobility.
Designed to support children who have little or no ability to maintain themselves in an upright position, standers enable children to spend a good portion of their day utilizing muscles which would otherwise atrophy.
Being able to maintain an upright posture also helps children take part in social interaction and group learning. This participation fosters cognitive, social, and emotional development.
Features to consider when choosing a pediatric stander
Mobility: passive or self-propelled?
For those who want to provide their child an opportunity to move about independently in a stander, a mobile design is the best choice. Mobile standers almost always feature large wheels which allow children to self-propel, much like they would in a wheelchair - but in a standing position.
On the other hand, if a child does not have the ability to stand, you can opt for a passive stander. Caregivers can move the child with the help of smaller wheels, but the child cannot move about independently.
Positioning: upright or supine?
As the name implies, upright standers position children in a fully upright standing position. These standers are perfect for children with good head and neck control.
On the other hand, a supine stander allows children to be placed in a semi-reclining position. This way, a child with poor head and trunk control may still achieve a semi-upright position.
Some pediatric standers offer the option to move between upright and supine positioning, depending on the user's physical capabilities.
Physical support: minimal or maximum?
For children with low muscle tone or limited ability to control limbs, caregivers should look for a pediatric stander which includes functional supports for bodily positioning.
Types of limb support can include foot rests and foot loops, body harnesses, chest straps, hip guides, and chin/head rests. These supports are normally quite comfortable - many are padded, and most are height adjustable.
Location use: home or school?
If a child will be using a pediatric stander at home, under caregiver supervision, then individuals need only consider matters of mobility and positioning. But if children will be using a pediatric stander while at school, other features ought to be taken into consideration. In a school setting, children will use their stander as a tool for learning and socialization.
A good example of a beneficial feature is the option many standers have to purchase a 'shadow tray'. This feature can be used as a desk or for holding books, manipulatives, and other learning activities. It can even be used for meal time!
If a child is independently mobile, consider a stander offering additional features. Moving independently in the school or daycare setting will multiply a child's social, developmental, and cognitive gains.
Size: toddler or adolescent?
Children capable of benefiting from pediatric standers vary from toddlers right up to adult-size adolescents. Due to their variable designs, it's very important that factors such as weight capacity and height adjustments are considered when purchasing a stander.
Some standers are designed specifically with very small children in mind. These standers are sized down for small bodies, and often come in bright colors and designs which make them more fun to use. Most pediatric standers can adjust to accommodate children of both elementary and middle school age.
Finally, there are standers sized to accommodate adult-size adolescents. These would be appropriate for adolescents who are too tall or large for traditional pediatric standers.
Brands of pediatric standers
Understanding these product variations should help you to select the stander with the precise combination of features and benefits your child needs. In the RehabMart catalog of pediatric standers, you'll find 57 products that offer the above benefits in various combinations.
Here are a few of RehabMart's most popular pediatric standers, and what makes them stand out.
EasyStand Bantam Stander – The EasyStand allows transitioning from supine to an upright position. This gives caregivers flexibility as the child's mobility and coordination increase over time. The EasyStand has a gas spring lift, which is operated by a foot pedal, making it less physically taxing for caregivers to change the frame's position.
Prime Engineering Superstand Standing Frame – The Superstand provides a wide array of physical supports including body harness, chest laterals, hip guides, and chin/head rests. These supportive features, in addition to a choice between upright and prone position, provide dual comfort and functionality for children with less body control.
EasyStand Evolv Sit to Stand Standing Frame – This frame can be used with both adults and children - even those as small as four feet tall. Sixty configuration options are included, making it possible to achieve an extreme degree of customization.
Rifton Mobile Stander – This stander has large wheelchair-sized wheels, so your child can be independently mobile in an upright position. Even children with no weight-bearing ability at all can move about in a standing position and interact with others.
Leckey Squiggles Stander – The Squiggles stander is for youngsters ages one through five. It allows for independent mobility, and features a unique suspension system which makes it safe for children to move about, even on rough ground or during outdoor play.
Will a pediatric stander help me care for my child more easily?
There are two other classes of pediatric standers that can make day-to-day life with your child less physically challenging, and thus, more enjoyable for both of you.
Active standers allow your child to move arms and legs in a motion which resembles walking on a stationary track. This reciprocal movement provides them with the joy and benefits of movement, while keeping them in one place. You can spend time with your child, but still accomplish tasks at home.
Sit-to-stand frames allow your child to move from a seated to standing position without being lifted. This means less strain for you, and the likelihood that your child can spend more time upright!
How would using a pediatric stander benefit my child?
There is a wealth of research showing how important it is for physically challenged children to spend time standing. In addition to being crucial to their physical health, it greatly enhances their intellectual and emotional development.
Spending time in an upright, weight-bearing position builds bone density and reduces the risk of fractures. It helps develop healthy posture and muscle use. It can also help improve circulation, breathing, urinary function, and sleep patterns.
Standing also delays the appearance of contractures, or overly tightened muscles, and improves those which may already exist. For children with cerebral palsy, standing decreases spasticity.
The benefits of achieving an upright position and participating socially in school and at home are immeasurable. Research has proven that time spent standing results in:
Increased social development through eye contact, verbal interaction, and sharing of tasks
Increases in alertness and clarity of thinking
Does Medicare cover pediatric standers?
Pediatric standers fall under the category of Durable Medical Equipment (DME), and thus are covered through Medicare Part B.
To be covered by Medicare, a stander must be deemed "medically necessary" by your doctor, who will generally prescribe it and file the claim on your behalf.
If you were to purchase a stander without your doctor's involvement, you'd need to file the Medicare claim yourself. Read more about How to File a Medicare Claim here!
Does private insurance cover pediatric standers?
While insurance policies and companies vary, many health insurance companies will cover Durable Medical Equipment, provided it meets the following standards:
It is durable (can withstand repeated use)
It is used for a medical reason
It is not usually useful to someone who is not ill or disabled
It can be used in the home
It has an expected lifespan of at least three years
Summary
Spending time in an upright, weight-bearing position is absolutely crucial to your child's health. Besides physical health, a child's emotional development, ability to learn, and social skills all suffer when they are not able to stand. For this reason, selecting a standing frame for your child's use is one of the most important decisions you'll make during their adolescence.
Rehabmart is committed to providing educational information to help you make a sound decision for your child. For a more in-depth look at the best, most useful pediatric standers, please read our review of The 5 Best Pediatric Standers.
Want to learn even more? Find dozens of videos featuring products and caregiver tips like these at Rehabmart's YouTube channel!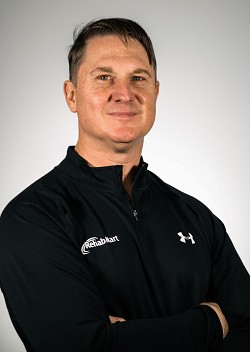 Author:
Co-founder/CEO of Rehabmart, Pediatric Occupational Therapist, husband, and father. Passionate about connecting special needs kids with superb nutrition, sensory integration, and complementary health strategies. Excited about Rehabmart's mission to become the premier online educational platform which empowers caregivers by spotlighting innovative devices and interventions to achieve optimal patient response and recovery.