Looking for more information on fall prevention either in the home or hospital? One of the most valuable tools for people who are at risk of falling is a low bed - but what exactly is a low bed?
In general, "low beds" are any bed designed with a very low minimum height, usually less than a foot from the floor. But, when speaking about low beds in terms of fall prevention, what people usually mean is a hospital-style bed designed to be low to the ground in order to minimize damage from falls.
Often these beds are electrically height adjustable, which can be great for an improved feeling of dignity as well as for easier access by caregivers, but they are also available in fixed styles which can be great for a more economical solution.
Low beds operate differently based on their design, and come in a variety of styles categorized as low beds, ultra-low beds, and floor beds. Depending on the user's needs, one type of low bed may be better suited than the others.
However, due to the large range of styles available, choosing the right low bed to meet your needs can feel challenging. To help ease the process, we'll present a variety of important considerations to make when purchasing a low bed, ultra-low bed, or floor bed. But first, let's review each bed format in a little bit more detail.
Low Beds
Standard low beds are likely one of the more familiar types of low beds. Often featuring minimum heights of about 9.5 inches, these beds are usually adjustable, making it easier to raise and lower them as needed. Users can easily get in bed at a normal height, and then lower the bed down for safe sleeping, raising it again in the morning to get safely out.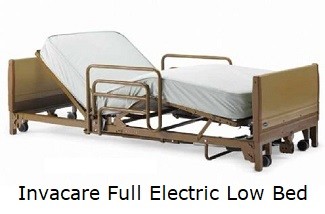 A great example of this style of bed is the Full Electric Low Bed from Invacare, which is popular for its ergonomic design and economical price point.
Ultra-Low Beds
Ultra-low beds are those with minimum heights of about 7.5 inches, reaching lower than the standard low beds. Like most styles of low beds, these are also usually adjustable in height whether manually or electrically, but may also be fixed.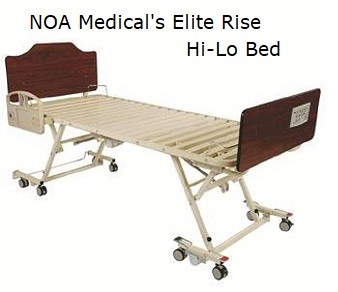 A classic example of an ultra-low bed can be seen in NOA Medical's widely-praised Medical Elite Rise Hi-Lo Bed.
Floor Beds
Floor beds are the lowest of the low beds, lowering to a minimum height of just about 3 inches from the floor. Although they're called "floor beds" these beds are not actually on the floor, they're just very very low, making them a better tool for fall management and injury prevention when people fall out of bed.
Among the most popular floor beds on the market is Accora's FloorBed, which boasts a low height of just 2.8 inches, making it the absolute lowest on the market.
How to Choose
The most important thing to note when considering a low bed is to first consider your reasons for needing one - are you looking to keep a loved one safer, to prevent falls in a healthcare setting, or to reduce injuries from someone who is prone to frequent falling out of bed.
All of these reasons lead you to a low bed, but each may require a different solution depending on other factors, so keep that in mind as you're choosing.
Height Range
While perhaps an obvious consideration, one of the most important features to check when purchasing a low bed is the height range. Depending on the type of low bed, this range may vary quite a bit. For example, standard low beds typically do not reach lower than roughly 8-9 inches in height, ultra-low beds usually reach as low as 6-7 inches in height, and floor beds can reach as low as 3 inches in height.
One of the most important things to keep in mind, is that the height of the mattress will add to the final height that the sleeper is placed at - because of this, even low beds can cause serious injury if a user rolls or falls out of one, so additional measures need to be taken to improve safety.
Weight Capacity
The amount of weight that a low bed is capable of safely supporting varies from bed to bed. Most low beds are designed to support up to 400-450 pounds, but bariatric models are available to accommodate larger users who may weigh more than that. Similarly, sleep deck adjustment may be needed for larger users, helping to provide more space for better comfort and support.
The AllCare Bed from Med-Mizer is a really great example of a bed that offers both floor bed capabilities and bariatric accommodation with a weight capacity of 600 pounds.
Size
It likely comes as no surprise that not all beds are the same size, and this is a particularly important point when it comes to low beds. While most low beds are offered in multiple different sizes, some offer more size options than others, and certain spaces often have different requirements for the size of bed needed.
Adjustment
Adjustability is a major component of most low beds, which is why most feature electric height adjustment; however, it is worth noting that this is not always the case. Electric operation of the bed is an invaluable feature, as it significantly reduces the strain and potential for injury to caregivers, but the added cost may make it inaccessible for many users.
In addition to height adjustment, many low beds also feature ergonomic positional adjustments that are ideal for supporting patients who spend large amounts of time in bed. These include head/feet section elevation and recline as well as ergonomic sitting/laying positioning.
Optional Features
Beyond the features described above, there are also a large number of optional components and accessories that help make a bed safer, more comfortable, and more appropriate for each individual.
Returning to the fact that mattresses can add additional height to a bed which can mitigate its fall injury reduction, items like bed rails, floor mats, bolsters, and cushions that fit against the sides of the bed to help improve safety and reduce falls as well as injuries from falls.
Conclusion
Ultimately, finding the best low bed, ultra-low bed, or floor bed to meet your needs comes down to reviewing potential options and considering the important factors as listed above.
To make sure that you're getting the best possible deal and the highest quality low bed, be sure to browse our full selection of low beds.
Also, be sure to come back and visit Caregiver University for more helpful buying guides and informative articles about medical tools and caregiving.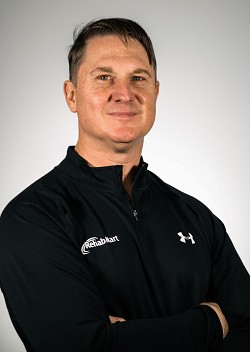 Author:
Co-founder/CEO of Rehabmart, Pediatric Occupational Therapist, husband, and father. Passionate about connecting special needs kids with superb nutrition, sensory integration, and complementary health strategies. Excited about Rehabmart's mission to become the premier online educational platform which empowers caregivers by spotlighting innovative devices and interventions to achieve optimal patient response and recovery.