If you have a balance disorder, like vertigo, then life can take you for a spin! We completely understand that a balance disorder can put unfair limitations on your life, even on exercise. BUT if you have a balance disorder and are seeking an aerobic workout, then we have good news!
An adult tricycle, AKA a 3-wheeled bike, provides a stable and functional alternative to a conventional bike, giving you the chance to safely enjoy the benefits of cycling. Whether you are seeking exercise or transportation or just a way to leisurely enjoy your time outside, you'll find balance isn't an issue with an adult trike, so you can self-propel without worrying about tipping over.
The frame of a tricycle is built for stability and comfort, opening up a whole new world of activities for people who don't have the physical ability to ride a conventional bicycle. From a therapeutic standpoint, the use of an adult tricycle can improve strength, balance, and coordination, all of which improve quality of life and impact daily activities of living.
The Top 5: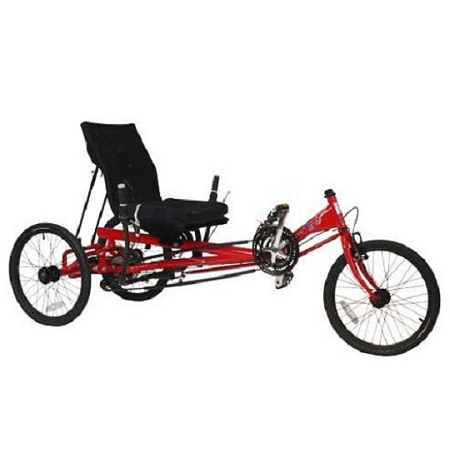 Entering our list at #5 is the JT-2300 USS Recumbent Foot Cycle with Under Seat Steering from Amtryke.
This recumbent recreational adult tricycle has under-seat steering with handles on either side of the seat to accommodate riders who can't hold their arms outstretched for long periods. Having control handles closer to the body means you don't have to extend your arms or lean forward to reach the handlebars. It boasts 15-speed Shimano bar end thumb shifters, a front hand brake, and rear disk brakes for easy control.
With a 250-pound weight capacity and a low center of gravity, this bike will serve you well if you have limited core strength and would benefit from the added stability and balance this adult trike provides. It has a cool mesh seat with removable foam padded seat and back cushions with lap and chest straps. It comes with front and rear safety reflectors, a flag, and a free helmet.
This adult tricycle has a 20-inch front wheel and two 20-inch rear wheels with smooth tread pneumatic tires that are great for riding on roadways or on trails. The freewheel hub allows riders to conserve energy by coasting, but it's a feature that means this adult trike is only for advanced or closely supervised riders.
If you are an experienced rider looking for a full-feature recumbent trike, the JT-2300 is a versatile choice for road or trail riding. It eliminates the strain of reaching for steering and shifting and it provides a stable, comfortable riding cycling experience.
Features and Benefits
Visible on trails and roadways
Easy to get on and off with low seating
Adjustable seat will fit most adults
Rolled steel frame for strength and durability
Variable terrain tires and multiple speeds allow for road and trail cycling
Customer Feedback
Pros
A fun ride not limited to paved surfaces
Safe and secure feeling while riding, even for someone with balance problems
Can ride a long time without upper body fatigue
Doesn't require a strong core to operate
Super comfortable seat
Cons
Expert assembly is required
At over 100 pounds, it's heavy to lift and transport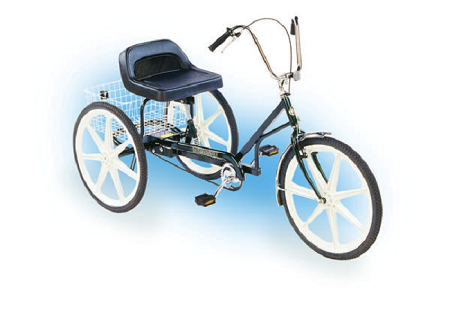 The #4 entry on our list is the durable, low maintenance upright EZ Roll Regal Adult Tricycle from Trailmate. Its high back seat, easy pedal gearing, and adjustable length frame with a low step-through make this adult trike easy to self-propel and very comfortable to ride.
It can accommodate riders up to 250 pounds and comes with a chrome front fender, a rear basket that resists rust, and a safety package that includes reflectors and flags. This great-looking adult tricycle gives you a choice of standard alloy or white mag wheels.
The frame comes in your choice of four colors, and it's TIG welded for strength and durability. It adjusts the distance between the seat and pedals and the distance between the seat and handlebars, with square tubing to provide a customized fit. It can be purchased assembled or unassembled, which unassembled is packaged in three parts.
This adult tricycle has single-speed or 3-speed gearing and optional brake systems depending on a rider's physical ability, but a front hand brake comes standard no matter what configuration is purchased.
Consistently considered a top upright adult 3-wheel bike, this trike has a well-earned reputation for delivering a comfortable and customizable rider experience over a long service life. If you want a solid, comfortable, easy ride that will last, the adult trike at #4 on our list is a solid choice.
Features and Benefits
Brakes are easy to reach
Comfortable ride that looks great
Customized fit from adjustable frame
Choice of gearing for easy pedaling
High back tractor-style seat is comfortable and provides great support
Customer Feedback
Pros
Choice of white mag or standard alloy wheels and several colors to choose from for a customized look
Great handling
Easy to get on and off
Lasts for years
Cons
Fatter tires would provide even more stability
An incorrect gear system choice could make it hard to pedal for people lacking leg strength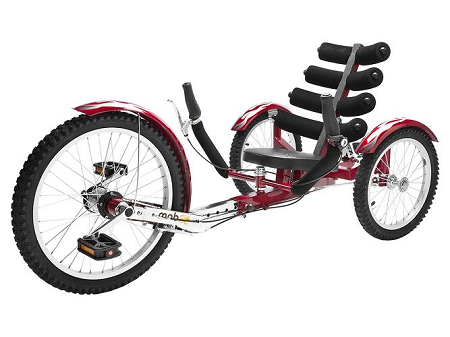 The best value in a recumbent adult trike, our #3 pick is the Mobo Shift Reversible Cruiser by Asa Products. It is the first adult tricycle of its kind to be able to go in reverse!
Its rider-friendly gear system, easy-to-apply caliper hand brakes, and front flywheel structure make it easy for just about anyone to operate this adult trike safely and comfortably. It has a durable steel frame created with a design that enables riders recovering from an injury or dealing with back issues to stay active. The seat reclines at 20, 30, 35, 45, 50, and 60 degrees and is cupped to help prevent falls.
The unique ability to reverse this adult trike helps you back it out of tight spaces. This single-speed adult tricycle has a 16-inch front wheel and 20-inch back wheels and it has a rider weight capacity of 250 pounds.
Whether you are shopping for a recreational therapy adult tricycle bike or just want a trike to get around on or ride for fun, the Mobo Shift Reversible Tricycle can meet any of those needs. It allows cyclists who have developed balance issues to still enjoy riding, and its price point makes it a good value that will prove its value as a wise investment in your health and wellbeing.
Features and Benefits
Great for therapy or just for fun
Adjustable to fit a wide range of rider heights
First of its kind to allow users to reverse this trike
Riders enjoy a fun and comfortable way to get around
Multiple adjustable features for a customized fit
Customer Feedback
Pros
Makes valuable therapy a fun activity
Relaxing, easing anxiety issues
Allows riders to keep riding as they get older and need some additional accommodations
Takes pressure off the back
Affordable full function adult trike
Cons
Assembly instructions were a bit unclear
Use your own tools instead of the ones that come in the box to assemble
The best adult adaptive special needs tricycle is the R140 Large Adaptive Tricycle from Rifton, and it has earned the #2 spot on our list.
Designed as a therapeutic tool, this adaptive trike is also fun for riders while caregivers can be confident in the safety features of this tricycle. It is highly adjustable without requiring any tools, and it can grow with a child into adulthood helping to strengthen legs, develop balance, and provide opportunities for social interaction.
The R140 Large Adaptive Tricycle is quality built and has been consistently recognized as one of the top adult trikes on the market. It comes standard with self-leveling pedals that have hook-and-loop straps, a seat with a seatbelt, wheels that won't puncture, a braking system that includes a handbrake and a rear parking brake, a rear storage box, and a backrest that includes a handle if a caregiver's assistance is required.
It comes with a choice of an adjustable padded loop handlebar or adjustable conventional handlebars with padded ends and it can be ordered with a back pad for riders who don't require significant positioning support or a trunk system that includes a tall back pad, lateral support, and a harness. There are several adaptive accessories that can be added to accommodate special needs.
If the adult trike you're looking for will serve a special needs rider, the R140 is highly adjustable and will provide a comfortable, safe, and fun therapeutic experience. It is easy to care for, allows for tool-free adjustment and addition of accessories, and will accommodate the needs of riders and caregivers.
Features and Benefits
Meets safety standards for adaptive trikes
Can be ridden inside or outside
Adjustments do not require tools
Multiple therapeutic and recreational benefits
Long list of available accessories to customize positioning support
Customer Feedback
Pros
Caregiver can assist or take control of speed and direction
Adjustable to match physical and skill growth
Gets riders with special needs outside and interacting with their environment
Great therapy option that doesn't ever get boring
No tools needed to add or change accessories
Cons
200 pound weight capacity is less than other adult trikes
Not the least expensive model on the market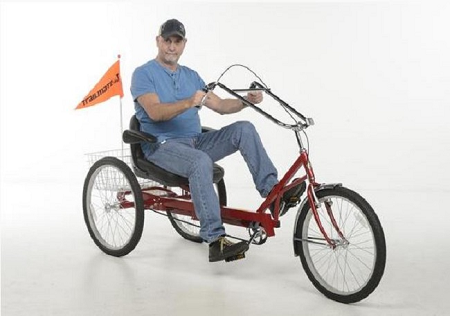 Designed for riders up to 6' 9" tall and weighing up to 295 pounds, the RS 24" Stretch Adult Trike from Trailmate comes with lots of extras and has earned the top spot on our list of Top 5 Best Adult Tricycles.
This solid adult tricycle bike is custom built to order and has a retro look with its extra-wide captain-style seat with moveable armrests positioned behind stretched handlebars. The candy apple red trike comes with a chrome front fender, a safety package with reflectors and flags, an easy-to-reach front cantilever V-brake with a locking parking lever, and a rear basket that won't rust.
It requires full assembly and should be put together by a cycle mechanic or someone with experience and understanding of cycle repair and maintenance.
If you miss cycling but don't have the strength, balance, or agility to do it safely anymore, if you're recovering from an illness or procedure and would like some low impact outdoor exercise, or if you have balance issues that make riding a conventional 2-wheeled bike unsafe, this adult tricycle will provide you with a great opportunity to get outside and enjoy yourself. Its unique styling makes it eye-catching and fun, and its many features make it a useful tool for a healthy lifestyle.
Features and Benefits
Looks great
Fits through a standard doorway
Very low maintenance once assembled
Allows riders with balance problems to safely enjoy cycling
Stays put with cantilever V-brake engaged
Customer Feedback
Pros
Chair style seat is comfortable with armrests that can be moved out of the way
Eliminates fall risks and potential accompanying injuries with a stable platform
Proud to ride such a great looking trike
Feel safe and secure and not afraid of tipping
Cons
Requires professional assembly
Would appreciate if it fit shorter people
Choosing an Adult Tricycle
There are three basic styles of 3-wheeled bikes for adults, each with its own benefits and serving slightly different needs for riders.
Upright
Upright adult tricycle bikes have similar characteristics to standard bikes, except for the extra wheel in the back. They are similar in design to the trikes most people think of for children, but these models are big enough for adults. A rider is seated in an upright position and these trikes often have a low step-through so they are easier to mount and dismount. They are great for transportation and often have storage baskets for carrying things or running errands, but they're not ideal for anyone looking to take on cycling as a sporting activity.
Recumbent
The rider is in a reclining position on a recumbent bike. The rider's weight, which is supported by the back and buttocks, is more evenly distributed over a larger area, making a recumbent trike more comfortable for people with back problems. These cycles are low to the ground and are controlled with levers on either side of the seat rather than a front-mounted handlebar. They are built for exercise and longer rides, but aren't as practical for casual use.
Semi-Recumbent
If you find pedaling a standard adult trike is too difficult, but the recumbent model is too low to the ground for you, a semi-recumbent bike brings together the best features of both. With the stability of an upright model but easier pedaling and steering that comes from sitting back farther, this body style offers a comfortable ride for most people.
Frequently Asked Questions
Q: Why do adults ride tricycles?
A: For people recovering from surgery, an injury, or a stroke or who have Parkinson's disease, multiple sclerosis or cerebral palsy need a safe (and hopefully fun) way to work on improving mobility and strength, and cycling is an effective therapeutic activity to address those issues.
Adults with special needs might need a way to socialize, so a trike is a great way to get them engaged with peers and other cycling enthusiasts.
As people age, they can lose the strength and balance needed to ride a conventional bike, but an adult trike can keep them riding and enjoying the benefits of cycling.
Q: Are adult trikes good exercise?
A: Yes! Adult tricycles offer a solid cardio workout, and also target the quadriceps (thigh muscles), glutes, calves, hamstrings, tibilais anterior (shins), and even your abs.
Q: Which is better, trike or bike?
A: If riding a conventional bike is made potentially more dangerous because of a user's physical limitations, a trike is definitely the better choice for safety reasons alone. Adult trikes are more stable than bikes with wider seats and a solid 3-wheel platform.
Q: Is a tricycle easier to ride uphill?
A: With correct gearing, an adult 3-wheeled tricycle can climb very steep hills. Since you don't have to maintain enough speed to stay balanced, as is required when riding a 2-wheeled bike, you can go slower and steadier without the fear of tipping over from losing your balance. You can also set the brakes and safely stop for a rest on a hill without getting off the bike.
Summary
No matter what your physical abilities or challenges are or what you want to get out of your cycling experience, our list includes an adult tricycle bike that will provide you with a comfortable, safe, and enjoyable ride. Our #1 pick is the Trailmate RS 24-inch Stretch Adult Trike!
If you are unsure which tricycle is best for you, read the helpful article How to Choose the Best Adult Trike. You can also view our entire catalog of Adult Tricycles and Bicycles. We hope that you enjoyed this article and it helps put you on track to a more active lifestyle!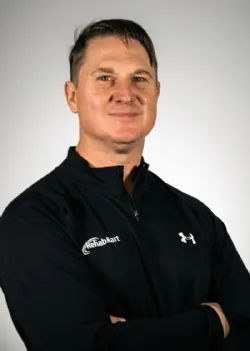 Author:
Co-founder/CEO of Rehabmart, Pediatric Occupational Therapist, husband, and father. Passionate about connecting special needs kids with superb nutrition, sensory integration, and complementary health strategies. Excited about Rehabmart's mission to become the premier online educational platform which empowers caregivers by spotlighting innovative devices and interventions to achieve optimal patient response and recovery.