For those people who need assistance transferring from a seated to a standing position, sit-to-stand lifts are an essential tool for everyday life. They provide support and stability to help people move through the sitting and standing process.
Often, these lifts can not only serve as transfer devices, but also as an exercise tool to help people strengthen and train the muscles they use for standing. Building muscle memory for this process can be especially helpful for rehabilitation after accidents as well as maintaining mobility for people with degenerative conditions.
This versatility makes sit-to-stand lifts a popular choice for patients of all types, including the elderly, people recovering from injuries, and those with decreased balance.
Two of the titans in the sit-to-stand lift industry, and home healthcare products of all kinds, in fact, are Arjo and Handicare.
Arjo's addition to the sit-to-stand lift pool is the Sara Stedy, a compact, manually-operated patient lift designed to provide a smooth, safe transfer between seated and standing positions. Handicare's offer is the SystemRoMedic QuickMove Patient Lift, a supportive manual lift that is designed to simulate the natural movement of sitting and standing.
Sara Stedy
Arjo's Sara Stedy Patient Transfer Aid sports an ergonomic design and supportive stability, designed to be easily operated with minimal strength required from caregivers.
This lift is composed of a supportive shin & knee rest in front and two ergonomically-curved panels in the back. These curved back panels come together to provide support for the buttocks, and twist out of the way again allowing the patient to easily get onto and off of the standing platform.
This feature is particularly valuable, as it provides backward stability while eliminating the awkwardness of trying to fit a full seat underneath the user, or having them enter the lift around a solid seat.
Another of the Sara Stedy's unique features is its format options. The lift is offered in a standard format that is designed to accommodate users of most sizes, but also in a compact design, which is useful for smaller patients. While the compact format's size makes it easier to move in tight spaces, it doesn't sacrifice strength, still boasting the same 400-pound weight capacity.
QuickMove
Handicare's SystemRoMedic QuickMove Patient Lift is one of the company's most popular sit-to-stand patient lifts, with customers raving about its utility, durability, and safety. The lift is designed to offer full support during transfers simulating the natural muscle movement of sitting and standing.
Without question, one of the most unique and innovative features of the QuickMove lift is its impressive versatility.
The footplate and seat cushions can be removed, allowing the lift to then be used by the patient as a walker. The QuickMove also features an impressive amount of adjustability, with multiple components able to adjust in both height and depth.
Additionally, a unique tilt feature allows you to change the angle of the body, to provide a greater assist or lesser assist in working on the range of motion. The seat pads can also be adjusted both horizontally and vertically, allowing them to be easily slid under a sitting patient for better comfort and less lifting.
Along with its versatility and adjustability, the QuickMove is also frequently praised for its cost-effectiveness. Despite its utility and value, the QuickMove is a surprisingly inexpensive option compared to much of the competition, and this fact is noted regularly by customers as one of its major selling points.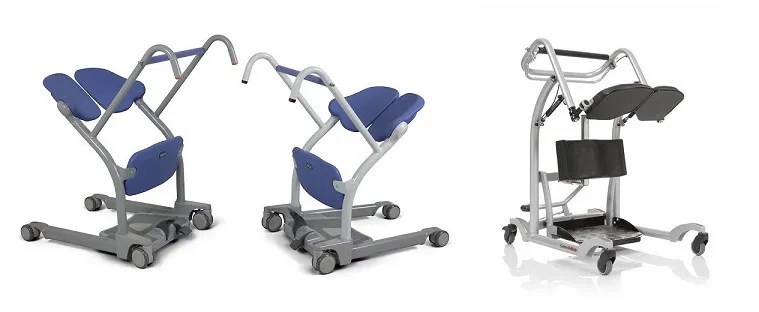 Comparison
Both the Sara Stedy and the QuickMove are designed to perform the same function, to transfer someone from a seated position to a standing position, and vice versa. But, how do they compare on a feature by feature basis?
Seat Pad
Both of these sit-to-stand lifts feature a divided rear pad that serves to support the patient from behind, while also splitting down the center and moving out of the way for easy transfers into and out of the lift.
The main difference between the seat pads for these two lifts is that the Sara Stedy's seat pad only move in one specific motion, rotating up and to the side, or down and around.
The QuickMove, however, features seat pads that can be adjusted horizontally and laterally so that they can be placed underneath a seated patient one side at a time and then used to help lift.
Weight Capacity
Both the Sara Stedy and the QuickMove feature similar safe working loads. The Sara Stedy offers a slightly higher capacity of 400 pounds, while the QuickMove comes in just under that with a safe working load of 375 pounds.
Adjustment Options
Each designed for maximum convenience and accommodation in any care setting, both the Sara Stedy and the QuickMove provide a range of adjustment options. Both include width-adjustable chassis to accommodate wheelchairs and other seats, allowing patients to get as close as possible for easier transfers.
The QuickMove pulls out slightly ahead in this area as it includes a tilt feature, as well as horizontal and lateral adjustment options in their seat pads, and height and depth adjustment in the shin pads.
Mobility
Both the QuickMove and the Sara Stedy feature smooth-rolling casters designed to easily traverse through halls and doorways, and around tight corners.
Both include a low clearance height so that the legs can easily slide under most beds and chairs for closer transfers, though the Sara Stedy does offer the added option of a compact model to better accommodate smaller patients and smaller spaces.
Price Point
In this particular category, the QuickMove comes out on top, featuring a much lower price point at a fraction of the price of the Sara Stedy.
Summary
Both the QuickMove and the Sara Stedy showcase excellence in the field of sit-to-stand lift functionality, offering a great option for patients of all kinds in all different care environments.
Our comparison showed that both of these awesome lifts are a great solution in their own right depending on the patient's needs and preferences.
Hopefully, this research makes it easier for you to select the best option for yourself or your patient.
If you enjoyed this article and want to learn more about great medical devices and caregiving tips, be sure to check out the rest of our helpful articles on Caregiver University.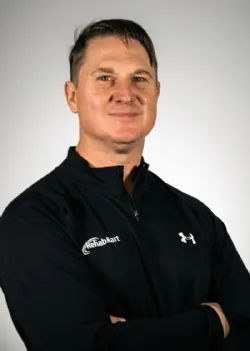 Author:
Co-founder/CEO of Rehabmart, Pediatric Occupational Therapist, husband, and father. Passionate about connecting special needs kids with superb nutrition, sensory integration, and complementary health strategies. Excited about Rehabmart's mission to become the premier online educational platform which empowers caregivers by spotlighting innovative devices and interventions to achieve optimal patient response and recovery.