Most people in the world rely on sound to alert them when something is happening that needs their attention. Through other methods, alert assistive technology for the deaf or hearing impaired can add to the comfort, convenience, and quality of life for users. Even more important than that, though, is the level of safety these products provide. These devices let hearing impaired people know when something is happening, eliminating a barrier that could keep them from receiving necessary information.
The Top 4: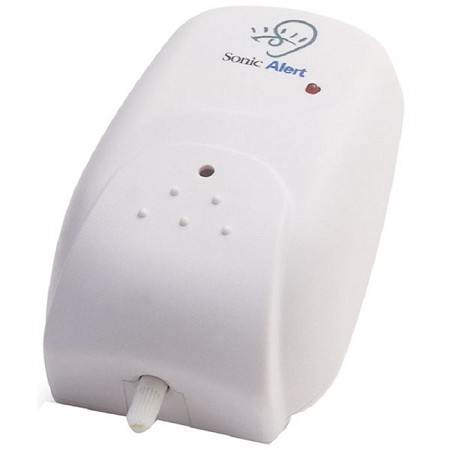 Our #5 entry, the Sonic Alert BC400 Baby Cry Signaler by Diglo, ensures you'll always know when your baby cries, even if you aren't able to hear it.
As a parent, you want to be there for your baby when you're needed, and this device will let you know immediately if your infant cries. It has an adjustable sound sensitivity control, so you can be alerted even when the baby makes only the slightest sound. Since no light flashes in the room where the signal originates, your baby won't be disturbed.
This unit plugs into any outlet and sends a signal over the building's electrical system to wireless receivers that will flash a visual light alert in other parts of the house. You can be confident it's working because of the built-in indicator light.
This alert device for the hearing impaired made our list because it won't disturb your child, it boasts an adjustable sensitivity level, and it's very user-friendly to set up and operate.
Features and Benefits
Signal only flashes on receiving end so baby is undisturbed
Sensitivity control means you can be alerted to any sounds
Convenient and reliable
Wireless design
Uses standard wall outlet
Customer Feedback
Pros
Instills confidence, especially in new parents
Fuss-free installation
Small unit fits in any room
Lights up and vibrates
Signal is transferred anywhere in the house
Cons
Doesn't come with remote receiver, which must be purchased before this product can be used
Setting the sensitivity can be tricky
Using alphanumeric pages that alert with vibration, tone, or both, the LRS RX-E467 Pager for the Hearing Impaired by Diglo at #4 on our list can be used either on its own, or as part of the LRS (Long Range Systems) Paging System.
The pager features adjustable vibration strength and its 4-line display can accommodate a 250-character message. It has a one-mile range, but if you're ever out of range, it will let you know. Powered by a single AAA battery, this small and convenient pager accommodates 5 group addresses, stores 65 messages, and has 15 LCD contrast levels. The backlit display will indicate unread messages, the time messages are received, and when the battery is low. It has an auto on/off function and encrypts the pages for security. The pager comes with a battery so you can begin using it immediately, and a belt clip so you can have the pager close and feel the vibrating alert.
The transmitter has an easy-to-read 16-character by the 4-line display and offers multiple group paging. It transmits up to 9,999 pages and has an antitheft and an all-locate feature. It operates on 110 or 220-volt power. It has a tracking mode that keeps paging until the page is cleared, and it has an easy-to-view backlit display.
This pager and transmitter combination landed at number 4 on our list because of its ease-of-use, secure messaging, and choice of alerts to effectively pass on information.
Features and Benefits
250-character message
Choice of vibration, tone, or both alerts
Use alone or with the LRS Paging System
Recipient gets alphanumeric pages
Network can support 9999 users
Customer Feedback
Pros
Easy to scroll through messages
Stores messages to refer back to
Easy to view even with screen glare
Can send pages from transmitter to pager
Antitheft function protects investment
Cons
Not the least expensive pager on the market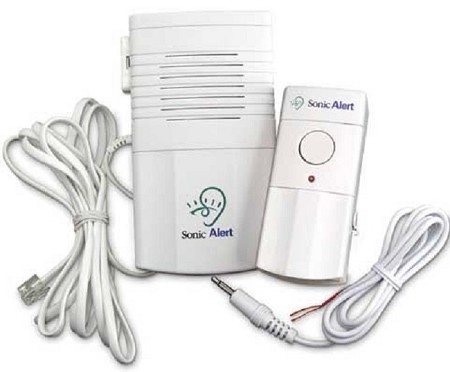 The Deluxe Sonic Alert DB200 Wireless Doorbell and Telephone Transmitter from Diglo at #3 on our list is the only doorbell and telephone signaler that can be installed in mere minutes and doesn't require any wires.
Since it isn't triggered by sound, there are no irritating false alarms that often happen with this kind of device. You can select the number of flashes and which flash code applies to which door or intercom, and the built-in chime for hearing family members can be turned off. It has a built-in outlet to flash as an attached lamp, with easy sending a signal to remote receivers.
The telephone signaler works via the phone cord plugged into the landline telephone jack. It does need a Sonic Alert receiver to function. It works with most home intercom systems with a separate doorbell button session. The doorbell uses a single battery, which is included.
The reliability and lack of false alarms makes our number 3 pick a popular choice among hearing-impaired users. Other popular features are its level of adjustability and easy user-friendly installation.
Features and Benefits
Connects to a telephone signaler for easy call alert
Provides reliable alerts that are not triggered by sound
Selectable number of flashes applied to different alerts
Designed to provide reliable alerts for hearing impaired users
Installs in minutes
Customer Feedback
Pros
Works great with light and landline phone
Helps deaf people determine which door someone is using
Cuts down and even eliminates annoying false alarms
Battery is included
Works with several intercom models
Cons
Doesn't work as well with wireless Sonic Blink
Received instructions for a different piece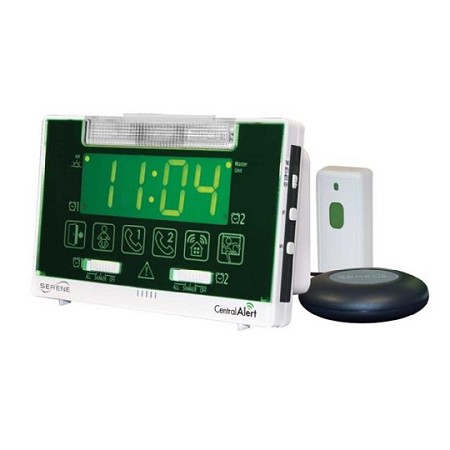 Our #2 choice is the wireless vibrating dual Central Alert System Receiver and Clock by Diglo.
This hearing impaired alert device needs no installation and has big, bright, and easy-to-see alert icons. It comes standard with one powerful bed shaker, and has another jack if you want to order one. A hanging door knock sensor, which is especially useful in hotels, is also an optional add-on.
In addition to the alarm clock, this central alert system can connect and alert to a doorbell, door knocks, phone, fax, audio alarm, baby monitor, weather alert, motion sensors, and more. In fact, it supports up to four doorbells and door knock sensors, 10 remote receivers, 10 personal pagers, 10 audio sensors, four emergency SOS pendants, three crying baby sensors, a phone sensor, and a weather alert sensor.
The clock's brightness is adjustable, and it has dual alarm settings, and it alarms with loud audio and a bright flasher. Its operating range is up to 200 feet, and it has a battery backup in case the power goes out while you're sleeping.
The receiver and clock earned their spot on our list of hearing-impaired alert devices because of their ease of use, expandability as an entire system, and portability.
Features and Benefits
Versatile and wireless
Includes a powerful bed shaker
Loud audio alert option
Bright and easy-to-see alert icons
No installation required
Customer Feedback
Pros
Compatible with multiple alarm devices
Ready to go without any set up time
Meets the needs of deaf users and their partners
Bed shaker will wake even very sound sleepers
Cons
Batteries for backup are not included
Would appreciate the door knocker as standard equipment rather than an optional purchase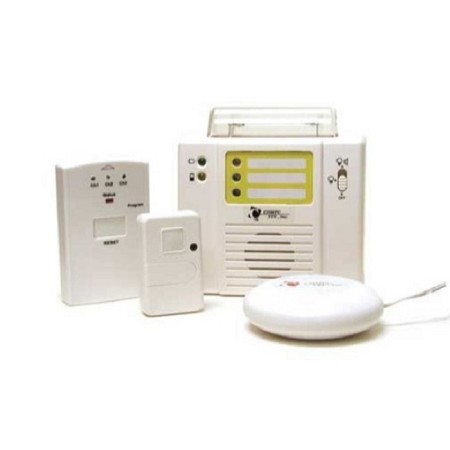 Earning the #1 spot on our list, the Krown KA300 Alert System for Fire and Carbon Monoxide Safety by Diglo provides visual, auditory, and vibrotactile alerts to fire and carbon monoxide dangers.
Designed to connect to a facility's alarm system for carbon monoxide and fire emergencies, this alert system employs a loud auditory alarm, a bright strobe light, and a strong bed shaker. The flexible easy-install system is ideal for small to midsize public or private facility like a college dorm, hotel, apartment building, or school. It has a range of 100 feet and a battery backup for the audio alarm and vibrotactile alerts.
This UL-listed device for the hearing impaired has three receiver memories and three display channels, plus a time-condition signal to combat false alarms. It accommodates 1,024 transmitter code combinations so includes just about any facility's alarm system. It comes with a carrying case, an AC adapter, a 9V alkaline battery, and a 9V rechargeable battery.
The connectivity with existing alarm systems, ease of installation, and potential life-saving capabilities have landed the Krown KA300 Alert System for Fire and Carbon Monoxide Safety at the top of our list of the best alert devices for the hearing impaired
Features and Benefits
Easily installs in homes, apartments, hotels, and dorms
Seamlessly connects to existing alarm systems
Valuable safety tool for hearing impaired and deaf users
Visual, auditory, and vibrating alerts
Prevents false alarms with time-condition signal
Customer Feedback
Pros
Comes with backup battery
Instills confidence for parents while child is living in college dorm where this system is used
Easy accommodation for facilities to install to protect deaf residents
False-alarms are minimized
No need to buy a whole new system to add this safety component
Cons
Strobe alert feature doesn't work on backup power
Didn't seem as durable as expected
Features to consider when purchasing an alert device for the hearing impaired
A hearing-impaired alert device is actually a multi-part system with a transmitter a receiver, and potentially an additional device in the case of a vibrating alert. The transmitter interprets the event, and the receiver passes on the notification from the transmitter to the user. There are some key features to consider when choosing which assistive device is your best option.
Coverage
Determine the square footage of coverage area between the transmitter and receiver. You might want to install additional transmitters and receivers to cover the areas you want to be monitored and the areas where you spend the most time. For example, you might want to have a fire alarm transmitter installed on every floor of your home and a receiver in every bedroom.
Potential Signal Obstructions
In addition to distance obstructing a clear signal between transmitter and receiver, sometimes thick walls can obstruct the signal. Determine where you'll be placing the equipment and the signal strength to determine how to work around any potential disruptions in the signal.
Some brands won't accommodate a location change and you can only receive alerts in one room, so if you are not sedentary, make sure your alarm signal will find its way from the transmitter to your receiver.
Ease of installation and use
There are hearing impaired alert devices that can be packed up and taken along on trips, and some need to be permanently installed by a professional electrician. Others are plug-and-play wireless devices, and there are battery-operated options too. Keep in mind the flexibility you need when deciding which alert devices will be the best fit for your lifestyle.
Additional options
The most standard alert for the hearing impaired is a visual alert, like a flashing strobe light, but there are devices that offer additional add-ons like vibrating alerts or shakers. Alerts can also be part of larger systems that incorporate multi-purpose devices that can be added to the system to signal you when your baby cries, or there is a knock at the door, or the carbon monoxide level in your home has reached a dangerous level.
FAQ
What does a hearing alert system do?
A hearing alert system notifies hearing-impaired people of regular household events like a ringing phone, an alarm clock, a crying baby, a door opening, or a smoke detector going off.
How do hearing alert systems work?
Assistive alert systems transmit alerts to the receiver that creates signals in the form of loud auditory alarms in low or high registers, flashing strobe lights, and/or vibrations so the user knows there is a situation that warrants attention. The level of sensitivity to pick up sounds can vary or even be manually set, and some systems provide the option of precise programmable warnings for different kinds of alerts.
How do visual alert systems help deaf people?
Visual alert systems use a deaf person's other senses to keep them informed about what's happening in their environment, so they know what's happening and can take appropriate action.
Who needs a hearing alert system?
With millions of people dealing with hearing impairment, including half of the people over 60, signaling alert systems are beneficial to anyone who can use these communication tools to be self-reliant, enjoying the freedom and independence that comes from knowing they will be alerted to situations that will keep them safe and able to manage activities of daily living.
Summary
Alert devices for the deaf or hearing impaired allow users to be safe and accomplish daily tasks. Hearing-impaired individuals can enjoy the independence, confidence, and self-reliance that comes from knowing they will be alerted to events that need attention and action.
There are different kinds of alert devices for the hearing impaired, and each of the products on our list leads in its market segment. We chose the Krown KA300 Alert System for Fire and Carbon Monoxide Safety for our top spot because its life-saving capabilities make it one of the most significant additions to the life of a hearing-impaired person.
View Rehabmart's full line of Hearing Impaired Alert Devices, Bed Shakers, Doorbell Signalers, and Medical Alert Systems for more products.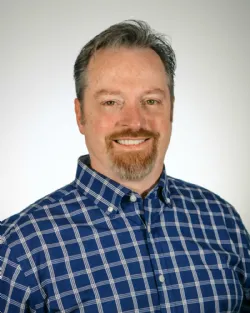 Author:
Co-Founder of Rehabmart and an Occupational Therapist since 1993. Mike has spent his professional career working in multiple areas of Occupational Therapy, including pediatrics, geriatrics, hand therapy, ergonomics and inpatient / outpatient rehabilitation. Mike enjoys writing articles that help people solve complex therapeutic problems and make better product choices.