Mobility. Independence. Efficiency. Power scooters can offer you all three. The ability to easily and freely go from one place to another is important and if you have limited mobility a power scooter can help you lead a more active, productive life.
Mobility scooters can vary greatly and are distinguished by usage, speed, comfort, and transportability. Accurately matching your needs to the mobility scooters' features will enable you to do what you need to do and go where you need to go! From basic models to high-end scooters with many add-on features, this guide will tell you all you need to find the perfect mobility scooter for you.
The Top 5: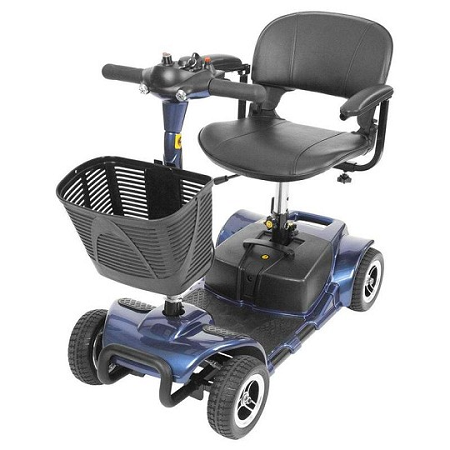 The extremely affordable 4-Wheel Electric Mobility Scooter by Vive Health offers both stability and comfort, earning the #5 position on our list.
With a 12.4-mile range and a top speed of 3.7 mph, the 4-Wheel Electric Mobility Scooter makes getting from place to place simple. This mobility scooter offers its riders all basic features, allowing you to travel with ease and comfort. It includes a swivel seat which aids the rider while entering and exiting, adjustable speed, and a horn for safety while on board. It also boasts a removable basket and LED headlights. The 4-Wheel Electric Mobility Scooter covers all the bases: convenient entry, safety, and storage.
The 4-Wheel Electric Mobility Scooter breaks down into four smaller pieces so you can easily load the scooter in your car and take it on the go. It also includes a backrest with contoured cushioning and padded armrests for comfort.
Being on the go can be difficult for individuals with limited mobility. The 4-Wheel Electric Mobility Scooter is simple and stable, eliminating barriers to getting you where you need to go at an excellent value.
Features and Benefits
Comfortable seat that swivels and is height adjustable
Includes basket for convenient storage of belongings
Easily disassembled for transport and storage
Includes lights and horn for user safety
Customer Feedback
Pros
Affordable and includes basic features
Simple to operate
Long battery life and easily rechargeable
Easy assembly
Cons
No adjustable tiller
Struggles up hills and on grass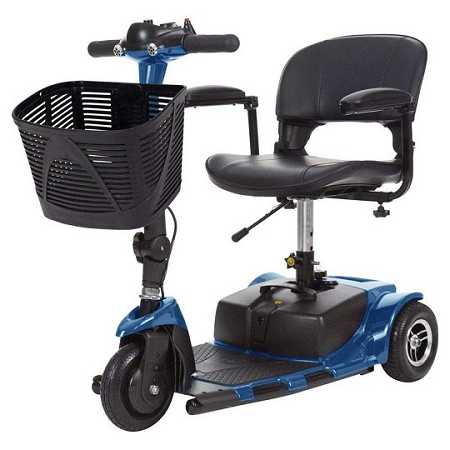 At #4 on our list is the 3-Wheel Electric Mobility Scooter by Vive Health. You can drive this power scooter anywhere from a concrete sidewalk to the grass in your front yard!
Its 3-wheeled design allows for a tight turning radius. This scooter is perfect for tight hallways, apartments, and other small spaces. To easily enter and exit the scooter, its seat can conveniently swivel from side to side. The seat is also height adjustable.
You will be able to travel 12.4-miles per battery charge, and ride at a top speed of 3.70 mph. It's best suited to travel over smooth surfaces and only slight inclines. It has a weight capacity of 265 pounds.
The 3-Wheel Electric Mobility Scooter can be disassembled for easy transport. It takes about 15 to re-assemble. Its front storage basket is large and perfect for carrying your personal items while on the go.
This scooter features padded flip-up armrests, a height-adjustable seat, and a quick connect battery.
Features and Benefits
3-wheel design allows for a tight turning radius
Available in three colors
Large storage basket
LED headlights and horn for safety
Easy to disassemble and transport
Customer Feedback
Pros
Easy to get around
Glides easily
Easy to get in and out of
Cons
Weight limit is only 265 pounds
Seat could be comfier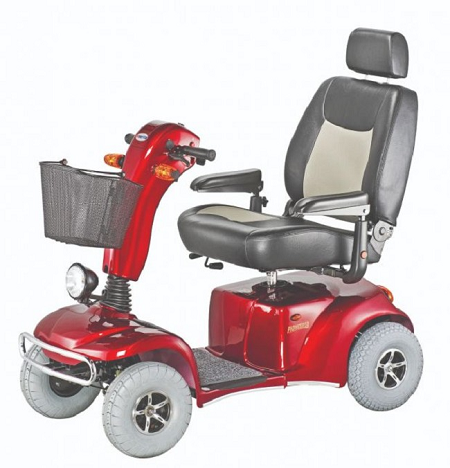 The heavy-duty Pioneer 10 Bariatric Outdoor Electric Scooter by Merits ranks #3 on our list. It is perfect for bariatric patients as it boasts a one piece frame for enhanced sturdiness, weight capacity of 500 pounds, and an extremely comfortable high back captain seat.
This Merits mobility scooter thrives on many terrains including grass, gravel, and carpet with a battery lasting 32 miles per charge and maximum speed of 8 miles per hour. You don't have to worry about running out of charge while out and about and can even go weeks without charging if you're only using it in the house! It also keeps its riders safe with sensors that assure slower speeds while turning, headlights, turn signals, and hazard lights.
The Pioneer 10 Bariatric Outdoor Electric Scooter gives bariatric patients the opportunity to participate in activities that they otherwise may not be able to get out and enjoy. Hop onto this scooter's easy entrance swivel seats, customize the scooter to your needs with adjustable seat height and armrests, and comfortably ride both in and outdoors!
Features and Benefits
Strong one piece frame enables 500-pound weight capacity
Large tires allow navigation on any surface
Automatic safety sensor that slows chair down while turning
Adjustable seat height and armrests
Many optional add ons available
Customer Feedback
Pros
Extremely comfortable seat
Maintains smoothness even on rough terrain
Easy to use interface on tiller
High clearance allows you to ride on uneven surfaces without getting stuck
Cons
Over time, full battery charge decreases
At almost 300-pounds, the scooter is heavy and difficult to transport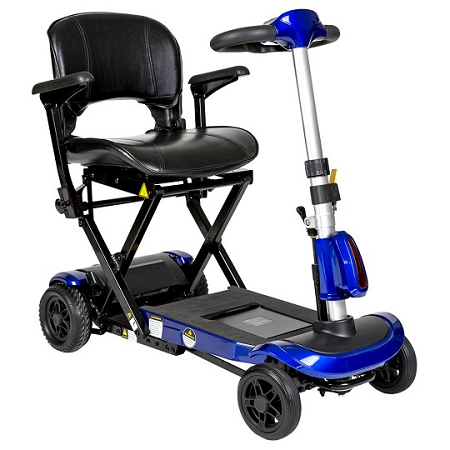 The highly portable Automatic Folding ZooMe Mobility Scooter by Drive Medical is the perfect choice for individuals looking to take their power scooter on the go.
Mobility scooters are a means of transportation and transporting the scooter itself should never stand in the way of going where you want to go! A rider can automatically fold and unfold the Automatic Folding ZooMe Mobility Scooter in 15 seconds or less with just the click of a button and easily fit it in the back of a car. Not only that, but this Drive Medical mobility scooter has a lightweight frame that enables easy lifting in and out of the car, airplane-safe batteries, and coated shrouds to protect it from bumps and scratches during transport. With the Automatic Folding ZooMe Mobility Scooter, there is no reason not to be out and about!
The Automatic Folding ZooMe Mobility Scooter also has a delta tiller style that easily allows individuals with limited hand strength and dexterity to steer at speeds up to 4 mph for as long as 13 miles. The wrap-around delta shape allows you to rest your wrists on the handle while steering, so your arms and hands are less likely to fatigue.
Safely take this scooter anywhere as it can easily be driven on a variety of different terrains and contains many safety features such as front and rear reflectors, anti-tip wheels, and electromagnetic brakes. With the Automatic Folding ZooMe Mobility Scooter, limited mobility doesn't need to stand in the way of adventure.
Features and Benefits
Fast, electronic folding function and lightweight frame enables easy transportation
Simple to use throttle control
Anti-tip wheels increases safety and stability
Delta styled tiller makes use easier for riders with limited hand dexterity and strength
Customer Feedback
Pros
Easily lifted in and out of vehicles for transport
Collapsible feature is excellent for storage
Perfect for on-the-go use
Long lasting battery life
Cons
Lower frame is too short for taller riders
Seat has minimal padding
Large turning radius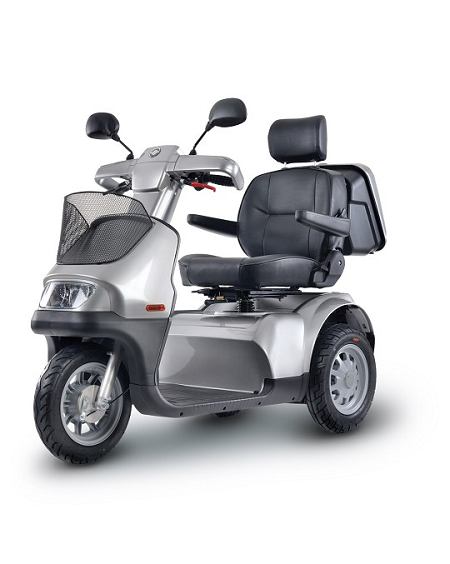 The easy-to-use Afiscooter Breeze S3 Mobility Scooter by Afikim Electronic Vehicles earns the #1 spot on our list. It reaches a top speed of 9.3 mph, can travel 28 miles on a single charge, and it boasts a wide variety of add-on features.
In addition to basic features such as the extremely comfortable swivel seat which allows easy access onto the mobility scooter, fully adjustable tiller, and easy-to-read LCD display, you can customize your scooter with optional features! The add-ons include a cane holder attached to the back of the seat, golf bag holder, foot pedal, rain canopy with sides, hard shell case for storage, and even an extra-wide seat. You can also choose between four colors.
Afikim Electric Vehicles offers you a luxurious power scooter you can ride in style, rain or shine. Comfortably drive the Afiscooter Breeze S3 Mobility Scooter at home, in shopping centers, and around the neighborhood!
Features and Benefits
LCD display control panel allowing easy control
Adjustable tiller, headrest, and armrests to customize scooter for all users
Optional canopy for rain and sun protection
Advanced suspension system for comfort and safety
Cushioned swivel seat for comfort and simple entry and exit
Customer Feedback
Pros
Rides extremely smoothly
High backrest makes boarding easy and provides comfort while driving
Extremely spacious
Very easy to steer
Cons
Rear view mirrors are very wide, not adjustable enough
Difficult to transport
Features to Consider When Purchasing a Mobility Scooter
Usage
The most desirable scooter for you varies based on the distance you wish to travel and the surface on which you'll be driving! If you are planning to drive the scooter for long periods of time, a larger battery range will be necessary. You do not want to get stranded with an empty battery! Larger scooters are typically better for bumpier surfaces such as soft ground and asphalt, while small wheels allow greater maneuverability and typically work best indoors.
Comfort
If you are going to be spending a lot of time on your power scooter, comfort is an especially important factor. Look for scooters with padded seats, armrests, and comfortable backrests. You may even want a wider seat and larger backrest. Additionally, look for mobility scooters with adjustable features. For example, if you have short arms you may prefer a power scooter with adjustable tillers so you can sit comfortably while steering.
Transportability
Are you planning to take your mobility scooter on the go? If so, look for a smaller, lightweight model that can be taken apart or folded. Keep in mind that while foldable scooters are often more convenient, you must still be able to lift it in and out of your car. Disassembling a scooter takes a little more time, but the separate pieces will be easier to lift. Determine what is best for your needs!
Frequently Asked Questions
Q: Should I get a 3 or 4 wheel scooter?
A: Generally, three-wheel scooters are best for indoor use and four-wheel scooters are best for outdoor terrain. On a three-wheel scooter, it is easier to maneuver around various tight obstacles. The extra wheel on four-wheel scooters limits maneuverability, but offers you greater stability.
Q: What is the average speed of a mobility scooter?
A: On average, power scooters move approximately 5-7 miles per hour. There is a wide range, however, with the fastest scooters able to go up to 18 miles per hour.
Q: How do you get the best battery usage for a mobility scooter?
A: Fully charge the batteries every day. Sporadic charging and allowing the battery to completely run out will shorten its lifespan, but with correct charging they should last up to eighteen months.
Q: Will rain ruin a mobility scooter?
A: Mobility scooters are electric machines and not designed to get wet. If left out in the rain, they may develop electric issues and no longer work the way you need them to! If you are anticipating using a power scooter outside in the rain, it is recommended to look for a scooter with rain-covering accessories, such as the Afiscooter Breeze S3 Mobility Scooter.
Q: Can I carry passengers on my mobility scooter?
A: Most mobility scooters are built for one person. It is important to keep in mind the weight capacity, as many are not able to support two people. However, there are a few dual mobility scooters that are able to transport a passenger in addition to the driver. For example, the Afiscooter Breeze S3 Mobility Scooter offers a dual seat model.
Q: Can I ride my mobility scooter on the road?
A: According to the laws in most states, riders on mobility scooters are considered pedestrians and should remain on the sidewalk. While some jurisdictions do permit power scooters on roads, due to their low speeds it is not recommended. Power scooters do not provide the protection and safety of a car so if you're hit, you are more likely to be more severely injured. Additionally, mobility scooters are usually not able to keep up to the speed of traffic, so accidents are more likely to occur.
Q: Do I need a license to drive a mobility scooter?
A: No, you do not need to have a license in order to drive a mobility scooter because it is not considered a recreational vehicle (such as golf carts). Don't worry about jumping through any hoops before purchasing the perfect tool to combat mobility barriers, just jump right in!
Summary
Mobility scooters offer you not only the ability to get from place to place, but operate efficiently and independently. With a power scooter, mobility barriers will no longer stand in your way as you complete daily tasks around the house, travel about shopping malls and other public areas, and even adventure outdoors. Find the perfect mobility scooter for you based on usage, speed, battery range, comfort, and transportability!
While the best power scooter for you depends on your individual needs, the Afiscooter Breeze S3 Mobility Scooter was our #1 pick due to the ability to thrive on the majority of surfaces, high levels of comfort, and a multitude of add-ons. It offers the best and most features to effectively reduce mobility barriers for the majority of people.
View our entire catalog of Mobility Scooters to see even more mobility scooter options and visit Caregiver University for more Product Reviews and Buying Guides!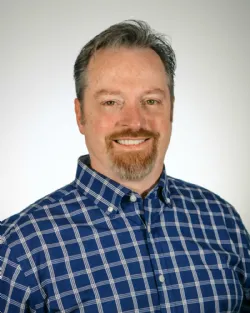 Author:
Co-Founder of Rehabmart and an Occupational Therapist since 1993. Mike has spent his professional career working in multiple areas of Occupational Therapy, including pediatrics, geriatrics, hand therapy, ergonomics and inpatient / outpatient rehabilitation. Mike enjoys writing articles that help people solve complex therapeutic problems and make better product choices.