Mobility scooters, also known as power scooters, assistive scooters, electric scooters or travel scooters, are battery operated mobility equipment designed to assist people who are handicapped. They provide transportation for people who have varying degrees of mobility challenges so that they can lead active, productive lives.
Often defined as the electric equivalent of wheelchairs, mobility scooters are so much more than motorized wheelchairs. Unlike motorized wheelchairs, power scooters have three or four wheels, increasing the stability and safety of their use.
They also have a flat platform for your feet and either a handlebar or a center console steering system. The seat swivels around, making it super easy to get off and on your scooter. Mobility scooters are powered by rechargeable battery.
Top 5 Best Mobility Scooter Summary
The Top 4:
What factors should I consider when choosing my mobility scooter?
Ease of foldability and portability (for transport purposes)
Type of use: indoor or outdoor/smooth or rough terrain
Speed: scooter speeds ranges from 5 to 12 miles per hour
Maneuverability: 3-wheel for tighter turning or 4-wheel for additional stability
Curb climbing ability
Our Top 5 Mobility Scooters Product Review will evaluate the features, benefits, cost, versatility, ease of use and customer reviews of more than 41 excellent scooters, providing you with the information that you need to make the best choice for your family!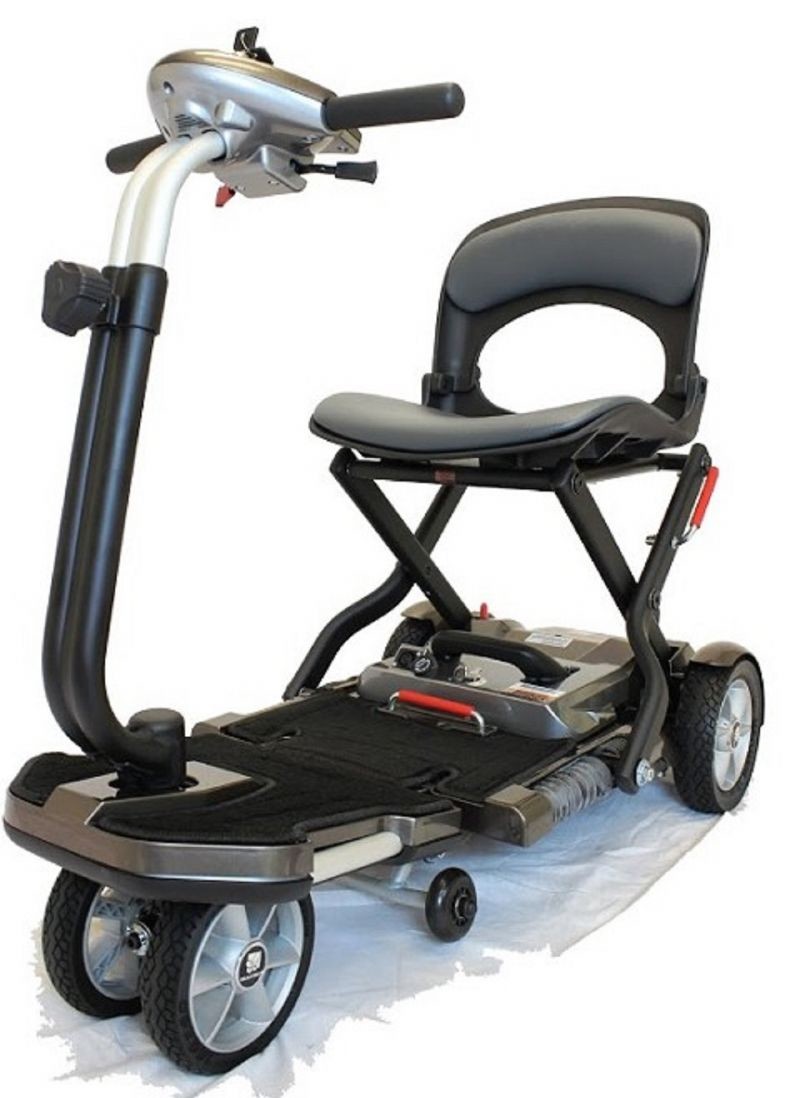 Our number five scooter is the lightest and most portable mobility scooter in our review – but it lives up to its name when it comes to power! The Passport Power Scooter can travel up to four miles an hour for more than 12 hours – on one battery charge.
The Passport comes standard with two 12 volt batteries; however, the lithium AH (amp hours) upgrade option provides a battery system that is lighter, lasts longer and charges more quickly. We recommend that you choose the lithium battery option. This upgrade generally costs less than $300.
Customers who purchased the Passport say that the lightweight scooter is easy to fold up and store in the trunk of their car. They love the fact that they have the ability to go to the mall or grocery store unaided or with minimal help. They say the Passport is folded in one simple, easy step and it is light enough – it weighs less than 50 pounds – for them to effortlessly lift and move. The scooter is specifically designed to maneuver in tight spaces.
But many customers warn that you should not be fooled by the scooter's light weight – they say that it is quite durable. The passenger weight capacity for the Passport is 250 pounds.
Customers also insisted that the Passport is most dependable and the 12+ hour battery life is more than sufficient for their needs. A gentleman in Virginia said that his battery is super long-lasting and adequate for all of his shopping needs. He added that he takes his scooter to the ball park to watch his grandson play soccer, and it is very stable on the uneven terrain.
A customer purchased the Passport for his mother, so that they could go on a family cruise. Although she is in fair health, he said that she suffers from shortness of breath and cannot walk very far. He added that she passed through all of the cabin doorways and the ship's narrow hallways with no problem, and that she was able to accompany them on all of the on-shore excursions.
The Passport is stylish; it is light bronze with black detail and trim. The 16-inch fish-on style seat is comfortable and chic. The armrests are adjustable and the seat has a quick release feature for ease of removal for cleaning.
Features and Benefits
Exceptionally lightweight and easy to fold up
Four-wheel stability
250-pound weight capacity
One-year Warranty
Customer Feedback
Customers routinely boast that they can take their Passport Power Scooter anywhere. They rate the Passport Power Scooter 4.8 to 5 stars. The lightweight foldability and portability of this excellent scooter are the deciding factor for most users. The scooter is considered to be mid-priced; customers did not find the scooter to be exorbitantly expensive for the value and freedom of movement that it provided for them.
Pros:
Additional upgrades include a European Power Adaptor and a cane holder
Flat-free tires
4 mph speed
Weighs less than 50 pounds
Cons:
Passport does not have a basket or the option to install a basket for personal belongings storage
The Passport will not support users who weigh more than 250 pounds, including personal belongings
The AFISCOOTER Breeze S4 Mobility Scooter is one of the most progressive and innovative scooters on the market. Many customers say that the Breeze S4 drives like a luxury car! The Breeze S4 has a plethora of standard features, including an ergonomic, fully adjustable seat for comfort and a tough steel frame for durability and years of use. This scooter performs well both indoors and outside on uneven terrain.
The Breeze S4 is tech-savvy, with an LCD display panel that provides you with speed, blinker notification and direction, and a constantly updated battery life icon.
This is truly an extravagant scooter; the 18-inch orthopedic seat swivels a full 360 degrees. The handlebar style steering tiller is designed to help people with arthritis or other hand, wrist and arm weakness, to navigate or steer more easily.
The Breeze S4 has an incredible 30 mile driving range – with a top speed of nearly 10 miles per hour. It is very fast for a scooter and depending on the amount of use or length of your journey, the battery does not need to be charged daily.
This scooter has a weight capacity of 450 pounds, making it an excellent choice for bariatric patients or users. The steel frame promises durability – but also, a smooth, comfortable ride.
Customers praise the Breeze S4 for its high-clearance and ability to easily jump curbs and other tough ground barriers. An 81-year-old customer from Washington state reports that his Breeze S4 is perfect and thanks to the canopy top, he has the freedom to travel around in inclement weather. He suffers from limited walking ability and said that his scooter allows him to fully participate in life with his family. The Breeze S4, he added, is reliable, well-constructed and handles very well.
A customer in upstate New York said that she loves the fact that she is no longer dependent on others when she wants to go places – the Breeze S4 has given her back her freedom.
The Breeze S4 is available in stylish fashion colors, like silver, blue or dark gray. Standard features include an integrated canopy for protection from the sun and rain – as well as brake lights, safety mirrors and buzzer controls.
There are several optional features that exponentially increase your comfort while driving your Breeze S4, including a foot pedal, a cane holder and a golf bag holder. The seats are available in two additional sizes, 22 or 24 inches wide.
Features and Benefits
Exceptionally comfortable seat
Drives and rides like a luxury car
Standard canopy and headlights
Easy speed controls, for full or half-speed, forward or backward adjustments
Customer Feedback
The features that customers praise most often are the headlights, the high ground clearance and the stylish aesthetic of the Breeze S4. They love the luxury and the design, as many mention that they receive compliments every time they take their scooter for a spin.
The only design issue reported was from a customer who suffers with arthritis, he said that he has difficulty reaching the storage bin because it is at the rear of the Breeze S4, behind him.
Pros:
Undeniable luxury
Durable shock absorbing steel frame.
Power switch for easy off and on
Optional basket and dust cover available
Cons:
The AFISCOOTER Breeze S4 is the most expensive scooter on our Top 5 Review list
The Breeze S4 weighs 238 pounds, so it is not easily lifted into a car or SUV, it is not very portable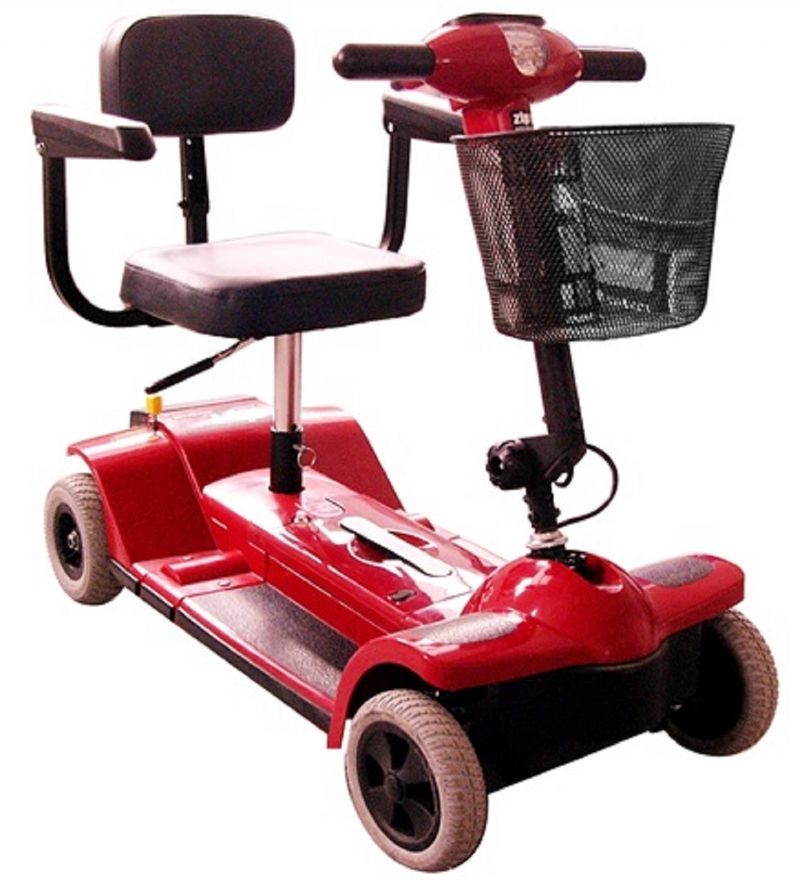 The Zip'r 4-Wheel Traveler Mobility Scooter is the least expensive and most economical assistive scooter on our Top 5 Mobility Scooter Review. Although it is exceptionally priced, this scooter is still stylish and hearty.
Many customers report that the Zip'r 4-Wheel Traveler meets all of their mobility needs - and because of the realistic price point, they were able to achieve their dream of freedom and independence. The 4-Wheel Traveler is compact and easy to fold. It is lightweight and portable.
The 4-Wheel Traveler is a cost-effective choice for personal use, retirement homes and commercial applications. It is durable and reliable, and has a 2.5-inch clearance so it easily clears indoor thresholds as well as most sidewalk imperfections and other outdoor barriers. It does not possess the clearance to be used in an off-road environment, in parks or on uneven terrain.
Customers loved their Zip'r 4-Wheel Traveler. They praise the convenience of having a headlight and a shopping basket and running board platform footrests. A customer in Florida who is currently living in a rehabilitation center said that her 4-Wheel Traveler helps her get around and she would be lost without it.
Another customer said that the 4-Wheel Traveler's low price allowed her to maintain her independence while recovering from ankle and foot surgery. She added that the safety brake is her favorite feature and it has helped her avoid several crashes and spills.
The Zip'r 4-Wheel Traveler is an ideal choice for people with rheumatoid arthritis. A customer who suffers from this malady said that he is gradually losing the ability to walk. The scooter provides an opportunity for him to participate in a world outside of his house. His only criticism is that the battery life does not last him all day, so he has to find a way to charge it mid-day.
A young lady from Texas reported that her Zip'r 4-Wheel Traveler has provided her with an opportunity to volunteer again. She lost her mobility due to pulmonary fibrosis and cannot walk across the room – but she still finds immense value in volunteerism. She said that it makes her very happy to pop her oxygen in the basket and go volunteer.
The 4-Wheel Traveler features a 14 or 16 inch comfortable, padded seat. It is available in cherry red or royal blue, with an ebony basket and seat. The mobility scooter speed tops out at 4.2 miles per hour. It can travel at least ten miles on a single battery charge.
Features and Benefits
Very cost-effective, the lowest priced scooter on the Top 5 Review
Suitable for both indoor and some outdoor use
Easy to fold up, portable
Customer Feedback
Customers frequently rate the Zip'r 4-Wheel Traveler 4.8 to 5 stars. They love the portability and the ease of use as well as the low price. A customer in California said that he has owned the 4-Wheel Traveler for four years and it has added another dimension to his life. He said that he is 90 years old and unable to walk more than a few feet – but the 4-Wheel Traveler gives him real mobility to get to church and to go out to dinner.
Pros:
Broad wheel base for stability and safety
Flat-free tires
Optional dust cover available
Cons:
Wide turning radius
Not ideal for off-road setting and uneven terrain.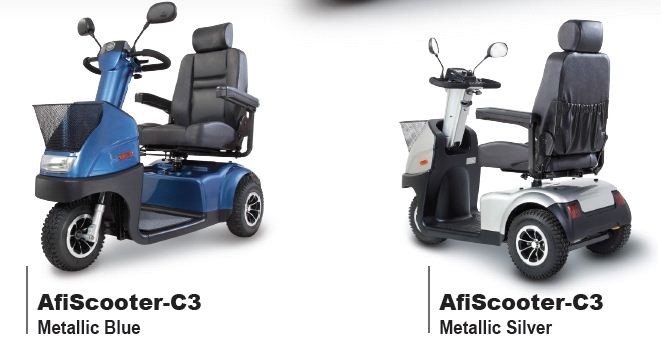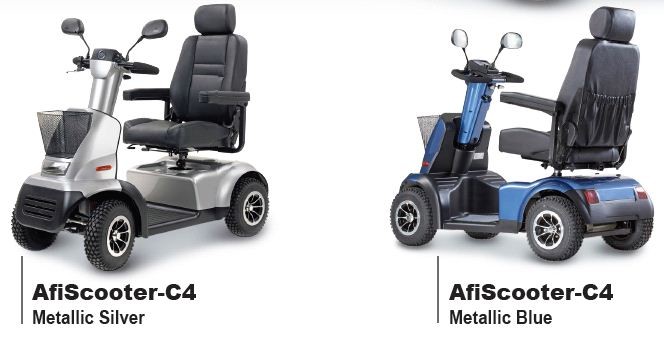 Our number two mobility scooter is a tie between the AFISCOOTER Breeze C3 and the Breeze C4. There are very few differences between these two fine scooters, and the differences are chiefly personal preferences. They are both exceptional mobility equipment so we have decided to include both of them in our Top 5 Mobility Scooter Review.
The Breeze C3 has a very slender profile – it is the only scooter in our Top 5 that features three wheels instead of four. We included the C3 because the three-wheel base provides as much stability and safety as scooters that have a four-wheel base.
The C3's slim silhouette makes it an excellent choice for environments where maneuverability is essential. A center console tiller allows for superior control so you can easily slide through crowds and narrow openings.
The C4 features four wheels – yet it is nearly as easy to maneuver as the C3. Both the C3 and the C4 are a total 26 inches wide, making it safe and easy to travel through crowded stadiums, restaurants and malls. The C4 requires an additional 13 degree turning radius – a hardly noticeable difference between these fine scooters.
With identical 18-inch-wide, comfortable swivel seats, the C3 and C4 allow for effortless entry and exit. They both feature an outstanding design – a superior quality drive with a cutting-edge full suspension system. They are durable and reliable, yet made for comfort and ease of use.
The C3 and the C4 are available in fashion colors – glossy metallic silver or polished metallic blue. Both of these exceptional scooters have a chic black storage basket on front. An additional basket can be added to the back as an upgrade option.
The C3 and the C4 share the same specifications; both scooters weigh 235 pounds and have a weight capacity of 330 pounds for passengers. The extended battery life will allow you to scoot a minimum of 25 miles each time you fully charge the battery. The Breeze C3 and C4 are capable of reaching speeds up to 9.3 miles per hour.
Customers love their Breeze C3 and C4 scooters. They cite the moderate price point with the features of more expensive scooters as the primary reason for the purchase. A gentleman said that his C4 allows him to continue his position in local government – and says that he would give his scooter ten stars if possible.
Another customer says that his C3 is so stylish, people stop him in the mall to ask what type of scooter it is and where they can get one.
A customer in California said that she has a dislocated hip and scoliosis, and is generally in pain. She said that her C3 is comfortable and the ride is very smooth.
Features and Benefits
330-pound passenger capacity
Moderate price point
Standard package includes rearview mirrors, headlight and turn signals
Exceptional suspension system travels well and provides a smooth ride on all types of terrain, indoor and outdoor
Customer Feedback
Customers are very passionate about their AFISCOOTER Breeze C3 and C4. Many have owned other scooters in the past and say that the C3 and the C4 are the best scooters available. They consistently rated these brilliant scooters from 4.9 to 5 stars.

A customer purchased both the C3 and the C4 to compare them in his daily life – he said both were excellent. He said that they provide an incredibly smooth ride and have excellent suspension systems.
Pros:
Slim silhouette for extraordinary maneuverability
Fully adjustable 360-degree swivel seat
Low maintenance
Pneumatic tires
Optional rear basket available
Cons:
The only negatives mentioned for either the C3 or the C4 was that the turn signal does not cancel after turns – you have to manually turn it off – and that it does not come standard with a cup holder.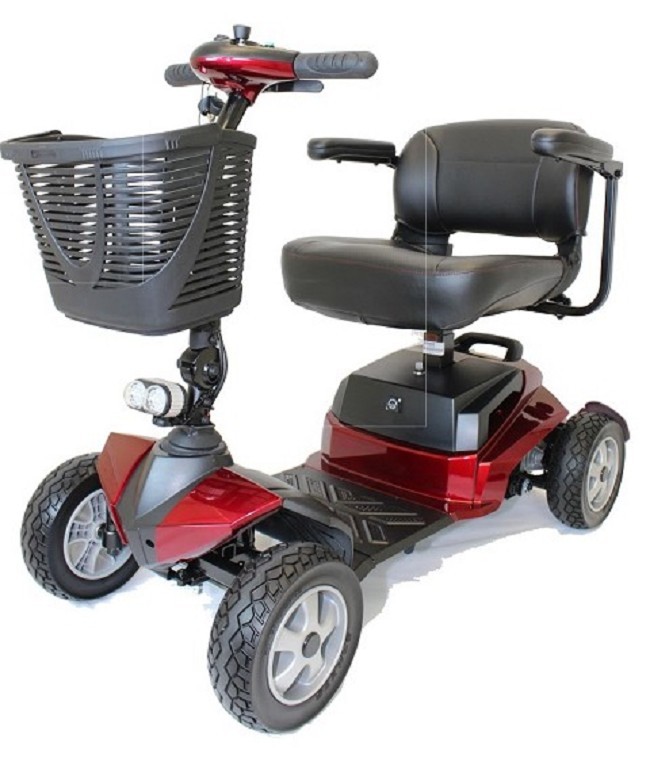 The Zen Portable Power Scooter is built for people on the move. Whether you're going to the grocery store, into the garden or down a wooded trail, this lightweight, portable scooter will get you there in style!
Although it's built to take you outside and across varied terrain, the Zen Power Scooter is also a great choice for indoor use. Its 90-degree swivel seat and removable tiller make it easy for the user to sit at a kitchen table and to transfer to chairs or other furniture.
But it's outside the home that this scooter really shines.
Due to its strong standard and rear suspension system, the Zen Scooter can take you to the mall, on hiking trails, on errands or to the park with equal parts comfort and stability. Easy to transport, the scooter disassembles for stress-free carrying and rear vehicle storage; the heaviest component is only 47 pounds!
The scooter can hold up to 265 pounds and can reach a top speed of 7.5 mph. With a removable battery included, the scooter weighs in at just under 200 pounds. The Zen scooter is available in red or black and sports a handsome carry basket on the front, enabling users to bring important items with them hands-free.
Features and Benefits
Dual indoor and outdoor use
90-degree swivel seat for dismounting and table sitting
Standard and rear suspension system
Disassembles into lightweight pieces for storage or travel
Removable battery box for convenient charging
Comes with a built-in carrying basket
Customer Feeedback
Reviewers of the Zen Portable Power Scooter have had nothing but praise for its many features and conveniences!
Size: Users say that the Zen Scooter fits in a garage with two cars, while being smaller than a Wal-Mart brand scooter.
Wheels: Good tread, able to navigate mowed fields, getting on and off pavement, uneven terrain
Operation: Quiet enough to enjoy an evening walk and conversation!
Comfort: Shock absorption is great going over bumps.
Pros:
Navigates uneven terrain, pavement and grass
Comfortable going over bumps
Cons
Mobility Scooter Buying Guide
Travel scooters are essential equipment for people who are handicapped or suffer with limited mobility issues. After a comprehensive comparison of the features, benefits, price and reviews of more than 41 mobility scooters, the Zen Portable Mobility Scooter is our number one choice!
The Zen is the perfect scooter for people who need the convenience, portability, safety and comfort of a mobility scooter at a price that won't break their budget.
Want to learn even more? Find dozens of videos featuring products and caregiver tips like these at Rehabmart's YouTube channel!
***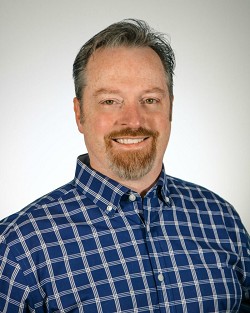 Author:
Co-Founder of Rehabmart and an Occupational Therapist since 1993. Mike has spent his professional career working in multiple areas of Occupational Therapy, including pediatrics, geriatrics, hand therapy, ergonomics and inpatient / outpatient rehabilitation. Mike enjoys writing articles that help people solve complex therapeutic problems and make better product choices.