Bathrooms can be hazardous for anyone, but they're especially risky for people living with impairments to mobility. If you or a loved one are experiencing difficulties with the ability to perform daily hygiene and toileting activities safely, it might be time to employ a shower commode chair for secure support. Available in a wide variety of designs to suit specific user needs, shower commode chairs are often utilized by millions of people in their own homes worldwide, enabling safer support for showering, personal hygiene, and toileting. They're ideal for anyone aging into their senior years, people with both temporary and long-term disability, and those recovering from injury, illness, or surgery.
Top 5 Best Shower Commode Chairs
The Top 5: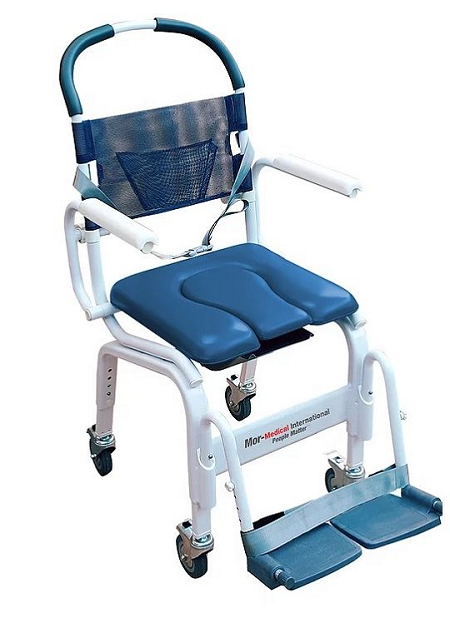 Optimizing effective and efficient infection control, the Euro Deluxe Shower and Commode Chair by Mor-Medical secures the 5th spot in our review with its lower price point and multiple benefits. Constructed with high-grade, non-corrosive aluminum and stainless steel, this Euro-styled combo chair is innovatively designed with integrated drainage pathways to prevent any buildup of waste water or body fluids, enhancing infection control protocols in hospitals and at home.
This shower commode chair with wheels also has a breathable, quick-drying mesh backrest further reduces moisture buildup, while the foam seat cushion is completely sealed, making it impervious to fluids and harmful microbes. Non-porous plastics and powder-coated construction maximize protection and strength in addition to ensuring fast and easy cleanup.
Available in two different width options for customizable comfort, the Euro Deluxe also offers the advantage of height adjustability with both the seat and the footrest. It accommodates a diverse range of users with its weight capacity of 300 pounds for the 18-inch width and 400 pounds for the 22-inch width. The chair's four smooth-rolling casters offer smooth, maneuverable mobility and independently lock for convenient and secure stationary positioning. Offering versatile dual-functionality, the Euro Deluxe can be used as both a portable commode and a shower chair.
Features & Benefits
Incorporated drainage pathways enhance infection control
Smooth, non-porous surfaces resist moisture and harmful microbes
Two width options are both height-adjustable in seat and footrest
Independently-locking casters to optimize stationary positioning
Customer Feedback
Pros
Easy to mobilize, has a good center of balance
Extremely well-constructed, dependable, and solid
Great value for the price, can be used in a variety of ways
Foldaway and removable armrests and footrest provide better access for transfers and bathing
Cons
Might be hard to maneuver and push on carpeting
One customer had trouble keeping the padded insert for the seat in place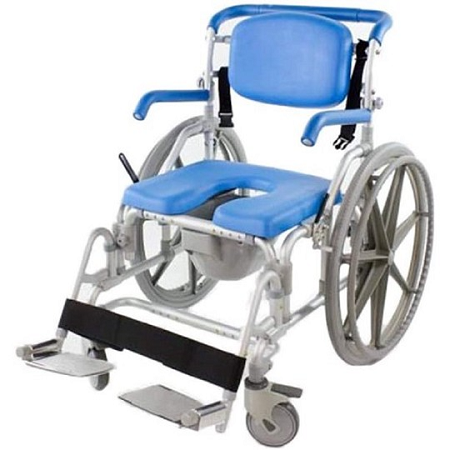 Obtaining the 4th position on our list with its multifaceted use options, the MaxiBathe 3-in-1 Bariatric Shower Commode Chair by Platinum Health can be conveniently utilized as a shower chair, bedside commode, and transport chair. Specially designed to meet the needs of larger users with its 600-pound weight capacity, this chair highlights heavy-duty construction in a rustproof, medical-grade aluminum frame. The comfortable padded foam seat resists water and will never bottom out, while the padded backrest and armrests further optimize user comfort.
Able to adjust in width without tools with the user still seated in the chair, the MaxiBathe by Platinum Health enables users to fit through any doorway without having to transfer or break the chair down. As a shower commode chair self-propelled, its larger back wheels and oversized front casters allow riders with the ability to self-propel to use this chair independently, or an ergonomic push handle in the back ensures easy maneuvering for caregiver control.
Promoting smooth mobility on a variety of flooring surfaces and thresholds, this bariatric shower commode chair comes with brakes to slow movement, along with locks for all four wheels to ensure stationary security. The retractable footrest and armrests facilitate open access for transfers and bathing assistance.
Features & Benefits
Versatile 3-in-1 convenience as a shower chair, commode, and transport chair
The frame adjusts in width without tools for customized fit whenever you need it
Can be self-propelled for independent use or pushed by a caregiver
Padded seat, armrests, and backrest to optimize user comfort
Heavy-duty, medical-grade aluminum frame supports bariatric use up to 600 pounds
Customer Feedback
Pros
Many customers loved that they were able to use this chair independently, giving them their sense of freedom back, and helping to restore confidence
Strong and durable design, not shaky or wobbly with higher weights
Helps to prevent falling injuries for the user and lifting/transferring injuries for the caregiver
Great design, easy to clean, seat cushion retains shape under heavy, repetitive use from multiple clients
Cons
Some users would like to see height adjustability added to this chair
Wheel locks may be challenging for some more physically involved users to employ independently
Providing a more complete and secure bath transfer system for showers in bathtubs, the Shower Buddy TubBuddy Bathtub Transfer Chair procures 3rd place in our review as an ideal option for long-term care needs. Perfect for seniors aging in place at home or users of any age living with a permanent disability, this shower commode transfer slide optimizes safety for both user and caregiver during showering or toileting activities. Making patient transfer in and out of the bathtub and on and off the toilet easier than ever before, the unique format of this Showerbuddy system eliminates unnecessary transfers and heavy lifting.
Although assembly may initially seem complicated, this video explains how easy it actually is to complete, all without the need for tools. This unique transfer system from Showerbuddy delivers multi-purpose functionality to meet a wide variety of user needs. Adjustable points of contact on the bathtub insert ensure a tight, secure fit within the tub, with a sliding bridge that attaches to the tilting shower commode chair to enable easy access for the user. This is a very beneficial feature for people who do not have the ability to lift their legs over the sidewall of the bathtub.
The TubBuddy has a commode opening and removable bucket so it can be used for toileting support over a standard or elongated toilet or as a portable commode placed in a bedroom or close by the user for quick and convenient use whenever it's needed. The tapered seat of this shower commode chair is height-adjustable and has a tailbone recess, optimizing comfort for users weighing up to 350 pounds. Removable, flip-back armrests, an adjustable neck rest, and a fold-up footrest ensure comfortable positioning, opening up access for bathing and transfers as well.
Features & Benefits
Allows for transfer to and from the toilet and bathtub in one easy trip
Unique transfer slide system facilitates multiple transfer applications
All-in-one transfer chair, commode, toileting support, and shower chair
Height-adjustable, tapered seat with tailbone recess for optimal comfort
Easy to assemble without tools
Customer Feedback
Pros
Worth every penny - by far the best shower commode chair transfer slide system the reviewing customers ever used
Excellent support and bathtub transfer aid for users living with spasticity and others who cannot control physical movement
Durable, high-quality design, doesn't corrode, easy to clean
Lightweight, simple to navigate on most flooring surfaces
Several users commented about how less costly this system was to install compared to having to renovate their whole bathroom to safely accommodate family members living with long-term disability
Cons
Assembly was a bit tricky for some users who had challenges with getting the tracks all connected at the right height
Has a higher price point than any of the shower commode chairs in our review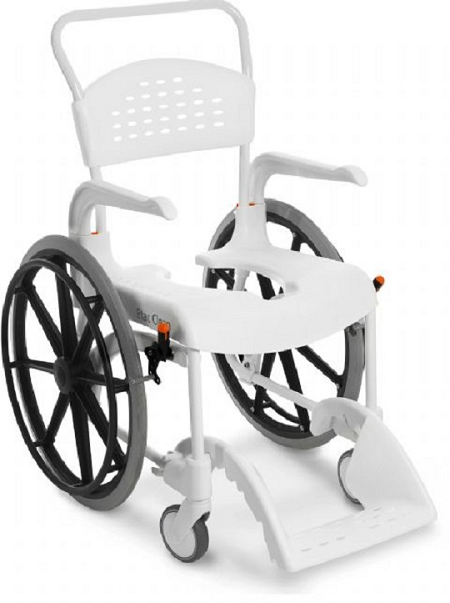 Loaded with a variety of beneficial design elements, the Etac Clean Self-Propelled Wheelchair Shower/Commode Combo Chair by R82 takes the 2nd spot on our list with its comprehensive customization options. Specially formatted for independent users, this shower commode chair uses 24-inch rear wheels along with swiveling, 5-inch, smooth-rolling front casters to enable maneuverable self-propulsion. Although height adjustment doesn't come standard, the Etac Clean offers a plethora of customizing accessories, including a rear-wheel adapter that allows you to change the seat height to suit user needs. The brakes are within the user's reach under the seat.
Also helpful for independent users is the seat's front recess and its open access in the back that makes it easier to attend to personal hygiene during toileting/commode procedures. The slim, compact design of this self-propelled shower commode chair makes it easier to roll over wall-mounted toilets, the most common toilet design used in assisted living communities, hospitals, and long-term care facilities. The uniquely configured and rounded footrest provides comfortable support. Although it flips out of the way to improve access during transfers and bathing, its clever format allows it to stay with the chair so it doesn't get misplaced.
The award-winning Etac Clean is built to withstand repetitive, daily usage and constant contact with water. Easy to clean and constructed with lightweight but exceptionally strong powder-coated polypropylene, this durable shower commode chair won't rust, corrode, or crack. It accommodates a 287-pound weight capacity to securely support most users. While it's a great option for independent shower commode users, it's also well-loved by users who require caregiver assistance.
Features & Benefits
Large 24-inch rear wheel and front swiveling casters enable self-propulsion
A comprehensive range of add-on options for perfect customization
Award-winning slim and compact design rolls easily over wall-mounted toilets
Easy to clean and maintain, won't corrode or crack
The rounded footrest flips out of the way but stays connected to the chair
Customer Feedback
Pros
Some customers have been using this shower commode chair for a decade or more and it's still looking good and performing like new
Exceeds expectations, very strong, durable, and easy to use
Independent users love the design for self-propulsion, saying it worked so much better than other shower commode chairs they had used before
Long-term users and their caregivers recommend this chair over cheaper chairs that just don't hold up - some families had gone through 3 or 4 less expensive chairs in a relatively short period of time, which added up quickly
Cons
A small minority of users found the chair uncomfortable
One user advised that the chair might have a tendency to tip when the user leans to one side or the other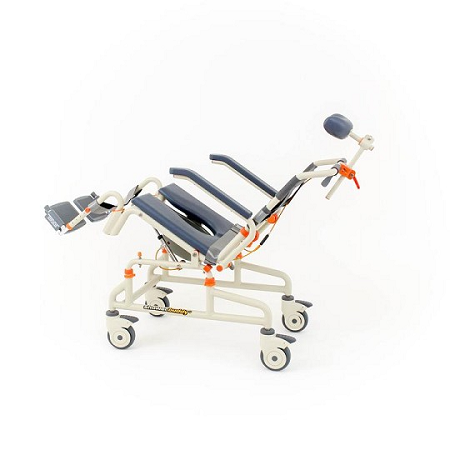 Delivering the best all-around benefits for most users, the SB3T Roll-In ShowerBuddy with Tilt is our #1 choice for the best shower commode chair. Its 30-degree tilting functionality offers multiple positioning and access advantages, effectively relieving tailbone pressure to maximize user comfort. Specially designed as a roll-in shower chair, this shower commode chair with tilt can also roll over most standard and elongated toilets for use as a toileting support frame. In addition, it has a commode opening and bucket for convenient use as a portable commode chair, providing all-in-one versatility. Although it comes standard with everything required for safe bathing and toileting, there are a number of accessories available to upgrade the Roll-In Showerbuddy to customize its use to meet specific user needs.
Durably constructed with aluminum and stainless steel, the Roll-In Showerbuddy resists corrosion, rust, and mold, delivering long-lasting performance in a design that's easy to clean and maintain. It's simple to assemble without tools and offers an ample 550-pound weight capacity to safely support most bariatric users. It provides the advantage of height adjustability to ensure the utmost in user comfort, along with a cushioned seat, adjustable neck rest, padded armrests, and adjustable footrests. The armrests flip back, the footrests swing away, and both armrests and footrests are removable, enabling the exact access you need for bathing and transfers.
As the perfect mobility companion for roll-in showers, this adjustable and easy-to-use shower commode from Showerbuddy provides a complete bathroom mobility aid. Its lockable casters are able to navigate small thresholds and most types of floor surfaces with ease, and it's specially designed to provide more security in wet floor areas.
Features & Benefits
30-degree tilt reduces pressure to optimize comfort
Strong, heavy-duty aluminum and steel construction accommodates 550 pounds
Adjustable height, neck rest, and footrest for versatile user needs
Armrests and footrests flip out of the way or are removable
All-in-one performance as a commode, toilet support, and roll-in shower chair
Customer Feedback
Pros
Tilt feature combined with included safety belts stops users from falling forward - a very important benefit for users with poor trunk control
Many healthcare professionals discovered this shower commode chair at the facilities where they work and it has performed so much better than other chairs - they end up using the Roll-In Showerbuddy with Tilt for their own loved ones at home
Strong, sturdy, dependable, and very well designed, holds up well with larger users
The best value for a tilting shower commode chair and exceeded expectations
Cons
Might be too big for smaller roll-in shower spaces
Features to Consider When Purchasing a Shower Commode Chair
Ready to choose your perfect shower commode chair? Helping to prevent falls for the user and lifting injuries for the caregiver, a shower commode chair is a crucial device needed in every home where there are family members living with mobility impairments. But choosing the best one depends on how that shower commode design suits your particular needs.
In order to meet your unique showering and toileting support requirements, here are some of the most important features to consider when choosing the best shower commode chair:
Propulsion
If you plan to self-propel your shower commode for independent use, be sure to choose models specifically designed for this purpose, with larger back wheels. Caregiver-attended shower commodes should provide ergonomic propulsion for the attendant, with both types easy to navigate and control on a variety of floor surfaces.
Commode support
All shower commode chairs will have some form of open seat to facilitate use as a portable bedside commode. They come in different configurations to meet specific needs, such as with open or closed front recesses or openings in the back that provide more space for toileting hygiene. They usually include the commode pail and can sometimes be upgraded to include other beneficial commode accessories.
Over-the-toilet support
Some shower commode chairs are formatted to allow for use as over-the-toilet support, providing added stability for users by rolling over existing, plumbed toilets. Be sure to match your toilet's measurements to the dimensions of the shower commode chair to ensure it can work in this way before ordering.
Showering support
Because they come in different kinds of design formats, it's important that you choose the type that corresponds to your specific shower's configuration. Roll-in shower commode shower chairs won't work with walled bathtub showers, but they're great for roll-in, curbless showers, or those with low thresholds. Other types, like shower commode chair transfer slides, are specially formatted to accommodate showers located within bathtubs, lifting the user's legs over the wall of the tub.
Weight capacity
Be sure to choose a shower commode chair that is designated to accommodate the user's weight safely. Bariatric models are generally the best choice for larger, heavier users, although some standard models feature a weight capacity of up to 550 pounds.
Adjustability
A number of shower commode chairs offer some kind of adjustability to better meet individual user needs. Aside from maximizing user comfort, height adjustability is also helpful when different people will be using the chair, or for growing children. Adjustable tilt functionality helps with reducing pressure, enhancing positioning, while adjustable footrests optimize angle comfort.
Accessibility
Flip-away, swing-away, and removable armrests and footrests provide more open access for transfers and bathing. Other shower commode chairs may be specially configured with a seat that's in front of the wheels for easier lateral transfers.
Construction
Shower commode chairs should be constructed with material that's water-resistant, and that doesn't corrode or rust. It needs to be strong and durable to withstand repetitive, daily use and constant water contact, but lightweight enough for maneuverable mobility. Design elements should include quick-drying backrests and seats that won't retain water.
FAQ
Q: What is a shower commode chair?
A: A shower commode chair is an assistive device that helps people living with mobility impairments attend to showering, toileting, and personal hygiene with ease and safety. Similar in appearance to a wheelchair, shower commode chairs come in a wide variety of styles with various design differences, including those that can be used as over-the-toilet support frames and as transport chairs.
Q: What are shower commode chairs made of?
A: Because they're designed for constant contact with water, shower commode chairs are almost always constructed with materials that won't rust or corrode and are water-resistant. Non-corroding aluminum is best, but PVCs and powder-coated stainless steel are good choices, as well.
Q: Who needs a shower commode chair?
A: Shower commode chairs are often used by people who are unsteady on their feet for a variety of reasons, including aging, disability, injury, illness, or post-surgery. Helping to prevent falling injuries, shower commode chairs are ideal for anyone living with mobility impairments, providing stable, comfortable support for toileting, showering, and personal hygiene.
Conclusion
When mobility becomes temporarily or permanently impaired due to aging, disability, illness, or injury, a shower commode chair can help to provide safety and comfort for showering and toileting needs. Offered in a variety of formats, these mobile chairs decrease the need for multiple transfers to other assistive equipment and help to prevent falls, keeping the user comfortable and secure within the chair to shower, attend to personal hygiene, and use the toilet.
While any of the shower commode chairs to make our review could be the best choice for a given user based on the feature-to-need match, we found the best overall selection to be the SB3T Roll-In ShowerBuddy with Tilt. Optimizing user comfort with its pressure-relieving 30-degree tilt, adjustable height, cushioned seat, and adjustable footrests and headrest, this popular shower commode chair offers 3-in-1 functionality as a commode, shower chair, and over-the-toilet support frame for convenient versatility. It also accommodates up to 550 pounds, making it a great choice for bariatric users as well.
Be sure to check out our comprehensive Bathing & Toileting catalog to find everything you need to create a safer bathroom environment for every family member. You can also find helpful, timely, and informative articles on a wide array of topics from our team of healthcare experts at Caregiver University.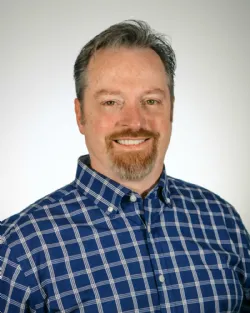 Author:
Co-Founder of Rehabmart and an Occupational Therapist since 1993. Mike has spent his professional career working in multiple areas of Occupational Therapy, including pediatrics, geriatrics, hand therapy, ergonomics and inpatient / outpatient rehabilitation. Mike enjoys writing articles that help people solve complex therapeutic problems and make better product choices.