A shower commode chair makes a bathroom an accessible, safe, comfortable place once again! Commode chairs allow users to get to the bathroom easily, and makes navigating the small spaces between the toilet, sink, and tub less of an obstacle.
The Top 5:
What are shower commode chairs?
Most commode chairs serve as both a toileting and showering aid, and can be used either as an independent toilet or an assistive device that fits over a pre-existing standard toilet. Virtually all have wheels, and can be used to transport patients the short distance from bedroom to bathroom.
For caregivers, a shower commode chair avoids the hazards of attempting a patient transfer in the bathroom. A fall in the bathroom, with its many hard surfaces, is startlingly common (and could cause serious injury!). Transferring to a commode chair in the bedroom is a much safer option.
All shower commode chairs are made from materials that resist rust such as aluminum, stainless steel, or PVC pipe.
How to choose the best shower commode chair
Some people may have a temporary need for a commode chair. For example, someone who is recovering from an injury, surgery, or illness would do well with a basic water-resistant chair with a mesh back support!
For individuals with more severe and ongoing mobility issues, considering the options a bit more carefully will prove beneficial in the long-term. Padded seating, adjustable foot, head and backrests, and even tilting seats are available for lifestyle comfort and accessibility.
All potential users should consult with their physical therapist or doctor when choosing a shower commode chair. These medical professionals can help determine the right model and options for each family member or patient, based on their mobility and unique positioning needs!
5. Ergo Shower Commode Chair by Aquatec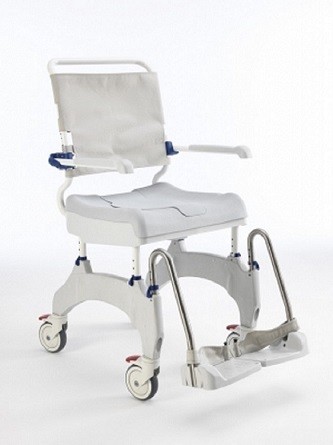 The Ergo Shower Commode Chair by Clarke Healthcare has been included in our rankings due to the sturdy, comfortable design and exceptional quality. It features a height adjustable stainless steel frame that is maintenance-free and rust-free, making it perfect for long-lasting use, and is available in models with either a 200 or 400-pound weight capacity to better accommodate a range of users.
This shower chair includes either locking swivel casters or a self-propel model with wheelchair wheels, making it a great solution for users with a range of mobility needs. It comes standard with adjustable, swing-away footrests as well as height-adjustable flip-up armrests for comfortable support as well as easy transfers.
The Ergo is designed to be able to recline at a 10-degree angle to provide better back support and postural alignment. The fabric backrest is easily removable for convenient cleaning when needed, and optional seat covers are also available depending on your needs.
The quality that makes this chair unique is the ability to totally break it down for thorough cleaning. This makes it perfect for clinical care facilities and home users alike who want to ensure the highest-quality hygiene for their patients and loved ones.
Features & Benefits
Stainless steel frame is strong and maintenance-free
Armrests and footrests are adjustable and swing-away for easy transfers
Seat reclines at a 10-degree angle for improved posture and support
Can be broken down completely for thorough, easy cleaning
Lightweight, comfortable design is easy to maneuver on slippery surfaces
Customer Feedback
Pros:
Available in several models to accommodate a range of users
Maintenance-free and can be broken down for easy cleaning
Comes standard with commode pan for multifunctionality
Cons:
Expensive for the relatively simple design
Fabric backrest is too light for users who need involved support
Most components are not adjustable enough for ideal accommodation
No drainage perforations mean that water may pool
4. Etac Clean Fixed Height Shower Commode Chair by R82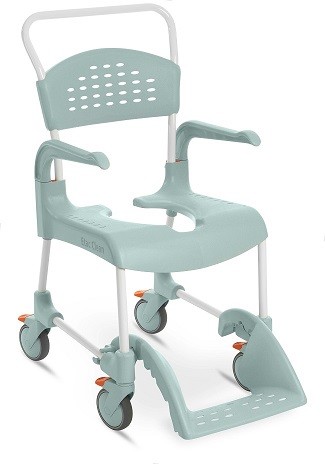 Coming in fourth place is the Etac Clean Fixed Height Shower Commode Chair. It's been awarded the fourth position in our ranking due to its exceptional quality and ergonomic design. It features a slim-line construction that can comfortably fit above most household toilets, and is designed to be multifunctional for a trio of tasks: showering, toileting, and transferring.
The sleek frame of this chair includes convenient water drainage holes in the seat, back, and footrest to promote drainage and prevent slippery and uncomfortable pooling. The solid material is lightweight yet strong and easy to clean, but quick to dry.
The Etac Clean comes complete with removable armrests to offer comfort while still facilitating easy transfers in and out of the chair. The footrest helps to keep the lower body secured, and can be adjusted easily for comfortable support.
This chair is available in a range of sizes to better accommodate users of all sizes, supporting a weight capacity of up to 285 pounds. Each includes four three-inch casters with locking mechanisms for both smooth mobility and firm stability while in place.
Features & Benefits
Multi-purpose design can easily be used for toileting, showering, and transfers
Available in multiple sizes to better accommodate a range of users
Drainage holes prevent pooling and make drying quick
Adjustable armrests and footrest promote comfort and support
Durable construction is smooth and comfortable yet also easy to clean
Customer Feedback
Pros:
Ergonomic design is both attractive and comfortable
Sturdy and easy to maneuver for quick transitions
Great for a variety of tasks all in one device
A range of accessories allows easy customization
Most economical of the chairs ranked on our list
Cons:
Some customers found that it is prone to tipping which can lead to falls
3. Berlin Ergonomic Shower Commode Chair with Padded Seat by Rebotec
Coming in third in our rankings is the Berlin Ergonomic Shower Commode Chair with Padded Seat by Rebotec. This shower chair has been designed with the smooth, curving shapes of European craftsmanship, combined with ultra-strong and reliable German engineering.
All of Rebotec's products are designed with extra attention paid to each individual detail, and the Berlin Shower Chair is no exception. The strong polyurethane frame is durable and supportive, while still being long-lasting and easy to clean. The versatile design allows this chair to serve as a bedside commode, over-toilet commode, and shower chair, all in one convenient device.
The Berlin features a thickly padded seat to encourage proper spinal alignment while also taking pressure off the hips and tailbone. For added comfort and versatility, the seat includes a hygiene opening for the commode, but also includes a lid that can be flipped down for a smooth, solid seat when needed.
Adjustable footrests promote comfortable lower body support, and can also be totally removed to facilitate unobstructed transfers. Handle-shaped armrests help to support the upper body as well as offer stability sitting down and standing up. They can also be flipped down for smooth sideways transfers in and out of the seat if needed.
Features & Benefits
Weight capacity of 286 pounds
Multifunctional for use as bedside commode, raised toilet seat, and shower chair
Thickly padded seat promotes good posture and comfort
Footrests and armrests are supportive and can moved away if needed
Polyurethane frame ensures strength, durability, and easy cleaning
Customer Feedback
Pros:
Perfect for multiple hygiene tasks all in one device
Great price for such a high-quality design
Offers comfort, support, and versatility
Cons:
Components are not adjustable enough for a customized fit
No drainage holes mean that water may pool
2. Carino Height-Adjustable Shower and Hygiene Commode Chair by Arjo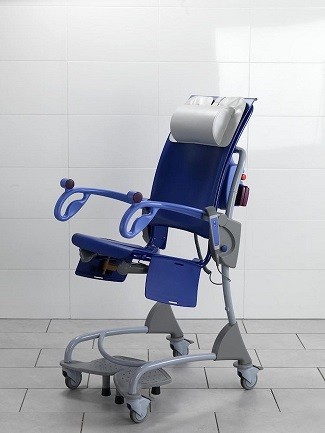 The number one shower commode chair position in our ranking is awarded to the Carino Height-Adjustable Shower and Hygiene Commode Chair by Arjo. This shower commode chair provides the capability for more involved support while still featuring a slim, attractive design.
The Carino is incredibly adjustable, offering exceptional versatility and support for any and every type of hygiene task. A simple handheld remote allows caregivers to easily adjust height, making transfers as well as each task safe and easy by placing the user at the most comfortable height possible. The seat and backrest feature seamless construction and are completely waterproof to ensure longevity and hygiene.
Integrated handles give caregivers optimal control over the chair's movement, helping to promote both safety and a smooth, comfortable ride for the patient. The unique design provides caregivers with a variety of grip options, helping to relieve pressure on them and make their job easier and more comfortable as well.
The Carino features multiple points of adjustment, with legrests that automatically adjust to the perfect position for each patient, and can swing out of the way during transfers. Additionally, the legrests, backrest, and head cushion can all be completely detached for easy cleaning.
Features & Benefits
Electric height adjustment facilitates safe transfers, promotes comfort, and enables easy caregiver access
Accommodates a weight capacity of up to 308 pounds
Seat height can be adjusted from 4 all the way up to 41.13 inches
Versatile design is perfect for nearly any hygiene task
Padded seat, backrest, and head cushions are soft and comfortable
Customer Feedback
Pros:
Perfect for nearly any user in nearly any hygiene scenario
Electric height adjustment ensures comfort and convenience
Leg rests, backrest, & head cushion detach for easy cleaning
Multiple adjustment points provide a customized fit
Cons:
Most expensive of all the shower chairs ranked here
1. Deluxe New Era Infection Control Shower Chair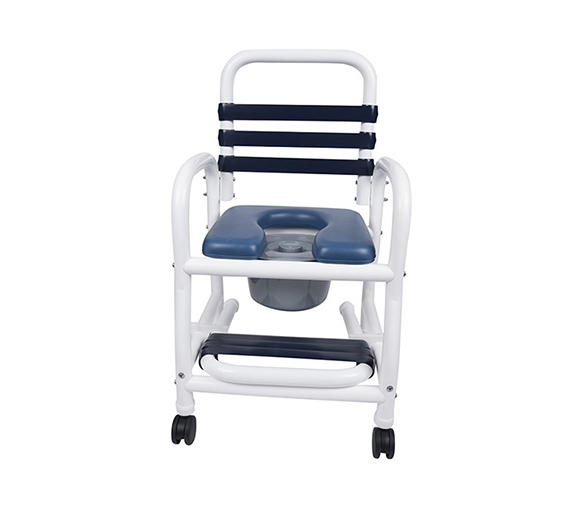 The number one shower commode chair position in our ranking is awarded to the Deluxe New Era Shower Commode Chair by Mor-Medical. This shower commode chair is the ideal, best option for long-term use at home and in facilities due to its infection control design.
The New Era Delux has a seamless frame with no fittings, connectors or other components that can house bacteria and other germs, and the vinyl straps make the entire device easy to thoroughly clean and disinfect.
The lack of fittings on the device is a patent-pending design that also prevents breakage and resulting falls of the patient using the device. It is safer, sturdier, and longer-lasting than other similar products on the market.
The Deluxe New Era is also thoughtfully packaged and a less bulky design, which saves the customer 30% of the freight costs compared to competitor products. Overall, it is the most economical, versatile, and reliable option for someone who needs a shower commode chair, bedside toilet, mobile shower, or toilet safety frame.
Features & Benefits
Seamless infection-control design
Up to 435 lb. weight capacity
Seat sizes and heights vary per model, allowing user to choose ideal fit
Versatile design is perfect for nearly any hygiene task
Vinyl straps allow easy and thorough disinfection
Customer Feedback
Pros:
Ideal and versatile option for clinics and home use
Removable padded seat cushion for easy access of commode pail

5 functions put in 1 unit with bedside, shower, handrail safety, elevated seat, and mobile features

Affordable

Made in the USA with the strong, lightweight materials
Cons:
Lacks height and other adjustability features
Conclusion
Shower commode chairs are excellent tools that help make hygiene tasks safer, easier, and more accessible by people living with limited strength or mobility. We ranked some of the best in our catalog to help simplify your shopping process, and make it quicker and easier.
While all the shower commode chairs we ranked are excellent, the one we ultimately chose as the best is the Deluxe New Era Infection Control Shower Commode Chair. This chair is the most versatile, affordable, safe and durable shower commode chair on the market.
Multiple points of adjustment, integrated padding, slim-line one-piece design, and electric height adjustment with a huge range set this chair apart and make it the clear leader in the category. And while it does feature a higher price point, for patients who require more involved support, there's nothing better on the market.
For more information on exceptional medical tools as well as some amazing caregiving tips and tricks, come check out Caregiver University. And, if you're ready to purchase some exceptional equipment of your own, make sure you visit Rehabmart.com.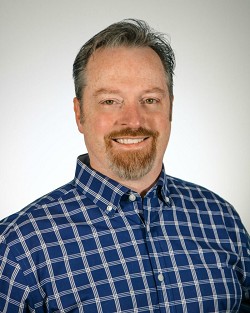 Author:
Co-Founder of Rehabmart and an Occupational Therapist since 1993. Mike has spent his professional career working in multiple areas of Occupational Therapy, including pediatrics, geriatrics, hand therapy, ergonomics and inpatient / outpatient rehabilitation. Mike enjoys writing articles that help people solve complex therapeutic problems and make better product choices.