Mobility challenges, especially as we age, can greatly impact our well-being. The ability to stand upright, even for short periods, can affect how we feel physically and mentally.
If you have some mobility and can bear some bodyweight, but are lacking the strength or muscle control to rise from a bed, chair, or commode on your own, a standing lift can help you safely and comfortably get to a standing position and transfer locations.
A sit-to-stand lift can help you reach a natural standing posture, develop balance and strength, improve range of motion, decrease muscle spasms and contractures, alleviate pain and risk of pressure sores from spending too long in one position, and decrease your fall risk.
The Top 5: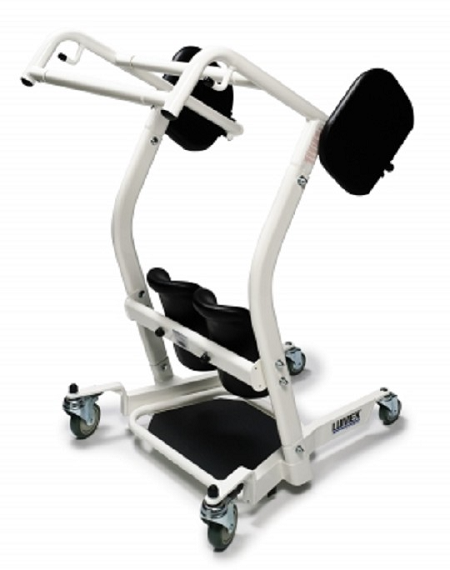 If you can lift and support yourself, but lack the leg strength to transfer from a wheelchair to a standing position, the manual Stand Assist Patient Transport by Lumex at #5 on our list gives you the chance to pull yourself up and practice standing.
You'll be actively engaged with the transfer process, placing your knees on the comfortable knee pads and, grasping the middle bar, pulling yourself into a standing position. A caregiver can smoothly roll you where you want to be seated next. This lift has a padded split seat that swings out for onboarding and offloading and swings back into position as a stable seat for transport. The Stand Assist Patient Transport weighs a comparatively light 61 pounds, and it can accommodate users weighing up to 400 pounds.
A convenient alternative to a wheelchair for toileting and other personal care activities, this stable lift fits easily through even narrow doorways.
Like most manual models, this sit-to-stand lift is for users who can lift themselves and support their weight, but who may be lacking the leg strength to stand on their own. If you can rely on, and want to maintain, your upper body strength and muscle mass, this lift is a good investment. You and your caregiver will also appreciate the independence you have while raising and lowering yourself and the ease with which you can be transported.
Features and Benefits
Users use their own strength to pull themselves up
Users are actively engaged in the transfer process
Padded transport seat is comfortable and stable
Seat swings out for easy loading and unloading
Doesn't require much caregiver help
Keeps residents actively engaged in the transport process
Customer Feedback
Pros
Quick and convenient transfers
Safety features provides peace of mind for users and caregivers
Greatly improves process of getting to the restroom
Easy to maneuver from room to room
Cons
Not easy to assemble
Not as durable as some other models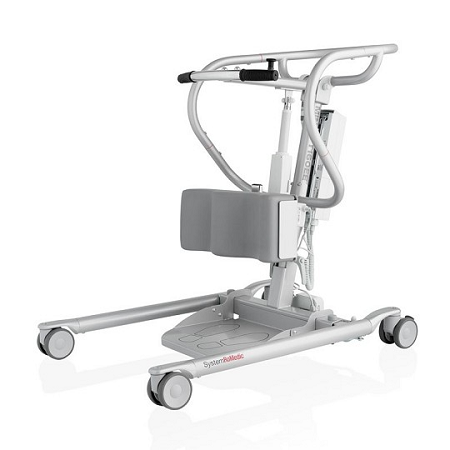 Following a natural movement pattern, making it great for rehabilitation, our #4 pick is the MiniLift Sit-to-Stand Transfer Lift by Handicare.
Exercising the leg muscles and actively engaging the user's upper body strength and balance, the forward-and-upward motion provides a natural and comfortable lift experience. The low footplate slides close to the seated user and clearly indicates the best foot positioning for balance, and the adjustable lower leg pads add stability.
The frame is lightweight but strong, making this standing lift durable and easy to move from room to room. With a choice of onboard or hand controls, this battery-operated lift provides several hand placement options for the user to get the best and most comfortable grip. Two of the easy-rolling casters are lockable to ensure the lift stays put during transfer.
The MiniLift has manual and electric emergency stop functions, and it comes in three models with two weight capacities of 352.7 pounds and 440.9 pounds. Other options include standard leg height or low leg to accommodate low beds and you can choose manual or electric base widening.
If you want a comfortable easy-to-maneuver standing electric lift that will help you reach a natural standing position while striving to develop your balance and increase your strength, this model will help you reach your goals. Its long-lasting battery and durable construction ensure you can count on a long service life.
Features and Benefits
Easy to use hand controls
Low foot plate gets the lift close to the user
Compact design makes it easy to maneuver
Supports rehabilitation by simulating natural pattern of movement
Supports the user while requiring a level of active participation
Customer Feedback
Pros
Can be operated without caregiver assistance
Makes transfers SO much easier and less time consuming
Stable platform helps build confidence
Greatly reduces risk of falling
Lots of options to choose from
Cons
Doesn't roll easily on carpet
At close to 100 pounds it's pretty heavy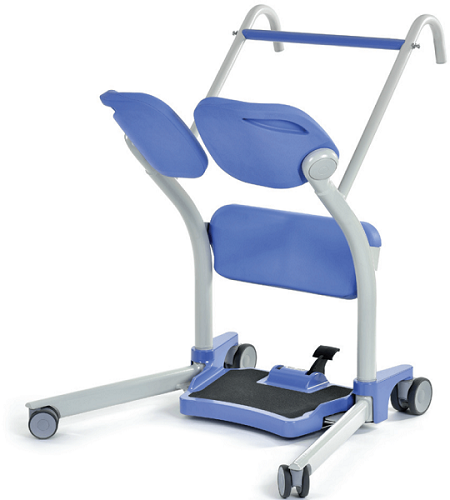 A good choice for users who can safely bear partial weight and need a supportive boost, the #3 standing lift on our list is the Hoyer Up Active Patient Transfer Device by Joerns.
For active users who don't need full transition support, this adjustable sit-to-stand lift provides the right amount of support and allows the user to actively participate in transfers. With its swing seat, lift bar, and knee pads, it makes transfers easier on users and their caregivers. Not to mention that it can accommodate users up to 440 pounds!
The compact design of this standing lift includes a mechanical foot pedal that collapses the lift in one quick motion, making it very easy to store. It is a popular model among care and therapy facilities because it is easily adjusted to fit multiple patients.
If you don't need a lift offering full support, but need some assistance to facilitate dignified, comfortable transitions, this adjustable sit-to-stand lift could be exactly what you need. It folds up easily and compactly when not in use, and safely eliminates the stress and strain of transfers for users and their caregivers.
Features and Benefits
Compact for easy transport and storage
Right amount of support for active users who have partial weight-bearing capabilities
Encourages independence through user participation and engagement in lifting process
Reduces the physical strain of transfers on caregivers and users
Adjustable for patient comfort and accommodation
Customer Feedback
Pros
Perfect amount of assistance when the only issue is leg strength getting in and out of a chair
Can be used by multiple users in a therapeutic setting
One of the higher weight capacity standing lifts available
Folds up with one easy motion
Cons
At 162 pounds, it's not easy to move
As ability to pull oneself up decreases, this lift becomes less helpful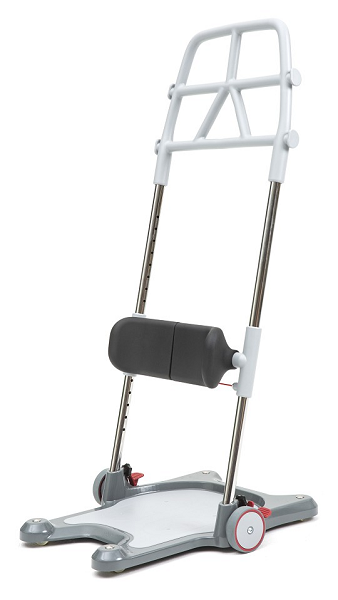 Especially great for small spaces, our #2 pick is the Molift Raiser Pro Sit-to-Stand Patient Lift by R82. Using your own muscle power, this standing lift utilizes ergonomic principles to transfer from a sitting to a standing position.
The 5-point-star handrail provides more than a dozen possible grip positions for maximum upper body support and comfort. It has soft padded leg support that is quickly adjusted with one hand and the slip-resistant footplate is low enough to fit under wheelchairs and beds to get as close to the user as possible. This sit-to-stand lift can accommodate users weighing up to 330 pounds, and the small caster wheels lock with one touch of the foot. It is highly maneuverable, which is especially helpful if you have small spaces to navigate.
This standing lift has 4 additional support options that include a pair of soft handles to attach to the handrails, and a trio of safety strap belts that secure the user around the back, hips, and upper thighs while standing. These are especially beneficial when a caregiver is moving a patient over a long distance, if the user is a fall risk, or if the user is lacking lower body strength. A sliding belt and an adjustable buckling belt offer more support as needed and they are sold separately.
For an extremely maneuverable lift that can get up close to users and move them smoothly in tight spaces, the Molift Raiser Pro is a beneficial choice for navigating small rooms, including bathrooms. If you are strong enough to pull yourself up, this lift's multiple grip options make transfers more comfortable, and caregivers appreciate that it is adjusted with just one hand and easily secured with one foot.
Features and Benefits
Height is adjustable with one hand operation
Maneuverable in small spaces
Casters roll smoothly, make it highly maneuverable, and lock with one foot
Non-slip low footplate reaches under the bed and between the wheels of a wheelchair
Lots of available options for more support
Customer Feedback
Pros
Locking one wheel locks both rear casters
This padding for comfort and support
So easy to adjust the height
Increases personal bathroom independence
Great if you can stand but have trouble walking
Cons
First time using it at home it was confusing before it became more natural for us
Would appreciate more of the optional equipment coming standard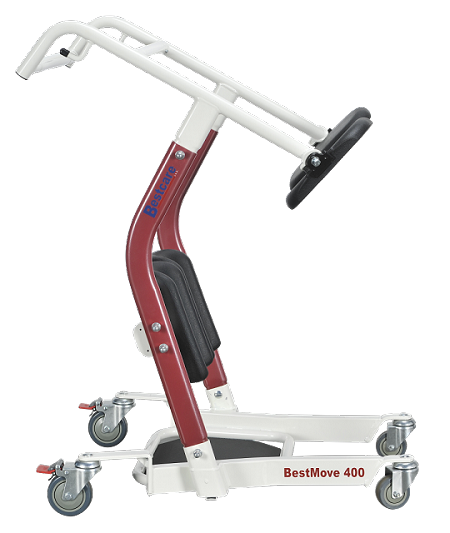 The highly adjustable BestMove Sit-to-Stand Active Mobile Standing Aid by Bestcare has earned the top spot on our list of top 5 standing lifts.
The seat height, knee pads, and even weight capacity of this sit-to-stand lift are customizable for the best fit. It comes in 2 models, one with a weight capacity of 400-pounds, and one with a weight capacity of 450-pounds. All models have smooth wheeled casters, facilitating the transfer of a patient without straining a caregiver's back. It has a swivel seat, with the seat sliding sideways and out of the way during transfers from sitting to standing and back to sitting.
This assistive device actively engages the user in the process of standing while at the same time supporting the user in seeking to improve strength and independence. Users enjoy a degree of freedom as they participate in the standing process, taking in all the benefits that changing positions can have on the body.
For supreme user safety and all-around performance, the BestMove Sit-to-Stand Active Mobile Standing Aid can be counted on to deliver. Receiving very positive reviews across multiple sites, this lift would make a great addition to any therapeutic environment.
A spotlight on this product has been featured in multiple online articles with advice on how to choose the best standing lift.
Features and Benefits
Easy gliding casters
Dual knee pads that keep the legs from sliding
Capacity options of 420 or 450 pounds
Manual base open and close to maneuver closer to the user in challenging environments
Options include dual or single-piece knee pads
Customer Feedback
Pros
Comes with a lot of positive reviews
Very maneuverable and easy to steer indoors
Saves caregiver's back from stress and injury
Adjusts so easily with one touch
Cons
Not everyone has the upper body strength for a good sit-to-stand experience
Even though it's highly maneuverable, tight bathroom spaces are still difficult to navigate
What to Consider When Purchasing a Standing Lift
A sit-to-stand lift to secure users during transfers from a seated to a standing position makes transfers quick, easy, and accomplishes them with less strain and risk to the user and the caregiver. Reviewing the features of the various designs and models will help you narrow your choice to the standing lift that will work best for you.
Weight capacity
Most standing lifts have a weight capacity ranging somewhere between 250 and 400 pounds. If you need the lift to accommodate more weight, there are bariatric models available, so be sure the model you purchase can provide the support you need.
Manual Lift
When using a manual lift, a caregiver's assistance is required to lift the user to a standing position. Generally, a manual lift is less expensive and is better for users who are more stable on their feet.
Powered Lift
A powered lift has a mechanical motor that uses electrical or battery power. Although a caregiver should always be in attendance when a standing lift is used, the lift will do the work. A powered lift will usually cost more and is a great choice for users who require more support while standing.
Weight of the Lift
The actual weight of the standing lift is a consideration, especially if it will be used at home. A heavier lift could be less maneuverable and more difficult for a caregiver to move from room to room.
Additional Features
For extra support while transferring between sitting and standing, additional optional equipment could include padded hand grips, lifting harnesses, or leg support straps. Some models will also offer rubber gripping on the platform to keep users from slipping and locking mechanisms that can attach to a wheelchair or bed. Check out all the extra features to make sure that if at any time you need it, you can get it.
A sit-to-stand lift is first and foremost a transfer tool to help you get from place to place. However, changing positions, exercising muscles, and reducing the risk of a fall are also benefits of a standing lift.
Although they have different features and levels of support, each of the standing lifts we've chosen for our top 5 list can be relied on to facilitate safe and comfortable transfers and deliver a user experience that adds to the quality of life and overall well-being.
FAQ
Who Can Use a Standing Lift?
The sit-to-stand lift is designed to help patients with some mobility but who lack the strength or muscle control to rise to a standing position from a bed, wheelchair, chair, or commode. A sit-to-stand device should only be used by people who can bear some of their body weight.
What are the Benefits of Using a Standing Lift?
Develop and improve upper body balance and strength. Improve range of motion in the spine, hips, knees, and ankles. Decrease abnormal muscle tone and reflexes (spasms, contractures) Reduce pressure sores (decubitis) through changing positions.
How do Standing Lifts Work?
Conventional floor lifts use a sling to cradle you and lift your entire weight, often from a horizontal position. With a standing lift, the sling is more like a wide belt. While seated, you put your feet on a platform, grip a handle or bar, and with you bearing some weight, the device raises you to a standing position. While you are upright, the rolling standing lift can move you to another location and help you lower into a seated position.
Summary
The best standing lift for the job depends on the degree of weight-bearing and support the user needs. All standing lifts on our list have valuable features that will make users' lives and the lives of their caregivers much easier during transfers.
The easy operation and adjustability of the BestMove Sit-to-Stand Active Mobile Standing Aid set it apart and make it the best all-around choice to facilitate standing and sitting motions.
If you are still unsure which lift is right for you, then check out our helpful article How to Choose the Best Standing Lift. With so many great options on the market to consider, feel free to browse our entire catalog of Standing Lifts, Sit To Stand Lifts, and Mobility Transfer Systems.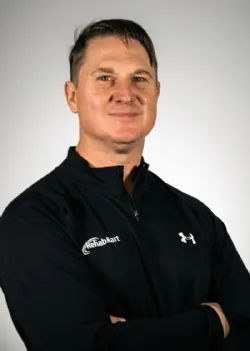 Author:
Co-founder/CEO of Rehabmart, Pediatric Occupational Therapist, husband, and father. Passionate about connecting special needs kids with superb nutrition, sensory integration, and complementary health strategies. Excited about Rehabmart's mission to become the premier online educational platform which empowers caregivers by spotlighting innovative devices and interventions to achieve optimal patient response and recovery.