Swinging is an important part of our childhood. Most of us have some kind of positive memory from elementary school swings. But did you know it's not just fun and games? Swinging greatly aids a child's sensory, muscular, and social development. Handicap-friendly swings enable kids with disabilities to have the same experience as everyone else.
The Top 5: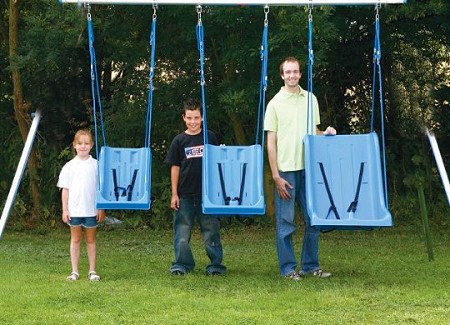 The customizable and long-lasting High Backed Full Support Swing Seat by TFH places #5 on our list due to their high level of support. The enlarged backrest is perfect for individuals of all ages living with special needs. Say goodbye to boredom and hello to a new, fun, and safe activity with the High Backed Full Support Swing Seats!
Don't fear that the swing will be too big or too small. You are able to adjust the straps while buckling in for a perfectly snug fit. Coming in three different sizes, 10-inch, 12-inch, and 17-inch for children, teens, and adults, this swing is made to fit everyone weighing up to 280 pounds. It also has fully adjustable ropes for your preferred height and tilt of the swing. This seat is perfect for swing frames up to 10 feet high.
There is no need to worry about breakdowns or fragility. The seat and backrest are made of high-density polyethylene, a strong but soft material you could find in most plastic items while walking around your house! The materials (including the ropes) are also made with UV-resistant material so there will be no fading even after being out in the sun for years. The High Backed Full Support Swing Seat is built to last for life. Lastly, the seat features a pommel that acts as pelvic support for the users. If you're looking for support and durability, the High Backed Full Support Swing Seats are exactly what you need!
Features and Benefits
Durable seats and ropes are also UV resistant to prevent color changing
Pommel acts as a saddle and supports the pelvis
Fits riders of all ages
Adjustable harness and ropes
Replacements parts, handrails, and other accessories available
Customer Feedback
Pros
Extremely sturdy, feels secure
Works for individuals with many different types of disabilities
Harness is much more comfortable than typical straps
Adjustable harness allows kids to fit perfectly snug in the seat
Cons
Slightly difficult to assemble
Does not come with a frame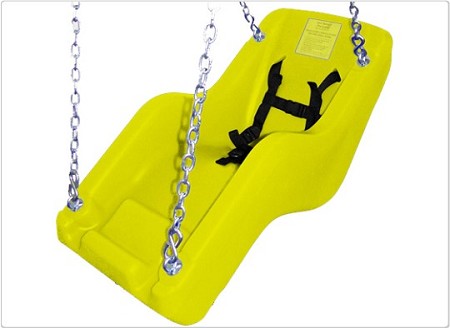 The highly supportive and ADA compliant JennSwing Special Needs Pediatric Swing by SportsPlay Equipment comes in #4 on our list. The JennSwing attaches to any existing frames with S-hooks and will be the perfect addition to your personal, neighborhood, or school playset.
This pediatric swing balances both safety and comfort. Children sit in a slightly reclined position and receive head, neck, back, and leg support. No matter a kid's level of physical development, with the JennSwing everyone can enjoy this staple childhood activity. Additional straps are included for increased safety during use and a chain installation kit is provided.
This swing by SportsPlay Equipment comes in five different colors! Your child will swing in style whether they prefer banana yellow, ocean blue, jungle green, bubble gum pink, or fire engine red. You can also purchase an optional cushioned seat liner. Sit down, lean back, strap in, and swing away!
Features and Benefits
Design supports the entire body during use
Safety harness included
Meets the American Disabilities Act's guidelines for public playsets
5 different color options
Customer Feedback
Pros
Feels spacious yet straps provide a snug fit
Works well for children with special needs of all kinds
Laid-back positioning is extremely comfortable
Pillows can be added to further increase comfort
Cons
Installation instructions are only found online
Plastic material can become uncomfortable after extended use
The Swung No Push Swing by TFH allows 1 able-bodied person to propel themself and a special needs child simultaneously! This swing is perfect for special needs children that aren't able to propel themselves. The inclusive nature of this swing ranks it #3 on our list!
The Swung No Push Swing comes in a double or triple package so you can swing along with one or two of your friends. The bar attaches to the swing set frame and as one user swings, the other is propelled back and forth as well. It allows users to directly swing side by side - even holding eye contact!
It is an incredible bonding experience as you get to play together in an activity that individuals with special needs may not be able to participate in alone. You no longer have to stand behind the user to push them; you get to swing along with them! Not only will you have more fun, but they receive greater sensory input!
Features and Benefits
Works with any TFH swings
Two-person and three-person models available
Bar is easily attachable
Allows all users to go back and forth together, with only one person actively swinging
Customer Feedback
Pros
Bar creates smooth, quick swinging
Large amounts of sensory stimulation for users
Swing frame is very sturdy
Cons
Must buy swing seats separately
Swing steel material is brittle
#2 on our list is the highly accessible Wheelchair Swing Platform by SportsPlay Equipment, which allows people in wheelchairs to experience swinging just like able-bodied individuals can.
Enter the vinyl-coated steel platform swing from either the front or back ramps and swing away! The non-skid material will keep the wheels from moving and the user in place. Additionally, having two ramps allows extremely easing loading and unloading onto the platform with no stress of falling while transferring between a wheelchair and swing. Then, they fold up and can be securely locked during use for safety. An optional pull chain accessory is also available for purchase, which allows users to enter and exit the platforms independently. Transferring can be extremely difficult to even ADA-approved playground equipment, but with SportsPlay Equipment's Wheelchair Swing Platform you don't have to worry!
The swing platform is 32 inches wide and 38 inches long so it fits most wheelchairs, and both portable and permanent frames are available. The portable frame's legs remain on top of the ground, while the permanent frame's legs are cemented into the ground. Your purchasing options are to buy the portable frame only, permanent frame only, wheelchair platform only, permanent frame with wheelchair platform, or the portable frame with the wheelchair platform. Chains and S-hooks are included with the wheelchair platform for easy setup. With all of these options, there is no reason you won't get exactly what you want!
Features and Benefits
Can be locked when in use
Swing is compatible with almost all frames
Fits and holds wheelchairs secure while swinging
Front and rear ramps available for entrance and exit
Customer Feedback
Pros
Multitude of purchasing options allow you to get exactly what you want
Platform feels very secure
Entering and exiting is extremely easy
High weight capacity
Cons
Must purchase an additional tool in order to use independently
Platform is very heavy
The strong and sturdy Skillbuilders High Back Full Support Swing Seat by Fabrication Enterprise is ranked #1 on our list due to its high level of support. It is perfect for individuals with limited trunk, leg, and head control, as well as those looking to strengthen their vestibular system and receive greater sensory input.
The Skillbuilders High Back Full Support Swing Seat comes with both a safety harness and crotch strap to keep the rider safe in their seat. The tie-down retention strap accessory limits and controls the swing's movement which is an excellent way to increase vestibular input while not worrying about twisting and turning.
It also has a high back and optional pommel, leg rest, and headrest. This is especially useful depending on users' level of mobility and coordination. The back support promotes proper posture and the optional pommel will keep users from slipping and sliding around the seat. The leg and curved headrests not only increase comfort but allow users with limited head or leg control to maintain proper positioning and prevent injury. This swing comes in three sizes: small for children up to 75 pounds, medium for teenagers up to 150 pounds, and large for adults up to 200 pounds. With a multitude of buying options, you can get exactly the support and size you need.
Features and Benefits
Safety harness and crotch strap keep user still in seat
High back supports proper posture
Optional pommel, leg, and headrests further increase support if desired
Multiple seat sizes and maximum weight capacity of 200 pounds
Adjustable ropes and chains for frames up to 10 feet tall
Customer Feedback
Pros
Able to personalize swing support to your needs
Very comfortable for users
Provides sensory input and strengthens the vestibular system of the user
Ropes or chains fit with frames up to 10 feet tall
Cons
Adult weight limit will not hold all adults
Plastic chair back feels very thin and is bendable
Features to Consider When Purchasing a Handicap Friendly Swing Seat
Level of Support
Just as every person is special, every swing offers a different amount and method of support. You want a swing that is just as special as the user. If you are looking for a swing with maximum support, consider the Skillbuilders High Back Full Support Swing Seat or High Backed Full Support Swing Seat. Both of these have full back support and pommels that will benefit posture control. They are also both excellent for those with limited trunk mobility. On the lighter side, you may choose a swing without a pommel or with a lower back if you want to strengthen body control. Make sure to work within limitations, but abdominal muscles can be worked by encouraging the user to sit up straight while swinging.
Accessibility
Some users may not have the desire or ability to push themselves on a swing. This is why accessibility is extremely important to consider. For instance, individuals in wheelchairs face significant barriers to swinging. If you do not want to worry about transitioning them from wheelchair to swing, look for a swing such as #2 on our list, the Wheelchair Swing Platform. Otherwise, if you are not able to swing independently but have a companion, two connected swings would be perfect. That way your friend or family member can provide the power and you will still be along for the ride! Make sure to consider the user's individual capacities for swinging and ensure they will be able to get on and off the swing with as much ease as possible.
Safety Features and Straps
Swings offer a variety of safety straps. For instance, some go over the shoulders, some go across the waist, and others have a combination of straps. This decision should be made on support needed, independence levels, and comfort. Additionally, if you are looking for a wheelchair platform swing, make sure it has a non-slip surface and locking feature.
Frequently Asked Questions
Q: How does swinging help a child's development?
A: The vestibular system, known more commonly as part of the sensory system, is often a forgotten part of development. However, it's crucial! We need the ability to observe, process, and react to the world around us. This is exactly the job of the sensory system! The rhythmic, back-and-forth motions of a swing help children develop balance, posture control, and coordination. A swing can also improve strength in the hands as the user grasps the ropes to hold on, core as they sit up straight, and legs as they propel themselves forward.
Q: What is an inclusive playground?
A: An inclusive playground is just as it sounds: a playground that those of all abilities can play on without feeling left out! More specifically, inclusive playgrounds are accessible for a population with diverse abilities, are simple to use, and promote sensory, physical, and social development. Common components of inclusive playgrounds include adaptive swing seats, (such as those included on this list), ramps, and a combination of easy, medium, and hard entries and exits onto elevated surfaces.
Q: What are sensory motor skills?
A: Sensory-motor skills are used when we observe something from the world around us by sight, sound, smell, taste, or touch and respond with physical action. For example, sensory-motor skills are used when we see a ball coming towards us and then catch it with our hands.
Q: What is swing therapy?
A: Some children need more help than others developing the connection between their senses and body movements, often called motor planning. Occupational and physical therapists use swing therapy as a tool for developing sensory integration through play.
Q: How do swings help?
A: Swinging teaches sensory awareness as users move through the air. They must process sight, sound, movement, and even gravity, typically subconsciously, as they use their bodies to propel themselves forward. Even if they aren't swinging independently, they are still exposed to these sensations. Swings also increase balance, coordination, and body awareness. Additionally, most children find the smooth, back-and-forth movement relaxing so it can be great to calm a child down.
Q: How do swings help with autism?
A: For children with autism, developing sensory integration is extremely important and swings are a great tool. The rhythmic, swinging motion also often slows hyperactivity and promotes peacefulness, which can aid when an autistic child is upset or feels out of their element.
Summary
Handicap-friendly swings are an excellent way to develop vestibular, proprioceptive, muscular, and social skills. Not only will children and adults with disabilities work towards further developing these important skills, but they will have the same fun experience as everyone else.
We chose the Skillbuilders High Back Full Support Swing Seat by Fabrication Enterprise as our #1 pick because it offers a multitude of support options and is perfect for individuals with a wide variety of disabilities. The high back, pommel, leg rest, and headrest support the user's entire body and their removable nature allows users to appropriately challenge themselves.
Check out our entire catalog of Sensory Swings, Swing Frames, Special Needs Swings, and Indoor Swing Equipment to see even more swing options and read How to Choose the Best Playground Equipment for more information about creating an inclusive playground. Visit Caregiver University for more Product Reviews and Buying Guides!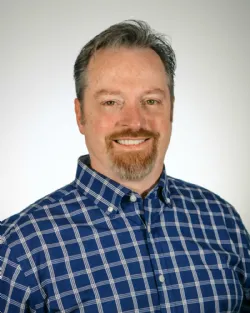 Author:
Co-Founder of Rehabmart and an Occupational Therapist since 1993. Mike has spent his professional career working in multiple areas of Occupational Therapy, including pediatrics, geriatrics, hand therapy, ergonomics and inpatient / outpatient rehabilitation. Mike enjoys writing articles that help people solve complex therapeutic problems and make better product choices.