As many real-life users of this assistive equipment often explain, finding the right trapeze bar to fit your needs can be an absolute life changer. A hospital bed trapeze helps people living with mobility impairments and those confined to bed for long periods of time to sit up in bed, and to reposition themselves to optimize comfort and reduce pressure. Some designs can also provide support for safer transfers to and from the bed. Our experts researched many of the more popular medical trapeze systems to provide you with the information you need to make the best selection for yourself or a loved one.
Top 5 Best Hospital Bed Trapezes
The Top 5:
Picking up the 5th slot in our review, the Universal Trapeze Bar Kit by Drive Medical offers easy assembly and versatile adjustability to meet the needs of patients in their homes or in a healthcare facility. Simple to install without any tools, this medical trapeze clamps to the headboard of the bed, helping patients to sit up and reposition as needed.
Conveniently adjustable in height, length, and horizontal positioning, this strong and dependable trapeze system can be fully customized to meet the changing needs of recovering patients or to serve a variety of different patients. Its heavy-gauge, two-piece steel tubing construction accommodates 250 pounds of applied force and highlights an attractive brown-vein finish that's compatible with most decor and is easy to clean and maintain.
The universal design of this trapeze enables a perfect fit with most metal frame headboards and the kit comes with everything you need to install and start using this system for support right away.
Features & Benefits
Attaches to the headboard and is easy to install without tools
Adjustable in height, horizontal positioning, and length
Durable, heavy-gauge, two-piece steel tubing construction
Universal design fits most metal frame headboards
Customer Feedback
Pros
Very strong and solid support holds up well with patients weighing up to 250 pounds
Easy to clamp to the headboard of the bed and uninstall for portable use on another bed
The ability to adjust in height, length, and position is especially helpful as patient needs change when their recovery progresses, to use for exercises, and for multiple-patient use in hospitals and long-term care facilities
Cons
It may be difficult for some inexperienced users to set up and clamp to the headboard tightly enough for a secure, stay-in-place hold
Does not provide safe support for bariatric patients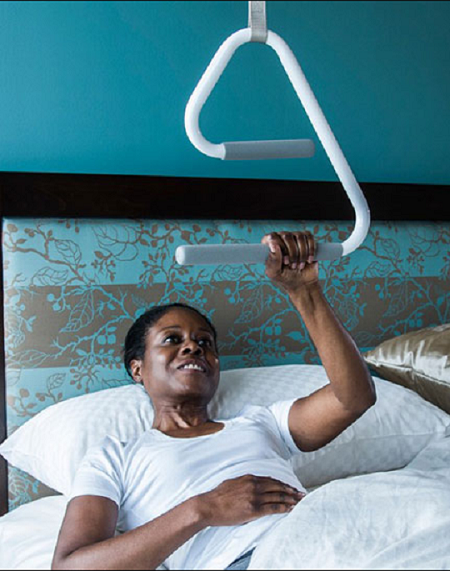 The award-winning design of the E2 Easy-Up Ceiling-Mounted Trapeze by HealthCraft won this innovative trapeze system the 4th spot on our list. Its innovative dual-bar handle is configured similarly to the rungs of a ladder, improving leverage for sitting up in bed while it optimizes user comfort. Its ceiling mount enables left and right movement along the track, placing the trapeze handle exactly where you need it for assistance, wherever you are in the bed. Because of this beneficial feature, many people use this trapeze system for support in getting in and out of bed and wheelchair exit and entry, while others use it in the bathroom or for support above a favorite recliner.
Attached to the ceiling for space-saving support, this overhead trapeze comes in two different width options. Simple to install like a grab bar into the structural joists of virtually any ceiling, this strong and durable trapeze from HealthCraft accommodates users weighing up to 300 pounds for a maximum applied force capacity of 150 pounds. Strong and durable, its powder-coated carbon steel construction resists wear and tear and is easy to clean and maintain for long-lasting performance. The antimicrobial finish also resists the growth of harmful microbes to enhance infection control protocols.
Enabling people to sit up, reposition, and get up from a bed or chair, the E2 Easy-Up is a popular choice with people of all ages at home, in hospitals, and in long-term care facilities. Because it does require installation into the ceiling, it's a better choice for homeowners, long-term disability, and more permanent applications.
Features & Benefits
The dual-bar handle optimizes leverage and user comfort
Maximizes floor space with ceiling mount format
Trapeze slides left or right for versatile support
Antimicrobial, powder-coated carbon steel construction
Customer Feedback
Pros
Solid, sturdy, and strong design with quality materials
A non-institutional, low-profile look
The trapeze handle can slide out of the way or be taken off the bar when not in use
Enables some users to get in and out of bed and in and out of their wheelchair independently
The handle design is very comfortable for users of all ages
Cons
A few users said that the trapeze hangs too low for their needs
One user suggested getting longer screws for installation to replace the screws that are included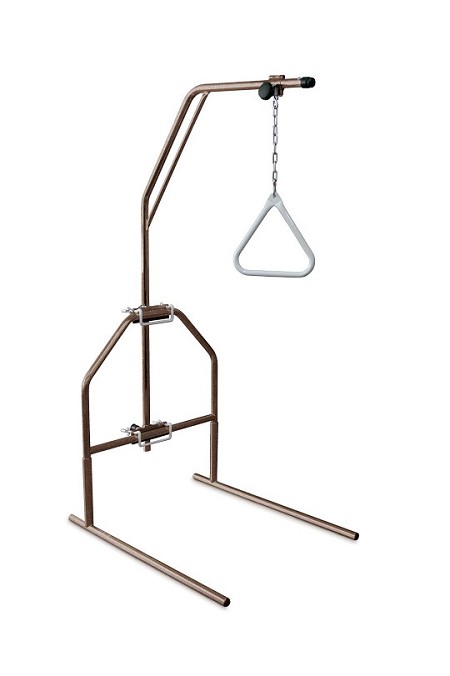 Versatile and easy to install without tools, the Offset Fixed Medline Hospital Bed Trapeze by Medline takes the 3rd position in our review. For simple customization to fit your unique requirements, this trapeze assembly and base are sold separately. Use it with the bracket to attach to any Medline medical bed, or with the base to create a free-standing unit you can conveniently use as trapeze support with almost any kind of bed.
The trapeze triangle assembly, bracket, and base are built to last, constructed with heavy-duty chrome-plated steel tubing that supports a 250-pound assisted weight capacity. Padding on the bracket along with wall bumpers helps to protect walls, floors, and the bed headboard from scratches and dents.
Often used in long-term care facilities, hospitals, and physical rehab centers, this medical trapeze is also a great choice for home care. Its versatility, ease of assembly, and lower starting price point all make this trapeze a well-loved support device to improve bed mobility.
Features & Benefits
Versatile options for use as a free-standing or clamp-to-bed trapeze
Quick and easy tool-free assembly
Padded bracket and wall bumpers to protect walls and headboard
Heavy-duty chrome-plated steel tubing construction
Customer Feedback
Pros
Exceptional quality and durability, very strong and stable
Exactly what customer needed during recovery, worked as advertised
Tight, reliable construction, easy to put together
Cons
Not suitable for bariatric use
The base takes up more space, customers recommend the bracket attachment for smaller rooms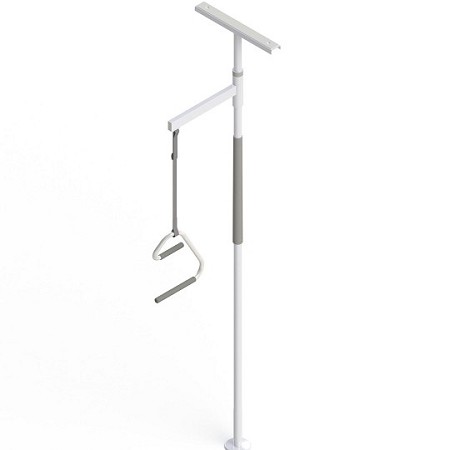 Grabbing the 2nd place on our list with its multiple support options and resourceful functionality, the SuperPole with SuperTrapeze Bed Trapeze by HealthCraft conveniently combines two assistive support products into one compact device. No drilling is required and it's amazingly easy to install with a simple screwdriver. This innovative and adjustable support pole and trapeze utilize a super-strong jackscrew to create enough pressure between the ceiling and the floor for solid, dependable support wherever you need it. Safe and secure for users weighing up to 300 pounds, the SuperTrapeze accommodates 150 pounds of applied force.
Ideal for people who rent or for those who want to take this support along when they travel, this popular HealthCraft combo device highlights a dual, staggered SuperTrapeze handle, just like the E2 Easy-Up. Reducing wrist strain, this beneficial bar handle design increases leverage, making it easier for people to grab for repositioning and sitting up in bed. The SuperPole adds strong and steady support for getting into and out of bed, along with standing up. It helps users with wheelchair transfers to and from the bed, and this whole system can be used for support with other applications, such as with recliners, or placement around a toilet.
For users who already have the SuperPole, there is a SuperTrapeze Support Add On Kit available to purchase separately so you don't have to buy a whole new SuperPole in order to use the SuperTrapeze support. There are also several add-on options to allow customization of this pole and trapeze combo, including angled ceiling extenders and lock-bar options. Its strong, powder-coated alloy steel construction ensures years of dependable functionality that's easy to clean and maintain, along with an antimicrobial finish to enhance infection protocols.
Features & Benefits
Two support devices in one for versatile use
Secure installation does not require drilling
Dependable repositioning, sitting up, and bed exit and entry support
Staggered dual hand bars reduce wrist strain and improve leverage
Customer Feedback
Pros
Two-fold problem solver with its pole and trapeze combo - offers more support options
Well-made, sturdy, strong, and reliable construction
Easy to install and also remove for portable use, compatible with any bed
Works well on carpeted floors, creates a strong, tight seal between the floor and ceiling
Cons
Not rated for bariatric users over 300 pounds
One of the higher price points in our review (but it's generally considered a great value because of the 2-in-1 design of both trapeze and support pole)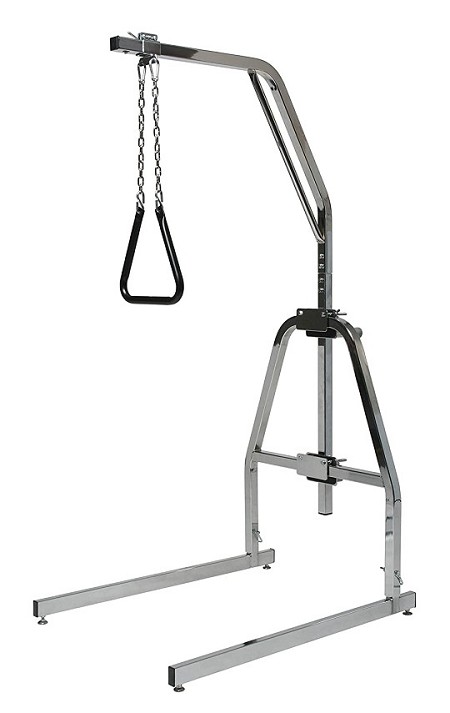 We selected the Lumex Free-Standing Bariatric Trapeze as our #1 best hospital bed trapeze for its wider accommodation of larger users and topnotch quality design. Offering a generous 450-pound and 600-pound weight capacity, this overhead trapeze comes in a free-standing design so it's conveniently compatible for use with most standard and hospital beds.
Constructed with durable steel for solid and stable performance, this medical trapeze is built to withstand hard and heavy repetitive usage by bariatric patients. Easy to clean and maintain, the Lumex is a well-loved trapeze system that safely serves patients of all sizes in both residential and institutional applications. It comes with everything required for support including the base stand, needing only a 14-mm wrench for easy assembly.
Fully adjustable in placement, the handle and chain assembly are also adjustable from 43 to 52 inches in length for versatile, customized support. It can be used for sitting up in bed, repositioning, and even getting in and out of bed. Rubber bumper guards protect floors and walls from damage. This over-bed trapeze from Lumex is a great choice for long-term care at home, providing long-lasting support for heavier, larger users in a heavy-duty design you can always count on.
Features & Benefits
Bariatric weight capacities of 450 and 600 pounds
Heavy-duty steel construction for dependable durability
Free-standing configuration is compatible with most beds
Handle and chain assembly is fully adjustable in placement and height
Customer Feedback
Pros
Overwhelmingly positive response, most reviewers gave this trapeze a 5-star rating
Exceptionally strong and sturdy construction doesn't shake or wobble under heavier strain
Highly recommend to others, works better than expected for bed mobility and transfers
Worth every penny and works so much better and is more stable for people anywhere near the 250-300 pound weight - several customers had used models designed for smaller weight capacity and even though they fit within the parameters, the cheaper trapeze did not hold up and was a waste of money
Cons
Very heavy equipment that may require two people to set up
Features to Consider When Purchasing a Hospital Bed Trapeze
Useful for people of all ages living with mobility challenges, hospital bed trapezes are utilized in a wide range of care settings, including hospitals, long-term care facilities, physical recovery centers, and at home. Employed by seniors aging in place at home, people with either short-term or long-term mobility disabilities, and others recovering from injury, illness, or surgery, bed trapezes provide convenient and versatile support for anyone requiring assistance to move around in bed and to transfer in and out of bed.
Often reducing the need to ask for help, medical trapeze systems optimize the user's sense of independence while they also enhance safety, reduce the risk of falling, and maximize comfort and pressure reduction to minimize the risk of pressure injuries. Bed trapezes can also double as physical therapy and rehab tools, improving the user's strength and coordination as they recover.
Available in several different design formats, choosing the best medical trapeze to fit your needs is dependent on how you or a loved one will be using this assistive equipment. Some of the most important features to consider include:
Trapeze Mounting Style
Most trapezes for the bed come in a free-standing, bed-mounted, or ceiling-mounted format. Attached to the bed with a bracket, bed-mounted styles are generally the least expensive option, but they may not provide enough strength to support heavier use from larger users. You must also make sure that the headboard it will attach to is compatible in fit with the bracket size.
Free-standing trapeze systems are usually the best fit for most standard or hospital beds but can be much heavier to assemble and set up. They also have long base legs that slide under the bed, so it's important to ensure this type will suit a smaller room before you order. For the most compact, space-saving design, a ceiling-mounted trapeze is highly recommended, with some designs that don't even require drilling for easier installation.
Installation and Assembly
Trapeze designs that offer easy assembly and installation are always preferable when you're doing the assembly and installation yourself. For more intricate or involved trapeze styles, we recommend professional installation. Bed-mounted trapezes are generally the easiest to install, and free-standing configurations require a moderate level of effort and time to put together. Both of these styles often don't require tools for assembly, nor any special tools. Ceiling mounted trapezes are usually the most involved, as they often require drilling into ceiling joists for secure attachment.
The most important aspect of any of the mounting styles is to ensure the assembly and installation are done correctly - improper or incorrect installation, and using incompatible mounts may compromise the stability and safety of the trapeze system.
Weight Capacity and Applied Force
While most hospital bed trapezes offer a minimum 250-pound weight capacity, the amount of weight they can actually accommodate safely is often significantly less than the maximum user weight capacity. The applied force capacity refers to the amount of weight from the user the trapeze can safely hold and they are never designed to completely support the user's entire weight. Bariatric models offer a higher weight capacity and applied force amount to better serve larger, heavier patients.
Dimensions and Portability
If you need to be able to take your bed trapeze with you when you travel, bed-mounted trapezes are usually your best option as they are the smallest in size. Some ceiling-mounted trapeze systems that don't drill into a ceiling joist can be disassembled for simple portability as well. Free-standing trapezes take up the most room and are often quite heavy, making them a better choice for permanent, non-portable use. It's also important to note that some bed trapeze designs require significant clearance behind the headboard.
Adjustability
There are several ways that some medical trapezes can adjust to provide customized support. The trapeze bar and chain or strap may adjust in length, the trapeze assembly may also be adjustable in placement along its upper bar, or it may adjust in height, position, or angle in order to better suit individual users' needs.
FAQ
What is a bed trapeze used for?
Bed trapezes provide a supportive handhold for people of all ages who need assistance with sitting up in bed, moving around and repositioning in bed, and getting in and out of bed. They are often used by elderly adults, medical patients, heavier adults, and people recovering from short or long-term illness or injury, and post-op. They can also be used for physical rehab therapy and exercise while confined to bed.
How is a bed trapeze lift used?
Although they're usually configured as an open triangle shape, bed trapezes have varying assemblies and different types of handles for patients confined to bed to grab onto. They're used by the patient reaching out to grasp the handle, helping to partially support their weight in order to reposition, sit up in bed, or transfer in and out of the bed. Trapezes come in styles that can be attached to the headboard, mounted to the ceiling, or as a free-standing device with legs that slide under the bed.
How can a bed trapeze help me?
Aside from its obvious benefits as a supportive handhold to optimize bed mobility and reduce reliance on a caregiver, a bed trapeze can also help people develop better upper body, torso, and arm strength. The more patients use them to sit up, move around, and reposition within the bed, the more the patients will benefit from improved balance, coordination, and strength.
Summary
Specially designed to deliver dependable assistance for repositioning, sitting up, and safer transfers, hospital bed trapezes are important medical equipment that helps optimize patient safety and comfort while in bed. Reducing the need for caregiver assistance which also helps mitigate the occurrence of caregiver injuries, bed trapeze systems are ideal for people of any age who require assistance to move around in bed.
Taking a wide range of factors into account, our team of experts researched the best hospital bed trapezes available in the current marketplace. Determining ease of assembly/installation, performance, functionality, durability, and beneficial features, the reviews of the real-life users of this equipment were also factored in, resulting in this list of the five best trapezes.
While any of our selections would make the best choice for a specific group of patients, we concluded that the ability to safely support a wider population of patients won the Lumex Free-Standing Bariatric Trapeze our #1 position as the best all-around hospital bed trapeze.
Be sure to check out our comprehensive hospital and home care beds catalog along with our wide selection of hospital bed accessories to ensure the best options for you and your loved ones. You can also find helpful information and caregiving tips from our healthcare experts at the popular Caregiver University blog.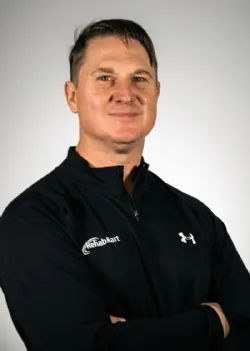 Author:
Co-founder/CEO of Rehabmart, Pediatric Occupational Therapist, husband, and father. Passionate about connecting special needs kids with superb nutrition, sensory integration, and complementary health strategies. Excited about Rehabmart's mission to become the premier online educational platform which empowers caregivers by spotlighting innovative devices and interventions to achieve optimal patient response and recovery.