The COVID-19 shut-down and stay-at-home orders presented significant challenges for many people, including those trying to get into shape. People desiring to work out already face countless roadblocks: inclement weather, time, and fleeting motivation, just to name a few. With gyms being closed nationwide, 2020 was an extremely difficult time for many people to pursue their fitness goals. However, during this time, home gyms became extremely popular and it appears they're here to stay. Whether you are setting up an entire home gym or just looking for one piece of workout equipment, a treadmill is a great place to start.
Treadmills offer a fun, convenient route to reach your fitness destination. While there is an initial start-up cost associated with buying home gym equipment, it will save you money in the long run. Also, who wants to leave their house these days anyway?
The Top 5: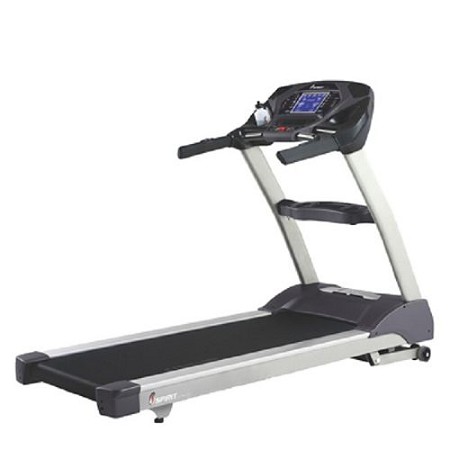 Entering our list at #5 is the reliable Commercial Spirit Fitness XT685 Treadmill by Phillips Medical. Rated as the best treadmill under $3000, this exercise equipment will undoubtedly meet all your basic needs for both light commercial and home use.
Keep your glutes, hamstrings, quads, calves, pecs, and arm muscles strong with easy to use speed and incline controls on both the console and handlebars for your convenience. This treadmill also boasts 12 built-in workout programs and heart rate monitoring. It includes a chest strap transmitter and allows you to easily and accurately measure your workout using a color-coded target heart rate system. After the workout, track your progress using the compatible Spirit Fit App.
This treadmill withstands frequent operation and allows your body to do the same by using shock absorption to help your joints withstand continual use. Not only that, but your body will thank you with the included cooling fan. The fan swivels to provide a light breeze right when and where you need it. Other features include speakers, Bluetooth, and an audio jack to keep you entertained.
Perfect for daily use and including all basic features, the Commercial Spirit Fitness XT685 Treadmill is an excellent tool for an entertaining and productive workout. At an extremely affordable price, fitness is within reach.
Features and Benefits
LED console displays workout details for your convenience
Includes 12 different programs including manual, hill, and interval workouts
Hand Pulse Grips and Heart Rate Strap provide data to ensure safe and appropriately challenging exercise
Bluetooth connects with mobile fitness apps to record and track exercise
Customer Feedback
Pros
Operates extremely smoothly
Low step up height makes getting on and off the treadmill easy
Small build fits nicely in most home layouts
Long lasting with frequent use
Bluetooth set-up is extremely simple and offers a multitude of functions
Cons
Speed is only adjustable by .1 increments
Very loud during use
Does not fold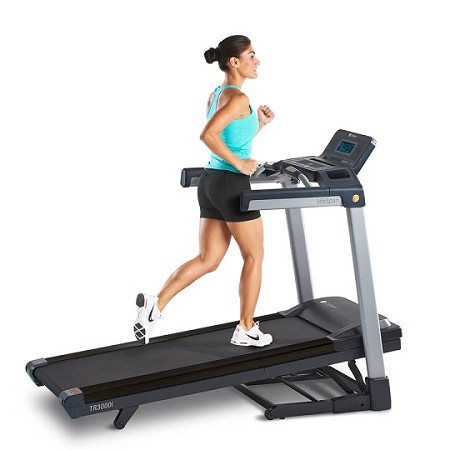 The durable yet conveniently stored EZ-Folding Treadmill with Shock Absorption and High-Tech Console by LifeSpan comes in #4 on our list. With three different residential models available, you are able to choose based on running surface size, touchscreen display, and workout capabilities.
In addition to compression shock absorbers to lessen impact on your joints, 3 different dashboard views to display your exercise results, and a three-speed fan to cool you, all three models include technologies to track the number of steps you've taken. Building on that, the TR4000i and TR5500i include options for larger touchscreen displays and more preset workout programs.
Don't worry about inconveniencing your neighbors, bothering your spouse, or waking the baby, the LifeSpan EZ-Folding Treadmills are built to perform quietly. But if you're not worried about quiet, blast some tunes using the USB charging port and premium Bluetooth speakers for a more entertaining experience.
Overall, LifeSpan offers the bells and whistles of high-end treadmills while remaining at an attractive price point. If simple storage is high on the list of treadmill features necessary for you, the LifeSpan EZ-Folding Treadmill is an excellent choice.
Features and Benefits
EZFold design allows convenient storage when not in use
Compression shock absorbers lower impact on users' joints
Touchscreen console includes 3 unique dashboards for your preferred display set-up
38 different treadmill programs allow you to customize workouts towards your own fitness goals
Bluetooth speakers and charging station that are easy to use
Customer Feedback
Pros
Very simple assembly and requires very little upkeep
Makes very little noise
Feels extremely stable during use
Ability to fold makes storage easy
Cons
Does not save profiles, so you must renter weight data with every use
Slightly shorter overall dimensions may not function well with longer legs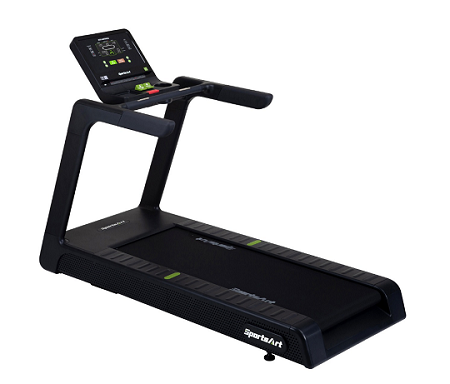 With the ECO-NATURAL Prime, Elite, and Status Treadmills by SportsArt Fitness USA, you will burn more calories, with less energy! Electrical energy for the treadmill, that is. Due to their environmentally friendly nature, the three different styles of ECO-NATURAL treadmills place third on our list.
All three treadmills offer Eco-Drive motors that use significantly less electric energy than typical treadmill motors, which is not only good for the environment but allows you to save on electricity and energy bills. Additionally, their auto-lubrication systems greatly reduce maintenance needs. The ECO-NATURAL treadmills also have a MyFlex Omni-directional cushioning system which provide 30% more shock absorption and actually adjusts the treadmill based on your weight! Lessen knee and hip pain with the ECO-NATURAL Prime, Elite, and Status Treadmills.
The models vary slightly in size, speed range, incline capabilities, and included workout programs. The slightly larger, top-of-the-line Status treadmill allows users to reach speeds as fast as 17 mph, walk at a downhill incline if desired, and includes a headphone jack and a 3-speed fan. Each of these treadmills utilize toggle controls, USB ports, and heart rate receivers, so no matter which you choose, you'll be in good shape!
Features and Benefits
ECO-DRIVE motors require 32% less energy than other treadmill motors
State-of-the-art cushioning system provide users high levels of support
Auto-lubrication system reduces repetitive maintenance and increases smoothness
Easy to use LED screen and control panel
Customer Feedback
Pros
Extremely energy-efficient
Requires little upkeep
Feels smooth during use, even with heavier exercisers
SportsArt Fitness USA offers a multiple of options for eco-friendly treadmills, allowing the user to balance desired features with price.
Cons
Does not include advanced features such as bluetooth
Design looks slightly bulky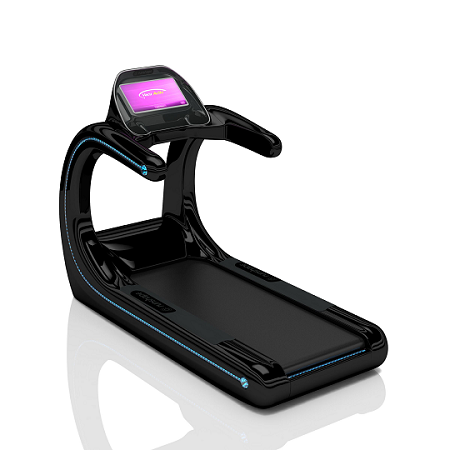 The high-tech, aesthetically pleasing RunShape Commercial Treadmill by VacuActivus earns the #2 spot on our list. As a piece of exercise equipment that can be used commercially or residentially, the RunShape treadmill is an excellent addition to any gym or home.
This treadmill is incredibly sleek with backlight elements and a futuristic shape but most notably, the Multivision models include a virtual reality feature. Make every workout an adventure by running, walking, or jogging through world-famous places and trails. With the RunShape Commercial Treadmill, explore all over the world without hopping on a plane or even taking a step outside your home!
The touchscreen display allows you to conveniently switch between settings, workouts, and other screens to stay entertained, easily adjust speed and incline, and keep up with your current workout statistics. The treadmill can also be connected to smartphones to play music and Wi-Fi for additional product data and feedback to the user. Show your customers or friends this modern treadmill and they will undoubtedly be impressed!
Features and Benefits
Sleek, futuristic design increases user interest and engagement
Running platform lessens impact of knees and hips during exercise
Includes several interactive, high-tech programs for entertainment during workout
Wi-Fi provides product data and allows greater workout personalization
Connects with other devices to charge and play music
Customer Feedback
Pros
Highly reliable
Touchscreen allows customization of the exercise statistics you want shown
Modern design
Makes exercising more fun and enjoyable
Easy to operate
Cons
Takes up a lot of room space
Difficult to store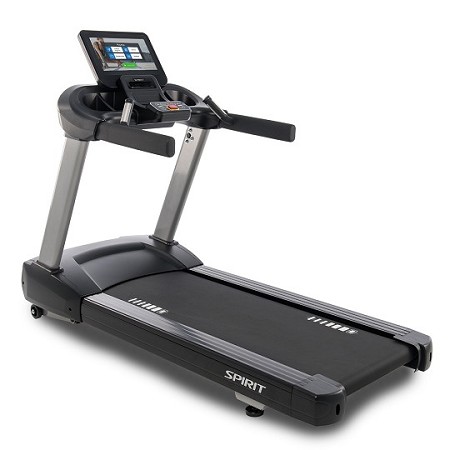 The #1 ranking treadmill on our list is Phillips Medical's innovative and entertaining CTA800ENT Commercial Smart Treadmill by Spirit Fitness. This treadmill allows you to customize workouts, eliminating disinterest and improving fitness at the same time!
Loaded with 18 different programs and fitness tests, the CTA800ENT Commercial Treadmill can be utilized at gyms or in homes. Using the touchscreen console, you can watch TV, surf the internet, and stream music. The CTA800ENT treadmill can also connect through HDMI, cable box connection, and Bluetooth. It includes hand pulse sensors to monitor your heart rate, direct button controls to quickly adjust the incline and speed, and a fan to cool you down. Customize your workout using the treadmill's smart technology and toggle between three different display modes which offer feedback mid-workout.
Meant for frequent, repetitive use, the CTA800ENT Commercial Smart Treadmill is designed to be maintenance-free and last significantly longer than other treadmills. If you're looking for a premium, heavy-duty treadmill, this is a great fit for you!
Features and Benefits
Touchscreen display with screen mirroring, TV, streaming, and more
Hand pulse sensor monitors heart rate during exercise
Built-in fan creates a breeze and cools you down during workout
18 exercise programs available to match your desired workout type and skill level
Customer Feedback
Pros
Long lasting without needing maintenance
Large size works well for tall users
Highly customizable
Lots of entertainment options including connection to social media
Cons
Heavy and difficult to move
Takes up a lot of room space
Features to Consider When Purchasing a Treadmill
Space
Treadmills typically take up a significant amount of space. However, some fold and are moved more easily than others. When you are shopping for a treadmill, consider the room in which you are storing it and look for a treadmill that fits with extra space around it for safety in the event you fall or are injured.
Special Features
Treadmills can offer many different special features. For example, buying a treadmill with a large number of workout programs may be important to you. Alternatively, you may really want a treadmill that comes with a fan or heart rate monitor. Choose the features that meet your needs.
Entertainment
Lastly, you want to have fun while using your treadmill and working towards your fitness goals! Today, treadmills have many built-in tools to help you do just that. For example, many allow you to connect your phone through Bluetooth to play music and stream TV shows or movies. Some higher-tech models like the CTA800ENT Commercial Smart Treadmill by Spirit Fitness and RunShape Commercial Treadmilleven let you use screen mirroring, browse social media, or go on virtual runs through various parts of the world!
Frequently Asked Questions
Q: What is a treadmill good for?
A: You can walk, jog, or run on a treadmill. In fact, treadmills are great for a wide range of activities: recovery runs, a light jog to get your heart rate up, a challenging workout to lose weight, and everything in between!
Q: How often should I use a treadmill?
A: It is recommended to moderately exercise at least 150 minutes per week. Make sure to take at least one rest day, but treadmills can be definitely be used for daily fitness! You have the ability to change workout style and difficulty level, which should definitely be utilized to differentiate your workouts.
Q: What are the health benefits of a treadmill?
A: A treadmill puts less stress on your body than pavement and other outdoor surfaces, meaning it's better for your joints than going for a jog around the neighborhood. It also allows you to safely monitor your heart rate and immediately end your workouts if necessary.
Q: Is a treadmill a good investment?
A: Yes. A treadmill not only offers many features like preprogrammed workouts to promote quality exercise, but you can use it regardless of the weather and you don't have to travel to a gym. While there is a start-up cost associated with treadmills, in the long-term they will save you money.
Q: Can I use a commercial treadmill at home?
A: Generally, when compared to residential treadmills, commercial treadmills are built with higher quality materials and tend to require maintenance less frequently. If you have a higher budget, commercial treadmills are an excellent option for you!
Q: Are treadmills easier on your body than running outdoors?
A: Treadmills typically provide greater cushioning and shock absorption than sidewalks or roads. However, it is also important to train your leg's muscles to absorb shock themselves. Therefore, you should be careful with extended treadmill use. If you only ever exercise on treadmills, you may be more likely to develop stress fractures and other impact-related injuries.
Q: For treadmill data screens, what is the difference between LCD and LED?
A: LCD stands for "liquid crystal display" and LED stands for "light-emitting diode". Essentially, LED screens are higher tech and are typically easier to read, particularly at difficult angles. Additionally, LED screens tend to last longer and are more easily replaceable than LCD because you can replace pieces rather than the entire monitor.
Summary
Treadmills offer you a solution to bad weather, lack of time or ability to travel to a gym, and give you a newfound motivation to work out! With a treadmill, there is no excuse for getting lost on the way to your fitness destination.
The CTA800ENT Commercial Smart Treadmill by Spirit Fitnessranked first on our list not only because of the high-tech entertainment features like screen mirroring and streaming, but because of the workout customization features and very little continuous maintenance and upkeep needed.
View our entire catalog of Cardio Exercise Equipment to see even more treadmill options, as well as ellipticals, exercise bikes, and more. For more information on other types of cardio equipment, read The 5 Best Elliptical Trainers, The 5 Best Exercise Bikes, or browse Caregiver University for even more Product Reviews and Buying Guides!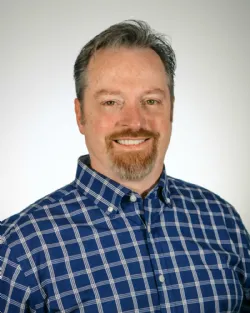 Author:
Co-Founder of Rehabmart and an Occupational Therapist since 1993. Mike has spent his professional career working in multiple areas of Occupational Therapy, including pediatrics, geriatrics, hand therapy, ergonomics and inpatient / outpatient rehabilitation. Mike enjoys writing articles that help people solve complex therapeutic problems and make better product choices.