The wheelchair is one of the most commonly used and widely recognized pieces of medical equipment available today. In fact, did you know that 3.6 million Americans over the age of 15 rely on a wheelchair as their primary mode of mobility?
Yet while so many rely on wheelchairs to ensure safety and efficiency, few are aware of the options available to prevent and even heal certain negative side effects brought on by extended periods of sitting.
These side effects include (but are not limited to) pressure sores, ulcers, skin breakdown, and general discomfort.
Fortunately, one effective tool exists to help solve all of these issues: a wheelchair cushion!
Wheelchair cushions come in a seemingly endless variety of shapes, sizes, intended users, and price points, but each product has the same primary objective: providing additional support, comfort, and protection to wheelchair users.
Wheelchair cushions embrace a diversity of styles and formats. Among these are foam, gel, gel-foam, memory foam, ROHO/Air, star, and positioning cushions. Each of these styles is uniquely designed to accommodate a patient's specific needs and preferences.
The Best Wheelchair Cushions Under $100
6. ROHO Mosaic
5. Jay Basic by Sunrise Medical
4. Wedged Ultra-Cushion by Skil-Care
3. Geo Matt Contour by Span America
2. Super Soft Econo Gel by Skil-Care
Types of wheelchair cushions
Foam
Foam cushions are usually a less-expensive option that provides patients with a simple but effective layer of additional padding while sitting in a wheelchair. However, foam cushions typically lack the higher-level features seen in more expensive and complex cushions.
Gel
Gel cushions incorporate gel inserts to support users, and are not as firm as foam cushions. These models are usually priced comparably to foam models, and are a good alternative for users looking for something with a bit more "give".
Gel-Foam
Gel-Foam cushions, like the name suggests, combine the best from each of the previous two formats! Gel-foam models merge the padding and support of foam cushions with the dynamic coverage of a gel cushion.
Memory foam
Memory foam cushions use the same padding and support as memory foam mattresses and pillows, which adhere to the exact shape of the pressure being applied to them.
ROHO/Air and Star
ROHO/Air and Star cushions both use an innovative plane of air cells that distribute support to areas where it is most needed. These cushions are often more expensive, but provide a significant increase in protection, support, and comfort.
A wheelchair cushion can be considered an investment, with some models on the high end running over $300. But for customers who are interested in an inexpensive wheelchair cushion — whether to save money or try out a less expensive model before committing to a pricier option — this article will rank the best wheelchair cushions available from Rehabmart for less than $100!
In assembling this list, Rehabmart's product review team assessed over $5,000 worth of wheelchair cushions. The products were evaluated based on their price, reliability, durability, additional features and considerations, and customer feedback.
6. ROHO Mosaic Wheelchair Cushion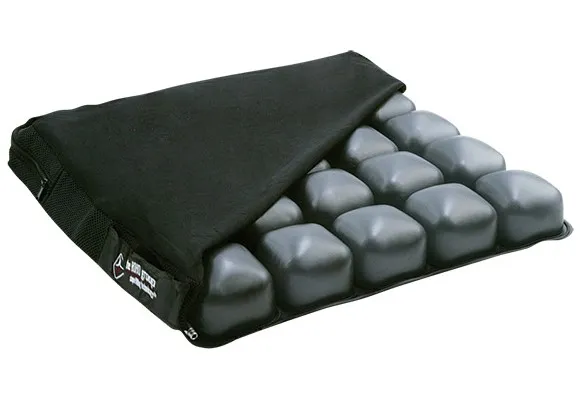 First on our list is the ROHO Mosaic wheelchair cushion. A bonus addition to our list at four bucks over the $100 cutoff, it is still considered one of the best values for its price of all the wheelchair cushions on the market. ROHO cushions are of premium quality and usually priced to match, and the Mosaic is their only model that is inexpensive enough to come close to making this list.
In a class all their own, ROHO/air wheelchair provide patients with patented air floatation technology that effectively prevents skin breakdown far better than almost all of ROHO's less-expensive competitors.
Because of the extremely high quality of protection and support they provide, it is no surprise that the low price of the ROHO Mosaic makes it one of the best values around. In terms of bang for your buck, it would be hard to do better than this cushion.
The Mosaic makes use of interconnected air cells that uniformly lift and support the patient. This effectively prevents discomfort when air levels decrease—a problem seen in some other, lower-quality air cushions.
The product also provides a basic, low-risk level of skin protection for the user. While not as intensive as what's provided by other, more expensive products, the Mosaic's protections can help prevent infections or skin breakdown.
You can also choose between a standard, machine-washable cover and a heavy-duty incontinence cover, depending on the user's specific needs and abilities.
The ROHO Mosaic wheelchair cushion provides the high-end support that is expected of the brand, but is of a lightweight construction and weighs less than a pound. This low weight means the cushion is easy to transport from place to place, and a cinch for caregivers to remove and clean!
Features and Benefits
Distributes weight evenly
Lightweight and easy to clean PVC shell
Two options for seat covers
One year limited warranty on cushion and six month limited warranty on cover
Product Tips
As might be expected, customers overwhelmingly noted the product's low price as its greatest advantage and selling point!
Several customers pointed out that the ROHO Mosaic was a perfect introductory product to the world of ROHO/air cushions, and inspired confidence in purchasing other ROHO products in the future.
This product allows users to access ROHO's famous quality and construction at a great price, but it is not for everyone. For those with more extensive skin protection needs, another ROHO model may be the best choice. This item is ideal for those with full or partial sensation in their seating area, and who have good seating balance, as it does not offer the full range of postural support that more heavy-duty cushions provide.
This cushion comes in three sizes and has a weight limit of 250 pounds. While it will support a variety of users, it is not currently best for pediatric or bariatric use.
Summary
At slightly over $100, the ROHO Mosaic just misses the price cutoff for this list. But it remains an exceptional value, and a great way to introduce new users to ROHO's innovative line of support devices. For those who want the air-cell technology ROHO is famous for but who don't require the intense support features offered by their other models, the Mosaic has what you need!
5. Jay Basic Pro Cushions by Sunrise Medical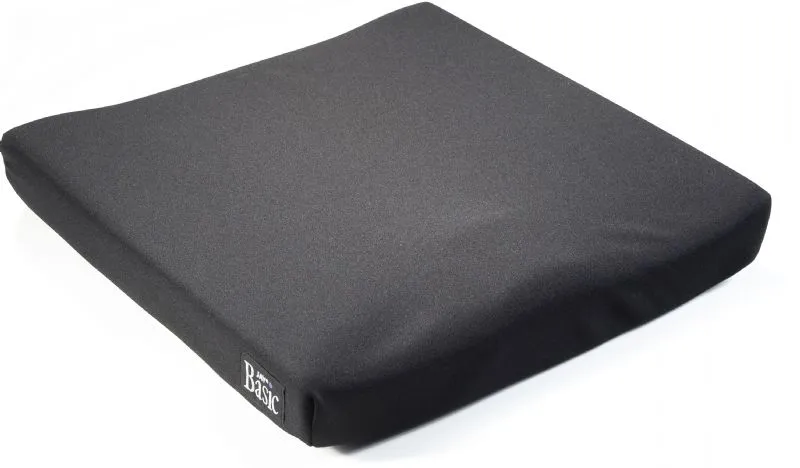 The Jay Basic Cushions by Sunrise Medical are low-profile, simple, and well-made, and fulfill all the basic needs a wheelchair cushion should.
The cushion has two layers that work to provide comfort and support to users. With their moderate contouring, they provide peak support to the pelvis and thighs.
The Basic Pro base cushion layer is composed of a subtle contouring foam. This layer is soft yet firm enough to serve as a stable foundation, offering stability and encouraging comfortable positioning.
Over the Basic Pro base, the Dartex Top Cover Surface stretchable top cover supplies additional comfort, while also protecting the base cushion from damage or moisture. Foam cushions are especially prone to water damage and can be difficult to clean, so a protective cover is particularly important to keep the cushion dry and make it last.
In many ways, the Jay Basic is a solid cushion in line with many comparable products on the market. One area where it seizes an advantage over its competition is in its range of sizes.
This cushion is available in 32 different sizes—considerably more than most other wheelchair cushions on the market, at any price point. The large number of sizes allows customers to ensure that the product they purchase will perfectly fit their needs.
For a modest $63, Jay Basic cushions offer supportive contouring and a high-quality cover for consistent comfort at an affordable price!
Features and Benefits
Available in 32 different sizes
Dartex Top Cover Surface prevents water absorption and is easy to clean
Beveled bottom prevents hammocking
Ideal for use with sling upholstery wheelchairs
Weight capacity up to 300 pounds
One year warranty on the cushion and six month warranty on the cover
Product Tips
With its low profile and subtle contouring, this cushion is best suited for those at a low risk of developing skin problems like shearing or ulcers. The Jay Basic is designed to support proper pelvic alignment, but users with extensive positioning needs should perhaps look for a cushion with more heavy-duty contouring and support.
This cushion has received the most praise from customers for its massive number of sizing options that allow customers to pick the product that perfectly matches their patient's needs. And with weight limits up to 300 pounds, this model will suit many different users.
Some customers have noted that while this cushion is well-made and relatively inexpensive, there are other products that they feel provide better or competitive quality at a lower cost. Keep reading to see if there is another option on this list that is the perfect one for you or your loved one!
Summary
The Jay Basic is a solid cushion that has attracted positive feedback for its wide range of sizing options. While not the fanciest cushion on the market, its quality support and moisture-resistant cover make it an attractive option for budget-conscious consumers.
4. Wedged Ultra-Cushion by Skil-Care
Earning the number four position of this ranking is the Wedged Ultra-Cushion by Skil-Care. This cushion claims its spot thanks to its varieties of format that let users pick a model that perfectly suits their needs.
Whether you or your loved one prefers a solid foam or gel-foam model, this cushion has what you're looking for. While there are some cushions that offer different designs for different needs, these options at this price point are unique.
And your choices don't end there! This item also offers two different cushion covers: vinyl or low-shear.
The vinyl cover is incontinence-proof, comfortable, and easy to clean. The low-shear cover is also moisture-resistant, but also offers protections that reduce the amount of friction between the cover material and the patient's skin.
This cushion also boasts an innovative wedge shape, which is designed to prevent hammocking—when a cushion sags in the middle, causing uneven distribution of pressure. This also ensures that the bottom sits below the frame of the wheelchair's seat, so the user is seated at a more comfortable height.
With prices starting around $85, the Wedged Ultra-Cushion offers variety and American-made quality on a budget.
Features and Benefits
Two cover options available
Available in foam or gel-foam format
Reduces risk of pressure ulcers
Product Tips
Skil-Care's Wedged Ultra Cushion is a reliable, economic option for those seeking pressure relief and protection from sliding-related discomfort. The convex shape promotes proper spinal alignment, and the gel in the hybrid model ensures an even distribution of pressure for maximum comfort.
If you or your loved one spend a lot of time in your wheelchair but have not yet developed skin integrity issues, the Wedged Ultra Cushion's firm construction and slip-resistant covers will help keep you free of discomfort and injury.
A large number of customers have noted that the ability to choose between a foam or gel-foam format was one of this cushion's greatest selling points, as it allowed them to make sure they had the right product.
The wedge shape was also noted as a perk for its effective pressure-distributing properties.
As with the previous entry, it is worth pointing out that while this is an effective and inexpensive cushion, some users may find something more suited for their needs and preferences at an even lower price. Additionally, some larger models of this cushion exceed the $100 limit for this article.
Summary
For a unique design with a selection of materials and cover options, look no further than the Wedged Ultra Cushion by Skil-Care. With American-made quality you can count on, this cushion offers an appealing range of options and features at a price that would appeal to anyone!
3. Geo-Matt Contour by Span America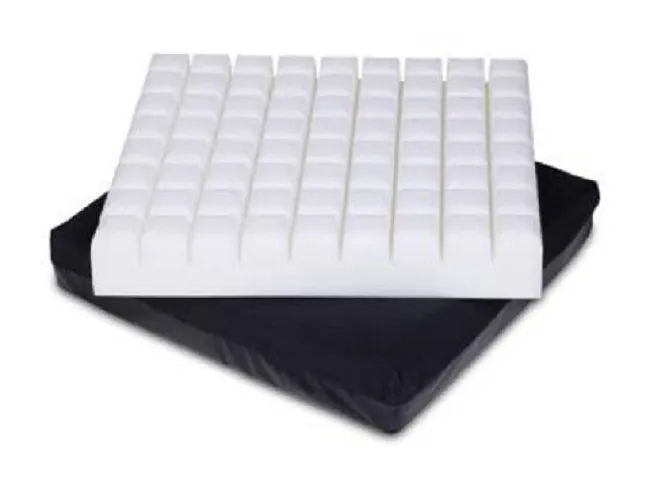 Span America's Geo-Matt Contour earns its place on this list with its one-of-a-kind arrangement of foam cushioning into a ROHO-like format. This unique construction enhances its ability to prevent skin breakdown, as compared to many other products under $100.
The Geo-Matt Contour makes use of cross-cut supportive foam cells, which are able to move independently of one another, similar to the dynamic design of ROHO air-cell cushions. The novel "Ring-of-Air" distributes body heat through the cushion to prevent moisture buildup, reducing the risk of sores or skin breakdown from moisture.
The base of this cushion can be equipped with optional ABS plastic molded ribs, exclusive to Span America. The ribs provide a firmer base that reduces sagging in high-pressure areas of the cushion, decreasing the risk of pressure sores.
Among the other advantages of the Geo-Matt Contour are its Durafilm Coating and pelvic bucketing leg channels. The moisture-resistant Durafilm coating serves to protect from spills or incontinence, and is easily removed and cleaned.
The pelvic leg channels ensure the comfortable and safe alignment of the spine and lower body by keeping the legs in an ideal position while effectively promoting upright posture and preventing slouching.
Like several other items on this list, this cushion offers customers the choice between two seat covers. The Cordura nylon Deluxe Cover comes standard with the cushion, and helps prevent skin shearing by reducing friction. The Anti-Slip Cover ensures that the cushion's bottom does not slip or slide, and helps preserve skin integrity.
Features and Benefits
Unique foam cell cushion design
Optional Sling-Fill base for increased support
18 month warranty on cushion
Product Tips
The Geo-Matt Contour is more heavy-duty than some of the other models in this list, but comes at a comparable price. Its unique design promotes proper alignment and comfortable body temperature, while its advanced contouring ensures excellent positioning.
With these features, this cushion would be a great choice for anyone who spends extensive time in their wheelchair and is at risk of skin integrity issues or unhealthy posture.
Customers have praised the cushion's comfortable and effective design and the Sling-Fill base garners its fair share of accolades for providing a firmer base that discourages sagging.
It should be noted that while this cushion is comfortable, effective, and sophisticated, its base price just barely comes in under the $100 limit, and larger models cost more.
This cushion is available in several different sizes, and has a weight limit of 250 pounds. This model is not suited for pediatric or bariatric use.
Summary
After thorough testing by the Rehabmart product team, the Geo-Matt Contour emerged as one of the best and most cost-effective models out there! It provides high-quality comfort and protection at just under $100. With more contouring and positional features than many items on this list, it is a great, economic choice for users who require a bit more but still want to pay a bit less!
2. Super Soft Econo Gel by Skil-Care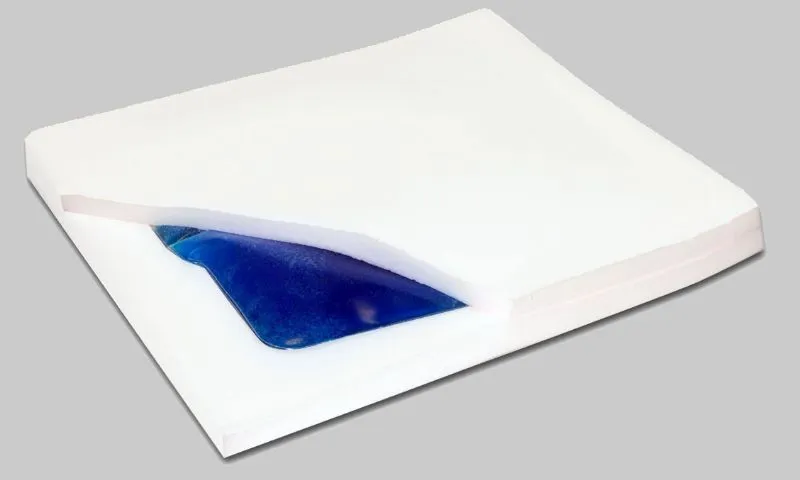 The Super Soft Econo-Gel wheelchair cushion by Skil-Care claims the number two position of our ranking, and has also been chosen by the Rehabmart staff as the Best Overall Value among gel cushions! This hybrid model is a great affordable alternative to budget foam cushions.
With its combined high-density foam and gel insert, this cushion provides an impressive degree of comfort. The foam provides strength and stability, while the gel compartment relieves pressure in at-risk areas. With these two components, this model effectively supports bony areas of the backside and helps prevent ulcers and pressure sores.
The cover of the cushion is water resistant and easy to clean, while adding a small amount of additional padding. Safety ties keep the cushion firmly in place and prevent the user from slipping out of position.
The Super Soft Econo-Gel's ultra-low cost secures its high position here and its inclusion in our overall Best Wheelchair Cushions list.
For what you'd spend on a nice dinner for two, you or your loved one can get a supportive and comfortable cushion, with the American-made quality Skil-Care is known for!
Features and Benefits
Stabilizes the body for better posturing
Helps to redistribute pressure to avoid ulcers
Easy to clean and water resistant outside cover
Two-toned outside cover for easy reversal and extended cushion wear
Product Tips
The Skil-Care Econo Gel cushion is a spectacular value compared to both other gel cushions and to wheelchair cushions overall. Rated highly for comfort and design, it is also easy to clean and maintain. Moreover, its hybrid construction allows for both maximum stability (from the high-density foam) and even pressure distribution (from the inner gel pocket).
For budget-minded customers who spend most of their time in their wheelchair, this item can prevent the development of skin shearing or ulcers.
Its range of sizes will accomodate most, but this cushion is not for pediatric or bariatric use.
Summary
The Skil-Care Super Soft Econo Gel cushion's low price is certainly one of its most attractive features, and it proves that a high-end experience doesn't have to come at a high-end cost. For sturdy construction and strong support at a price point anyone can love, it's hard to do better than this cushion.
1. Curve by Comfort Company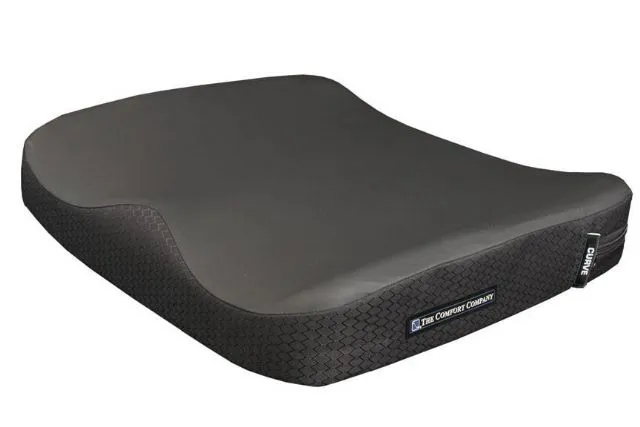 Claiming the rank of the #1 wheelchair cushion available from Rehabmart under $100 is the Curve by Comfort Company! As with many top products, the Curve merges many individual advantages of other products into one cushion, while also incorporating a few unique features of its own.
The Curve is made of a high density foam and formatted ergonomically to increase the cushion's surface area. This shape allows the cushion to effectively and evenly distribute pressure, and help prevent pressure sores or skin breakdown.
This model also includes a thigh separator and mild anti-thrust shelf to encourage upright posture. These features help improve stability while reducing pressure on the sit bones caused by forward leaning.
Additionally, as with all of Comfort Company's cushions, two signature cushion covers are available. The Stretch-Air cover is breathable and effective at reducing shear force. The Comfort-Tek cover, on the other hand, is incontinence-proof and designed for easy cleaning and infection prevention. Both covers are non-skid, and Velcro loops ensure they stay firmly attached to the wheelchair.
The Curve is among the most diverse in sizing options of any wheelchair cushion and can be used on any size of wheelchair, from pediatric on up. And with weight capacities up to 400 pounds, the cushion is suited for bariatric use as well!
The Curve provides outstanding quality at a surprisingly low price. At around $60, this cushion is second only to the Super Soft Econo Gel cushion in terms of cost, though larger sizes are more expensive.
With its more advanced contouring features and choice of cover options, the Curve gets the edge over the other budget-friendly cushions we've highlighted here.
Features and Benefits
Made of high-density polyurethane foam
Anti-thrust shelf for posture control
Medial thigh separator keeps legs parallel and reduces hip pressure
Reflective piping for low-light visibility from 500 feet
Lifetime warranty against manufacturer defects
Product Tips
With its supportive high-density foam interior and posture-reinforcing contouring, the Curve is ideal for those who spend most of their time in their wheelchair. Long-term sitting can cause health problems ranging from discomfort to serious injury, and the right cushion can improve both you or your loved one's day to day quality of life as well as your long-term health.
With its combination of high quality and low price, it's unsurprising that this cushion is one of the most popular models around. Its attractive attributes not only earned it a spot on this budget-minded list, but the #4 slot on our overall Best Wheelchair Cushions rankings alongside much pricier models.
It's wide range of sizes also set it apart, as it is appropriate for almost every type of user, from pediatric patients to those in need of bariatric support.
Summary
For its price, value, reliability, features, and popularity among customers, Comfort Company's Curve wheelchair cushion secures its position at the top of our list. By offering a luxury product at a drugstore price, the Curve proves you don't have to spend a fortune to ensure good health and comfort.
For both individual customers and institutions that buy in bulk, the wide range of available sizes only further ramps up this model's versatility and economy.
Given these distinct advantages and the massive amount of customer praise, it comes as no surprise that the Curve by Comfort Company is the best under $100 wheelchair cushion.
Wheelchair Cushion Buying Guide
Preventing problems like skin shearing, ulcers, and pressure on bones and joints is of utmost importance to long-term health, and high costs shouldn't get in the way of quality of life. With that in mind, each of the cushions here has been chosen to help you or your loved one get the most out of your time in your mobility device - no matter what your price range.
| | | | |
| --- | --- | --- | --- |
| 6. | | ROHO Mosaic | |
| 5. | | Jay Basic by Sunrise Medical | |
| 4. | | Wedged Ultra-Cushion by Skil-Care | |
| 3. | | Geo Matt Contour by Span America | |
| 2. | | Super Soft Econo Gel by Skil-Care | |
| 1. | | Curve by Comfort Company | |
Our honorable mention, the ROHO Mosaic, offers a chance to try out one of the best wheelchair cushion brands around for far less than what you would usually pay. It may be a more basic model than others Rehabmart offers, but it features the same air-cell technology and quality of higher-end cushions.
If you like the concept of air cells but prefer a foam-based cushion, the Geo-Matt Contour by Span America is a supportive, unique design with a variety of available options to enhance your experience.
The Wedged Ultra-Cushion and the Super Soft Econo-Gel Cushion, both by Skil-Care, both offer hybrid models for those seeking the firmness of foam shells with the even pressure distribution that gel inserts provide.
For a traditional, low-profile foam cushion that offers subtle contouring and a variety of sizing options, the Jay Basic can help users stay comfortable and injury-free.
Emerging victorious in this contest of cushions is the Curve by Comfort Company, which combines sophisticated contouring and support features, a huge variety of sizing options, and two cover choices in a package costing around $60. Though all the cushions we've highlighted here have something to offer, the Curve's high customer satisfaction and impeccable construction put it at the top of our list!
Everyone has different priorities when deciding what wheelchair cushion to use. If you're looking to go easy on your wallet without skimping on the health and safety features you or your loved one need and deserve, Rehabmart is here to help you.
Finding the device you need can sometimes be a daunting task, as the options might seem overwhelming at first. Rehabmart's extensive collection of product reviews can help you find the best medical or rehabilitation device for you!
Want to learn even more? Find dozens of videos featuring products and caregiver tips like these at Rehabmart's YouTube channel!
Keep reading with our related article, The 5 Best Wheelchair Cushions!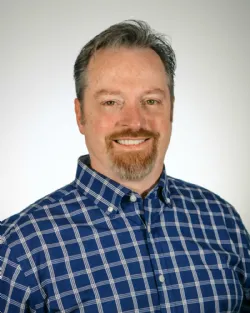 Author:
Co-Founder of Rehabmart and an Occupational Therapist since 1993. Mike has spent his professional career working in multiple areas of Occupational Therapy, including pediatrics, geriatrics, hand therapy, ergonomics and inpatient / outpatient rehabilitation. Mike enjoys writing articles that help people solve complex therapeutic problems and make better product choices.