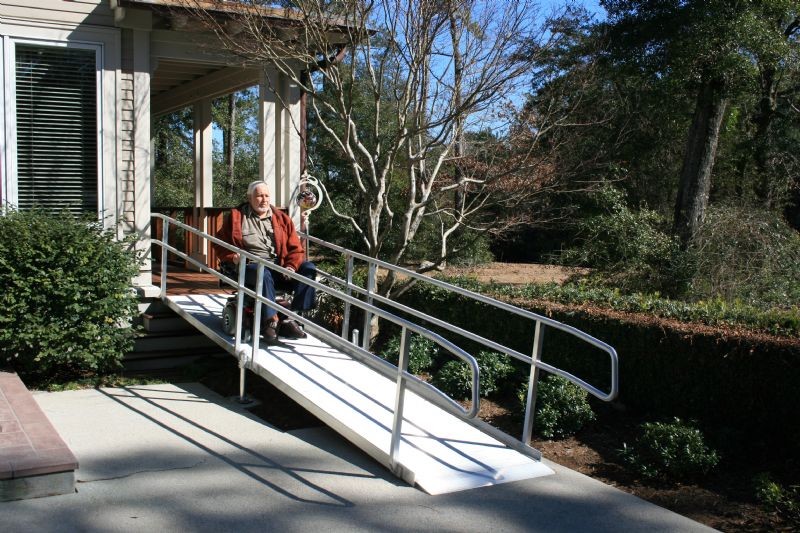 As a form of gradually inclining assistive equipment that allows wheelchairs and other mobility devices to safely mobilize over steps and uneven ground, wheelchair ramps are a practical and cost-effective solution to improve the lifestyle, access, and safety of people living with limited mobility. Also known as handicap ramps and accessibility ramps, wheelchair ramps are available in a wide variety of sizes and styles that offer different functionality.
The Top 5:
What is a permanent wheelchair ramp?
Commonly used for public institutional and commercial accessibility, permanent wheelchair ramps are often designed with concrete or are made of steel that's bolted securely and permanently into place. When a permanent ramp is considered for private residence usage, it's important to understand that permanent ramps cannot be moved or adjusted once they are set in place, so they're best used in homes where lifelong users of mobility equipment reside.
What is the best wheelchair ramp?
As an essential solution for making your home accessible for users of wheelchairs, scooters, and other mobility devices, determining the best wheelchair ramp is dependent on the individual factors for each home and user. Who will be using the ramp, local climate, whether it's for temporary or long-term usage, and what kinds of mobility devices will be used, all factor into making the best selection to meet your specific needs.
We've helped simplify this process for you with our extensive wheelchair ramp research. Looking at durability, performance, functionality, and affordability, we've also compiled testimonial research from the actual users of these ramps to assist you in finding the best solution for your own needs.
With all of our top five ramps coming from the esteemed National Ramp company, these wheelchair ramps are modular for versatile, customized use in a multitude of environments, American-engineered, and ADA-compliant.
National Ramp ensures what you selected is right for you by contacting you after you place an order, and can even help with professional installation and troubleshooting, resulting in a worry-free wheelchair ramp buying process all the way around. The most common comment made about all of the ramps in our review is how impressive National Ramp's service and commitment to satisfaction is, with multitudes of customers so appreciative of their caring, quality assistance.
Enabling painting or staining to match the home, the Victory Wooden Modular Ramp is constructed with premium-grade yellow Southern pine to add a beautiful aesthetic that's also strong and dependable. Making our list at number five, this ramp is preferred by design-minded customers who are more accustomed to the look and feel of wood.
Because of its wooden design, the Victory Ramp is best suited for climates that don't experience heavy rain and snowfall. That said, many customers loved how the pressure-treated wood prevents rotting and how the decking is spaced in its design to allow water to drain through, which prevents puddling.
Its modular design facilitates customization with configuration and includes personalized selections for adding ramp sections to lengthen, two different platform sizes, handrails, multiple stair systems, a variety of legs, an end-loops kit, and more. National Ramp's proprietary Grip Tape can be used to deliver additional traction, which is especially recommended when the surface is wet.
Features and Benefits
Pressure-treated wood to prevent rotting
Spaced decking enables water to drain through
Versatile natural wood can be painted or stained to match home
Strong, durable Southern pine construction
The modular design enables easy customization
Customer Feedback
People who are using the Victory wooden ramp overwhelmingly extol its beauty and elegance, and how much they love its unobtrusive design. Because it can be stained or painted any color, it beautifully blends with the home and its surroundings.
Most customers consistently gave a 4.8 to a 5-star rating for the Victory, praising its sturdiness in accommodating heavy wheelchairs and mobility scooters. A small minority of users gave the Victory a lower rating because of the annual maintenance involved with continued staining, painting, or varnishing.
Users who live in wetter climates did recommend using the Grip Tape to provide better non-slip safety on rainy days, while most everyone agreed that the loop railings on the end should be purchased to provide an extended grip for both walkers and riders.
Pros:
Attractive natural wood aesthetic
Can be stained or painted to blend with the home
Strong and sturdy dependability
Cons:
Wood may get slippery (Grip Tape is recommended)
Requires annual staining or repainting to maintain wood
Most expensive starting price-point in our review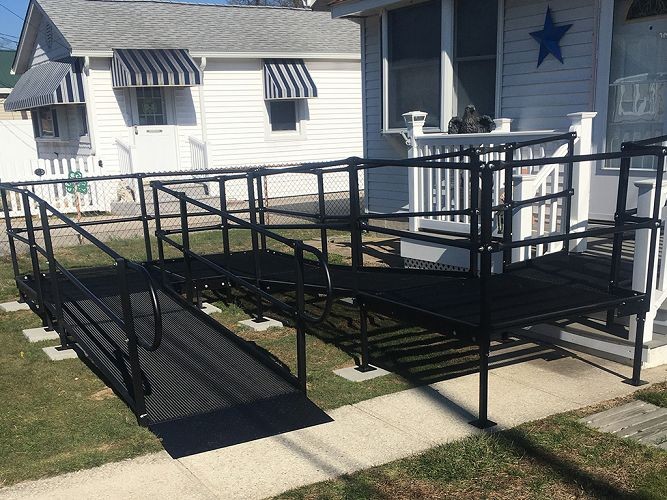 Securing the fourth position on our list, the Breeze Black or Green Aluminum Open-Mesh Modular Ramp is a great accessibility ramp choice for regions experiencing snow in the winter or heavy rainfall. Its open-mesh design facilitates effective water and snow drainage, preventing slippery areas for more practical prevention of accidents and falls.
Its lightweight but robust and strong aluminum construction is powder-coated in an attractive Forest Green, or a Tuxedo Black finish to blend with the natural environment. Super easy to maintain, this aluminum ramp doesn't require any upkeep or painting, and it won't rust, splinter, corrode, or rot, nor will the powder-coat finish chip or flake. It features a generous weight capacity of 1,000 pounds to safely accommodate most users and their mobility device.
Easy to install, reconfigure, and remove, this modular ramp enables customized, modular design to perfectly meet your specifications. Like the other National Ramp wheelchair ramps in our review, the black or green aluminum open-mesh ramp allows you to choose the length of the ramp, platform size, legs, handrails, end loops, and more, resulting in the best ramp for your needs.
Features and Benefits
Lightweight aluminum design is powder-coated
Maintenance-free design holds up well in rain and snow
Open-mesh surface for exceptional snow and water drainage
Strong and durable construction with a 1,000-pound weight capacity
Modular design is easy to install, remove, and reconfigure
Customer Feedback
Rated by most customers between 4.9 to 5.0 stars, the Black or Green Breeze Aluminum Open-Mesh Modular Ramp is a popular choice among accessibility ramp users. While most users talked about its efficacy with drainage because of its open-mesh surface, and how safe this makes walking and riding mobility devices, they also love how this ramp looks and blends with their home's exterior.
With its stylish green or black powder-coated finish and lightweight, modular aluminum construction, customers found this ramp to be exceptionally durable and stable while they also very much enjoy its maintenance-free performance. In addition, people using this ramp praised its versatile modular design, enabling them to replace sections or handrails that had been damaged at a much more affordable cost than replacing the entire ramp. It also allowed them to configure the ramp around trees or other areas.
Pros:
Open-mesh surface improves rain and snow drainage for safer use
Strong and durable aluminum construction is easy to maintain
Powder-coated green or black finish is attractive
Lightweight, modular construction enables affordable replacement
Cons:
Some customers recommend professional installation for this ramp
Has a little higher starting price-point than some other ramps in our review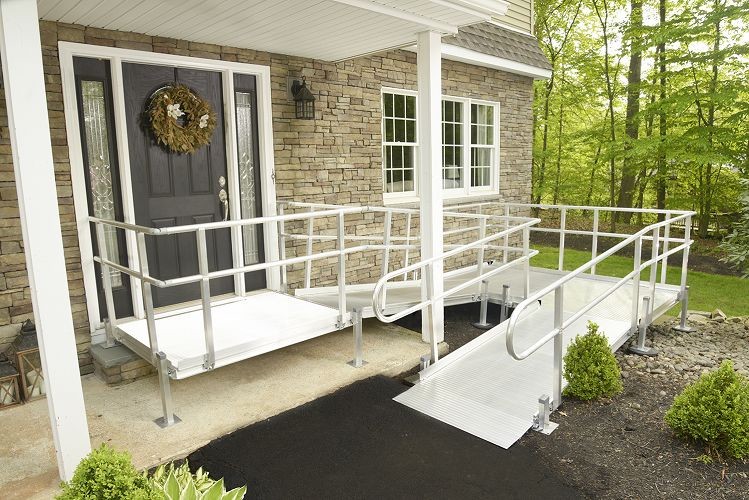 The Liberty Aluminum Solid-Surface Modular Ramp ranks at number three in our review with its non-slip solid surface that promotes easy rolling for wheelchairs and scooters. Customers also liked this ramp for using crutches, canes, and walkers. Because of its solid surface, this ramp is best used in temperate climates that receive little or no snow accumulation.
Specially configured with included, continuous handrails, optional picket-style handrails can be added, along with recommended loop-end handrails. Spanning the entire length of the ramp and finishing at the front door, the continuous handrails prevent any gap between the entrance and the ramp, optimizing safety.
The Liberty's lightweight aluminum construction and modular design makes installation, removal, and reconfiguring easier, along with delivering dependable, durable functionality that's easy to maintain. Its generous 1,000-pound weight limit and plentitude of customization options make this ramp a great choice for a variety of users in different locales.
Features and Benefits
Non-slip solid surface promotes easy rolling for mobility devices
Compatible for climates that don't get much snow accumulation
Continuous handrails are included to span the entire length of the ramp
Multiple modular customization options
Lightweight, durable, and dependable aluminum construction
Customer Feedback
As a well-loved wheelchair ramp some people with long-term disability have used for years, the Liberty from National Ramp gets a 4.8 to a 5-star rating from most customers. Its continuous handrail is a much-loved feature, greatly benefiting folks who use canes or are unsteady on their feet, providing a secure handhold for support along the entire length of the ramp.
The lightweight aluminum construction combined with the solid surface makes this modular ramp much easier to install, according to multiple users. The non-slip solid surface was a feature many users commented about, saying how well it helped them keep their footing.
The only negative comments about the solid surface were from users who lived in areas that did receive more snow than usual, which required removal before the ramp could safely be used. A couple other customers mentioned that heavy rainfall can cause safety issues, as it tends to pool on the solid surface.
Pros:
Continuous handrails provide added support for unsteady walkers
Lightweight, modular aluminum design is easy to install, remove, and reconfigure
Non-slip solid surface helps users keep their footing
Well-loved ramp people have been using for years
Cons:
Not recommended for climates with significant snow accumulation
Not recommended for climates with heavy rainfall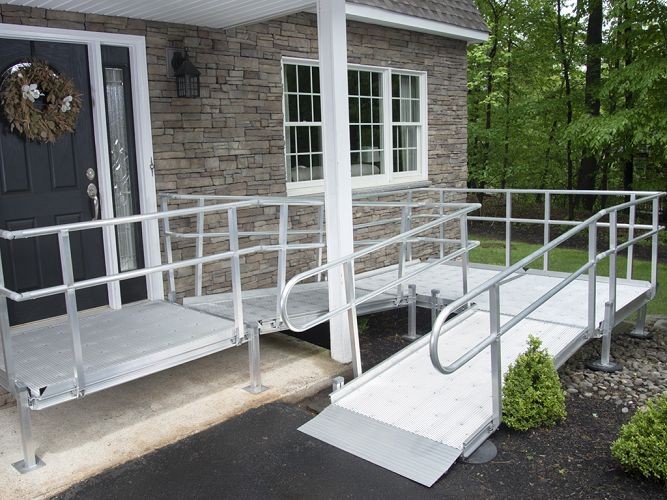 Claiming the second spot on our list, the Breeze Aluminum Open-Mesh Modular Ramp is a quality, maintenance-free product providing a range of ramp system options.
This superior wheelchair ramp requires literally zero maintenance and features an open-mesh walking surface that drains quickly in case of inclement weather. The open-mesh walking surface provides excellent traction for wheelchair wheels, as well as rubber walker tips and rubber tires associated with scooters and strollers.
Like the other National Ramp products in our review, this ramp system is considered to be a modular/portable ramp and can be easily installed in just a few short hours. The aluminum modular ramps are rated for up to 1,000-pound weight capacity and they are ADA compliant, making them a great choice for churches and businesses, as well as private residences.
ADA compliance requires ramps to have a rest platform for every 20 feet of the ramp, which is easily achieved with the Breeze system. Customers who purchased this ramp for commercial application found it to be safe and reliable. Several churches installed the ramp and said it's used daily and looks great - even years after installation.
The popular Breeze ramp is available in lengths from 2 feet to 30 feet, so you can purchase the perfect size for your needs. These quality ramps feature sliding legs and can be configured to accommodate the ramp design you require. The sliding legs allow for sections of the ramp to be incrementally raised or lowered, providing the perfect support.
If you currently have a ramp and are replacing it, the Breeze system may easily transfer to your current ramp supports. However, if you are installing a new wheelchair ramp, you must purchase an assembly kit to install your modular ramps from National Ramp. The starter kit includes top and bottom transition plates and a mounting bracket to make installation a snap. The ramp sections are 36-inches wide and include mounted handrails on both sides. Ramp sections are available in increments of one foot, so you can customize your ramp length, from 2 feet to 30 feet.
Features and Benefits
Available in lengths from 2 feet to 30 feet
ADA compliant
May be installed on current wheelchair ramp supports
Maintenance-free - no painting or sealant required
Modular for easy customization
Customer Feedback
Customers routinely rate this wheelchair ramp very highly - in fact, many customers give it 5 out of 5 stars for the ease of assembly. Reviews also mentioned how attractive the ramp is, and how the unfinished silver aluminum wears well and continues to look nice for years.
Pros:
Easy to assemble
Simple to configure for ease of use
Attractive but unobtrusive
Handrails are well placed and sturdy
Cons:
Our number one wheelchair ramp is the remarkable Triumph Steel Modular Ramp by National Ramp. This ramp is simply the best - versatile, can be used for numerous diverse applications, and is ADA compliant – making it the perfect addition for home, church, or business.
This durable ramp is exceptionally attractive and available in a stylish Silver Steel or Tuxedo Black powder-coated finish. These ramps blend nicely in any environment. The open-mesh surface is the safest in the industry, allowing rain to immediately drain, resulting in peace-of-mind traction for your wheelchair or scooter, crutches, walker, or cane. The legs on the Triumph Steel Modular Ramp are incrementally adjustable, so it's a snap to provide support on uneven surfaces.
The Triumph Steel Modular Ramp can be temporary (or permanently) installed, and are easy to assemble, take apart and move. This makes this ramp system one of the most adaptable ramps on our list of the top 5 permanent wheelchair ramps for 2020.
Features and Benefits
1,000-pound weight capacity
Incremental adjustments for legs and platforms
Quick-dry mesh surface means better traction for wheelchairs and scooters
ADA compliant for commercial facilities
Popular, economical solution for wheelchair ramp needs
Customer Feedback
Consistently rating this ramp five out of five stars, customers routinely refer to the Triumph steel open-mesh wheelchair ramp as perfect; they love the design and stylish aesthetic. Many customers reviewed the ramp as the most economical solution to their wheelchair ramp needs.
The most shared comment is in regard to the strength and durability of this steel ramp. Customers who have owned other ramps say that this ramp is stronger and more secure than any other equipment they have tried - yet it is not more expensive. They rate the cost-to-value at five stars!
Pros:
36" wide ramp with 34.5" handrails provides safe and comfortable passage
Modular design allows for virtually any configuration
Temporary or permanent installation
Wears exceptionally well in inclement weather zones, powder-coated finish
Zero-maintenance ramp
Cons:
Summary
Our Top 5 Best Wheelchair Ramps review considered the features, benefits, cost, and customer reviews of more than 35 different wheelchair ramps. We found the Triumph Steel Open-Mesh Modular Wheelchair Ramp to the best solution for your ramp needs, hands down.
The Triumph is reasonably priced, simple to install, highlights low/no maintenance, and has the patented open-mesh system to assure your wheelchair or scooter has perfect traction while rolling up and down the ramp. This versatile ramp can be installed as a permanent, semi-permanent, or portable option for your accessibility ramp requirements. It is ADA compliant, and serves all mobility devices, regardless of their width or wheel type.
Although the Triumph and the other ramps in our review are not specifically described as bariatric, they do accommodate a 1,000-pound weight capacity to safely hold the user and their heavy mobility equipment. Customers love the Triumph for its wide ramp and safety handrails, and how it's so economical and aesthetically pleasing to the eye.
While all of the National Ramp wheelchair ramps in our review are extremely well-made, we've determined the Triumph to be the most versatile, attractive, sturdy, and durable ramp. It is a stellar choice for all of your mobility equipment needs.
Learn more about portable wheelchair ramps, and how to choose the best accessibility ramp for your needs with our educational resource, Caregiver University.
Want to learn even more? Find dozens of videos featuring products and caregiver tips like these at Rehabmart's YouTube channel!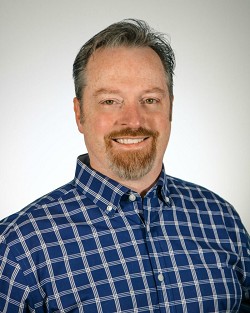 Author:
Co-Founder of Rehabmart and an Occupational Therapist since 1993. Mike has spent his professional career working in multiple areas of Occupational Therapy, including pediatrics, geriatrics, hand therapy, ergonomics and inpatient / outpatient rehabilitation. Mike enjoys writing articles that help people solve complex therapeutic problems and make better product choices.