Wheelchair ramps for homes become necessary when mobility is limited. Stairs are one of the most significant obstacles faced by people who use rollators or wheelchairs face. Independence and freedom to accomplish your daily living activities can be positively impacted by installing a wheelchair ramp for your home.
The Top 5: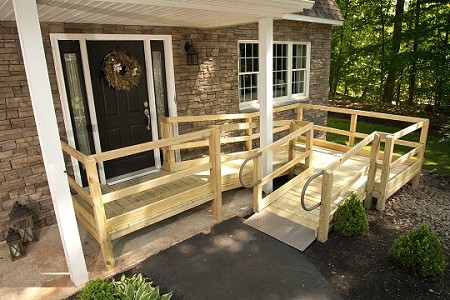 If you have an existing wood deck or porch, the Victory Wooden Modular Ramp by National Ramp at number 5 on our list will blend seamlessly to create an attractive addition to your home.
Made from premium grade kiln-dried Southern Pine, this wheelchair ramp can be stained or painted to match your home, and it works great in regions that do not experience heavy rain and snow. Pressure-treated for a long rot-free service life, its surface decking promotes efficient drainage so standing water won't accumulate. It can be ordered with vertical railings to prevent falls, which is especially useful if you have small children that will be walking up and down the ramp.
This modular wheelchair ramp is made up of interconnecting pieces, which create a lot of flexible options to ensure you have the configuration that works best for your home or office. By choosing the size of the platform, the length of the ramp section, and which stair system you want, you can design the ramp that will provide you the safest transition between the ground and your door.
This handicap ramp requires regular staining or repainting to keep it properly maintained and ensure it lasts for years. It made our list of top 5 best permanent wheelchair ramps because, with a little annual care, this economical option will fit in great and be an attractive and valuable addition to your house.
Features and Benefits
Customizable modular design
Surface decking is spaced for efficient water drainage
Pressure-treated premium grade wood resists rot
Can be stained or painted any color
Blends well with structures that have existing wood decks or porches
Customer Feedback
Pros
Very solid and strong
Looks like a part of the house
Water doesn't pool or create puddles
Can change the look with a change in paint
Cons
Annual painting is a chore
Some local ordinances require railings to be included, but they do not come standard with this ramp and have to be ordered as an option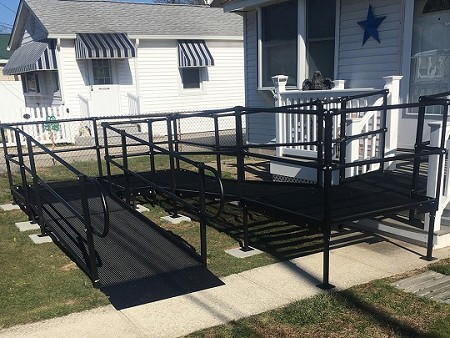 The surface of the Black or Green Breeze Aluminum Open-Mesh Modular Ramp by National Ramp makes our number 4 pick perfect for snowy climates.
Built from maintenance-free aluminum, this modular powder-coated wheelchair ramp can be ordered in either a Forest Green or Tuxedo Black finish. Snow and water drain through the mesh to eliminate surface standing water and slick spots, making it safer to get in and out of your home. This handicap ramp won't rust, corrode, splinter, or rot. It can accommodate up to 1,000 pounds and comes with a limited lifetime warranty.
The modular design makes this wheelchair ramp highly customizable. From needing a steeper incline to accommodating landscaping, you can get the wheelchair ramp that is a perfect fit for your home. The pieces of this tongue-and-groove system are solidly built, but if one portion is damaged, there is no need to replace the entire ramp. Replacing just the damaged section makes this a cost-effective option, especially if inclement weather puts your ramp at a higher risk of impacts from falling tree limbs.
With its open-mesh surface to accommodate snow and rainfall and its durable construction, the number 4 pick on our list of best permanent wheelchair ramps provides a maintenance-free flexible option that will last for years.
Features and Benefits
Customizable design
Maintenance-free aluminum construction
Snow and rain drain through open-mesh surface
Choice of powder-coated colors
Lifetime warranty
Customer Feedback
Pros
Weight limit accommodates larger users and their heavy electric wheelchairs
Can repair a section if necessary without having to replace the entire ramp
Like the colors rather than just look of aluminum
Only maintenance is keeping the ramp surface clear of debris
Cons
Other colors have to be custom ordered
Because it's custom made, it could take a few weeks to ship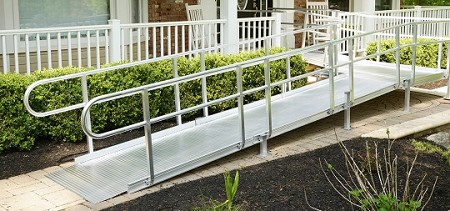 The non-slip surface of the maintenance-free Liberty Aluminum Solid-Surface Modular Ramp by National Ramp makes our number 3 pick one of the best selling wheelchair ramps for homes.
This solid-surface wheelchair ramp easily accommodates users with crutches, canes, walkers, scooters, manual wheelchairs, and power wheelchairs. This modular aluminum ramp won't rust, splinter, or rot, and is best suited for climates without snow. The solid-surface ramp is designed for easy assembly, and it can be installed in a few hours. It's semi-permanent, so it can be removed if needed.
With handrails that span the length of the ramp, there is no gap between your entryway and the ramp. You can count on handrail support as soon as you are out your door. The ramp leg height is adjustable up to 24 inches and the weight capacity of this wheelchair ramp is 1,000 pounds. It is backed with a lifetime manufacturer's warranty.
Its maintenance-free easy-to-assemble aluminum construction, non-slip surface, and high weight limit earned this wheelchair ramp the number 3 spot on our list, and it's perfectly suited for non-snowy climates.
Features and Benefits
High weight limit accommodates larger users
Non-slip ramp surface safely accommodates crutches, canes, walkers, scooters, and wheelchairs
Lifetime warranty
Maintenance free aluminum construction
Full-span handrails
Customer Feedback
Pros
Easy to assemble
Customizable configuration to fit individual needs
Won't slip on the ramp's surface
Industrial commercial quality for home use
Can be removed and taken to new house if you relocate
Cons
Solid surface keeps water from draining
Doesn't stand up to snowy climate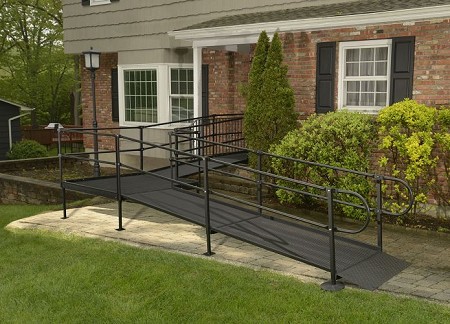 The optimal safety provided by the non-slip platform of the Triumph Steel Open-Mesh Modular Wheelchair Ramp by National Ramp has earned it the number 2 spot on our list of best permanent wheelchair ramps.
This heavy duty powder coated black steel ramp promises years of service, and can even stand up to snowy weather. This durable wheelchair ramp resists dents and scratches and won't warp or bend, boasting a weight capacity of 1,000 pounds. The open-mesh surface design drains away snow and rain. Combined with the no-slip textured platform, this ramp delivers an extremely safe mobility experience.
The attractive modular design gives you the flexibility to create a ramp that fits your home or business, complementing any residential or commercial setting. Easy to install, even around landscaping elements, this handicap ramp makes getting around simple and safe. It can be reconfigured if your needs or landscaping change, and it is easy to remove if you need to relocate it entirely.
Among wheelchair ramps for homes, this heavy duty steel model with the non-slip surface is a great choice for power wheelchair users, as even the newer more powerful chairs will get traction on this ramp.
Features and Benefits
3 year warranty
Textured non-slip surface for safety
Durable steel won't dent or scratch
Powder coated finish holds up for years
Snow and water drain through open-mesh surface
Customer Feedback
Pros
Power wheelchairs don't slip
Doesn't compromise curb appeal
Modern and sleek design
Functions perfectly to help people enter the home
One person can assemble in a few hours
Cons
Assembly instructions lacked clarity
Took longer than anticipated to assemble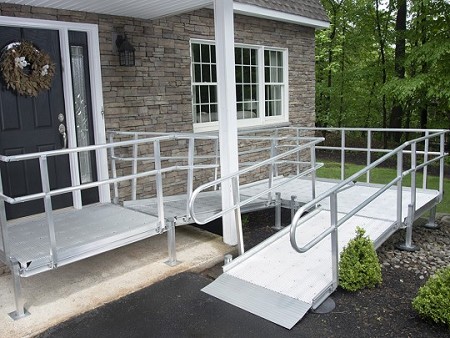 Our number 1 pick, the maintenance-free Breeze Aluminum Open-Mesh Modular Ramp by National Ramp, eliminates snow as a wheelchair ramp obstacle.
The most popular modular ramp for snowy climates, snow and rain drain through the open-mesh ramp surface, so water won't pool and cause a slipping hazard. Its high-traction walking surface makes this the safest mobility ramp on the market, and it won't rust or rot. Backed by a lifetime warranty, this aluminum ramp provides unparalleled safety and durability.
This tongue-and-groove system is made up of smaller pieces that connect to create whatever configuration you need. The modular design simplifies Installation, repair, removal and relocation. You can set up a ramp that gets you from your back door, around the side of your house, to your driveway. No matter what your layout needs, budget requirements, and the style of your home, you'll find an option that works for your home.
This durable aluminum model can't be beat for snowy climates, providing a safe and slip-free surface through a modular system that requires no maintenance and is easy to configure to meet your unique requirements.
Features and Benefits
Completely customizable configuration
Open-mesh surface resists standing water
Aluminum frame is maintenance free
Lifetime warranty
1,000 pound weight capacity accommodates scooters and power chairs
Customer Feedback
Pros
Wraps around the house
Preferred by property managers needing to stay in ADA compliance
Confident it will hold up to regular use by power chair
Install and it and forget it, no maintenance needed
Snow drains out of the way
Cons
Instructions could be more clear
Packaging could have been improved
Features to consider when purchasing a permanent wheelchair ramp
Maintenance Requirements
Wooden ramps fit in great with existing wood structures and are some of the least expensive options available. However, they do require regularly scheduled repainting or staining to keep them protected from the elements. If a maintenance-free wheelchair ramp is a requirement, you'll want to purchase an aluminum or steel model.
Climate
Some wheelchair ramps are suitable for all climates. However, if you live where it snows or rains a lot, aluminum or steel models with good surface drainage are going to be a better fit to ensure a safe user experience and a long service life.
Strength
Bariatric patients, or people who require mobility aids that put a lot of weight on a ramp - namely modern power chairs - need to take the weight capacity of a ramp into consideration. Getting a ramp that is rated to handle the appropriate weight of a chair and user means the ramp will last longer and will be a safe and stable mobility aid.
Ease of Installation/Removal
Different wheelchair ramps have different installation requirements, so do your research to see how long it will actually take to install this device. Also, if there is a chance you will ever remove or relocate your wheelchair ramp, ease of disassembly and removal should also be taken into consideration.
FAQ
Does Medicare pay for wheelchair ramps?
Medicare does not cover home modifications for improving wheelchair access under its durable medical equipment benefit. Rehabmart does not currently accept private insurance, and is not able to provide insurance advice. However, upon your request, we can provide an itemized receipt for you to submit for reimbursement.
Does a wheelchair ramp add value to a house?
For a wheelchair user who is house shopping, a wheelchair ramp can definitely add to the value of a home. However, that is not always the case. That's why it's important to have a wheelchair that is easy to take down and get out of the way to prepare a house for sale if necessary.
What is a semi-permanent wheelchair ramp?
Semi-permanent ramps are intended to stay where they are installed, but they are also easy to remove and adjust as necessary.
Do all ramps have to be ADA compliant?
No. The ADA covers ramps that are required to be installed along any accessible route in a public area, along a path where there's a change in height greater than ½ inch. However, even if not required, ADA-compliant ramps are preferred. They tend to be safer, especially in less than ideal weather conditions, as ramps using ADA flooring are less slippery, especially in wet weather.
Does a wheelchair ramp need handrails?
If a ramp run has a rise greater than 6 inches or is longer than 72 inches, handrails on both sides are recommended for safety to keep a wheelchair from going over the side of the ramp and causing potential injury.
What type of wheelchair ramp needs less maintenance?
An aluminum ramp needs the least amount of maintenance, followed by a steel ramp. Wood ramps need the most maintenance.
Is a wheelchair ramp slippery?
Ramps can get slippery when wet. If you have an untreated wood or an aluminum ramp, textured non-slip surfaces can overcome any issue with slipping.
Summary
Creating and maintaining opportunities to exercise independence is a significant contributor to wheelchair users' quality of life. Eliminating stairs as a barrier through the installation of a wheelchair ramp opens up those opportunities for independence.
We chose the Breeze Aluminum Open-Mesh Modular Ramp because its hardy construction can stand up to even snowy climates, plus it's easy to install and configure to your specific specifications, while remaining maintenance-free during its long service life.
Be sure to check out this article Modular Wheelchair Ramps: What You Need To Know Before You Buy! before you order a ramp.
Still can't decide which ramp is best for you? Read our article How to Choose the Best Wheelchair Ramp for more information!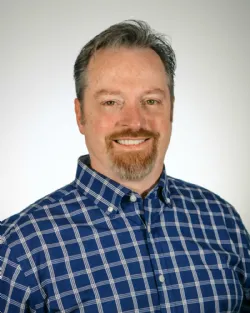 Author:
Co-Founder of Rehabmart and an Occupational Therapist since 1993. Mike has spent his professional career working in multiple areas of Occupational Therapy, including pediatrics, geriatrics, hand therapy, ergonomics and inpatient / outpatient rehabilitation. Mike enjoys writing articles that help people solve complex therapeutic problems and make better product choices.