Portable wheelchair ramps are loved due to their practicality. Compared to permanent wheelchair ramps, they are more affordable, versatile, and travel-friendly. Portable wheelchair ramps are ideal for renters, short-term injuries, vacation homes, disabled visitors, traveling, or even an aging pet that can't make it up the porch steps anymore.
Wherever your destination, we are inclined to help you get to where you need to go! We carefully reviewed our entire selection of our portable wheelchair ramps and below are our best picks.
The Top 5: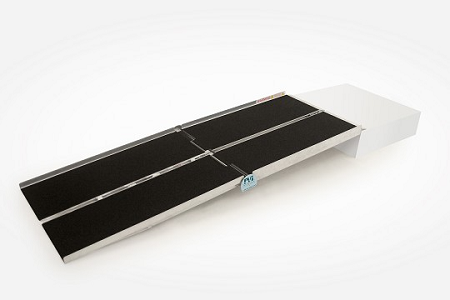 Offering four different sizes, a generous weight capacity, and easy portability, the PVI Bariatric Multifold Ramps by Prairie View Industries (PVI) makes our review at #5. We found that this ramp is the best bariatric option for larger users. As a popular choice with consumers all over the world, this sturdy and durable welded aluminum ramp safely accommodates up to 800 pounds, facilitating secure access for bariatric users along with the added weight of their power chairs or scooters.
Four different length options ensure the right fit for your unique requirements, all with a 36-inch width to provide ample room for larger scooters, wheelchairs, and other mobility devices with various wheel configurations. This portable wheelchair ramp is super easy to travel with, requiring no assembly. As you can see in this video, it's quick and easy to set up and take down, and can split into two separate pieces for more lightweight carrying, or fold down into a suitcase-style, with both options compact enough to fit into a vehicle for transport.
Its high-traction surface provides anti-slip safety, while the patented center joint hinge eliminates pinch points as it also optimizes strength. Steel security pins guard against unwanted movement.
Features & Benefits
Safely accommodates weight up to 800 pounds
Foldable, or separates into 2 pieces for easy portability and carrying
Four length options with a generous 36-inch width
Patented center joint hinge adds strength and guards against pinch points
Customer Feedback
Pros
Helped to open up the outside world again, provides safe and reliable access
Exceptional quality and craftsmanship, strong and durable construction
Well suited to meet specific access needs
Quick and easy to set up and take down for access wherever you need it
Cons
A little heavy for some users and needed two people to carry and set up the longer-length ramps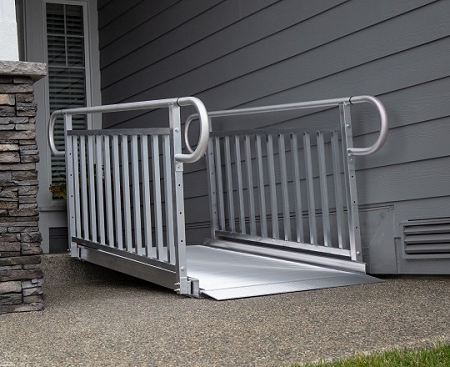 Boasting 24 possible configurations in 8 different length options, we chose the GATEWAY 3G Solid Surface Portable Ramp by EZ Access Ramps as #4 on our list. We determined that this is the best customizable ramp option for residential use. When mobility needs extend beyond the capability of a conventional portable ramp, but you're not ready to install a permanent ramp, the semi-permanence of the Gateway 3G provides a great solution. Its multiple length options ensure a perfect fit for any entranceway stairs, while its 36-inch width delivers plenty of room for mobility devices. It's also an ideal choice for users living with mobility impairments who use walkers, canes, or rollators.
It's formatted with raised sides that are designed to prevent wheelchairs and scooters from rolling off the edge. This popular EZ Access Ramp comes in three different design options to suit specific needs. It can be ordered without any handrails or comes with a choice of two-line or vertical picket handrails. With both providing additional support and stability for users and easy to assemble, the two-line style comes with loops, offering a continuous handhold along the top along with a second, lower grip surface, while the vertical picket style also offers the two-loop grip but adds extra security, especially for pets and children, with its picketed inserts.
The strong, corrosion-resistant, and easy-to-maintain aluminum construction of the Gateway 3G withstands any weather conditions for long-lasting performance and dependable functionality. The solid surface highlights extruded ribbing for permanent, non-slip traction, with safety further enhanced by its self-adjusting transition plates for ground that's soft or uneven.
Features & Benefits
Comprehensive customization selection
Best semi-permanent yet portable residential ramp option
Two handrail choices optimize security
Extruded, ribbed non-slip surface and side curbs enhance safety
Customer Feedback
Pros
Extremely easy to set up and start using right away
Perfect access support for people who use power chairs or walkers
Capable of fitting over multiple stairs with the 10-foot ramp
Strong and sturdy, no bouncing or unsteadiness
Great value, exceeded expectations
Cons
Larger lengths are a bit cumbersome, the ramp is not foldable and doesn't separate into smaller sizes to carry
Works better as a semi-permanent ramp for your home, might be too large to transport in smaller vehicles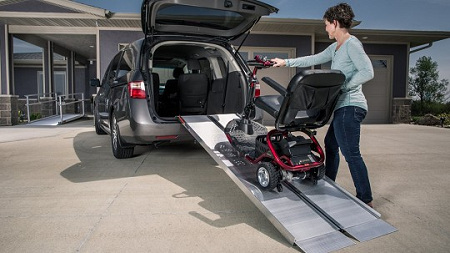 With its modular, bi-folding design, top lip extension (TLE) option, and self-adjusting transition plates, the
Our #3 spot goes to the Suitcase Singlefold Ramp by EZ Access Ramps. It's placed on our list due to its unique features for vehicle portability.
When you need a dependable and adjustable access ramp to get your mobility device in/out of your SUV, this well-loved ramp provides an ideal, affordable choice. It's also lightweight, compact, and easy to transport, offering quick and convenient access wherever you travel.
This single-fold ramp comes in 5 different length options and can be attached as one piece that's either 29.5 to 30 inches in width, or split into two separate ramps to accommodate the larger wheelbases on some mobility devices. Its two tread options include a ribbed-extruded aluminum surface or an applied slip-resistant (AS) surface, with both providing exceptional, multidirectional traction. Placed at both the top and bottom of the ramp, its transition plates facilitate smooth, balanced support that self-adjusts for softer terrains like topsoil or grass.
Constructed with corrosion-resistant aluminum that's super strong but more lightweight than some of the other ramp options in our review, this portable access ramp holds up well in any kind of outdoor environment. Because it's foldable and it can also split into two pieces, this ramp is easy to carry, especially with its integrated handle. With its lower starting price point and small footprint, the EZ Access Singlefold ramp is a great, economical solution that can handle a variety of access support needs.
Features & Benefits
TLE option extends top lip to fit over most SUV and van bumpers
The ramp can split into two separate pieces to accommodate wider wheelbases
Foldable, compact, lightweight, and easy to carry with an integrated handle
Choice of extruded or applied slip-resistant surface treads
Transitioning plates self-adjust for different terrains
Customer Feedback
Pros
Fantastic portability, easy to set up and fold down for carrying
High-quality ramp, very solid and sturdy
The beveled ends and tapered bottom of the ramp enable smoother rolling and stay-in-place functionality
Wonderful aid for getting out of the house, taking along with you and using it for access, works well as both a vehicle access ramp and for stairs and curbs
Really great value for the lower price, some customers had used other more expensive ramps that did not perform as well as this single-fold ramp
Cons
Some independent users found the tread to be too restrictive, which made moving their manual wheelchair up the ramp more difficult
Most complaints about this ramp were from customers who didn't order the right size - most of them advised that this ramp is a great choice when you order one that's long enough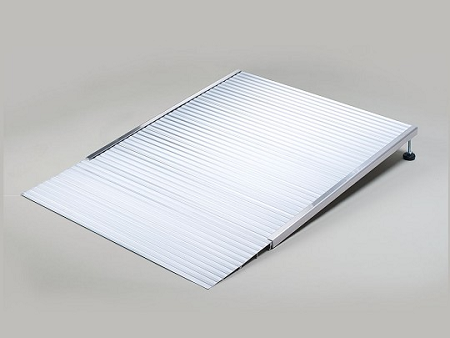 Coming in at #2 is the National Ramp Aluminum Threshold Journey. Extending access for small rises in multiple adjustable and fixed height options, we decided that this is the best ramp choice for both indoor and outdoor thresholds.
Available in either 36-inch or 48-inch width sizes, this ADA-compliant threshold ramp offers 8 different fixed-height sizes ranging from ½ inch to 2 inches tall, along with 4 different adjustable-height sizes that further extend the height 3 or 6 inches. Made with heavy-duty aluminum to insure durable performance, it boasts an incredible weight capacity of 1,000 pounds.
The National Ramp's Journey series of ramps also offer a wide range of accessories to further customize their use to meet your specifications, including transition plates to ensure the smoothest progression between the ramp and the floor. The ridged, non-slip surface facilitates safer traction.
Perfect for low-height access through doorways and other thresholds, the Journey threshold ramp is easy to install with its included screws. It provides safe and secure access for people using wheelchairs, power chairs, scooters, walkers, canes, and rollators in both indoor and outdoor environments. It's simple to un-install for use as a portable threshold ramp wherever you need it.
Features & Benefits
Provides safe access for low-height thresholds
Available in multiple fixed heights or adjustable height options
Indoor or outdoor use and it comes with a non-slip surface
Two different length options
ADA-compliant when installed and used correctly
Customer Feedback
Pros
Exceptional quality is not sacrificed with the lower price point, exceeded expectations
Several customers noted how much safer they are now just getting around their own home, the ramp has helped to prevent trips and falls
Easy to install, simple adjustable design
Elegant, unobtrusive, sleek, and modern look
Cons
Like other ramp users, some customers advised potential buyers to do their homework before ordering, as size really DOES matter when it comes to getting the right ramp to do the job - most people simply order ramp sizes that are too small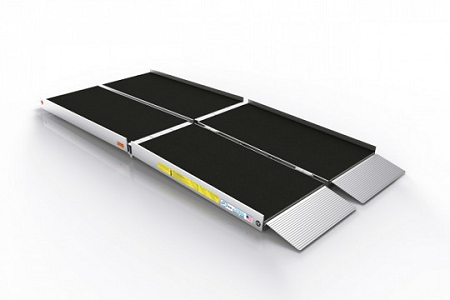 Grabbing the #1 position in our review with its feature-rich, beneficial design and simplistic portability is the EZ Access Suitcase Trifold Ramp. This is our best all-around choice to handle a wide range of portable ramp access needs. Offering 5 different length options to suit a variety of inclines, each of these ramps also accommodates an ample 800-pound weight capacity, enabling safe utilization for bariatric users and/or large, heavy mobility equipment.
As this video demonstrates, the innovative trifold design of this portable ramp makes transport and set-up a breeze, folding out for quick and easy use as an attached, single unit or as two separate ramps to accommodate larger wheelbases on scooters or power chairs. It's also lightweight and easy to carry as two units or one attached unit with its built-in handle, like a suitcase. Its compact, folded design makes it perfect for travel, fitting into the trunk of a car or under a seat in a van or SUV. Its interlocking brackets are specially designed to eliminate pinch points and improved operation.
Transition plates on both ends of the ramp ensure a smooth connection with soft or uneven terrain. As an upgrade, you can purchase the optional TLE (Top Lip Extension) that increases the reach of the ramp to clear back bumpers and/or tailgates on SUVs and vans, allowing safe loading and unloading of the mobility device.
Durably constructed with aircraft-quality aluminum that can withstand any weather, the EZ Access Suitcase Trifold Ramp delivers dependable performance and easy-to-maintain functionality. Its applied slip-resistant (AS) surface provides strong, reliable traction to enhance overall safety.
Features & Benefits
A great overall choice to meet a variety of user needs
Trifold design for compact portability and easy set-up
Use as a single unit or detach into two units
Five different length options to suit different inclines
Top lip extension (TLE) for SUV and van access
Customer Feedback
Pros
Strong, solid, and stable construction
Easy to fold and unfold, simple installation wherever you need it
The ability to split the ramp into two pieces makes each section lightweight enough to carry for most independent users
Withstands a lot of weight, bariatric customers with large mobility devices love it
A functional alternative to permanent ramps and easy to transport
Some customers use this ramp to move heavy furniture and appliances
Cons
A couple of users mentioned that this ramp may be too heavy for some disabled people to use independently
Features to Consider When Purchasing a Portable Wheelchair Ramp
With their ability to make more of the world accessible, a portable ramp for wheelchairs is generally much lighter in weight for easy transport. In addition, some styles separate or fold for simpler carrying, as well. While we cover a lot of the features to look for more comprehensively in our article on how to choose the best wheelchair ramp, here are some of the most important to consider:
Ramp Length
The most common error made when purchasing a wheelchair ramp is not getting the right length. It's extremely important to measure the space you intend to use the ramp for, and using the ADA guidelines for ramp-to-slope size is highly recommended for the safest use of your ramp. For every one inch of rise, there should be twelve inches of ramp length. Our extensive wheelchair ramp guide explains everything you need to know about ADA ramp specifications for complete compliance.
Weight Capacity
How much weight a portable ramp can securely hold is an important safety consideration. Not only does the intended user's weight need to be determined, but also the weight of the mobility equipment that will be used. If a caregiver will be using the ramp in tandem with the disabled user, their weight must be factored in as well. Choose portable wheelchair ramps that have been designed to accommodate a higher weight than its intended use.
Ramp Width
The width of the ramp must be large enough for big power chairs and scooters to fit and maneuver in both up and down directions. The ADA guidelines recommend a minimum of 36 inches for safe accommodation. Some ramp styles separate into two pieces that can be placed as needed to accommodate the wider wheelbases on some mobility equipment.
Portability
Most portable wheelchair ramps are designed for ease of transport, available in lightweight and/or foldable suitcase configurations. Separating ramps detach into two units, dividing the weight for easier carrying, while single-fold ramps will be lighter and easier to maneuver than tri-fold ramps. The portability of these ramps makes them easy to use wherever you may need them, enabling them to be taken along on business trips, vacations, and visits with family or friends.
Construction
Access ramps can be made from a variety of materials, including wood and steel. Most portable ramps are constructed with some form of heavy-duty aluminum, which is much more lightweight, but also strong, durable, and non-corrosive.
FAQ
Q: What are the different types of portable ramps?
A: Differentiated by unique features that make the ramps easier to transport, portable wheelchair ramps are available in several different styles, including single-fold, trifold, and multifold configurations that fold up like a suitcase and have an integrated carrying handle. Other designs include solid surface ramps that tend to offer longer lengths, threshold or pathway ramps for lower inclines and telescoping track ramps to line up with the wheels of the mobility device.
Q: Can I leave a portable ramp outside?
A: Portable ramps are generally designed for both indoor and outdoor use, using materials like non-corroding aluminum to withstand all kinds of weather conditions.
Q: Are portable wheelchair ramps safe?
A: A well-constructed and high-quality portable wheelchair ramp is generally safe, as long as it's installed and used correctly. Following the ADA ramp-compliance guidelines is the best way to ensure the safest use of your portable wheelchair ramp. Design features that stop the ramp from sliding along with helping to transition on uneven ground can optimize safety.
Q: What is the best material for a portable ramp?
A: Because of its high tensile strength, low weight, and natural resistance to corrosion, aluminum is the most common material used in portable ramp construction. It's much less dense and heavy than steel and withstands outdoor elements much more effectively than wood.
Q: What size portable ramp do I need?
A: As the most important question to answer when you're shopping for a portable wheelchair ramp, determining the size you require is dependent on several factors. While the ADA recommends 12 inches of ramp for every 1 inch of rise, this may not be practical or even needed by some residential ramp users. Many customers will use 12 inches of ramp for every 2 inches or rise, instead, which tends to work out well for their needs. Learn more about what the industry specialists had to say when we reached out to them for expert advice on how to choose the best wheelchair ramp.
Q: Do I need handrails on a portable wheelchair ramp?
A: To make a portable wheelchair ramp ADA-compliant, it must have handrails on both sides if its rise is 6 inches or more, following multiple specifications to further meet the ADA guidelines. Handrails are also helpful for people using the ramp independently, without assistance, and for those using canes, walkers, and rollators to support their walking mobility.
Summary
Helping to open up a world of possibility beyond the reach of your own home, portable wheelchair ramps deliver safe, supportive accessibility for people of all ages and abilities. Taking multiple factors into consideration to determine the best portable wheelchair ramps available today, our experts researched their performance, functionality, durability, ease of use, and price point, using input from the real-life users of these ramps in order to make our conclusions.
Offering the best all-around portable wheelchair ramp design, we selected the EZ Access Suitcase Trifold Ramp as our #1 choice that can serve the most users and their diverse needs. Easy to transport with its TLE option, its foldability, strong aircraft-quality aluminum construction, generous weight capacity, and capability to be separated into two sections make this portable ramp a big hit with the vast majority of its users.
We invite you to check out our complete wheelchair ramp catalog where you'll be sure to find just the right ramp to fit your unique needs. You can also find a wealth of information on a variety of subjects related to tools for the job of living at our educational blog, Caregiver University.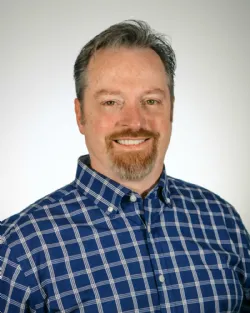 Author:
Co-Founder of Rehabmart and an Occupational Therapist since 1993. Mike has spent his professional career working in multiple areas of Occupational Therapy, including pediatrics, geriatrics, hand therapy, ergonomics and inpatient / outpatient rehabilitation. Mike enjoys writing articles that help people solve complex therapeutic problems and make better product choices.