Most of us will require the use of an access ramp at some point in our life. Whether they're used for temporary use following surgery, a semi-permanent solution for a disabling condition, or a long-term aid for seniors aging in place, wheelchair ramps provides safe and secure access for people living with mobility impairments. Also known as handicap ramps, mobility ramps, and scooter ramps, wheelchair ramps are placed over inclines, steps, and other uneven surfaces to provide safe passage for people who use scooters, wheelchairs, rollators, walkers, and other assistive mobility devices.
Be sure to check out this article Modular Wheelchair Ramps: What You Need To Know Before You Buy! before you order a ramp.
Questions to Consider When Choosing a Wheelchair Ramp
Diverse as the people who use them, wheelchair ramps come in a wide range of styles and designs to meet both indoor and outdoor incline applications. Every person, location, and assistive mobility device will have differing needs, and there are a number of factors to consider in order to determine the best choice for yourself or your loved one.
Jump to another category:
Wheelchair ramps for different activities
ADA wheelchair ramp requirements
Which mobility device will be used?
The first thing to consider when deciding on which ramp is best for you is the type of mobility device that will be used on the ramp, and whether or not this will change over time. If you are a patient in recovery, you may be using a wheelchair now, but as you heal you may progress to using a rollator, and then a cane. If you know that you are in recovery and you will gain your mobility back, a portable ramp could be the best option for you.
If you are living with one or more degenerative conditions, you may progress from using a cane to a walker, or from a walker to a power chair or scooter, and investing in a permanent ramp may be the best solution for you. People who use ramps due to muscle weakness in the feet and legs will want to ensure that their ramp is free of any potential slip or trip hazards, and choose a surface that drains freely and/or has added traction pads to decrease the risk of slipping.
Permanent, semi-permanent, or portable?
Choosing the right style is paramount in selecting a ramp that meets all the unique requirements of its user. If you need a ramp to last for a long time, then choosing a permanent ramp might be preferable.
The key difference between ramps is how difficult they are to remove once they've been installed. Permanent ramps are often anchored in the ground with concrete anchors and built onto the facility in question as a permanent addition. These ramps are often helpful to people with conditions that worsen over time, or if they have been a wheelchair or scooter user since birth. Often, these ramps are constructed with wood or metal and require a licensed contractor as they have to be built from scratch.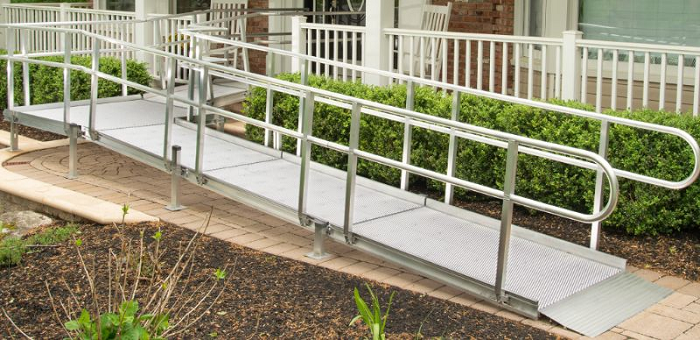 Semi-permanent ramps can have a straight or modular (modified) design. They deliver a great compromise between permanent and portable ramps, offering a good blend of both worlds with the strength and ease of use of the permanent ramp and the versatility of a portable ramp. Both types are intended to remain in place as an installation of the home or building, but they're typically designed to be easy to remove and adjust if needed.
Semi-permanent ramps are usually constructed with aluminum. Resting on top of the ground, these ramps are designed for more temporary utilization and don't require permanent anchoring, enabling them to be removed once their use is no longer required. This type of ramp is straight and usually not that long.
Modular ramps, which are a type of semi-permanent ramps, are available for customization, allowing you to configure a ramp that perfectly meets your home's needs! Modular ramps can weave around your property's landscape, extend around the side of your house, and/or land in a specific spot. This type of ramp is the perfect choice for longer runs that incline more than a few stairs. Providing the capability to have sections added, removed, or reconfigured, customizable modular ramps are the best choice for most residential homes, and are often constructed with aluminum for lightweight durability. If a tree falls and breaks a section, with a modular system, all you have to replace is that section, and not the entire ramp, making them more cost-effective in the long run. Modular ramps are also constructed with steel or wood material.
Semi-permanent and modular ramps would be beneficial for a user who knows that they will always need a mobility device, but they're renting their home and cannot make permanent adjustments. If you'll only need a ramp for a few months to a year, then a portable ramp for your front door might work just fine.
A portable ramp collapses down and can be easily set up and stowed for later use. Set-up requires lengthening the ramp and securely placing it between a high point (a curb, step, a vehicle doorway), and the ground. This is a great ramp for someone who is in recovery. If they're in a wheelchair now, but know that soon they will work their way to just needing a walker or cane. A portable ramp will cause no damage to the home and is easy to set up and put away.
Would a threshold ramp be a good solution?
Raised landings or transitions through doorways may seem like a small inconvenience, but they can pose a big problem for someone using a wheelchair, rollator, or walker as well as anyone who has difficulty lifting their feet very high. Threshold ramps are the solution to this problem, smoothing the transition to provide easy access and make travel totally effortless. These ramps can be designed as larger inclined planes similar to traditional wheelchair ramps, or they can be smaller pieces of construction that create a slope on either side of an uneven transition. Most ramps are available in either aluminum or rubber construction, and they typically feature some form of slip-resistant surface that provides an additional layer of safety. This slip-resistant top is especially important for threshold ramps that are used in doorways from outside, as these are the most likely to get wet.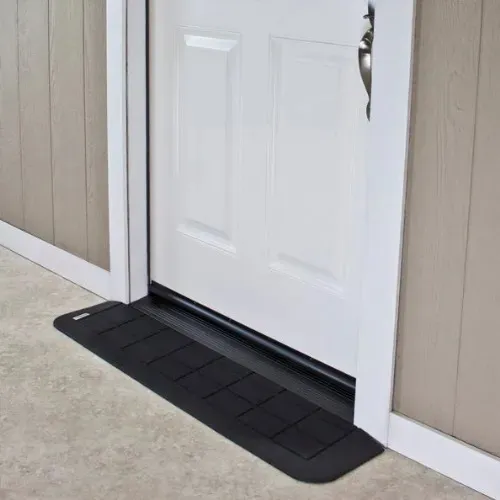 Weight capacity: Standard or Bariatric?
Exceeding the weight capacity of a wheelchair ramp can result in ramp failure; therefore, it's crucial to calculate exactly how much weight you are asking your ramp to support. This includes your assistive mobility equipment, supplementary medical devices, shopping bags, and other attendants or caregivers.
While most standard ramps will support a minimum of 300 pounds, users of heavier power chairs and scooters will most likely require a minimum of 600 pounds. Larger mobility equipment will also necessitate ramps that have wider measurements. Bariatric ramps can offer weight capacities of 1,000 pounds to safely hold larger riders and heavier mobility devices.
Aluminum or wooden wheelchair ramp?
Aluminum platform ramps are the lightest and easiest ramps to move. Most have sliding legs that allow sections of the ramp to be raised or lowered for adjustable support and a customized fit, even enabling adjustment if you make modifications to your home, or if your needs change over time.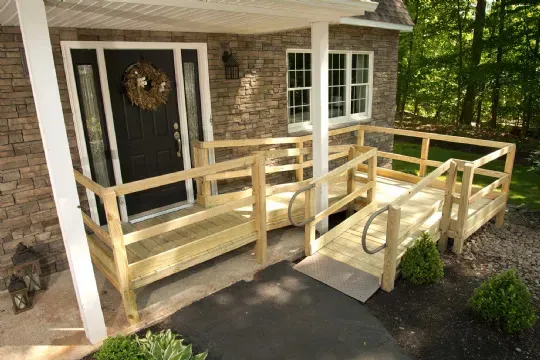 Wooden ramps are an attractive addition to a long-term residence. They feature strong, classic hardwood that is often easy to paint or stain so that it matches your home. However, wooden ramps often require concrete anchors to ensure safe use, meaning concrete has to be poured into the ground around each support leg. This makes them very difficult to remove or adjust once they are installed, while aluminum ramps can often be removed, and reused, with no damage to your home or yard.
Installing a wooden ramp is significantly cheaper than installing an aluminum ramp up-front, so if you're looking for a ramp now and you only have a set budget to work within, a wooden ramp might be the better option. However, the added requirement of professional contractors, inspections, possible concrete anchors, and yearly maintenance may push the wooden ramp well beyond the cost of the aluminum ramp, so make sure you shop around and carefully compare your options before making a final decision.
It's also important to keep in mind that wooden wheelchair ramps can tend to get slippery in wet climates, so they are usually a better option for areas that don't tend to get a lot of rain or snow.
Are steel wheelchair ramps a good option?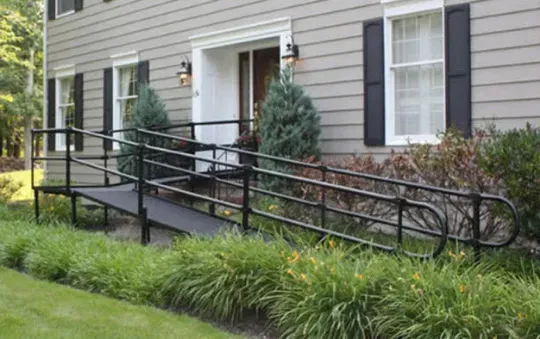 If aluminum or wooden ramps don't seem to fit your personal needs, another option is steel or iron wheelchair ramps. Commonly used in construction applications, iron is generally cheaper and slightly stronger than aluminum and is sometimes used for wheelchair ramp construction. But its heavy density makes it better suited for permanent installations. Both steel and iron should be galvanized to resist corrosion, but even then, this material is much more suitable for dry climates that don't get much rain or snow unless it's also designed with an open-mesh surface.
Installation: DIY or Professional Installation?
Many consumers choose to have their wheelchair ramps professionally installed while others opt for self-installation. Self-installation is a good choice for any customer with a background in carpentry, or for anyone willing to put in the time and effort necessary to ensure the ramp is set up to proper state or county building codes, or HOA guidelines.
Professional installation takes the work out of your hands, and is desirable for permanent, semi-permanent, and modular ramps, especially for more involved configurations or 180-degree switchbacks. It's also important to consider how adding a wheelchair ramp will affect the resale value of the home, and professional installation may be preferable for attachments that are highly visible in the home's exterior.
Access ramps are not required to meet the ADA standards for accessible design if they're used in private residences, but these specifications must be met for any public access ramps.
I need a portable ramp, what are my options?
Portable wheelchair ramps give people who are living with a temporary or permanent mobility disability the freedom to go anywhere and enjoy at-hand accessibility with a take-along ramp. There are many kinds of portable ramps that are differentiated by unique features that help make the ramps easier to transport, fit to a certain area or adapt to a user's specific needs. Some examples include:
Portable Suitcase Ramps - With their beneficial ability to fold down into a compact suitcase-style that's easier to store, carry, and travel with, portable suitcase ramps are usually available as singlefold, trifold, or multifold configurations. Typically including a durable non-slip tread, suitcase ramps are perfect for providing on-the-spot, dynamic accessibility in random places, with fast and easy setup, installation, and uninstallation.
Telescoping Track Ramps - Commonly used as vehicle wheelchair ramps, telescoping track ramps are also often used for access over steps and curbs. Telescoping, adjustable lengths allow for customization over various heights, with some models using a complete, solid surface and others using two tracks to line up with the wheelchair's wheels. Some designs are configured to be used safely with the occupant, while others require the mobility device to be unoccupied.
Pathway Ramps - Generally constructed with non-skid surfaces and designed for access over one or two steps, pathway ramps are often used for entrances to homes or for other shorter areas. They usually offer optional handrails to enhance safety and come in multiple size options to suit various needs.
Solid Surface Ramps - Bridging the gap between suitcase ramps and modular wheelchair ramps, portable solid surface ramps tend to offer higher length options than other portable ramps to better accommodate more steps and longer inclines.
Wheelchair ramps for different activities:
Pool Ramps
As an accessible way for wheelchair users or people living with mobility challenges to safely enter or exit a pool, pool ramps provide exceptional safety, reducing the risk of accidental falls and injuries. Although the ADA requires public pools to adhere to specific guidelines regarding this secondary means of access and exit, this requirement does not apply to private residence pools.
Pool ramps can be permanent additions to the pool or just roll away for storage. It is important to ensure the ramps are made with water-resistant material like noncorrosive PVC or stainless steel. A pool ramp with deck anchors can be helpful, as it keeps the ramp steady.
Vehicle Ramps
Ramps for vehicles enable access for both occupied and unoccupied wheelchairs and mobility scooters, so it's important to choose the right style for your particular needs. Used for vans, buses, and other types of vehicles, the ramps can either be built-in to the vehicle or portable for more temporary applications and versatile usages.
Portable vehicle ramps, like folding ramps and telescoping track ramps, are often employed for rolling a mobility device into and out of vehicles as well. The most important factor in choosing the right portable vehicle ramp is taking measurements of the intended door dimensions and matching these to a ramp that easily accommodates the size.
ADA Wheelchair Ramp Requirements
The ADA, or American With Disabilities Act, has requirements that outline the proper shape, size, slope, and design of wheelchair ramps and other building components so that they can be safe and accessible for people living with disabilities. These requirements can be complicated, which is why we recommend that any time you're going to be building a ramp the public will be using, you consult with a licensed contractor well-versed in ADA requirements. Most of these regulations do not strictly apply to private homes, but public buildings and structures must adhere to these rules. It is important to keep in mind that this is just an outline and some states may have stricter regulations and building codes than the ADA.
ADA Handrail Regulations:
According to ADA regulations, you must install handrails on both sides of any wheelchair ramp that has a rise of more than six inches. If handrails are required, they must meet the following specifications:
Handrails must be solidly fixed.
Handrails must either extend into the floor, a post, or a wall, or they must be rounded.
The top gripping surface of the handrail should be 34 to 38 inches above the surface of the wheelchair ramp.
Handrails must run the entire length of the ramp.
There must be a space of at least 1.5 inches between the handrail and the wall.
Handrails must be continuous between ramp runs in a switchback ramp or an L-shaped ramp.
When handrails are not continuous, they must extend at least 12 inches further than the length of the ramp.
ADA Slope and Width Recommendations
The ADA recommends a 1:12 slope. This means that for every inch of vertical rise, you should have a foot of ramp length. Anything steeper than this is considered dangerous. The width of the ramp must be at least 36 inches to allow for adequate room.
ADA Compliant Threshold Ramps
The specific standards for threshold ramps, which were established in the Federal Register in 2010, are particularly focused on the height of the front edge of a threshold, as well as the slope of the transition through the doorway. It is important to make sure that both these elements of the threshold ramp are not too steep.
The key regulatory standard regarding threshold ramps as set by the ADA states that ramps must have a slope that is no steeper than 1:12. In other words, the slope of the threshold ramp may not exceed 8.33 percent. Additionally, the grade of the threshold may not exceed 2 percent in any direction.
ADA Ramp Landings
All wheelchair ramps must include an appropriate landing at both the top of the ramp and the bottom of the ramp, and each landing must be level. If the ramp changes direction at the landing, the landing must have minimum dimensions of five feet by five feet. If the ramp does not change directions at the landing, the landing must be at least five feet long and at least as wide as the wheelchair ramp. If a landing is installed in a location that may become wet, it must be designed to prevent the accumulation of water.
Frequently Asked Questions:
What if I don't have the space for a wheelchair ramp?
If space is severely limited and a compliant ramp cannot be installed, consider an alternative, such as a platform lift. Platform lifts are often a better choice for users living in very tight spaces, such as those commonly found in urban environments. Although a platform lift may be more expensive than a wheelchair ramp, it will be worth the investment if it prevents accidents and injuries. If you aren't sure whether you should install a wheelchair ramp or a platform lift, consider consulting an experienced contractor for advice.
Are portable wheelchair ramps safe?
Choosing a quality, well-made, positively-reviewed wheelchair ramp that meets the intended user's needs for width, weight capacity, ramp angle, and handrails will ensure optimal safety. As previously stated, even though ADA ramp compliance guidelines don't typically apply to private-use access ramps, we recommend following those suggestions with any portable ramp to maximize safety and ease of use.
How much weight can a wheelchair ramp hold?
Although permanent, semi-permanent, and modular wheelchair ramps tend to have higher weight capacities than portable ramps, many quality portable wheelchair ramps are designed to generously accommodate between 600 to 1,000 pounds of weight, safely holding both the person and their heavy mobility scooter or wheelchair.
How much do wheelchair ramps cost?
Permanent, professionally-installed wheelchair ramps can typically cost anywhere between $100 to $250 per linear foot, with starting prices varying among manufacturers for permanent, semi-permanent, and modular ramp systems. Portable wheelchair ramps are generally the most affordable, with quality choices starting at less than $90 per linear foot. The total price of any wheelchair ramp is dependent on how much length is required, along with add-on configurations and features, such as handrails.
Does Medicare cover wheelchair ramps?
Yes, wheelchair ramps fall under the category of Medicare Part B, Durable Medical Equipment (DME), and are therefore covered under the DME provision of the policy. However, the ramp must first be declared "medically necessary" by a licensed physician. Medicare policies are generally very strict regarding home modifications, so please consult your state's Department of Aging and Disability Services (DADS) for more information.
Does private insurance cover wheelchair ramps?
Insurance policies differ, but most private insurance companies will cover equipment that has been defined as DME. Requirements include the following:
It is used to serve a medical purpose
Is not useful in the absence of illness or injury
Is ordered and prescribed by a physician
Is appropriate for home use
This is not a comprehensive list of requirements, merely a guideline. Please consult your specific policy to determine if a wheelchair ramp would be covered under your policy.
Summary
As an essential piece of equipment for people who experience physical obstacles and barriers when participating in daily mobile activities, wheelchair ramps come in a wide variety of styles and configurations to suit many purposes and applications. They enable safe, secure access over uneven terrain, steps, and inclines for users of wheelchairs, scooters, rollators, walkers, and other assistive mobility devices.
We outlined the most important factors to consider when you're trying to determine the best ramp to fit your needs, such as permanent or portable options, and how different construction materials and designs work better for certain climates. We discussed various types of ramps, such as pool ramps that provide access for pools, and vehicle ramps that provide access for both occupied and unoccupied wheelchairs and scooters, to give you the best information in order to find the best ramp to meet specific requirements.
ADA specifications were provided to inform those setting up ramps for public use as to what kinds of design guidelines must be met, but how most of these specifications do not apply to ramps used in private residences. We also answered many of the most-asked questions people have when it comes to selecting the best wheelchair ramp.
As with most tools, choosing the right ramp for the job or environment is important to ensure a positive outcome, keeping you and your loved ones safe and happy for years to come.
For more in-depth look at the best, most useful wheelchair ramps, please visit our Top 5 Wheelchair Ramps review.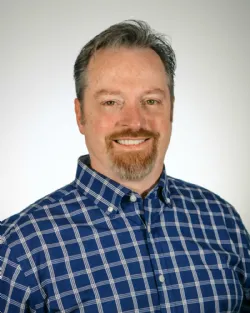 Author:
Co-Founder of Rehabmart and an Occupational Therapist since 1993. Mike has spent his professional career working in multiple areas of Occupational Therapy, including pediatrics, geriatrics, hand therapy, ergonomics and inpatient / outpatient rehabilitation. Mike enjoys writing articles that help people solve complex therapeutic problems and make better product choices.