A bath or shower lift is an adaptive bathroom device that can provide independence and convenience for people with limited mobility. These electric lifts assist users in entering and exiting the tub while also providing stability while bathing. By using a bath or shower lift, the user retains the privacy, dignity, and independence that comes from handling one's personal bathing.
The Top 5: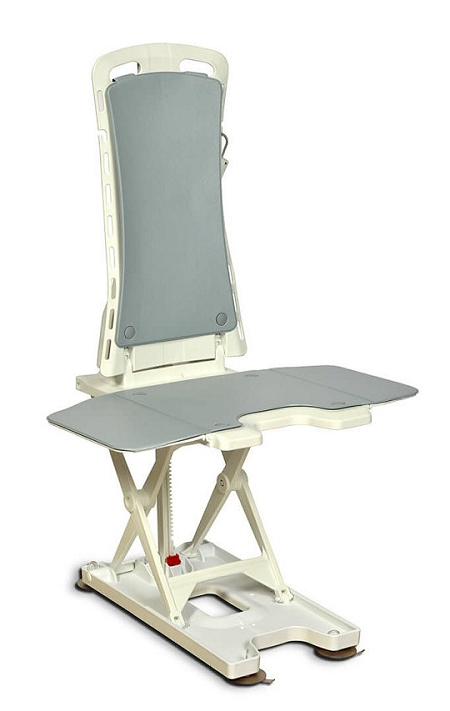 The number 5 entry on our list is the Marlin Battery Powered Pediatric Bath Lift with Reclining Back by Drive Medical. This lift is designed for those that don't require a lot of assistance to get in and out of the tub.
It has a reclining backrest with a range of 15 to 50 degrees and can support users up to 300 pounds. Made of high-grade plastic and boasting a user-friendly hand control, this lift is for bathers who only need minimal posture and position support. It is not made with latex or silicone and it does not require tools for assembly. It comes with 4 suction cups that keep it securely attached to the tub wall.
This compact bath lift will fit most standard tubs and it weighs only 20 ½ pounds, making it easy to store or take with you while traveling. It comes with a 1-year limited warranty and ships for free.
For a child or anyone weighing up to 300 pounds who can maintain an upright posture and just needs some additional support to get in and out of the tub, this easy-to-operate lift will fit in even small bathrooms to provide a safe and comfortable bathing experience.
Features and Benefits
Reclining backrest ranging from 15 to 50 degrees
Can hold up to 300 pounds
User-friendly hand controller
Lift range is 2 ½ inches to 19 inches
Rechargeable low voltage battery
Customer Feedback
Pros
Can accommodate most children and many adults
Helps maintain independence and privacy, especially important to teens
Gets bather down low in the water for a more pleasant bath
Controls are easy even for kids to use
Cons
Would appreciate a higher weight capacity
Need to remember to keep battery charged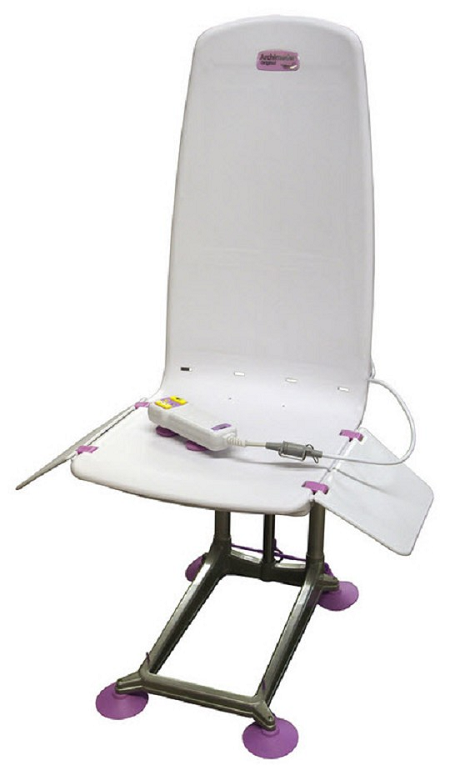 With the most legroom of any tub lift, the Archimedes Bath Lift by Mangar has claimed the number 4 spot on our list of best bath lifts.
This tub lift offers back support while helping lower and raise a bather in and out of most standard tubs. The extra legroom comes from its position further back in the tub. It is affixed to the tub with 4 suction cups that ensure it won't slide. They have a quick-release feature that makes them easy to pull from the tub surface. The easy-to-read hand control is waterproof, extremely user-friendly, indicates the level of battery charge remaining, and includes an emergency stop button.
Able to accommodate users up to 364 pounds, this lift lowers to 2 ½ inches and raises up to 17 inches. It has three pieces, a design which makes it easy to clean and easy to transport. The backrest provides lumbar support, and flexible flaps on the sides won't pinch or entrap a bather.
The comfortable backrest, legroom, and confidence it inspires are what landed it on our list. The quality, value, and high marks from customers have secured its place as one of the best bath lifts available.
Features and Benefits
Three pieces for easy cleaning and transport
Provides lumbar support during bath
Quick-release suction cups
Most legroom of any bath lift
364-pound weight capacity
Customer Feedback
Pros
Transfer flap can go over tub's edge for easier sliding onto seat
One step over the tub and a ride down makes bath time enjoyable
Well made
Affordable price point
Can take a relaxing bath in spite of joint pain
Cons
Doesn't fit in every bathroom so be sure to measure
Would appreciate the battery lasting longer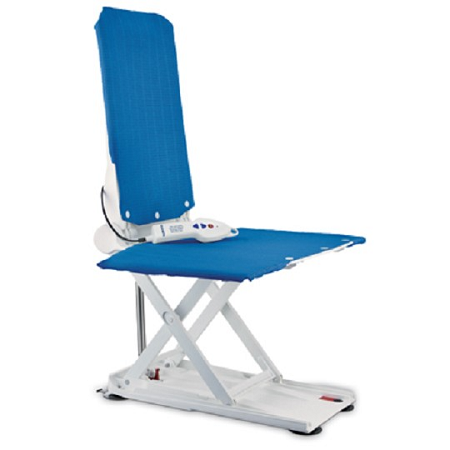 Invacare'sAquatic Powered Reclining Bath Lift is easy to install in a standard tub and has earned the number 3 spot on our list.
Running on a rechargeable lithium-ion battery, this bath lift has a tri-folding seat that can recline up to 50 degrees. The lift automatically adjusts from flat at the top of the tub to U-shaped at the bottom of the tub, where you are lowered to just 2 ½ inches from the tub floor. The battery won't operate the lift without enough charge to lower and raise a user again, so there is no danger of tub entrapment. The self-releasing suction cups ensure the seat and out flaps are secure, and the tall backrest includes integrated neck support.
The non-slip mesh covered seat is controlled with a simple-to-use handheld floating pendant that is attached via a coiled cord. With a standard weight capacity of 300 pounds. there are three models to choose from with options that include a padded chest safety belt and up to a 375-pound weight capacity. The frame breaks down into two pieces for easy transport or storage.
For a well-engineered assistive bathing device that ensures safety, support, and comfort for a user to bathe independently, this reclining bath lift deserves a spot as a top option. It is easy to install, stays put, and allows users to confidently enjoy bath time.
Features and Benefits
Seat is flat at the top and transitions to U-shape when lowered
User is lowered to 2 ½ inches from tub floor
Non-slip mesh-like seat cover
Rechargeable battery only lowers user if there is enough power to raise user
Suction cups are self-releasing for easy removal or repositioning
Customer Feedback
Pros
Flat starting position makes transferring onto the lift safe and simple
Reclining makes rinsing hair after shampooing much easier
Floating corded hand control pendant easy to keep track of
Smooth lowering and raising action
Cons
Shortens the usable space in the bathtub
Wish it would work on larger tubs for bariatric patients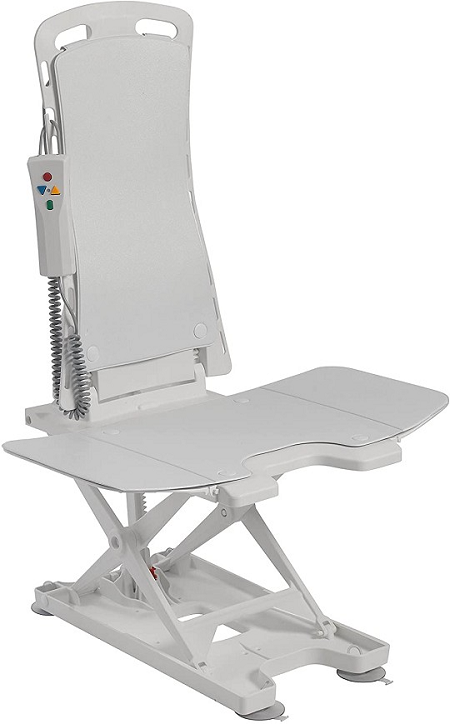 The Bellavita Lightweight Automatic Reclining Bath Lift by Drive Medical is the lightest and deepest portable bath lift on the market, and it has earned the number 2 spot on our list.
It lowers to 2.3 inches, submerging the bather further than most other power bath lifts. It rises to 18.8 inches, so it works even with deep tubs. You can enjoy a safe and comfortable bathing experience wherever you are, since its tool-free installation and removal, quick-release heavy-duty suction cups, and two-piece construction make it easy to transport and install anywhere. It has a backrest with a 50-degree rate of recline for maximum comfort. The quick-charge hand control floats for easy in-tub access and smoothly raises and lowers the seat or reclines the backrest up to 50 degrees.
This electric bath chair weighs only a little over 20 pounds, but it can support users weighing up to 300 pounds, without requiring the use of body strength to comfortably and safely get in and out of a bathtub. It has a padded seat and backrest for comfort and has a cutaway to accommodate personal hygiene.
Packed with popular features, this power bath lift chair has been highlighted in articles for occupational therapists and consumers. If you are looking for a well-engineered portable bath lift that is easy to install and transport and provides supreme immersion and reclining comfort, the Belvita Lightweight Automatic Reclining Bath Lift will be a great fit. It gets rave reviews from customers who enjoy the confidence and independence it provides.
Features and Benefits
Easy tool-free installation and removal
Reclining backrest and low seat height for comfort and tub immersion
User-friendly waterproof floating hand control
Padded backrest and seat
Lightweight and easy to transport
Customer Feedback
Pros
No need for caregiver assistance while bathing
Doesn't require body strength to safely get in and out of the tub
Getting into the bathtub is painless even with arthritic joints
The ability to safely take a warm soaking bath eases aches and pains
Cons
Suction cups don't work as well on textured tubs
Doesn't work as well with low-edged tubs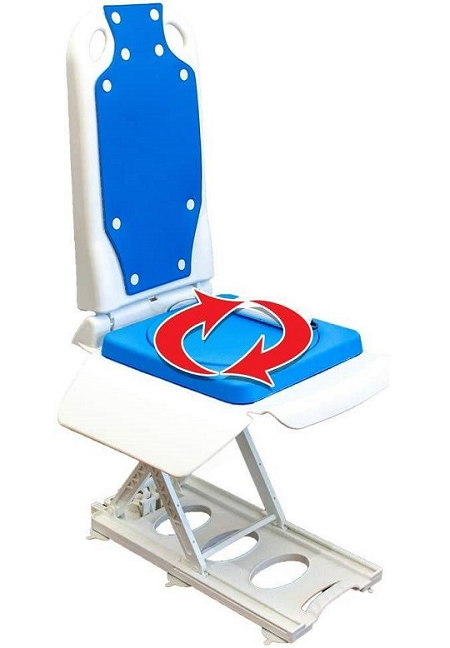 Topping our list in the number 1 spot is the Tranquilo Electric Reclining Bath Lift by Platinum Health.
This electric bath chair features a padded seat that rotates, facilitating safer transfers on and off the seat. The swivel function also eliminates the need to turn while lifting your legs over the side of the tub or slide onto the seat, reducing friction and the possibility of skin irritation. With the push of a button on the waterproof controller, this bath lift smoothly lowers the user into the bathtub and the backrest reclines to 50 degrees. It lifts up to 21 ½ inches to accommodate deeper tubs, and it has a weight capacity of 300 pounds. It can easily be installed, removed, and moved by one person, making it portable and easy to take while traveling.
Its 6 suction cups make sure this power bath lift stays put during use, which decreases the risk of slips and entrapment. It's easy to clean and it stores compactly when it's not being used.
With its ease of transfer into and out of the tub, stability, and security of the bath chair with its higher-than-usual number of suction cups, and its portability, this assistive bathing device sits at the top of our list.
Each of the products on this list is built to the highest safety and quality standards and can be counted on to deliver a safe and comfortable bathing experience. The Tranquilo Electric Reclining Bath Lift landed at number one because of its extra attention to transfers and potential skin issues. The rotating seat on this electric bath chair eliminates fall risks that can come with balance issues and it protects sensitive skin from irritation. Just sit from where you are and the seat will swivel as you get your legs over the side of the tub and into the perfect position for getting into the tub. When your bath is done, you can rotate the seat so you can easily lift your legs over the side of the tub, and rise from the seat without any twisting or scooting required. It will deliver a comfortable and safe bathing experience wherever you are.
Features and Benefits
Easily supports users weighing up to 300 pounds
Allows for those with mobility challenges to enjoy safely getting into and out of the bathtub
Padded for comfort
Six suction cups make it extra stable
Swivel seat facilitates easy entry and exit and eliminates the need for scooting
Customer Feedback
Pros
Easy to assemble with simple instructions
Swivel seat is much handier than expected
Stays put and doesn't need to be repositioned often if left on the tub
Can lift over the side of deep tubs
Cons
Doesn't accommodate users over 300 pounds
Wish it sat lower in tub
Features to Consider When Purchasing a Power Bath Lift
According to the article How to Choose the Best Power Bath Lift, the main features to consider when making a purchasing decision are:
Reclining Seat Back
A reclining bath lift will allow the user to stretch out for comfort, while also accommodating bathers who cannot maintain a seated position for the length of the bath.
Weight Capacity
Because bath lifts won't lower a user that cannot later be lifted out of a tub, it's important to note the weight capacity to ensure the lift will work for you. Generally, the weight capacity of a bath lift will fall somewhere between 260 and 300 pounds.
Bathroom and Tub
Most bath lifts will work with any standard bathtub, although finishes like tile don't always work as well with every model. In addition to measuring the tub, you should measure the bathroom so you know what dimensions you need to keep in mind when choosing a bath or shower lift.
Portability
Bath lifts are often left attached to the tub or shower when not in use, but if you prefer to store it or take it with you while traveling, the weight and portability will be something to consider when you are comparing models.
FAQ
What powers a bath lift?
Bath and shower lifts are most often powered by batteries that are usually rechargeable and many have the helpful feature of not lowering a user into the tub if there is not enough battery power to follow up with raising the lift.
How do you use a bath lift?
Generally, the user will sit on the bath lift with legs outside the tub, then swing their legs into the tub, get centered on the seat, and use the hand control to lower the chair into the water. The bathtub can be filled before or after the lift is lowered. When finished bathing, the bather uses the hand control to raise the lift then swing their legs over the side of the tub to exit the chair.
Conclusion
Maintaining independence while safely avoiding the physical strain and decreasing the fall risk of getting in and out of the tub makes the purchase of a bath lift a great addition to the routine of anyone struggling with mobility challenges.
The many features offered by the models included on our list of 5 best bath lifts are sure to provide you with a choice that will meet your needs and add to the quality of life for the user in your home.
Check out our Caregiver University blog for more free caregiving tips for daily living assistance!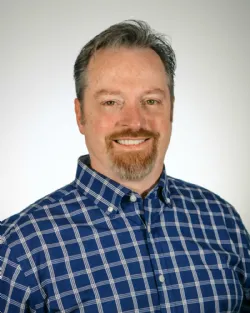 Author:
Co-Founder of Rehabmart and an Occupational Therapist since 1993. Mike has spent his professional career working in multiple areas of Occupational Therapy, including pediatrics, geriatrics, hand therapy, ergonomics and inpatient / outpatient rehabilitation. Mike enjoys writing articles that help people solve complex therapeutic problems and make better product choices.