What is a bedside commode?
A bedside commode is a stand-alone, non-flushing commode that can be conveniently placed next to a bed or somewhere within a room where it's needed. The bedside commode consists of a lightweight, easily portable yet sturdy frame that includes a toilet seat, chair-like arms, and a removable waste bucket attached underneath the toilet seat.
How can a bedside commode improve quality of life?
Utilizing a bedside commode offers a safe and easy toileting alternative for patients and caregivers of all kinds. People who are bedridden, live with mobility limitations, or are recovering from an injury, disease, or surgery can benefit from using a toilet that is close to their bed.
In addition, bedside commodes are a great solution for individuals who are elderly or are otherwise at a high risk for falls, as well as for users recovering from strokes, or living with incontinence. They reduce a user's need to traverse the slippery environment of a bathroom unassisted and also keep them from having to navigate too far away from their bed and risking an accident.
Unlike using a bedpan, bedside commode users can toilet comfortably and easily while still maintaining their dignity and independence. The bedside commode offers a convenient toileting solution that ensures safety without compromising hygiene or taking away a user's independence. Additionally, bedside commodes are easier to clean than disposable incontinence underwear, protective bed liners, or potential accidents from not being able to make it to the toilet, and they provide a greater sense of independence.
Finally, it's important to be understanding about any resistance a user might have to using a bedside commode. People don't like to lose any amount of independence they may be used to having, and because of this many people feel embarrassed or ashamed that they need to use a non-flushing commode, especially if they must rely on someone else to empty and clean the commode. It's important to be empathetic to these feelings while encouraging your loved one to understand that safety is most important, and a bedside commode is a common solution for many people. There's no shame in using a tool to keep you safe and comfortable.
How do I choose a bedside commode?
Bedside commodes are available in a wide range of designs, featuring an array of supportive components that accommodate any and every need that a patient or caregiver may have, as well as including features for any environment or setting.
Material
Commode frames are most often made from aluminum, stainless steel, or healthcare-grade PVC. While most commodes are designed to be lightweight, their frames are designed to be sturdy, durable, and strong enough to provide support for people of all shapes and sizes. Aluminum frames are the most lightweight of these options, while stainless steel is stain-resistant and ultra-strong. Healthcare-grade PVC is the best option for use in healthcare settings or with people who have compromised immune systems as it's the easiest to fully sanitize.
Weight Capacity
The size of the user is also a major deciding factor in which commode to choose. Smaller users might require shorter railings and closed-front seats to keep their legs properly positioned, while larger or heavier users should choose reinforced frames or bariatric commode models due to their larger design and greater weight bearing capacity.
Seat Design
Depending on what you find comfortable and what works best for your needs, you might prefer different seat designs. Toilet seats come in a standard oval shape or a more elongated shape. Different toilet seat diameter sizes can range from a 16-inch diameter up to 36-inches.
Some commodes feature an open-front seat which enables easier access to intimate areas for wiping, but may not be the best option for users with limited lower limb control or stability. Additionally, some commodes feature padded seats that help to reduce pressure and pain on the bony prominences of the hips and buttocks, and help improve comfort for users who might need a bit of extra softness.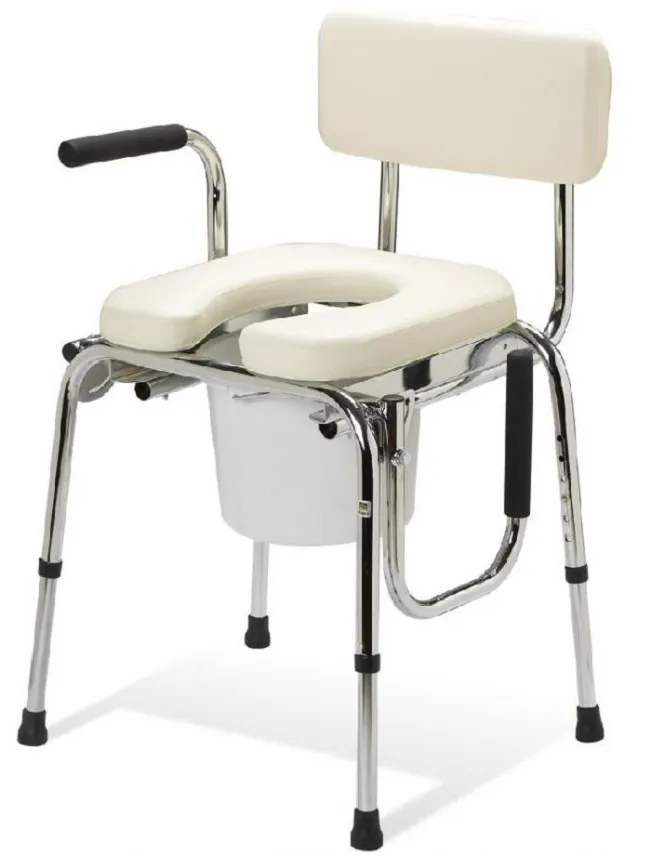 Adjustability
Depending on the user and environment your commode is being used in, adjustability ensures that each user is properly supported at the correct height to maintain both safety and comfort. In multiple-user facilities, adjustability is an absolute necessity as there's no such thing as a 'one-size fits all.' Commodes are available with height adjustment, backrest adjustment, and armrest adjustment to ensure a perfect fit no matter who is using it.
Additionally, many commodes feature armrests that drop down to facilitate safe and easy transfers and then lock back up into place to provide stable support. This allows the user to safely and smoothly transfer onto the commode from a wheelchair or bed. Drop-arm commodes are a great boon if patients often utilize a horizontal transfer to get onto the commode seat.
Extra Features
The most important characteristics of a bedside commode are that it's safe and that it's hygienic. In order to make completely sure that hygiene is maintained, many bedside commodes feature a splash guard designed to keep all waste safely contained within the included waste bucket.
Most of these waste buckets are removable and simple to clean and sanitize for quick and easy clean-up, but if you're not able to clean out the waste bucket immediately, or you want to save yourself some time in daily cleanings, you might want to consider a waste bucket liner, or a commode with a closed lid.
Use
The final factor you need to consider when you're choosing a commode is how you're going to be using it. If the commode will simply stay in one room, in one place for a patient who is mostly immobile, then most standard bedside commode options will probably do the job. However, if you want the ability to bring your commode while you travel, or to stow it away while it's not in use, a folding bedside commode might be the right choice for you.
Additionally, many bedside commodes are designed to be multi-functional, serving as free-standing bedside commodes, supportive seats that can be placed over a standard toilet, or stable support frames that can help you get up and down from a toilet. These commodes are often referred to as 3-in-1 or all-in-one bedside commodes.
Finally, many commode chairs are also designed to function as shower chairs, featuring casters and a water-resistant frame so that you can use them to support all your hygiene activities no matter which one you're performing. These chairs, termed shower commode chairs, are a great solution for users who need a lot of support, yet want an economical solution that provides both safety and comfort.
For detailed reviews and a more in-depth look at the facts and features you need to know about bedside commodes, check out our buyer's guide to How to Choose a Bedside Commode!
FAQ
How do you use a bedside commode?
The most important way to use a bedside commode safely is to ensure it's within easy reach of the intended user.
Next, you need to ensure that the commode is properly fitted to accommodate the unique size and shape of its user. Most importantly, the weight capacity of the commode should be well above the weight of the user, and the height of the seat and armrests should be adjusted so that they're supportive and easy to reach without too much bending or maneuvering required.
When you choose a spot in your room for the commode, make sure it's somewhere private where it will be more difficult for someone to be interrupted while toileting. Additionally, it's important to make sure that the area surrounding the commode is cleared of unnecessary clutter that might pose a fall risk or get in the way of safe seat access. Ensure that the commode's rubber feet or casters are securely locked into place so that it remains stable during use.
How do I keep my bedside commode clean?
Planning ahead is crucial. For example, one way to help decrease odors and make clean-up easier is to put several inches of water in the bottom of the waste bucket, or line it with an absorbent pad or sanitation bag. It is also wise to have supplies that may be needed near the commode, such as extra toilet paper, gloves, and disposable wipes or washcloths. Preparing the commode space with these necessary items is prudent for comfortable, easy use as well as to make clean-up simple.
What is a 3-in-1 commode used for?
3-in-1 commodes are designed to able to function as:
A bedside commode
A raised toilet seat
A toilet safety frame
They offer increased versatility over other commodes, combining the benefits of three different devices into one convenient piece.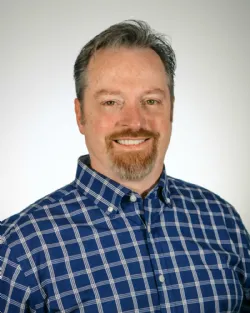 Author:
Co-Founder of Rehabmart and an Occupational Therapist since 1993. Mike has spent his professional career working in multiple areas of Occupational Therapy, including pediatrics, geriatrics, hand therapy, ergonomics and inpatient / outpatient rehabilitation. Mike enjoys writing articles that help people solve complex therapeutic problems and make better product choices.