As a significant source of injuries for both healthcare workers and family caregivers, trying to lift and transfer people without the use of proper lifting equipment can also inflict harm on the person being moved. Often due to the overexertion involved with the repetitive, heavy manual lifting inherent with transferring and repositioning patients, these injuries also come from working in extremely awkward postures.
With the growing number of older people requiring daily living assistance along with the obesity epidemic, it has never been more important to utilize safe patient handling equipment in professional settings and at home. As a key component of an effective program to control the risk of injury to patients and caregivers with lifting, repositioning, transferring, and moving patients, patient lift equipment is beneficial for everyone involved.
The Top 5 Best Ceiling Lifts
The Top 5:
Making our list at number five with its convenient portability is the Traxx Titan 500 Patient Lift System by Traxx Mobility Systems. Easy to install in minutes, the Titan is also quick and simple to take down and re-install in a new location. Its freestanding design makes it effortless to place exactly where it's needed to ensure the best support.
Available in three different length options to suit specific space requirements, this ceiling lift system comes standard with everything you need for installation and operation, including a soft, padded sling in a choice of four different sizes. The lift's single rocker button facilitates the movement of the lift bar in either direction. The only option you may want to add is the set of four smooth-rolling and lockable casters to make the lift even easier to move from one location to another.
Perfect for lifts and transfers to and from a bed, wheelchair, bedside commode, bathroom, sofa, or chair, its 4-point lift bar delivers more comfortable positioning for users up to 500 pounds. The handheld remote makes operation easy and is safe to use in wet environments, like the bathroom or kitchen. The batteries are easy to recharge, providing about 200 lifts for an average-weight user on just one charge, remaining operational even during times of power failure.
Features & Benefits
Freestanding design is quick and easy to set up and take-down

Conveniently portable to move from one location to another

Provides lift and transfer support for users up to 500 pounds

The simplistic remote control is waterproof for use in wet environments

Multiple length options in an all-inclusive design
Customer Feedback
Pros
Easy to set up and start using right away

Very simple to use, operations are intuitive

Patients feel safe, comfortable, and secure

Best investment when caring for a loved one at home
Cons
The frame may be too big for some smaller homes and motor homes

Several users suggested getting the casters to make it easier to move on carpet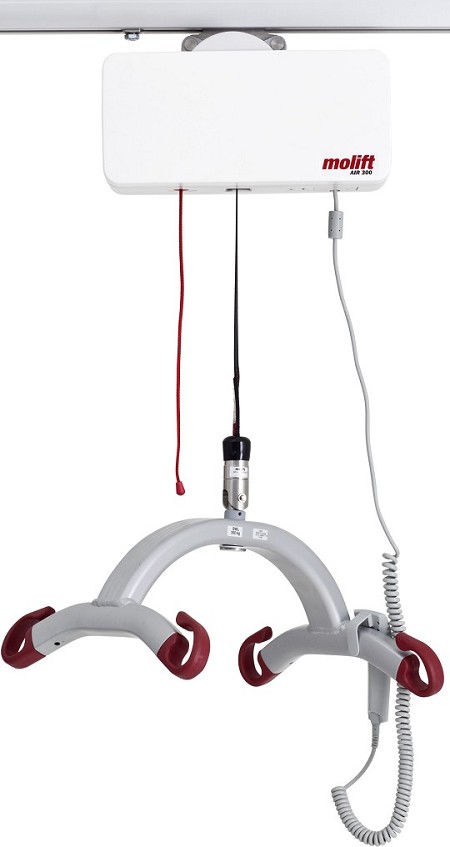 Boasting customizable in-rail charging and propulsion options, the Molift Air 205 and 300 Ceiling Lifts by R82 take the fourth spot in our review with their ability to support standing and gait training as well. Ideal for use in long-term care for patients who are mostly disabled and not able to support any weight, these Molift ceiling lifts are also quite versatile for any horizontal or sitting lifting or transfer activity for other patients at home. They're popular with therapists working with patients in physical rehab to help with relearning how to walk and regaining proper gait function.
While the tracking is permanently installed, the compact, lightweight ceiling lift unit itself can be detached quickly and easily, allowing it to be swiftly reattached in other areas that have either permanent or portable tracking systems. The only difference between the 205 and 300 models is that the 205 accommodates a 450-pound weight capacity and the 300 accommodates a 660-pound weight capacity, ensuring safe and comfortable support for everyone. Both models come standard with a wall-mounted battery charger or can be upgraded to either in-rail charging or propulsion options, or a combination of both systems.
Allowing automatic charging anywhere along the rail that's fitted with it, in-rail charging (IRC) ensures the lift motor is always powered up and ready to use, while the propulsion option delivers motor-driven horizontal transfer along the rail. Selecting both of these options enables users to utilize this equipment independently, without the help of a caregiver, making these Molift lifts perfect for wheelchair users living alone. Further customization options include 2,4, or 8-point sling bars in multiple size choices, trolley options, and stretcher sling selections.
Features & Benefits
Versatile use for sitting, standing, and horizontal transfers along with gait training

Optional propulsion and in-rail charging options for independent use

The lift unit is quick and easy to attach and detach for portable use

Long lifting strap facilitates lower level transfers

Multiple add-on options to customize use to meet specific needs
Customer Feedback
Pros
Affordable, great value for the price

Reduced both caregiver and patient injuries

Very popular in long-term care facilities, assisted care, and hospitals

All-in-one design negates the need to buy separate gait training equipment

Best choice for disabled users living alone or with little help
Cons
Needs to be charged more often than some other ceiling lift systems, unless you choose the in-rail charging option

Adding both the propulsion and in-rail charging adds significantly to the purchase price (but most users said it was well worth it)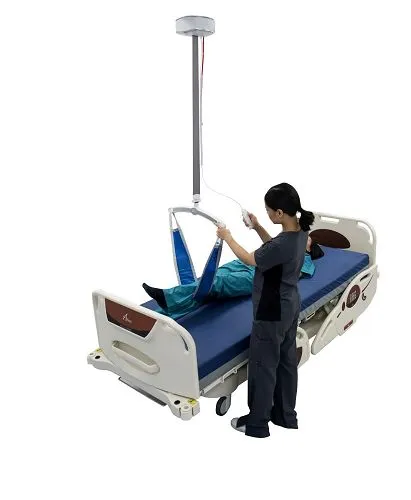 With everything included for set-up and operation except the sling, the XY Gantry Track and Ceiling Lift Kit by GoLift takes the third position on our list with its revolutionary trolley configuration that enables quick installation of the lift into and out of the track. As one of Amico's most popular safe patient handling devices, it also facilitates an instant electrical and mechanical connection to ensure operation whenever it's needed with its continuous charge strip located inside the track. The fixed, multi-track system is modular to enable flexible and customizable installation, while the lifting mechanism itself only weighs about 10 pounds, and is easy to attach and detach.
This innovative GoLift ceiling lift track system also highlights a convenient Quick Connect Carry Bar. Weighing just 5 pounds, the Carry Bar enables lightweight transport from one GoLift to another, connecting with just a single button and no tools. Its capacitive touch hand control is configured without any crevices, buttons, or grooves to help mitigate harmful microorganism growth, while its quick-connect hand control enables easy connection to the wall plate of booms, strap, or carry bar, decreasing the risk of the hand control falling.
Delivering both vertical and horizontal access for easier patient positioning in hospitals, long-term care facilities, rehab centers, and at home, the GoLift ceiling lift kits come in 400-pound, 700-pound, and 1,000-pound weight capacities to safely accommodate any patient handling need. Each kit comes with everything required for installation and operation except the sling. The GoLift fixed ceiling lifts are compatible with a wide range of GoLift slings to optimize patient comfort, offering multiple positioning options and specialized support.
Features & Benefits
Revolutionary trolley design for quick and easy attachment/detachment

Continuous charge enables instant electrical and mechanical operation

Quick Connect Carry Bar for fast connection with any other GoLift

Multiple weight capacity options to support every bariatric user

A comprehensive selection of add-on slings for specialized support
Customer Feedback
Pros
Easy to install, especially for fixed tracks

Simple to use, controls are easy to understand

The instantaneous connection from the continuous charge provides great peace of mind

Dependable, durable, always delivers great performance

Great selection of GoLift slings to accommodate different user needs
Cons
Highest price point on our list, but most users felt it was worth it as it includes everything you need (except the sling)

Some users would like the option of different sizes (all of the GoLift kits measure 10 feet by 10 feet)
Coming in at number two with its ability to swing between gantries and tracks, the Maxi Sky 440 Portable Ceiling Lift by ArjoHuntleigh provides unrivaled versatility, technology, and safety in a compact, economical design. While it includes everything you need to set it up and start using it except the sling, it boasts the lowest price point of any of the ceiling lifts in our review. Yet it never sacrifices quality and beneficial features for that affordability, making it a well-loved piece of equipment by both professionals and home users.
The Maxi Sky's innovative Tarzan hook enables the lift cassette to swing between rooms with its convenient pass-through system, eliminating the need for door modifications or continuous tracks. The tracking it offers comes with both straight and curved sections to facilitate flexible modifications to meet your specific needs. The lift cassette weighs just 14 pounds and has an integrated carry handle for convenient, compact portability. Even the built-in two-point spreader bar folds down compactly against the cassette and is compatible with a wide range of slings to ensure comfortable positioning.
Its especially smooth operation features an electronic soft-start and soft-stop that won't jerk or stall out, making transfers more secure and optimizing user comfort. An emergency pull cord is accessible from the ground to stop the lift, while a manual emergency lowering device can be used if the lift loses power. The Maxi Sky's hand control is easy to use, while there are also electrical up and down buttons on the lift itself. This lift accommodates a 440-pound weight capacity to safely serve most users. Like other safe patient handling devices from Arjo, the Maxi Sky is often used in medical and care facilities to effectively reduce the occurrence of healthcare-acquired conditions for both patients and caregivers. You can learn more about this fascinating company here.
Features & Benefits
Innovative Tarzan hook enables the lift to swing between rooms for pass-through access

Portable lift cassette is simple to attach and detach between tracks and gantries

The two-point spreader bar is compatible with multiple slings for positioning versatility

Soft stop and start for exceptionally smooth and precise positioning

Compact, lightweight lift cassette with integrated handle and a fold-down spreader bar for easy transport
Customer Feedback
Pros
Very easy to operate

Pass-through Tarzan hook is remarkably helpful, users appreciate not having to install tracking everywhere

Flexible, versatile use with different patients and various transfer needs

Highly portable, especially with the carry handle

Great value, lower price than other quality lifts but offers more helpful features
Cons
Removing the guesswork for you with its pre-designed track and three different lift options, the Handicare Ceiling Lift and Track Package - Master Bedroom to Bathroom earns its position of number one in our review with its easy installation and operation. Because the majority of patient transfer needs occur in the bedroom and bathroom, this lift is specially configured to handle any of your lift support requirements in these areas. While the Manual Traverse model is battery-powered, it must be operated by a caregiver. The other two models, the Power Traverse and the Power Traverse with Constant Charge, enable independent operation by the user, making them a great choice for wheelchair users or people with mobility impairments who live alone.
Both the Power Traverse and the Power Traverse with Constant Charge models deliver horizontal and vertical movement, while the Manual Traverse only moves vertically. All of the models come standard with everything required for installation, including the pre-designed tracking. The model with constant charge ensures the lift is always ready to assist with transfers, along with rechargeable battery power on all three models. The lifting movements are smooth and quiet, ensuring a pleasant, worry-free transfer for patients weighing up to 450 pounds.
Optimizing patient comfort with its four-point sling bar and compatible with a wide selection of slings for versatile use, this Handicare ceiling lift also comes with an extra-long lift strap to facilitate safer transfers from the floor or ground. Its hand-held pneumatic remote is waterproof, making it safe to use in the bathroom, and it offers a beneficial array of other safety features to ensure that every patient transfer is carried out trouble-free for both the patient and the caregiver. The C-450 ceiling lift series offers exceptional value for the price point and these lifts are often utilized in long-term care facilities, hospitals, and at home.
Features & Benefits
Three different lift models to match specific user needs

Pre-designed, fixed track for transfer needs in the bedroom and bathroom

Two models enable independent utilization for users, no caregivers required

Smooth, quiet operation with easy-to-use and waterproof pneumatic remote

Two models provide both vertical and horizontal movement
Customer Feedback
Pros
Very easy to install and start using

Robust construction, really well made, good design

Highly recommended by people living with disabilities who do not have outside assistance (the Power Traverse with Constant Charge model)

Much more affordable than other ceiling lift systems that offer similar features

Several customers commented about how much better this system worked than other ceiling track lift systems they had used in the past
Cons
Why choose a ceiling lift?
Employing ceiling lift equipment has been proven to decrease the injuries associated with both patient and caregiver lifting, transfer, and repositioning tasks. Requiring less storage space, most ceiling lift designs don't need any floor space either, making them preferable for smaller homes or hospitals and care facilities where space is always at a premium. Ceiling lifts are usually designed to accommodate heavier working loads and require less physical effort on the part of the caregiver to maneuver the patient.
While we explain some of the benefits and features of these unique lifts more thoroughly in our article on how to choose the best ceiling lift, some of the more important reasons to choose a ceiling lift include fall prevention, enhanced patient security, comfort, and dignity during transfers, and the reduction of the number and severity of caregiver injuries. As most people who use them say again and again - ceiling lifts are the best investment you can make to properly care for someone living with mobility challenges, especially when the condition is long-term.
What ceiling lift features should I look for?
Always powered, ceiling lifts come in three basic style designs that include permanent, portable, and free-standing, with two general motor types. Permanent or fixed configurations come with overhead tracks and/or gantries and have a lift motor that permanently attaches to the track. Portable models also use fixed ceiling track systems in multiple rooms but can be detached from the track in one area to attach it to another section of the track for continued support. Freestanding ceiling lifts are typically designed for quick and easy assembly right where you need the support and can be quickly disassembled for storage when they're not needed, as they do take up some floor space. X-Y tracks provide more versatility as the tracks go in different directions to offer support in various areas.
Other design features, such as in-rail charging (IRC) or continuous charge and propulsion options are ideal for wheelchair users or people with mobility disabilities who live alone, as this type of lift enables independent use that doesn't require a caregiver's assistance. Longer lift straps provide a larger lifting interval, enabling transfers from the floor, which makes them helpful for users prone to falls. While every ceiling lift provides vertical (up and down) movement, some lifts also offer horizontal (left and right) movement and others provide a rotational device to enable pass-through movements through doorways and better accessibility.
Most quality lifts will offer multiple safety features, such as an emergency stop, a way to manually move the patient during power failures, and waterproof remotes for safe operation in wet environments like bathrooms.
Although some ceiling lifts come with slings, many users purchase the slings separately, ensuring they get the exact style and size they require. Most lifts have either two-point or four-point bar attachments for the slings, so it's important to know what type of sling you need to use to ensure its compatibility with the lift you intend to purchase.
Determining your specific lifting needs will help you figure out what kind of ceiling lift design is right for the job. If you need short-term assistance while healing from an injury, illness, or surgery, a freestanding or portable option will tend to work best. If you need long-term assistance for seniors aging in place at home, people living with long-term mobility disabilities, seniors in long-term care facilities, and patients in hospitals, a permanent ceiling lift option would be more suitable.
Frequently Asked Questions
Are ceiling lifts covered by Medicare?
Medicare Part B may cover durable medical equipment like patient lifts if your doctor prescribes it for use in your home. To more fully understand the process of being approved by Medicare, it's always advised to consult with your doctor before you make a purchase decision - which will also provide you with more valuable insight into your product selection.
How much does a ceiling lift cost?
Because they vary widely in quality and design features, ceiling lifts and their installation can cost anywhere between $550 and $14,000, with the national average at about $8,000. Most quality ceiling lifts will fall somewhere in the $3,000 to $6,000 price range.
What type of patient lifts does Medicare cover?
While Medicare often helps pay for manual patient lift equipment, it usually doesn't cover electric lifts. We suggest you talk with your doctor about what kinds of patient lifts will work for you and are medically necessary, as there are other ways to get Medicare to help, such as with an Advanced Beneficiary Notice (ABN).
How do you use a Hoyer ceiling lift?
Whether you use a manual or power Hoyer lift in a ceiling or sit-to-stand format, the basic premise of use remains the same - a sling is applied under the patient, attaching securely to a bar on the lift, lifting the patient into the air in various directions for transfers. Some Hoyer ceiling lifts rotate, some can only move vertically, while others can move both vertically and horizontally. We recommend watching this video about how to perform safe patient handling with Hoyer lifts.
Summary
Ceiling lifts come in a variety of design options to provide lifting and transferring support for patients living with varying degrees of immobility. As an important component of safe patient handling and fall prevention programs, ceiling lifts significantly reduce injuries for both professional and family caregivers and their patients and loved ones. They also provide a more discreet, comfortable, and dignified experience for patients than manual lifting procedures.
We researched the best ceiling lifts on the market today, evaluating their design features, durability, performance, functionality, and cost, combined with feedback from the real-life users of this equipment.
Making our list with its versatile freestanding portability, the Traxx Titan 500 Patient Lift System comes in 8, 10, or 12-foot length options to fit your space, while the Molift Air 205 and 300 Ceiling Lifts also offer two different weight capacity models and can be used for horizontal transfers and gait training. The XY Gantry Track and Ceiling Lift Kit by GoLift is easy to attach and detach from the dual tracking system, while it also provides an instantaneous mechanical and electrical connection for safer independent usage. The Maxi Sky 440 Portable Ceiling Lift by ArjoHuntleigh features an innovative Tarzan hook for convenient pass-through swinging between tracks and an economical price point.
Although every lift in this review would be the best choice for someone, we determined the Handicare Ceiling Lift and Track Package - Master Bedroom to Bathroom to be the best overall choice for most home users. Its pre-designed track makes installation easy and hassle-free and it provides both vertical and horizontal movement that's quiet and smooth. Its power-traverse with constant charge enables many patients to use this device without assistance, enhancing peace of mind and security for people living alone.
For more information about safe patient handling, check out our complete patient lift catalog. You can also find the daily living support you and your family need to know about at Caregiver University, an educational blog that contains comprehensive information on a wide range of health, medical, and disability topics.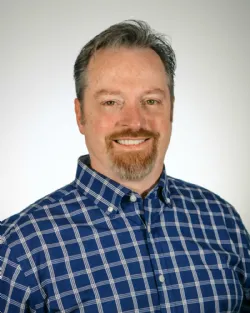 Author:
Co-Founder of Rehabmart and an Occupational Therapist since 1993. Mike has spent his professional career working in multiple areas of Occupational Therapy, including pediatrics, geriatrics, hand therapy, ergonomics and inpatient / outpatient rehabilitation. Mike enjoys writing articles that help people solve complex therapeutic problems and make better product choices.