If you spend a large amount of time in bed and don't have the mobility to change positions easily and frequently, your risk for pressure sores - sometimes called bedsores - is greatly increased.
Sometimes pressure sores heal slowly, and sometimes they don't heal at all. They are categorized based on characteristics including depth and severity, and they can range from red skin to a deep tissue injury going into muscle and even bone.
Each of the mattresses on our list is quality-made and designed to help prevent, alleviate, and heal uncomfortable and potentially dangerous pressure sores.
The Top 5: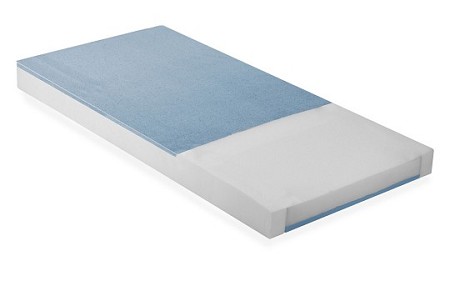 At number 5 on our list is the Pressure Reducing Foam Mattress 6500 Dynamic Elite from Drive Medical. This mattress boasts an aerated Lura-Quilt foam top layer that allows for continuous airflow, which reduces heat buildup. Less heat makes the mattress more comfortable and minimizes skin issues that can be compounded by perspiration.
Although perfect for home use, this mattress is professional-grade, having made our top 5 list of hospital bed mattresses. Where the heel rests, the mattress is sloped at a 25-degree angle, reducing pressure and increasing circulation with the whole leg taking the load from the heel. The precision die-cut heel section also promotes airflow and keeps the skin cool and dry.
This mattress' layer of gel-infused foam facilitates body immersion to redistribute pressure while channeling heat away from the body much faster than standard foam. This redistribution over a much larger surface area delivers more support and higher levels of compression, eliminating static fatigue.
With its cooling properties and its attention to heel pressure and circulation in the legs, this mattress is a low-tech, high-value tool for creating and maintaining a bed-bound patient's comfort and health. With a weight capacity of up to 400 pounds and a 15-year non-prorated warranty, It is a professional-grade mattress built to last.
Features and Benefits
Precision cut heel section for support and comfort

Top layer of aerated foam to control temperature

Superior pressure redistribution

Sloped heel section to reduce pressure and increase circulation

Gel-infused foam later keeps skin cool and dry
Customer Feedback
Pros
Well made and looks like it will hold up a long time

Fast shipping

Great customer service from Rehabmart

Very comfortable
Cons
Would appreciate it coming with two covers so it is never without one

Concentrates on heel pressure only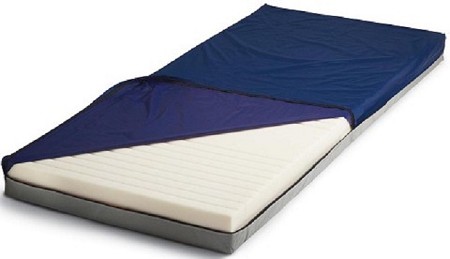 The Advantage 300 Therapeutic Foam Mattress by Medline is number 4 on our list of best pressure relief mattresses. With pressure redistribution across three zones, it is designed for patients who are at low to moderate risk of bedsores.
It is appropriate for use as a pressure relief mattress for a hospital bed, and in fact, has made our list of 5 Best Hospital Bed Mattresses. As more people are staying in their homes longer and facing challenges that have traditionally been handled in a care facility, this mattress is a valuable tool for patients who have chosen to age in place.
This durable layered foam mattress provides a comfortable experience for users weighing up to 300 pounds. Its three distinct zones distribute weight and pressure, mitigating the risk of pressure sores, and it comes with an easy-to-clean nylon cover/
For an alternative to traditional homecare mattresses, this pressure relief foam mattress is a durable, comfortable, and supportive option for anyone who is at low to medium risk of developing bedsores.
Features and Benefits
Comfortably supports patients up to 300 pounds

Cover is easy to keep clean and sanitary

Three pressure distribution zones

Durable for a long service life

Excellent alternative to traditional mattresses
Customer Feedback
Pros
Compatible with twin sheets

Comfortable and supportive

Lightweight and much more comfortable than a standard hospital bed mattress

Facilitates restful sleep
Cons
Would be great if it had a higher weight limit

Only comes with one cover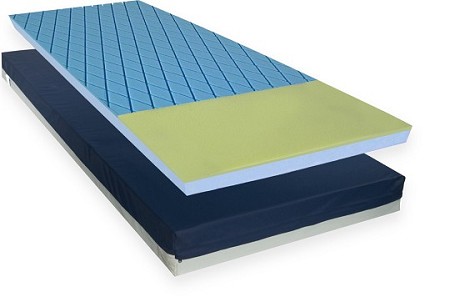 Our number 3 pick is the three-layer foam Gravity 7 Pressure Relief Mattress from Drive Medical.
The multiple layers of foam distribute weight across the mattress surface. The top die-cut layer keeps its shape and delivers comfort plus better pressure relief. The bottom layer has horizontally scored articulation cuts, which make this a very durable and long-lasting choice. Since heels are a common area to develop pressure sores, the heel section on this mattress is super soft with memory foam to ensure very little pressure on the skin of the heel.
The water-resistant and vapor-permeable cover is made of stretchable nylon that is easy to clean and has low shear to protect the skin. The Gravity 7 Pressure Relief Mattress has high-density foam around the edge for extra support, making transfers safer. It is available with or without raised side rails.
If you are looking for a comfortable mattress that pays special attention to a patient's skin health at the heel and minimizes shearing, this quality mattress with a 7-year limited manufacturer's warranty is a great choice.
Features and Benefits
Fluid-proof and tear-resistant cover

Three layers for comfortable pressure relief

Top die-cut layer ensures optimum weight redistribution

Full-length articulation of bottom layer ensures longevity

Extra soft heel zone
Customer Feedback
Pros
Much more comfortable than a standard hospital bed mattress

Great value for the price point

Easy to unpack

Helps pressure sores heal
Cons
Firmer than some people prefer

After long-term use, tended to flatten a bit
The body-contouring Dry Flotation Non-Powered Mattress Overlay by ROHO Group has landed at number 2 on our list of best pressure relief mattresses.
You can choose a one- or two-piece cover for this non-powered weight redistributing mattress overlay, which is a Group 2 Support Surface for treating and preventing bedsores. The overlay has 720 air cells distributed across four independently adjustable sections. These air cells move, compress, and twist which minimizes friction and shear. It's akin to floating and feels like weightlessness for the patient, who is suspended with low friction and surface tension.
This overlay fits over an existing hospital or homecare mattress to facilitate healing and prevent the appearance of pressure sores. The four adjustable sections are inflatable and deflatable with a hand pump. It has drain holes in the base to draw fluid away from the user if incontinence is an issue.
If you don't want to purchase a full mattress, this overlay is a great option to fight pressure sores. It is especially helpful for incontinent patients, since its drain holes contribute to better skin health by creating a dry environment.
Features and Benefits
Customized weight distribution with independently adjustable sections

Interconnected air coils minimize shearing and friction

Hand pump doesn't need electricity to inflate or deflate

Contours to the patient's body

Choose from one- or two-piece cover
Customer Feedback
Pros
Unweighs the fibula area perfectly

Patients relax into the mattress more with this comfortable overlay

Coils provide equalized pressure from below

Evens pressure, with soft pressure on some points to relieve pressure in other places prone to bedsores
Cons
Takes getting used to with pressure being put on new places to redistribute weight

Electric pump would make for quicker inflation and deflation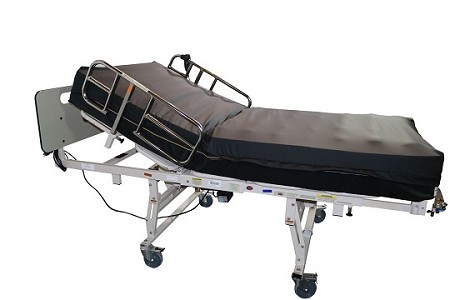 Lay, float, and heal with the Low Air Loss Mattress ALTERNATIVE by United Mattress, our number 1 pick for a pressure relief mattress.
This hospital bed pressure relief mattress has been clinically proven to heal and prevent stage 1 through 4 pressure wounds with weight redistribution technology that simulates the feeling of floating. It combines air cells with memory foam, facilitating airflow to keep a patient cool and dry, and has been proven to perform close to 300 percent better than other low air loss pressure relief mattresses. It will hold air for weeks, with a hand pump to easily add air when necessary.
It's portable and easy to keep clean, and set up is a simple process. The three sections of the top layer each have valves to independently control the air cell inflation. The non-shearing middle layer tops a 4-inch bottom layer that aids in airflow. The top and bottom of this mattress are both impermeable to air, fluids, or pathogens, and it comes with a two-inch thick cover for additional protection.
With a 500-pound weight capacity, this mattress will accommodate a wide range of patients. It is backed with a three-year warranty and is low maintenance and easy to keep clean and sanitized.
Click here for the video.
For patients who are at high risk for bedsores or are suffering from stage 1 through 4 pressure sores, this mattress allows patients to "lay, float, and heal" with superior pressure redistribution. It holds air well, but when it does need an adjustment, the simple handheld pump means a power outage or location of an electrical outlet do not figure into maintaining a healthy environment.
Features and Benefits
Clinically proven to be a superior low air pressure relief mattress

Makes patients feel like they're floating

Clinically proven to help skin wounds heal

Superior airflow to minimize build-up of heat, moisture, and pressure
Customer Feedback
Pros
Lower electric bills with no electric pump

Don't have to worry about electric pump failing

Easy to maintain proper inflation with simple hand pump

High weight capacity

Completely sealed from fluids
Cons
Which Design is Best for You
If pressure sores are a concern, it is a good idea to research the features and benefits of the various models available to determine which one will be the best fit for you. According to the article, How to Choose the Best Pressure Relief Mattress, there are some key design elements you should consider when shopping for one of these specialty mattresses.
Low-tech mattresses are filled with either water, air, foam, or gel and distribute a patient's weight across the mattress to reduce the amount of pressure on areas of the body that are susceptible to bedsores. These mattresses are covered with support and overlays, and their pressure is not usually adjustable.
A water mattress distributes pressure evenly, conforming to the patient's body. This can be very comfortable for patients, plus it relieves pressure where bedsores are most likely to occur.
An air mattress can be inflated and deflated in different zones and at different times to adjust its pressure, depending on what is most comfortable for the patient and what will best address issues with pressure sores.
A foam mattress can be cross-cut, so the mattress shifts with the patient's weight. This minimizes the risk of shearing, which occurs when the skin pulls as a person shifts, leading to skin tears.
A gel mattress conforms to the body and gives the sensation of sinking into a comfortable mattress. Because it retains less body heat, a gel mattress is cooler to sleep on. It also provides a more responsive feel when not paired with foam.
Most high-tech mattresses can be inflated and deflated to allow for zoned adjustments for different areas of the body. Many models are programmable to automatically adjust how the patient's body weight is distributed in intervals, keeping any single area from being under pressure for too long. Models that can be programmed ahead of time free up caregivers for other tasks since they do not have to regularly inflate or deflate the mattress or turn the patient.
Lateral rotation mattresses rotate the patient from side to side to improve circulation plus provide pressure relief. The best way to address the issue of pressure sores is to include repositioning with pressure relief, often requiring the assistance of a caregiver if the patient is unable to change positions independently. Although this style of mattress can turn a patient without a caregiver's help, it does require extra attention, as patients can roll out of bed from the turning motion if there aren't bed rails in place to prevent falls.
Regardless of what design you choose, there is a pressure relief mattress on our top 5 list that will meet your needs.
FAQ
How does a pressure relief mattress work?
A pressure relief mattress takes stress off pressure points. It spreads out the weight of the user over a large surface area, which reduces the pressure on the bonier points on the body that come into constant direct contact with bedding.
How do I get pressure sores?
Constant pressure can decrease the blood flow to tissues, which can lead to tissue and skin breakdown. The pressure on bony areas including elbows, shoulder blades, spine, tailbone, hips, and heels makes them especially susceptible to pressure sores. Friction from skin rubbing against clothes or sheets and shearing from your skin surface moving in the opposite direction from the surface you're laying on creates an environment that can lead to or worsen pressure sores.
Why is it important to prevent and heal pressure sores?
Serious complications from pressure sores can include cellulitis, bone infections, joint infections, skin cancer, and sepsis. Amputations and even death from sepsis can be directly attributed to pressure sores that don't heal.
Do pressure relief mattresses aid other conditions?
Orthopedic patients, either post-surgery or who suffer from chronic pain, enjoy therapeutic benefits from pressure relieving mattresses, as redistribution of weight takes the pressure off joints and bones that are compromised.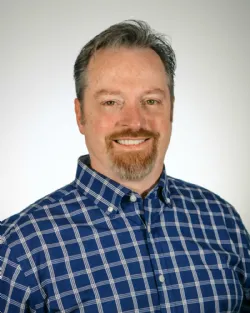 Author:
Co-Founder of Rehabmart and an Occupational Therapist since 1993. Mike has spent his professional career working in multiple areas of Occupational Therapy, including pediatrics, geriatrics, hand therapy, ergonomics and inpatient / outpatient rehabilitation. Mike enjoys writing articles that help people solve complex therapeutic problems and make better product choices.