Mattresses are quite possibly the most integral factor in providing comfort and support to a patient while in bed. This is even more crucial for patients who suffer from chronic soreness or those who spend extended periods of time in bed. For these patients, it is essential that a mattress both provide comfort and help to relieve the accumulation of pressure on common areas of stress and strain. Patients with these considerations should be provided with a pressure relief mattress, which is a specially designed type of therapeutic mattress.
The value of pressure relief mattresses is particularly noteworthy for patients who spend long periods of time in bed. For these patients, the risk of developing pressure ulcers and bedsores while in bed is high, and the development of these conditions can be painful while also putting the patient at risk of infection. Through the use of a variety of means, pressure relief mattresses focus on alleviating the pressure on high-risk areas of the body.
Some examples of how the mattresses provide this valuable relief from pressure include the redistribution of the patient's weight more evenly across the surface of the mattress and the increase of airflow through the mattress to keep the patient's underside dry and cool. Some mattresses include additional systems that are either included or built into the mattress to further support pressure relief, such as air support systems that quietly flow air through the mattress to ensure a dry mattress for the patient.
It should be noted that different pressure relief mattresses implement different methods of pressure relief. Because of this, finding the best pressure relief mattress for your needs might feel like a challenging task.
This article will examine the top five pressure relief mattresses available for Rehabmart. To maintain a fair level of comparability, the list will include only mattresses from the subcategories of innerspring mattresses and foam mattresses. The products included are produced by trusted medical equipment manufacturers such as Invacare, Drive Medical, Joerns, and Thomashilfen North America.
The pressure relief mattresses were assessed on the basis of their pressure relief methods, cost-effectiveness, sizing options, durability, and most importantly, customer feedback regarding each product. Each of these factors was analyzed and assessed with particular consideration being allotted to direct customer feedback and experiences with the mattresses. According to the aforementioned specifications, the following are the top five pressure relief mattresses available from Rehabmart.
The Top 5: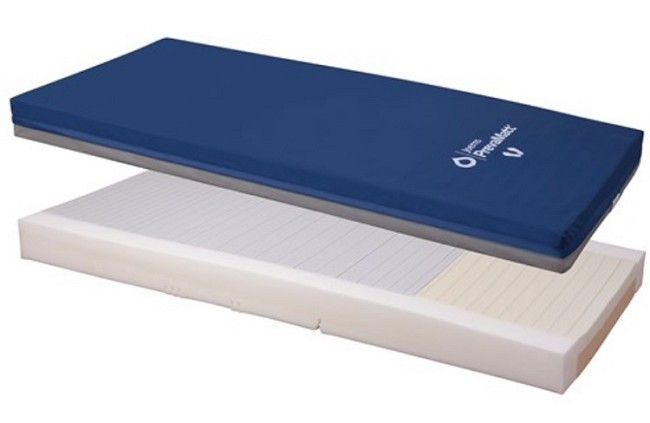 Opening up the top five list is the PrevaMatt Defend Pressure Relief Mattress from Joerns. The PrevaMatt is a foam mattress that features a unique open-cell composition that allows for increased airflow while also ensuring patient safety through the application of built-in sidewalls.
As was highlighted in the introduction of this article, the categories of innerspring mattresses and foam mattresses are just close enough to be comparable. However, it should be restated that foam mattresses are—due to their construction and composition—almost always more expensive than innerspring mattresses. We should emphasize the "almost always" portion of the previous sentence, as the PrevaMatt is the rare exception to this rule. With a price point that is significantly lower than most other foam mattresses, the Prevamatt can be viewed as one of the most cost-effective options in the field.
Joining its extremely cost-effective nature, the Joerns PrevaMatt Defend mattress' design ensures an even, comfortable distribution of pressure when in use. This is promoted by the mattress' pattern spacing, cut depth, and sloped heel zones, which focus on relieving pressure in the most common high-pressure locations. This, in combination with the mattress's breathable design, helps to prevent the bedsores and discomfort that are common amongst patients who spend extended periods of time in their beds.
Features and Benefits of the Joerns PrevaMatt Defend Pressure Relief Mattress
Among the most cost-effective options in foam mattresses
Breathable, pressure-distributing construction prevents bedsores and discomfort
Available with or without built-in sidewalls for patient safety
Customer Feedback
Pros
A low-cost option that doesn't sacrifice comfort for its lower price point
Breathable composition of the mattress keeps patients drier than on many other mattresses
Cons
While the mattress is very comfortable, some customers noted that the extra price for higher-end foam mattresses was worth the price
The mattress does not feature independent foam sections that are seen in other products and has fewer size options than some other mattresses
Another popular foam mattress, the ThevoRelief Pressure Relief Mattress from Thomashilfen North America claims the number four position on our top five list thanks in large part to its innovative mattress design and Micro-Stimulation technology. These features make the ThevoRelief arguably the best mattress on the market when it comes to pain relief and patient comfort.
This mattress represents one of the most technologically unique options in pressure relief mattresses, as it provides patients with a number of innovative features. First among these features is the ThevoRelief's MiS Micro-Stimulation technology that provides gentle stimulation to the nerve tracts of the body while the patient sleeps. This stimulation helps to relieve and prevent soreness all throughout the night.
Joining the micro-stimulation technology, the ThevoRelief also features two unique suspensions within the mattress' construction, each of which helps to further promote patient comfort. The wing suspensions of the mattress serve to relieve pressure by responding and adapting to the patient's unique body shape and size. The pain suspension implements a line of compression discs within the mattress that ensure a soft sensation of lying that in turn promotes pain relief. AS you might expect, these unique comfort measures in the ThevoRelief mattress are overwhelmingly praised by patients for their ability to promote a full, pain-free night of sleep.
Features and Benefits of the ThevoRelief Pressure Relief Mattress
Micro-Stimulation technology stimulates nerve tracts to relieve pain and promote healing
Mattress features two suspensions that further promote patient comfort
Useful for relief of pain from a wide variety of conditions (e.g. arthrosis, osteoporosis, cancer, and injury)
An extensive selection of mattress sizes (ranging from hospital sizing to twin through king sizes)
Customer Feedback
Pros
The ThevoRelief actively reduces pain and discomfort to help ensure a comfortable, uninterrupted night of sleep
The option to choose between a hospital size or any size from twin to king makes the ThevoRelief perfect for both hospital and in-home settings
Cons
The high-quality innovations of the ThevoRelief mattress make it more expensive than many other mattresses on the market
The Therapeutic 5-Zone Support Mattress by Drive Medical is a low-tech pressure relief mattress that combines two features to offer superior support and comfort. Those two features are zoning and cross-cutting.
A zoned mattress is one that is separated into sections that offer different levels of support. Rather than using one level of firmness throughout, a zoned mattress offers varying levels of support to different areas of the body.
Often, the area under the hips is firmer, since the hips are the heaviest area of the body and need more support. On the other hand, the shoulder blades protrude more and as a result, the mattress can have more softness or "give" in that area.
The cells of a cross-cut mattress are able to move with the patient's body, rather than resist the movement. This reduces shear, the pulling on the outer layer of skin when moving against the fixed mattress surface.
The Therapeutic 5-Zone Support Mattress is designed for hospital beds, which are notoriously uncomfortable. For many people, this product has been a very comfortable replacement.
The mattress is made of foam, and measures 35"x80"x5.5". The zippered cover is made of durable nylon.
Features and Benefits
5 zone mattress redistributes pressure
Resilient foam base is cross-cut to prevent shear
Strong nylon cover prevents friction, is zippered, waterproof, and fire retardant
Non-skid bottom
Measures 35"x80"x5.5"
Weight capacity 350 pounds
The one comment heard over and over again from users of this mattress is that it replaced a lumpy, uncomfortable hospital mattress with a supremely comfortable one that gave patients night after night of restful sleep.
It was noted that this is a great alternative to an innerspring mattress because it remains firm for a long time.
Some users did report that the mattress was a lot harder than they'd expected, and some also report that it began to sink or sag in spots over time.
Customer Feedback
Pros:
Cover features:
Two-way stretch
Waterproof
Vapor permeable for breathability
Fire retardant
Super comfortable
Cons:
Some users found it a bit too firm; a soft foam topper solved the issue
Some users report the mattress sinking in spots over time
Summary
For a non-adjustable mattress, the Therapeutic 5 Zone Support Mattress goes above and beyond the norm in offering comfort along with pressure reduction and distribution. It is a great alternative to a hospital mattress, and has been used for this by many people. Despite some negative reviews, most users have reported it to be a long-lasting, durable choice that is well worth the money for the relief it brings.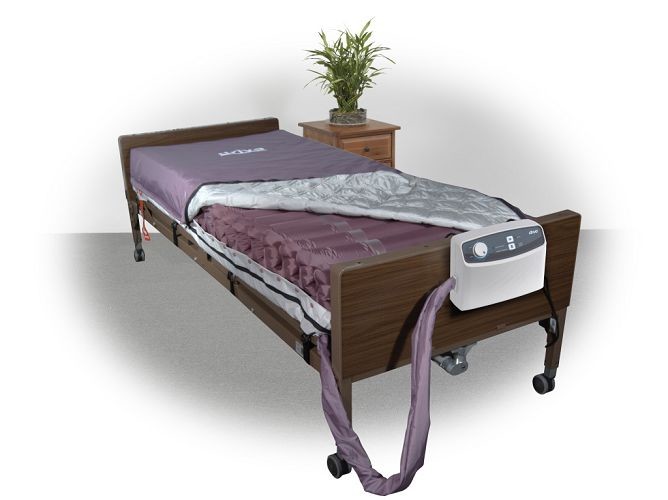 The runner up in this top five pressure relief mattresses article is Drive Medical's Alternative Pressure Low Air Loss Mattress System. This mattress, as its name implies, operates as an entire system to supply a dynamic flow of air support in order to help prevent bedsores and promote accelerated healing for patients.
So what exactly makes this mattress a "system"? The mattress features a "Whisper Quiet" pump that provides a consistent flow of air (up to 8 liters per minute), which runs throughout the interior of the mattress and supplies air across the patient's body. This gentle flow of air helps to keep the patient dry and provides oxygen to the underside of the patient, which both significantly help to reduce the development of bedsores and pressure ulcers during long-term bed use.
The system's air pump operates almost silently and includes features that isolate the vibrations from the air pump to completely prevent the patient from feeling them. Many customers note that they can barely hear/feel the pump running, but notice a significant decrease in moisture accumulation and discomfort while in bed thanks to it.
The mattress also offers patients the choice between alternating or static modes of air supply. The alternating mode shifts airflow rates in the mattress' air cell regions over time, whereas the static mode provides the same consistent flow of air throughout use.
Features and Benefits of the Alternative Pressure Low Air Loss Mattress System
Unique airflow system provides alternating or static settings to prevent discomfort and pressure ulcers
"Whisper quiet" pump runs almost silently and features vibration-isolating technology
Nylon cover of the mattress protects skin with low-shear design
Customer Feedback
Pros
The airflow system significantly reduces patient discomfort as well as the risk of bedsores
The mattress is surprisingly low in cost, despite its innovative airflow system
Cons
The airflow system can develop leaks after extensive wear and tear
The mattress is only available in one hospital size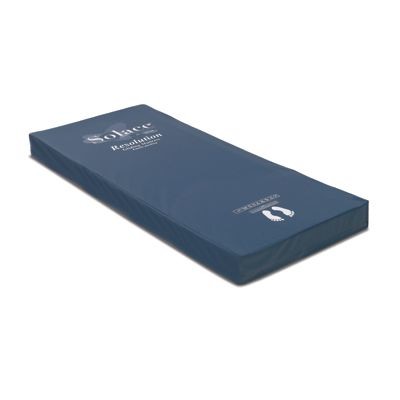 Claiming the number one rank in pressure relief mattresses for this top five list is none other than Invacare's Solace Resolution Glissando Heavy Duty Mattress. The Glissando mattress earns this rank not for one specific feature, but rather for its high quality in a wide range of different features and categories. Let's run through some of these features and explain what customers loved about this mattress.
The Glissando mattress is built from a high-density foam that customers widely praised for its high degree of comfort. The mattress is available with built-in, durable foam sidewalls that prevent patients from falling out of bed. These sidewalls are sturdy enough to prevent patients from falling out of bed but are also built from the same comfortable foam as the mattress, which ensures that they are a soft, gentle surface with which to interact.
One of the most advantageous and unique features of the Glissando mattress is its sectioned foam design. Unlike many other foam mattresses that function as a single block of foam, the Glissando mattress is divided into multiple foam sections within the mattress. This sectioned design actively distributes pressure more evenly across the patient's body, which prevents pressure from accumulating on specific regions of the body.
Another of the unique features of the Glissando mattress is its patented gliding layer, which is found on the top layer of the mattress. The gliding layer is specially designed to prevent limit friction and shear between the mattress and patient's skin, which helps to prevent the development of bedsores and pressure ulcers.
Finally, despite its many valuable features for patient safety and comfort, the Glissando mattress is still among the most inexpensive options in foam mattresses. This makes the mattress an extremely cost-effective option, as it is viewed by customers as one of the best "bang for your buck" mattresses available.
Features and Benefits of the Solace Resolution Glissando Heavy Duty Mattress
Innovative gliding layer prevents shear and pressure ulcer development
Sectioned foam design promotes even pressure distribution
One of the most cost-effective foam mattresses on the market
Customer Feedback
Pros
The sectioned foam construction of the mattress makes it more comfortable than many other foam mattresses
The mattress is extremely high-quality, but still manages to cost less than many other products
The optional sidewalls are durable but soft and comfortable, which makes the mattress perfect for patients who move around on the bed
Cons
The mattress is only available in hospital sizes
Thanks to its many advantages in each distinctive category of assessment, Invacare's Solace Resolution Glissando Heavy Duty Mattress earns the title of the number one pressure relief mattress available from Rehabmart. The high quality, patient comfort features, and cost-effectiveness associated with this mattress separate it from the competition. Customers widely praised the Glissando mattress as one of the most comfortable and durable options on the market. Given the aforementioned features of the mattress, it is hardly a surprise that it earns its place at the number one spot.
As was explained in the introduction of this top five list, the mattresses included were analyzed and ranked according to customer reviews, quality, additional features, and their safety, among other things. While each pressure relief mattress included on this list bears distinct advantages in certain categories, none excel in across many categories the way the Solace Resolution Glissando Heavy Duty Mattress does—particularly in the realm of customer feedback. It is for these positive customer reviews, exceptional quality, innovating pressure relief methods, and noted durability that this mattress earns the position of the number one pressure relief mattress available from Rehabmart.
Questions to ask your doctor about a pressure relief mattress
When considering the purchase of a pressure-relief mattress, ask your doctor to access the following questions as they pertain to you:
How mobile is the patient?
Does he/she have a previous history of pressure ulcers?
What risk factors are present? (A skin assessment may be called for)
If pressure sores are already present, how advanced are they, and where are they located?
Does the patient have good balance? (non-conforming surfaces like water mattresses may not feel secure to them)
Selecting the right pressure relief system for a patient with pressure ulcers is an important health decision. Get advice from your doctor, and become informed. The number of choices may seem overwhelming, but it also means that you'll certainly be able to find the best system for you or your loved one.
Check out our article How to Choose the Best Pressure Relief Mattress!
Want to learn even more? Find dozens of videos featuring products and caregiver tips like these at Rehabmart's Caregiver University.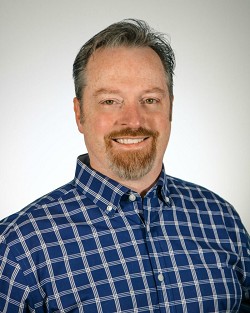 Author:
Co-Founder of Rehabmart and an Occupational Therapist since 1993. Mike has spent his professional career working in multiple areas of Occupational Therapy, including pediatrics, geriatrics, hand therapy, ergonomics and inpatient / outpatient rehabilitation. Mike enjoys writing articles that help people solve complex therapeutic problems and make better product choices.