Pressure relief mattresses are an essential part of treatment for patients or individuals who are confined to bed for extended periods of time.
Bedridden patients, especially those who are partially or completely immobile, are at risk for decubitus ulcers - more commonly known as pressure ulcers, or bedsores.
Early use of a pressure relief mattress system can prevent small ulcers from becoming blisters and infected wounds. Without intervention, these ulcers pose a very real health threat, since wounds can ultimately result in tissue death in the affected areas.
Editor's Note: We have a NEW #1 Mattress for 2018!
Top 5 Best Pressure Relief Mattress Summary
What causes pressure ulcers?
Pinching and constriction of blood vessels at pressure spots, leading to lack of oxygen and nutrients to the skin and tissues in those areas.

Friction of mattress against skin

Stretching and bending of blood vessels that occurs with extended periods of immobility
Common ulcer sites include the back or sides of the head, rim of the ears, shoulders/shoulder blades, hips, lower back or tailbone, and heels, ankles, and skin behind the knees.
Pressure relief mattresses fall into two broad categories:
Low tech mattresses, overlays and supports are filled with water, air, fiber, foam or gel.

Water mattresses offer enhanced movement and reduce the pressure to any given area for long periods of time. With foam mattresses, such as Memory Foam, overall shock absorption is provided.
High-tech pressure relief mattresses, overlays, and supports can be inflated and deflated according to a patient's particular needs.
Many mattresses offer the chance to individualize treatment by inflating and deflating air cells according to the patient's needs and the areas affected. In this way, no pressure is placed on an injured area for too long.
When this is accomplished, there is more consistent air flow that helps reduce sweating, which in turn reduces the likelihood of skin breakdown.
Alternating pressure (AP) mattresses can be programmed to inflate and deflate at set intervals. This encourages healthy blood flow to an area as pressure is applied and released.
Both kinds of mattresses may offer a baffled surface, individual sections that hold water, or that can be inflated and deflated separately. This provides superior comfort to the patient with pressure sores.
Here are five of the top rated pressure relief mattresses, representing a range of mattress types.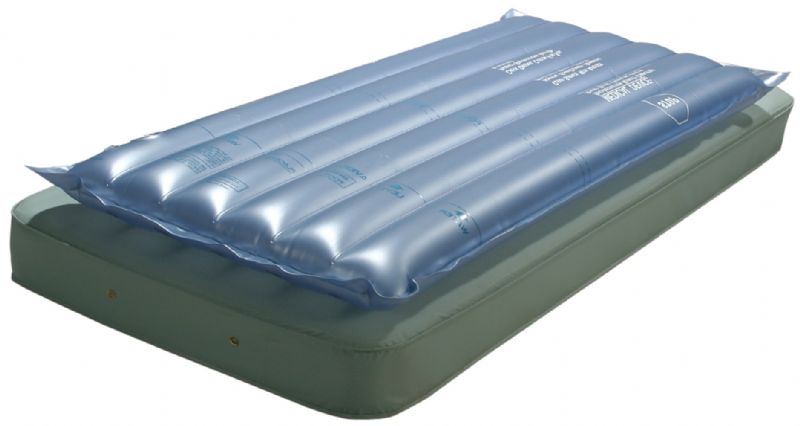 Water mattresses have been used since the 1800s to treat and prevent pressure sores. Water has a unique ability to conform to the user's body and thus distribute pressure evenly. For this reason, many people prefer a water mattress over other low-tech options for pressure relief as well as for comfort.
The Premium Guard Water Mattress measures 68"x32", and is meant to be placed atop another mattress, usually on a hospital bed mattress. It has a weight capacity of 250 pounds.
The mattress has double sealed vinyl seams for maximum strength and durability, and the vinyl surface is easy to clean with a mild detergent.
Fill lines are conveniently located, and there is also a "foot" line to help with proper patient positioning.
Internally, the Premium Guard Water Mattress has three baffles. Baffles can be hydraulic cells, cylinders or fiber. They're placed inside the mattress, and are designed to control the wave action of the water and provide extra support.
To retain optimal heat, this mattress should be covered with a blanket and a plastic drawsheet.
A fill hose for this mattress is sold separately.
Features and Benefits
Measures 68"x32"

Weight capacity 250 pounds

Made from durable, easy-to-clean vinyl

Conveniently located fill lines

Double sealed seams

"Foot placement" lines aid in patient positioning

Three water baffles control water movement and provide added support
Besides its use with patients who have pressure ulcers, this mattress is a good choice for people sleeping together where one is warm and the other cold.
One reviewer reported that the mattress fit nicely on half of their queen size bed. It did an excellent job helping his wife stay cool in bed, without being too bulky. This reviewer also suggests that users may want to bleed some of the air out of the mattress after a day or so, to make it more silent. However, he was quite happy with the value and performance he received from this product.
Another user did report that the mattress popped after just two nights of her sleeping on it. This surprised her, since the weight capacity is 250 pounds, and she weighs about half of that.
Customer Feedback
Pros:
Easy to clean

Easy to fill

Comfortable (especially for those who prefer water beds)

Durability

Ease of patient placement with "foot" lines
Cons:
Some people may find this type of mattress too cold for their sleeping comfort
Summary
The Premium Guard Water Mattress has received very few online reviews. The reviewers who have weighed in are split 50/50.
Reviews of this mattress that mention its performance specifically for preventing pressure sores have not been located. Rather, reviewers have talked about its durability (or lack of durability), and its use in temperature control for comfortable sleeping.
No reviewers mentioned how effective the baffles are in providing comfort and stability. Baffles can shift and/or buckle within a mattress, causing discomfort, and some are difficult to readjust. There are no reviews regarding this feature.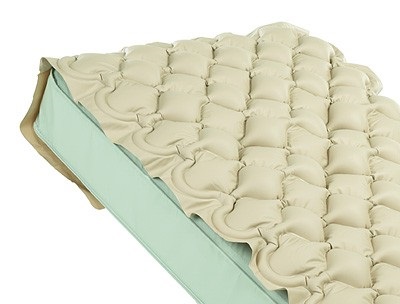 The Care Guard Alternating Pressure Pump and Pad is a mattress overlay that can be used on any existing mattress. It is meant to help prevent pressure sores. The pad measures 80"x34"x2.5".
Individual air cells can be inflated and deflated to encourage movement and to reduce long periods of pressure on sore spots. The alternating pressure pump has multiple pressure settings to help achieve more precision in comfort and pain relief.
The alternating action of inflation and deflation provided by the pump helps distribute pressure and prevent ulcers. The pump is quiet and easy to use, and mounts directly on the bed.
The durable flaps that wrap underneath the mattress are a unique feature of the Care Guard Pad. These flaps provide increased stability, reducing the chance of the pad sliding or shifting when a patient is moved.
Because the flaps hold the mattress in place, patients do not need to worry about slipping or having to adjust their position in order to stay on the pad. This could be particularly important when patients cannot move themselves in bed.
Features and Benefits
Measures 80"x34"x2.5"

Weight capacity 250 pounds

Includes easy-to-use pump with multiple pressure settings

Pump mounts on bed with built-in bracket

Pump alternately inflates and deflates air cells

Under-the-mattress flaps stabilize overlay pad
Reviewers had only good things to report about this product. They seem particularly happy with the pump.
Two reviewers commented on the quiet operation of the pump. Another reviewer said that the pump "alternates pressure between the two sets of cells very well."
Another user noted that occasionally the pump makes a 'quiet clicking sound' and stops alternating between the air cells. When turned off for five minutes, this problem resolved itself.
One reviewer was pleased that in the month he'd been using the pad, the flaps had not pulled out from under the mattress. This man also reports that, since using this product, he has not had to manually turn his wife to help her avoid bedsores.
Customer Feedback
Pros:
Generous length

Under-the-mattress flaps provide stability

Quiet pump; mounts to bed easily

Multiple settings on pump make it easy to set desired pressure level

Directions are easy to follow

Provides a good night's sleep for patients with pressure sore pain
Cons:
Some users find the pad a little too warm
Summary
Reviewers have reported that the Care Guard Alternating Pressure Pump and Pad is easy to use, quiet, and comfortable. The pad has been quite effective in providing comfort to patients with limited mobility who are at risk for, or suffer with, pressure ulcers.
No complaints or dissatisfied reviews have been located. The only downside for one user was that he found it a little warm, but not enough to cause dissatisfaction or to outweigh the benefits of this product.
3. Therapeutic 5-Zone Support Mattress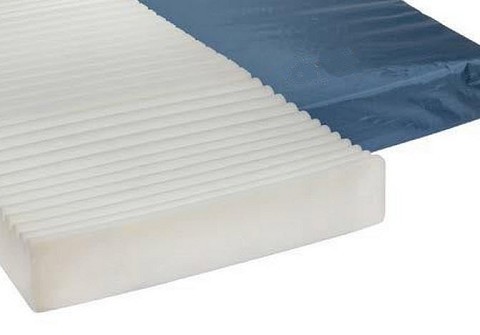 The Therapeutic 5-Zone Support Mattress by Drive Medical is a low-tech pressure relief mattress that combines two features to offer superior support and comfort. Those two features are zoning and cross-cutting.
A zoned mattress is one that is separated into sections that offer different levels of support. Rather than using one level of firmness throughout, a zoned mattress offers varying levels of support to different areas of the body.
Often, the area under the hips is firmer, since the hips are the heaviest area of the body and need more support. On the other hand, the shoulder blades protrude more and as a result, the mattress can have more softness or "give" in that area.
The cells of a cross-cut mattress are able to move with the patient's body, rather than resist the movement. This reduces shear, the pulling on the outer layer of skin when moving against the fixed mattress surface.
The Therapeutic 5-Zone Support Mattress is designed for hospital beds, which are notoriously uncomfortable. For many people, this product has been a very comfortable replacement.
The mattress is made of foam, and measures 35"x80"x5.5". The zippered cover is made of durable nylon.
Features and Benefits
5 zone mattress redistributes pressure

Resilient foam base is cross-cut to prevent shear

Strong nylon cover prevents friction, is zippered, waterproof, and fire retardant

Non-skid bottom

Measures 35"x80"x5.5"

Weight capacity 350 pounds
The one comment heard over and over again from users of this mattress is that it replaced a lumpy, uncomfortable hospital mattress with a supremely comfortable one that gave patients night after night of restful sleep.
It was noted that this is a great alternative to an inner spring mattress because it remains firm for a long time.
Some users did report that the mattress was a lot harder than they'd expected, and some also report that it began to sink or sag in spots over time.
Customer Feedback
Pros:
Long-lasting firmness

Cover features:

-Two-way stretch

-Waterproof

-Vapor permeable for breathability

-Fire retardant

Super comfortable
Cons:
Some users found it a bit too firm; a soft foam topper solved the issue

Some users report the mattress sinking in spots over time
Summary
For a non-adjustable mattress, the Therapeutic 5 Zone Support Mattress goes above and beyond the norm in offering comfort along with pressure reduction and distribution. It is a great alternative to a hospital mattress, and has been used for this by many people. Despite some negative reviews, most users have reported it to be a long-lasting, durable choice that is well worth the money for the relief it brings.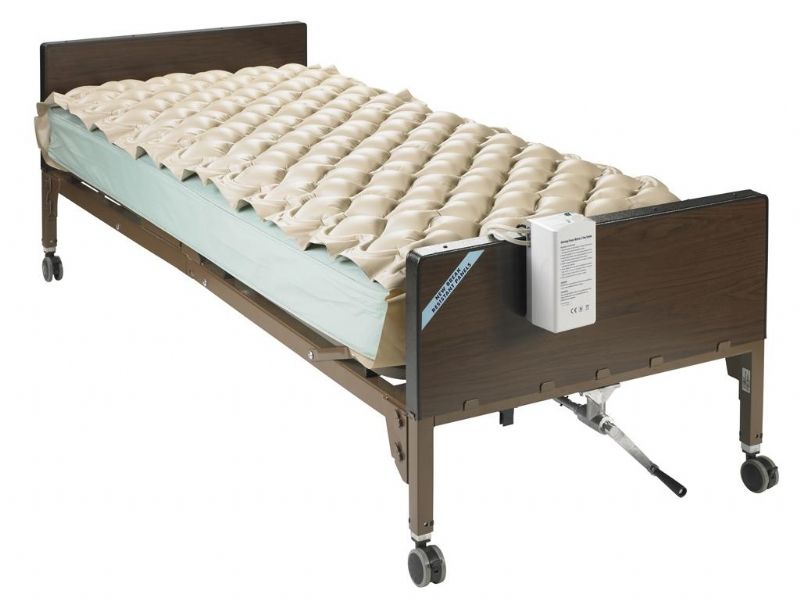 The Med Aire Alternating Pressure Pump with Pad System is a superior high-tech mattress choice for patients in need of pressure relief.
The mattress is made of comfortable, heavy gauge vinyl for long-lasting durability. It measures 78"x36"x2.5".
The pump mounts easily to the bed with a built-in bracket, and includes an easy-to-change filter.
An important feature of this mattress is its configuration of 130 individually inflatable cells which can be inflated or deflated at five minute intervals. This ensures that excess pressure is never placed on any one area of the body.
This product includes a 4 LPM (liter per minute) variable pressure pump that works quietly to inflate and deflate the individual cells.
Features and Benefits
Durable construction

Measures 78"x36"x2.5"

Weight capacity 300 pounds

Individually inflatable cells (5-minute intervals)

Quiet 4 LPM pump

Pump can be mounted on bed with built-in bracket

Easy-to-change filter

Can be adjusted for individual comfort and pain relief needs
Customer Feedback
Customer reviews for the Med Aire Alternating Pressure Pump with Pad System are overwhelmingly positive.
The quietness of the pump is often mentioned, as is the value for the price, which surprised many purchasers.
Some customers are so happy with the construction and function of this mattress, they've even asked whether it is manufactured as a chair pad!
One fibromyalgia patient reported a decrease in her need for pain meds at night, once she began sleeping on this mattress.
One thing noted is that, once fully inflated, the mattress adds about 2 inches to the height of the bed. This can make it difficult for patients to get out of bed during the night to use the bathroom.
Also, there's a strong smell of rubber, but if the mattress is aired out a day or two before use, this seems to disappear.
One buyer commented that the mattress was not as comfortable for someone who sleeps on their side. She found that she "slipped between the channels for the air pressure." Otherwise, though, she was quite happy with her purchase.
Pros:
Strength and durability

Bubble pads provide excellent therapeutic treatment

Value for the cost

Comfort

Quiet pump operation
Cons:
Must be aired out before use to eliminate rubbery smell

Reports of difficulty side sleeping on bubble cells

Added bed height makes it more difficult to get out of bed at night
Summary
Overall, reviewers found the Med Aire Alternating Pressure Pump with Pad System to be a great value. Reviewers were consistent in their praise of the product's quality, durability, comfort and ease of use.
Reviewers have used this mattress for themselves or a family member with ALS, Alzheimers, hip replacement, and some just for a better night's sleep.
It's pretty clear that this product provides not only excellent pressure relief, but enhanced sleep to people with a variety of conditions.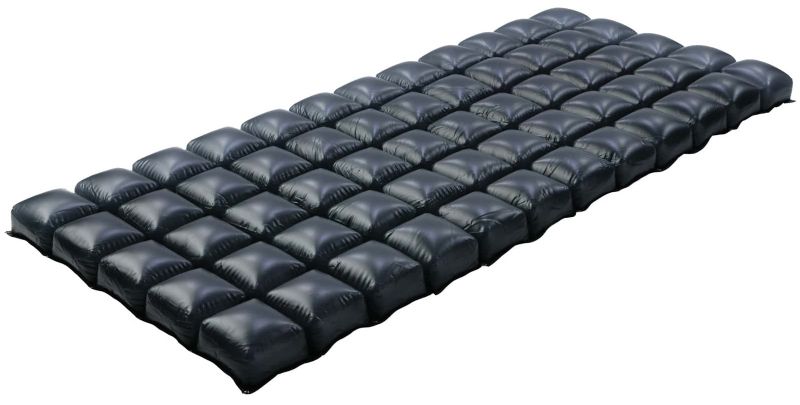 The ROHO Prodigy Mattress Overlay System is a great choice for patients who prefer a low-tech pressure relief system.
Made from flame-resistant polyvinyl and measuring 81.75"x36"x2.5", the Prodigy Mattress Overlay System provides comfort and wound protection to patients who have Stage I or II decubitus ulcers, or are at risk for skin breakdown.
The 3" deep surface is made up of individual air cells. These can be adjusted with the dual action hand pump, which is included.
Because it is made of three interlocking segments, adjusting patients to positions other than a prone position is possible. The air cells in each of these segments can be adjusted independently of the other two sections.
These individual sections, along with the generous mattress dimensions and 3" deep immersion, add up to maximum comfort, pain relief and wound protection.
Features and Benefits
Made of flame-resistant polyvinyl

Generous 81.75"x36"x2.5" dimensions

Weight capacity 300 pounds

Interlocking sections allow for varying positions

3" deep surface for maximum wound protection

Adjustable air cells

Dual action hand pump included
With many positives and only a few (easily fixed) drawbacks, users are very, very happy with this product.
Many people report experiencing the first good night's sleep in months or even years, for themselves or for relatives. Several reviewers reported healing of sores that have resisted treatment for a long time.
More than a few reviewers describe sleeping on this mattress by saying, "It's like sleeping on a cloud."
What's interesting is that quite a few happy customers are not people with bed sores or tissue breakdown, but those who just need a better night's sleep. They were being kept awake by aching hips, joints and back, and the ROHO mattress changed that!
Customer Feedback
Pros:
Inflates quickly

Nearly eliminates pressure on sore spots and promotes healing

Durable - no reports of leaks or wear over a few years of use

Great pain relief due to deep surface

Allows for prone or seated positioning
Cons:
Squeaky (adding a mattress topper helps with this)

Sometimes moves on bed due to its light weight
Summary
Customers who have purchased the ROHO Prodigy Mattress Overlay System have been overwhelmingly happy with it. It is super comfortable, and adjusts to an individual's size and weight over time.
This mattress has provided extreme degrees of comfort to those experiencing pain from bed sores, but also from joint pain due to a variety of conditions. More than a few customers report that their loved ones have been able to sleep through the night for the first time in ages.
The mattress is easily cleaned, and the machine washable covers (sold separately) are easily disinfected.
Overall, the ROHO Prodigy Mattress Overlay System is a great value that lasts a long time and truly has improved the quality of life for many users.

Pressure Relief Mattress Buying Guide
We have rated the ROHO Prodigy Mattress Overlay System number-one for the sheer volume of ecstatically descriptive comments from users about how comfortable and soft it is.
Influencing factors were also how well it has worked for people with pressure sores, and for the fact that it has been life-changing for people with sleep difficulties due to other conditions.
Additionally, this mattress has the largest dimensions of any of the five we reviewed here, making it comfortable, and allowing caregivers to achieve good positioning of their patients more easily. The unique three-sectioned construction makes it versatile in a way that the other mattresses are not, and provides an added degree of comfort.
When considering the purchase of a pressure relief mattress or overlay for yourself or someone else, it is important to know what your options are. We hope this article has started you on that road.
Ultimately, the selection of the right pressure relief system for a patient with pressure ulcers should be made with the help of a doctor and/or medical team. They will be able to help you consider the many factors involved in this choice.
Questions to ask your doctor about a pressure relief mattress
When considering the purchase of a pressure-relief mattress, ask your doctor to access the following questions as they pertain to you:
How mobile is the patient?

Does he/she have a previous history of pressure ulcers?

What risk factors are present? (A skin assessment may be called for)

If pressure sores are already present, how advanced are they, and where are they located?

Does the patient have good balance? (non-conforming surfaces like water mattresses may not feel secure to them)
Selecting the right pressure relief system for a patient with pressure ulcers is an important health decision. Get advice from your doctor, and become informed. The number of choices may seem overwhelming, but it also means that you'll certainly be able to find the best system for you or your loved one.
Check out our article How to Choose the Best Pressure Relief Mattress!
Want to learn even more? Find dozens of videos featuring products and caregiver tips like these at Rehabmart's YouTube channel!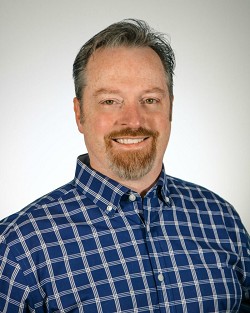 Author:
Co-Founder of Rehabmart and an Occupational Therapist since 1993. Mike has spent his professional career working in multiple areas of Occupational Therapy, including pediatrics, geriatrics, hand therapy, ergonomics and inpatient / outpatient rehabilitation. Mike enjoys writing articles that help people solve complex therapeutic problems and make better product choices.